On Aug. 24, 1995, Microsoft unleashed Windows 95 onto the world. Indeed, this massively influential OS release turns 28 years old today. Not only was it the first version of Windows to ship with Internet Explorer, but it also introduced elements that became staples of Windows for decades to come. Even to this day, you can feel the effects of Windows 95 throughout Microsoft's products.
Start menu, taskbar, and the internet
I'm not kidding when I say Windows 95 introduced features that became staples of many future Windows releases. Windows 95 marked the debut of the Start menu and the taskbar, arguably the two most iconic features in every Windows release, even if they've changed significantly over the years. In fact, the concept of the desktop as we know it was introduced here, as this release also added the ability to have links to apps on the main screen.
The taskbar gave users a new way to manage their open windows by seeing them all at the bottom of the screen, letting users switch between windows by clicking their labels, as well as minimizing and restoring them more easily. The original implementation of the taskbar didn't include things like pinned items or window grouping, but the basic premise of it was similar to what we know today. It even included settings like volume control in the bottom right corner.
The Start menu, on the other hand, became the launchpad for the apps and tools on your PC. It made it easier to find all the installed software on the computer. At the time, the Start menu was fairly different, simply giving you a navigation menu so you could get programs and documents on your PC. Later versions would introduce an area with your most commonly used programs, as well as the ability to pin and reorganize items.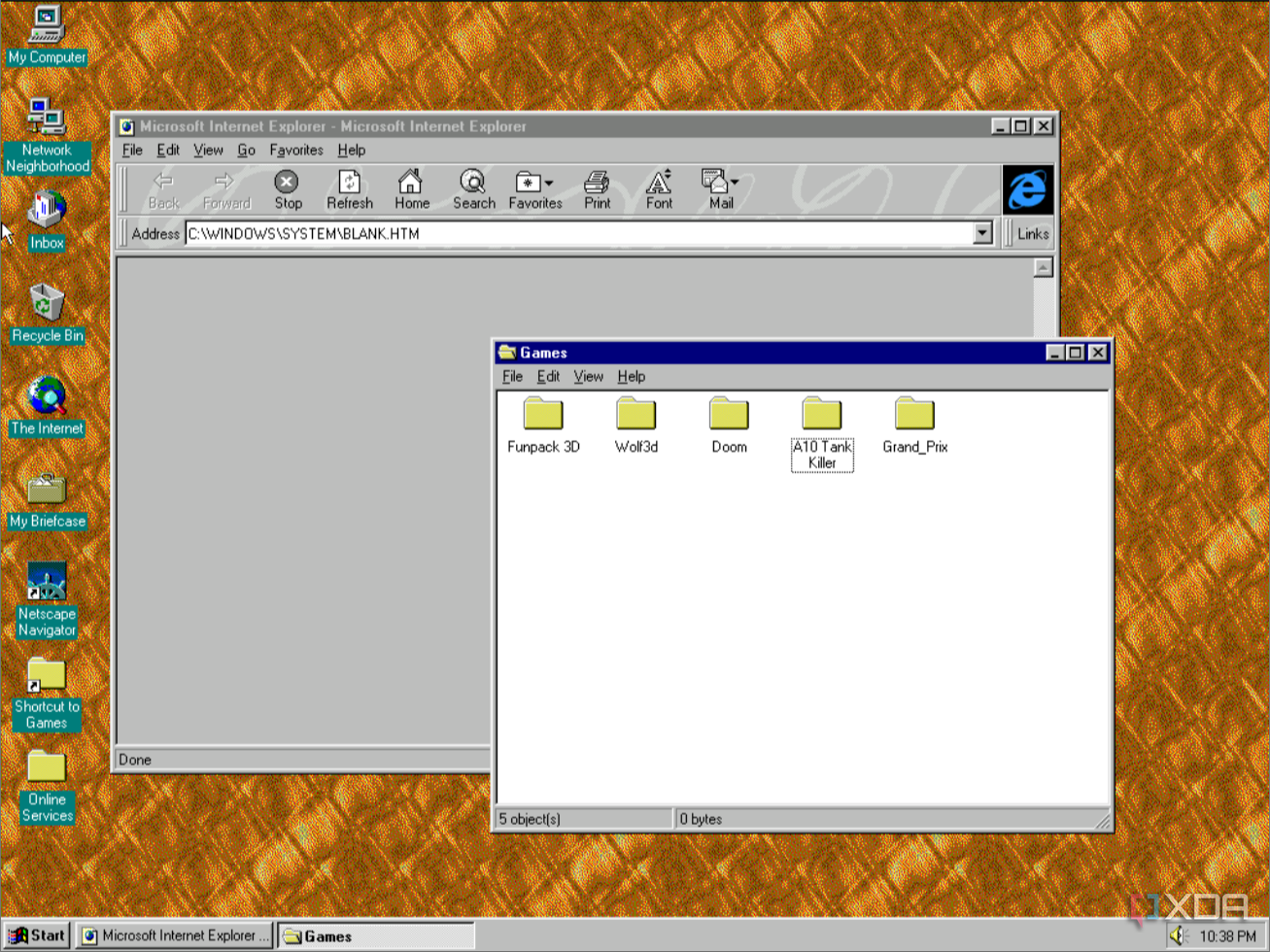 Of course, another big highlight of Windows 95 was that it came with Internet Explorer for the first time, though not immediately. Internet Explorer 1.0 was part of the add-on pack. A later update, called Windows 95 OEM Service Release 1, Microsoft started bundling in Internet Explorer 2.0, which was still based on Spyglass Mosaic. Later, with OEM Service Release 2, Internet Explorer 3.0 became its own thing and eventually became the most popular browser in the world before falling into obscurity and being replaced with Microsoft Edge.
That's still not everything, either. The File Explorer, Control Panel, and features like AutoRun were all introduced with Windows 95.
Bringing MS-DOS and Windows NT together
Windows 95 was also notable because it was the first release of Windows to do away with the distinction between MS-DOS and Windows NT for end users. Windows was born as a GUI for MS-DOS, but later, the company developed a new kernel called Windows NT (which originally stood for New Technology). However, due to compatibility issues, Microsoft released a few versions of Windows that came in both MS-DOS and Windows NT flavors.
Windows 95 changed this by including a version of MS-DOS with the Windows NT release, allowing users to run 16-bit apps in this 32-bit operating system through a compatibility layer. It was also possible to boot straight into MS-DOS and forgo the Windows 95 UI entirely.
Windows 95 laid the groundwork for the Windows we know today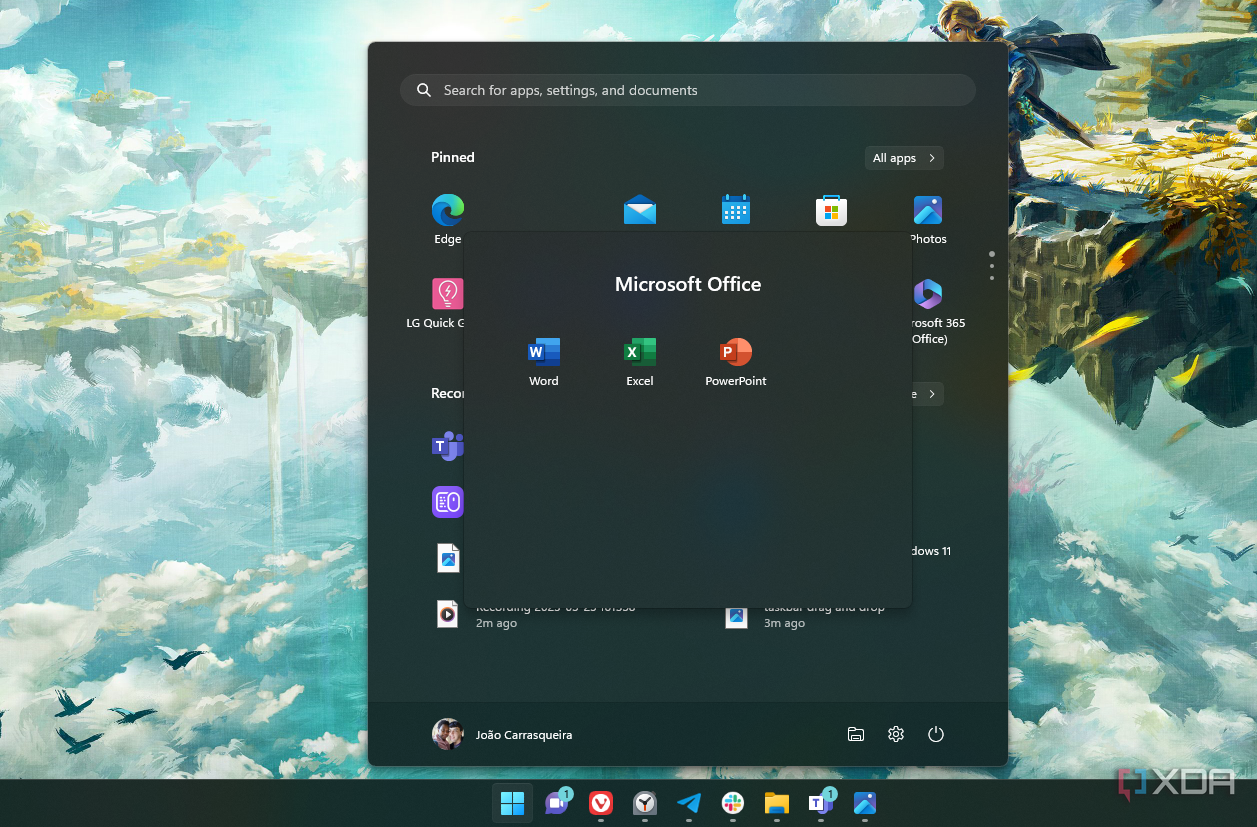 While you could argue that every Windows release laid the groundwork for future releases to some extent, Windows 95 is particularly notorious for introducing some of the OS's most essential concepts, like the taskbar and Start menu. It's almost unthinkable for most people that an operating system could lack these elements, and we can see them to some extent even on competing platforms like Linux-based distros, macOS, and even Android. Plus, the Windows NT kernel is still the core of Windows 11 today (with numerous updates over the years), so it's clear that Windows 95 played a major role in shaping the operating system we know and (mostly) love.


** (Disclaimer: This video content is intended for educational and informational purposes only) **