Forty years ago this month, following a long period of waiting and development, the first commercial cell phone call was made using a Motorola handset and a Mercedes convertible. Though the Motorola DynaTAC weighed a whopping 2.5 pounds and was 10 inches tall, even more technology had to be stored in the trunk of the car to place the first call. This groundbreaking moment on Oct. 13, 1983 sparked a timeline of innovation for mobile devices, like great phones, powerful tablets, and versatile smartwatches, that even the people involved in it didn't expect. We spoke with the customer who made the first call, David Meilahn, and one of the developers of cellular technology, Stu Tartarone, as we look back on this milestone.
How a Chicago businessman made the cell phone call
The person who made the first commercial cell phone call wasn't an AT&T employee or a technology enthusiast. It was Meilahn, the owner of a Chicago insurance company, who decided to give cell phone service a try. After his car radio phone was stolen, Meilahn decided to install a cell phone in his Mercedes convertible months before service would actually start.
"From the people that I talked to and the sense that I got, they thought they had perfected the system," Meilahn said in a Zoom interview. "I had a high degree of confidence that even if it didn't work right in the beginning, that long term that would be the best thing to have because it would prevail."
But it wasn't as easy as just installing cell service in his car and making the famous first call. Meilahn was paired with a technician and participated in a race at Soldier Field that saw customers compete to be the first person to complete the call correctly. After running to the car, the technicians needed to install a chip into a receiver unit in the trunk. Due to the intricacies of early cell services, everything needed to be done perfectly for the call to go through. A single bent pin on a chip or trying to place the call before a connection was made would cause the call to fail.
Once Meilahn successfully connected the call, it was transferred a few times before ultimately reaching Alexander Graham Bell's granddaughter in Germany. While it was surely a memorable moment, no one truly knew what this development would lead to.
"Obviously making the first phone call to me was really exciting," Meilahn said, "but only in the fact that they were coming out with a new cell phone system, and they were going to compete with the radio phones."
The hurdles involved in making the first call
Wikimedia Commons"" data-modal-id="single-image-modal" data-modal-container-id="single-image-modal-container" data-img-caption="null">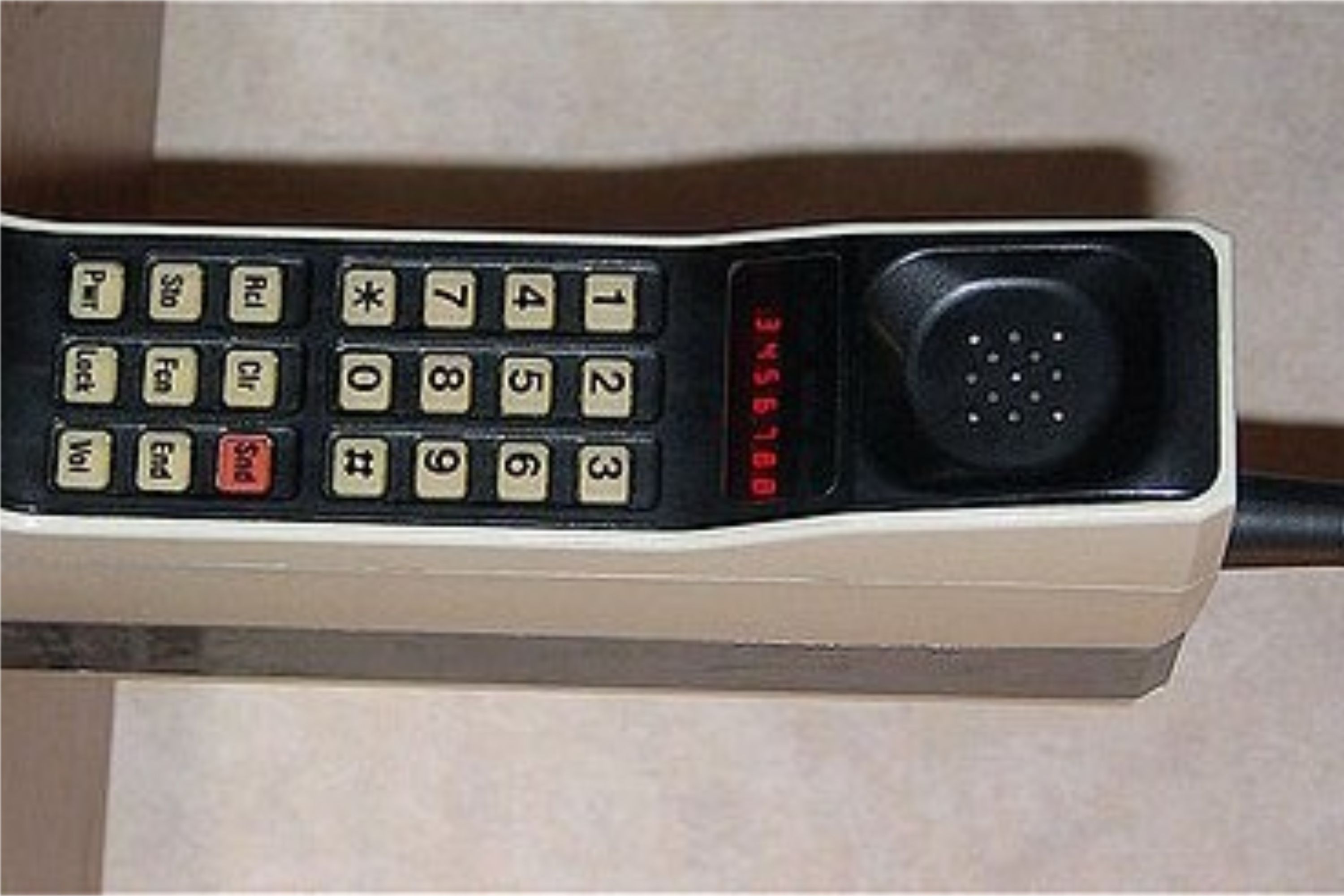 There were rumblings within AT&T Bell Laboratories (now Nokia Bell Labs) for years about creating commercial cellular service with reallocated broadcast channels, according to Stu Tartarone, a member of the team that launched commercial cell service. But since the U.S. Federal Communications Commission allocates channels, AT&T Bell Labs would need to work closely with the FCC to create commercial cell service.
"The fundamental concept of cellular is the ability to broadly reuse channels and take whatever limited channels [are available]," Tartarone said. "Because the spectrum is a very precious commodity that the FCC carefully allocates."
These conversations and written memos started in the mid-1960s, but there wasn't widespread support for cellular at the time. That wouldn't come until the late 1960s, when the FCC started to explore adding phones to metro rail lines. In what seemed like a surprise move, the FCC announced its intent to reallocate channels, and AT&T Bell Labs created a detailed cellular report for the FCC in 1971. There was another interesting third party that was vital to creating cell service, too.
"Intel came out with the first-ever microprocessor," Tartarone said. "Without that, the [cellular] system never could have been brought."
Although the first commercial call wasn't made until 1983, Tartarone thinks it could have been launched around 1977. "We were delayed a number of years because the FCC was concerned that AT&T and Bell Systems would get involved in monopolistic ways to sell your technology," Tartarone said. "So essentially what they did was wait until other competitors had similar technologies before they allowed the trial and testing of [cell service]."
The first call ignited innovation for mobile devices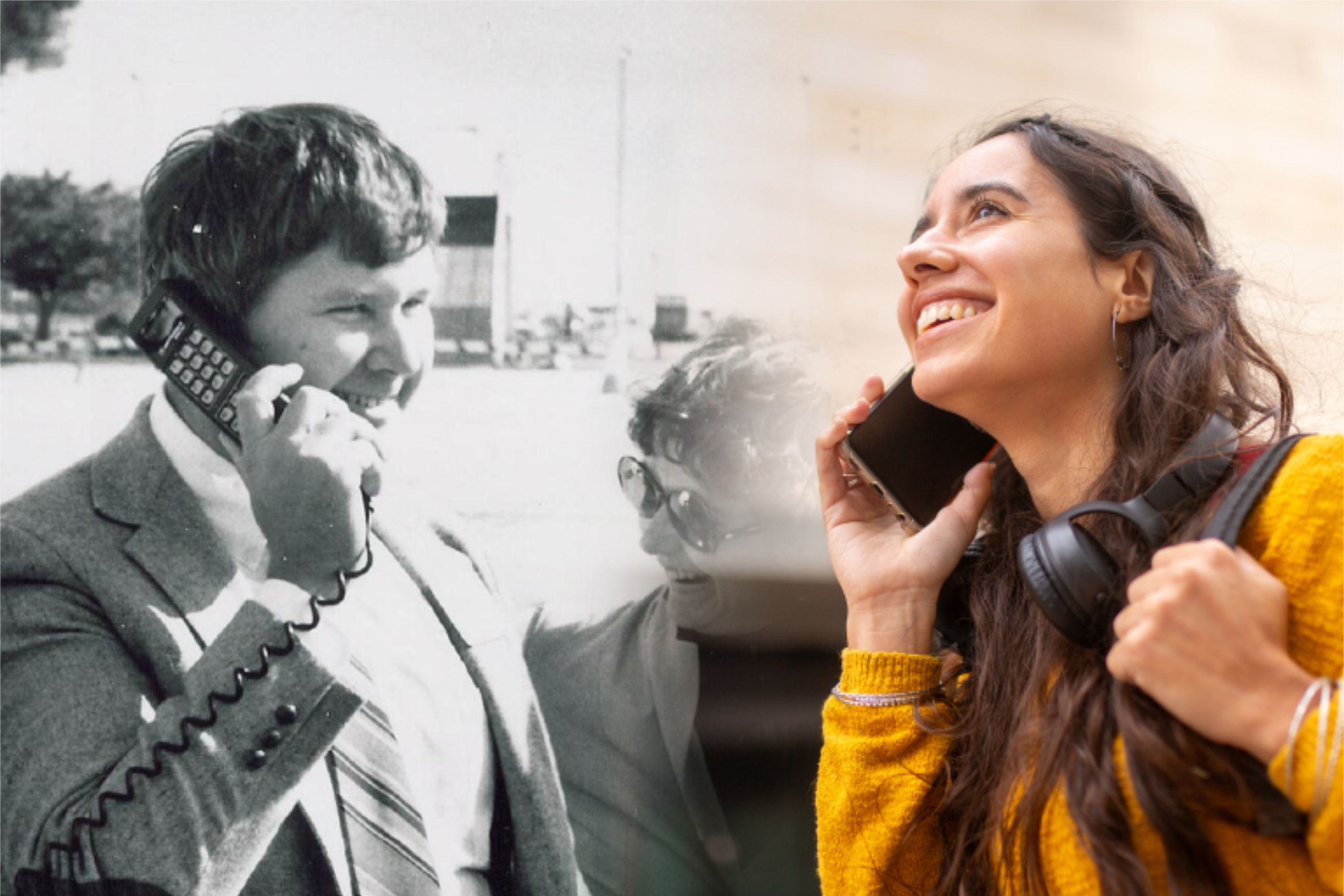 Source: AT&T
Now, all of us carry mobile cell phones in our pockets that are smaller and more powerful than the DynaTAC used to make the first commercial call in 1983. Neither Meilahn nor Tartarone expected smartphones to develop as they have, reaching ubiquity among people. "I think we've achieved the ability today for this device to be an essential part, of not only people's businesses, but people's lives," Tartarone said. "I think going forward, there are opportunities, in terms of satellite services among other things."
** (Disclaimer: This video content is intended for educational and informational purposes only) **