There's no shortage of web browsers out there, and each one has its own strengths and weaknesses to take into account when you choose one for yourself. Most people will probably be familiar with Google Chrome, Microsoft Edge, and Mozilla Firefox, but if you ask me, the best browser you can get is Vivaldi. Haven't heard of it? You came to the right place.
Vivaldi was founded by a former CEO of Opera Software, Jon von Tetzchner, to put more of an emphasis on productivity and customization. It doesn't get as much attention as the big players in the industry, but it's still made a name for itself. This is a terrific browser, and it's my go-to on every machine I use. Here's why I think it should be yours, too.
1
Built-in email
One of the things I've grown to love the most about Vivaldi is the built-in email client, simply called Vivaldi Mail. This has become my preferred method to clear my inbox, especially since Microsoft decided to replace the built-in Mail app with the web-based and far more limited Outlook app.
Vivaldi Mail lets you add all your email accounts and bring them together in one unified inbox (though you can also view them separately), including all your folders. It also has options for flagging and labeling, so you can filter your messages more easily. All of this goes beyond my typical use case, but there are plenty of capabilities here.
My favorite feature, however, is simply being able to mark emails as read quickly by pressing K on my keyboard. This makes it so much easier to clear my inbox of emails I don't actually need to act on. I know that's a stupidly simple idea, but just having it available at a moment's notice in the same window I do everything else in is fantastic.
2
Feeds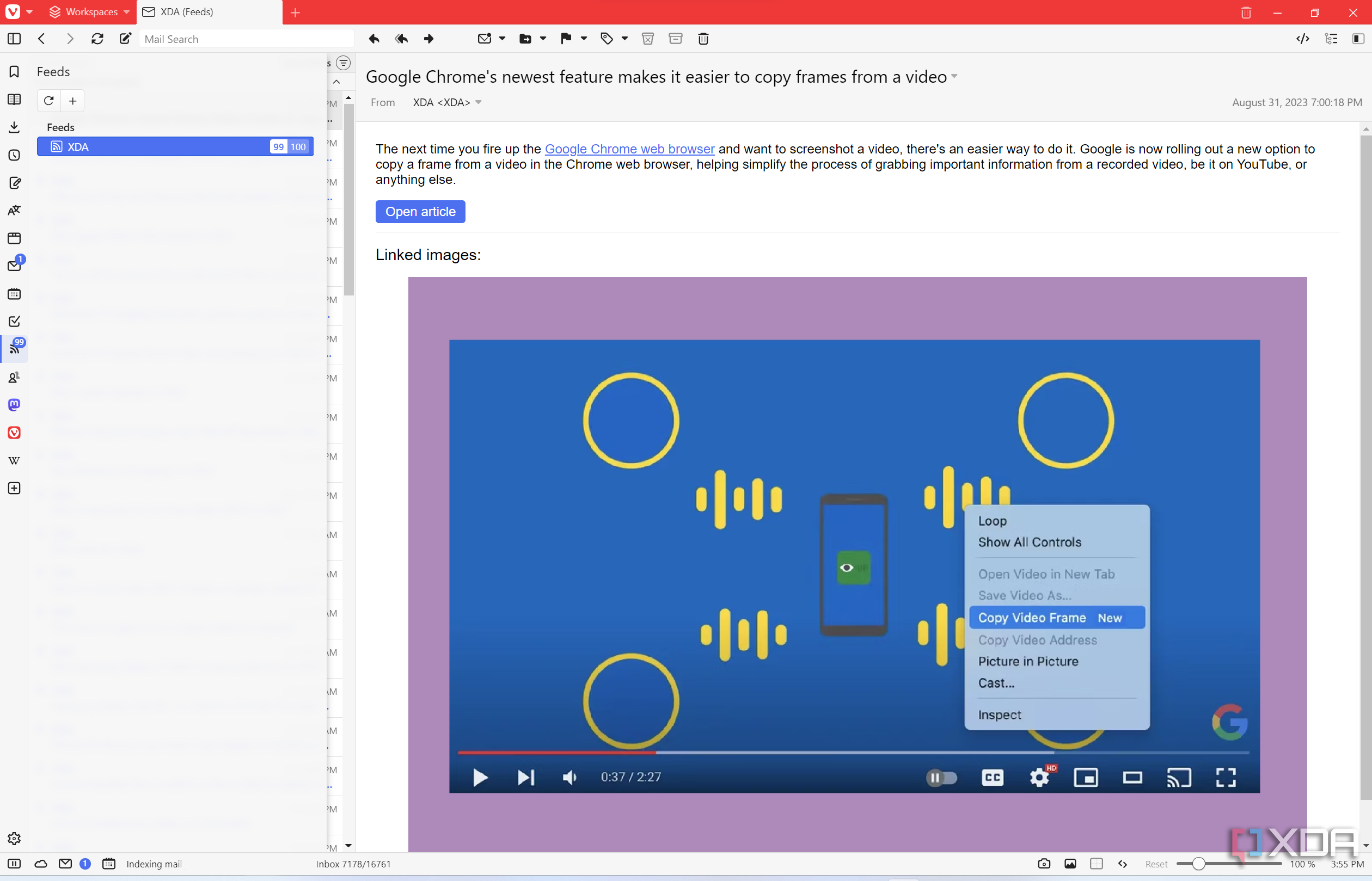 Another one of my favorite features in Vivaldi is the ability to stay on top of RSS feeds. RSS readers aren't anything new either, but just like with email, it's great to have a way to quickly stay on top of the news by having them delivered to the sidebar of the app I'm already using all the time. Vivaldi lets you add any RSS feeds you want and see them all in one big feed or one by one (it would be nice to have folders, but I suspect that will be coming at some point). You can choose how often these feeds are updated, too.
You'll see a counter of the number of new items at any given time, and just like with the email feature, you can mark items as read with K, which makes it easy to get through the list. This has been tremendously helpful in helping me stay on top of the news, and just like with email, it's just great to have this always accessible in the app I already use for all my work.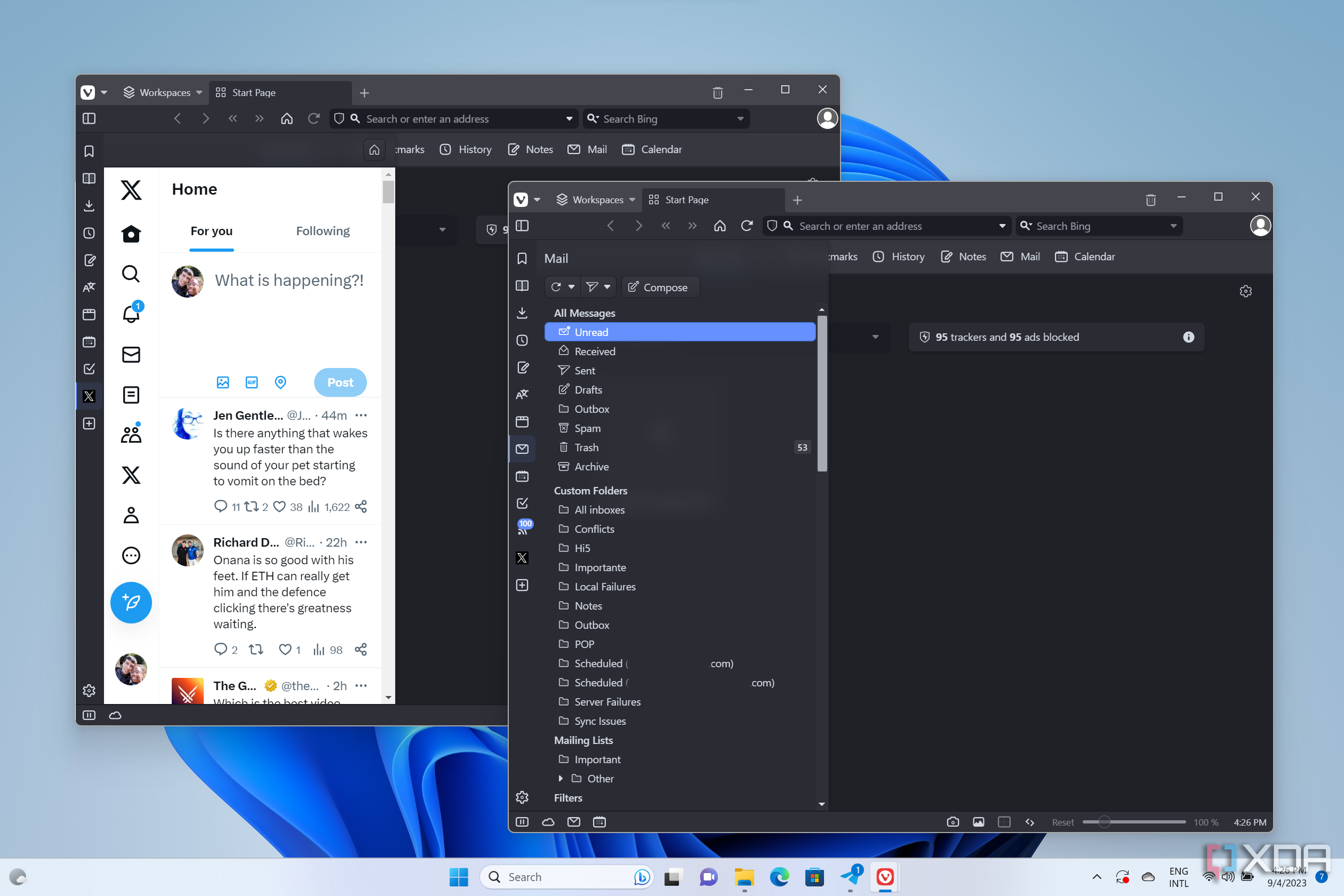 Both of the features above live in another one of my favorite Vivaldi features: the sidebar. Again, it's not an exclusive concept, but the sidebar in Vivaldi is, in my opinion, much more appealing than the one in other browsers like Edge. For one thing, it's home to features that are actually useful, like bookmarks, history, downloads, notes, translations, and the aforementioned email and feed clients. It also has much more subdued icons by default, so it's not too distracting.
You can also customize the sidebar's behavior when you open the content inside. You can have it push your web content to the side, so it stays open until you close it, or have it act as an overlay, so it's dismissed when you click on the webpage.
The sidebar is also great for adding websites you want to access frequently. Websites like X or Bluesky don't really need a wide view, so having a compact way to access these websites is super helpful. Some websites are already pinned by default, but you can remove anything you want from the sidebar, including Vivaldi features. Vivaldi lets you make the experience your own very easily.
4
Tab management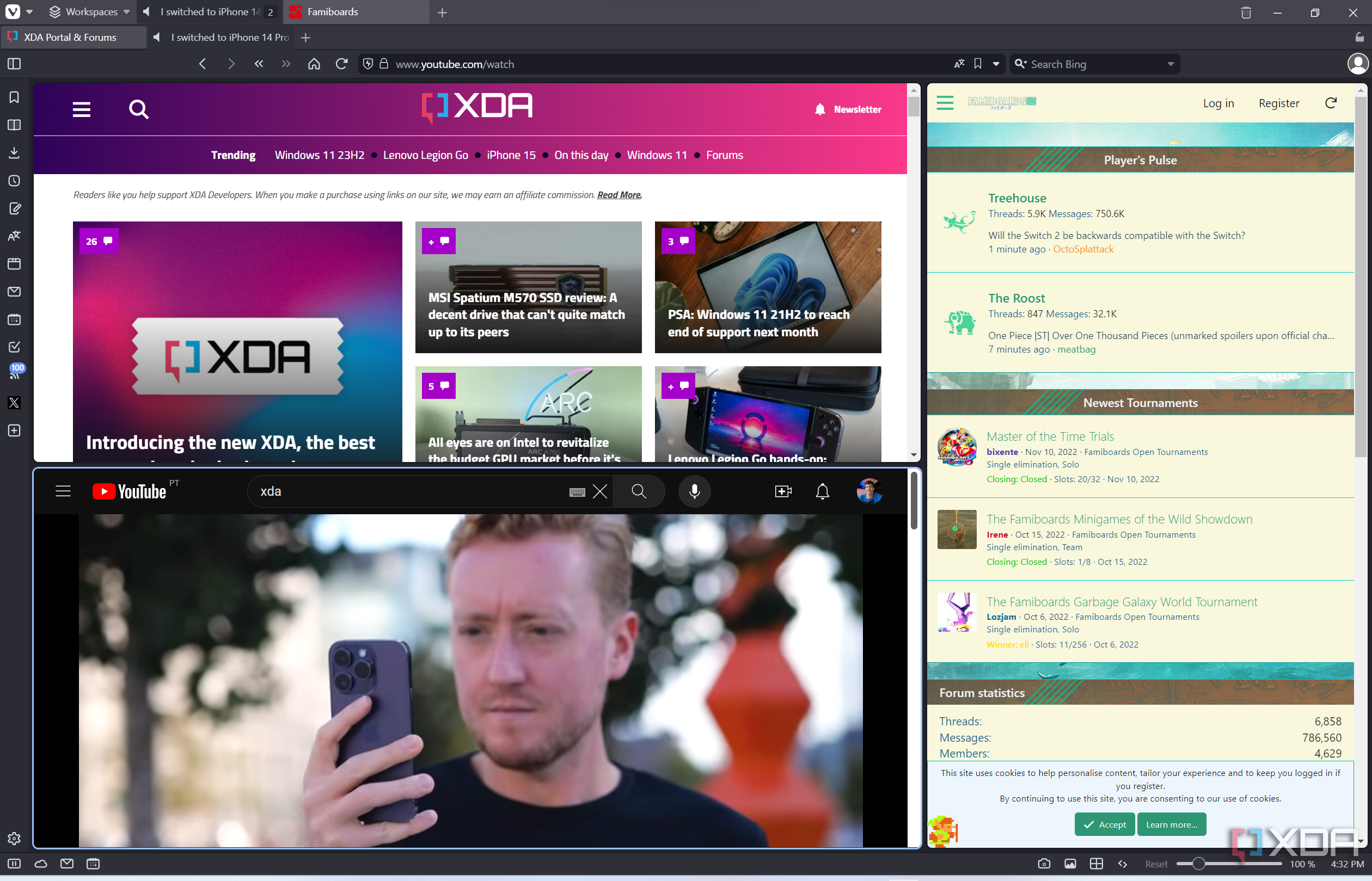 If we're talking web browser productivity, managing your tabs and windows is one of the most important aspects of that. Thankfully, Vivaldi has some great features to help. First off, there are tab stacks. While other browsers let you stack tabs, Vivaldi has one of the most natural implementations of tab stacking. When you drag one tab over another, those tabs will be grouped. Then, you can click it to see the tabs that are part of that group in a two-level presentation, meaning tabs inside a stack are shown under other tabs and don't take space away from them. You also see a count of how many tabs are in a stack at any time.
Another feature I consider essential is tab tiling. Edge recently added a split-screen view, but Vivaldi has had it for much longer. Plus, it doesn't work with just two tabs; you can tile as many tabs as you want to really make use of a big screen. They can also be resized to your liking, and you can organize them by simply changing their order in the tab bar.
If you want even more options, you can use workspaces to clearly organize your tabs into groups for things like work and entertainment and keep them separate. You can easily manage all your open windows and tabs from the sidebar, too, so you can stay on top of everything without having to search for a window. Vivaldi also gives you quick and easy access to tabs from other devices and recently closed tabs and windows. It's just a super capable browser if you have a lot going on.
5
Customization options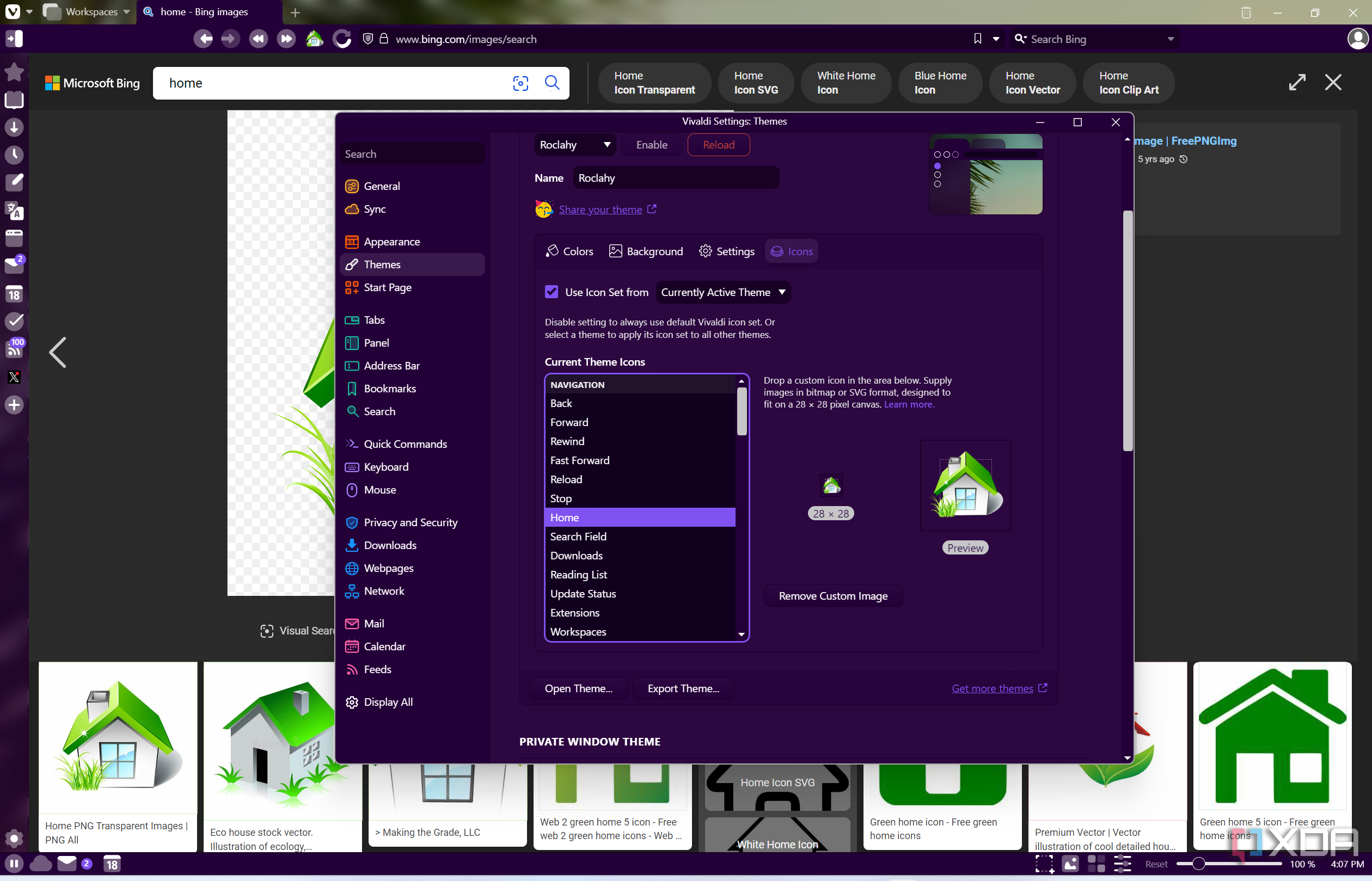 Most major browsers offer theming options, generally based on Google Chrome's own theme system, but Vivaldi goes a lot further. Vivaldi's themes not only change the colors and designs of UI elements like the menu bar, but they can include custom icons, therefore encompassing all the main elements of the browser's UI. Even the email client can use custom icons for its interface.
Is that not enough for you? There's still more! Vivaldi even lets you mix and match icons from different themes, or better yet, lets you upload your own icons for any button you want. As long as they're 28×28 pixels (ideally), you can do whatever you want to make Vivaldi look and feel exactly like you want it to. There's a host of themes available on the official website, but feel free to play around with them.
By the way, you can also choose what buttons appear on pretty much every toolbar you see in the browser. Want a home button? Add it anywhere. Don't need the forward or back buttons? Remove them. Is the clock at the bottom redundant? You can remove it, too. Whatever you don't need, you can remove, and you can add things you do need wherever you want them.
It's not perfect, but Vivaldi is a great browser
Even I, as a Vivaldi fan, can admit it isn't a perfect browser. There might be reasons why Microsoft Edge may be the best browser for you instead. But the features above make this one of the very best browsers you can get as a power user, with plenty of ways to make the experience work best for you. It's also available for most laptops and desktop computers since it works on Windows, Linux, and macOS. It even works well on Android if you want to use it on your phone, too. It's just a great, multi-faceted browser, and it's one of the few major options that gives you great customization options.


** (Disclaimer: This video content is intended for educational and informational purposes only) **