HP has a three-pronged approach to mobile PC gaming, delivering laptops with varying prices and features through the Victus, Omen, and Omen Transcend brands. HP refreshed all three of its gaming brands for 2023, and we've now had a chance to test and review all of them. The Omen Transcend 16 (2023) — the latest to receive our attention — is the pinnacle of what HP offers in terms of high-end gaming laptops. To name a few standout selling points, it has a taller display with a 16:10 aspect ratio (not to mention a gorgeous mini-LED option), the chassis is made entirely of magnesium aluminum, and it's thinner and lighter than its siblings.
I've been testing the Omen Transcend 16 (2023) for the past couple of weeks to see how well it can handle heavy gaming duties, as well as discovering why it might be the right choice for you over the Victus and standard Omen lineups.
About this review: HP supplied XDA with an Omen Transcend 16 (2023) unit for the purposes of this review and did not have any input into its contents.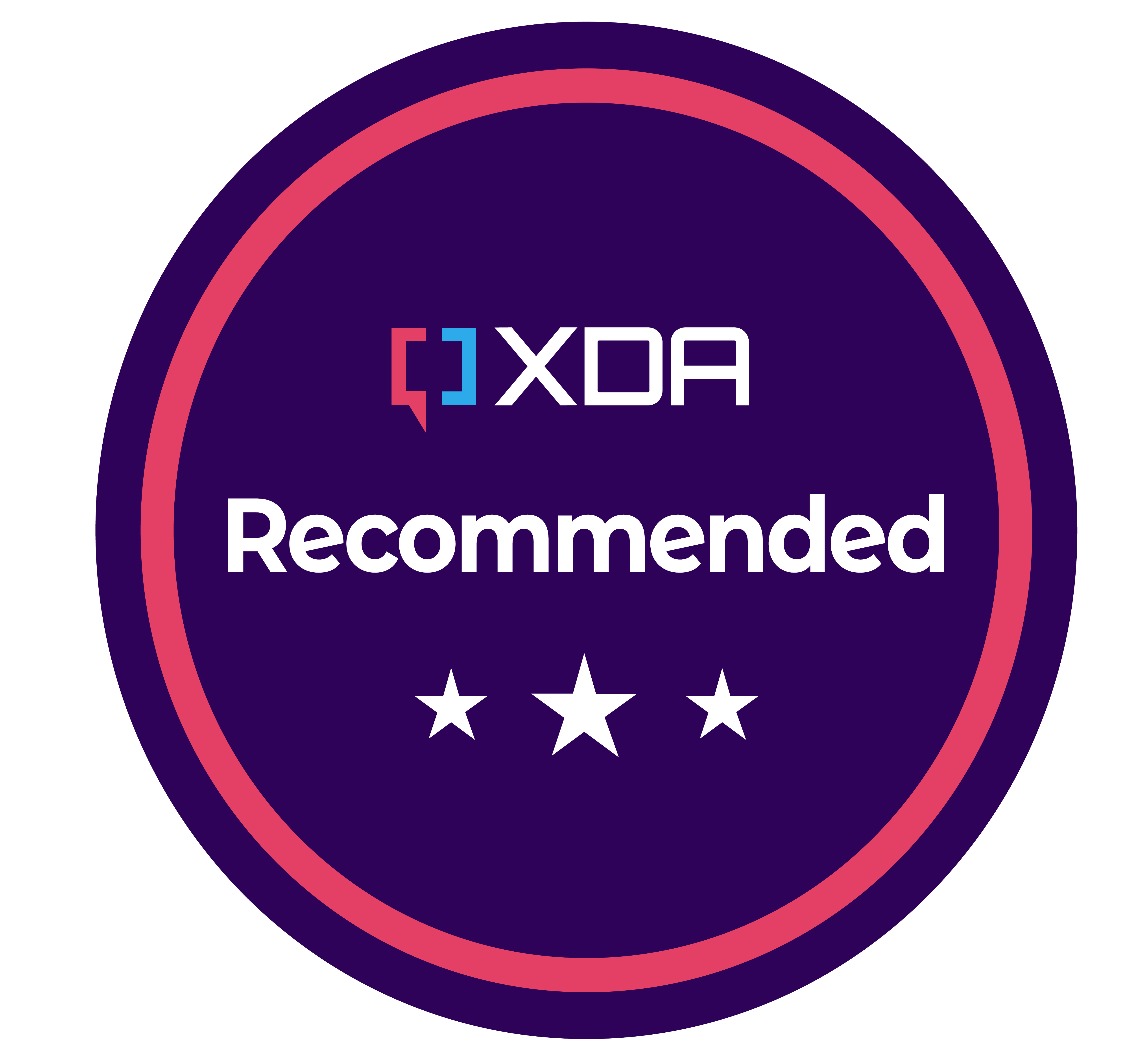 HP Omen Transcend 16 (2023)
The pinnacle of Omen
$1200 $1700 Save $500
The Omen Transcend 16 (2023) is the priciest HP gaming laptop, but it's the best at handling design and creative work thanks to its 16:10 mini-LED display option and strong CPU performance. The standard Omen 16 is a better bet for pure gaming, but the Transcend should better satisfy those who use one laptop for all tasks.
CPU

13th Gen Intel Core i9-13900HX

GPU

Nvidia RTX 4070 Laptop GPU

RAM

32GB DDR5-4800MHz, dual-channel, upgradeable

Storage

2TB M.2 PCIe 4.0 NVMe SSD

Battery

97Wh

Display (Size, Resolution)

16 inches, 2560×1600 (QHD+), 16:10 aspect ratio, mini-LED, 240Hz, HDR 1000, AG, low blue light

Camera

1080p with IR sensor for Windows Hello

Speakers

Dual Bang & Olufsen speakers, DTS:X Ultra

Color

Shadow Black

Ports

Two Thunderbolt 4, HDMI 2.1, RJ45 Ethernet, dual USB-A 3.2, 3.5mm audio

Network

Intel Wi-Fi 6E, Bluetooth 5.3

Dimension

14.04 x 10.59 x 0.78 inches (356.6mm x 268.9mm x 19.8mm)

Weight

From 4.62 pounds (2.09kg)

Keyboard

Per-key RGB lighting
<!––>
Pros
Mini-LED display with 16:10 aspect ratio is a huge selling point
1080p camera with IR and privacy shutter
Killer CPU performance
Thinner and lighter than other HP gaming laptops
Cons
Still has a sizable chin below the screen
Semi-transparent WASD keys are ugly
Just one M.2 slot for SSDs (standard Omen has two)
HP Omen Transcend 16 (2023): Pricing and availability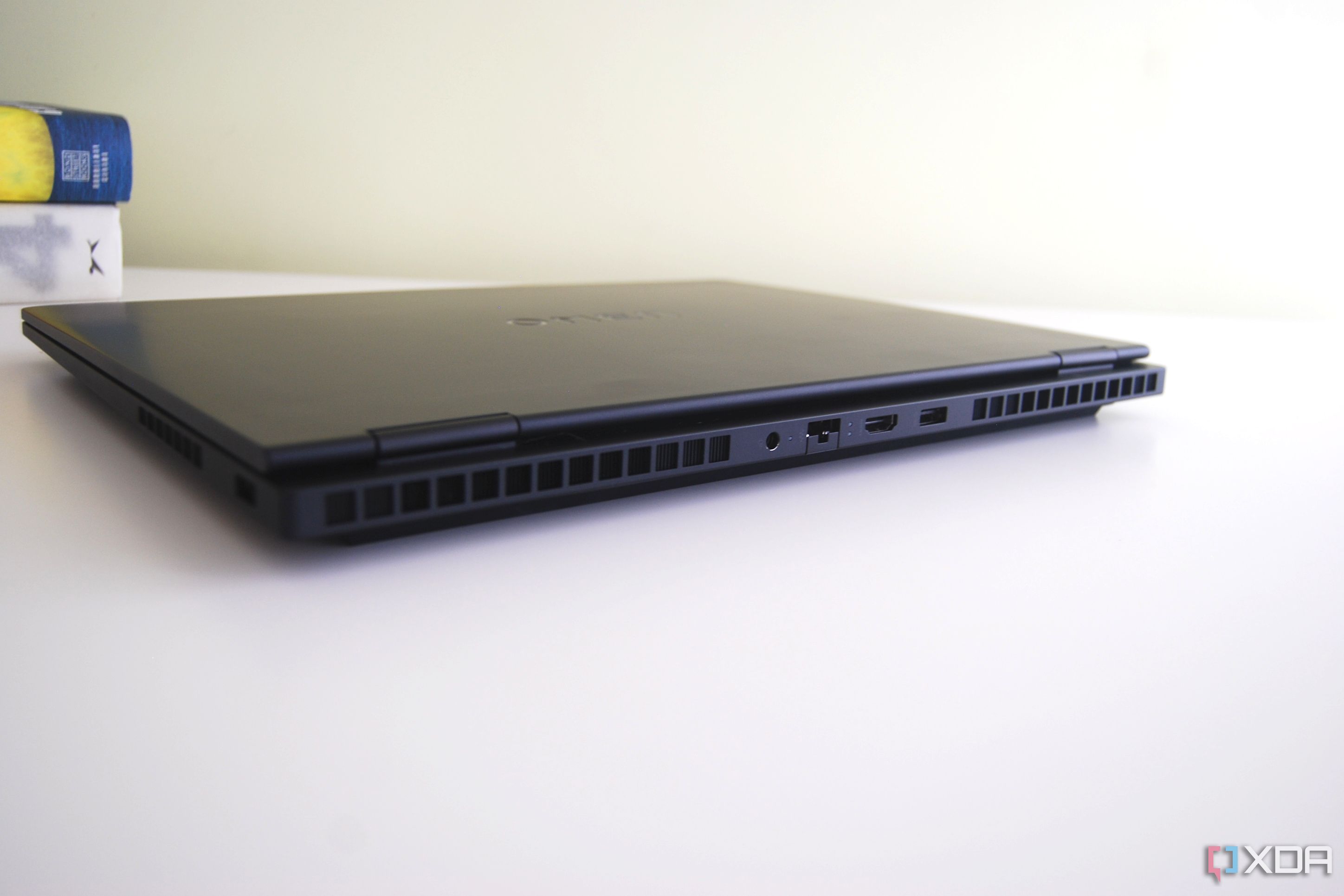 The Omen Transcend 16 (2023) is readily available to buy from HP's official website as well as some third-party retailers like Best Buy and Amazon. The official site is where you'll find the best configuration options, with some killer HP laptop deals thrown in for good measure. At the time of writing, for example, the Omen Transcend is up to $500 off the regular price.
Prices straight from HP start at about $1,700 without any promotions. This model includes a 13th-generation Intel Core i7-13700HX processor (CPU), Nvidia RTX 4050 Laptop GPU, 16GB of dual-channel DDR5-4800 RAM, 512GB M.2 PCIe 4.0 NVMe solid-state drive (SSD), and FHD+ display with 165Hz refresh rate and 7ms response time.
Looking at my review unit with Intel Core i9-13900HX CPU, Nvidia RTX 4070 Laptop GPU, 32GB of DDR5 RAM, 2TB of storage, and a QHD+ mini-LED display at 240Hz, you're looking at dropping about $2,930. As mentioned, HP has knocked $500 off this laptop at the time of writing, but it still doesn't come cheap. However, as a bonus, models with the RTX 4070 Laptop GPU come with a free HyperX Cloud II Core wireless gaming headset.
To compare, the Omen 16 starts at $1,600 for a model with a Core i7-13700HX CPU, 16GB of RAM, 512GB SSD, FHD display at 165Hz, and an RTX 4060 Laptop GPU. That's $100 less than the Transcend despite the better GPU, and the price difference only climbs from there.
Design, ports, and keyboard
Slim aluminum design with two color options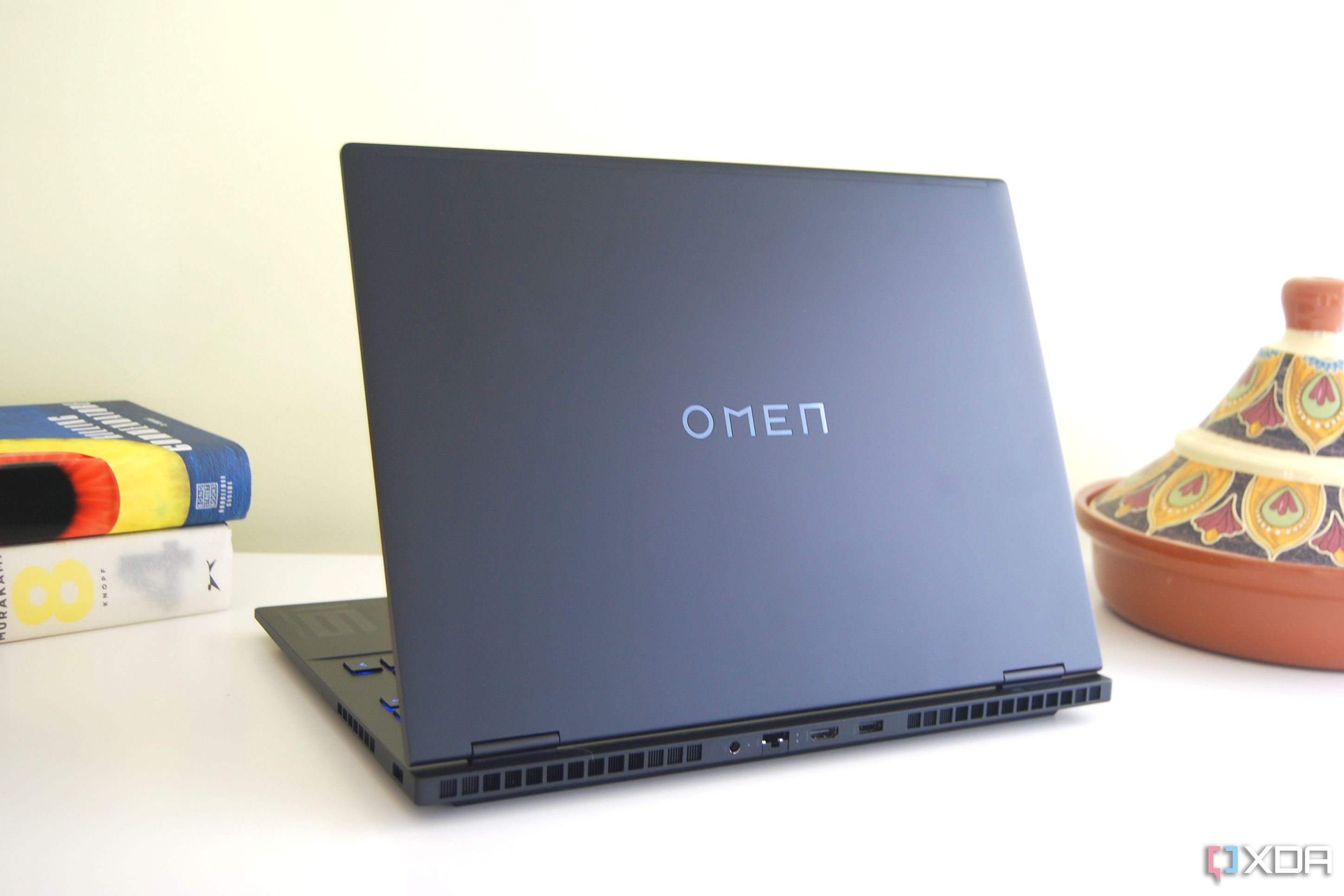 The Omen Transcend 16 looks a lot like the standard Omen 16, but there are some subtle differences. The Transcend model is lighter with a starting weight of about 4.62 pounds (compared to 5.4 pounds), thinner at 0.78 inches (compared to 0.93 inches), and has a narrower but deeper body to make room for the taller 16:10 display aspect ratio. The Omen Transcend is made primarily from a magnesium-aluminum blend that's lighter than pure aluminum. It doesn't seem like plastic was used for any major body parts, which results in a more rigid build. The Shadow Black color picks up a lot of smudges and fingerprints, which can be solved by carrying a cleaning cloth or swapping to the optional Ceramic White finish. So many gaming laptops come in darker shades, and it's nice to see a bit of variety.
A "trunk" design is also used here to improve cable management. The lid's hinges sit forward on the chassis, leaving a back edge that's completely open for thermal exhaust and ports. Here you'll find the barrel charging port, RJ45 Ethernet, HDMI 2.1, and USB-A 3.2. The left side of the laptop includes an exhaust vent as well as two Thunderbolt 4 and a 3.5mm audio combo jack. On the right is a single USB-A 3.2 port and another exhaust vent. Those who are missing an SD card reader or more USB-A ports can always take advantage of a great Thunderbolt dock, but the native port selection here should be good enough for most gamers. Rounding out the connectivity is an Intel AX200 Wi-Fi 6E M.2 module that can be replaced after purchase. Bluetooth 5.3 is also on board to handle wireless accessories.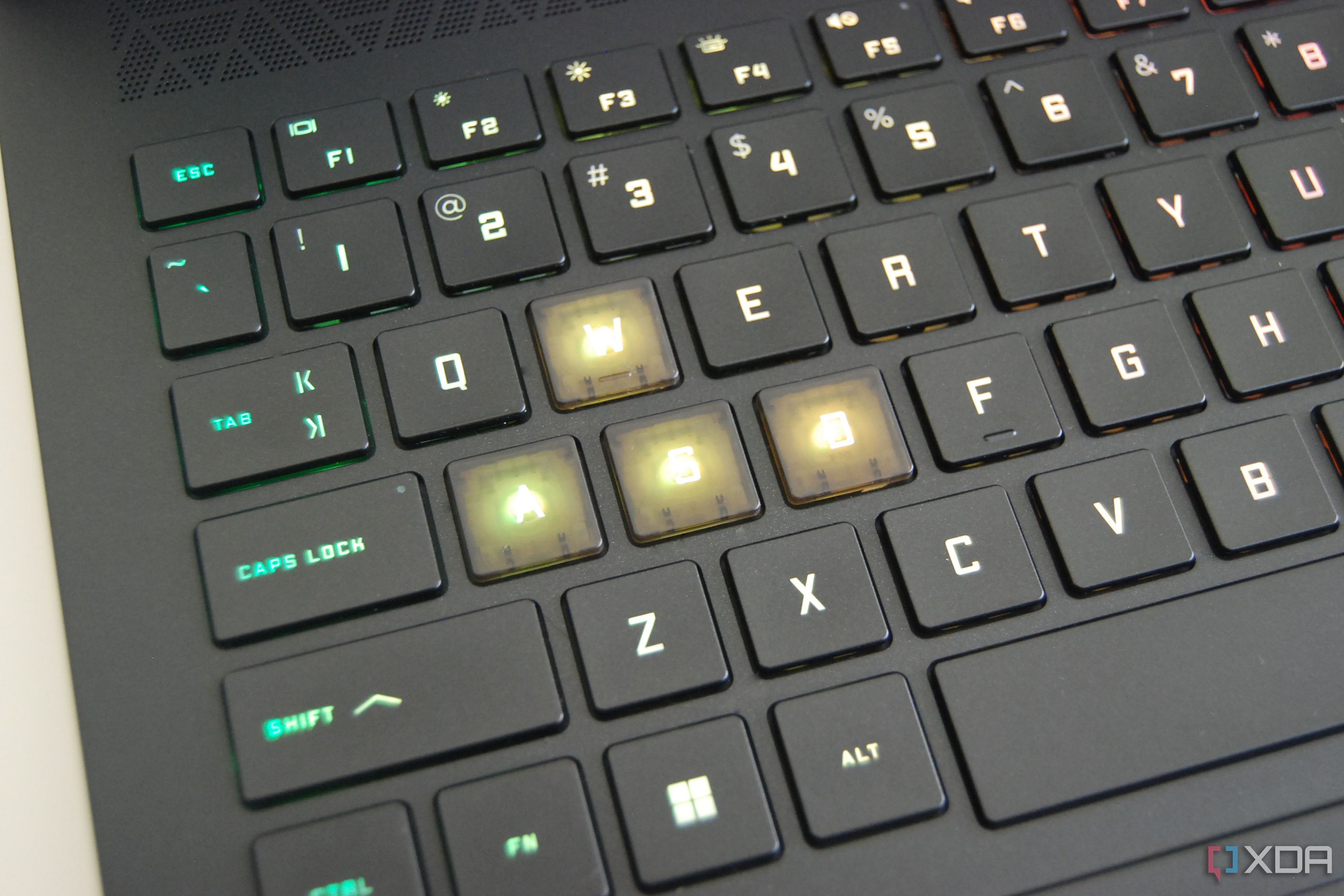 The laptop's keyboard follows the same layout as the Omen and Victus 16 models, with per-key RGB lighting for the flat chiclet-style keycaps. The navigation keys are clustered to the side for easy shortcuts, the spacebar is thicker than other keys for easier pressing, and there's enough key travel to prevent fatigue during long days of typing or gaming.
The font on the keycaps is embedded and semi-transparent to let the RGB lighting shine through. However, HP also decided to make the WASD keycaps entirely semi-transparent to show off a yellow shade when the backlight isn't enabled. To put it bluntly, the WASD keys are ugly whether you're using the backlight or not. On the Omen laptop that's most cut out for professional work, this aesthetic choice just doesn't work.
Below the keyboard is an enormous touchpad with a firm click and accurate tracking. Gamers will no doubt plug in a quality gaming mouse for long sessions, but for productivity work and general use, you should have no problems with the built-in pointer.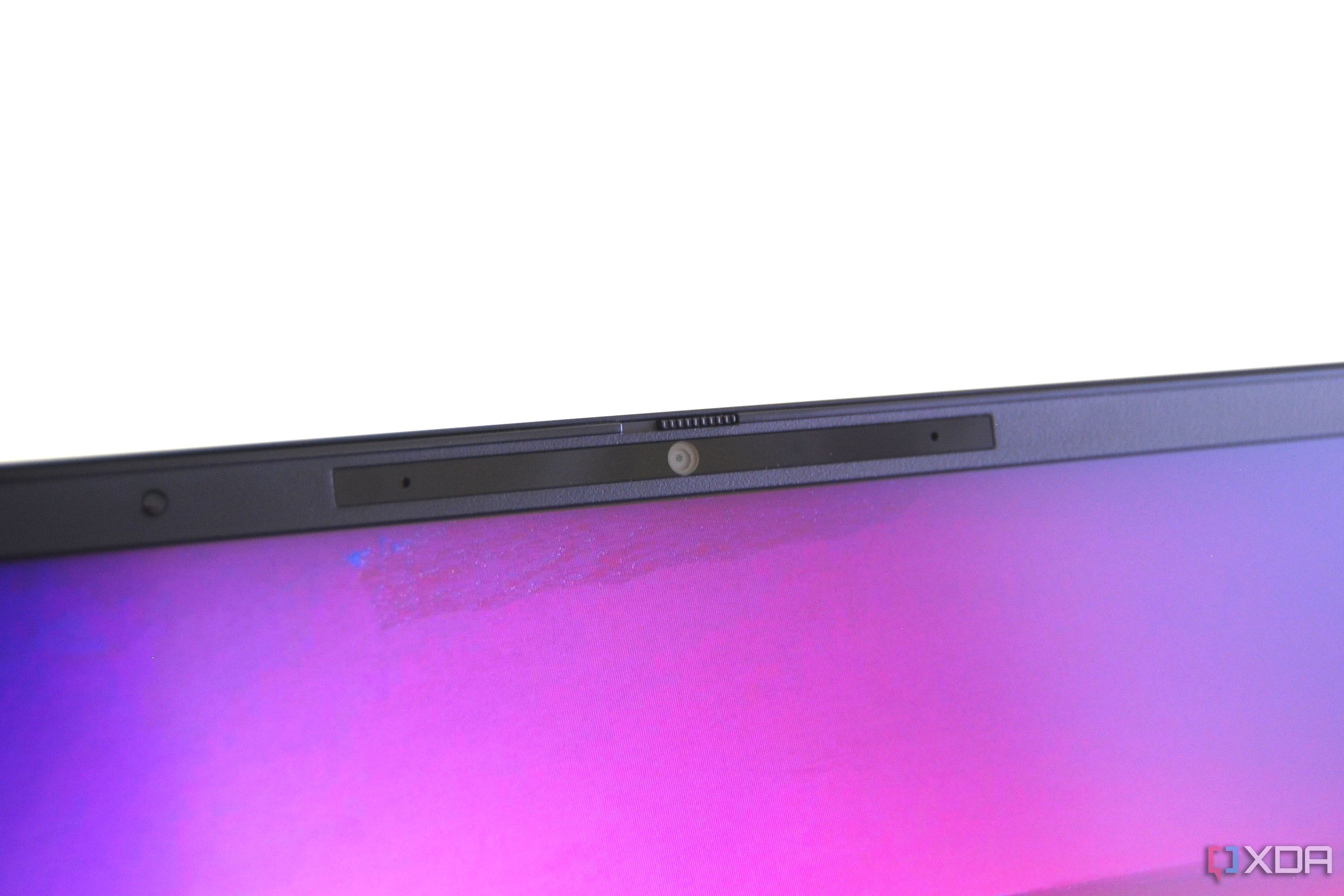 Above the display is a 1080p webcam with included IR for facial recognition through Windows Hello. This feature isn't available on the more affordable HP gaming laptops, and those concerned about convenient security should add this to the top feature list. A discrete physical shutter is also included for extra privacy. As for audio, two stereo speakers live toward the front of the laptop. Their pinhole grilles are located on the wedge shape of the laptop's underside, preventing muffling when the PC is on your lap. The speakers get plenty loud without distorting, and I found myself using them for casual gaming before turning to a proper gaming headset for more serious titles.
Display
Mini-LED panel with 240Hz refresh rate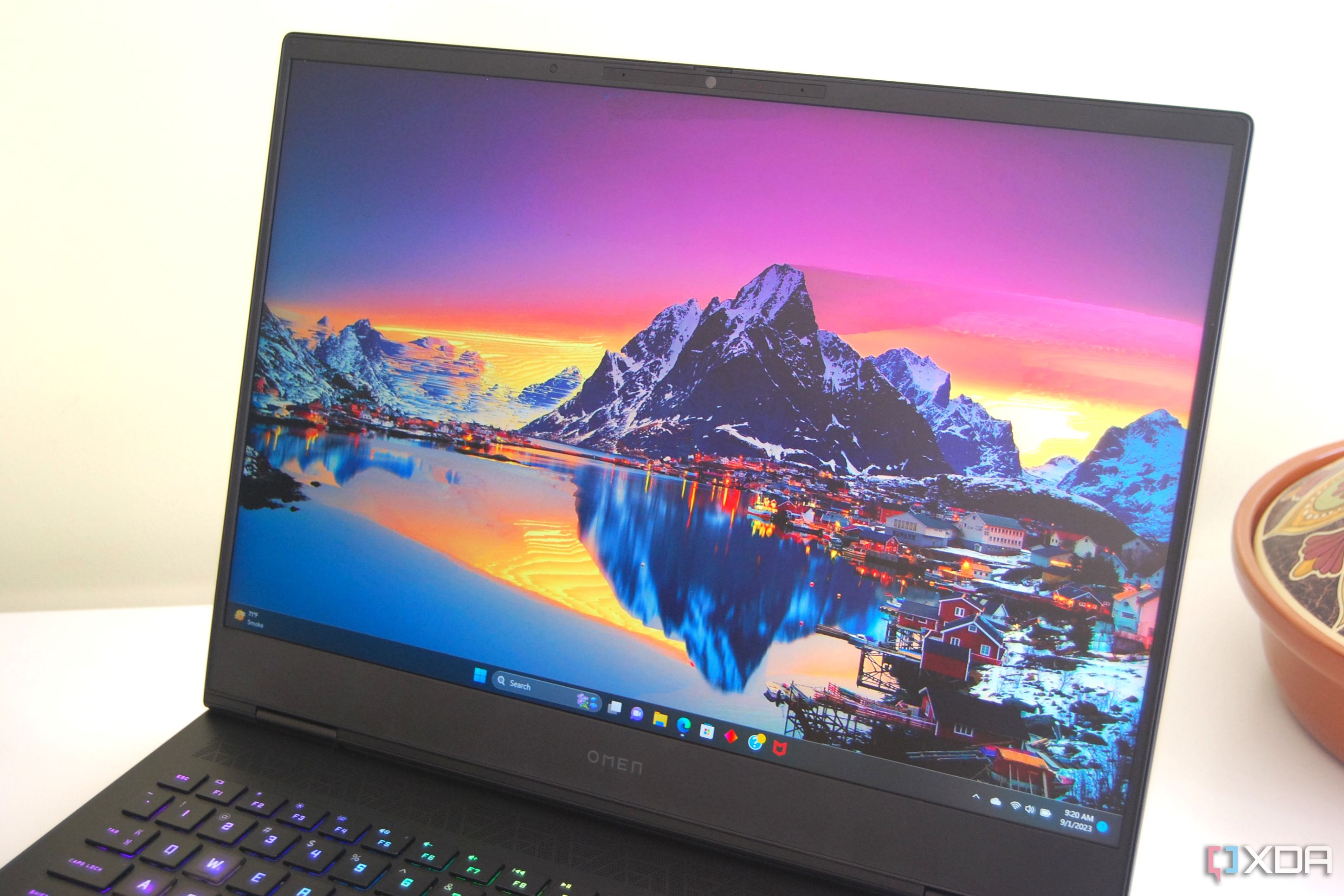 One of my biggest complaints about the Victus 16 and Omen 16 models is the 16:9 display aspect ratio. While 16:9 is fine for gaming and watching movies, productivity work and general PC use benefit from the taller display and extra pixels. With what is seemingly a more focused approach to creative and design work — the laptop ships with Nvidia Studio drivers — the Omen Transcend has a taller 16:10 aspect ratio. The chin below the screen is no smaller compared to the sibling brands, and HP has instead made the whole laptop chassis a bit deeper to accommodate the extra screen size.
There are three 16-inch displays listed on HP's website, starting with the more affordable FHD+ option with 165Hz refresh rate, 7ms response time, and 400 nits brightness. You can also move up to a QHD+ resolution without ticking the mini-LED box. This middle display option has a 240Hz refresh rate, 7ms response time, and 400 nits brightness.
The Omen Transcend's mini-LED display brings outstanding color and contrast without the risk of burn-in that is associated with OLED.
The most expensive display — which is actually only a $50 premium over the QHD+ IPS display once you have the right performance hardware configured — has a mini-LED panel with QHD+ resolution, 240Hz refresh rate, anti-glare finish, HDR 1000 support, and brightness up to and beyond 1,200 nits when HDR is enabled. Mini-LED is a relatively recent technology that uses smaller LEDs with hundreds of local dimming zones for excellent color and contrast. It's not quite at the level of an OLED, where each individual pixel can be controlled, but you won't have to worry about burn-in issues.
Testing with a SpyderX Pro colorimeter, the Omen 16 Transcend's display hit 100% sRGB, 91% AdobeRGB, and 99% DCI-P3 color reproduction. These are killer results that translate to an outstanding picture for gaming as well as specialized work. Those splitting time between creative or design tasks and gaming should have no problems with the mini-LED display. It was also capable of 868 nits brightness without HDR enabled, which is enough to work pretty much anywhere. There's also no backlight bleed when viewing dark images.
A 240Hz refresh rate has plenty of space to accommodate the Core i9 CPU and RTX 4070 Laptop GPU, and the 5ms response time should be fine for most gamers unless they're focused mainly on competitive titles that require a quicker response. Mini-LED technology doesn't come cheap, and the Omen Transcend 16 can be considered a good value when it comes to the best mini-LED laptops available today.
Performance, battery, and software
Bigger focus on CPU performance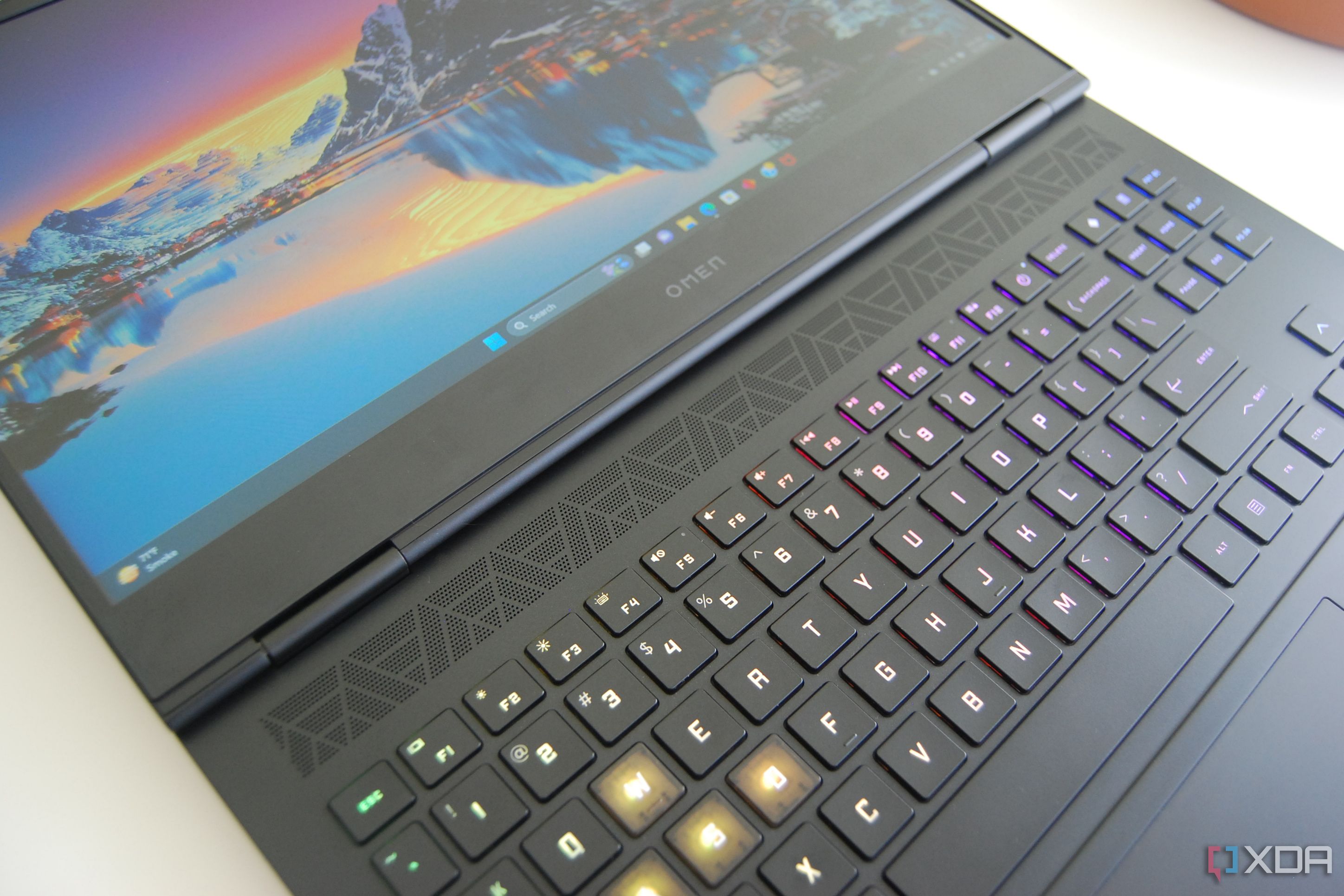 HP overhauled its cooling systems in the 2023 Omen 16 and Victus 16 models, and the Transcend — which is a totally new product for HP — was introduced with largely the same setup. Like a lot of other high-end and modern gaming laptops, the Transcend relies on AI tuning to prevent throttling and intelligently move power back and forth between the CPU and GPU as needed. Instead of letting all systems run at full tilt and throttle, the Transcend can regulate itself to deliver optimal performance without losing power to heat.
In my HP Omen 16 (2023) review, I saw the RTX 4080 Laptop GPU settle back at about 124W for the majority of the stress test, with the Core i7-13700HX sitting at about 45W. In the case of the Transcend, which tops out at an RTX 4070 Laptop GPU but offers a Core i9 HX chip, the CPU needs more power and thus pulls some available away from the GPU.
HP has placed more of an emphasis on CPU power for the Omen Transcend 16.
I stress-tested the Omen Transcend for about 15 minutes and saw the CPU hit 98 degrees Celsius before settling back between 85 and 89 degrees Celsius while pulling 65W (with a spike to 92W during the initial boost period). The GPU leveled out at 92 degrees Celsius for the majority of the test, but it also came to rest at about 87W of power. With all this in mind, it does seem like HP is focusing more on the Transcend's CPU power than GPU power, especially since you can't go all the way up to an RTX 4080. As for system noise, the laptop plateaued at 54.5 dBs during the stress test, which is the quietest out of the three HP gaming laptops we tested.
Nvidia Studio drivers come installed by default for the Omen Transcend's GPU. As the name suggests, these drivers are tuned more for creative and design work than for gaming. I ran some 3DMark benchmarks to see how the drivers do with gaming tasks. In Fire Strike, the laptop hit 11,013, and in Fire Strike Extreme, it hit 5,262. You can compare these numbers to the results in the table below, which were recorded after switching over to Nvidia's gaming drivers. Not a huge difference, but if you're mainly focused on gaming, there's no reason not to ditch the Studio drivers for that extra performance.
| Benchmark | HP Omen Transcend (2023), Intel Core i9-13900HX, RTX 4070 | HP Victus 16 (2023), Intel Core i7-13800H, RTX 4050 | HP Omen 16 (2023), Intel Core i7-13700HX, RTX 4080 | Lenovo Legion Pro 5i (Gen 8), Core i7-13700HX, RTX 4060 | HP Omen 16 (2022), Intel Core i7-12700H, RTX 3070 Ti |
| --- | --- | --- | --- | --- | --- |
| PCMark 10 | 7,537 | 7,755 | 7,523 | 7,370 | 7,119 |
| Cinebench R23 (single / multi) | 2,096 / 25,347 | 1,894 / 18,348 | 1,852 / 19,638 | 1,888 / 19,468 | 1,729 / 16,883 |
| Geekbench 5 (single / multi) | 2,005 / 19,116 | 1,836 / 14,229 | 1,845 / 14,464 | 1,832 / 14,990 | 1,780 / 12,587 |
| Geekbench 6 (single / multi) | 2,918 / 16,681 | 2,614 / 14,063 | 2,519 / 14,119 | 2,480 / 13,524 | N/A |
| 3DMark Time Spy | 12,119 | 9,028 | 16,740 | 11,031 | 11,159 |
| 3DMark Time Spy Extreme | 5,866 | 4,221 | 7,589 | 5,167 | 5,537 |
The Intel Core i9-13900HX unsurprisingly brings better performance compared to the Core i7 chips we've seen in other recently tested laptops. As mentioned, the CPU seems to be the focus here, and you won't be disappointed with the available power. The SK hynix M.2 PCIe 4.0 SSD is blazing fast, hitting 7,027 MB/s read and 6,416 MB/s write speeds. However, the internal design of the Transcend only has space for one M.2 slot, whereas the standard Omen has two M.2 slots.
The 97Wh battery lasted about four minutes past an hour in PCMark 10's gaming rundown test with the system set to full performance. As with most high-end gaming laptops, you'll want to keep an AC adapter nearby. I also tested using PCMark 10's modern office rundown after reducing the screen to a 60Hz refresh rate and changing performance modes to balanced. The laptop ran for four hours and 36 minutes under these conditions, which is more than an hour longer than the Omen 16 I tested.
Take a look at how the Omen Transcend 16 compares to other laptops we've tested in real-world gaming benchmarks:
| Game | Graphics setting | HP Omen Transcend 16 (2023) Average frame rate (QHD+) | HP Omen 16 (2023) Average frame rate (QHD) | HP Victus 16 (2023) Average frame rate (FHD) | Legion Pro 5i (Gen 8) Average frame rate (QHD+) |
| --- | --- | --- | --- | --- | --- |
| Red Dead Redemption 2 | Ultra (favor quality) / No DLSS | 63 FPS | 87 FPS | N/A | 58 FPS |
| Red Dead Redemption 2 | Ultra (favor quality) / DLSS Performance | 80 FPS | 109 FPS | N/A | 82 FPS |
| Shadow of the Tomb Raider | Highest / No DLSS | 107 FPS | 148 FPS | 120 FPS | 96 FPS |
| Shadow of the Tomb Raider | Highest / DLSS Performance | 158 FPS | 168 FPS | 150 FPS | 146 FPS |
| Far Cry 5 | Ultra / No DLSS | 101 FPS | 103 FPS | 122 FPS | 93 FPS |
I didn't come close to hitting the 240Hz refresh rate that the screen offers, but again, this was with the in-game settings maxed out. Lowering in-game settings will help, and many less intensive games will absolutely push up toward the 240Hz limit.
Should you buy the HP Omen Transcend 16 (2023)?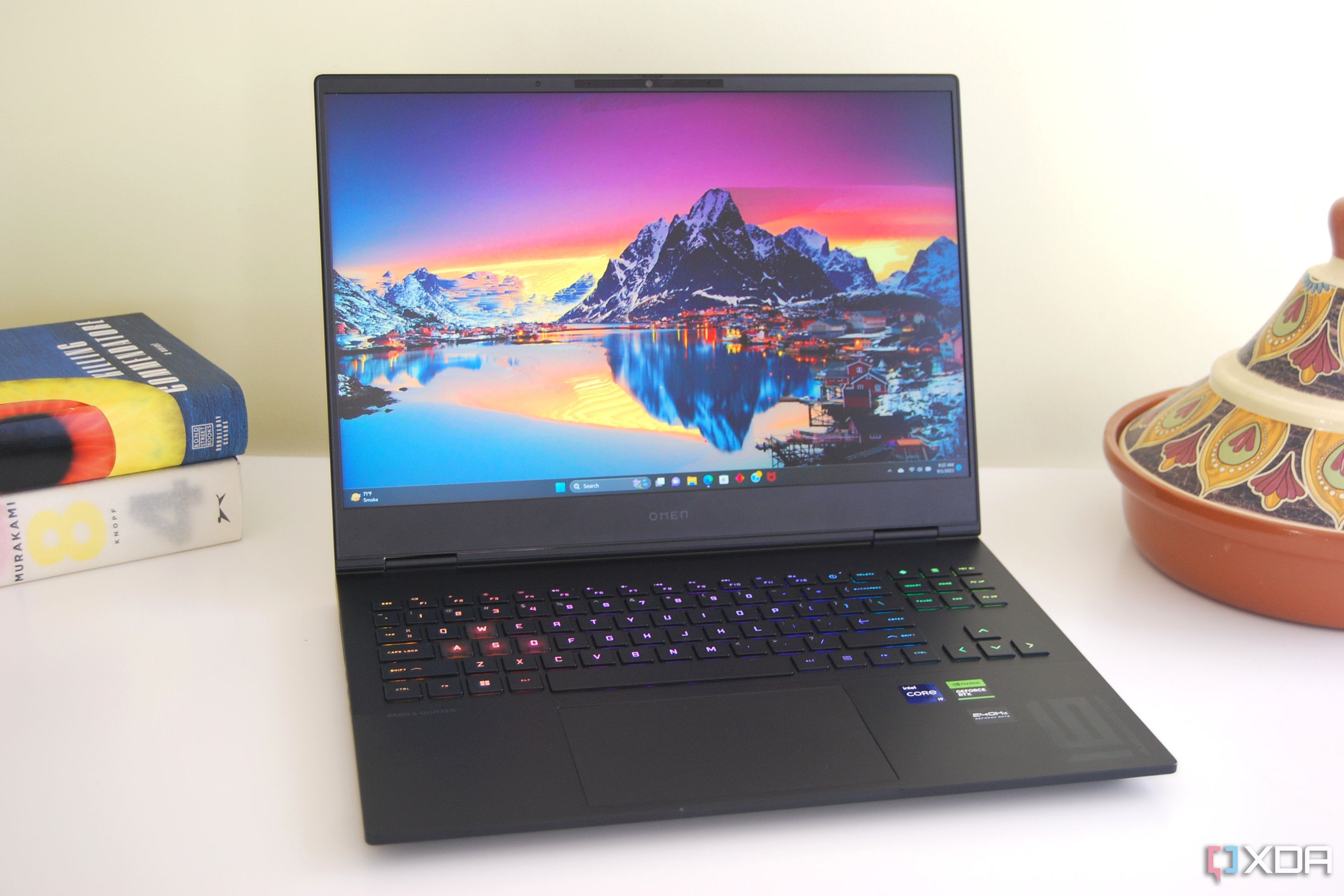 You should buy the HP Omen Transcend 16 (2023) if:
You want to take advantage of the mini-LED display option
You'd like more of a focus on CPU power
You can't live without a 16:10 aspect ratio
You should not buy the HP Omen Transcend 16 (2023) if:
You'd like to maximize GPU performance (the standard Omen 16 comes with up to an RTX 4080)
You don't have deep pockets
You want a 4K display
The Omen Transcend 16 is the most premium laptop that HP offers from its gaming brand. However, that doesn't mean it's going to be the best for gaming. The inclusion of the mini-LED display option with outstanding brightness, color, and contrast, the lack of RTX 4080 Laptop GPU option, and the taller display aspect ratio really push the laptop toward mixed creative and design use in a way where the Omen and Victus laptops just can't compete.
The Transcend's overall performance is steady, and, as expected, there is no throttling thanks to the AI tuning that's always working in the background. Gaming performance is impressive in its own right. The design and build quality are the best out of the trio, and I hope that HP makes the move to 16:10 screens for all gaming laptops in the next big refresh.
However, if you're trying to choose between the 2023 Omen Transcend, Omen, and Victus laptops, I can recommend sticking with the standard Omen 16 for most situations. Even compared to the budget HP Victus 16 (2023) that I reviewed, the Omen 16 doesn't cost much more and comes with many upgrades. It's considerably less expensive than the Omen Transcend, and its gaming performance will win every time, thanks to the RTX 4080 GPU option.
But those who want more of a focus on CPU performance and design work should check out the Omen Transcend 16. It's the thinnest and lightest gaming laptop that HP makes; it has a taller display with a mini-LED panel option; and the Intel Core i9-13900HX chip will make short work of just about any task.
Source: HP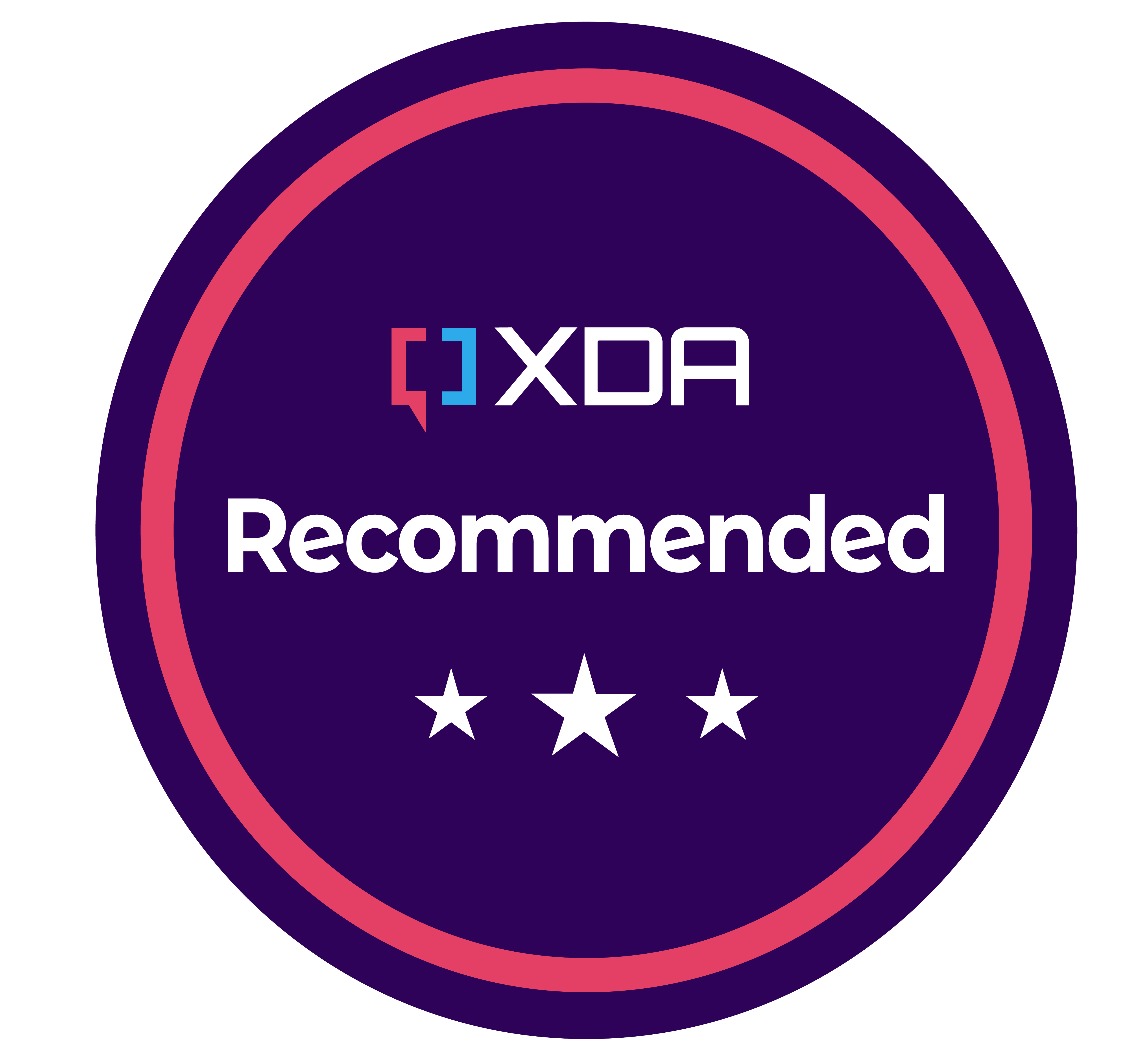 HP Omen Transcend 16 (2023)
The pinnacle of Omen
$1200 $1700 Save $500
The Omen Transcend 16 (2023) is an upgrade choice over the standard Omen 16 for those who are splitting time between work and play. The 16:10 mini-LED display is stunning, there's plenty of CPU power available, and it's the best built laptop of the HP gaming trio.


** (Disclaimer: This video content is intended for educational and informational purposes only) **