Quick Links
HP's ZBook Studio lineup has historically been a collection of hybrid workstation laptops, and this year's ZBook Studio 16 G10 is no different. It's a powerhouse that can be used for any number of tasks, like content creation and even a bit of gaming. With up to a 13th-generation Intel Core i9 processor and an RTX 4080 discrete graphics card, you're essentially getting desktop-class performance in the form factor of an average 16-inch laptop. If the raw power wasn't enough, that big display is also great, with a high resolution and high refresh rate.
After spending about two weeks with the ZBook Studio G10, I can confirm that it's a jack-of-all-trades that's built to handle anything power users can throw at it. I could see this laptop being used as a mobile workstation, a great creator laptop, or even a stealthy gaming laptop, thanks to its low-key design. It isn't all perfect — I noticed a considerable drop-off in performance on battery power and you are all but required to use the proprietary charger — but HP gets a lot correct here. But since higher-end units come with price tags over $7,000, the ZBook Studio G10 is likely relegated to users who need this kind of mobile power for work to be worth the investment.
About this review: HP provided us with a ZBook Studio 16 G10 for the purposes of this review, and it didn't have any input into this article.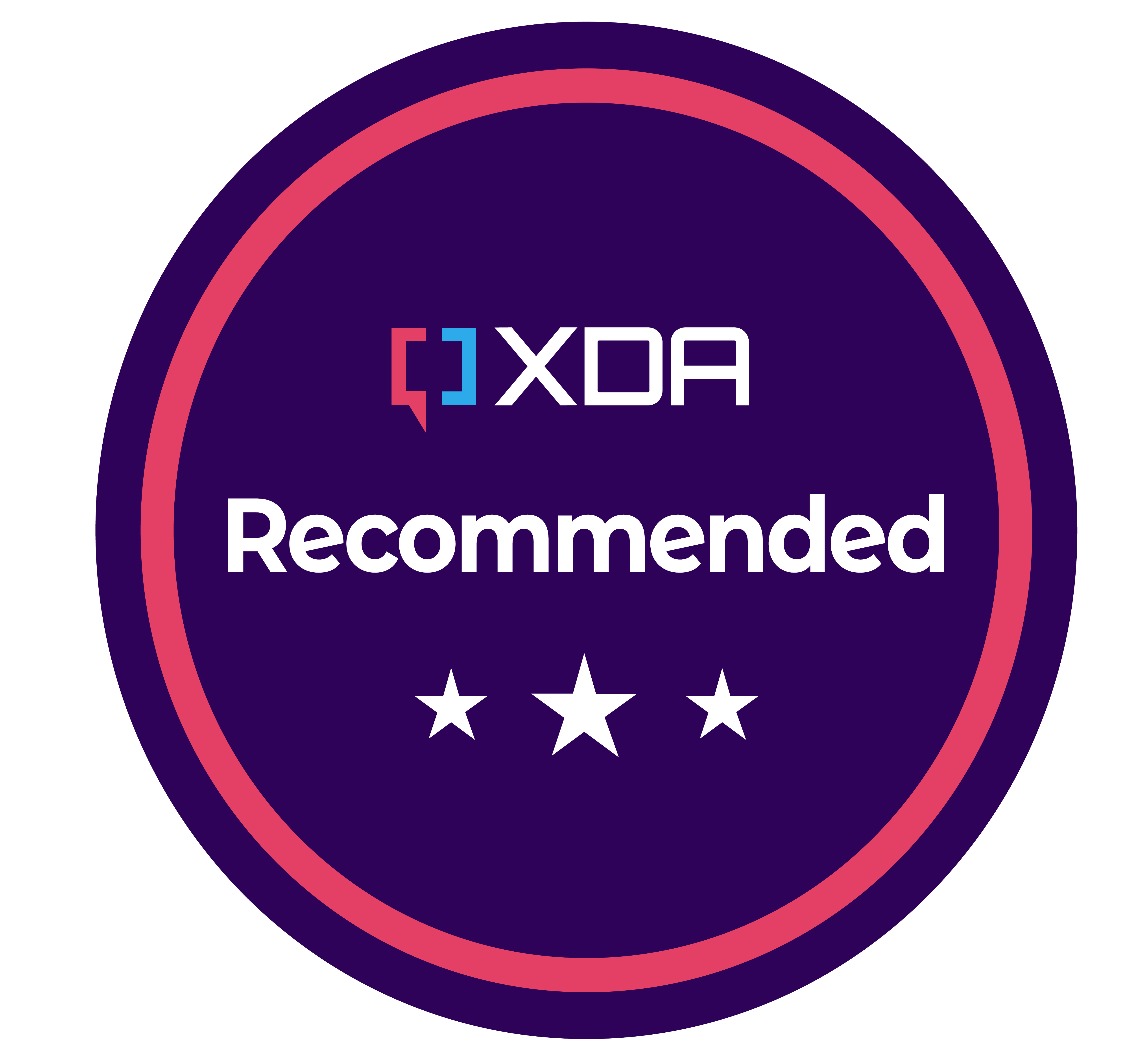 HP ZBook Studio 16 G10
Great mobile workstation
There's a ton of power hidden in this sleek 16-inch laptop
$2744 $2999 Save $255
HP's ZBook Studio 16 G10 packs a lot of power into a reasonable form factor, including an Intel 13th-gen processor and Nvidia RTX 40-series graphics. Plus, there's a color-accurate 16-inch display and a great-looking industrial design.
Operating System

Windows 11 Pro

CPU

Core i5-13600H, Core i7-13700H, Core i7-13800H, or Core i9-13900H

GPU

Nvidia RTX A1000 6GB, 2000 Ada, 3000 Ada, 4000 Ada, 4070, or 4080

RAM

Up to 64GB non-ECC SODIMM

Storage

Up to 4TB PCIe Gen4x4 M.2

Battery

6-cell, 86Wh Li-ion polymer

Display (Size, Resolution)

16-inch, up to 4K WQUXGA (3840 x 2400), 120 Hz, either IPS LCD or OLED

Camera

720p HD IR camera

Speakers

Bang & Olufsen, quad-speaker audio (2 tweeters & 2 woofers)

Colors

Silver

Ports

2x Thunderbolt, 1x USB-C, 1x barrel power connector, 1x microSD, 1x USB-A, 1x Kensington lock

Network

Intel Wi-Fi 6E AX211 (2×2)

Dimensions

14.02×9.54×0.76 inches (non-touch); 14.02×9.54×0.72 inches (touch)

Weight

Starting at 3.81 pounds

Adaptor and Battery

HP proprietary barrel connector

Delete

Yes

Card Reader

microSD

Display type

IPS LCD or OLED

Security

Windows Hello, facial recognition and fingerprint
Pros
Great performance with Intel 13th-generation and Nvidia 40-series
Beautiful display with 120Hz refresh rate
Customizable RGB backlit keyboard
Cons
Trackpad could be better
Performance dips significantly on battery power
Laptop prefers barrel charging connector, not USB-C
Pricing and availability
Let's get one thing out of the way first: there are so many different ZBook Studio 16 G10 configurations that it's hard to evaluate them all as just one laptop. The base model starts at $2,600 and includes an Intel Core i7-13700H processor, 16GB of DDR5 RAM, a 512GB SSD, and Nvidia A1000 discrete graphics. You can get it from HP and a few other retailers, like CDW, B&H, and Newegg.
My review unit — which was actually hard to find on HP's website amidst all the configurations — starts at around $5,400 by comparison. Surprisingly, if you want to get the exact configuration I reviewed, HP will direct you to third-party sites to purchase it. This unit includes an Intel Core i9-1300H processor, Nvidia 4000-series graphics, 64GB of non-ECC memory, and a 2TB SSD. So, if you're looking to purchase a ZBook Studio G10, know that there might be a huge performance swing from the base model, mid-tier, and high-end configurations.
Design
It's trying to be a MacBook Pro — and it almost is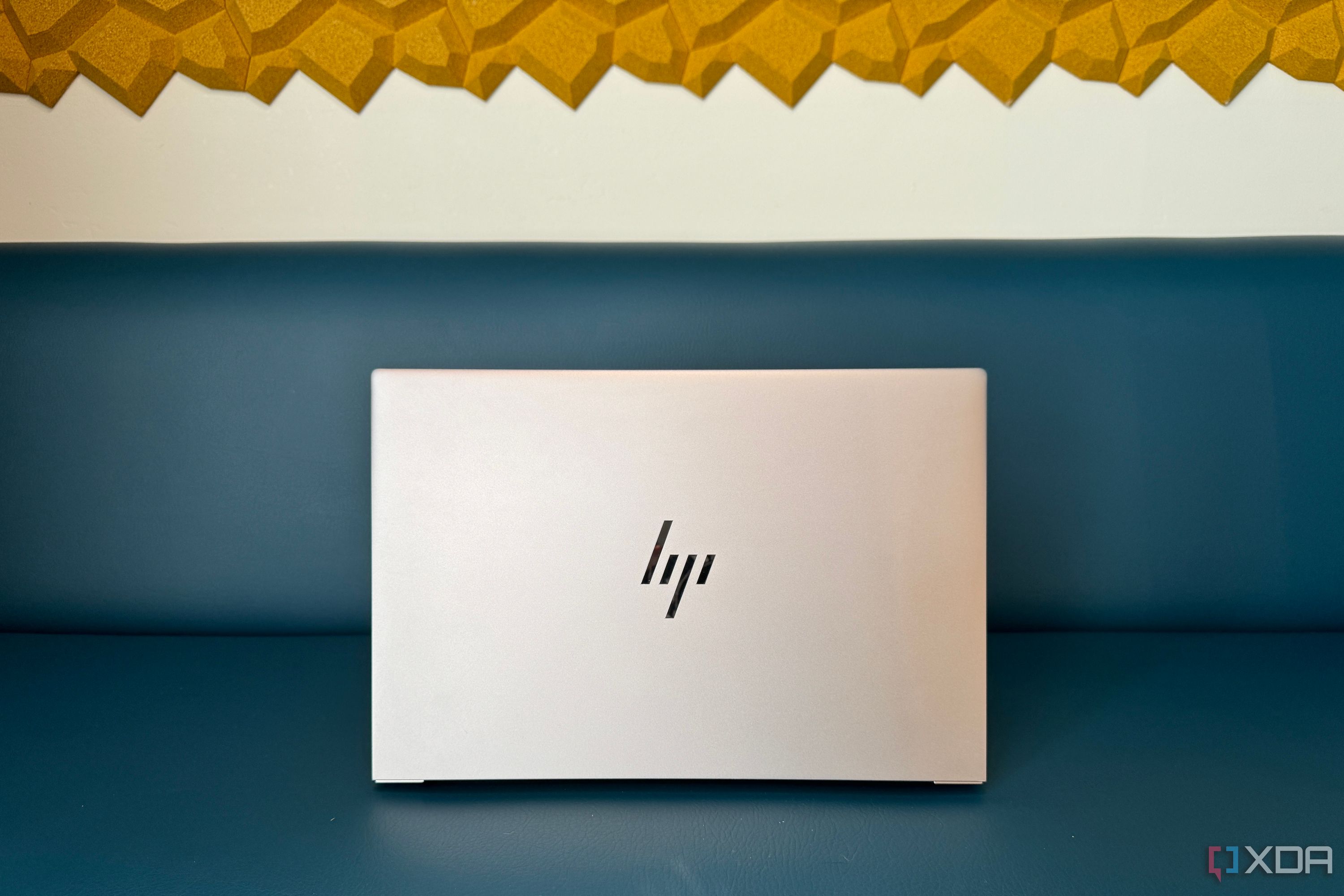 HP has modeled the ZBook Studio G10 after the design of modern MacBooks. If you aren't convinced by the all-metal and sleek build, know that HP markets the ZBook Studio G10 as having a "Z Command Keyboard" that mimics a Mac layout. Honestly, I do get MacBook vibes looking at the ZBook Studio G10. It has a premium and sturdy build for the most part, but there is some deck flex if you apply significant force to the chassis. More importantly, there is a lot of flex in the display — so much that I think my unit has an unintentional slight curve. This is a consequence of how thin the ZBook Studio G10's display is, but I might prefer a thicker laptop that's more sturdy.
But this laptop packs all kinds of power in a relatively small form factor. I'm used to daily-driving 13-inch laptops, but the ZBook Studio G10 and its 16-inch display didn't feel that heavy in my bag. The specs match my experience: the ZBook Studio G10 configuration I tested has a starting weight of 3.81 pounds, which isn't a lightweight laptop by any means, but laptops with this level of performance historically carried a much larger footprint. To gauge how the ZBook Studio G10 compares to other 16-inch laptops, I pulled out my 2019 MacBook Pro. For how much more powerful the ZBook Studio G10 is than the MacBook, it's not that much thicker.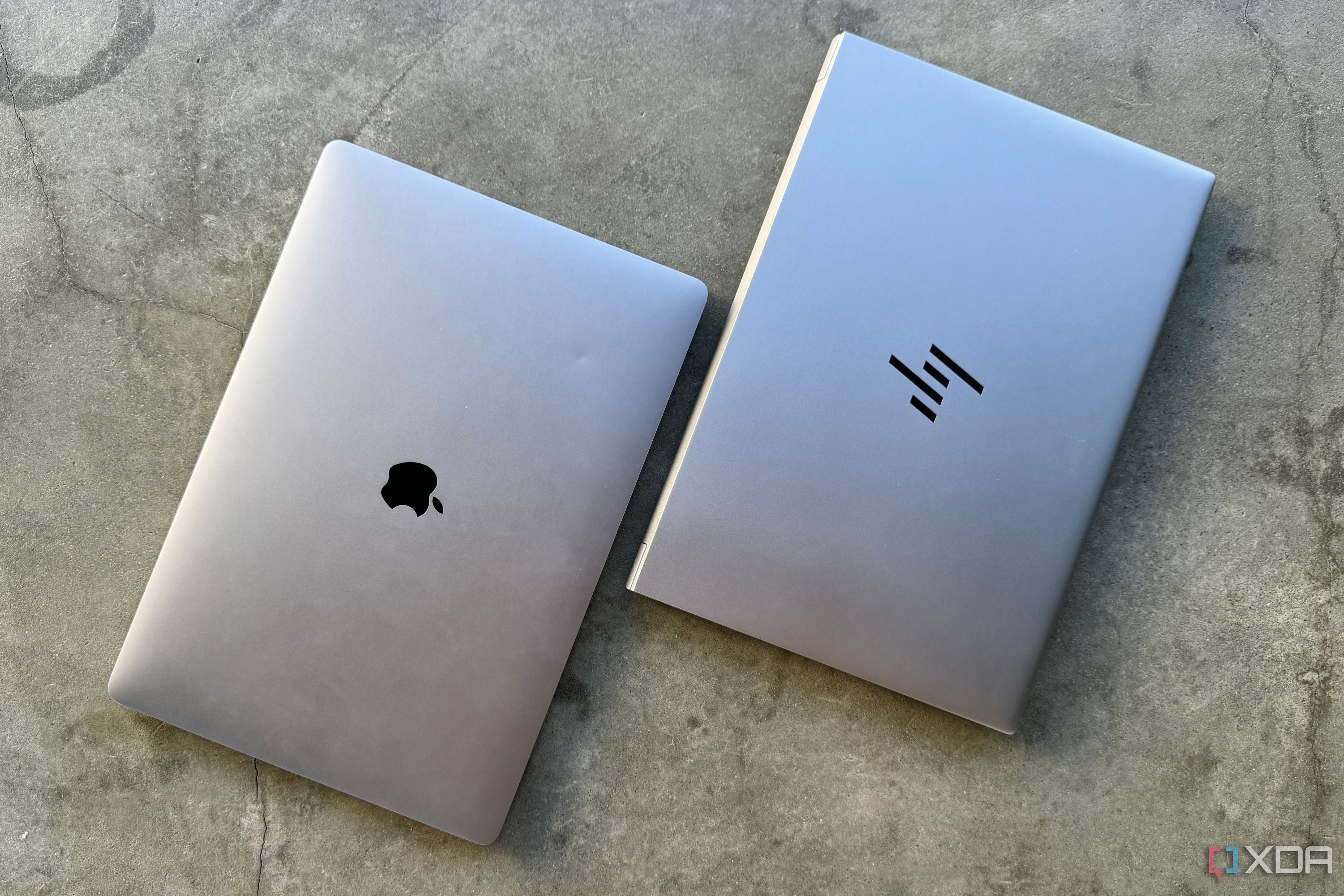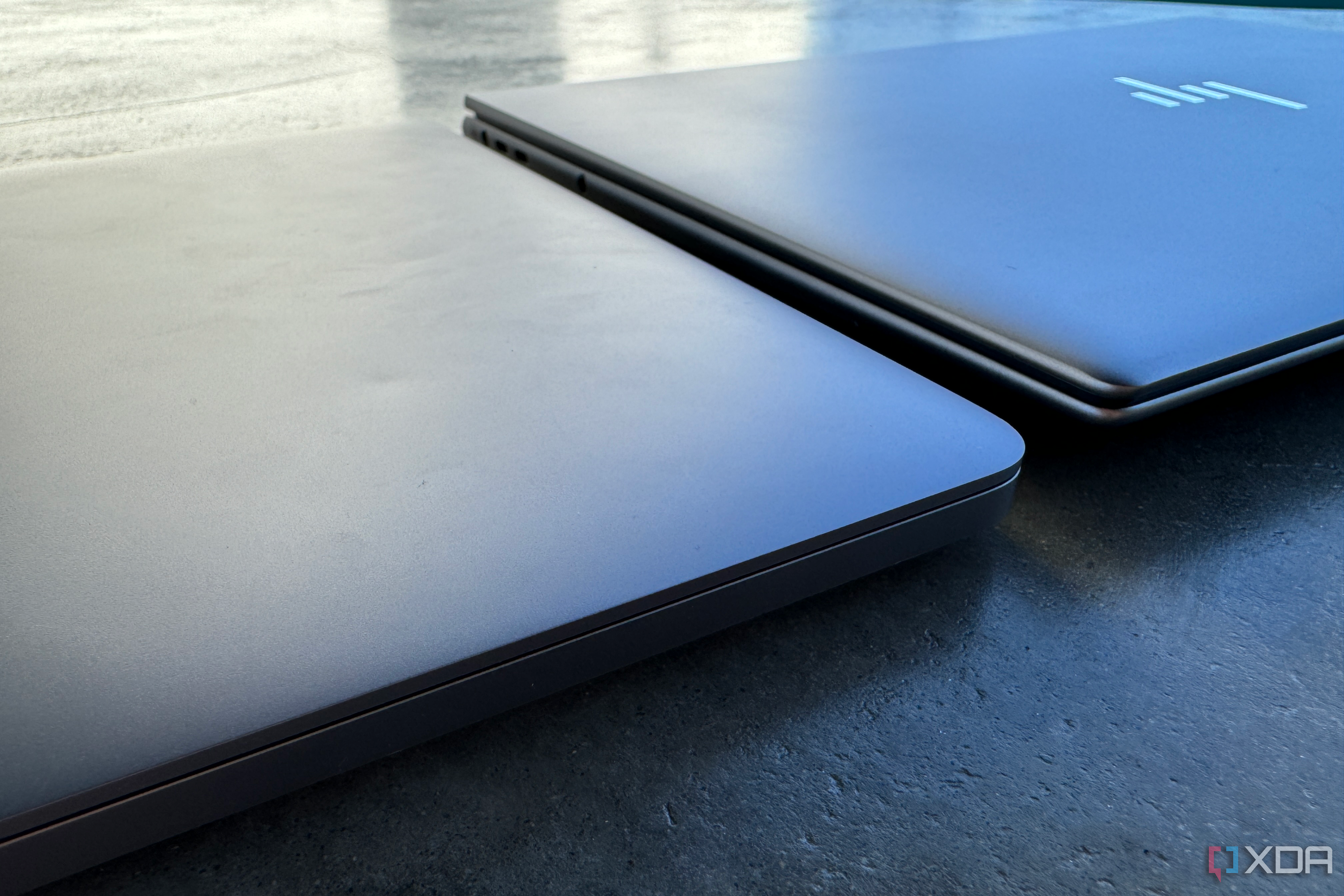 There are touch and non-touch versions of the ZBook Studio 16 display, and the touchscreen version is thinner. It measures up at 0.72 inches, which is slightly less than the non-touch thickness of 0.76 inches. Weight also varies based on the included components, of course, which is something to keep in mind when choosing your specs.
Ports
Great overall, with a few compromises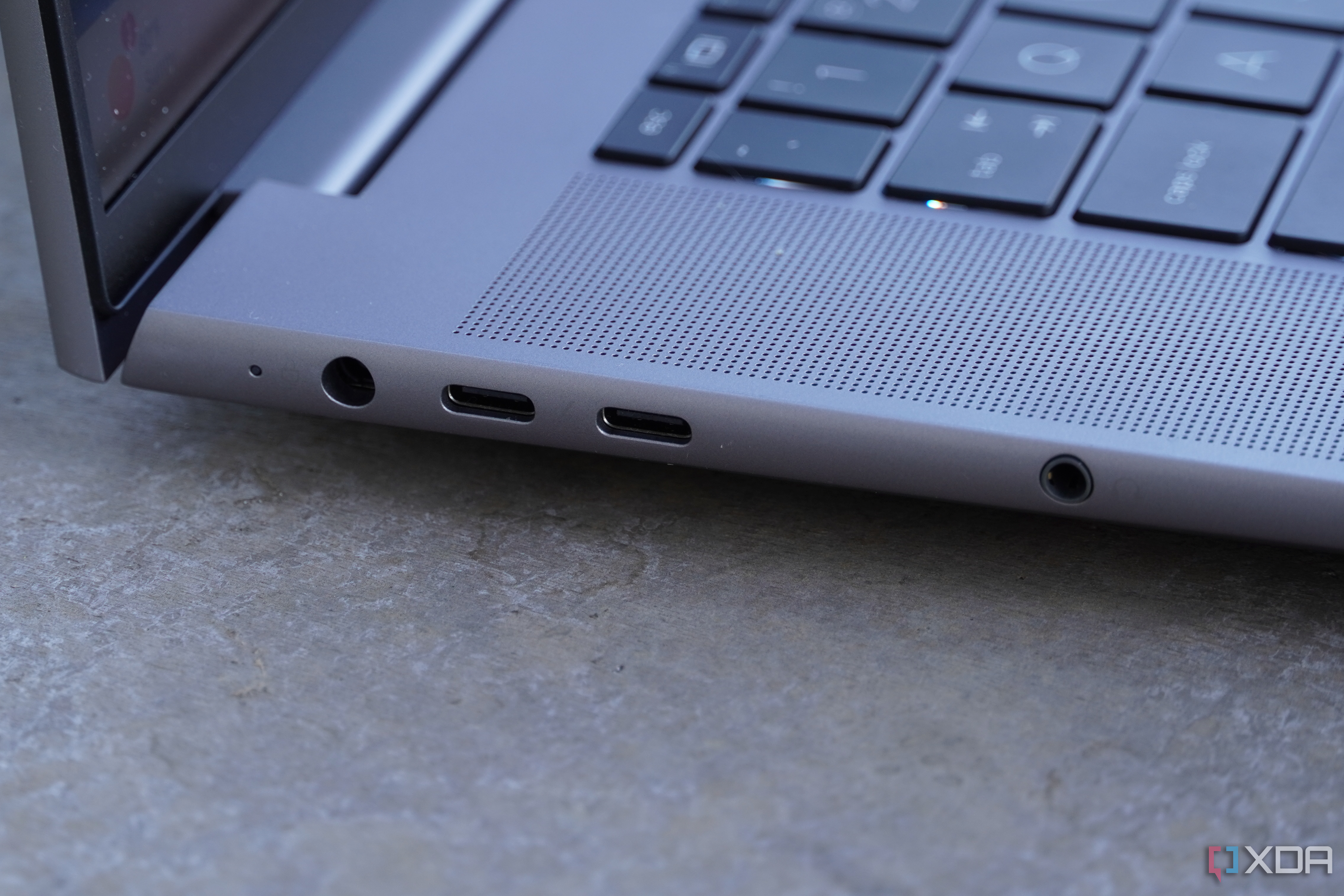 Since this is a workstation laptop, there are a lot of ports. However, having various ports isn't everything, and there are a few compromises here that worsen the experience. You get three USB-C ports, but only the two on the left side support Thunderbolt. The one on the right side is just a regular USB port, which is extremely disappointing. There's also a USB-A port for people with older accessories that don't support USB-C and a headphone jack.
The ZBook G10 is a jack-of-all-trades machine that is built to handle anything power users can throw at it.
The preferred charging method for the ZBook Studio G10 is with the proprietary HP barrel charging connector, which supports 200W charging. The cable and external power supply is extremely bulky, and carrying it around with you is a pain. Although you can charge the ZBook Studio G10 with the USB-C ports, the system is picky and doesn't like receiving less than 200W. Plugging in other USB-C laptop chargers brings up notifications that say the power adapter isn't enough to charge the device, so you will need to carry the gigantic 200W proprietary power adapter. Since USB-C cables and wall adapters that support 200W charging exist, I wish HP went that route instead.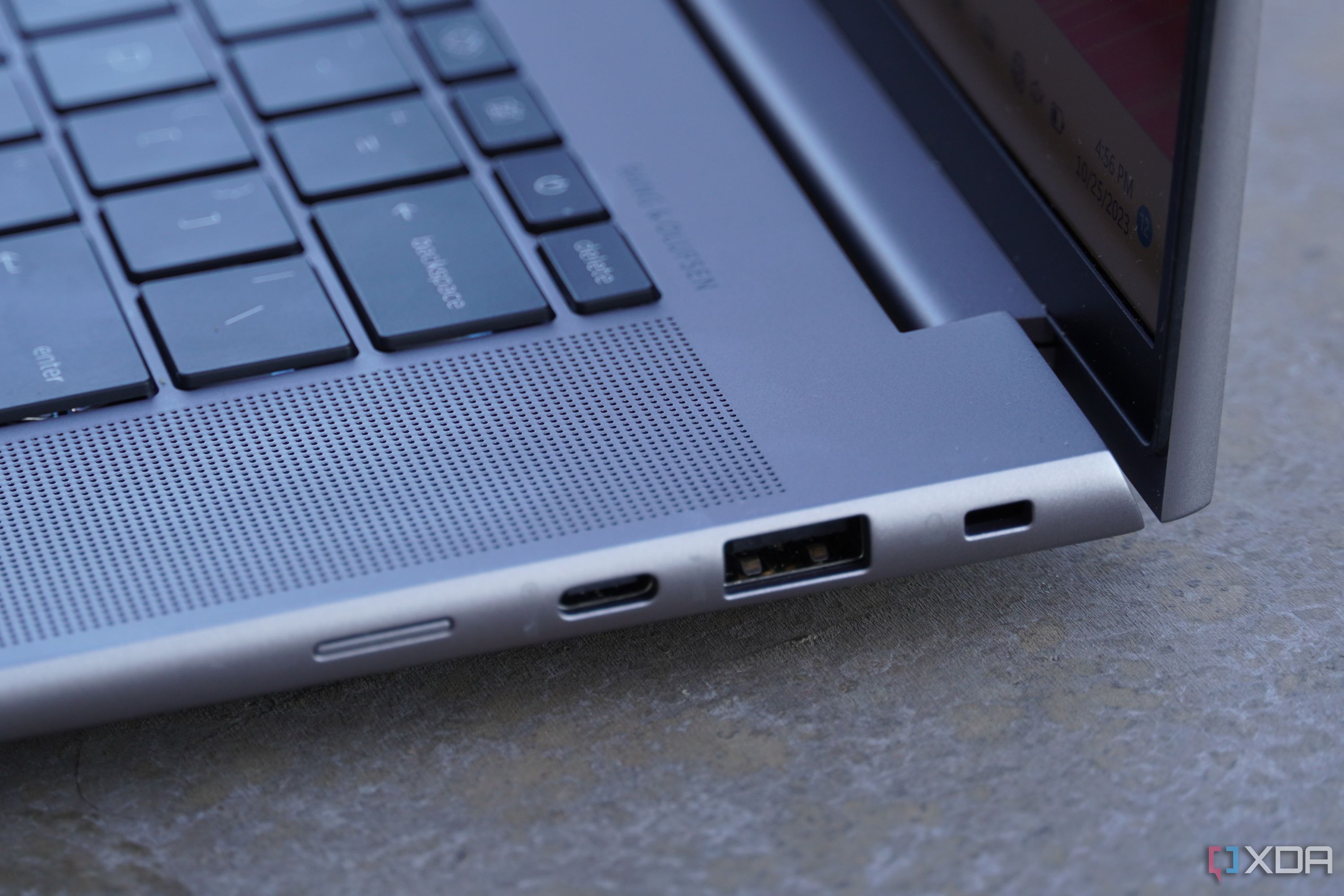 You also get a Nano security lock that can be used to secure your PC while you're working. Though the ZBook Studio G10 has a microSD card slot, I would've preferred either a full-size slot or another USB-C port in its place. You can always adapt microSD to full-size SD, but the reverse isn't as easy. We've seen Apple add the SD card slot back to the MacBook Pro lineup, so I don't see any reason why it couldn't be on the ZBook Studio G10.
Keyboard and trackpad
Excellent backlit keyboard with RGB customization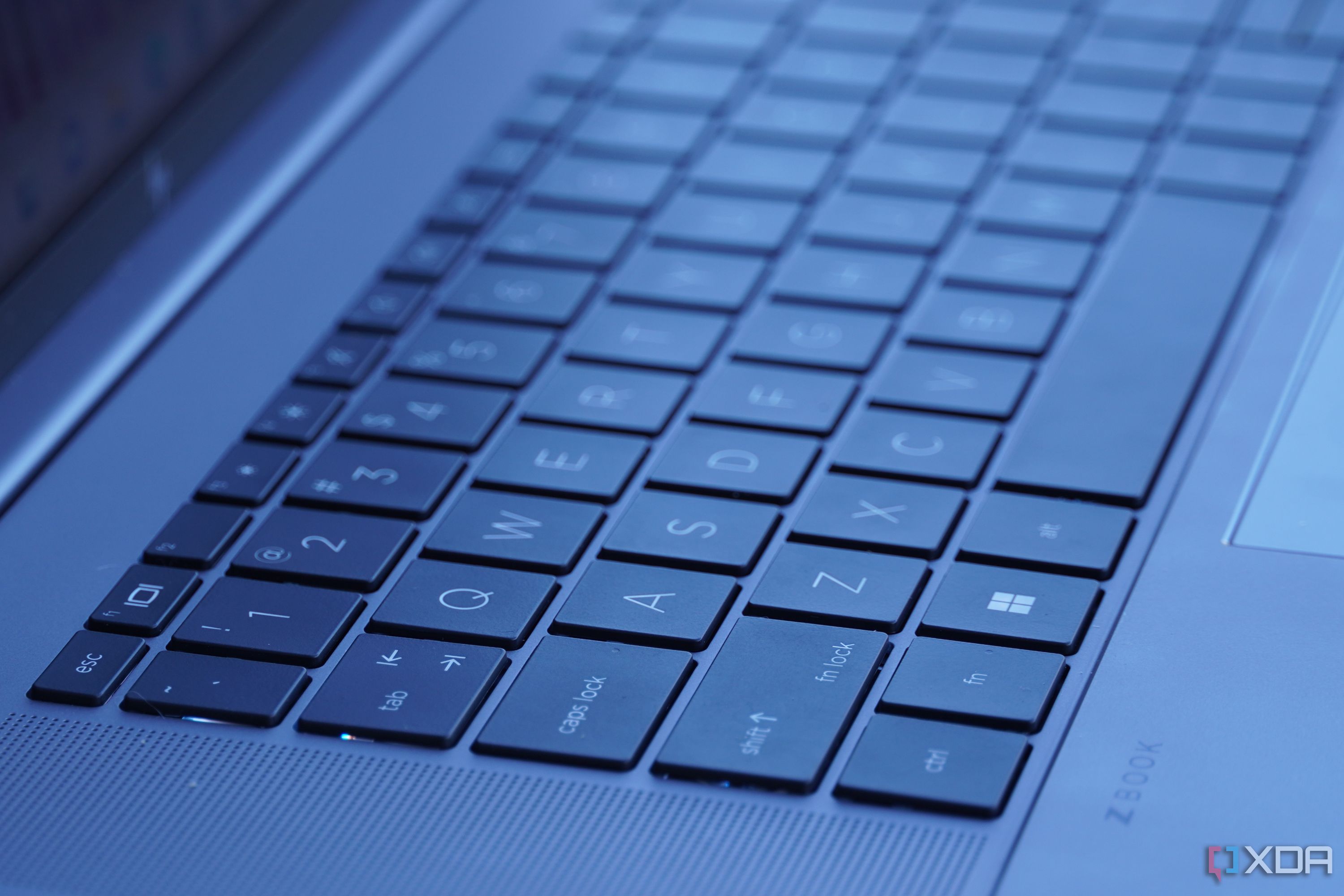 If there's one word that describes the keyboard and touchpad experience on the ZBook Studio G10, it's resistance. It feels like it takes way more force to press the keys or touchpad than I'm used to on other laptops. The resistance wasn't a dealbreaker, though, because after a few days, I adjusted and found the extra force required for each key press to create a more satisfying feel.
The interesting part is that it doesn't feel like the ZBook Studio G10 keys have more travel. Instead, they're just more stiff and have more rebound. If you've ever used a recent MacBook keyboard, where tapping the keys feels light and swift, the ZBook Studio G10 has the opposite effect.
This laptop is designed for both productivity and gaming, and a key indicator of that is the RGB backlit keyboard. It ships with a standard white backlight preset, and if you don't mess around with the settings, you might never know that the keyboard supports custom RGB patterns. That's an intentional choice, and it makes this system look like a professional workstation by day or a gaming laptop by night. I played around with the Z Light Space application, which is used to adjust the keyboard's color, and it's powerful. You can create multiple presets and trigger them manually or based on the app you're using. This isn't a reason why you buy the ZBook Studio, but it's a nice perk of owning one.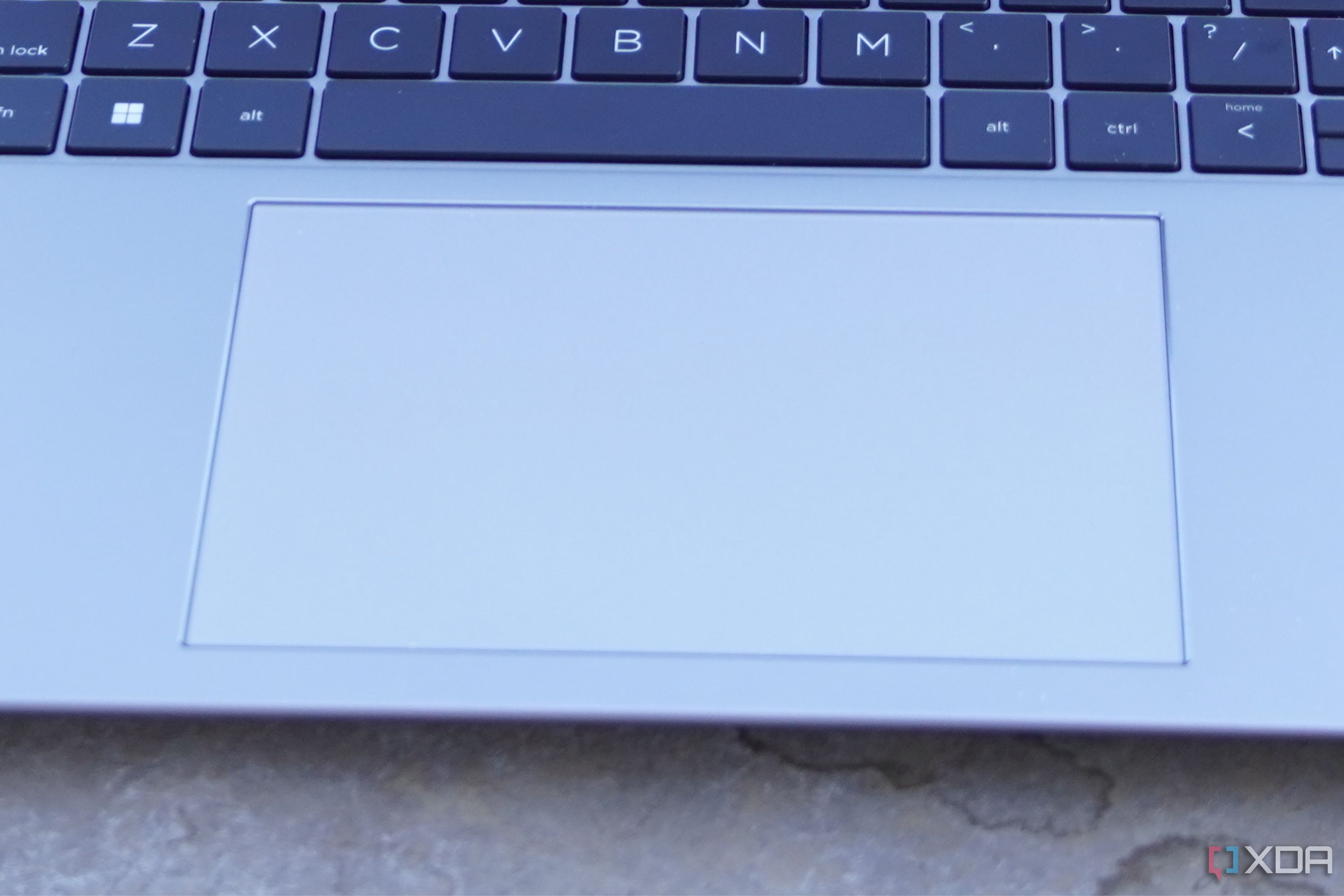 The touchpad was a different story, though. Part of it may be due to the hardware, and some of it might be Windows' fault, but this touchpad is miles behind comparable Mac trackpads. The look and size are both there, but the feel is noticeably off. Gestures take a second or two to take effect on the screen; tapping the touchpad feels less responsive with limited feedback; and physically pressing the touchpad takes a lot of force. All of this makes this extremely powerful laptop feel sluggish. However, you can easily get around this with a good mouse.
Display
An absolutely gorgeous panel with a slew of options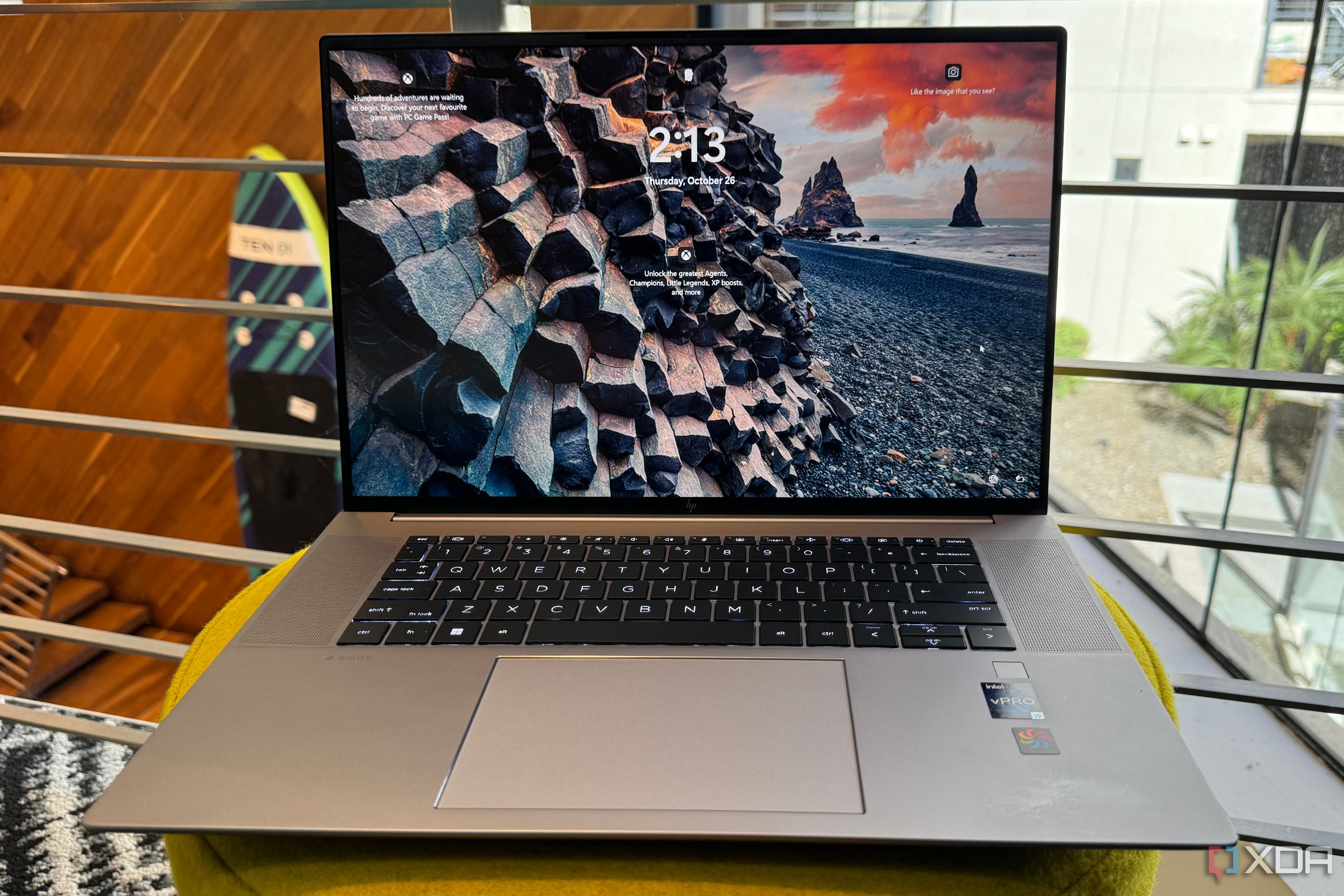 The ZBook Studio G10's display is excellent, and is perhaps the best laptop display I've laid eyes on. It has a matte finish that I prefer over standard glass panels with fairly small bezels. The top bezel has a 720p HD infrared camera stored inside, and it's decent for camera quality and convenient for face unlock. When that fails, there's also a fingerprint sensor under the arrow keys. If video calls are a huge part of your workflow, then a 1080p sensor or an external webcam might be preferred over the built-in camera.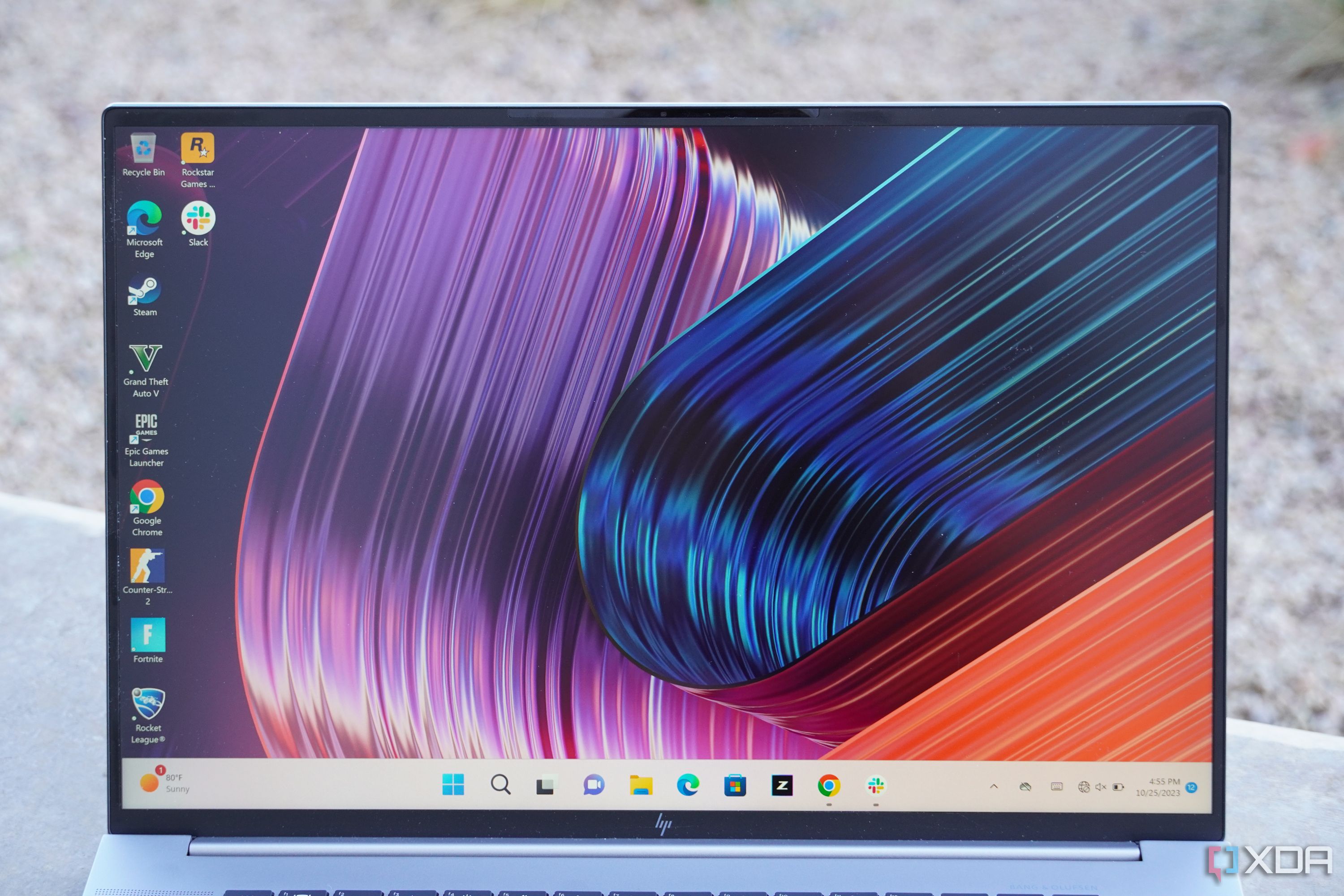 There are a few different display panels you can get with the ZBook Studio G10, but the one I received was a WQUXGA DreamColor display. It has a fantastic 3840×2400 resolution, support for 120Hz refresh rates, and a 16:10 aspect ratio, which allows you to fit more vertical content on your screen. In daily use, the display looked bright and crisp in everything from casual web browsing to photo editing and gaming. It's hard to describe how great these high-resolution panels look in person until you see one for yourself.
The ZBook Studio G10's display is excellent, and is perhaps the best laptop display I've laid eyes on
HP says that the screen achieves 100% coverage of the sRGB color gamut, and I was able to replicate that figure in my tests. Support for P3 color was great as well, with this display covering 98% of the spectrum. However, support for NTSC and AdobeRGB wasn't as good, with support for 85% and 87% respectively.

Performance
A big difference with AC and battery power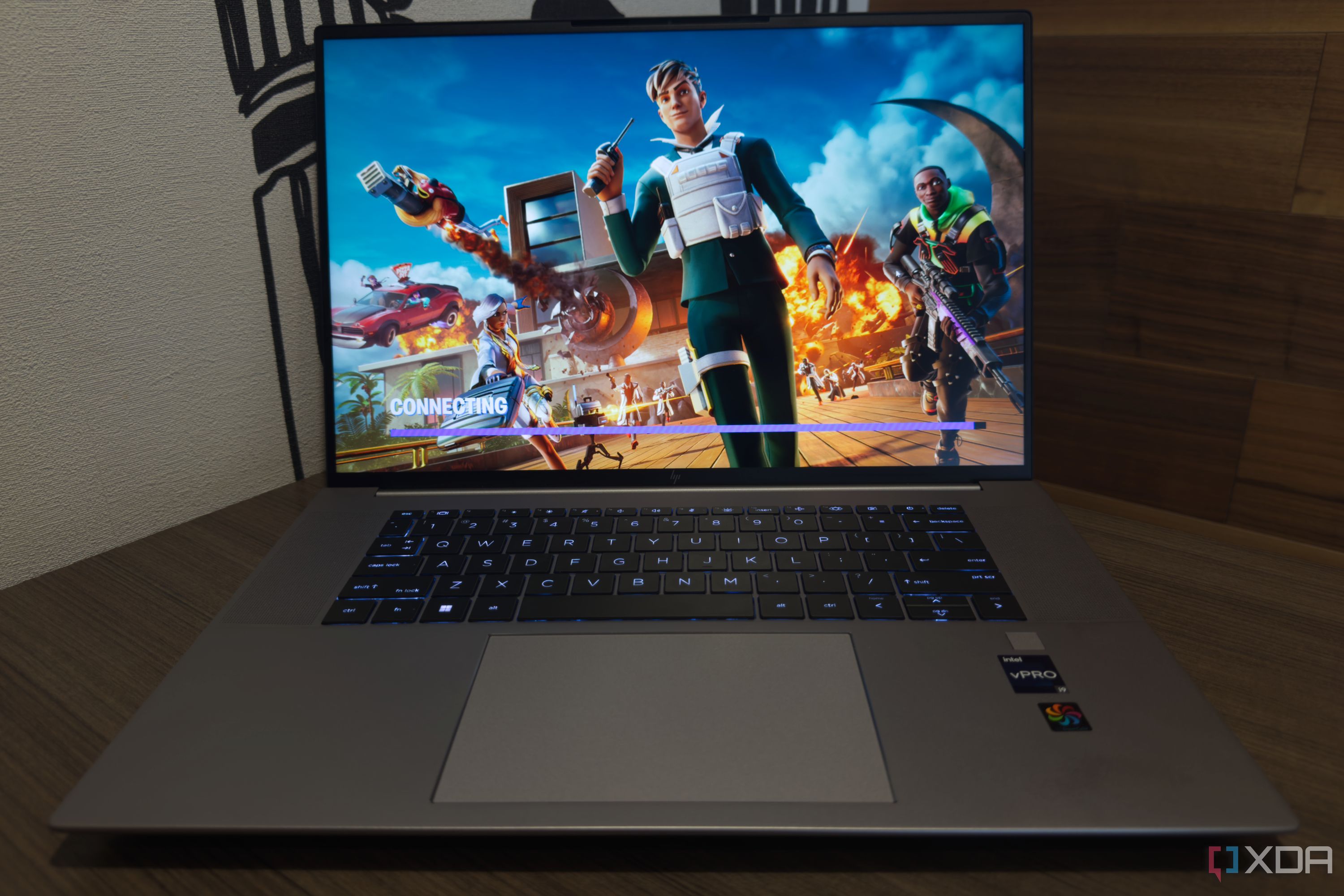 A big benefit to using the ZBook Studio G10 is undoubtedly the laptop's versatility. Throughout a normal day, I usually spend time writing, photo editing, and maybe gaming for a bit after all that is done. The cool part about the ZBook Studio G10 is that you can do all of those things, and you can do all smoothly. While I don't video edit on a day-to-day basis, every benchmark I tried suggests it would crush that use case as well. Perhaps the dream scenario for owning the ZBook Studio G10 is that the system can serve as your laptop, workstation, and gaming PC — all in a single device.
There was a massive dropoff in performance when using battery power versus AC power, and it was noticeable before I even began benchmark testing.
For me, that dream scenario was achievable, with one condition: the laptop needed to be connected to power. There was a massive dropoff in performance when using battery power versus AC power, and it was noticeable before I even began benchmark testing. While my review unit could run Grand Theft Auto V at the maximum settings on AC power, it stuttered extremely playing with the same settings on battery. Turning the settings down to high and the resolution down a bit made the game playable again, but I used AC power whenever possible to get the best performance. It's worth noting that machines at this level of performance always perform better with AC power, but the difference was significant enough to be worth emphasizing here.
I ran a bunch of benchmarks on the ZBook Studio G10, including Geekbench 6, PCMark, 3DMark, and Cinebench R24. All the benchmarks pointed to two conclusions. First, the ZBook Studio G10 is a killer creator laptop, putting up impressive numbers in tests related to content creation. Second, the performance dropoff between AC power and battery power is enough that you should always plug in when doing intensive tasks. That means if you're planning to use this laptop as a mobile workstation on battery power, you might need to reconsider.
| | HP ZBook Studio G10, AC | HP ZBook Studio G10, Battery |
| --- | --- | --- |
| Geekbench 6 (single-core/multi-core) | 2,259/11,796 | 1,536/8,833 |
| PCMark 10 | 6,290 | 4,870 |
| 3DMark Time Spy | 13,227 | 9,857 |
| Cinebench R24 (single-core/multi-core/GPU) | 99/815/13,762 | 67/432/10,619 |
And performance isn't the only reason you'll want to stay close to an outlet. To put it lightly, the battery life on the ZBook Studio G10 isn't. I got around two or three hours on an average charge while just doing web research, writing, and photo editing. By comparison, my MacBook Air gets me around 6–10 hours on a single charge doing the same work. Even my Lenovo Yoga Book 9i, with dual screens in tow, can pull around four hours of use. Of course, there's a lot more power in the ZBook Studio G10 than the other options I mentioned, but it doesn't seem to matter whether you're actually using all of those resources at a given time; this laptop draws a lot of power regardless.
Should you buy the HP ZBook Studio 16 G10?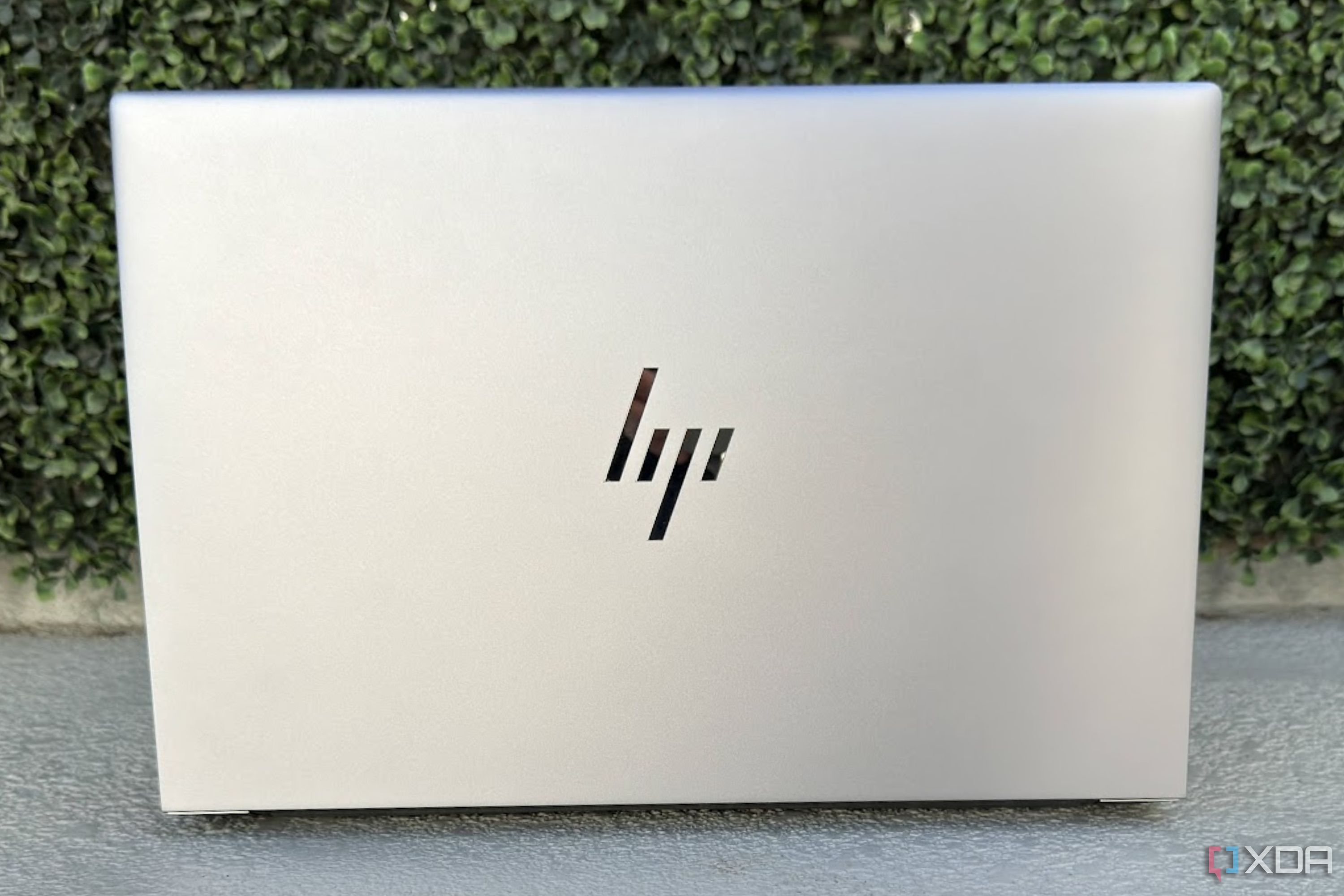 You should buy the HP ZBook Studio 16 G10 if:
You need a sleek but powerful mobile workstation with a great display
You'll be working near a power outlet most of the time
You have a lot of money to spend
You should NOT buy the HP ZBook Studio 16 G10 if:
You need a power-efficient laptop with good battery life
You can get by with a cheaper Mac or a similar-spec gaming laptop
You're on a budget
This laptop is a great buy for a specific type of person, one who needs a powerful Windows workstation that can be easily taken on the go. It has a great display, solid overall build quality, and is quite versatile, but considering the price point, which ranges from $2,600 to over $7,000, you need to be part of a refined niche for the ZBook Studio G10 to make sense. If you don't mind using macOS, you can get a MacBook Pro with similar performance for the same or a lower price. Or if you don't mind rocking an eccentric gaming laptop, you can get one of those at an equal or lower price as well, potentially with better specs.
With all that in mind, there's someone out there that absolutely needs a laptop with desktop-class performance, a professional build, and a relatively thin form factor. For that person, the HP ZBook Studio 16 G10 is absolutely a good choice.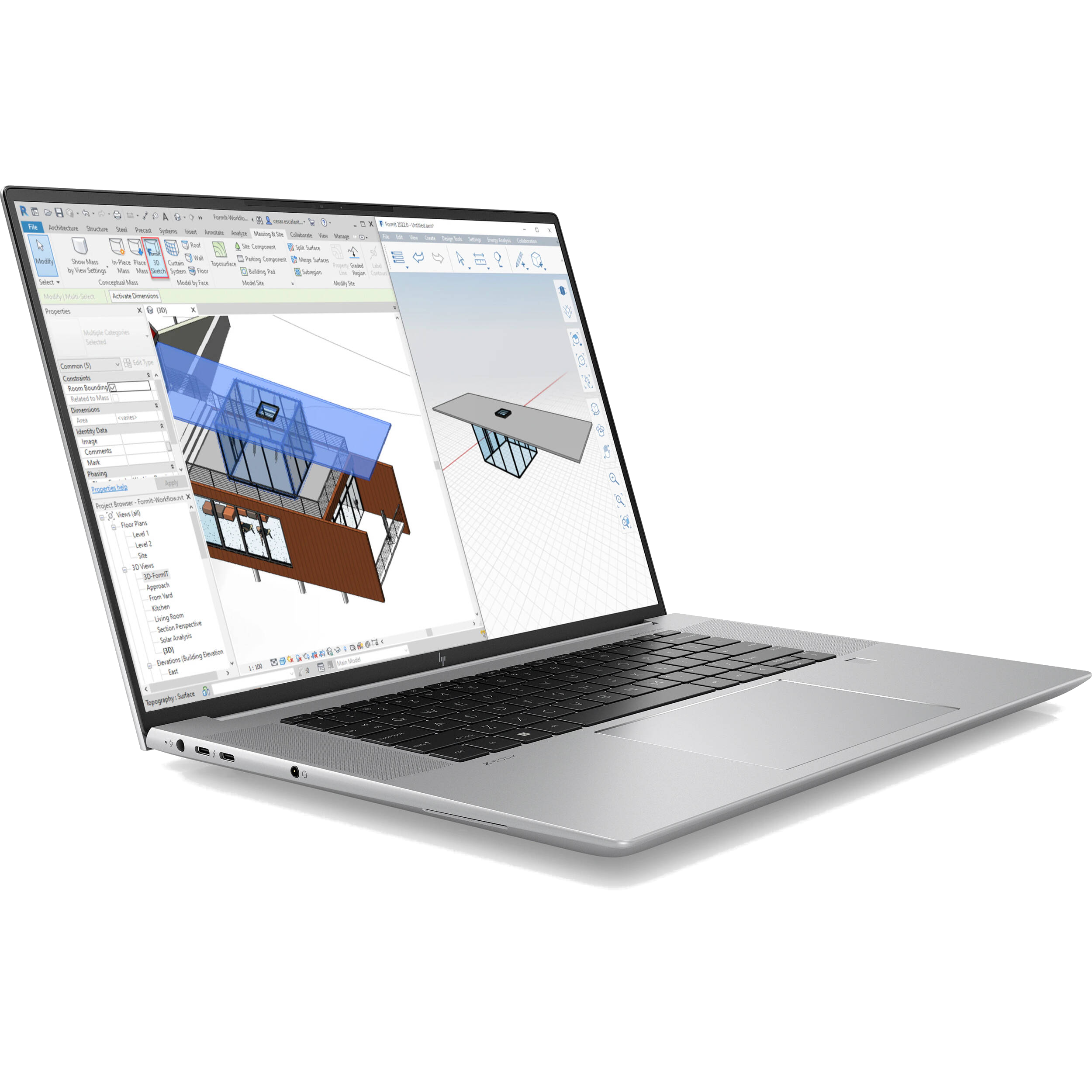 Source: HP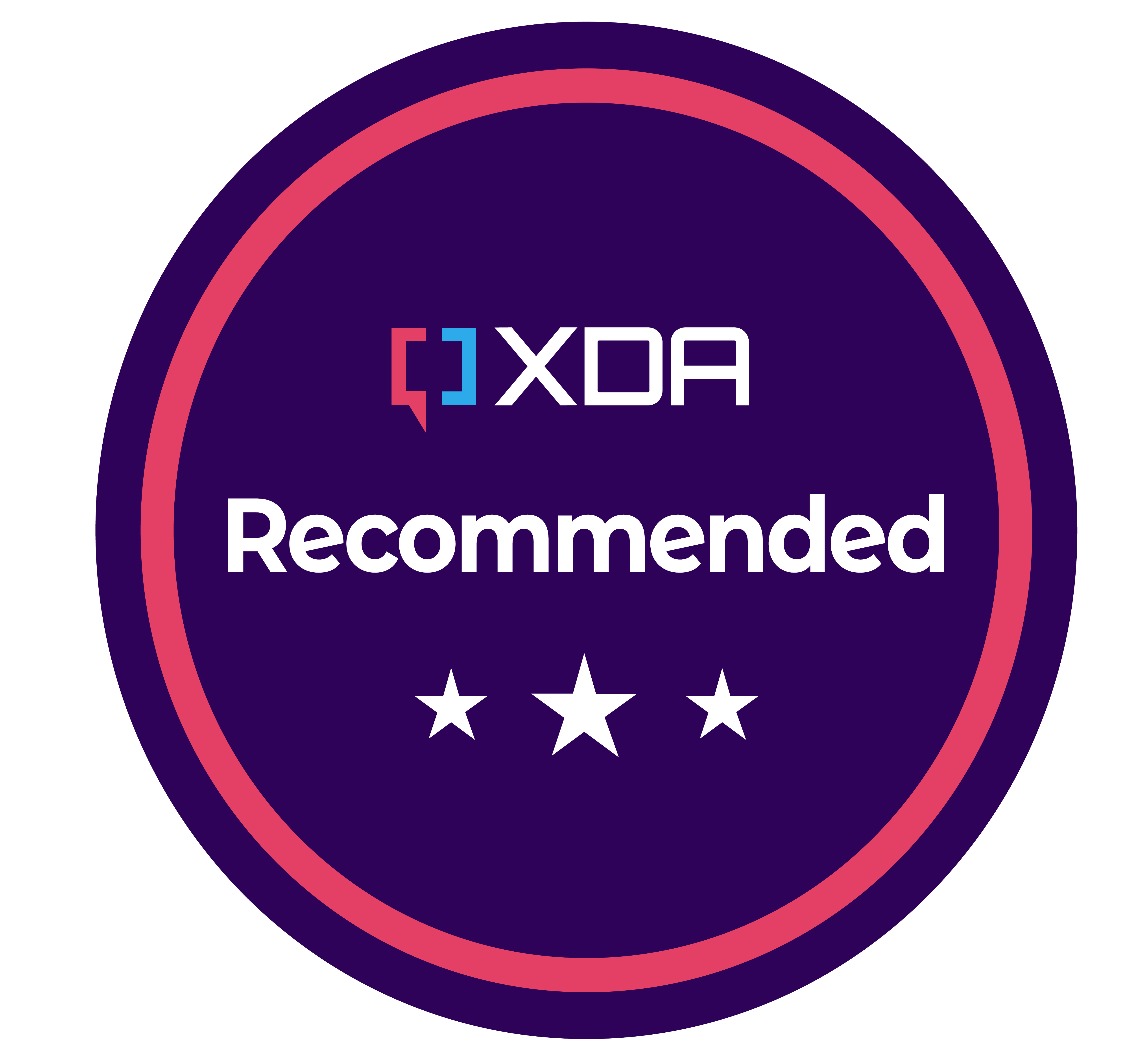 HP ZBook Studio 16 G10
Great mobile workstation
$2744 $2999 Save $255
HP's ZBook Studio 16 G10 packs a lot of power into a reasonable form factor, including an Intel 13th-gen processor and Nvidia RTX 40-series graphics. Plus, there's a color-accurate 16-inch display and a great-looking industrial design.
** (Disclaimer: This video content is intended for educational and informational purposes only) **