As virtual private networks (VPNs) continue to grow in popularity, NordVPN stands out as one of the industry leaders and always ranks high in our best VPN rankings. If you're looking to secure your web activity from prying eyes while benefiting from unblocking geo-restricted content, it has everything you need.
However, in a saturated market it can be difficult to choose the right product, especially when things get technical. Are free VPNs really worth it? What if all you want is a good VPN for Windows? After getting hands on with NordVPN on desktop and mobile, let's break it all down to see exactly what to expect.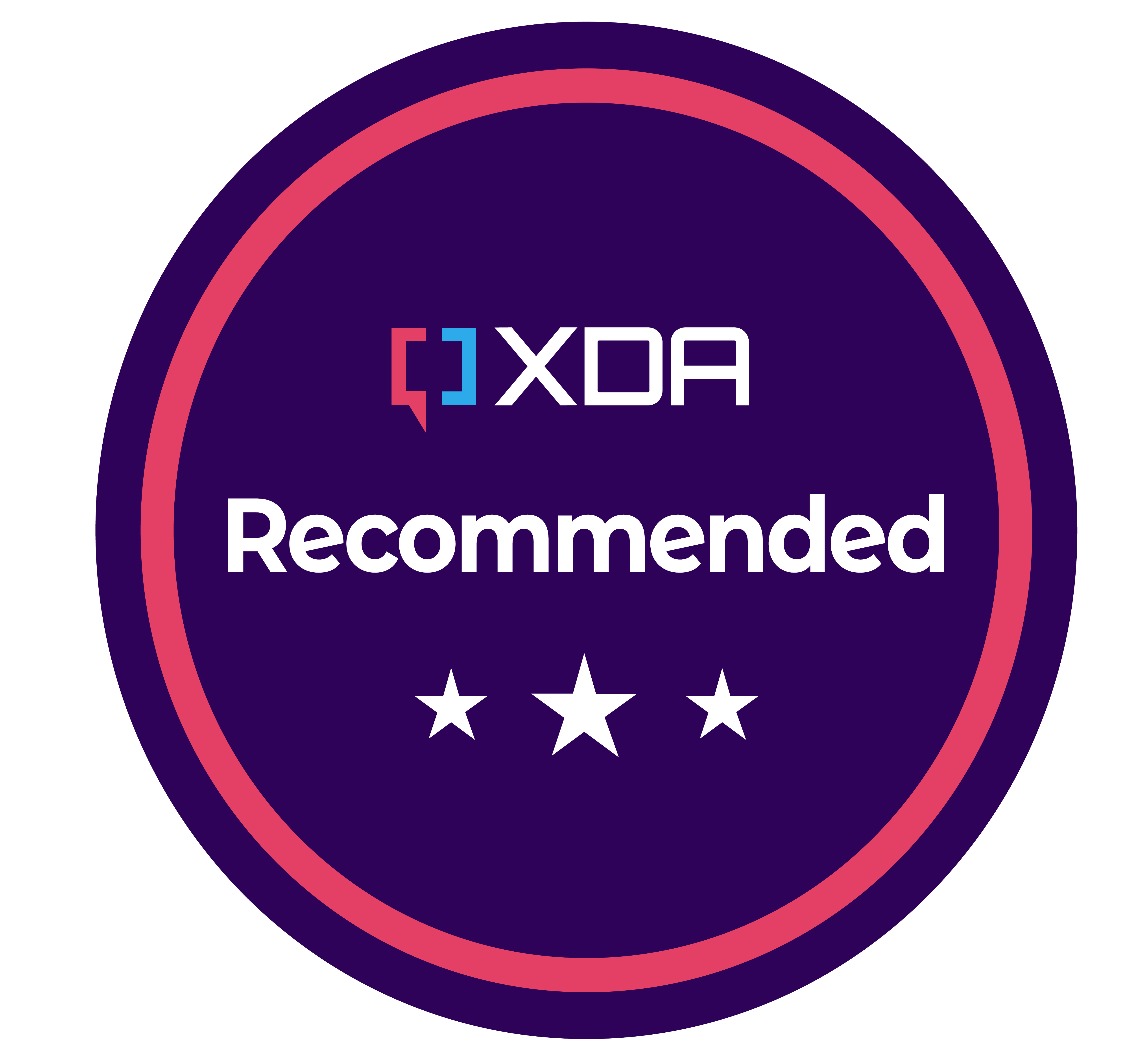 NordVPN
Top performance at a price
Unblock streaming services with 4K speeds
NordVPN is a subscription-only VPN service that offers over 5,000 different servers in 60 countries. It's available across all major platforms, and you can connect up to six devices under one account.
Pros
1-10Gbps server network
Use on 6 desktop and mobile devices
Specialty servers for extra privacy
Strong leak prevention
Split tunneling and kill switch
Cons
Pricey monthly plan
Lacks URL split tunneling
NordVPN: Price and discounts
NordVPN's standard monthly plan is $12.99, which is about as expensive as VPNs get. ExpressVPN is $12.95 and Surfshark is a bit cheaper at $11.37. As we'll see, that's still worth it from a performance and features standpoint, but you may want to opt for a longer-term commitment to make some savings.
Depending on the current offers, this can net discounts higher than 60% when purchasing a two-year plan upfront or around 50% when purchasing a yearly plan. Disappointingly, there's no free trial, but its 30-day, money-back guarantee lets you test the service with the guarantee you'll get the initial payment back.
Remember to check our latest VPN deals rundown to make sure you're getting the best price today.
User interface and getting started
Intuitive apps across desktop and mobile
All NordVPN apps are modern and user-friendly. After signing in, all you really need to do is browse or search for the country of choice, and it will take a few seconds to connect. "Quick Connect" will immediately detect the fastest server based on your current location, which is perfect if encryption and privacy is your main goal rather than bypassing geo restrictions.
The desktop version displays a large world map of locations. This is useful to gauge the distance of a server from your real location and how that might impact latency. You can also connect to a location by clicking on map markers, though on older systems like mine, it can be a bit slow. It's easier to scroll or search the country list if you know the precise place you're looking for.
On desktop, all the settings can be found by the cog icon in the bottom-left corner, and on mobile there's a simple toolbar at the bottom.
Key VPN features
Configure the kill switch and split tunneling to your specifications
Under the hood, NordVPN has all the core VPN features expected of a top-tier provider and some other lesser-known features too.
Advanced Kill Switch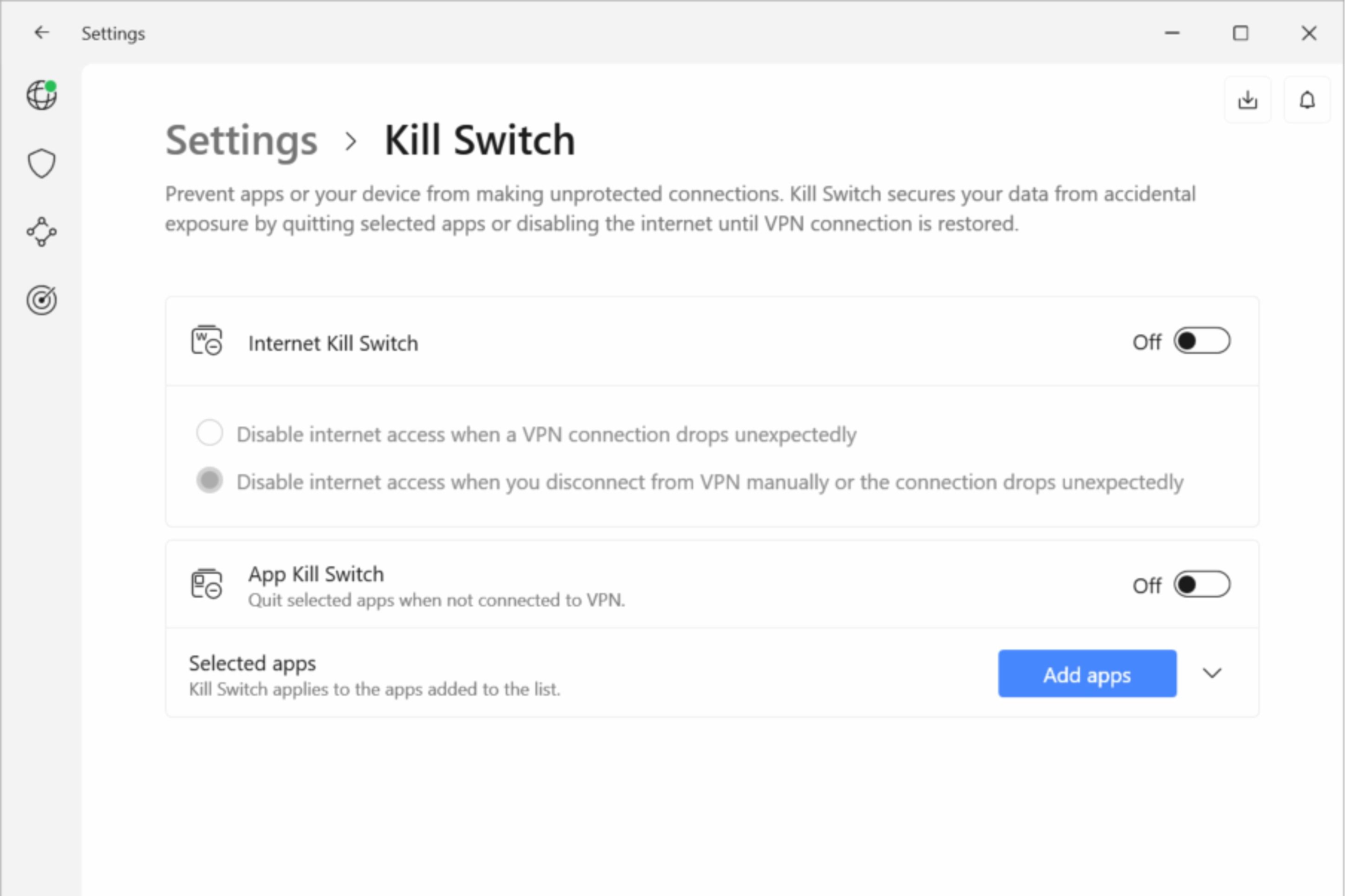 No VPN connection is perfect, and neither is your Wi-Fi nor mobile provider. If any of these disconnect, it could impact the secure connection to the VPN. The solution of most VPNs is a kill switch, and Nord allows you to configure this yourself or leave the basic function on by default.
Where it shines is the ability to select specific apps to kill. For example, you might choose only the Netflix app to kill if you aren't connected to the VPN, while allowing all other apps to work on your regular connection regardless on the VPN's status.
Split tunneling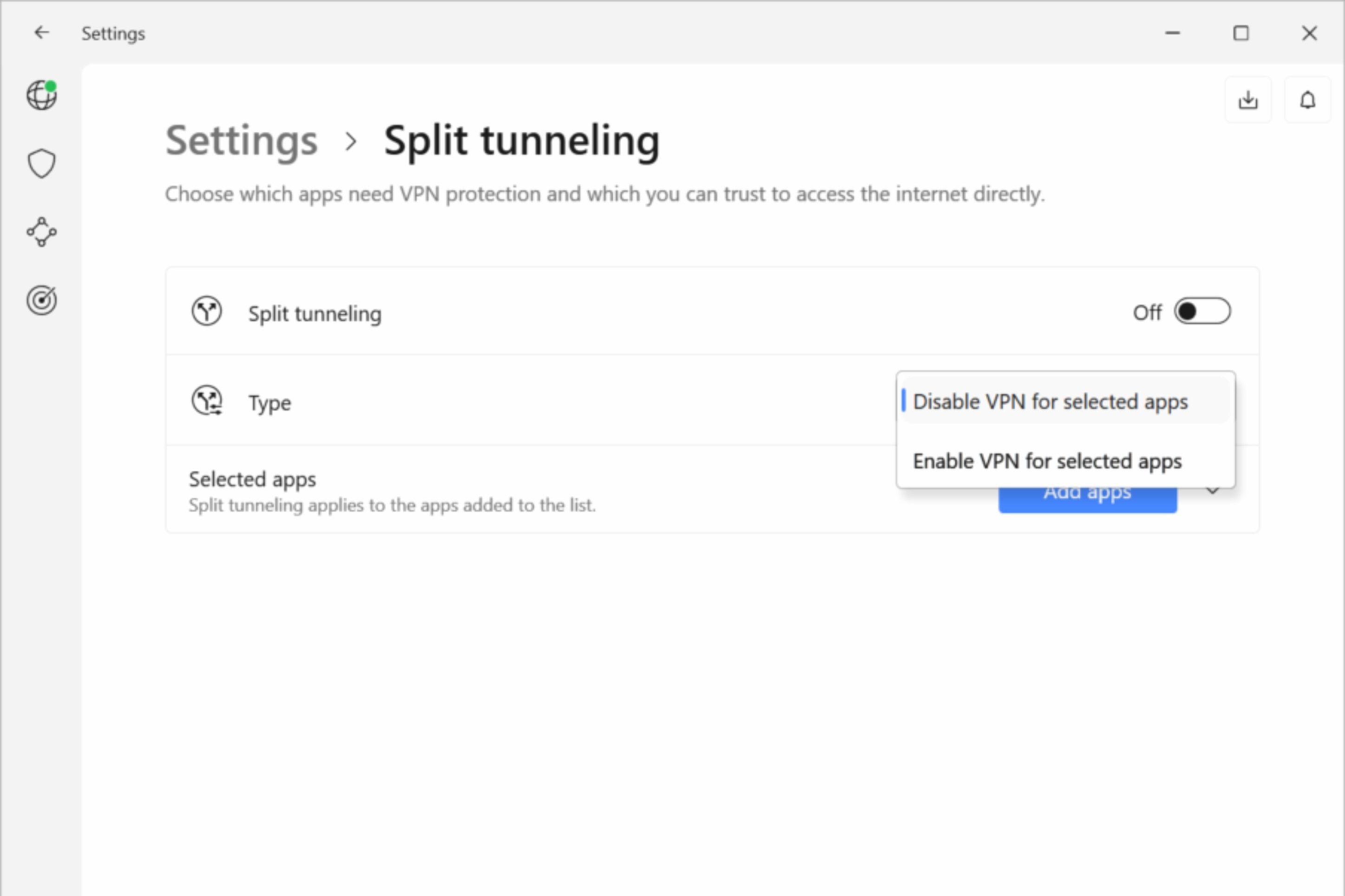 Split tunneling is like the kill switch but in real time. You choose the apps that pass through the VPN when connected and those that can run on your regular connection.
The drawback is NordVPN does not allow you to enter specific websites; it's only on a per-app basis. This can be a whitelist or blacklist depending on how you use your VPN.
Where it shines is the ability to select specific apps to kill. For example, you might choose only the Netflix app to kill if you aren't connected to the VPN while allowing all other apps to work on your regular connection.
Custom DNS
The domain name servers (DNS) used to resolve web addresses are usually assigned by your ISP. This is one way your real location can be exposed, so most VPNs apply their own DNS servers. NordVPN does this as soon as you connect to a VPN server.
However, there are still times when you might wish to use your own custom DNS, which NordVPN supports within the connection settings area. It's common to use Google or Cloudflare's public DNS addresses for reduced ping when gaming.
For the average user, DNS problems are rare, but it's nice to see this feature, nonetheless.
Supported devices and manual configuration
Connect up to six cross-platform devices simultaneously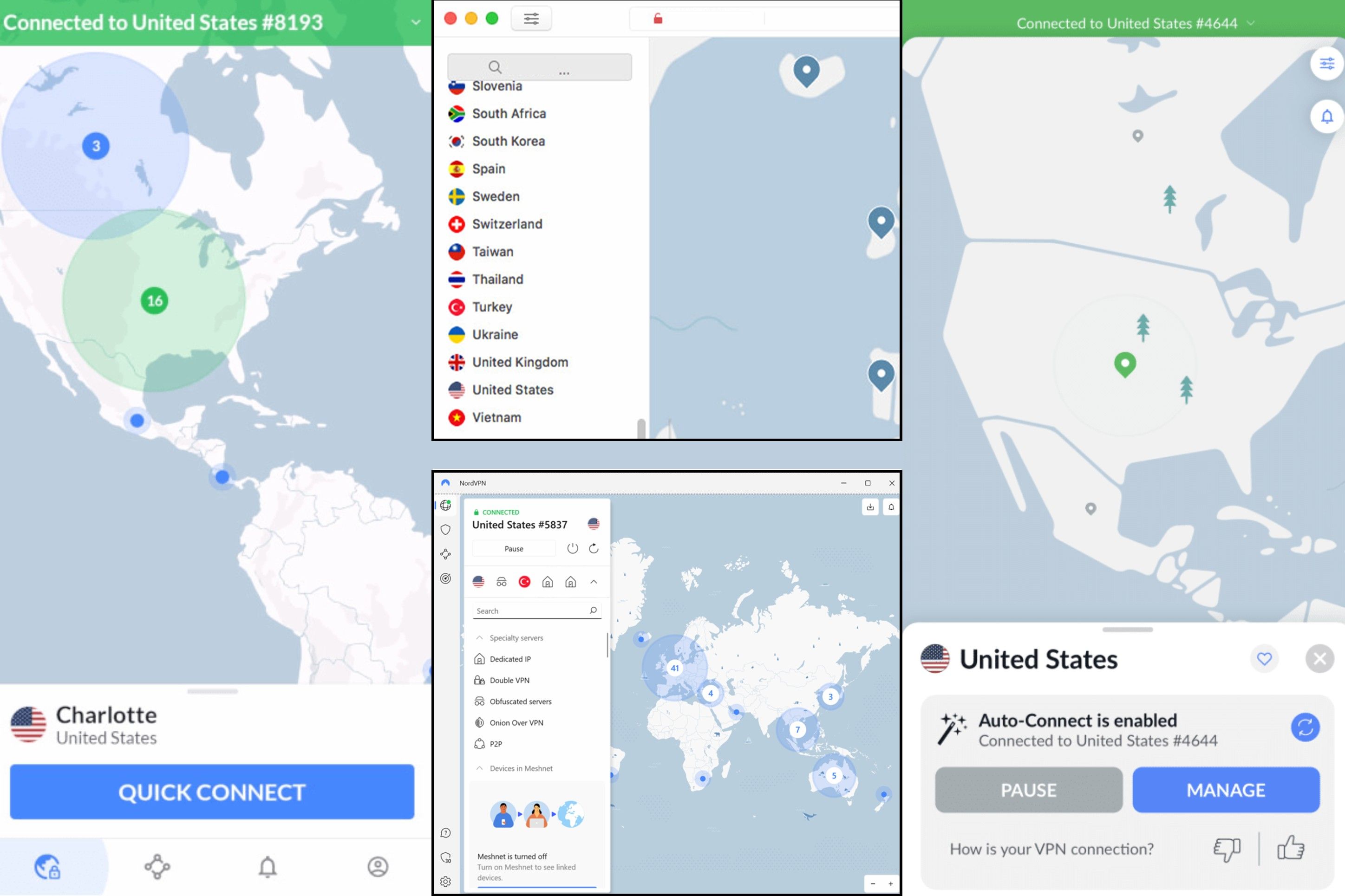 From a single account, NordVPN lets you connect six different devices at the same time. That's enough to support the typical household or device-heavy individual. In comparison, rival ExpressVPN limits users to five devices, but if you commit to a longer-term plan, this is bumped to eight. Others offer unlimited devices and connections, so it all depends on your usage goals. If it's just you, this feature is somewhat irrelevant.
The app is easily installed on Windows, macOS, Android, iOS, and with a limited user interface on Linux. The Android app works on Android TV, and there is an additional app for Fire TV users.
Features do vary slightly between devices. For example, the iOS version lacks split tunneling, but this applies to all VPNs because Apple is more restrictive than other devices.
NordVPN supports OpenVPN and WireGuard, so you are not forced to use its apps to set up a VPN connection on a device or network hardware that's compatible. You can find all the information and configuration files from within your NordVPN web account.
Server locations and speed
Fast and stable servers all over the world
NordVPN's server infrastructure covers 60 countries with over 5,000 individual servers. That's a solid foundation, and although you cannot manually choose from all 5,000, many countries have multiple cities you can select.
For example, expanding the United States location reveals 16 cities including Atlanta, New York, and Seattle, to name a few. That's useful if you wish to unblock hyper-regional content within the country like regional news or sports blackouts.
Overall, it provides fewer countries than several other top-tier VPNs, like ExpressVPN (94) or Surfshark (100). However, this isn't such a big deal to the average user who just wants to protect their internet connection and get around a few geo restrictions. If there's a country you need access to, simply check for it on the official site before committing.
NordVPN speed testing
SpeedTest.net"" data-modal-id="single-image-modal" data-modal-container-id="single-image-modal-container" data-img-caption="null">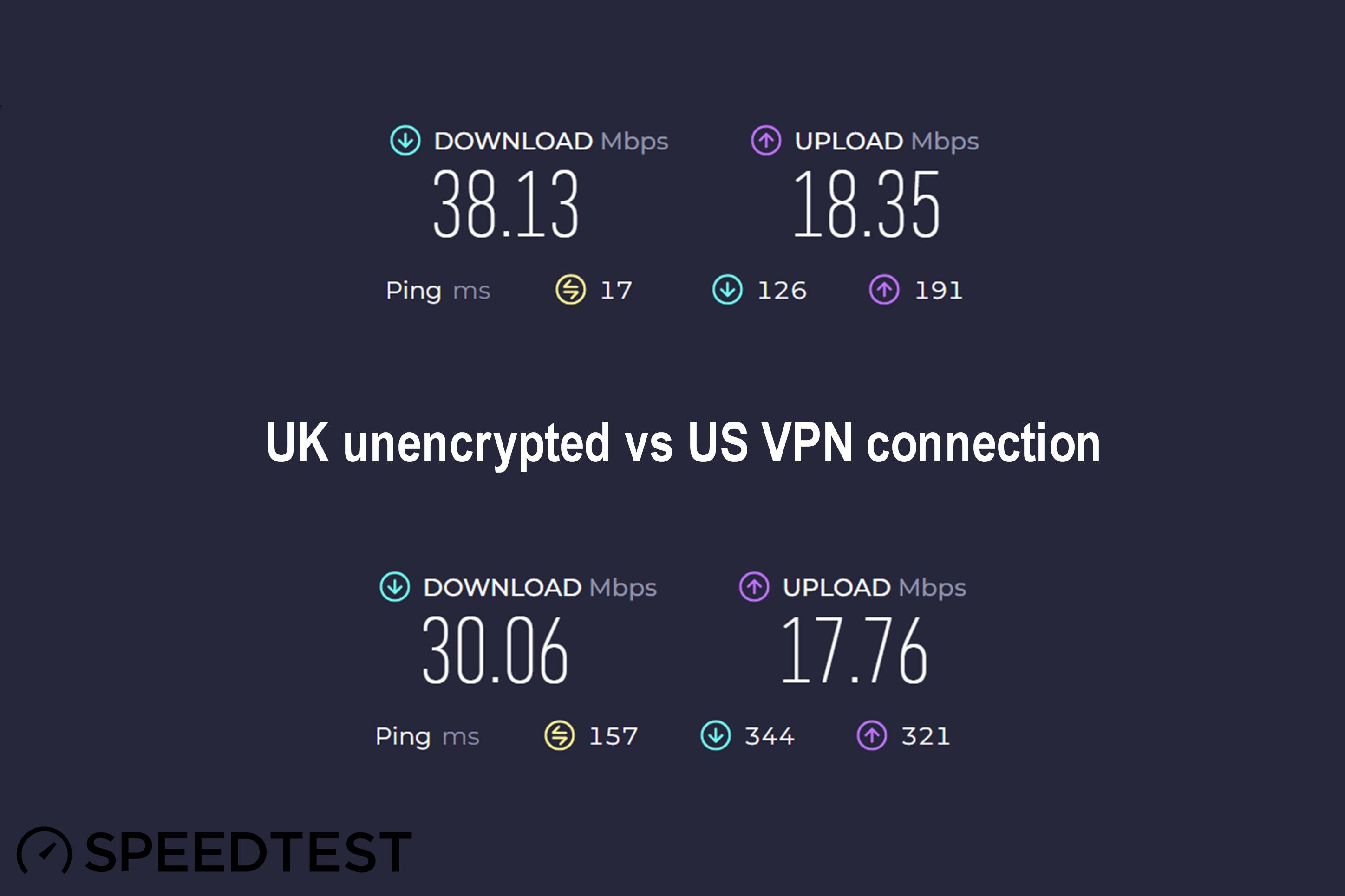 When it comes to speed, NordVPN's network is capable of 1-10Gbps, which is in line with the best VPNs on the market. The speed you get in the real world depends on your location in relation to the VPN server you connect to, your own ISP or mobile network speed, and other factors.
Of course, all VPNs reduce speed to some degree due to the nature of routing traffic through a separate server. However, using SpeedTest.net as a benchmark, the before and after show a decrease of just 23% for download speed and 3% for upload speed.
NordVPN's server infrastructure covers 60 countries with over 5,000 individual servers.
This is well within the average range for most good VPNs, and my already modest connection is still capable of 4K streaming on all popular platforms while using NordVPN. To prove this, I played a 4K YouTube video flawlessly.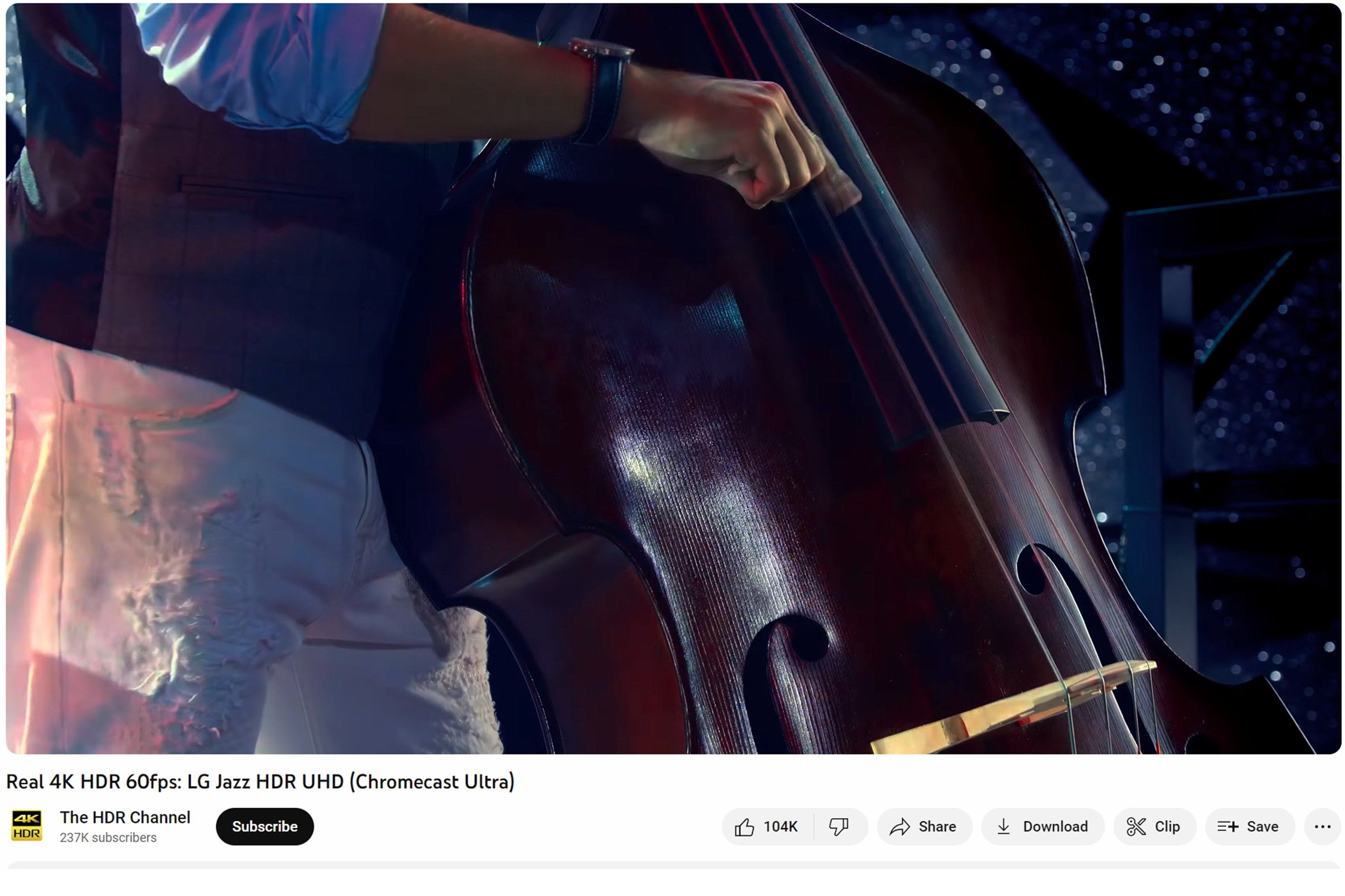 Chances are, your speeds will be much higher than mine if you have a good fiber and wired connection, though the percentage drop is negligible when using a protocol like WireGuard, or a VPN router, for example. Long story short, NordVPN is fast and stable for most conceivable use cases.
Leak prevention
Never worry about your real location getting exposed
A VPN is only as good as its ability to protect your real IP address and other location data. When encryption is enforced, you expect it to be impenetrable. After all, AES-256 is military grade encryption, right?
However, the way VPNs are designed, there are still situations where leaks can occur, and this is not uncommon for free or less reputable providers.
IPLeak.net"" data-modal-id="single-image-modal" data-modal-container-id="single-image-modal-container" data-img-caption="null">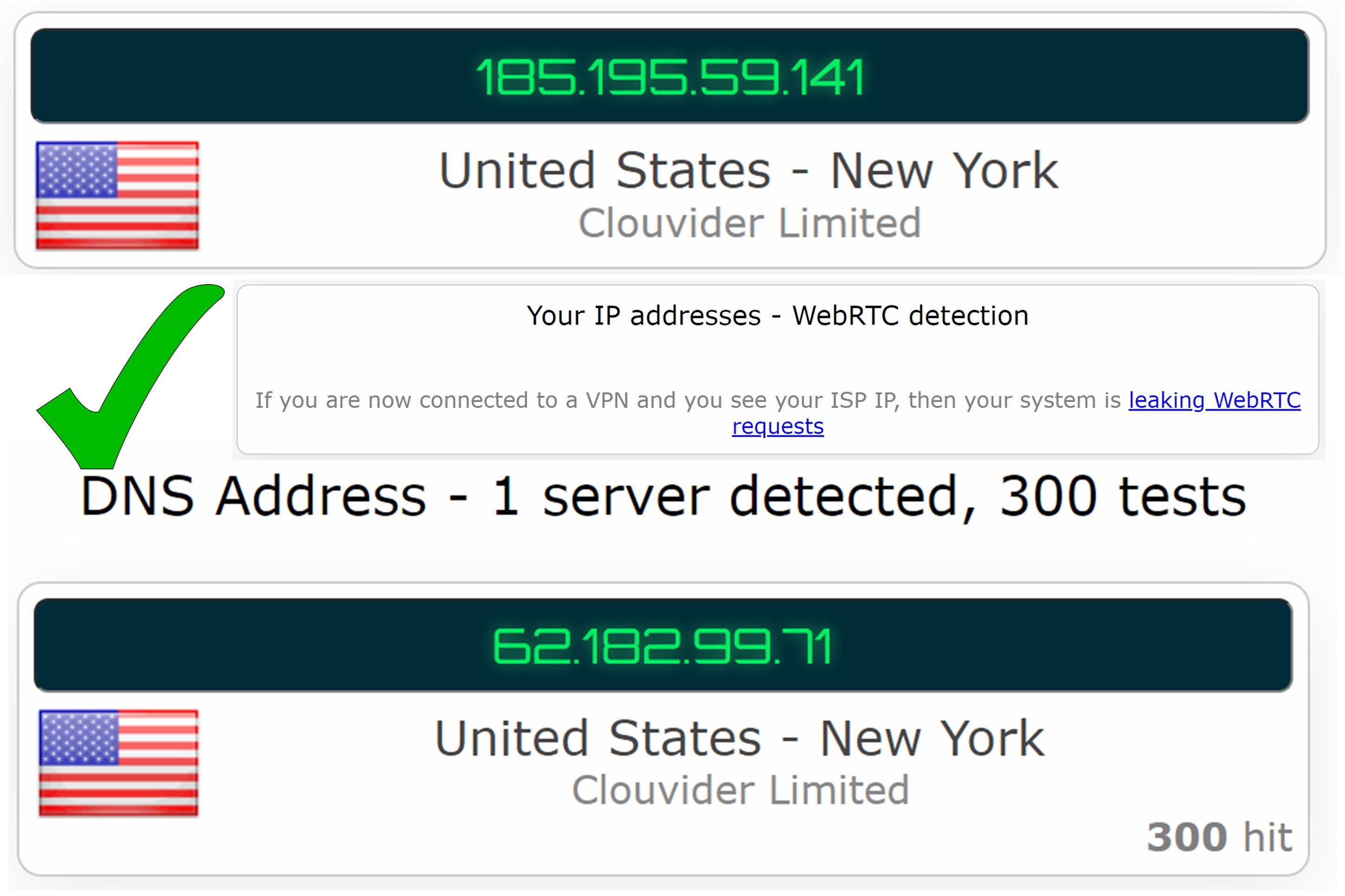 Using IPleak.net, we can see that NordVPN does not leak my real UK IP address or DNS information and there are no WebRTC leaks.
Specialty servers
Throw off ISPs and governments with special servers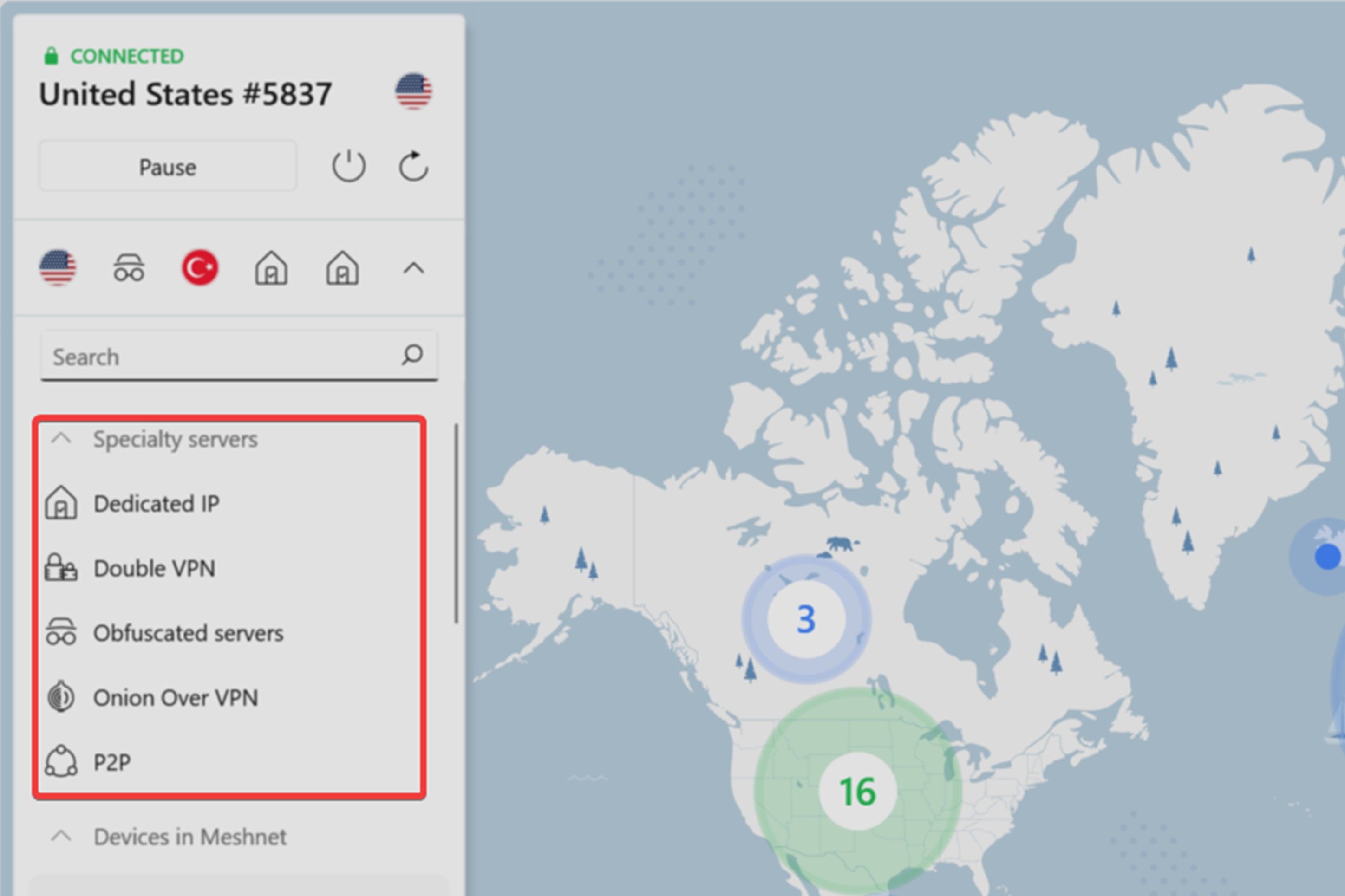 NordVPN's standout feature is its selection of specialty servers. These all provide additional security or privacy features that go beyond a basic VPN connection. Let's take a closer look at each:
Double VPN
Sometimes called multi-hop, Nord's Double VPN connects to one location and then routes traffic through a second server for, essentially, double the protection. Its benefit is debatable, but in instances where your first VPN IP is being tracked, it quickly adds another IP that cannot easily be linked back to the first.
Obfuscated servers
Obfuscated or stealth servers make it more difficult for ISPs to detect that you're using a VPN. Of course, all VPNs hide the contents of your internet activity, but there are still ways to tell if you are likely to be using a VPN and that can be an issue if it's against the ISP's rules, or you're located in a heavily restrictive region. To solve this, Nord uses a clever process that changes the data packets to throw off the automatic filters.
In action, this can also hide whether you are using the VPN for streaming or gaming and prevent ISP throttling if the ISP doesn't inspect the packets manually.
Onion Over VPN
This feature first connects you to a VPN server and then routes traffic through the Tor network, which is commonly used to access the dark web. This gives you the benefit of both. It will absolutely kill your connection speed, so it should only be used for specific scenarios like accessing hidden dark web websites and getting around restrictions from within heavily restrictive countries like China.
NordVPN protocols
Configure your VPN on any WireGuard or OpenVPN hardware
Experienced users and those looking to configure a VPN at the router level or on other hardware might want to look beyond the default connection protocol. With NordVPN you can choose a protocol under the settings and connection area.
NordLynx is its proprietary protocol and is usually the default, but you can also choose OpenVPN TCP and UDP, which is common for routers and Linux setups.
OpenVPN and WireGuard configuration also work outside the app as detailed earlier. All the info, settings, and files can be found within your NordVPN web account.
Does NordVPN unblock streaming libraries?
Bypass geo restrictions with ease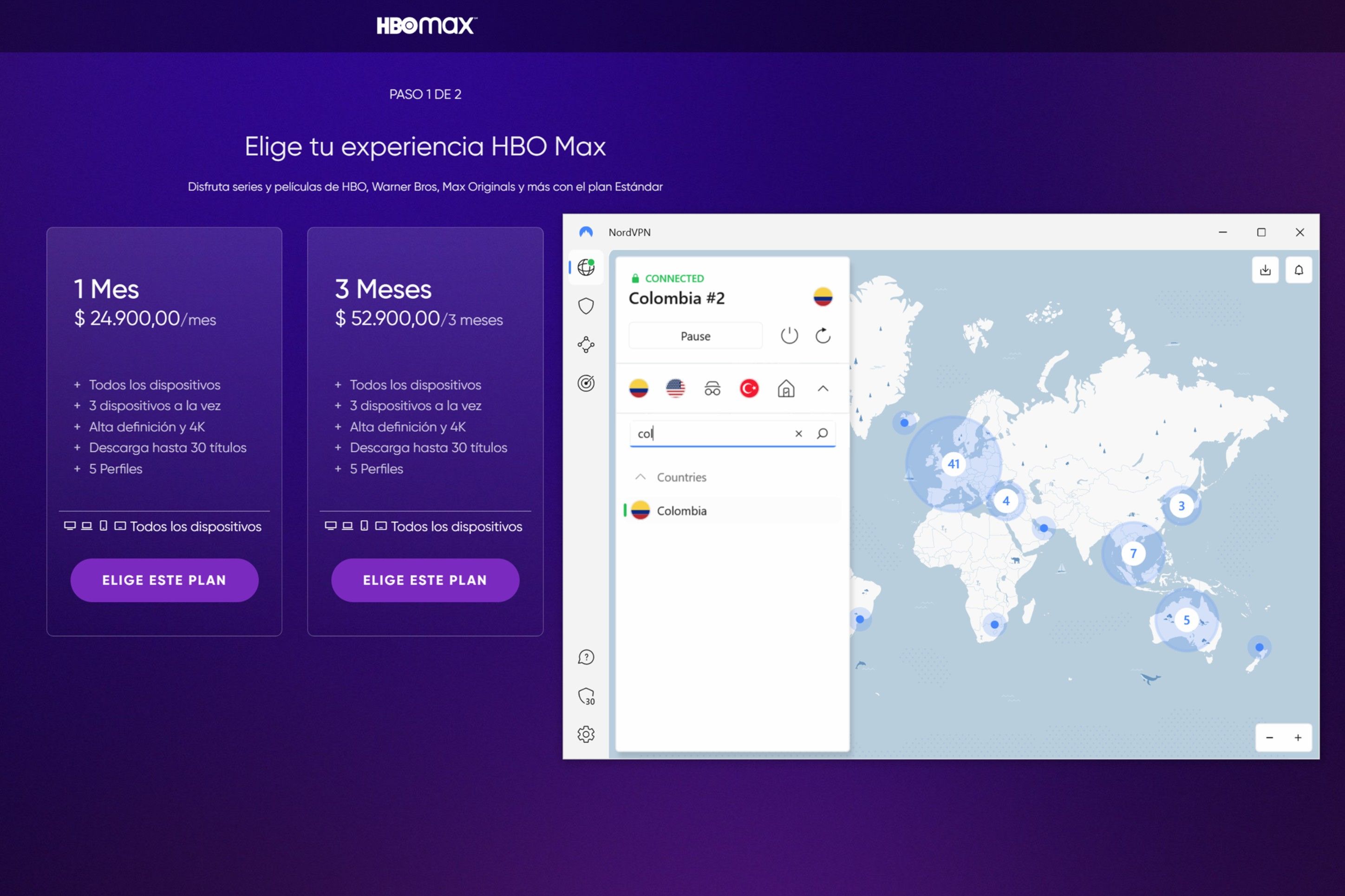 Unblocking international streaming services is heavily touted by NordVPN, and it doesn't disappoint. This works out of the box, so you don't have to mess around with settings or choosing special servers. Simply select the country of origin, connect, and then browse to that service or download the relevant mobile app.
Obfuscated or stealth servers make it more difficult for ISPs to detect that you're using a VPN.
For example, I was easily able to sign up to HBO Max Colombia from the UK without any issues. It also works for gamers wanting to access international gaming libraries. The process can be a bit complex when it comes to payment methods, but my Japanese version of Steam works perfectly when paying with Japanese Steam gift cards.
Signing up for some services when you are not located in that region may be a violation of the TOS.
Does NordVPN support torrenting?
Dedicated P2P servers
Any server you choose on the NordVPN app will work while torrenting. However, it also has dedicated P2P servers for this type of high-bandwidth file sharing. Because there are a lot of factors that determine speed when torrenting, it's hard to measure whether these P2P servers have a significant benefit, but the important thing is torrenting works, and your real IP address is secure.
Meshnet
Securely connect your own devices
Meshnet is NordVPN's way to bridge the gap between your typical consumer VPN and the type of virtual private network used for remote work or home devices.
Meshnet is turned on from its own tab on the left, then you can add additional devices to the network under the main VPN section. Remote devices can share files from anywhere, and you can even route traffic through a main virtual server.
NordVPN must be installed on every device to use Meshnet. A typical scenario might see you configure your home PC as the Meshnet virtual server and then connect your phone, so you can access the computer while on the go. This is all encrypted by the WireGuard VPN protocol.
Block ads, trackers, and malware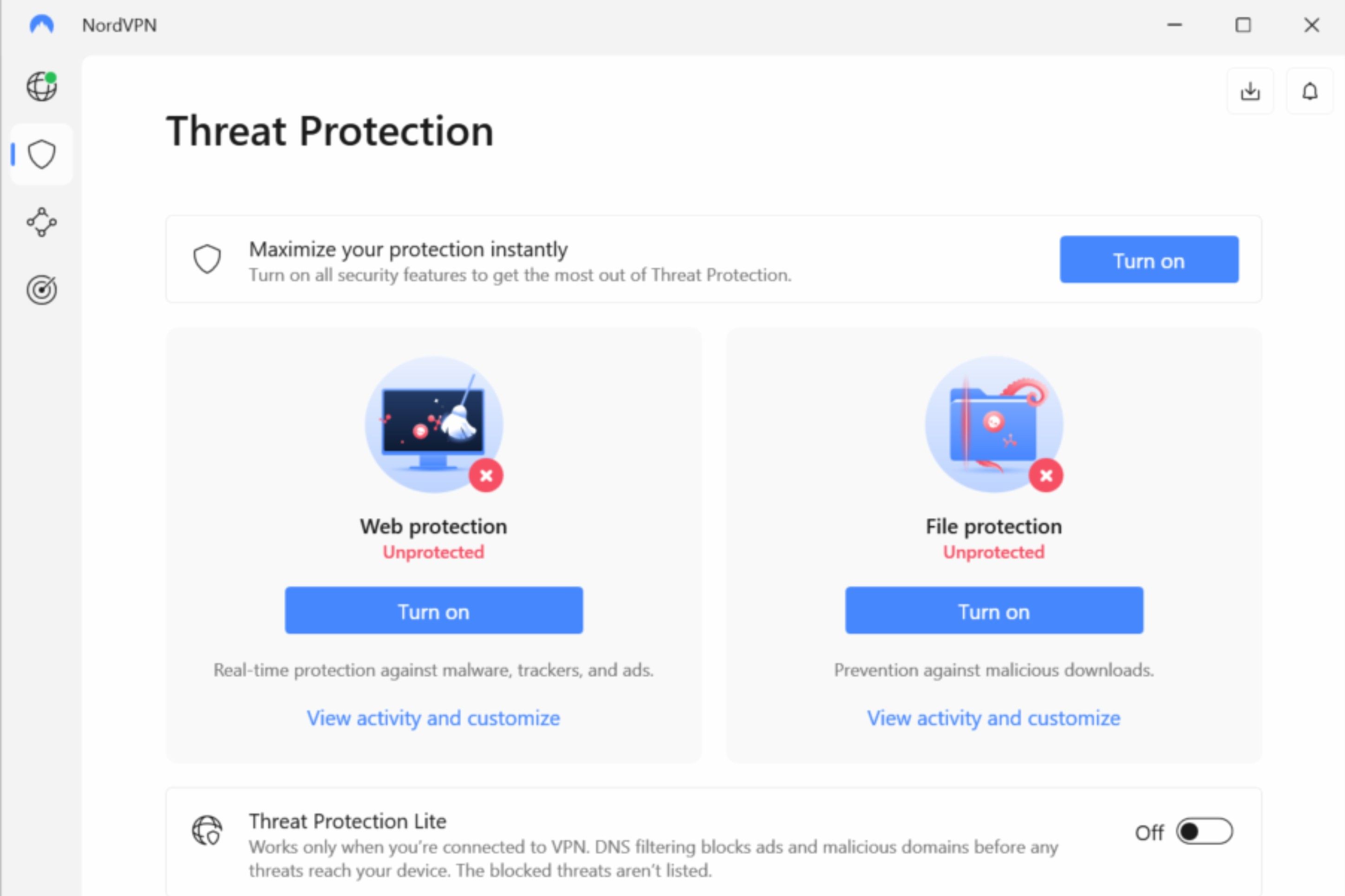 A VPN is just one tool in your internet privacy and security arsenal. NordVPN comes with some useful extras on its standard VPN plan, including malware protection and ad blocking.
These are a natural companion alongside a VPN, but the results don't necessarily surpass dedicated antivirus and security software.
When turned on under the Threat protection tab, you get real-time protection from malicious downloads, malware, and dangerous ads. It also blocks intrusive tracking cookies.
We wouldn't rely on these if you have the means for antivirus software like Avast or Kaspersky, or ad blockers like Ghostery or uBlock Origin, but NordVPN is a step in the right direction if you don't use any of this standalone software.
Addons
Purchase your own personal static IP
Changing your IP address with a VPN can become a Catch-22. Constant IP address changes are often viewed as suspicious by streaming services and even Google, especially when the VPN servers are shared among many different users.
As an example, Netflix recently introduced single household rules. Logging in from different IPs outside your "home" IP requires an additional user fee.
One solution is to use a static IP, which doesn't change. NordVPN has 15 of these available for free under the specialty servers tab. The drawback is that these are still shared with other users and can still be nuked.
Fortunately, you can also purchase your own premium static IP address that's dedicated just to you. Just remember to purchase one or more IP addresses for the regions you wish to unblock. You can then set one of these within Netflix as your home account.
Any server you choose on the NordVPN app will work while torrenting. However, it also has dedicated P2P servers for this type of high-bandwidth file sharing.
NordVPN also offers Plus and Ultimate plans alongside its standard VPN plan that include a cross-platform password manager, 1 TB of cloud storage, computer file encryption, and up to $5,000 coverage in web scam and shopping fraud insurance.
Its Data Breach Scanner monitors the dark web to check if your email, passwords, and other personal details have been breached and dumped for criminals to access.
Should you buy NordVPN?
You should buy NordVPN if:
You require fast and stable speeds for streaming or gaming
You need to bypass strict ISPs or government censors
You need to protect multiple devices from one account
You should not buy NordVPN if:
You don't have a $12.99 a month budget
You want a genuine free trial
You need to split tunnel URLs and IPs, not just apps
Overall, NordVPN is up there as one of the best consumer VPNs available. It combines enough locations and high speeds with specialty servers and extra security options. Whether you want privacy when surfing the web or to bypass geo restrictions, all the bases are covered.
Moreover, the core VPN features are here and implemented to their fullest, including a configurable kill switch. Our hands-on tests show strong leak prevention and flawless apps across devices.
Although it's pricier than most, at least for the monthly plan, it's difficult to find faults in its performance. If it meets your budget, NordVPN is well worth a try and the 30-day money-back guarantee gives you a chance to test it out if you're willing to part with your money temporarily.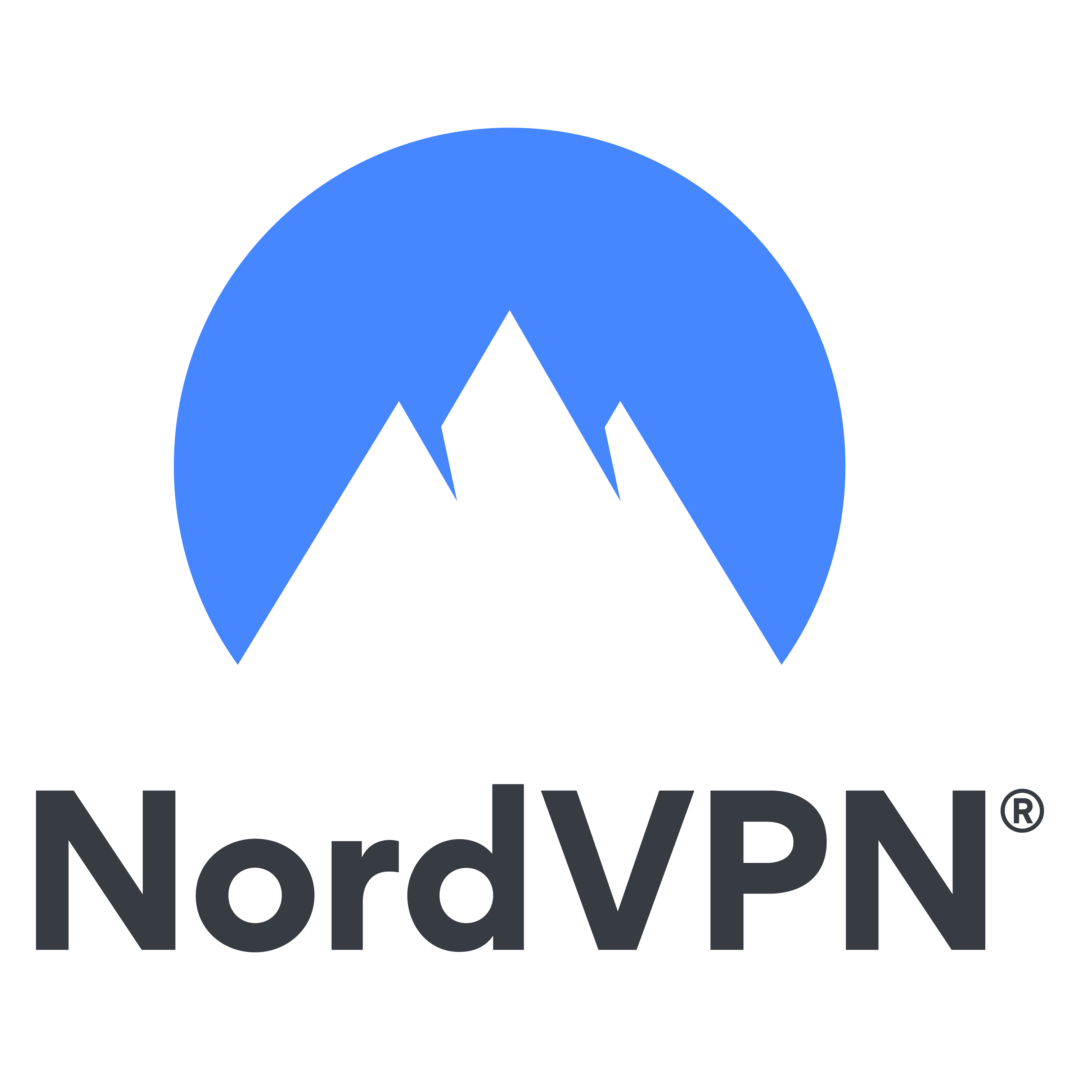 Source: NordVPN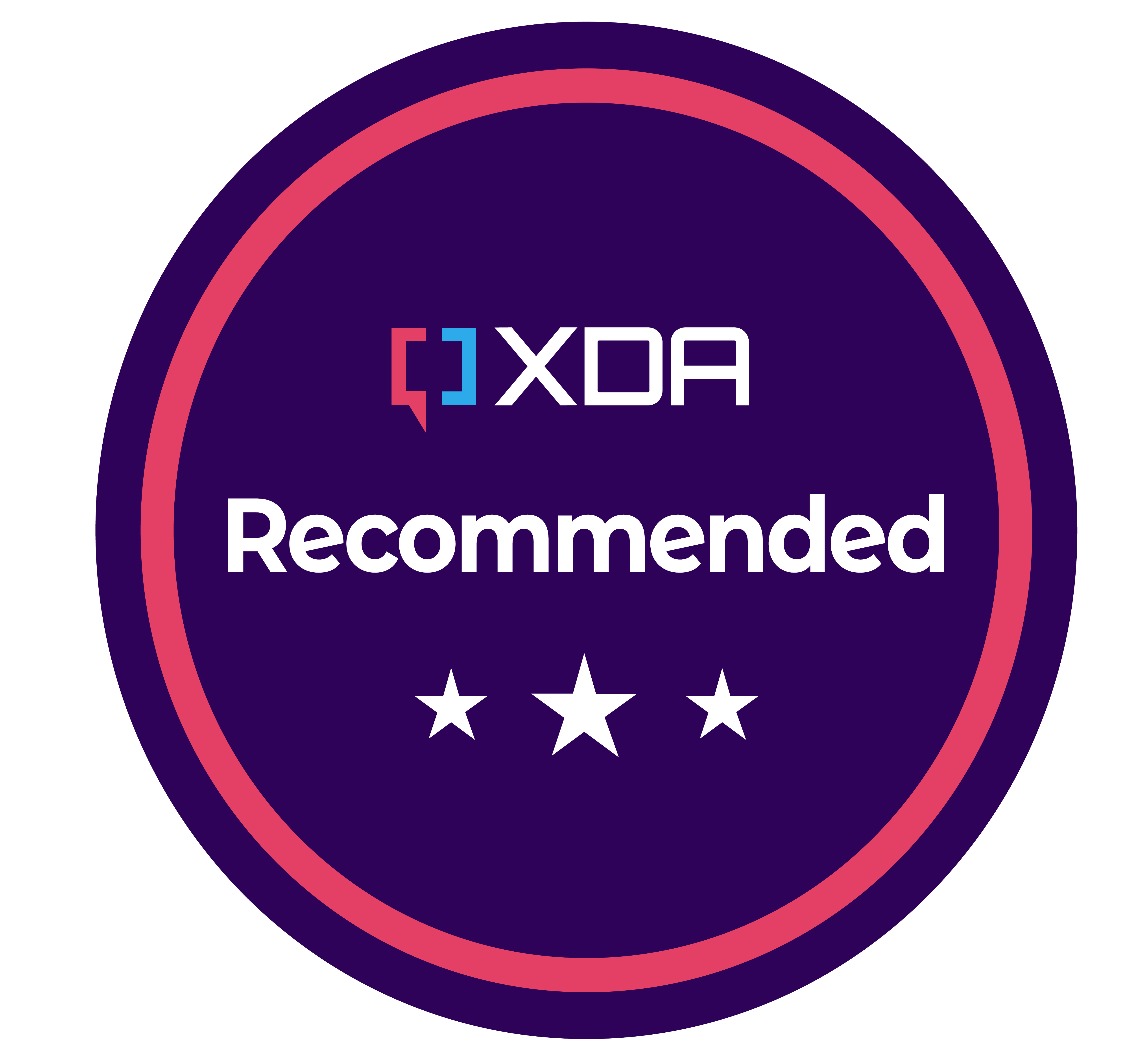 NordVPN
Top performance at a price
Unblock streaming services with 4K speeds
One of the industry-leading VPNs comes with a price tag, but its performance and features set a high bar. The perfect combination of speed, security, and user-friendliness.
** (Disclaimer: This video content is intended for educational and informational purposes only) **