Give more power to your 24-inch iMac with Apple's M3 chip and the best accessories you can get with your all-in-one Mac.
Apple has really stepped up its game with the latest products announced during the recent "Scary Fast" event, where it delivered two new MacBook Pro models and a new iteration of its popular 24-inch iMac, now with an M3 chip. This new iMac comes with the same design we all know and love, but you now get more power under the hood and a couple of new features. We were also lucky to get seven new color options and a color-matching Magic Keyboard and Magic Mouse with your purchase. However, several products on the market will help you get the best possible performance from your new all-in-one, and we've listed the best accessories for your new M3-powered 24-inch iMac.



Satechi USB C Slim Dock


Editor's choice

Your 24-inch iMac comes with several ports to let you connect your favorite peripherals, but the Satechi USB-C Slim Dock will give you more ports and extra storage space thanks to its enclosure for M.2 PCIe NVMe and SATA SSDs. It comes with two USB-C ports, three USB-A ports, and a very compact and practical design that will blend with your Mac.
 




Source: CalDigit 

CalDigit TS4 Thunderbolt 4 Dock


More ports for your iMac

$400 $450 Save
$50

CalDigit's TS4 Thunderbolt 4 Dock is one of the best docks you will find on the market, as it arrives with 18 ports, 98W charging, and three USB-C Thunderbolt ports for you to connect anything you want. It is extremely versatile and practical for more demanding users, as there's a port for anything you want and need.




Bose Companion 20 Multimedia Speaker System


Amazing audio

Your 24-inch iMac already has a good speaker configuration, but if you want to improve your media experience, then you should definitely consider adding the Bose Companion 20 Multimedia Speaker System to your setup, as it will deliver excellent sound thanks to Bose's TrueSpace technology.
 




Apple AirPods Max


Apple's best audio

$480 $549 Save
$69

Still one of Apple's best over-ear headphones, the AirPods Max will give you outstanding active noise canceling, which will be perfect for hours of concentration while working or creating content on your new 24-inch iMac. You also get excellent audio with Spatial Audio and Dolby Atmos, and you get five different color options to match your new Mac.




Logitech MX Master 3S


Mouse with extra features

Logitech's MX Master 3S for Mac Wireless Bluetooth Mouse is one of the best options you can get for your new M3 24-inch iMac, as it provides an ergonomic design, 8K DPI, quiet clicks, and it will even work on glass without having to use a mouse pad. It also features app-specific customizations and more for a rather affordable price tag.




Apple Magic Trackpad 2


Trackpad navigation

$115 $129 Save
$14

Apple has created one of the best trackpads you can get in a laptop, so making one to use with your M3 24-inch iMac is a definite win for those interested in having the same amazing features, Multi-Touch gestures, Forte Touch technology, and sensors that detect subtle differences according to the amount of pressure you apply.




Logitech MX Keys Advanced Wireless Keyboard


Magic keyboard alternative

$105 $120 Save
$15

You can love the Magic Keyboard, but there are other excellent options on the market, including the Logitech MX Keys Advanced Wireless Illuminated Keyboard, which will deliver a satisfying typing experience thanks to its design that was made with comfort, stability, and precision in mind, and you also get one free month of Adobe Creative Cloud subscription with your purchase.
 




keychron K8 Tenkeyless Wireless


Superb typing experience

Keychron's K8 Tenkeyless Wireless Mechanical Keyboard is another excellent keyboard alternative for those who are more interested in gaming, as this mechanical keyboard arrives with Gateron G Pro Brown Switches, perfect for those looking for tactile responsiveness and a long-lasting battery life that will keep you going for up to 200 hours with backlight off.
 




Western Digital My Book


More storage space

$150 $250 Save
$100

There's no such thing as having too much storage space on your Mac, which is why Western Digital's 6TB My Book Desktop External Hard Drive is an excellent option for creators and anyone who loves to keep all their important data in a safe place, and the best part is that HDD comes with password protection and auto backup software to give you additional security.
 




Samsung T7 Portable SSD


Portable SSD

$95 $110 Save
$15

A better alternative for those who are constantly on the move comes from Samsung, as its T7 Portable SSD External Solid State Drive is an excellent option to keep your information secure and close by. It starts with 512GB of storage space and will deliver up to 1050MB/s transfer speeds, which is almost five times faster than external HHDs.




Belkin iPhone Mount with MagSafe for Mac desktops and displays


Connect your iPhone's camera

The 24-inch iMac already has a very capable FaceTime Camera for those who want a nice quality image during a video call or conference. Still, Belkin's iPhone Mount with MagSafe for Mac desktops and displays will let you use the main camera of your iPhone with your 24-inch iMac, so you can get the best possible video quality every time.




Logitech Brio 4K Webcam


Excellent for video conferencing

$127 $200 Save
$73

The Logitech Brio 4K Webcam is another excellent alternative for those interested in 4K UHD video quality during their video calls. It also features a noise-canceling microphone, HD auto light correction to keep you looking good no matter the situation, and a wide field of view to keep you in the frame. And it also comes with a privacy shade you can flip to cover or expose the lens.
Which accessories are best for your new 24-inch iMac?

In the end, it will all depend on what you do or what you want to do with your new 24-inch iMac. However, some of these accessories are a must for anyone who wants to give their Mac an extra boost. Satechi's USB-C Slim Dock is perfect for those who always need extra ports to connect an extra gaming mouse, a memory stick, and more. Plus, it's even better because you can hook up your new device with extra storage space that's easy to carry since this dock arrives with a very slim and easy-to-carry design.
I would also add a new pair of headphones to the setup, as sometimes you must block out the world to become more productive. So the AirPods Max would definitely be one of my priorities, and to complete my picks, I'd also include the Logitech MX Master 3S, as an ergonomic mouse with customizable buttons always goes a long way during extended working hours. And if you're not sure about getting a new 24-inch iMac, you can also check out our selection for the best all-in-one computers you can get in 2023, where you will find options from Lenovo, Dell, and more.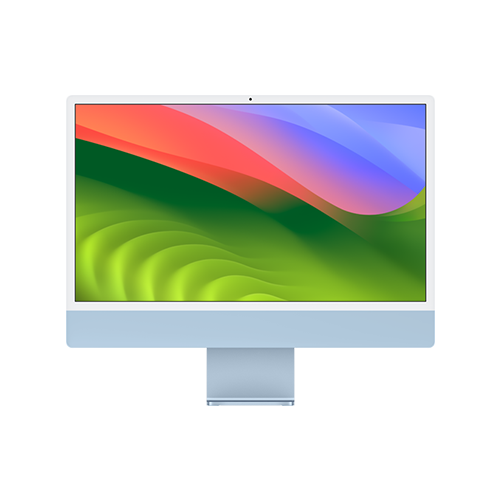 24-inch iMac (M3, 2023)

Get the latest iteration of Apple's 24-inch iMac and get tons of power to do anything you need in the same package.
** (Disclaimer: This video content is intended for educational and informational purposes only) **