The best all-in-one PCs effectively combine the desktop and monitor portions into a sleek package that takes up less space while still delivering everything you'd expect from a home or office PC. Some all-in-one — often shortened to "AiO" — computers can even handle gaming thanks to included discrete graphics cards and strong processor performance, though the result is much more akin to a gaming laptop than a true gaming desktop. Whether you need an AiO PC around the house for homework and productivity, in the gaming den for some extra fun, or at the office for a secure and manageable platform, you should find something perfect in this curated list of the best all-in-one computers.
Our favorite all-in-one PCs in 2023
Lenovo Yoga AiO 9i (2023)
Editor's choice
The best AiO for most people
With a 31.5-inch 4K display, 13th Gen Intel Core CPUs, and optional discrete Nvidia graphics, the Yoga AiO 9i for 2023 is the best option for most people. It can handle work and play, and it'll blend in with practically any environment. The 5MP webcam and quad speakers means you won't have to buy extra hardware for the full experience.
Pros
31.5-inch 4K display
13th Gen Intel Core CPUs and discrete graphics
Modern design with lots of ports
Cons
Config options are a bit limited at the time of writing
Can find AiOs for a lot less money
Lenovo's Yoga 9i all-in-one PC combines power and style to become the ultimate AiO for around the home. In fact, we called it one of the best PCs for working from home if you want a desktop. The circular base is home to the majority of the performance hardware, with edges ringed in exhaust vents and ports. It includes USB4, USB-C 3.2 (Gen 2), dual USB-A 3.2 (Gen 2), HDMI 2.1, and a 3.4mm combo headset jack. It even offers wireless phone charging on top of the base as an extra option.
The Yoga 9i AiO is available with a 13th Gen Intel Core i9-13900H processor (CPU), integrated Iris Xe or discrete Nvidia RTX 4050 Laptop GPU, up to 32GB of LPDDR5 RAM, and up to 1TB of M.2 PCIe 4.0 NVMe solid-state drive (SSD) storage space. That's quite a bit of available power, and you should be able to enjoy some lighter gaming on the Yoga 9i AiO.
The base connects to the display with a sleek oval stand that allows you to adjust tilt; the display itself is super slim for a modern look. The screen measures 31.5 inches, with a 3840×2160 (UHD) resolution, IPS panel, up to about 500 nits brightness, DisplayHDR 600 support, and 97% DCI-P3 color reproduction. It's a stellar display, and you can always add a second monitor if needed. Dual 5W woofers and dual 2W tweeters with Dolby Atmos support handle the audio, and there's even a 5MP camera with IR sensor for Windows Hello.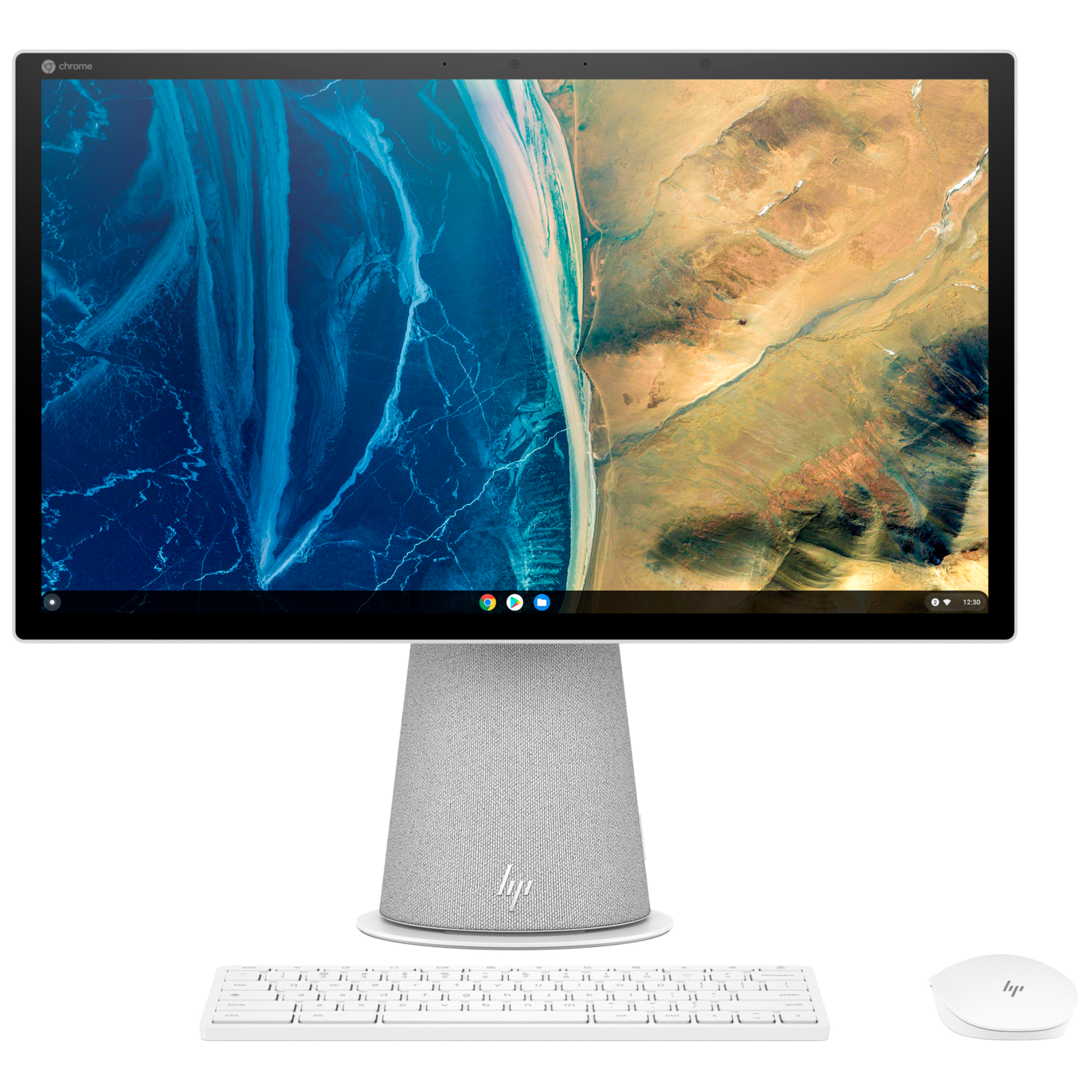 Source: HP
HP Chromebase All-in-One
Best value
Affordable AiO running ChromeOS
Those looking to spend less on an AiO PC should check out the HP Chromebase (at least as long as you're OK with ChromeOS). It's compact, it has a quality webcam and dual 5W speakers, and it comes with a keyboard and mouse to get you started right out of the box.
Pros
Compact and stylish design
Touch display can rotate for portrait and landscape modes
Comes with a decent keyboard and mouse
Cons
Not everyone wants ChromeOS
Getting hard to find
For those who'd like to stick to a ChromeOS experience akin to a desktop Chromebook, the Chromebase from HP is your best bet. It's a rather compact PC with a 21.5-inch display, capable of rotating on the stand unlike most other AiO PCs. The stand has dual 5W speakers built right in for direct sound, and the back of the stand is home to dual USB-C, dual USB-A ports, and a 3.5mm audio jack. There's even a shuttered webcam above the display with 5MP resolution for a quality picture.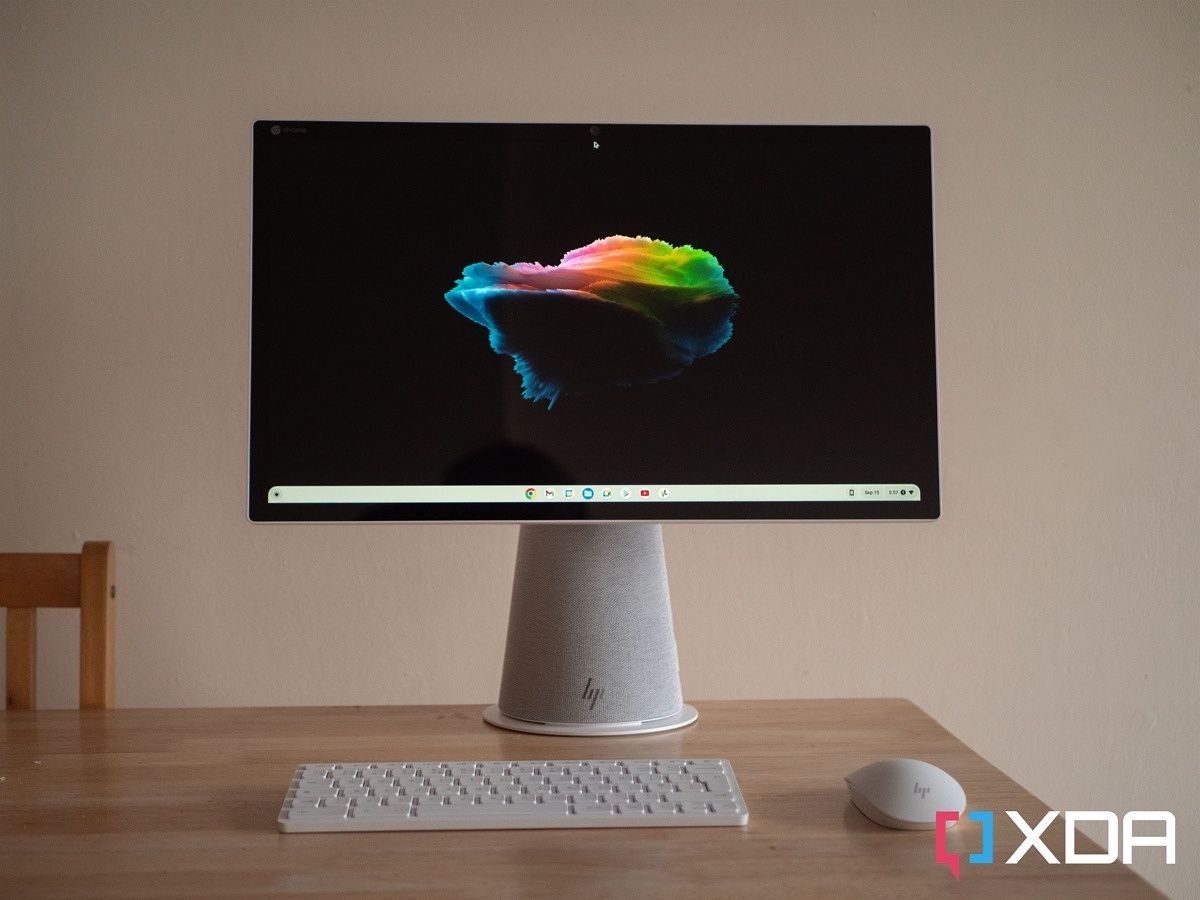 As mentioned, the display can rotate between landscape and portrait modes, and its touch capabilities play in well with this design. The screen has a 1920 x 1080 (FHD) resolution with IPS panel, and it's capable of hitting up to 250 nits brightness. Along with the anti-glare finish, that should be enough to keep the screen mostly clear. Performance hardware includes either an Intel Pentium 6405U or Intel Core i3-10110U, with up to 16GB of DDR4 RAM and up to 256GB of M.2 PCIe NVMe SSD storage.
In our HP Chromebase AiO 22 review, we called it a great option for school work and even lighter Linux development. HP throws in a mouse and keyboard so you can get going right out of the box.
Amazon"" data-modal-id="single-image-modal" data-modal-container-id="single-image-modal-container" data-img-caption="""">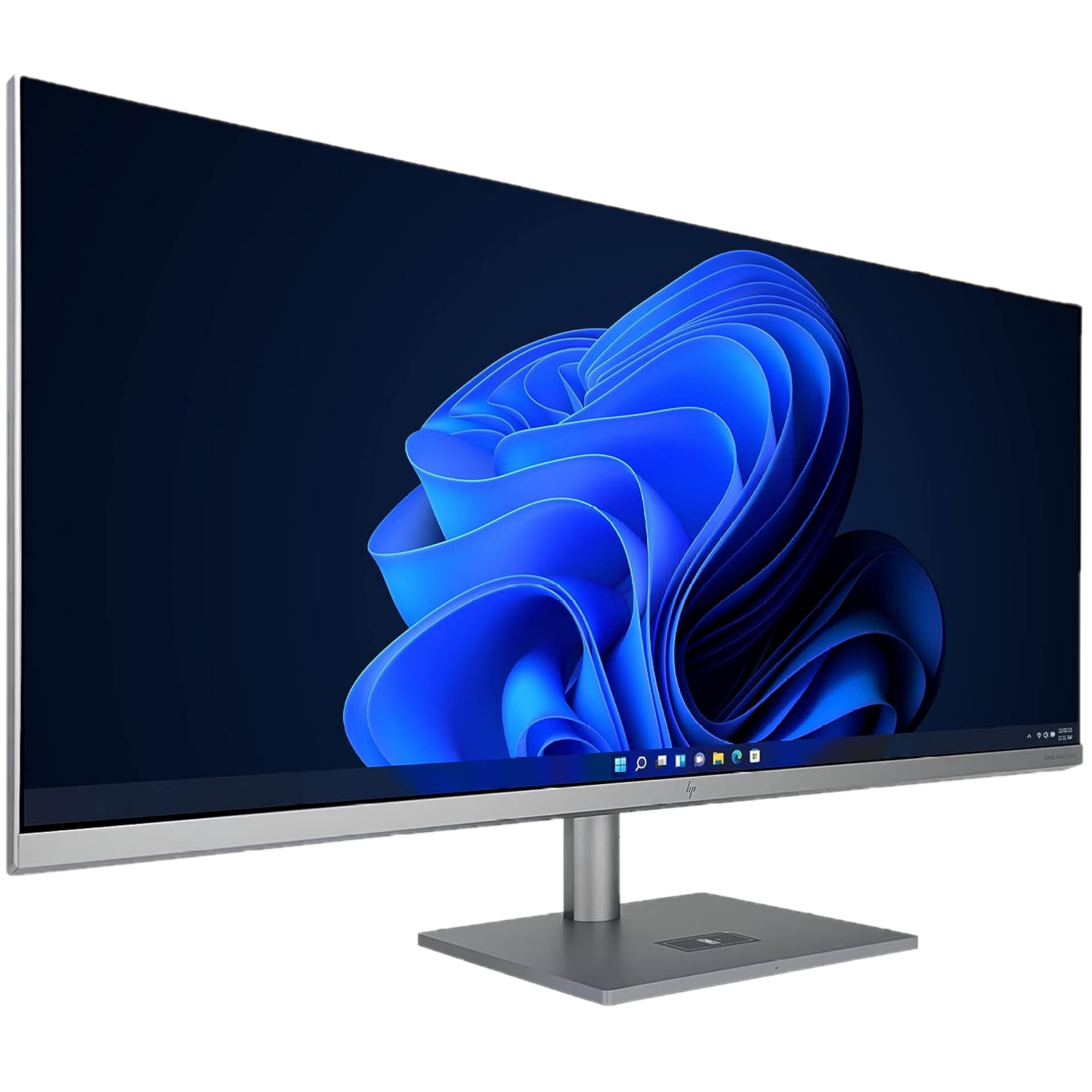 HP ENVY 34 All-in-One (2022)
Premium pick
5K ultrawide AiO
HP's Envy 34 AiO is quite literally the envy of most other all-in-one PCs. It has an ultrawide 34-inch display with crisp WUHD resolution, there's a wide variety of ports available, and it comes with a bunch of different configuration options that can handle a heavy workload or even some gaming.
Pros
Lots of powerful configuration options
Stunning 34-inch ultrawide display with WUHD resolution
Wide variety of ports, includes wireless phone charger
HP's Envy AiO 34 is expensive, but those with a bigger PC budget will be able to take advantage of quite a few high-end features. Working from the ground up, the trim base includes a wireless phone charger on top, with a bank of ports in the upright section that secures the display. More ports are also located on the back of the screen, altogether offering two Thunderbolt 4, six USB-A, RJ45 Ethernet, USB-C, and a 3.5mm audio jack. There's even an SD card reader for removable storage.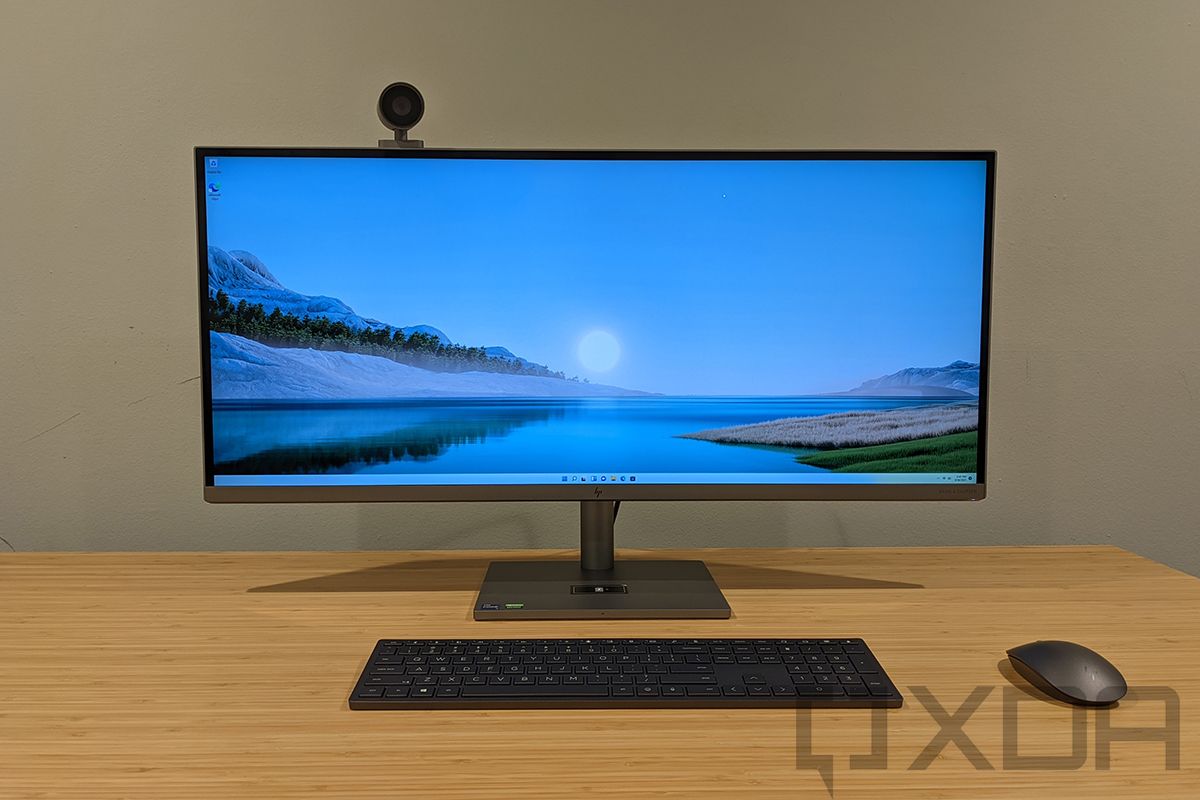 The ultrawide display measures 34 inches and has a 5120 x 2160 (WUHD) resolution. An anti-reflective finish looks sharp while also cutting down on glare, and the display can hit up to 500 nits brightness. It's also capable of 98% DCI-P3 color reproduction, making it suitable for some design and editing work. It's a huge screen, and HP even includes a detachable webcam with 16MP resolution.
HP offers 12th Gen Intel Core CPUs, with up to a Core i9-12900 chip. It comes with a discrete Nvidia GTX 1650 Laptop GPU by default, but there are also RTX 3050, 3060, and 3080 options should you need more power. Four RAM slots allow for up to 128GB of DDR5 RAM, and there are also two M.2 slots for storage. HP offers up to 2TB of M.2 PCIe 4.0 NVMe SSD storage from the factory. This is one of the best desktop PCs on the market today, especially if you want everything in one package.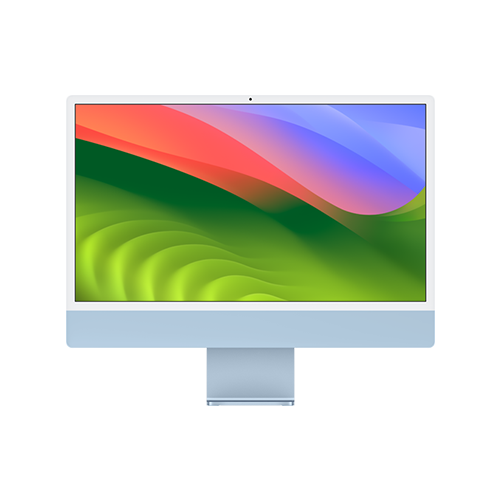 24-inch iMac (M3, 2023)
Best with macOS
The new iMac from Apple
Apple's refreshed 24-inch iMac with new M3 CPU has the same awesome design as the 2021 model, this time with better performance. It's the everyday iMac that will suit most people, but those who want something with ultimate performance will have to look elsewhere.
Pros
Same gorgeous design as the 2021 model
Upgraded M3 CPU brings much better performance
24-inch Retina display is stunning
Cons
Not the right choice for heavy tasks
Apple's "Scary fast" event unveiled a new suite of computers powered by the updated M3 processor, and we've thankfully seen an update to the 24-inch iMac that was last refreshed with the M1 chip. We were able to go hands-on with the new iMac M3, discovering that Apple focused on performance instead of design updates for this generation. If you loved the look of the M1 version, you'll love the look of the M3 version.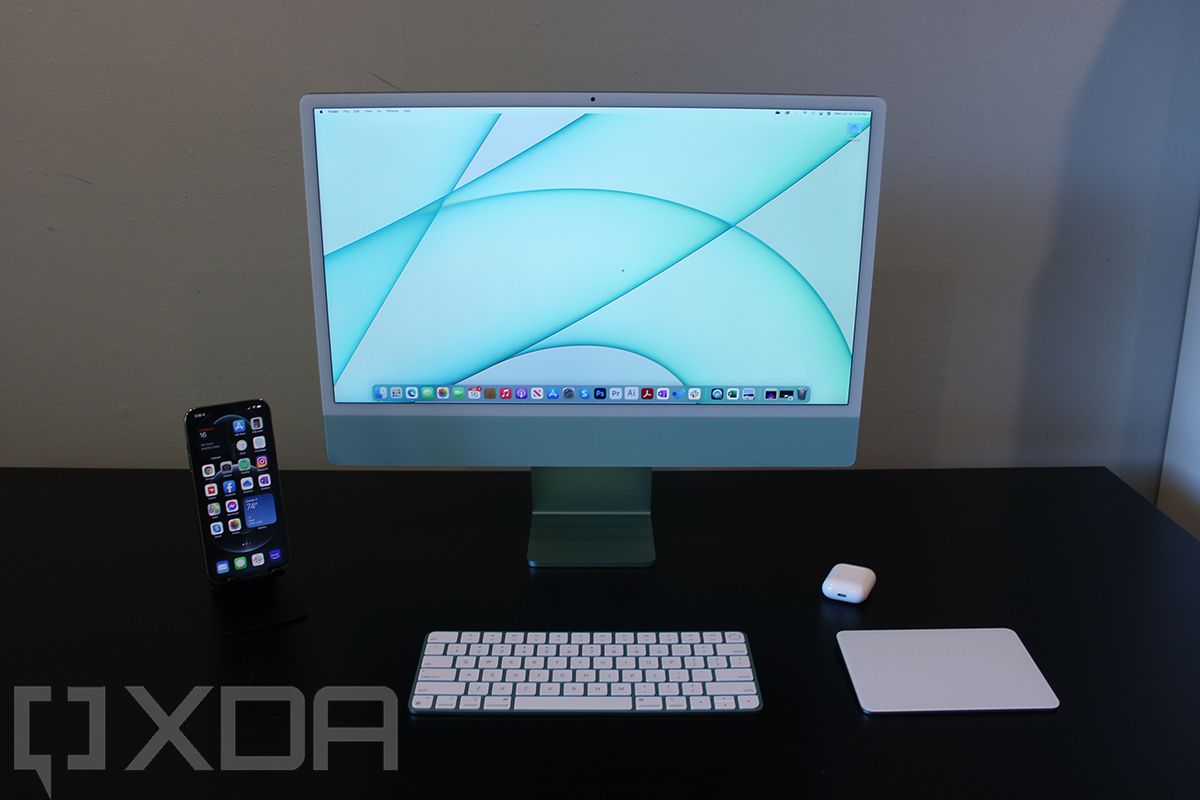 In our Apple iMac 24 M1 (2021) review, Editor-in-Chief Rich Woods called it "the most beautiful all-in-one PC on the market." It's available in six colors, it's slim enough at 11.5mm that it sort of just disappears into the background, and it has a sturdy metal base that allows for adjustments to tilt. The back is home to two Thunderbolt ports and two USB-C 3.2 (Gen 2) ports, with Ethernet and 3.5mm audio rounding things out. Picking up a great dock for the 24-inch iMac will go a long way here.
The display is still sized at 24 inches with a 4480 x 2520 (4.5K) resolution, hitting 500 nits for plenty of brightness. Above is a 1080p webcam, and you get six speakers with Dolby Atmos support for excellent sound quality. The new M3 chip is a big upgrade over the M1, and it's available with up to 512GB of storage and 8GB of RAM. Prices start at about $1,299, with models expected to launch November 7. You can preorder now.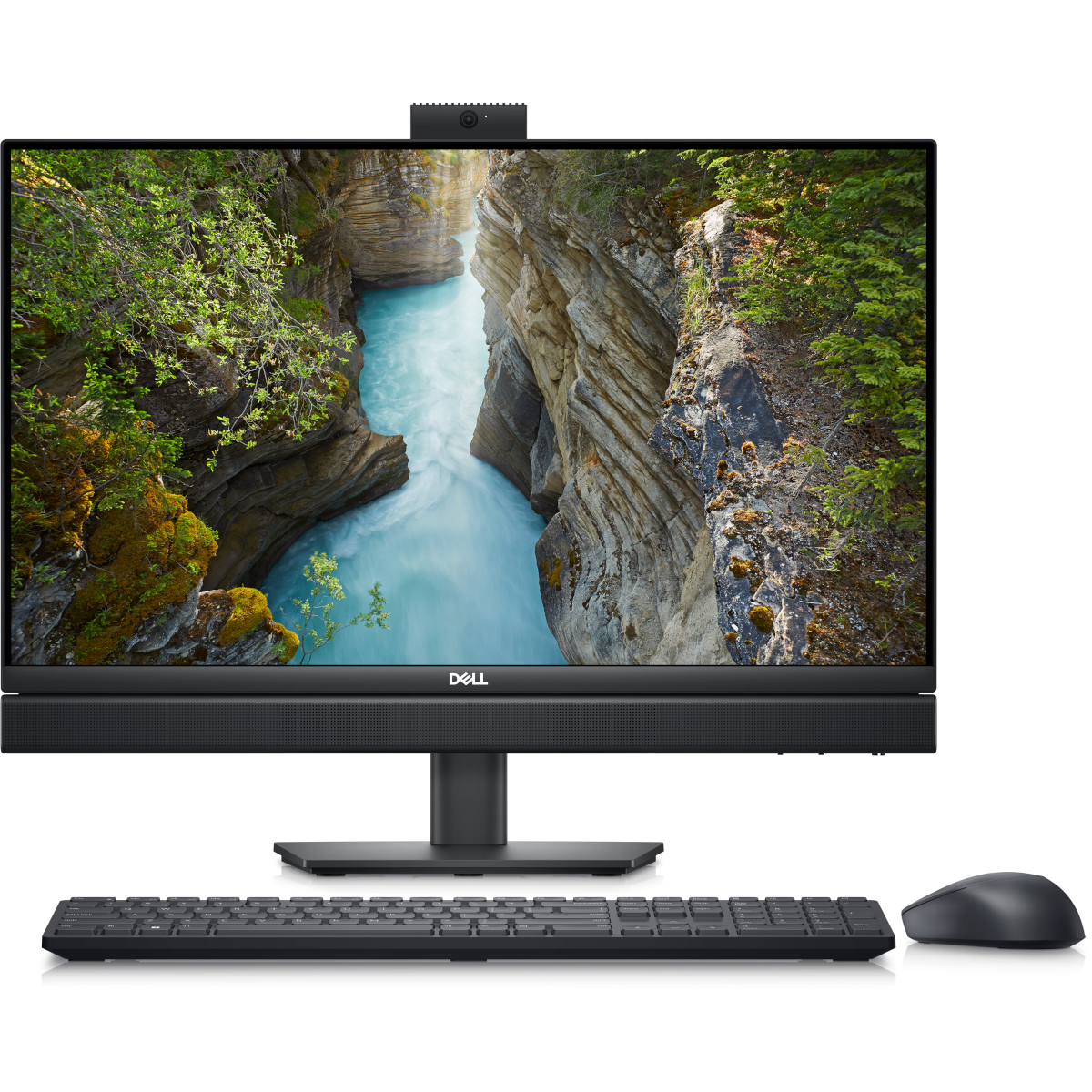 Source: Dell
Dell OptiPlex 7410 AiO
Best for the office
With Intel vPro Enterprise
$1359 $2095 Save $736
Dell's OptiPlex 7410 AiO is the right choice for professionals who need extra security and manageability. It's available in a wide number of configurations for different workloads, and you can adds some impressive extra features like 5MP webcam with human presence detection.
Pros
Secure and manageable platform
Many different configuration options
Optional 5MP popup webcam with human presence detection
Cons
Not ideal for casual users
Those who need a more business-focused all-in-one should check out Dell's OptiPlex 7410. It's available in three base configurations depending on your needs, with 35- and 65-watt CPU options as well as some other extra features like a 5MP webcam with human presence detection. It's available with up to a 13th Gen Intel Core i7-13700 CPU, 32GB of RAM, 2TB of M.2 PCIe NVMe SSD storage, and your choice of Windows or Linux operating systems. The vPro platform makes it easy for IT workers to keep everything managed.
The 23.8-inch display is available in touch or non-touch configs, all with an FHD resolution. Depending on the display you choose, Dell opens up an optional AMD Radeon RX 6400 discrete GPU for even more power. Above the display is either a 5MP popup webcam with IR sensor or standard FHD webcam depending on your screen choice at checkout. Dual speakers live below the screen, and there's a wide selection of ports on the back and sides.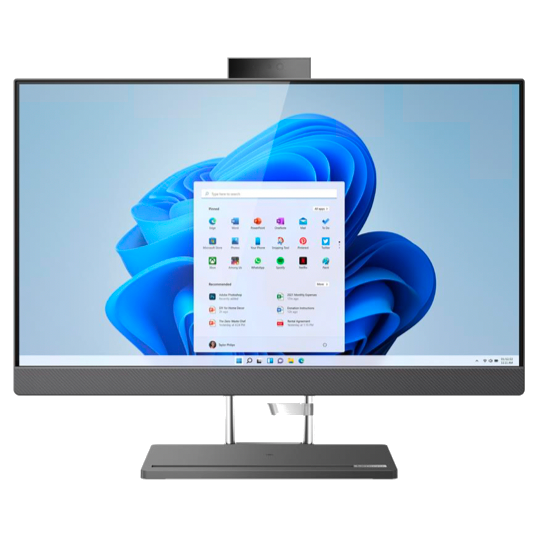 Lenovo IdeaCentre AIO 5i 27 (Gen 7)
Best for home
Tackle homework and other productivity
Lenovo's IdeaCentre AiO 5i (Gen 7) is modestly priced and should be a great pick for anyone who needs a sleek PC around the home or office. The 27-inch display has a smooth 100Hz refresh rate and QHD resolution, and the camera and speakers are top-notch.
Pros
Excellent camera and speakers
Smooth 27-inch QHD display at 100Hz
Lots of configuration options
Cons
Stale port selection, no Thunderbolt 4
Fans get loud with more powerful hardware
Lenovo's IdeaCentre AiO 5i 27 (Gen 7) is one that I personally tested and loved, mostly for its minimalist design and gorgeous display all available at a reasonable price. The slim base includes a Qi wireless charger, with an oval upright portion that allows for tilt adjustments. The back of the display has USB-C 3.2, USB-C 2.0, USB-A 3.2 (Gen 2), USB-A 3.2 (Gen 1) USB-A 2.0, HDMI 2.1 in, HDMI 2.1 out, RJ45 Ethernet, and 3.5mm audio. On top of the screen is a popup webcam with 5MP resolution, and you can add an IR camera for facial recognition. There's even optional human presence detection. Two 5W speakers live below the screen.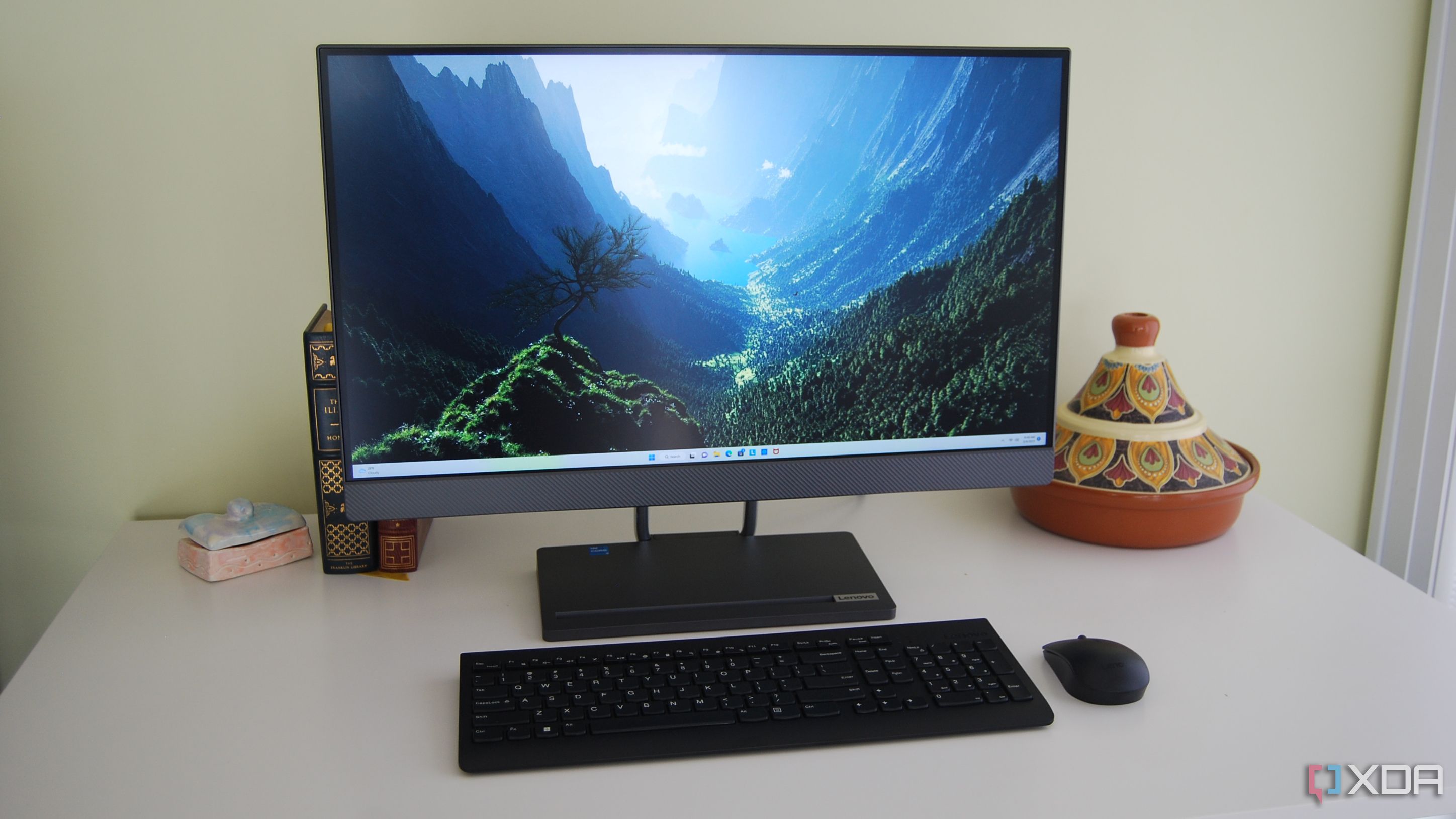 The display itself measures 27 inches with a 2560×1440 (QHD) resolution, and Lenovo boosted the refresh rate to 100Hz for a smoother picture that's easier on the eyes. I tested 100% sRGB, 82% AdobeRGB, and 86% DCI-P3 color during my time with the PC. It even has touch functionalilty, and the anti-glare finish helps handle bright environments. As I noted in my Lenovo IdeaCentre AiO 5i (Gen 7) review, "this isn't a PC you'll want to buy for specialized design and development work, but it has the right specs to deliver something like a quality photo editing experience."
Performance hardware includes up to a 13th Gen Intel Core i7-13700H CPU, Intel Arc A370M discrete graphics, up to 32GB of DDR5 RAM, and up to 1TB of M.2 PCIe 4.0 NVMe SSD storage.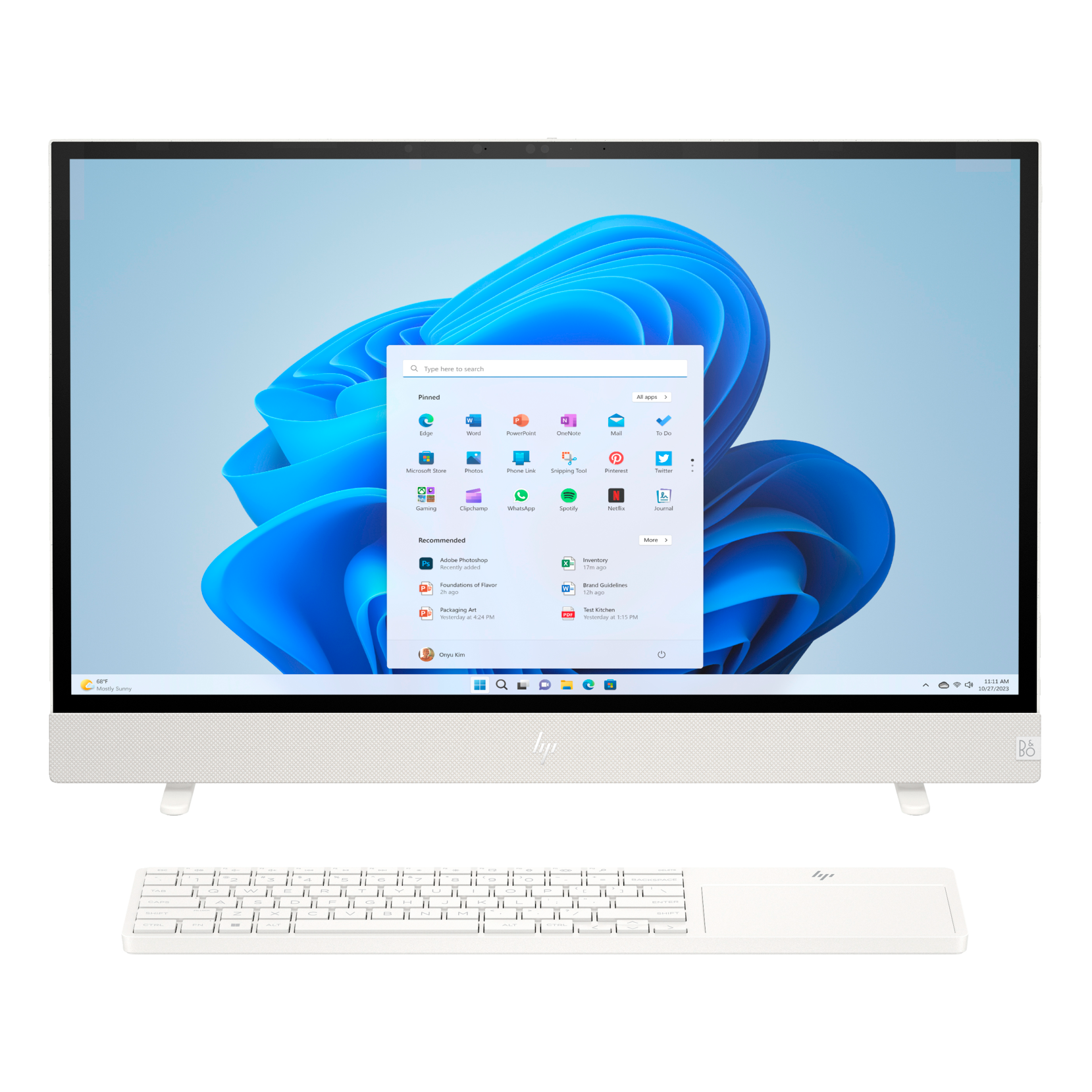 Source: HP
HP Envy Move
Best mobility
Pack it up and go with ease
HP's Envy Move is like a laptop that grew legs. It has a 23.8-inch QHD touch display, kickstand feet, carrying handle, pop-up 5MP IR webcam, and even a built-in battery so you can use it away from an AC outlet.
Pros
Built to be almost as mobile as a laptop
Modern performance hardware
23.8-inch QHD touch display
Cons
Slim port selection
Battery life is understandably limited
HP recently unveiled its new Envy Move all-in-one, and it does something that all over AiOs in this collection cannot. HP designed it to be as mobile as possible, going so far as adding a battery, fold-down carrying handle, kickstand feet, keyboard sleeve on the back, and overall compact design that's fairly easy to tote around. It's sort of like a laptop grew legs. You can already preorder the Envy Move, with units expected to start shipping November 22.
Specs currently include a 13th Gen Intel Core i5-1335U CPU, 16GB of LPDDR5 RAM, 1TB M.2 PCIe NVMe SSD, and integrated Intel UHD graphics. It runs on an 83Wh battery when it's not plugged in, with up to four hours of life (as quoted by HP). Ports are situated on the sides of the slim body, with USB-C, USB-A, HDMI, and 3.5mm audio.
The 23.8-inch touch display has a 2560×1440 (QHD) resolution, IPS panel, about 300 nits brightness, and 99% sRGB color reproduction for a great-looking picture. It can be tilted forward and back on its feet, it has an ambient light sensor to make automatic brightness adjustments, and it features low blue light certification to be easier on the eyes. Above the screen is a 5MP webcam with IR sensor and privacy shutter, and below the screen are dual 5W speakers. The whole thing only weighs about nine pounds.
Finding the best all-in-one-desktop PC for you
The all-in-one PC market certainly isn't as broad as the desktop or laptop markets, but as evidenced here there are plenty of great options that suit a wide array of purposes. You should be able to find a PC that accommodates your needs, all while delivering everything in a package that's not much larger than a standard PC monitor.
If we're picking one AiO PC as the best for most people, it has to be Lenovo's Yoga AiO 9i. It has a sturdy circular base with lots of ports and exhausting for the built-in performance hardware, and it even offers a Qi wireless charging pad. Performance is great thanks to the 13th Gen Intel Core CPUs and optional discrete Nvidia graphics, to the point where some light gaming is possible.
The 31.5-inch 4K display is the real star, hitting 500 nits brightness and 97% DCI-P3 color with DisplayHDR 600 support. A crisp 5MP webcam lives above the display, and there are four speakers with Dolby Atmos for impressive audio.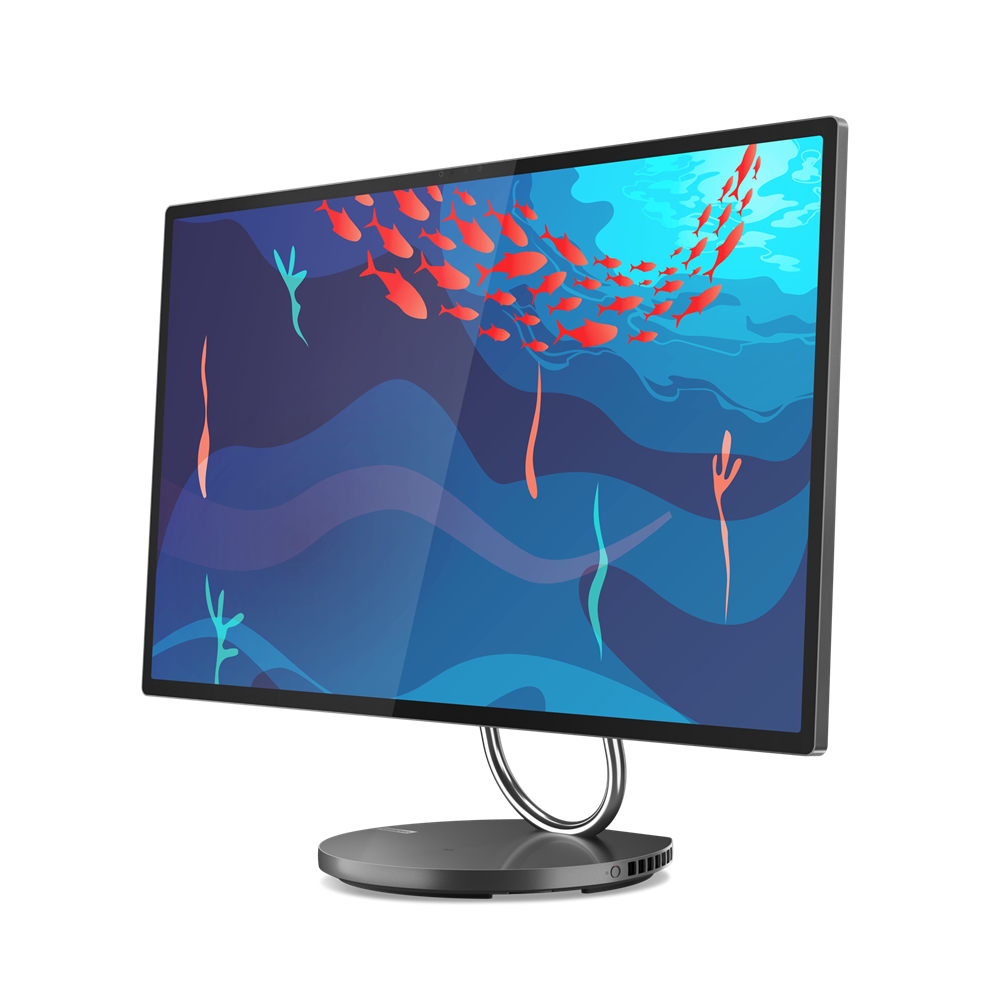 Lenovo Yoga AiO 9i (2023)
Editor's choice
The Lenovo Yoga AiO 9i is the best all-in-one PC for most people, though it does run on the expensive side when it's not on sale. It's versatile enough to suit productivity work, editing, and even some light gaming, and the modern design will fit into any environment.
** (Disclaimer: This video content is intended for educational and informational purposes only) **