Grab one of these docks to make the most of your new M3-powered iMac.
Apple's 24-inch iMac (M3, 2023) is easily one of the best Macs out there in 2023. The much-needed 2023 iMac refresh brings the company's latest silicon chip and faster Wi-Fi to the table, improving an already excellent desktop computer for those who prefer a stationary setup for working from home. I just wish the new 24-inch iMac had more ports, because the current selection is quite limited. You really only have a couple of Thunderbolt ports and a headphone jack, just like its predecessor. It's nothing a Thunderbolt dock can't solve, though, and there are plenty of them available on the market right now.
There's no shortage of Thunderbolt docks on the market in 2023, and we gathered some of the best ones in the collection below for you to check out. Let's dive in!



Source: Plugable

Plugable TBT4-UDZ Quad Display Dock


Editor's choice

The Plugable 16-in-1 Thunderbolt dock is an excellent choice for most iMac users out there. This particular dock adds as many as 16 ports with support for up to quad 4K monitors via DisplayPort and HDMI. You also get a bunch of other ports including an SD card reader, a 2.5Gbps Ethernet, and more.




Source: Kensington

Kensington Thunderbolt 4 Docking Station 96W


Slim and portable

This Kensington Thunderbolt 4 docking station will add as many as 13 ports to your iMac computer, while maintaining a relatively slim profile. It comes with a good selection of ports including two HDMI 2.0 ports, an SD card reader, an Ethernet port, and a bunch of USB ports.




UtechSmart 12-in-1 USB-C Docking Station


Best value pick

$90 $100 Save
$10

The UtechSmart USB-C dock is the one to get if you're looking for a reliable dock under $100. Despite its affordable price tag, it comes with 12 ports to connect all your peripherals without any issues. It's also not nearly big or bulky as some other docks mentioned in this collection.




Source: CalDigit 

CalDigit TS4 Thunderbolt 4 Dock


Premium pick

$400 $450 Save
$50

If you don't mind splurging a bit on a high-end dock, then it doesn't get better than the CalDigit TS4. It comes with a total of 18 ports, including downstream Thunderbolt, super-fast Ethernet, DisplayPorts, and more. You essentially get all the ports you'll ever need with this dock, provided you're willing to spend $400 on it.




Kensington SD5780T Thunderbolt 4 Docking Station


Durable aluminum shell

$220 $330 Save
$110

The Kensington SD5780T Thunderbolt 4 Docking Station is a powerful high-end docking station. Unlike many others on this list, it supports the newer HDMI 2.1 standard for connections to newer displays. It also has 11 ports, including HDMI, and has a durable aluminum shell.




Anker 675 USB-C Docking Station


Doubles up as monitor stand

The Anker 675 docking station, as you can see, doubles up as a monitor stand for your iMac. It helps you tidy up and organize your workstation while adding as many as 12 ports to your setup. It even has a built-in wireless charging pad to charge your iPhone or other compatible phones.




Baseus 13-in-1 USB-C Hub


Affordable USB hub

If you're only looking for a simple USB-C hub to add more ports to your iMac for cheap, then check out this 13-in-1 hub from Baseus. It adds a solid selection of ports to your iMac for just $70, making it one of the most affordable picks on this list.




Source: Razer 

Razer Thunderbolt 4 Dock Chroma


RBG lighting

$310 $330 Save
$20

The Razer Thundebolt 4 Dock Chroma is one of the best docking stations out there. It can add a total of 10 ports to your iMac, including HDMI, Ethernet, SD card reader, and more. It also stands out from the rest by adding a touch of RGB lighting to your setup.
Best docking stations for 24-inch iMac (M3, 2023) in 2023: Bottom line

The docks highlighted in the collection above, as you can see, has a bunch of solid options that'll work well with Apple's new 24-inch iMac. The M3 chip is a bit limited in its capabilities when it comes to support for external monitors, but you'll still be able to make good use of the docks from the list above. I'd personally go with something like the Plugable TBT4-UDZ with a bunch of fast USB-C ports, a super-fast 2.5Gbps Ethernet, and more. It's also not nearly as expensive as the CalDigit TS4 dock, despite adding almost the same ports.
I've also added a good mix of both affordable and more expensive options to the collection, so feel free to explore the entire list before checking out your cart. Just keep in mind that you're probably not going to need all the bells and whistles of a high-end dock with things like multiple monitor support and power delivery for the iMac, so you can even choose to go with something less fancy like the Baseus 13-in-1 USB hub. Also, if you haven't bought the iMac already, then you might want to check out the links below to find the best price for it online right now.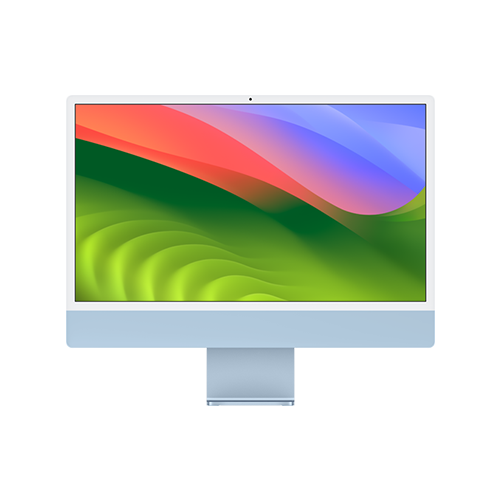 24-inch iMac (M3, 2023)

2023's 24-inch iMac receives a notable processor bump from Apple M1 to M3, along with Wi-Fi and Bluetooth upgrades. It still retains the same number of ports its predecessor, though, so grab one of the docks highlighted above.
** (Disclaimer: This video content is intended for educational and informational purposes only) **