Everyone wants a set of earbuds that fit, but they're not always one-size-fits-all. No one wants a rogue earbud falling out while walking the dog, which can be common for those with small ears. Some earbud brands can be more inclusive than others, offering fittings and tips for customization. Even with these accessories, the right fit isn't always within reach, but they can be with the best earbuds for small ears on this list.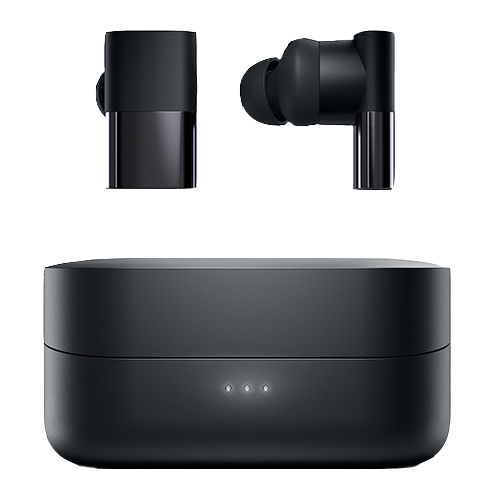 Source: Status
Status Between 3ANC
Best overall
Leading ANC features, sound, and fit for its price point
$200 $249 Save $49
The Status Between 3ANC earbuds provide quality sound out of the box alongside a snug fit. The active noise cancelation outperforms top-brand earbuds while being a great fit for small ears.
Pros
Eight hours of continuous playback
36 hours charge from the case
Three drivers in each bud
Cons
Lack of sound customization
No customizable touch controls
Basic app functions
Many earbuds offer amazing sound yet fall flat regarding build quality and performance. This isn't a problem with Status Between 3ANC, possibly the most comfortable and secure stem earbuds. The stem is a widened rectangular shape that gives the buds more stability in front of the ear canal. There's also plenty of room for touch controls. They're a good fit for small ears thanks to the minimal profile and snug fit. A full set of multi-sized silicone caps paired with a smaller form factor allows the earbuds to sit nicely in front of the ear canal, regardless of ear size.
Three built-in drivers on each Status Between 3ANC bud, one dynamic, and two armatures provide consistent and solid low to high-end frequencies. This is paired with an advanced active noise cancelation (ANC) feature with three modes: transparency, noise cancelation, and ambient. According to Status, users will also enjoy 8 hours of use with ANC on and 12 hours off from the buds alone and another 24 hours of power with the fast-charging case.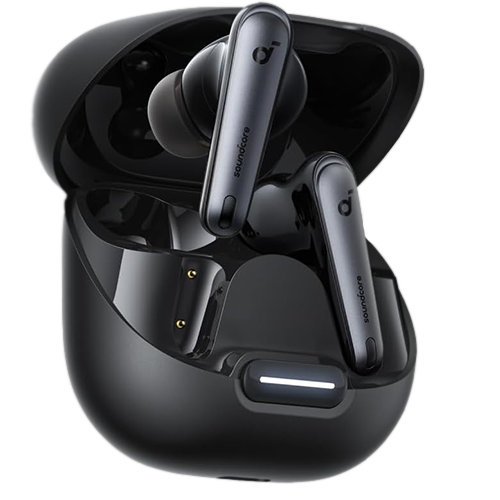 Source: Soundcore/Anker
Anker Soundcore Liberty 4 NC
Best value
Premium features like custom EQ and ANC on a budget
Soundcore by Anker Liberty 4 NC earbuds provide rich sound and offer solid tech for their price point. The angled stems should secure these buds for everyone.
Pros
Great noise reduction
Easy EQ customization
Customizable touch controls
Cons
Lacking low end
Don't filter wind noise
Hidden LDAC functionality
Anker is known for making solid products; the Soundcore Liberty 4 NC is no exception. At a reasonable price point, users will get a stem design combined with multiple silicone tips for a comfortable fit, alongside other great features. The earbuds sit in front of the ear canal and use angled stems to keep them secure in small ears. They are more compact than others on the market, allowing smaller ears to hear lower frequencies thanks to the comfortable, secure fit.
Users can make Soundcore Liberty 4 NC their own with HearID 2.0, allowing for custom EQ settings based on frequencies that can be heard. ANC 2.0 filters out most background noise, bar wind noise, which can be slightly offset by ensuring earbuds are placed correctly in front of the ear canal. With customizable touch controls, Soundcore states Liberty 4 NC buds last around 10 hours on a single charge, with the charging case holding an extra 50 hours. This powers the 11mm custom-tuned drivers and delivers clear and crisp sound, even better when LDAC connectivity is activated in-app.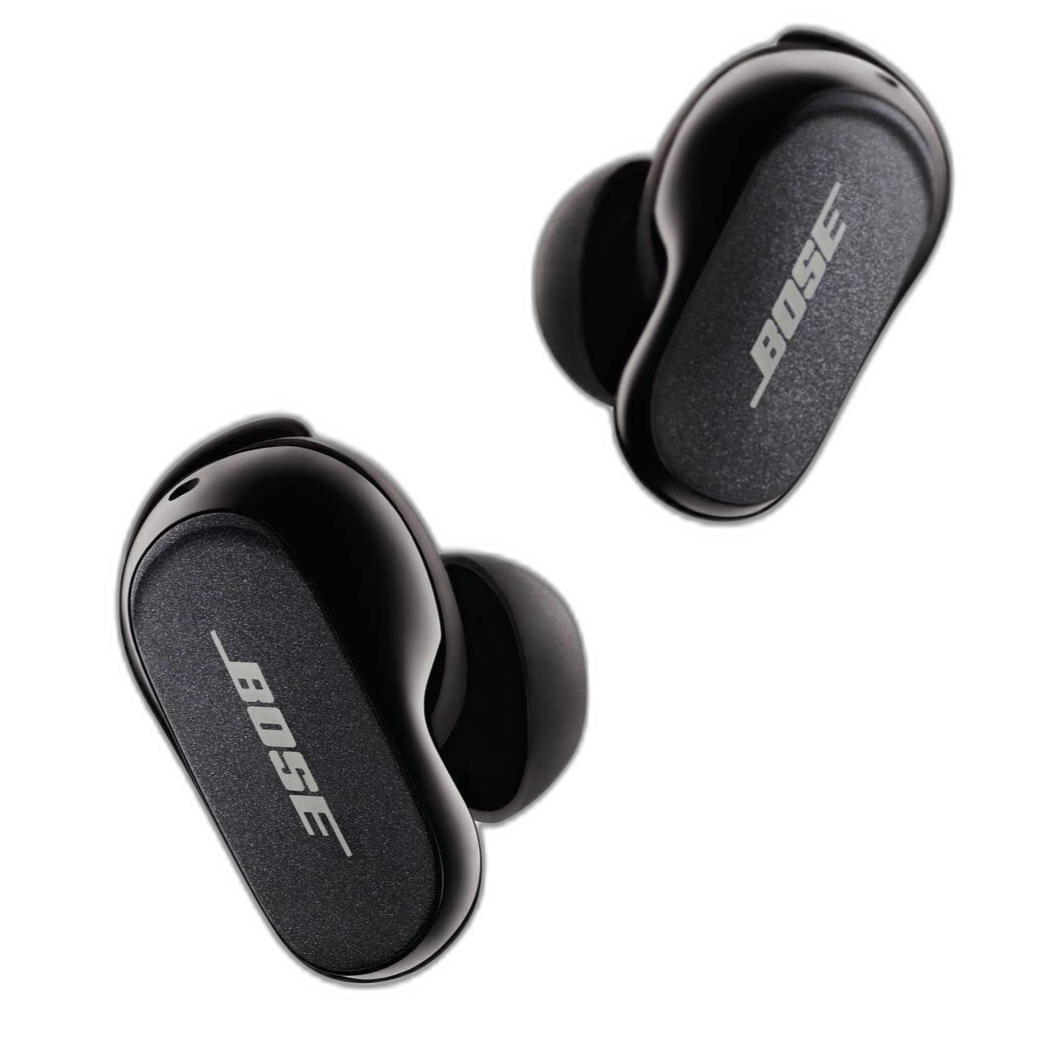 Source: Bose
Bose QuietComfort Earbuds II
Best premium
Built with acoustics in mind and the best ANC on the market
Bose QuietComfort II scream premium for small ear users thanks to their one-size-fits-all ergonomics and feature set. And don't forget the signature full sound Bose products deliver.
Pros
One-size-fits-all design
Personalized ANC
Powerful bass
Cons
App functionality issues
Brand tax
Slow touch response
Bose QuietComfort Earbuds II are a perfect example of well-made premium earbuds. Sitting in front of the ear canal, the QuietComfort Earbuds II will sit snugly in-ear cavities not just for comfort but for their market-leading ANC capabilities. The three sets of silicone tips and stability bands, known as the Fit Kit, also add to a user's comfort. It's hard to find a set of earbuds that are so meticulous when developing a one-size-fits-all design, but this pair does the job.
Bose has gone on record to state QueitComfort Earbuds II are the best noise-canceling earbuds on the market, and it's not far off the mark. The ANC and overall sound performance cater to the user and avoid generic options that work alongside the buds' acoustic architecture.
There's the odd drawback, such as app performance and slower-than-expected touch functionality. Still, the Bose QuietComfort II is a solid contender for those who can stomach the premium price tag. Battery life is solid, too, featuring around six hours of playback for the buds and up to 24 hours from the case, according to Bose. A 20-minute charge provides two hours of playback, which is also great for on-the-go users.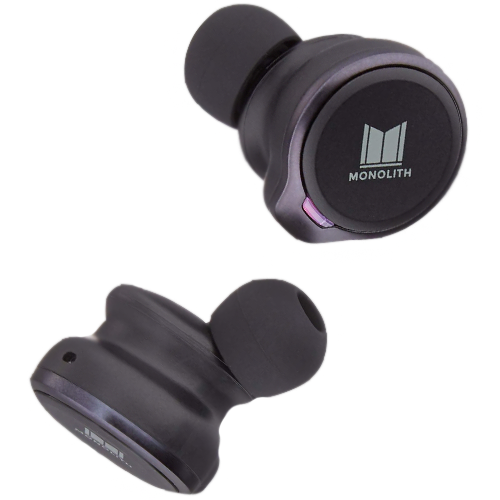 Source: Monoprice/Monolith
Monolith M-TWE
Great form factor
Fits securely without a stem, providing great sound quality
Ditching a stem for an ear cavity design, Monolith M-TWE stays put in small ears while bringing great features and build quality for its price point. It's hard to find better earbuds for small ears for this value.
Pros
Designed to fit well in ears
Personalised EQ
Hybrid ANC
Cons
Poor high-frequency noise cancelation
Odd touch controls
Single function LEDs
The Monolith M-TWE ditches the earbud stem for a round form factor that sits snugly in front of a user's ear canal. The smaller silicone tips for small ears perfectly bridge the gap to a user's ear canal. Regarding sound quality, the earbuds are fine for a mid-ranger, but they come into their own when paired with the custom EQ settings of Sound ID. This app allows users to tune Monolith M-TWE to frequencies they can hear the best, customizing a user's listening experience.
Monolith has also included Qualcomm cVc 8.0 tech, which brings audio and noise suppression enhancements for calls made via Bluetooth. Stem touch controls usually aren't ideal because there's less room to play with, which isn't true for M-TWE earbuds. Stop, play, and skip are only taps away and work great. However, sliding volume controls can sometimes be hit-and-miss. Monoprice records that the earbud batteries carry 10 hours of playback, with an additional 20 hours for the charging case, which is fantastic for its mid-range price point.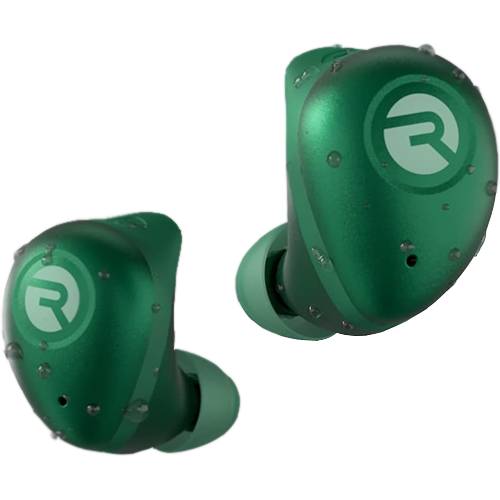 Source: Raycon
Raycon Fitness
Best for fitness
Creating a secure seal for the ear canal
The Raycon Fitness earbuds' sizing options make them the perfect small ear options for active users. And the high IPX7 water resistance means listeners don't have to worry about those sweaty workouts or bad weather.
Pros
Comfortable gel tips
Ear stabilizers
IPX7 water resistant
Cons
Clumsy touch features
Intrusive voice assistant
Weak ANC
Raycon promises solid features for its price point; their Fitness earbuds are a great fit for small ears, thanks to various gel tip sizes and ear-stabilizing fins. The fins ensure the earbuds stay secure and in front of the ear canal, while the gel tips create a tight air seal good enough to emphasize lower frequencies. While throwing buds into a pool is not recommended, they'll operate in wet conditions thanks to their IPX7 water resistance rating. This water resistance can't be found in most premium options, so this is a great feature.
However, there are a couple of drawbacks, such as overly complicated touch controls and a voice assistant that speaks over media. Still, the comfort and sound quality outweigh this niggling complaints. The addition of best-in-class battery life makes Raycon Fitness a bargain, with 56 hours of charge from the earbuds and case, according to the manufacturer. Again, users won't find this performance in higher-priced offerings.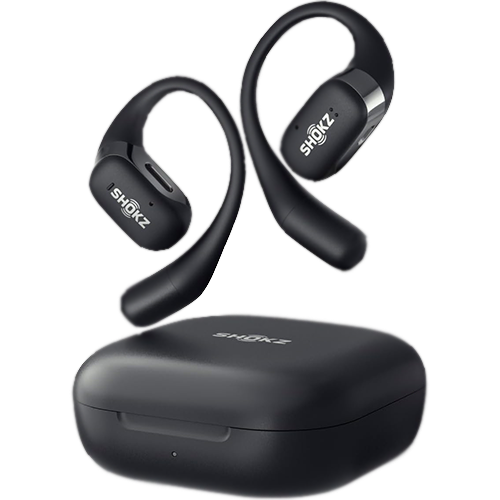 Source: SHOKZ
SHOKZ OpenFit
Great open-ear option
Stay alert with a secure fit and custom sound engineering
Open ear earbuds are an easy choice for users who find traditional designs uncomfortable. Shokz OpenFit is comfortable and doesn't sacrifice spatial awareness.
Pros
Comfortable open-ear design
Ear hooks
DirectPitch tech
Cons
Lets in ambient noise
Weaker sound
No volume control
Finding earbuds uncomfortable? Shokz OpenFit is a great choice due to its open-ear design. Rather than sitting in the ear cavity or ear canal, the buds are supported by a hook and sit above the ear. Rather than using bone conduction like other Shokz models, they use air conduction to channel sound waves down the ear canal, allowing for great audio quality while still allowing you to hear ambient noise. DirectPitch and OpenBass, developed by Shokz, have a part to play in this unique sound delivery method. The former directs sound waves, and the latter is a special algorithm that produces thicker base frequencies. They allow you to enjoy the comfort of not having an earbud in-ear but still help you enjoy bass frequencies and a full, overall sound.
The tips contain liquid silicone, which means they will contour to every ear shape for a custom fit. Aside from a comfortable fit, these buds are made to perform according to Shokz. They offer great battery life, offering an hour of playback on a 5-minute charge and 28 hours with the case. They work for seven hours per full charge. The result is a good-sounding set of earbuds that allow users to stay aware of their surroundings, although they won't compare to an in-ear earbud design.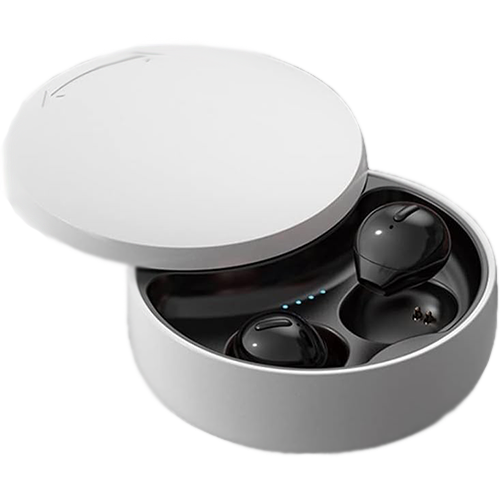 Source: SZHTFX
SZHTFX Invisible
Tiny earbuds
Great for stealthy listening to podcasts and audiobooks
$33 $50 Save $17
SZHTFX Invisible packs 5.1 Bluetooth and IPX5 water resistance into a discreet design. They're perfect for small-ear users who don't want to break the bank.
Pros
Discreet
Perfect for small ears
Surprising features
Cons
No microphone
Require specific positioning
Hard-to-reach touch controls
Imagine an earbud about as big as your ear canal opening; that's what SZHTFX achieved with their Invisible earbuds. The earbuds' curved design creates a small seal at a user's ear canal entry, and they don't have a stem or protruding outer casing, which makes them extra comfortable for bedtime listening. The buds aren't just about their design; they have Bluetooth 5.1, IPX5 water resistance, and a decent battery. They can only hold around four hours of battery, but the included charging case provides an extra 20 hours. However, the earbuds' sound leaves a little to be desired, but it's a great achievement for its small footprint.
However, the SZHTFX Invisible earbuds' sound leaves a little to be desired; they don't pack a punch. But for podcast and audiobook listeners and those who aren't too fussy about audio quality, this pair will provide a decent experience. They're also great for discreet listening for students, workers, and more. The IPX5 waterproofing also makes SZHTFX Invisible a great option for working out and other wet activities; don't submerge them.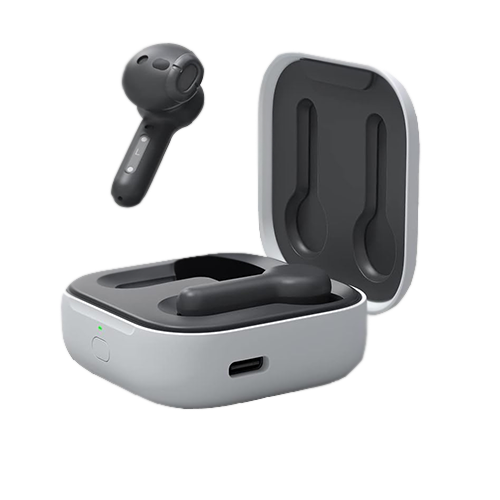 Source: Echo
Echo Buds (2023)
Best with voice assistant
Small tips for a comfortable fit and Alexa for convenience
Alexa users will be happy with Echo Buds' compatible small ear-friendly pair. The earbuds don't break the mold but provide great audio and functionality for a budget design.
Pros
Alexa built-in
Small silicone tips
Customizable touch controls
Cons
No ANC
Too many Alex app permissions
Poor case quality
The Echo Buds (2023) have an extruded bud that sits comfortably in the ear cavity with small silicone tips, which are ideal for small ear users. They keep small ears in mind and also bring some convenience with Alexa compatibility. It's great to see a popular voice assistant in a budget set of earbuds, provided you're already in the Amazon ecosystem of smart home devices. Setup is conducted through the Alexa app, which isn't an issue, but lots of permissions need to be turned on due to voice assistant functionality. Although the Echo Buds (2023) bring Alexa, they don't feature ANC, so expect to use them in environments where ambient noise won't be an issue.
Work-from-home multitaskers will appreciate the earbuds' dual connectivity, allowing users to switch instantly from that important meeting video call on a computer to music on their mobile phone, for example. Touch controls are customizable, too, making EchoBuds (2023) more accessible than most low-priced options. Up to six hours of playback is packed into the pair, which slips to five when the wake word is activated. An extra 20 hours can be found in the charging case, giving flat earbuds around 2 hours on a 15-minute charge.
What are the best earbuds for small ears?
Here are a few things to look out for when picking our earbuds for those with smaller ears. Sport earbuds usually have an ergonomic design with stabilizer fins, rings, and silicone tips to make them secure and comfortable. For ultimate comfort, over-ear and bone conduction buds don't touch the ear cavity or canal. These options also deliver sound differently and don't compare to an in-ear bud, so consider what they'll be used for before trying them. Another good alternative is buds that sit on the ear cavity just before the ear canal, using silicone tips to create a seal. They'll also solve any irritation problems for users with narrow ear canals.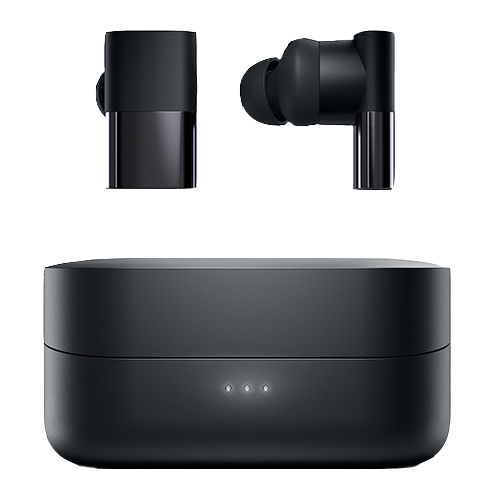 Source: Status
Status Between 3ANC
Best overall
$200 $249 Save $49
Status Between 3ANC mixes solid features such as anti-noise cancelation and long battery life with a small profile to make a comfortable fit for small ears. The stems trade length for width and hang at an angle to stabilize and create a snug seal with the silicone caps for a comfortable experience and excellent sound quality.
Those looking for a sleek and high-end earbud should go for the Status Between 3ANC. They have a small profile and various fittings to sit nicely before a user's ear canal. The noise cancelation in these earbuds is one of the best we've tested. The Soundcore Liberty 4 NC is a great budget yet feature-rich earbud option. Angled earbud stems provide a secure fit for smaller ears, and the pair's compatibility with HearID allows users to fine-tune their EQ. Bose QuietComfort II earbuds are designed around the ear cavity in front of the ear canal, providing a snug fit for small ears with silicone fittings. And they offer amazing sound quality and some of the best ANC on the market. All of the above earbuds are great for small ears. Features and design, however, come down to user preference.


** (Disclaimer: This video content is intended for educational and informational purposes only) **