Having a keyboard that suits your style and use case can do wonders for your typing experience. The best mechanical keyboards are known for their superior switches, ample variety, and endless modding capabilities. Ergonomic keyboards go a step further and are aimed at users who value comfort and productivity in a keyboard above all else.
You might not be aware but using a standard keyboard or even the best gaming mechanical keyboards introduces discomfort to your wrists due to the unnatural position they're in for extended periods of time. The best ergonomic keyboards allow your wrists to be positioned naturally, with some even providing advanced tilting, tenting, and orientation options to fully customize your keyboard position to your liking.
Over the years, ergonomic keyboards have seen newer form factors and features becoming more common. From curved and elevated keyframes to wireless connectivity and split designs, you can easily get lost when choosing the right ergonomic keyboard for your needs. This guide lists the best ergonomic keyboards in 2023 to help you make that choice easier.
Ergonomic keyboards in 2023: What's cooking
Logitech Ergo K860
Best overall
A near-perfect ergonomic keyboard
$122 $130 Save $8
The Logitech Ergo K860 is arguably the best ergonomic keyboard for most users. It's wireless, elevated, comfortable, and can connect with three devices at the same time. It also has a phenomenal battery life and is reasonably priced for what it offers.
Pros
Split, elevated design
Extra comfy wrist rest
Extensive battery life
Cons
Full size might feel too big
No backlight
No mechanical keys
The Ergo K860's "split, curved keyframe," as Logitech calls it, naturally guides your wrists into a natural inverted V orientation that prevents the strain usually associated with straight-angled wrists on standard keyboards. The keyboard also has a smooth elevation at the center that results in comfortable resting angles for your hands. Contrary to traditional keyboards with feet at the back, the Ergo K860 features feet at the front (the spacebar side) to provide tilt that keeps your wrists from bending upwards. The built-in, non-removable wrist rest is padded with memory foam and keeps your hands well-cushioned during extended typing sessions.
Besides being an ergonomically sound keyboard, the Ergo K860 eliminates cable clutter and features both Bluetooth and 2.4GHz wireless connectivity. The standout feature here though is the unusually long two-year battery life on a single pair of AAA batteries. Although the lack of mechanical switches might be off-putting for some users, the silent and low-profile keys here deliver a satisfying experience. For the price, the Logitech Ergo K860 easily justifies its spot at the top of our list.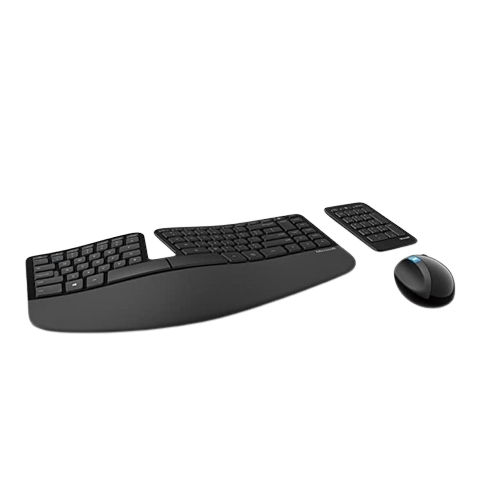 Microsoft Sculpt Ergonomic Keyboard
Best mouse + keyboard combo
A feature-packed fantastic deal
$120 $130 Save $10
The Microsoft Sculpt Ergonomic Desktop combo includes not just a fantastic and comfortable keyboard but also an ergonomic mouse. The split and curved design, a separate numpad, and the wireless connectivity make this one of the best overall ergonomic keyboards available.
Pros
Split design extends to the numpad
Included ergonomic mouse with 4-way scroll
Incredible 3-year battery life
Cons
No mechanical switches
Size might be an issue for some
Microsoft has put out some great ergonomic keyboards, but its best offering comes with the Sculpt Ergonomic Desktop wireless combo. For the same price as many other great options on this list, the Sculpt combo includes an impressive keyboard and a more-than-decent ergonomic mouse. While the bulk of the reasons to opt for this combo is due to the Sculpt keyboard, the inclusion of the mouse makes this an incredible value. You can still find the keyboard retailing separately if you already have a mouse you're happy with.
The design of the Sculpt wireless keyboard leaves no stone unturned to provide a stress-free typing experience. The keyframe here is split and curved, as you'd expect from one of the best ergonomic keyboards. It's also domed toward the middle to allow it to adjust to the natural position of your wrists. Plus, the built-in cushioned palm rest keeps the hard surface of your desk from becoming an issue. There's also a discrete numpad that can help you utilize your desk space more effectively. Lastly, the Sculpt Ergonomic Mouse, with its sleek contours, allows for a natural stance for your hands.
The Microsoft Sculpt Ergonomic Desktop keyboard has a mind-boggling battery life of three years. Even the mouse is rated to last one year on a single pair of batteries, while the numpad can last for as long as six years. Even the build quality doesn't feel like Microsoft cut corners. Whichever way you cut it, the Sculpt wireless combo provides insane value for the price and is a solid alternative to the top spot on this list.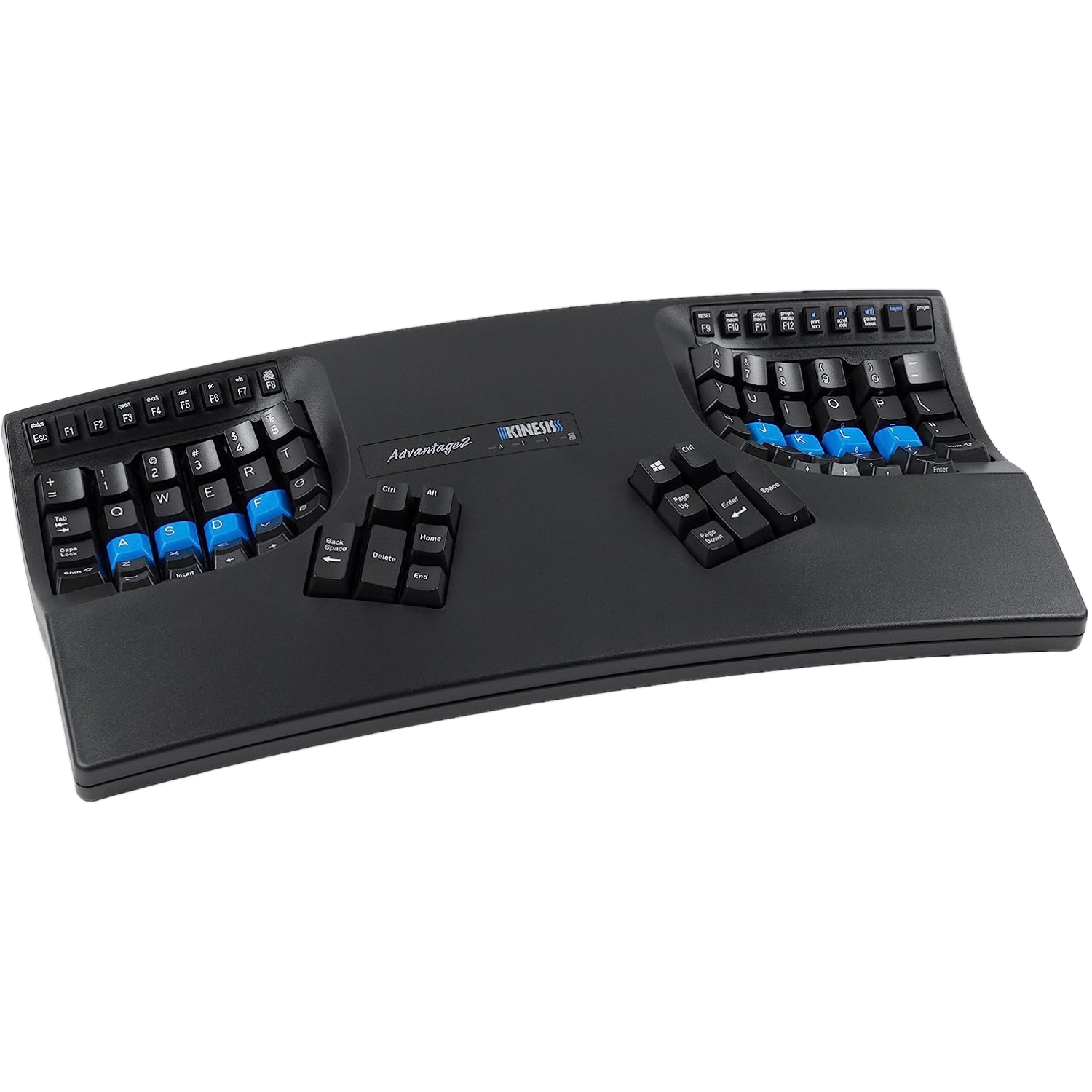 Kinesis Advantage2
Best premium
For the ergonomics fanatic
The Kinesis Advantage2 is one of the company's high-end keyboards with advanced ergonomic features, dual customizable layouts, and Cherry MX mechanical switches. The concave keywells, thumb clusters, and tented design make this a truly feature-rich and premium pick.
Pros
Incredible focus on ergonomics
Programmable QWERTY and Dvorak layouts
Cherry MX mechanical switches
The premium keyboard rabbit hole is endless and expensive, but the Kinesis Advantage2 might be worth the investment. With an obsessive degree of focus on comfort, customization, and versatility, it's targeted at those who take their ergonomics pretty seriously. The keys on the Advantage2 sit in two major keywells, one on either side of the frame. According to Kinesis, this keeps your arms wide apart and wrists in a natural position to reduce strain. These keywells have 20 degrees of tenting, keeping the thumb sides of your hands raised and further reducing stress due to pronation.
The ergonomics-heavy flavor of the Advantage2 doesn't end there. The clusters are concave to reduce the extension your fingers experience during long typing sessions. Besides the keywells, the keyboard also features two thumb clusters with frequently-used keys like Backspace, Delete, and Space. This is meant to take the load off of your overused fingers and redistribute it to your relatively stronger thumbs. Another major area of focus is customizability. The default QWERTY layout can be reprogrammed to the Dvorak layout using the SmartSet software, and all the macros can be saved on the keyboard's onboard memory. The software doesn't even need to be installed or need any internet access.
And the keyboard features plug-and-play support for Windows, Mac, Linux, and ChromeOS. For mechanical switch lovers, the Advantage2 uses Cherry MX Brown switches for satisfying tactile feedback. Your palms are also taken care of by the integrated palm rests situated right below each of the keywells. The Kineses Advantage2 isn't wireless, but the meat of the matter lies in its extensive ergonomic features, plenty of customizability, and impressive OS support. It's one of the most feature-packed and expensive keyboards on the market, but for the right audience, the Advantage2 might be the ultimate ergonomic keyboard.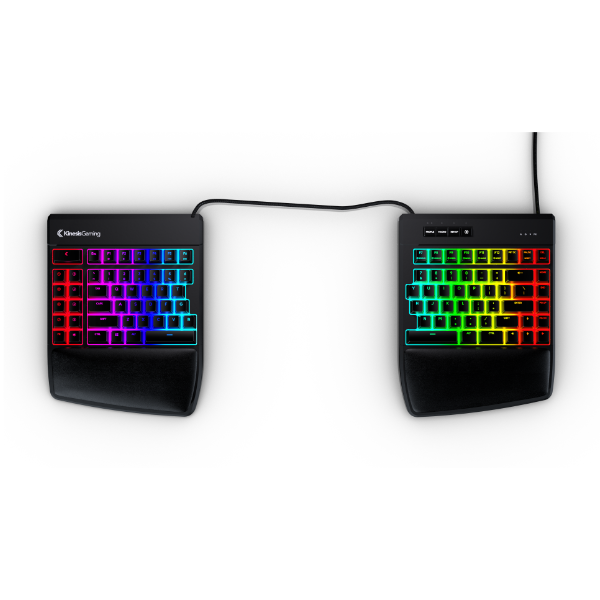 Source: Kinesis
Kinesis Freestyle Edge RGB
Best gaming
Work hard, play hard
$199 $219 Save $20
The Kinesis Gaming Freestyle Edge RGB combines the gaming aesthetic and Cherry MX switches with a split, two-piece design, and fully programmable keys. For gamers who don't want to sacrifice ergonomics, the Freestyle Edge RGB is a worthy contender.
Pros
Split, two-piece design with wrist rests
Cherry MX switches and RGB
Fully customizable, TKL layout
Cons
A tad expensive
Steep learning curve
Gaming keyboards are not particularly known for being ergonomic. Kinesis realized this problem and introduced the Freestyle Edge RGB for gamers who value ergonomics as much as gaming features. The keyboard features the popular TKL layout with Cherry MX switch options and per-key RGB lighting. But it differs from the other mechanical gaming keyboards in its form factor thanks to its two pieces connected via a single 20-inch cable.
Due to the unique design, you can place its two halves in any orientation you prefer for a comfortable and tailored gaming experience. Your wrists are further helped by the cushioned palm rests. If you're into streaming, you can even position your mic in the middle of the two halves of the keyboard for improved acoustics. If you prefer one-handed operation, the Freestyle Edge RGB easily allows for that by using only the left section as a gamepad. Coming to customizability, you can store complex macros and nine profiles on the keyboard's onboard memory using the SmartSet app. You can choose from Cherry MX Brown, Blue, Red, and Silver switches to completely customize the sound and feel of the keyboard.
The Freestyle Edge RGB features all the necessary gaming keyboard features such as NKRO, anti-ghosting, 1ms response time, and nine programmable game keys. It might be a bit expensive, considering there's no wireless support, but the Freestyle Edge RGB is a solidly built, feature-rich, and ergonomic keyboard focused on gaming. Pick it up if you're looking to get rid of repetitive stress injuries and want to keep your wrists in a neutral position while playing.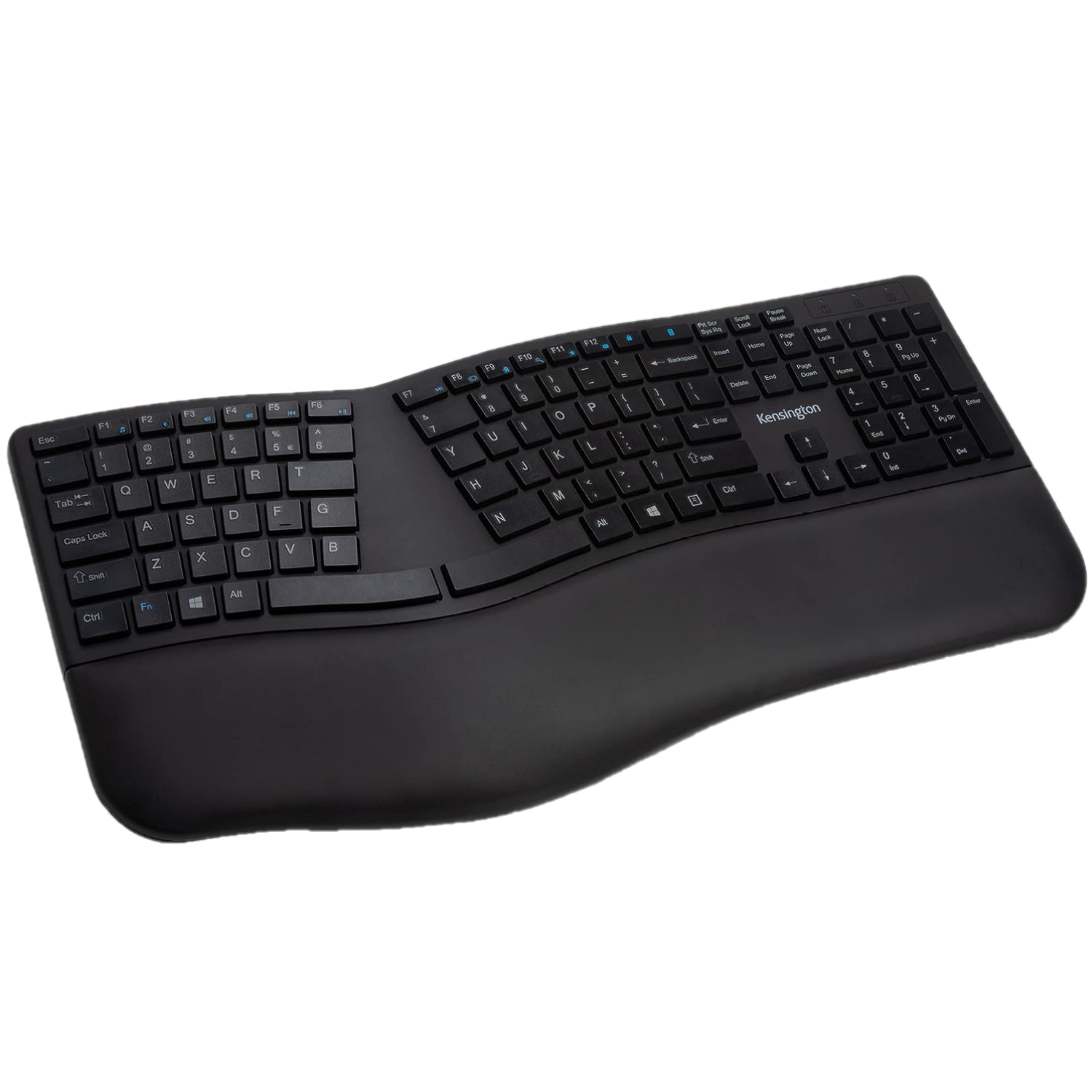 Kensington Pro Fit Wireless
Best budget
Ergonomics don't have to be expensive
For the budget-conscious buyer, the Kensington Pro Fit wireless keyboard offers great value by focusing on the most essential ergonomic features. It also has dual wireless connectivity, a replaceable receiver, and spill-proof keys. Talk about value for money!
Pros
Split, curved, and domed design with reverse tilt
Quiet and spill-proof keys
2.4 GHz and Bluetooth connectivity
The Kensington Pro Fit Ergo wireless exhibits unusual simplicity and stands out among much more expensive keyboards. You don't feel like the company has cut many corners here. Ergonomic support is great, thanks to the curved, domed, and split keyframe, along with the reverse tilt feature and built-in wrist wrest. The keys chosen are quiet and, more importantly, spill-free to protect against those all-too-often desk mishaps. Plus, you also get 2.4 GHz and Bluetooth connectivity at a relatively cheap price.
From an ergonomic keyboard at this price range, you'd expect a robust build quality and essential features that work as intended. The Kensington Pro Fit Wireless does exactly that. You get all the necessary ergonomic and comfort features for a convenient and strain-free typing experience. And the low-travel, silent keys ensure you're not a distraction to others in the workplace. The spill-free addition is a bonus that's always appreciated. The wireless connectivity isn't a hassle either, as the keyboard can last for up to 30 months on Bluetooth using a single pair of batteries. The wireless receiver is replaceable, meaning if you lose it, you don't need to shell out for a whole new keyboard.
Budget keyboards almost always involve some or the other drawback. But the Kensington Pro Fit wireless manages to make the right choices and deliver an excellent ergonomic keyboard for most users. If you're really pinching pennies, there's even a wired version of this keyboard for around $10 less.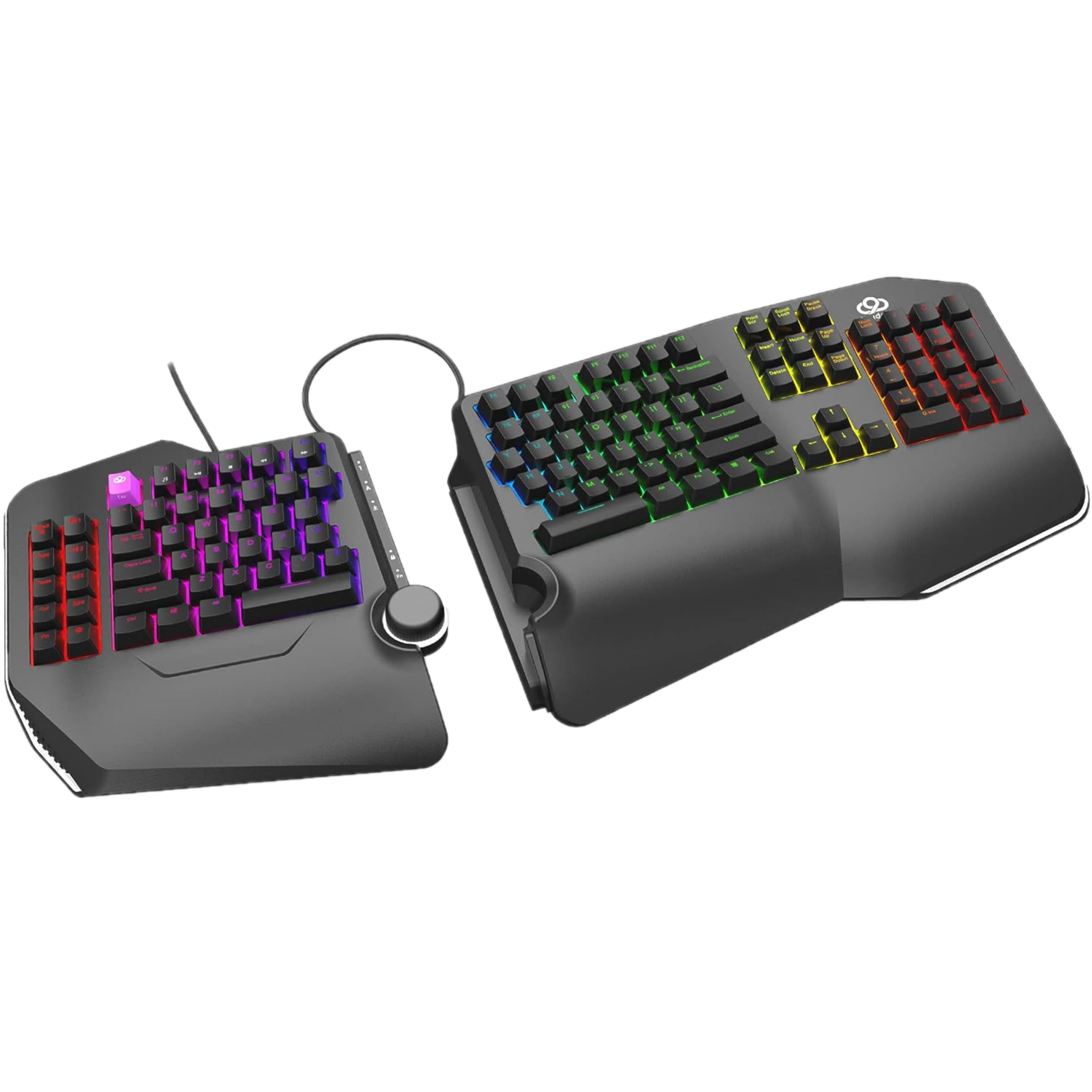 Cloud Nine C989M
Best split design
Premium two-piece work and play keyboard
The Cloud Nine C989M opts for an ergonomic two-piece design with Kailh mechanical switches and RGB lighting. With USB pass through and a dedicated smart wheel for multimedia control, the keyboard comes fully equipped for your gaming as well as work needs.
Pros
Split, two-piece design with USB pass through
Kailh mechanical switches
Dedicated media control wheel
Cons
Remapping software works only on Windows
Mechanical switches may be distracting
The Cloud Nine C989M is a split, two-piece ergonomic keyboard that's targeted at the everyday user and gamers alike. While the curved and tented keyframe allows your wrists a natural position when typing, the mechanical switches, anti-ghosting, and RGB lighting make the keyboard feel right at home during gaming sessions. Some unique features you'll see on the C989M are USB pass-through for connecting your other peripherals and a dedicated smart wheel to control media and RGB lighting modes, scroll webpages, and switch between apps.
The two halves of the C989M are connected with an 8-inch cable and allow you to position them any way you like. You can also keep your phone or a microphone between them for easy access and more efficient operation. There's sufficient tenting support to tilt the keyboard toward the left or right, based on your preference. The ergonomic features are complemented by the integrated smart wheel on the left half of the keyboard and the Kailh Brown or Red mechanical switches. The RGB lighting is per-key customizable, and all the most-used functions can be programmed to be placed together for easy access.
The Cloud Nine C989M is one of the more versatile keyboards from the company due to its 104-key form factor. The addition of features like the USB pass-through and the multi-functional smart wheel makes this more than just a gaming mechanical keyboard with good ergonomics. It's one of the best split-design keyboards available today if you're hunting for a gaming keyboard that can double up as your work keyboard too.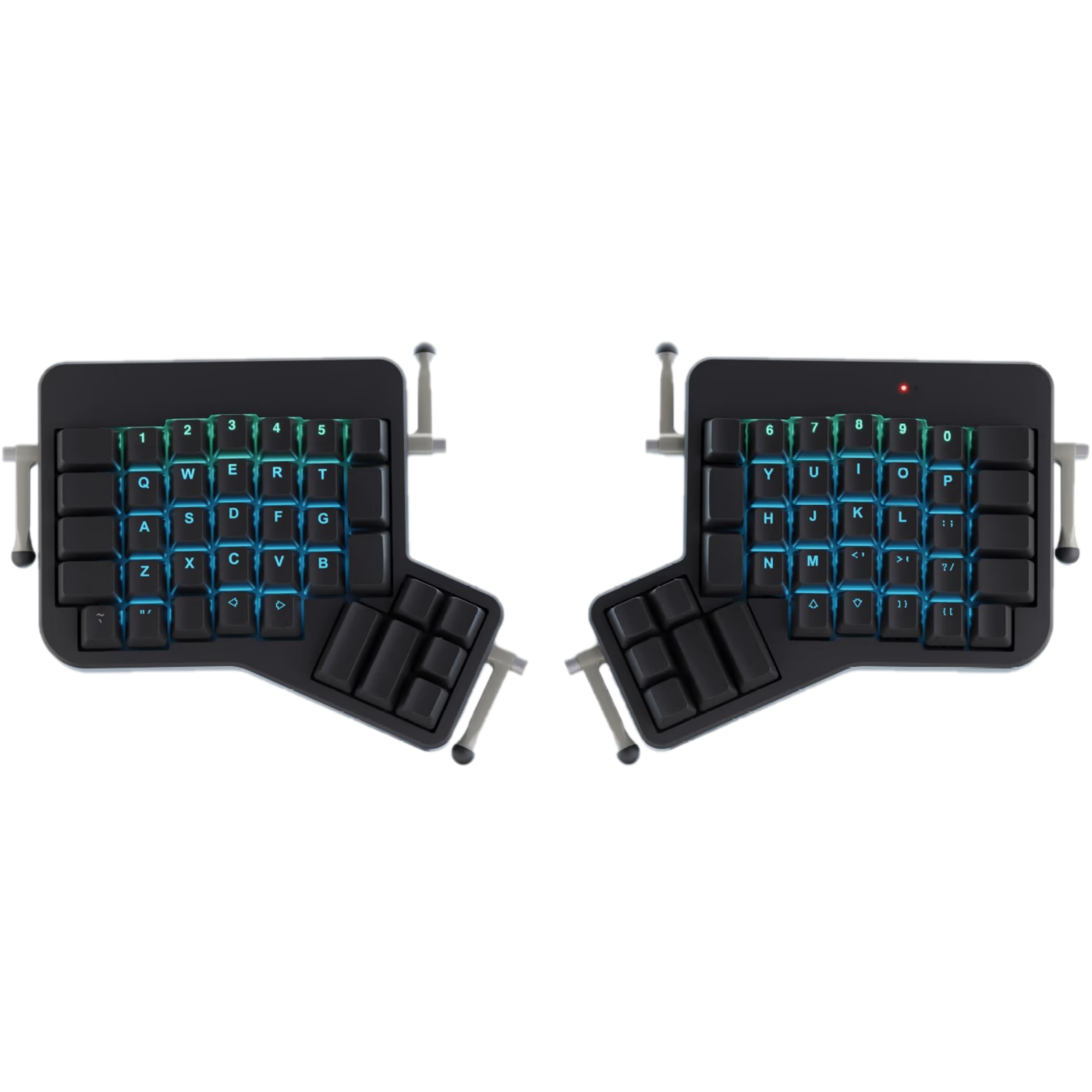 Source: ErgoDox
ErgoDox EZ
Best customizable
Build your own ergonomic keyboard
The ErgoDox EZ is a one-of-its-kind ergonomic keyboard where you have unprecedented control over almost every aspect of your keyboard. The two-piece keyboard is made to order based on your key and switch preference. You can customize the tilt and tent settings and adjust the discrete palm rests anyway you like.
Pros
Fully customizable, two-piece design
Hot-swappable
RGB lighting synced to custom keymaps
One of the primary reasons to upgrade to an ergonomic keyboard is the freedom to adapt the keyboard to your preferences. The ErgoDox EZ takes this to the extreme by providing you with the tools to customize nearly every aspect of the keyboard before you buy it. Head over to their website, and you can configure whether you want printed or blank keycaps, choose from over 15 different mechanical switches, and choose between a black and white keyboard and separate wrist rests. The custom tilt/tent kit allows you to tweak the keyboard to the perfect angles you need for a comfortable experience. The design philosophy here is guided by providing everyone with a unique keyboard perfectly suited to them.
The customization doesn't end there. Using a graphical configurator residing on the keyboard memory, you can remap the keys to whatever configuration you like. And, of course, the two distinct halves give you the freedom to keep your wrists wide apart and prevent hunching over the keyboard. The keys on the ErgoDox EZ are arranged in columns to reduce repetitive strain on your fingers. As for the tasteful RGB lighting, you can choose between different modes and even map them to the particular layer you've currently configured on the keyboard. The wrist rests aren't attached to the keyboard and allow further customization in terms of the distance from the keyboard.
The ErgoDox EZ might be one of the most expensive keyboards on this list, but the level of customization it offers is unparalleled. ErgoDox also provides a two-year warranty with the keyboard, so you can rest assured of its longevity.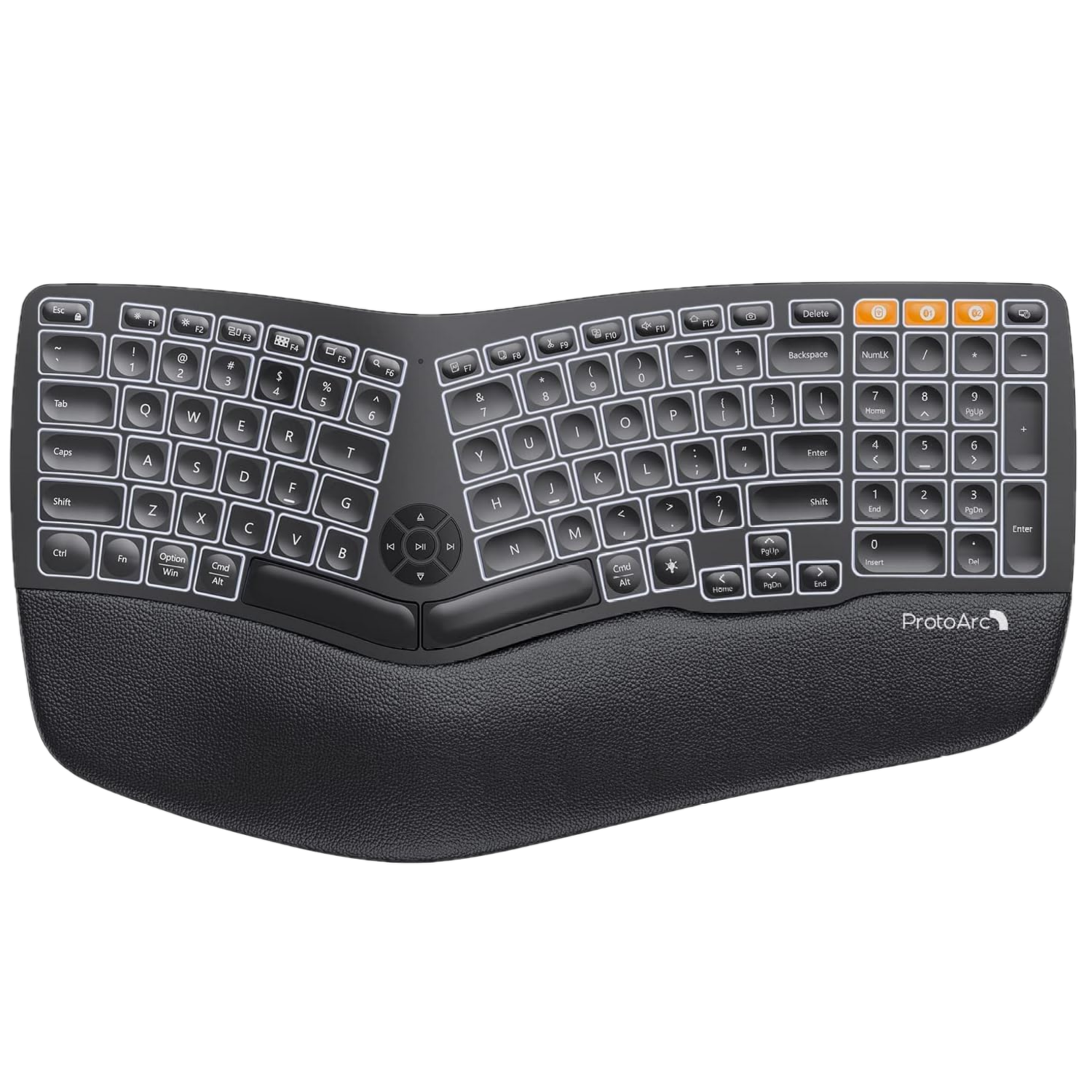 ProtoArc EK01 Wireless
Best basic option
Ergonomics and convenience on a budget
The ProtoArc EK01 is an affordable wireless ergonomic keyboard that packs in a lot of useful features for the price. It offers 2.4 GHz and Bluetooth connectivity and its built-in battery can last for 100 hours. Besides all the necessary ergonomic features, it has a backlight, silent keys, and multi-device connectivity.
Pros
Split, curved, and domed design
Can connect to 3 devices simultaneously
2.4 GHz and Bluetooth
Cons
Only white color backlight
Sometimes, you don't need all the customization in the world, or your keyboard in two pieces. Maybe you're simply looking for a keyboard that combines useful ergonomics and wireless connectivity in an affordable package. Then the ProtoArc EK01 Wireless is probably the right choice for you. It features all the hallmarks of a good ergonomic keyboard like a curved, split, and domed keyframe, a cushioned wrist rest, and silent scissor keys. On top of that, you get dual wireless connectivity with a built-in battery. Plus, you can connect it to your PC, MacBook, and Android phone at the same time for ultimate productivity.
The EK01 comes with a no-backlight version as well, but you'll want the backlight if you're used to working late into the night without the lights on. There are tilt legs on the keyboard to allow you a more natural typing position for your wrists. The design is sleek, the build quality is decent, and the wrist rest is plenty comfortable. For a built-in battery, the EK01 lasts for an impressive 100 hours on a full charge. It can charge fully in around two to three hours.
The multi-device connectivity will appeal to the multitaskers looking to better manage their work day. The two-year warranty further sweetens the deal as you can trust the brand to stand by its product. For those who're looking to upgrade from their standard keyboards and aren't willing to spend a lot on the best wireless keyboards, the ProtoArc EK01 is an excellent choice.
Which ergonomic keyboard is right for you?
Ergonomic keyboards can immensely transform your typing or gaming experience, especially if you spend long hours on your system. From simple form factors to two-piece designs to fully customizable offerings, there are a lot of options to consider. But, if you're simply after the best overall ergonomic keyboard from a reputed brand with an impressive feature set, the Logitech Ergo K860 is a fabulous option. It's designed well, features both 2.4 GHz and Bluetooth connectivity, and can last for up to two years on a single pair of batteries. Alternatively, the Microsoft Sculpt Desktop combo offers a great ergonomic keyboard and mouse for a fantastic price. You can't go wrong with either the Logitech or Microsoft options.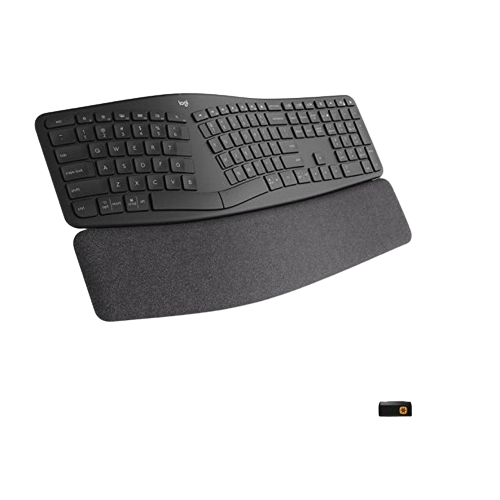 Logitech Ergo K860
Editor's choice
$122 $130 Save $8
The Logitech Ergo K860 is arguably the best ergonomic keyboard for most users. It's wireless, elevated, comfortable, and can connect with three devices at the same time. It also has a phenomenal battery life and is reasonably priced for what it offers.
If you're after a high-end, premium ergonomic keyboard, the Kinesis Advantage2 is a great option that places incredible focus on ergonomics, features Cherry MX mechanical switches, and has customizable QWERTY and Dvorak layouts. And if you're after a great budget option, the Kensington Pro Fit Wireless manages to squeeze in incredible value at an unbelievable price. You're getting ergonomic features, wireless support, spill-proof keys, and incredible battery life. If you aren't hyped by any of these options, you can choose from other gaming or customization-focused options from our list.


** (Disclaimer: This video content is intended for educational and informational purposes only) **