It's no secret that the best graphics cards have substantially increased in price lately. Even what's considered a budget graphics card has redefined what 'budget' means in this context. But what if you have a constrained budget and still want to get gaming? Or if you have modest requirements for a graphics card that only really needs to be able to put an image on your screen? I've been scouting the internet for the best graphics cards under $100, and here are my choices.
Here are our picks for the best GPUs under $100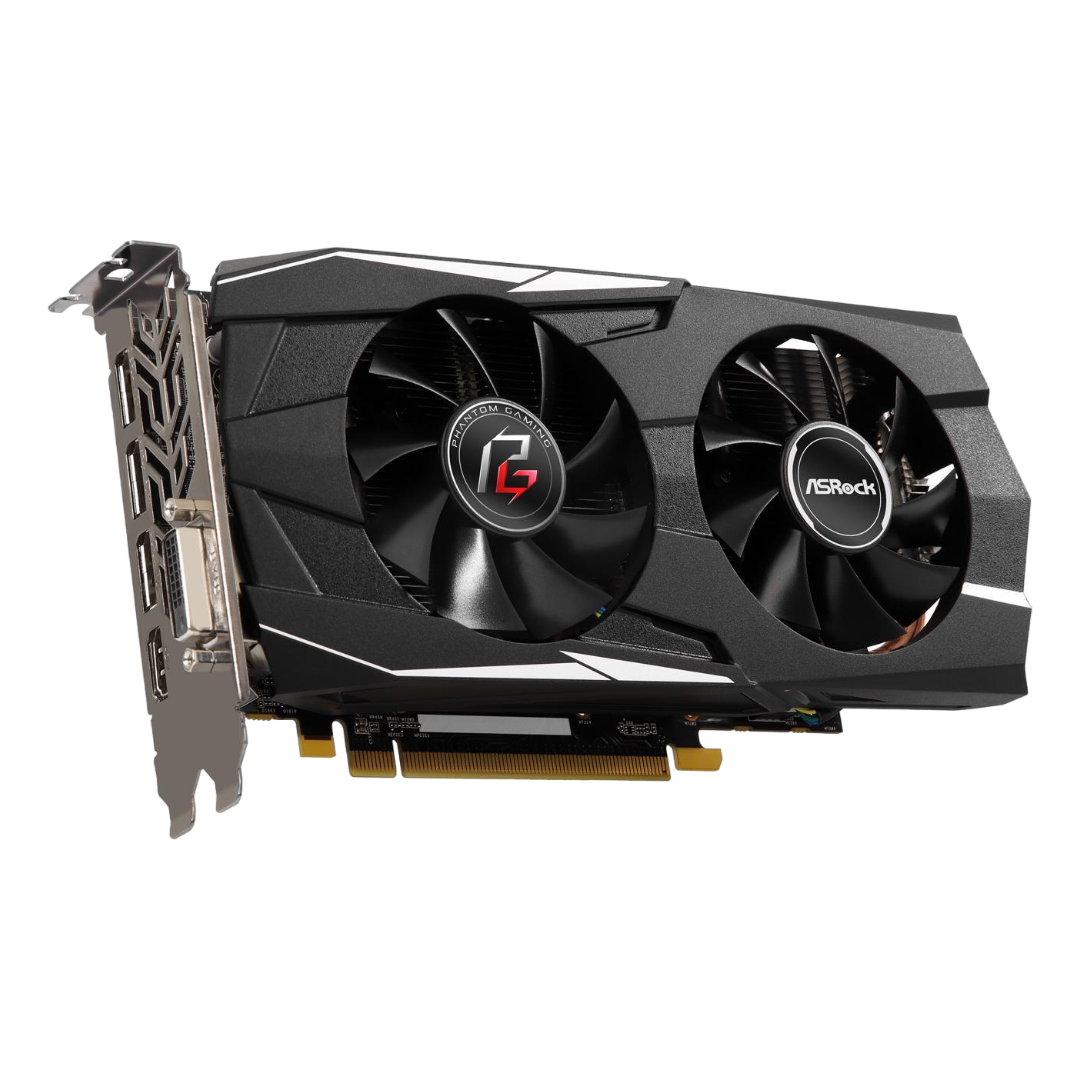 Source: ASRock
ASRock Phantom Gaming D Radeon RX 580
Editor's choice
If you want to game on a budget, this is the card for you
The ASRock Phantom Gaming D Radeon RX 580 is a decent midrange card that can still give you a good bang for the buck performance, especially in OpenGL titles like Minecraft.
Pros
Can push decent framerates at 1080p
8GB VRAM
Good value
ASRock's Phantom Gaming D Radeon RX 580 gets my recommendation as the best GPU under $100, thanks to being one of the few graphics cards in that price range that is still decent for gaming use. First released at the height of the cryptocurrency mining run on Ethereum, it was the highest performing GPU AMD had at the time, and had good performance at 1080p or 1440p.
The best thing about the RX 580 wasn't the 2,304 stream processors or 1,424 MHz max boost clock, although both of those are important. It's that this GPU comes with 8GB of GDDR5 VRAM, enabling it to use higher texture sizes than most of the cards on this list. AMD is still supporting this graphics card with driver updates, including a big update last year to improve OpenGL performance, notably still used by Minecraft. That driver boost came with up to 81% more FPS in Minecraft, for the RX 580, as tested by YouTuber 54 FPS.
This dual-fan graphics card uses one 6-pin supplementary PCIe power cable, making it easy to use in almost any build with a recent PSU. The only time it might struggle is if you are trying to replace a graphics adapter from a slim workstation, but if so, there are plenty of options on this list that will work. With one DVI-D, one HDMI 2.0 and three DisplayPort 1.4 ports, the RX 580 can run up to five displays without needing adapters, something that modern GPUs can't do. This was a great GPU in its day, and still has some life left in it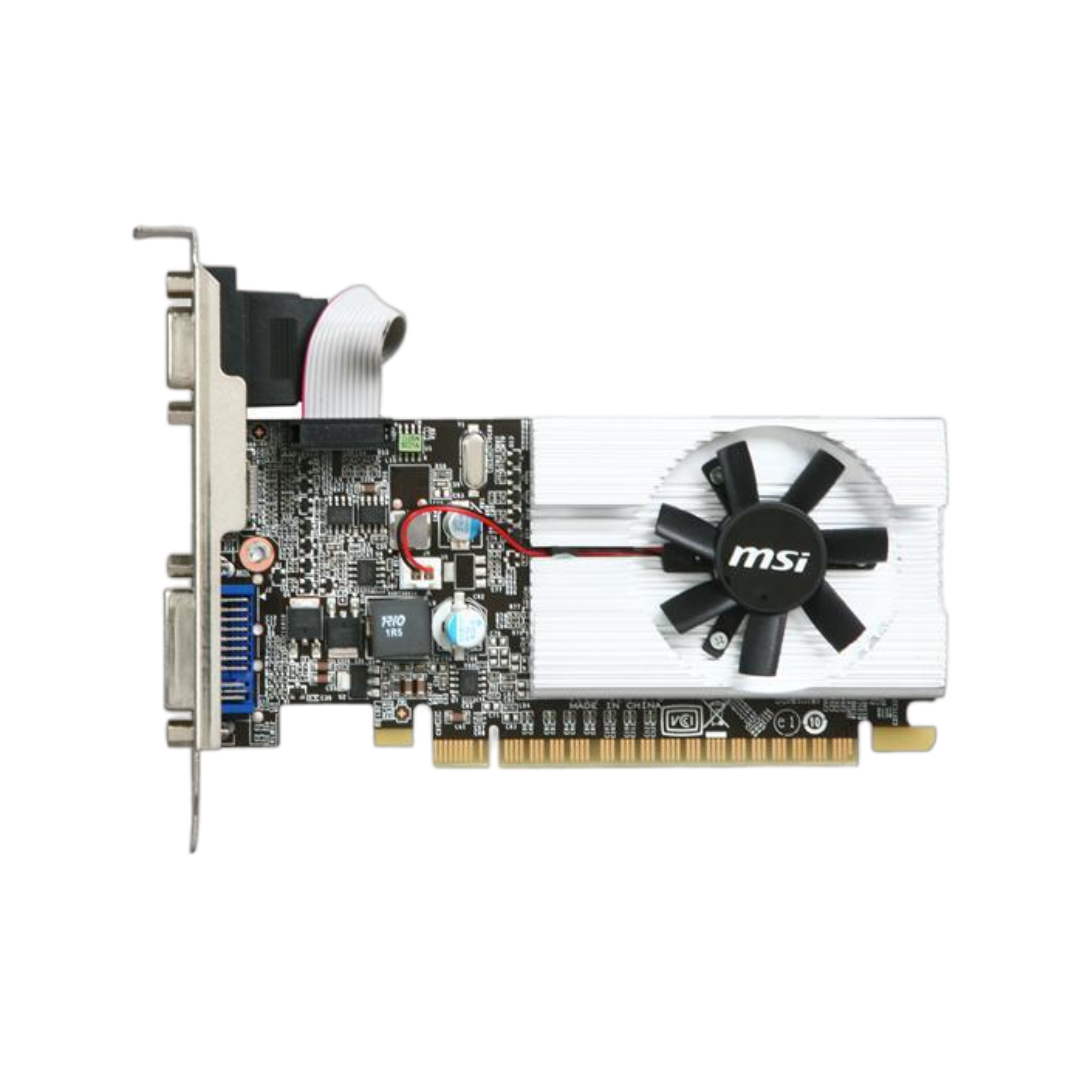 Source: MSI
MSI GeForce 210 1GB
Best budget
Perfect for troubleshooting use
$44 $50 Save $6
The MSI GeForce 210 comes with 1GB of VRAM, so while you won't be playing games on this graphics card it's perfect for troubleshooting a PC without onboard graphics or replacing a faulty onboard graphics adapter.
Pros
Low profile design
No additional power requirements
Cooling fan
Cons
You won't be able to game on this
Sometimes, all you need is a spare GPU capable of displaying an image on screen for troubleshooting purposes. The MSI GeForce 210 fits that bill to a "T," so you can keep it stashed in a drawer just in case. The low-profile design and 20W power draw also means that it is a good replacement for OEM workstations which often don't come with additional PCIe power cables or are too thin for full-width graphics cards to be used in.
Now, I mentioned this graphics card won't do much more than display an image on your screen, and that's true enough. That's partly because it only has 1GB of DDR3 VRAM, which is enough to get Windows running but not much else. You can overclock it with MSI Afterburner if you feel the desire, but nothing you do will get significant performance boosts from this low-powered card.
Still, for rejuvenating an older PC for web browsing use or saving one from the scrap heap, it can't be beat for the sub-$50 price tag it can be found at. MSI uses military-grade components in its graphics cards, including this one, so the estimated lifespan of the capacitors is over ten years. I can't say how many years it will have left after being on a warehouse shelf for so long, but it has a good chance of lasting a few more once put into active service.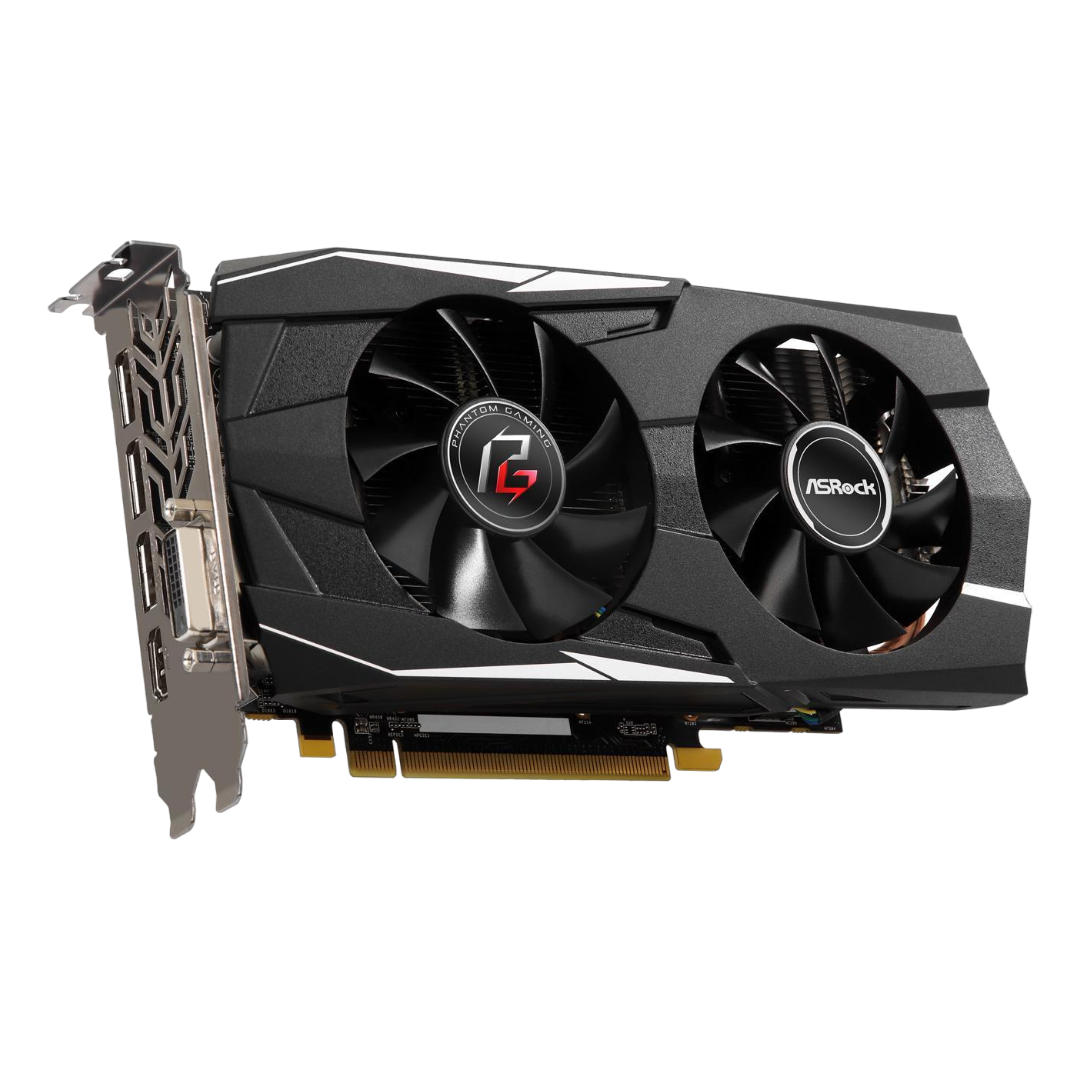 Source: ASRock
ASRock Phantom Gaming D Radeon RX570
Best value
1080p gaming for cheap
The ASRock Phantom Gaming D Radeon RX 570 comes with 8GB of VRAM, so it should be able to handle respectable frame rates at 1080p. It's also got five display outputs for multi-monitor use, and a decent heatsink to keep thermals in check.
Pros
8GB of VRAM
Five display outputs (3 DP, 1 HDMI, 1 DVI-D)
Only needs a 6-pin PCIe cable for power
Cons
Limited driver support life
The ASRock Phantom Gaming D Radeon RX 570 is a slightly cut-down version of the RX 580 in our top pick, and as such, is still a viable gaming GPU today. With 2,048 stream processors vs the 2,304 in the higher-spec card, it's marginally less performant, but then it does cost slightly less. You still get most of the benefits from that card, like five graphics outputs (one DVI-D, three DisplayPort 1.4, and HDMI 2.0), 8GB of GDDR5 VRAM, and ongoing driver support from AMD.
More suited to 1080p gaming, this particular RX 570 comes with 8GB of VRAM, so it can handle higher textures and more demanding games. This card also had a 4GB variant that was more suited for low-power eSports titles, so to see the full 8GB that the card could handle is awesome for the $90 price tag. It supports DirectX 12, has a maximum boost clock of 1,320 MHz and uses a 6-pin PCIe supplementary cable for power. It's worth mentioning that even with the two-fan cooling system, the RX 500 series was designed to run hot, and temperatures of over 75 degrees Celsius were not uncommon at all. Even with its age, this is one of the few cheap GPUs that can still game in 2023, making it well worth a look.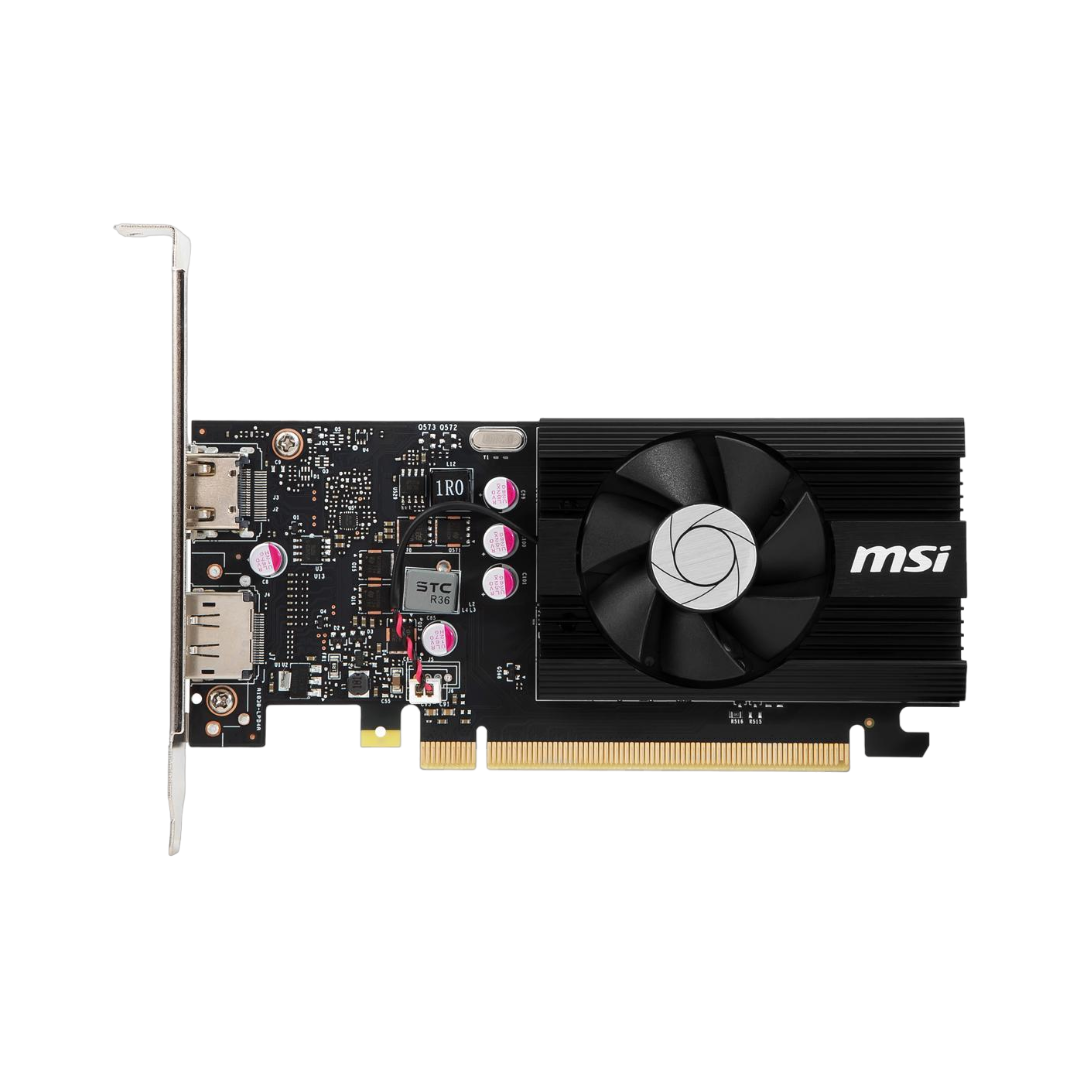 Source: MSI
MSI GeForce GT 1030
Premium pick
The cheapest recent Nvidia card
$79 $100 Save $21
The MSI GeForce GT 1030 has 2GB of VRAM so while it can probably play some games on lower settings, it's more useful for watching videos at 4K or as a spare to have if troubleshooting another GPU.
Pros
Low-profile design
Only 20W power draw
Cons
2GB of VRAM
Only two graphics outputs
This particular MSI GT 1030 is also closer to the desktop-use-only category, but not because of the graphics chip that is used. There are multiple versions of the GT 1030, the launch version which had 2GB of GDDR5 memory with a 64-bit memory bus, and this later revision with 2GB of DDR4, also with a 64-bit memory bus, but it's much, much slower memory. The only reason that this card makes it onto this list is that it is just under the $100 cap, when the GDDR5 memory version is slightly over that.
Both versions will play games, although this MSI version with DDR4 memory will be closer to 30 fps at 720p or 1080p depending on the game being played. The 384 CUDA cores in this card are capable enough, and they boost to a 1,430 MHz max clock which is respectable for the price of the card. The frame rates are constrained by the slower DDR4 memory, but this card does have a saving grace. The low-profile design and 20W power requirement means this is a great card to replace graphics adapters in space-constrained OEM machines, giving them a little bit longer working time before they become electronics recycling parts.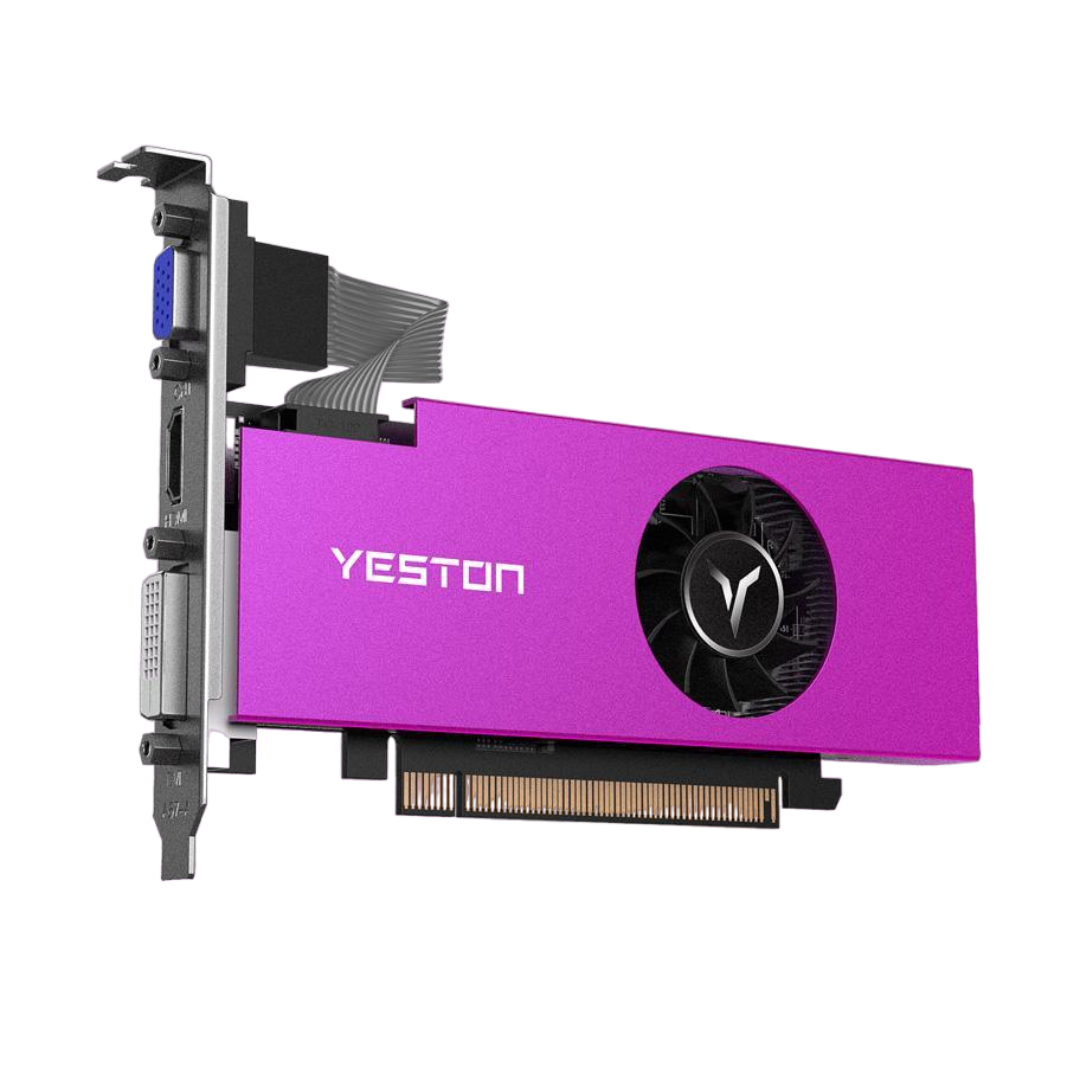 Source: Yeston
Yeston Radeon RX 550
Best AMD low-profile
Pretty in pink
The Yeston Radeon RX 550 is a low-profile graphics card with 4GB of VRAM and a polarizing neon pink cooling shroud. It'll support 4K at 60fps from its HDMI output, and also has VGA and DVI-D outputs, perfect for projector use.
Pros
Low-profile design
4GB of VRAM
DirectX 12 compatible
Some of the most popular games in the world don't need expensive graphics cards.If you're part of the huge percentage of the worldwide gaming population playing e-sports titles like League of Legends, Dota 2, Counter-Strike: Global Offensive 2, and Overwatch 2, a more modest GPU is all you really need. This AMD Radeon RX 550 from Yeston is a single-slot, low-profile GPU with 4GB of GDDR5 which is more than enough for e-sport gamers to enjoy high frame rates.
The 512 stream processors are perfect for other uses too, like home theater PCs. With a modest 40W power requirement, it can be powered solely from your PCIe slot, which means OEM towers can use this card to replace an old or faulty graphics adapter. It has FreeSync, which reduces tearing when paired with a compatible monitor, has one HDMI 2.0 capable of 4K60 output, a VGA, and DVI-D output, and it can encode and decode the space-efficient HEVC codec. And this pretty-in-pink graphics card is a low-profile design, making it able to fit in smaller cases. All-in-all, this is a great GPU for home theater PCs, or for a starter PC for someone who likes MOBAs and other e-sports titles.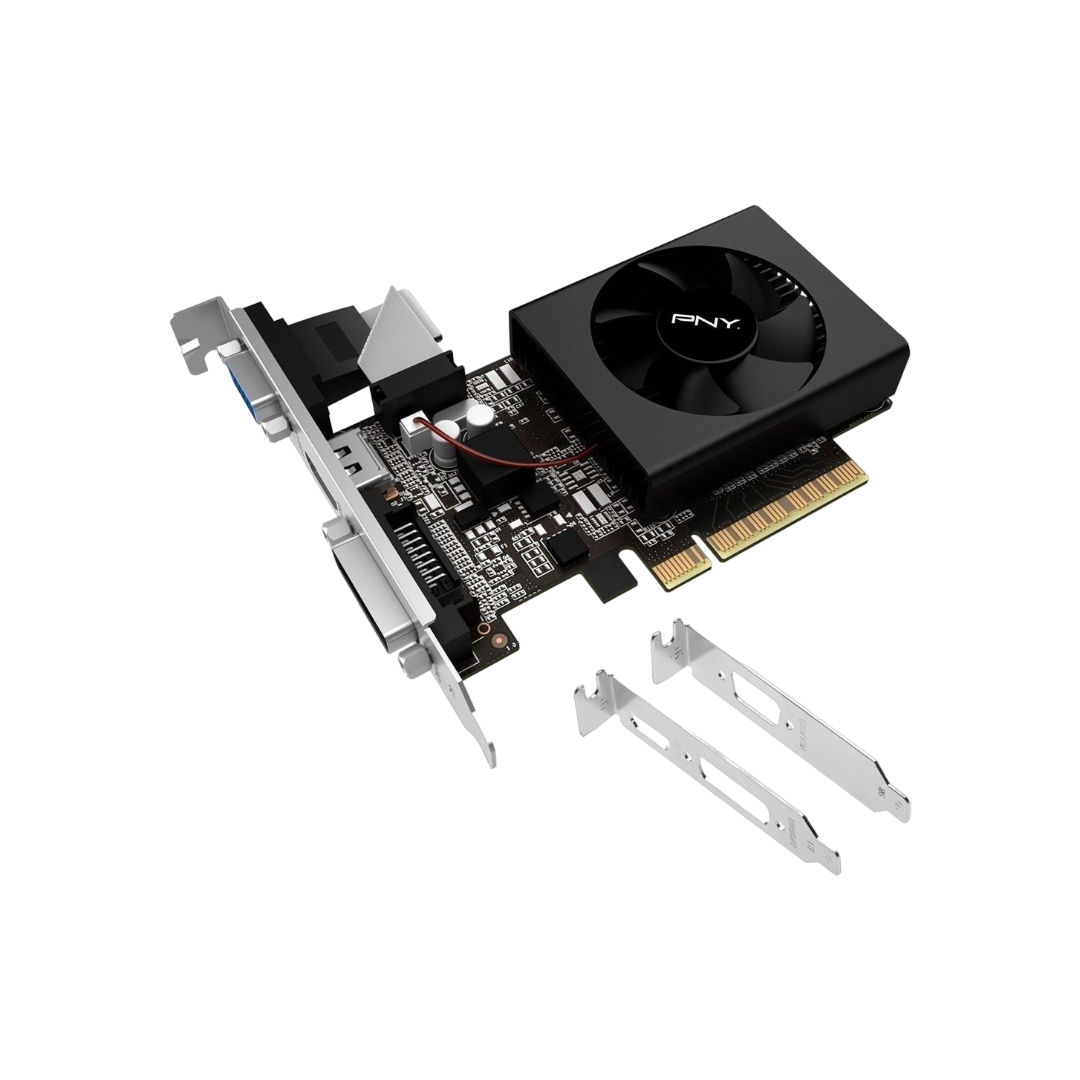 Source: PNY
PNY GeForce GT 730
Best Nvidia low-profile
Workstation integrated graphics replacement
$55 $70 Save $15
The PNY Nvidia GeForce GT 710 comes with 2GB of DDR3 VRAM, so it's clear it's not a GPU designed for gamers. What it will do is slot in to almost any workstation as a replacement for a broken graphics output, or help you troubleshoot a CPU without integrated graphics.
Pros
Low-profile design
Cooling fan
Three graphics outputs
Cons
2GB of DDR3 VRAM
Old chipset
When it was first released, the GT 710 was an inexpensive way to add more display outputs to a PC, and not much has changed since. With 192 CUDA cores and 2GB of DDR3 memory, this graphics card is able to output a 4K60 display from it's HDMI or DVI-D outputs, and has a VGA output in case you need to send a signal to an older monitor or a projector.
The PNY GT 710 is also low-profile and able to slot into a wide variety of smaller chassis as a result. That's good news for home theater PC use, as this card is substantially cheaper than many other low-profile cards. With a 19W power draw, it runs completely off the electricity provided by the PCIe slot, and it has a cooling fan to keep temperatures in check. It's important to keep your expectations in check, this is a low-spec, low-cost GPU and as a result, isn't much at gaming. It might be able to play less demanding titles at 1080p or 720p, but likely closer to 30FPS than to the 60FPS that we'd like to see for gaming use.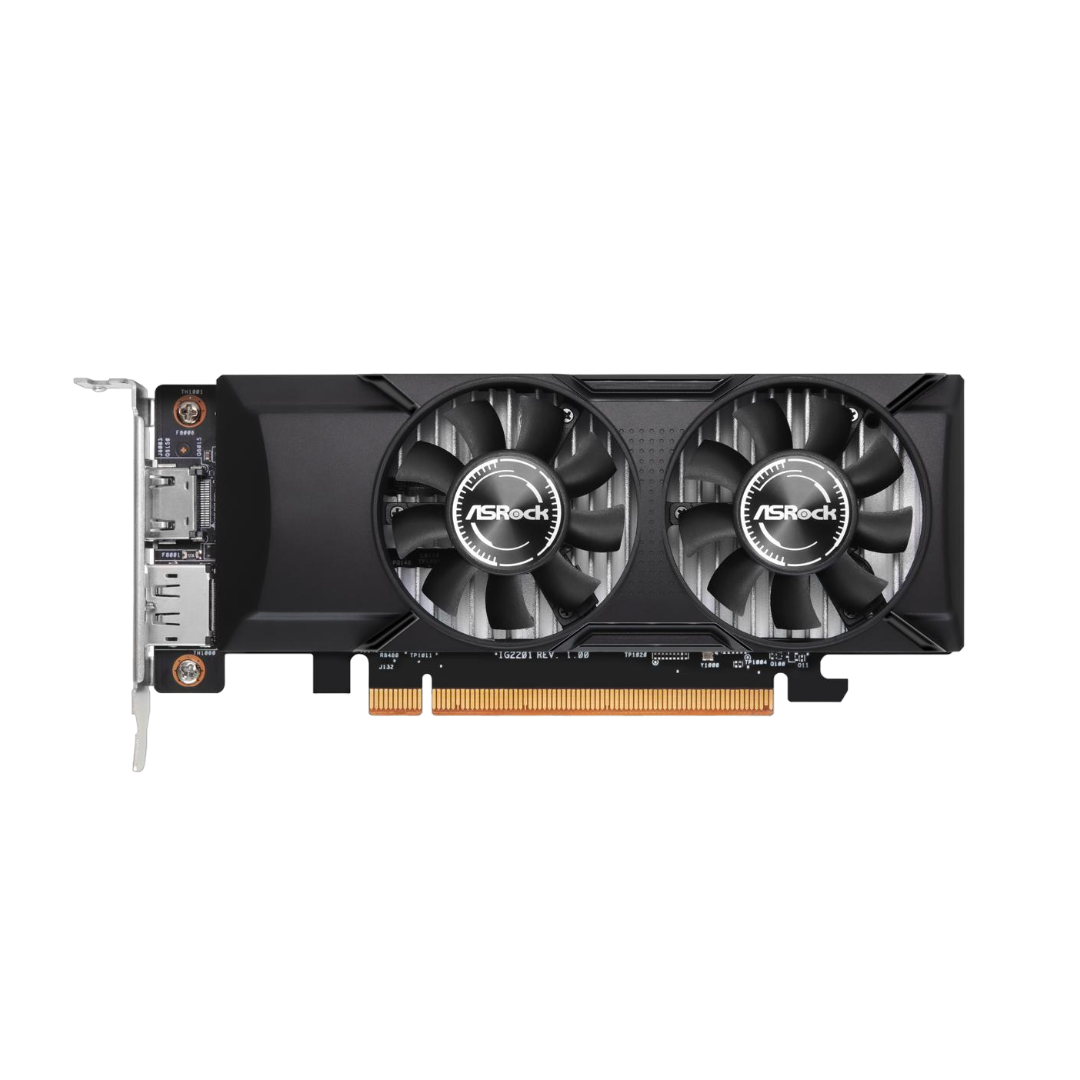 Source: ASRock
ASRock Arc A310 Low Profile
Best Intel
Good encoding and decoding performance
$95 $100 Save $5
The ASRock Arc A310 Low Profile graphics card has two fans to keep it cool under use. It's perfect for replacing an aging graphics card in a workstation or using in a home theater PC for encoding and decoding a variety of video formats.
Pros
Low-profile design
PCIe 4.0 with good encoding performance
HDMI 2.0 and DisplayPort 2.0 outputs
Cons
4GB of VRAM
Only two outputs
The entry-level ASRock Intel Arc A310 graphics card has 4GB of GDDR6, making it the most advanced and recent graphics card on this list. You get one HDMI 2.0 and one DisplayPort 2.0 output, both capable of 8K60 output. The double-fan cooler should be plenty to cool the 75W TDP, and it's low-profile, so it will slot nicely into older, space-constrained OEM desktop units, although it is dual-slot in thickness, so check clearance before you buy.
This card uses the Intel ACM-G11 graphics processor with 6 Xe cores (768 stream processors at 2.0 GHz). It's even got six ray tracing cores, although with how system-intensive ray tracing is, it's probably not usable in game. The 4GB of GDDR6 has a 64-bit memory interface, which means plenty of memory performance for encoding or decoding use. The Arc line of GPUs can encode and decode AV1, which no other graphics chip on this list can achieve. It's also compatible with H.264, H.265, and VP9, making this a media encoding powerhouse for media PCs or even for light content creation.
Even with this being a modern GPU, it's not aimed at budget gamers. In the Intel Arc range, that's taken by the Arc A750, which costs $289. Who this card is for is anyone with basic GPU acceleration needs, perhaps light graphics work or the occasional video render. It's impressive that a sub-$100 GPU can handle these tasks at all, when many cheaper cards can only manage to get the operating system displayed.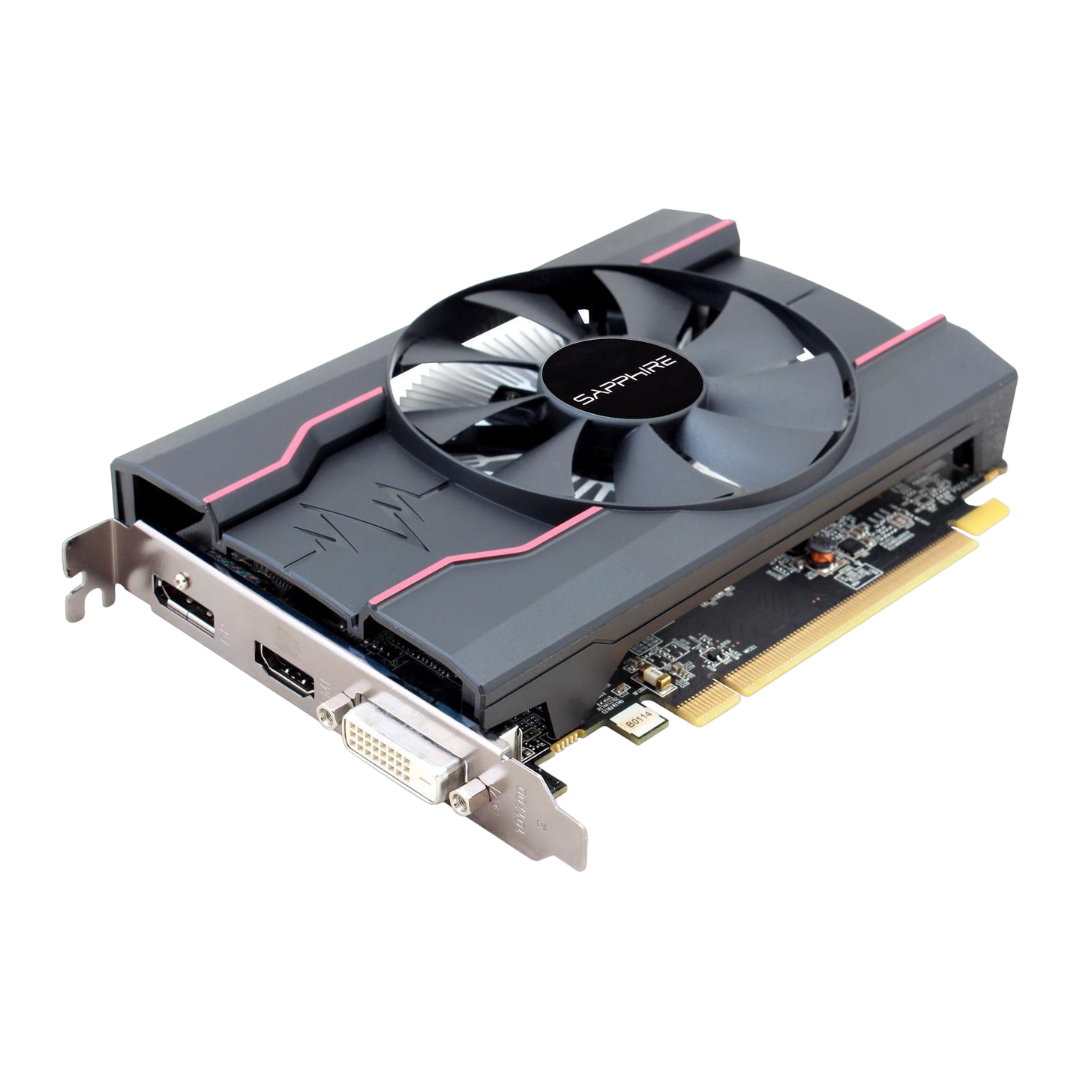 Source: Sapphire
Sapphire Radeon RX 550
Best single-fan
Great for smaller builds
SAPPHIRE is one of AMD's premier board partners, and this Pulse Radeon RX 550 is well-designed and built. With 4GB of VRAM it's capable in eSports titles like League of Legends, Rocket League, or Overwatch 2, and has FreeSync for smooth frames without tearing.
Pros
Quiet when running
No extra power connector needed
4GB of VRAM
Cons
The RX 570 or 580 are better value
When the Sapphire Pulse RX 550 was released, it was aimed squarely at e-sports gamers. Designed for less-demanding titles like League of Legends, Rocket League, and CS:GO, this is the little card that can. With a small form factor design and single fan, it can fit into the majority of chassis and is just as at home on home theater PC duties as it is pushing frame rates for online gaming.
It has a 50W TDP, so it's completely powered from the PCIe slot without a supplementary PCIe cable. You get one HDMI 2.0 port, DisplayPort 1.4, and DVI-D if you have an older monitor. It has FreeSync for adaptive frame rates with a supported monitor to reduce frame tearing and supports DirectX 12. The 512 stream processors have a 1,206 MHz max boost clock, and the 4GB of GDDR5 runs on a 128-bit memory bus.
The best thing about this card is that you will be able to get playable frame rates in a wide range of titles. With so many graphics cards in this budget-constrained category unable to say that, it's nice when you can definitively say that gaming is an option. It's not as good a value as our top pick, the RX 580, but that card is larger and needs more power, meaning the RX 550 can be used in more situations without spending any extra money.
What you need to know about buying a GPU that costs less than $100
If you're looking for a graphics card under $100, you probably already know that some sacrifices will have to be made. You're unlikely to pair it with one of the best CPUs, unless you're using it as a troubleshooting spare for a CPU without onboard graphics. Any modern budget GPU starts from $165, so you know anything lower is a tall order. Our top pick, the ASRock Phantom Gaming D Radeon RX 580, was released in 2018, so it's getting on in years. Unlike most of the cards on this list, it comes with 8GB of VRAM, which means it can tackle AAA gaming if the in-game settings are tweaked accordingly. And fans of Minecraft will be happy, as the recent tweaks to the OpenGL performance mean this card can push hundreds of FPS at 1080p.
If budget is the primary driver and all you need is an image on your display, the MSI GeForce 210 is hard to beat. The low-profile design means it's a viable replacement for older desktops, even if the low 1GB of VRAM means it won't be able to play games above Solitaire and the like.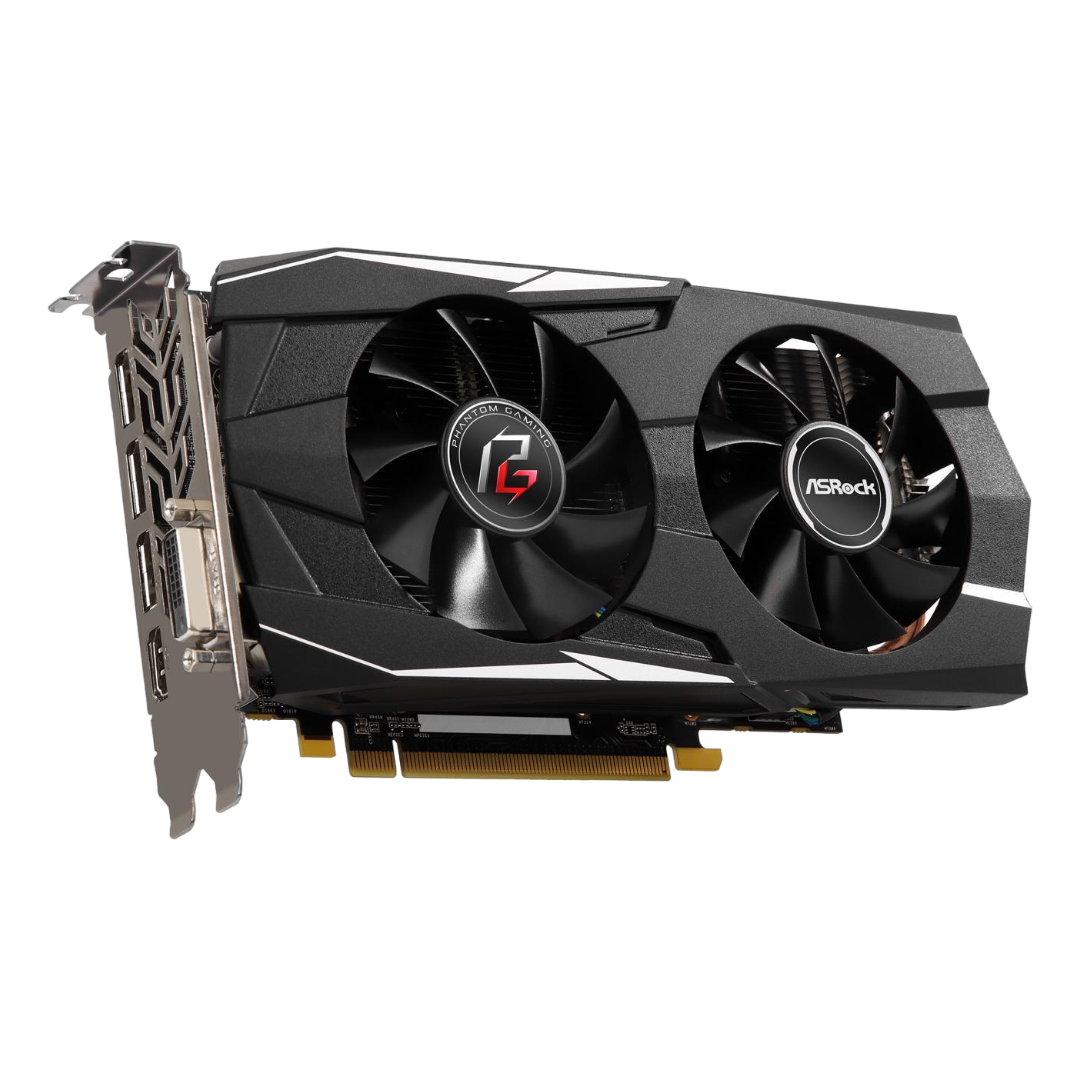 Source: ASRock
ASRock Phantom Gaming D Radeon RX 580
Editor's Choice
Still viable for gaming
The ASRock Phantom Gaming D Radeon RX 580 is a decent midrange card that can still give you a good bang for the buck performance, especially in OpenGL titles like Minecraft.
** (Disclaimer: This video content is intended for educational and informational purposes only) **