These days technology is everywhere and even the youngest among us want to get in on the action. It's not surprising to see small toddlers operating a smartphone better than their parents or grandparents. As much as you might want to resist introducing technology to your kids, it's inevitable. This is where a great smartwatch can be a good tech gear bridge.
Along with being a functional wearable, many smartwatches give kids connectivity in a streamlined format. And there are plenty of kid-friendly options on the market if you're not ready to introduce them to the pricier Apple Watch or Samsung Galaxy watches. Most of these choices are designed with robust parental controls, communication support, customizations, and plenty of activities to keep the little ones active and off their bigger screens. So, if you and your wallet are ready to take the plunge, these are our top picks for the best kids smartwatches.
Our best kids smartwatches in 2023
Garmin Bounce
Best overall
Streamlined style with text and voice messaging
The Garmin Bounce is a streamlined activity tracker that gives peace of mind to parents while still offering plenty of functionality for kids. It is waterproof and supports text and talk right from the wrist. With up to 2 days of battery life and an Assistance safety feature, you can be sure they're staying active safely.
Pros
Supports two-way text and voice messaging
Safety controls including location tracking and emergency contact support
Parental controls with contact list management support
Cons
Requires LTE subscription exclusive to Garmin
Does not support phone calls
If you're shopping for elementary-aged children, you probably aren't considering a premium smartwatch from Apple or Samsung. The Garmin Bounce manages to thread the needle between supportive connectivity, parental controls, and kid-friendly features with a customizable interface that's easy to master. Kids will love preloaded games and gain access to simplified apps like Weather. Additionally, the more your kids move, educational adventure functions are unlocked through the companion Garmin Jr. app. As they reach their activity goals for the day, they can earn gems, which can be used to reveal fun pictures.
Just be aware that to get full use of this watch's LTE connectivity, you'll need to subscribe to a proprietary Garmin subscription plan. However, once you do, you'll get text and voice message support. Likewise, strong parental controls are a major plus for caregivers. This includes syncing with the Garmin Jr. app, which gives you access to real-time location tracking with notifications, as well as class modes to ensure little hands are focused on schoolwork.
There are also controls to manage your child's contact list (up to 20 entries) and the Assistance function automatically shares their live location, immediately notifying designated family contacts. You can also help them participate in challenges and track activity with any of the preloaded sports apps that also use Garmin's enhanced GPS support.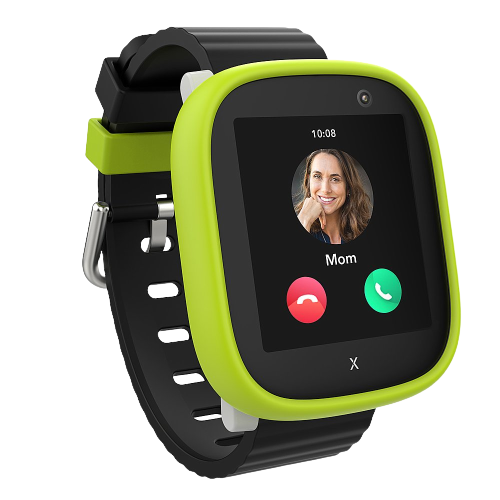 Xplora X6Play Smartwatch
Premium pick
Mimics adult functionality
The Xplora X6Play is a more enhanced smartwatch that mimics an adult model; it has controls that help keep tabs on kids while still supporting their independence. This watch includes call and text support, a built-in camera, a customizable watch face and accessories, and a high-resolution screen that displays animations.
Pros
Supports voice calls and text messaging
5MP camera
Location tracking with GPS, Wi-Fi, and LBS
Cons
Requires data subscription plan
Limited activity tracking
These days, smartwatches have become synonymous with supporting voice calls. If this is a feature you want your child to access, then our premium recommendation is a good upgrade. The Xplora X6Play is the newest release from the brand's kid-focused smartwatches. As is somewhat common for watches that support data transfer, you'll need to subscribe to the brand's proprietary 4G LTE data plans to take advantage of this feature.
Along with voice call and text message support, the smartwatch has a 5MP camera for fun snaps and 72 hours of battery life in standby mode, so it won't need to be recharged every night. Just be aware that individual mileage will vary depending on how your child is using the watch. The X6Play watch also tracks your child's steps and has an IP68 water resistance rating, meaning that it can be submerged in 1.5 meters of water for up to 30 minutes without damaging the components (which is great for that next beach trip).
Another nice feature about the Xplora universe is that the brand routinely creates activity campaigns to keep your child engaged with favorite characters from major entertainment producers like Paramount, Universal Pictures, Netflix, and Warner Bros. Your children will also like that this watch comes with a black, neon green, and neon pink set of frames and loops, so they can switch up their style. However, you can also purchase many colors from the Xplora store to let them express their individuality.
And through the Xplora app, parents can customize controls, preload an approved contact list to the watch and manage other functions, such as preset school modes and safety zones for GPS live location tracking.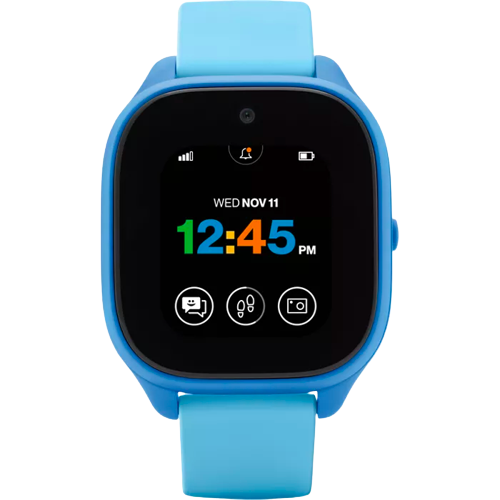 Verizon Gizmo Watch 3
Best carrier pick
Verizon gets in on the action
This convenient kid-focused smartwatch is ideal for Verizon customers to add to their phone plan. It's available in two colors and offers popular parental control features like trusted contacts. This is an upgraded watch that not only gives you text and talk but supports video chat.
Pros
Text, calls, and video chat support
Comprehensive parental controls
Gizmo buddies feature for trusted friends
Cons
Requires a Verizon subscription
Video calls limited to 3 minutes
Let's admit that this watch's obvious drawback is that it's only available on Verizon's network. As such, you'll need to sign up for Verizon's wireless services if it's your first choice. However, all the major U.S. carriers have proprietary children's smartwatches that operate on their corresponding networks and can be added to existing phone plans, so this is a good option if you're already on Verizon or plan on switching.
The Gizmo Watch 3 is a fairly straightforward entry with features that are on par with competitors. For one, I do like that it also supports video calls. That being said, Verizon does mention in the fine print that those video calls are limited to 3 minutes to keep the watch from overheating. As with other data-supported watches, the Gizmo Watch 3 relies on a 4G LTE data plan and also supports GPS for live location tracking. Similarly, as the parent or caregiver, you'll rely on the proprietary GizmoHub app to manage parental controls. This includes preloading contact information for up to 20 entries, configuring usage modes for school or homework times, and defining safety zones for tracking.
Kids can take advantage of preloaded games like tic-tac-toe, a matching game, and puzzles. I also like that Verizon's watch features a proprietary Gizmo Buddies option, which allows children with this watch to request their friends. This doesn't count toward the 20-entry contact list limitation. Instead, Gizmo Buddies can text or call each other from their watches. And these contacts must be approved by the parents first — eliminating the risk of strangers joining a child's contacts.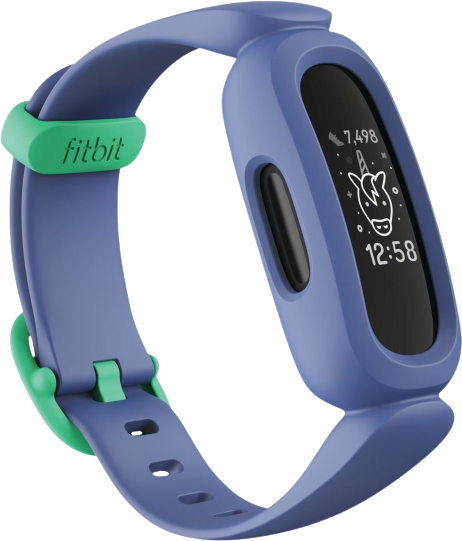 Fitbit Ace 3
Best minimalist
Keeping them active
This simplified activity tracker is perfect for children on the go. With up to 8 days of battery life and enhanced water resistance for up to 50 meters, it is designed for the child that can't get enough of running and jumping. The fitness-first focus makes this a great, safe first smartwatch for parents leery about text and calls support functionality.
Pros
Up to 8 days of battery life
Enhanced fitness metrics including sleep tracking and movement reminders
Syncs with iOS and Android devices
Cons
No call or text support
Limited parental controls
No location tracking
Unfortunately, not every parent gets excited about giving their children access to text and calls. If you still want them to have a taste of smart technology, you might find that you're better off with a true fitness tracker like the Fitbit Ace 3. Those familiar with the Fitbit ecosystem know this brand focuses more on tracking activity with limited connectivity — even for adult products.
The Ace 3's priority is getting kids moving thanks to an animated watch face and virtual badges that can be earned with activity. There's even a special edition Minions tracker that features unique animations and activities geared around the characters. Kids can also let their personalities shine through with the various bands and accessories that are compatible with this tracker in the Fitbit store.
This smartwatch can sync with compatible Apple and Android devices. However, kids will be limited to only receiving notifications if they have a companion smartphone. Still, given that this is a true fitness tracker, it provides metrics, movement and sleep reminders, and a water resistance rating for depths of 50 meters. I'm also a fan of the 8-day battery life because you won't have to constantly remind your kid to charge their watch.
Although there is a companion Fitbit App for parents, the functionality is significantly reduced compared to true smartwatches. You won't get location tracking, emergency contact support, or various modes for school or focus times. This means that you're solely allowed to create child accounts, approve connections, and track activity.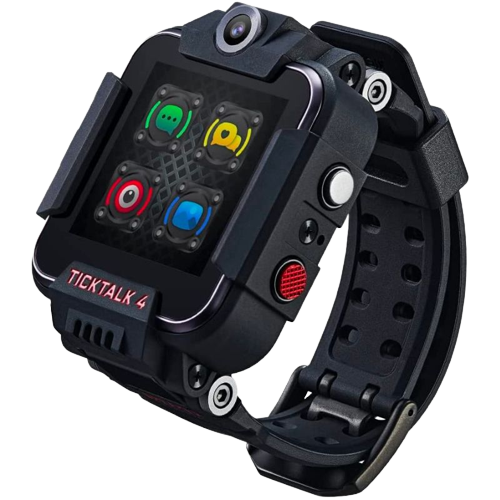 TickTalk 4
Best durability
Built kid tough
When kids and technology come together, the results can sometimes be dicey. A rugged smartwatch with contact support, like the TickTalk 4, gives them a more premium watch experience and the durability they need for rough and tumble activities.
Pros
Supports text, video, voice, and Wi-Fi calls
Contains two 5MP cameras
Compatible with both AT&T and T-Mobile
Cons
One of the more expensive options
Requires a data plan subscription
Depending on your budget, the TickTalk 4 might be a splurge or a steal. However, I think it's a great option for kids who are beyond the basic smartwatches but aren't quite ready for an Apple or Samsung watch. It combines many of the features you'll find in an adult-oriented watch, while still providing a rugged exterior that's safer for a child to use.
While you do need a data plan to take full advantage of the connectivity features, the TickTalk 4 is compatible with both AT&T and T-Mobile data plans. The SIM card is also included. Kids will enjoy text and voice messages, as well as video, voice, and Wi-Fi calls. They'll also get access to two 5MP cameras to take photos and video footage and favorite tunes with the free iHeartRadio Family music streaming app.
But the best part is the durability and battery life. The shock-proof and drop-proof design and the IP67 water resistance will come in handy with not-so-gentle users. Plus, TickTalk promises that you'll get up to 62 hours for the average battery cycle between charges with a maximum of 100+ hours for standby mode. So, it won't have to be charged daily.
Parents will like that this smartwatch has a companion app that supports GPS location tracking, emergency SOS calls, 911 response, and a track route history for a clear picture of your child's travels. You can also manage your child's contact list and even shift them into school or do not disturb mode when you want them to focus. And this watch doesn't support the internet, games, or social media access, giving you greater peace of mind.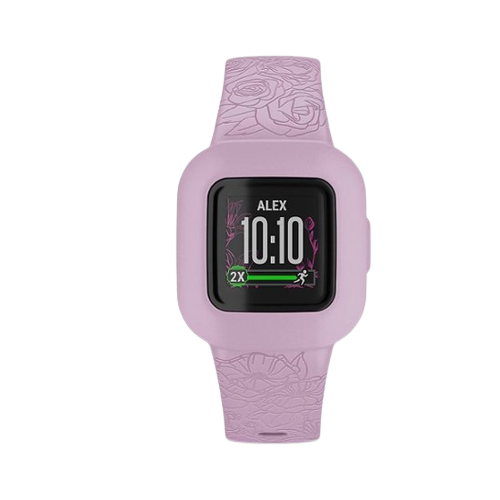 Garmin Vivofit Jr. 3
Best activity tracker
Motivation to move
Garmin's Vivofit Jr. 3 is a simple activity tracker that teaches responsibility and gives parents more control over activities. The long-lasting battery and interactive programs will encourage kids to get and stay active. And the wide variety of companion accessory bands will let children showcase their personalities.
Pros
Affordable watch
In Case of Emergency widget
Water resistant up to 5 meters
Cons
Doesn't support communications
Additional bands are pricey
Whether you're concerned about introducing text and phone calls to your child or simply feel they're too young for such tech, a simplified activity tracker like the Garmin Vivofit Jr. 3 is a good compromise. This tech-lite device eases them into the world of smartwatches while still providing a few basic parental controls.
Garmin's smartwatches are incredibly robust for activity tracking with preloaded activity programs for more than just step tracking. Although the adult category does normally support smartphone syncing and communications, the Vivofit Jr. 3 only allows parents to sync their Apple or Android devices to their child's watch.
The emphasis here is getting your little ones active. Features like timed activities, fitness cards, and unlockable adventures with specific challenges drive home this point. This watch is also rated water-resistant for up to 50 meters, making it a durable choice for the rough-and-tumble set. It also comes with seven preloaded activity tracker programs, proving that it's ideal for kids that always want to be outside.
Most of the parental controls center around rewarding activity and prompting your kids to get off the couch. Although Garmin is known for its GPS support in the adult watch category, tracking your child's location isn't available with this watch. Instead, you're limited to the In Case of Emergency (ICE) widget, allowing you to preload a guardian's contact information for a one-touch phone call using the proprietary Garmin Jr. companion app.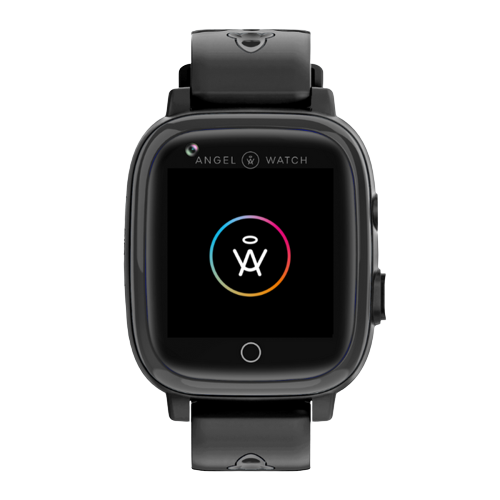 Angel Watch Series R
Best parental controls
Peace of mind
$170 $200 Save $30
The Angel Watch Series R is a kid-friendly and parent-focused smartwatch that prioritizes safety. It boasts a buffet of app-based remote controls that allow parents to track location with zone support and alerts and even monitor a child's vital signs. Yet, it still offers voice and video call core functionality.
Pros
Voice and video calling, plus text support
Prevents access to the internet and social media
Enhanced parental controls for location tracking
Cons
Requires a data plan
Only works on AT&T
Lacks games
In a perfect world, we wouldn't have to wonder what's happening with our children when they're out of sight. But it's not a perfect world, and location-tracking services can make it easier for parents to breathe when their kids are out exploring with friends or at school. The Angel Watch Series R is a specialized children's smartwatch that's focused on parental control features.
The Angel Watch has a proprietary companion app that lets parents customize location controls to keep an eye on little ones. This watch requires a data plan and only works with the AT&T network to date, but I like the enhanced location-tracking functions. This includes live location support and geofences that send automatic alerts when your child goes outside approved areas.
Being able to monitor vital signs remotely is also nice. This can be handy if your child has specialized health conditions where a dramatic change in body temperature, heart rate, or other vitals could indicate something is wrong. The Angel Watch supports discreet monitoring in real-time with voice and video monitoring through the Angel Watch App — including taking pictures. This watch is more for parents than kids and is best suited for preschool to early elementary-aged tots who won't realize what they're missing. It lacks internet, games, or access to social media but looks like an Apple Watch.
As a parent of a five-year-old, this watch gives me peace of mind and because of its pared-down functionality, I'm not worried about my daughter stumbling onto questionable content or talking to strangers. Kids won't know they're missing out on some of the value-added features since they can still access voice and video calls along with text messaging to a pre-approved list of 20 contacts.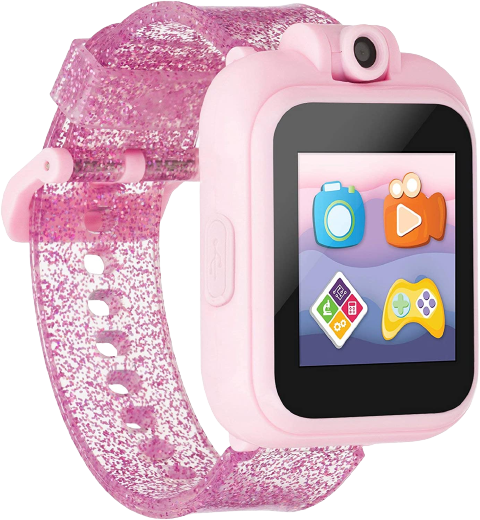 PlayZoom 2 Smartwatch
Best beginner
A starter design
The PlayZoom 2 is a fun starter watch for toddlers and early preschoolers. It will help prepare them to enter the world of smartwatches without the expense. Although not a true smartwatch, this model features a simplified interface with preloaded games, programs, and audiobooks. It also has a camera and is available in over 50 different watch band designs.
Pros
Affordable
Wide selection of watch bands
No data plan required
Cons
No call support
No location tracking support
Yes, we know this isn't a true smartwatch. However, we're including this entry as a good starter pick to ease kids into technology and off your smartphone. Any parent of a toddler or preschooler knows that reasoning with them about why they can't have a smartwatch is nothing but a headache. But you know better than to give them something expensive and delicate that'll either be damaged or left at preschool. Save yourself the pain and get them the PlayZoom 2 smartwatch.
The wallet-friendly price point means you won't be too upset if your child is rough on it, and it needs to be replaced. Yet, the simple interface is easy for little fingers to maneuver and lacks delicate components in premium watches that might not stand up to rough handling.
The watch doesn't make phone calls, send texts, or access the internet. That makes it safe and ensures your child won't stumble onto questionable content. But this doesn't mean that fun is out of the question. This simple USB rechargeable watch offers plenty of interaction thanks to preloaded content that includes over 20 games, 10 audio bedtime stories, and 10 songs. That means kids can stay occupied while also staying away from tablets and TV screens. It also features a camera for selfies and a program for adding picture frames.
Just understand that this pared-down smartwatch lacks any location tracking support as well. So, if you want something more official, you might need to look elsewhere.
Choosing technology for kids is personal. This means features that might appeal to one parent might not be the same for another. Various factors will influence how you pick the right smartwatch for your child. I considered a few concerns when compiling this list: age appropriateness, parental controls, functionality, data support, durability, and, of course, price.
Price is fluid as everyone's budget is going to be different. However, price and age appropriateness do tend to work parallel to each other. You'll find that smartwatches geared toward very young children tend to be cheaper since this group is usually rough on items, loses them, and generally isn't adept at careful use. Meanwhile, the more robust the features, the higher the prices tend to be.
Parental control is also important as many parents want to feel confident that their child is safe — even if they're not nearby. The more premium watches usually offer location tracking and, in some cases, live monitoring and safety zone support. Just keep in mind that this feature usually requires a data plan. So, you'll want to ensure that any watch you consider is compatible with your existing carrier or that you're willing to open an account with a new carrier.
A smartwatch that works for your family
The Garmin Bounce is my top recommendation. Although it doesn't support phone calls, it does include location tracking. If money is no object, the Xplora X6Play offers voice chat and text as well as location tracking through multiple formats. Finally, while it's specific to Verizon, The Verizon Gizmo Watch 3 leverages the carrier's 4G LTE network for video chats and a wider expansion of parental controls for location monitoring.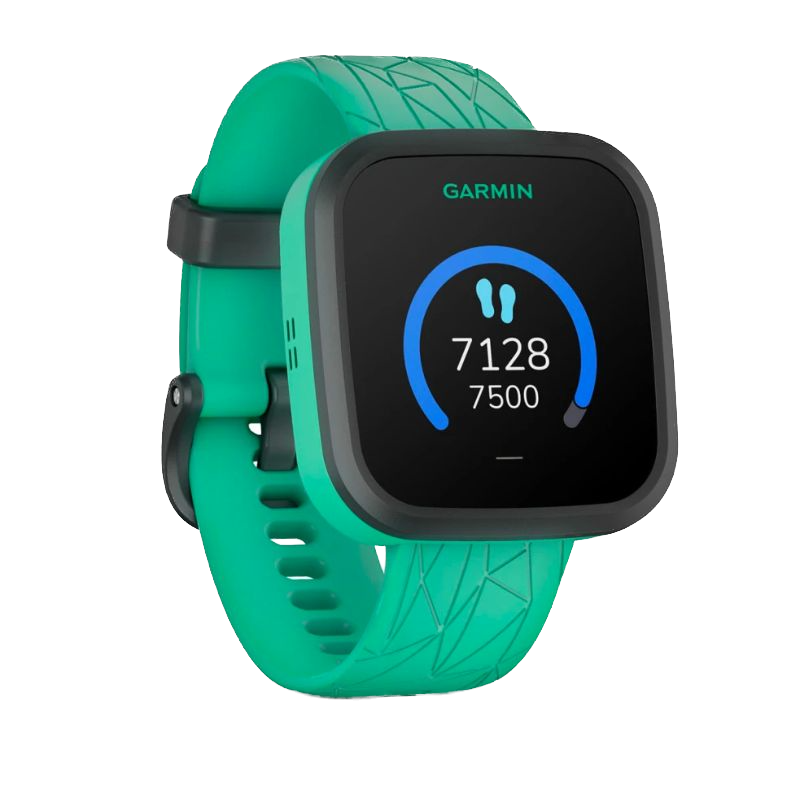 Garmin Bounce
Best overall
The Garmin Bounce is a streamlined activity tracker that gives peace of mind to parents while still offering plenty of functionality for kids. It is waterproof and supports text and talk right from the wrist. With up to 2 days of battery life and an Assistance safety feature, you can be sure they're staying active safely.


** (Disclaimer: This video content is intended for educational and informational purposes only) **