A stand can elevate your computing experience.
The MacBook Pro is undoubtedly Apple's best Mac for professionals working on the go. It's powered by Apple silicon chips and macOS Sonoma, making it both energy efficient and highly capable. Though, for you to make the most out of this powerhouse, you may need to invest in some separate add-ons. One of the popular accessories is a stand to elevate your MacBook Pro and maintain a good posture. To help you find a solid product, we've listed some of the excellent options below.
Rain Design iLevel 2


Editor's choice

The iLevel 2 is one of the best stands you can get for your MacBook Pro. It offers an adjustable height, rubber pads for protection, a tilted design to help with cooling, and much more. It's only available in Silver, though.




BookArc for MacBook


Vertical

$53 $60 Save
$7

The BookArc is a vertical stand for the MacBook Pro that saves a lot of space on your desk. This low-profile stand holds your MacBook vertically with its lid closed, so you'll need an external monitor along with a keyboard and mouse to use this one.




Anker 675 USB-C Docking Station


Includes dock and charger

Usually, stands are pretty simple and offer a single functionality. The Anker 675 USB-C Docking Station, however, also doubles as a dock and a wireless charger with up to 10W output. This makes it ideal for minimalistic desk setups.




Nulaxy Laptop Stand


Best value

$18 $19 Save
$1

The Nulaxy laptop stand is one of the best wallet-friendly stands you can grab for your MacBook Pro right now. Its noteworthy features include the addition of soft feet at the bottom to protect the surface, the inclusion of anti-slip material on the arms to hold the laptop in place, and more.




HumanCentric Vertical Laptop Stand


With protective grip pads

This is the second vertical stand in our collection, which is perfect for those who use an external keyboard, mouse and monitor. This one's cheaper than the BookArc stand we saw earlier, but it has some noteworthy inclusions like soft pads on the inner walls of the dock to protect the notebook from scratches. It's also smaller than the BookArc stand and looks great on the desk.




Lifelong ergonomic laptop stand


Quite high

If you're someone who likes to frequently stand while working, then the Lifelong ergonomic laptop stand is perfect. Unlike other height-adjustable stands, this one lets you extend its arms up to 13-inches. In addition to that, you can also adjust the angle of the base on which the MacBook rests. This gives you more freedom to get the best viewing angle. The stand also has a cutout at the bottom for airflow. It's suitable to fit laptops ranging in sizes from 10-17-inches.




SimpleHouseware Metal Stand


With built-in shelf

This metal stand is perfect for those who are looking to add some space for organizing their setup. As you can see, it has a built-in shelf and up to four compartments for storing items. The stand itself is more than 20-inches wide and 11.5-inches deep. It can also be used to place a monitor on top, which is great. There's no option to adjust the height, though.




Steklo X-stand for MacBook Pro


Portable design

This Steklo stand is one of the most affordable items in this collection. Despite the price tag, it's still one of the more premium-looking products. It can fit 12 – 17-inch MacBooks, which means, it's perfect for the new 16-inch MacBook Pro model too. The stand allows for optimum airflow to keep the MacBook cool during the extended hours of usage.
Our favorite MacBook Pro stands

That concludes our collection of the best stands you can buy for your MacBook Pro. The Rain Design stand is our pick for the best stand mainly because it looks great, has an adjustable design, and offers a solid build. We also like vertical stands, like the one from BookArc, as they tend to occupy less space on the desk. That's not to mention the one from Anker, which doubles as a dock and wireless charger.
Notably, a collapsible stand like the Lifelong stand is a great option if you commute or travel with your MacBook Pro a lot. We've pretty much only added the good-looking stands in this collection, so they'll perfectly blend in most setups and won't end up ruining the overall aesthetics. So, no matter which MacBook Pro stand you opt for, you likely won't be disappointed.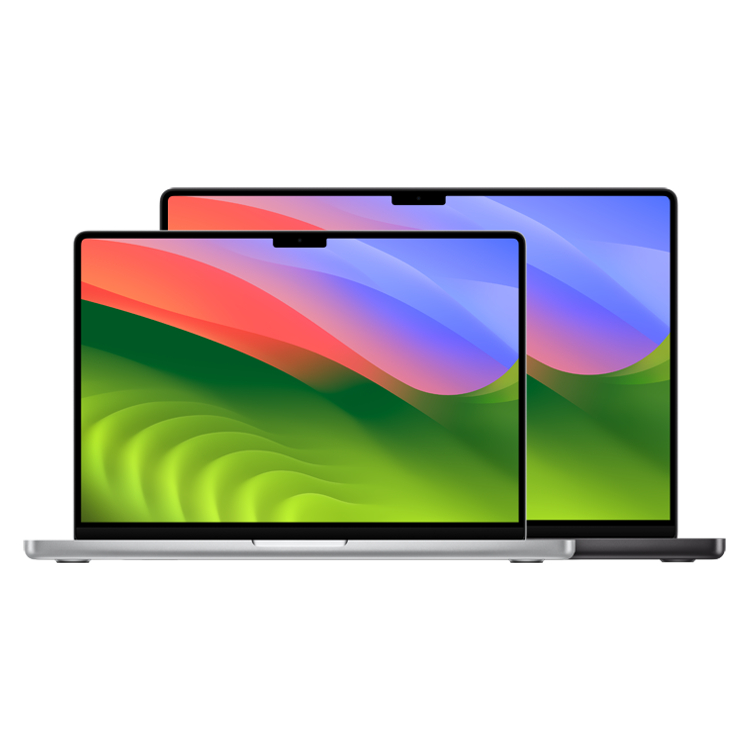 MacBook Pro (M3, 2023)

The new MacBook Pro offers Apple's M3, M3 Pro, and M3 Max chips in 14-inch and 16-inch designs. It features a 20% brighter display and an all-new Space Black finish option.
** (Disclaimer: This video content is intended for educational and informational purposes only) **