CenturyLink is a large ISP with fiber and copper-based internet service across the country. Its fiber gigabit internet service is the fastest it offers with up to 940Mbps download and upload speeds. CenturyLink also still offers DSL and fixed wireless internet solutions for rural customers, which is a lot slower than fiber, but still a solid option for many people. While CenturyLink will happily rent a decent router to you, the costs add up quickly.
Whether you need ultra-fast wireless speeds for gaming or just want reliable coverage all over your property, using your own router with CenturyLink gives you more flexibility and can even save you money in the long run, especially if you don't need a ton of speed.
Take control of your CenturyLink home network
Asus RT-AX57
Best overall
Gigabit support for less
The Asus RT-AX57 is a quick and affordable Wi-Fi 6 router with an AX3000 connection and easy setup with the ASUS Router app. You can even set it up in a web browser with access to advanced settings, AiProtection settings, and AiMesh.
Pros
Solid AX3000 connection is enough for gigabit internet
Easy mesh expansion with AiMesh
Easy setup and management with the ASUS Router app
Cons
AiProtection Classic lacks some parental controls
Your Wi-Fi speed will only ever be as fast as your internet package and the fact of the matter is, most people don't need gigabit internet. The Asus RT-AX57 is skewed more towards the low end with a compact housing, fairly basic software, and a dual-band Wi-Fi 6 connection. The AX3000 connection has a capacity of 600Mbps at 2.4GHz and 2402Mbps at 5GHz which is plenty for many CenturyLink's plans, such as the 100Mbps fiber internet plan, with capacity to spare. Beyond that, it can even keep up well with a gigabit connection if you decide to upgrade later.
On the back, there are four gigabit Ethernet LAN ports for your wired devices and another gigabit port that connects to your fiber ONT or DSL modem. The four antennas on the back will cover most homes with ease, but if you find you need a bit more coverage, AiMesh support allows you to create a mesh network using multiple Asus routers. Internally, the 1.7GHz quad-core CPU allows for some extra software features including AiProtection security and basic parental controls. It also helps keep the router fast when you're using a VPN with VPN Client modes supported.
Setup is quick and easy with the ASUS Router app, or you can set up and manage everything from a web browser. The web browser UI also gives you access to more advanced settings than the app alone.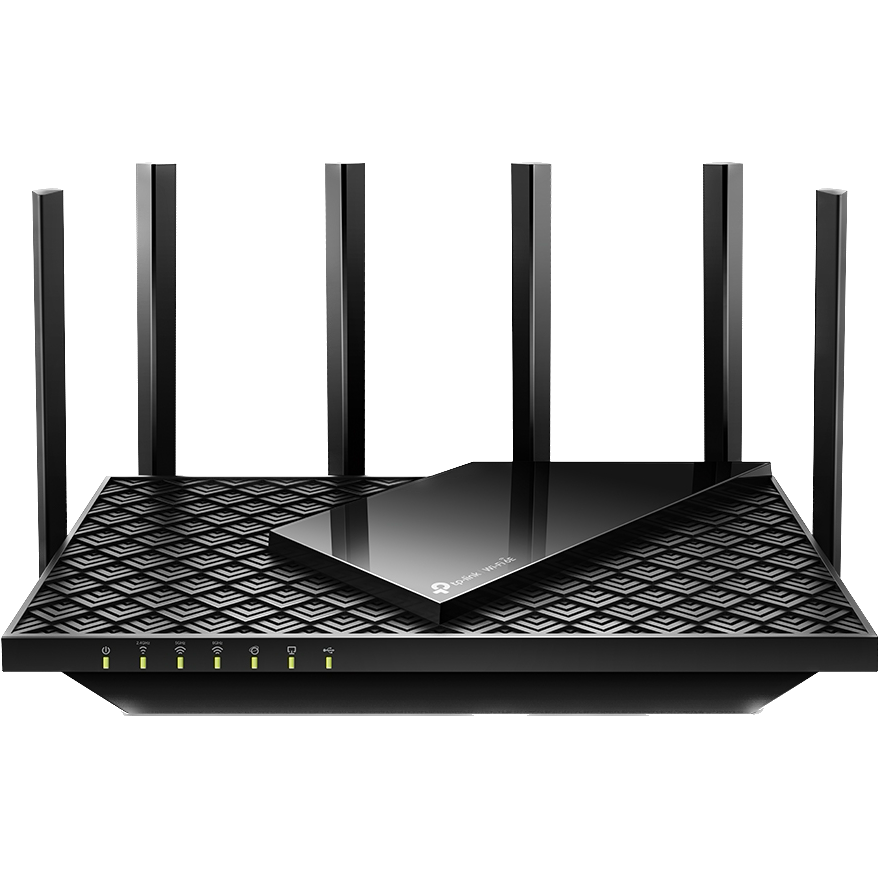 TP-Link Archer AX75
Best gigabit value
Make the most of your gigabit connection
$160 $200 Save $40
The TP-Link Archer AX75 is a mid-range Wi-Fi 6 router with a tri-band AX5400 connection. With both 5GHz bands available to devices, this router can keep up with fast internet connections in heavily congested areas.
Pros
Fast tri-band AX5400 connection with 160MHz support
A second 5GHz band avoids congestion
OneMesh expansion with EasyMesh coming in an update
Cons
HomeShield Pro costs extra
No multi-gig Ethernet
It can be tough for wireless routers to deliver full gigabit speeds to Wi-Fi devices for a number of reasons, but the biggest is interference. Anything between your device and the router can impact speed from furniture to walls. Your neighbor's Wi-Fi could also prove to be an obstacle if it's using the same bands as your router. The Archer AX75 from TP-Link is designed to make the most of the 5GHz spectrum with its tri-band AX5400 connection. That means it has two 5GHz bands which can be operated on both low and high channels at the same time with 2402Mbps available on each one.
Besides just keeping speeds high, a tri-band connection allows your devices to be more evenly spread across the available spectrum. You can, for example, put your lower-priority streaming devices on 5GHz-1 with gaming systems placed on the generally more vacant 5GHz-2 band. There are four gigabit LAN ports on the back for wired devices as well as six antennas. This router supports mesh expansion with OneMesh extenders, but TP-Link has marked this router as one to be updated with EasyMesh, a more open and flexible mesh solution, that will allow for more expansion options in the future.
For software, TP-Link makes setup easy with the Tether app and also allows management from a web browser. TP-Link's options don't go to quite the depth as Asus but should be more than enough for most users. HomeShield, a security subscription service, is available on this router with a few features, like content-filtered parental controls, and is included for free.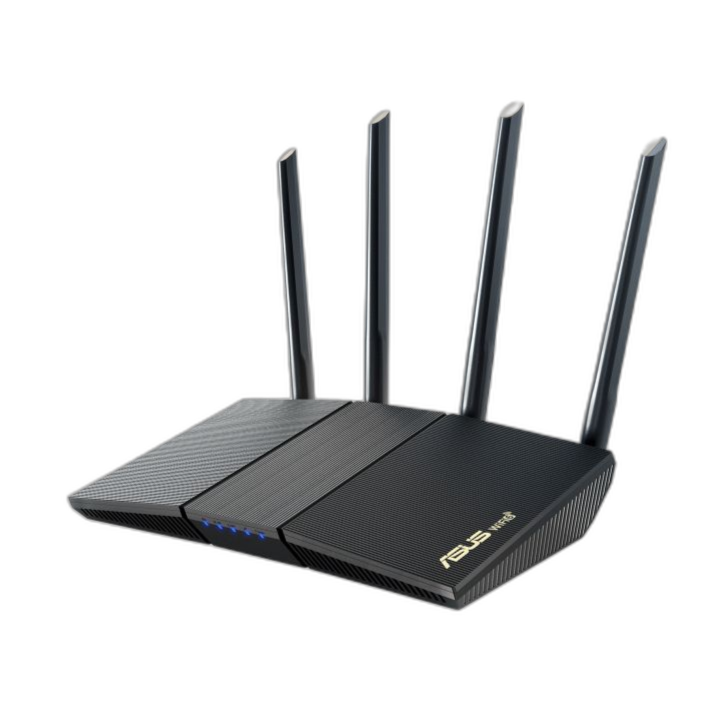 ASUS RT-AX1800S
Best DSL value
Keep your DSL connection running smoothly
$70 $100 Save $30
The RT-AX1800S is a cheap router that's a perfect fit for a slower connection. While it's a bit overkill for DSL's best speeds, Wi-Fi 6 can help keep pings low and more gracefully manage multiple devices trying to connect to the internet at once.
Pros
Solid AX1800 connection has plenty of speed for connections up to 500Mbps
Mesh expansion supported with AiMesh
Easy setup with the ASUS Router app
Cons
AiProtection Classic lacks some parental controls
If you're using one of CenturyLink's DSL plans, your fastest internet speeds likely won't top 140Mbps but will probably be lower. Even so, with the right router, this is plenty of speed for most families and should even work fine for 4K streaming and gaming. While the Asus RT-AX1800S is one of the slowest Wi-Fi 6 routers you can buy, it's also fast enough to keep up with the majority of home internet connections. The AX1800 connection breaks down to 574Mbps at 2.4GHz and 1201Mbps at 5GHz which can keep up with several devices accessing the internet at once.
This router is fairly compact with four antennas and four gigabit Ethernet ports on the back. The software is fairly simple, and the router can be set up and managed using the ASUS Router app or a web browser. The app is the quickest and easiest with all the settings an average user could want. You can set up a VPN with support for VPN Client modes including OpenVPN. AiProtection Classic gives customers access to some basic security enhancements and parental controls for free.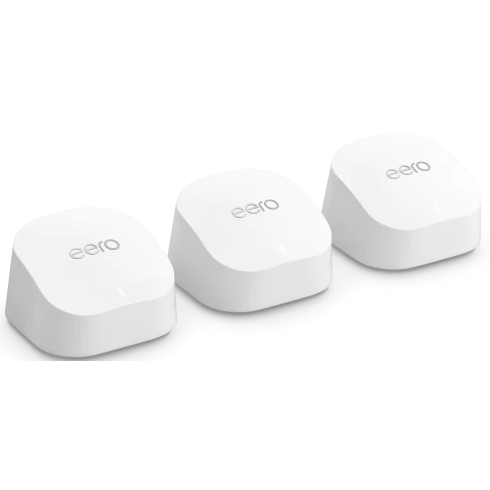 Amazon Eero 6
Best value mesh
Simple and stylish whole-home coverage
Eero 6 is Amazon's first Wi-Fi 6 router with a dual-band AX1800 connection that's sufficient for an internet connection of up to 500Mbps. The Eero app makes setup and management a breeze with good explanations and no confusion advanced settings.
Pros
Solid AX1800 connection in a compact housing
One of the easiest mesh systems to set up
Mesh expansion with any other Eero and some Echo devices
Cons
No Ethernet on Eero 6 Extenders
Eero Plus is too expensive
If you have a large home or one with multiple buildings, a mesh system could be the perfect solution for internet access across your whole property. Each Eero 6 node has an AX1800 dual-band connection with around 1,500 square feet of coverage each. Keep in mind that the nodes need to communicate with each other so the 5GHz band works double duty for devices and the backhaul. That means that Eero 6 is not a good solution for a gigabit connection, but should be more than adequate up to 500Mbps.
Each Eero 6 node is small at under four inches wide and about 2.5 inches tall, so it's easy to place around your home without them getting in the way. If you buy a two or three-pack, however, keep in mind that the extender nodes don't have any Ethernet. The primary Eero 6 router has only one extra port so if you have a lot of wired devices, you'll need a separate switch with this mesh. If you want to expand your mesh, you can use any other Eero, including some Eero built-in devices like Amazon Echo 4th generation, though your actual download speeds could suffer on these slower devices.
Eero's software is simple with an app to set up and manage the network. You are required to use the app to set up your mesh and an account is required, but you don't have to pay anything or enter any payment information. You may want to, however, with Eero Plus offering some nice bonuses such as improved security, backup internet with your phone's hotspot, VIP customer support, and some other bundled software.TP-Link's Wi-Fi 6E routers are among the most affordable and the company didn't cut any corners to get there. The TP-Link Deco XE75 is a tri-band AXE5400 router with 574Mbps at 2.4GHz, 2402Mbps at 5GHz, and 2402Mbps at 6GHz. The 6GHz band is used for your mesh backhaul if possible since most of your devices will use 2.4GHz or 5GHz for their connections. The 6GHz backhaul is able to keep speeds high thanks to much more available spectrum that can avoid interference from your neighbors. Even so, you can use the 6GHz band if you have a device that supports it.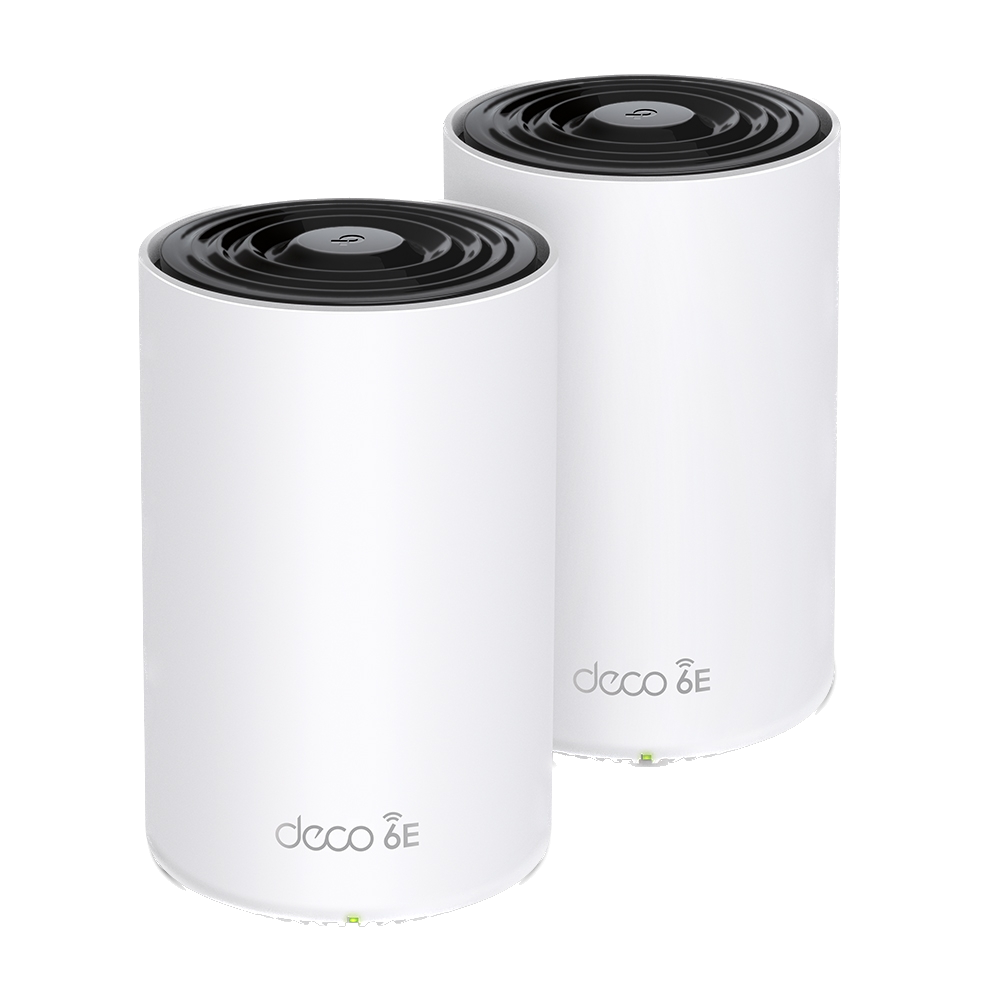 TP-Link Deco XE75
Best gigabit mesh
Wi-Fi 6E keeps mesh speeds high
$230 $300 Save $70
The TP-Link Deco XE75 mesh system utilizes Wi-Fi 6E to keep mesh speeds high, even in areas with congestion. The AXE5400 is plenty for most homes with the full 5GHz band available to devices.
Pros
Fast AXE5400 keeps 5GHz and 6GHz speeds balanced
Easy mesh expansion with any other Deco
Easy setup and management with the Deco app
Cons
No multi-gig Ethernet
Some HomeShield features require a subscription
Each node has three gigabit Ethernet ports on the back, one of which is used for the internet connection on the primary node. TP-Link expects up to 2,900 square feet from a single node, so even many large homes will be fine with just two. Still, 6GHz Wi-Fi doesn't reach as far as 5GHz, so you may end up needing more nodes than expected, especially if you have thick walls. Luckily, you can expand your Deco mesh with just about any other Deco node including older and newer models. For the best performance, however, you'll want to stick with 6GHz-capable nodes.
For software, the Deco app makes quick work of setting up your mesh and getting all the nodes updated to the latest firmware. Settings for Deco are very basic, similar to Eero, but will be fine for most people. If you're looking for a mesh-capable router with deeper settings, an EasyMesh-compatible Archer router or an ASUS router would be a better fit. Even so, the Deco XE75 is a good fit for CenturyLink's gigabit service which tops out at around 940Mbps up and down.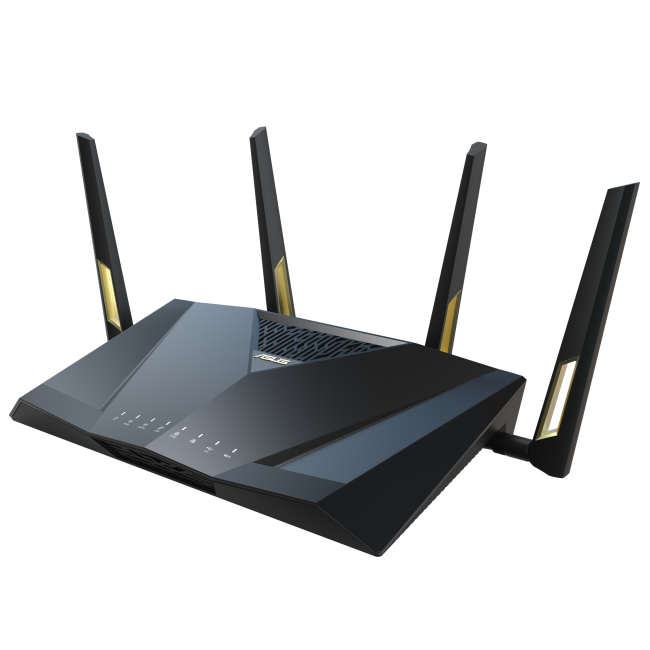 ASUS RT-AX88U Pro
Best gaming router
Fast hardware helps to keep latency low
$265 $300 Save $35
This high-performance Wi-Fi 6 router has a dual-band AX6000 connection and a fast CPU under the hood. With support for gaming prioritization, VPN Fusion, and AiProtection Pro, this extra power is put to good use keeping pings low for optimal online gaming.
Pros
Quick AX6000 connection is plenty for most families
Multi-gig Ethernet for LAN and WAN
Easy gaming prioritization software
Cons
More expensive than some AX6000 routers
Quite large
If you're a serious online gamer, your needs are a bit different from the average heavy user. For gamers, the most important thing is keeping latency as low as possible. However, many gamers like to stream these days which needs consistent and fast upload speeds. The RT-AX88U Pro from Asus ticks all the right boxes with a quick AX6000 dual-band connection breaking down to 1148Mbps at 2.4GHz and 4804Mbps at 5GHz. It also has a 2.5Gbps Ethernet for the incoming connection, 2.5Gbps for a connected device, and four more gigabit Ethernet ports.
The RT-AX88U Pro has all the right hardware for a gamer including a fast 2.0GHz quad-core CPU that has plenty of power to handle Asus' gaming software. For example, you get a QoS, so you can specify your priority devices, a tool to help you open the right ports to avoid NAT issues in matchmaking, and can even use VPN Fusion to route some of your devices over a VPN connection while keeping your ping-sensitive gaming device connected directly to the internet.
If your parents or partner still isn't convinced a gaming router is worth it, AiProtection Pro may convince them. This security software comes with intrusion prevention, network reports, malicious site blocking, and infected device detection. It also comes with parental controls that allow you to define rules for each member of the family including content filtering, time scheduling, time limits, and time rewards.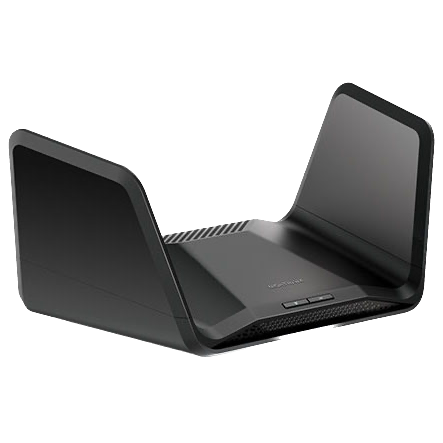 Netgear Nighthawk RAXE300
Best Wi-Fi 6E router
Plenty of 6GHz speed for most homes
$330 $400 Save $70
The RAXE300 isn't the fastest Wi-Fi 6E router you can buy, but for most people, it's all they'll need for years to come. It's AXE7800 connection keeps most of its capacity at 5GHz since 6GHz adoption will continue to be low for a few more years.
Pros
Fast tri-band AXE7800 connection prioritizes 5GHz
Easy setup and management with the Nighthawk app
Strong performance for large families
Cons
Netgear Armor is expensive
Many Smart Parental Control features require a subscription
More expensive than some AXE7800 routers
If you live in an apartment or condo near a lot of other people, you may have noticed that despite a strong connection, Wi-Fi speeds are just nowhere near wired speeds. This is most often caused by interference from your neighbors' Wi-Fi routers. With 2.4GHz and 5GHz, you only have a few channels to choose from and at 80MHz or 160MHz, you'll more than likely see some overlap. Wi-Fi 6E adds support for the 6GHz band which has more available spectrum and is still largely unused making it the perfect band for getting the most out of your Wi-Fi.
This router has an AXE7800 tri-band connection with 574Mbps at 2.4GHz, 4804Mbps at 5GHz, and 2402Mbps at 6GHz. While it may seem odd to have a slower 6GHz band, it's worth keeping in mind that the vast majority of our devices will use 5GHz for the next few years. This 6GHz band keeps the price lower on this model while still enabling a full 2402Mbps connection. Even so, many Wi-Fi 6E PCs, such as those running one of the best AMD motherboards, only support 2×2 Wi-Fi 6E, which is 1201Mbps.
If you want the fastest router money can buy, there are faster Wi-Fi 6E routers and even some Wi-Fi 7 routers, like the TP-Link Archer BE800, but unless you have a multi-gig internet connection, it won't be worth the money. The Nighthawk RAXE300 is able to make use of the 6GHz band for the latest device while staying focused on the capacity it needs the most at 5GHz.
Get the right router for your internet speed
Getting the right router really comes down to your internet speed. If you've got a slower package, and you're happy with it, there's no need to spend hundreds on a top-of-the-line multi-gig mesh system. While just about any of the best Wi-Fi routers overall will work, for most people, the ASUS RT-AX57 strikes the right balance between features and speed without getting too expensive. Its AX3000 connection is plenty for most small to medium families and should even mostly keep up with a gigabit internet connection.
If you're a DSL customer, and you're renting a modem/router combo, called a gateway, from CenturyLink, you'll need to buy a modem to use your own router. You can plug a router right into the gateway, but then you're still paying for the rental, so it makes the most sense to get your own DSL modem as well. If you're on fiber, an ONT should convert the incoming fiber to Ethernet. Your new router can plug directly into this. Don't forget to return your rental router, or you'll have to pay for it.
Using your own router can not only improve your internet speeds, but it can also give you more control over your network. With a TP-Link Archer, Netgear Nighthawk, or ASUS router, you can change specific details such as bandwidth and channel selection, so you don't need to rely on the router's automatic optimizations if you don't want to wait. You can also stick to the app with all of these and let the router handle all the tricky settings on its own. Either way, using your own router from a reputable brand can lead to a better overall networking experience and puts you back in control of your home network.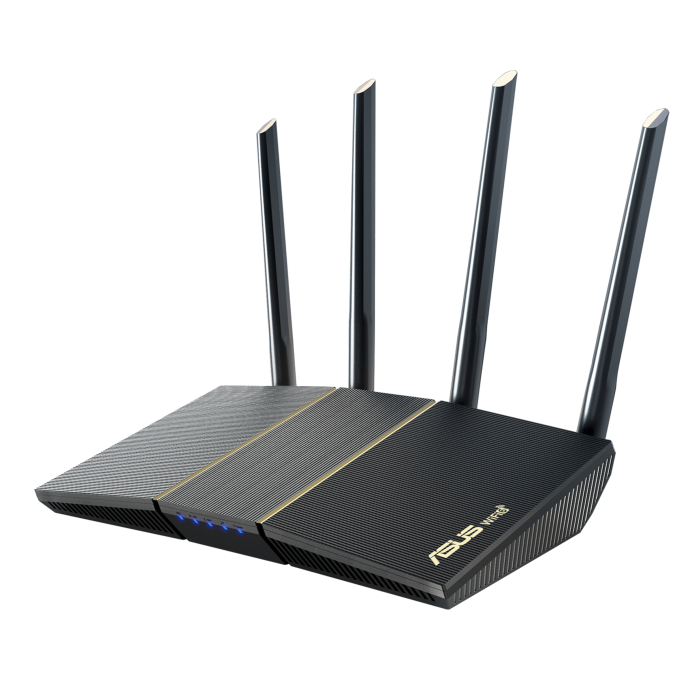 Asus RT-AX57
Best overall
Gigabit speed for less
The Asus RT-AX57 is a quick and affordable Wi-Fi 6 router with an AX3000 connection and easy setup with the ASUS Router app. You can even set it up in a web browser with access to advanced settings, AiProtection settings, and AiMesh.


** (Disclaimer: This video content is intended for educational and informational purposes only) **