Headphones have been around forever. You can trace them back all the way to 1891. But headphones that are waterproof, well, that is a much more recent invention. Waterproof headphones arrived in our lives around 2015. Since then, only a handful of manufacturers have ventured into creating the best waterproof headphones for swimming. These differ from the best over-the-ear headphones, or noise canceling headphones, which may have some water resistance, but not enough to be deemed "waterproof." For that, you want headphones that have at least an IP rating of IPX8 or higher. This means the headphones can withstand being submerged in at least one meters of water for up to a half hour.
The best waterproof headphones for swimming come in many shapes and styles. Two of the most popular iterations include your classic earbud style headphones, and bone-conduction headphones. Bone conduction leaves your ear canal open, and transmits sound using vibrations through the bones in your head. The idea here is, even if you get water in your ears, you can still hear your music, podcast, or audiobook, through bone-conduction.
Since your average headphones for working out aren't made for swimming, you'll want a pair of the best waterproof headphones for swimming below.
Our picks for the best waterproof headphones for swimming
Zygo Solo
Best overall
Superior underwater Bluetooth headphones
Utilizing a transmitter, the Zygo Solo waterproof headphones stream audio from your device, like your smartwatch or phone, to the headphones. This is great because you don't have to pre-load songs like other headphones. There's also a walkie-talkie feature so your swim coach can give you instructions while you're in the water.
Pros
Premium audio
Reliable Bluetooth transmission
Walkie-talkie
Zygo Solo utilizes the best parts of bone conduction and Bluetooth technology. Many swim proof headphones rely on an onboard MP3 player that you load music onto beforehand. That means you're limited to what you preload onto it. What happens when you get to the pool, and you suddenly want to listen to a different album than what is loaded on the MP3 player? Thanks to a powerful transmitter, you can stream music from any preferred streaming platform (Spotify, Amazon, your choice), to the headphones. This is a huge advantage compared to many headphones in this category where Bluetooth connectivity underwater can be unreliable.
If you're swimming for more than leisure, and have a swim coach, the walkie-talkie feature comes in handy. While you're in the pool swimming laps, your coach above water can give you lessons in real-time, so you don't have to break your stride to receive feedback. This helps you improve your technique while staying in the flow of the swim.
Compared to other options, these waterproof headphones are expensive. But the sound quality, the ability to stream whatever you want, and the walkie-talkie feature put these headphones head and shoulders above other options, and worth the extra coin.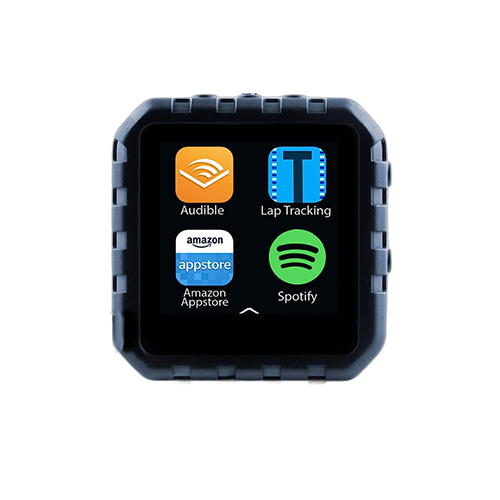 Waterproof Delphin v1.0
Premium pick
Lots of storage for non-stop listening
For those serious about their swimming performance, the Waterproof Delphin V1.0 has a built-in fitness tracker to go along with playing your favorite music. It also offers a hefty 12 hours of battery life and has an 8GB and 12GB option for music storage. 
Pros
Great battery life
Wi-Fi connectivity
8GB and 12GB storage options
You'll certainly prune up before the Delphin V1.0 needs a recharge. With 12 hours of battery life, this pair of headphones will last an entire triathlon, let alone a few laps at the pool. Along with the great battery life is good storage capabilities. You have two storage options, 8GB or 12GB, which is about 2,000, or 3,000 songs, respectively.
Taking music listening a step further, with Wi-Fi, you can listen to stored music on your preferred music apps like Spotify, or Audible, by downloading the streaming app on your player. This isn't a streaming option, but another way to listen to your music offline. The lightweight device easily clips to your goggles. You'll probably want to wrap the wire around your goggles or tuck it in your swim top to keep the wire from accidentally getting tugged while you're swimming. After your swim, you can see your progress thanks to a handy fitness tracker built into the device.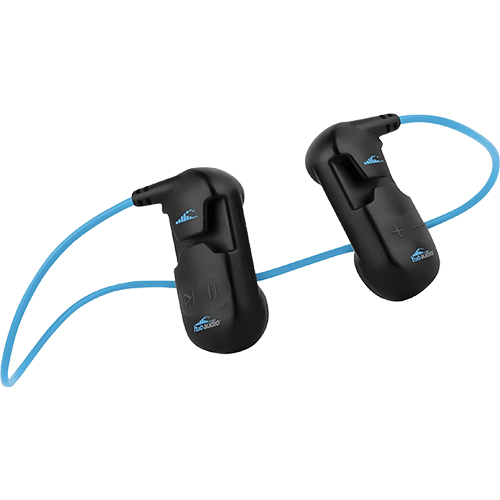 H20 Audio Sonar
Best value
Affordable way to listen to music underwater
The H20 Audio Sonar swimproof headphones have  a lightweight design conveniently clips to your goggles. The wrapping cord is nice and short and isn't distracting during swims. These headphones sport an IPX8 waterproof rating that can be submerged up to 12 feet and feature 8GB of MP3 storage.
Pros
IPX8 waterproof rating
iTunes compatible
Bluetooth and MP3 music storage
Cons
Bluetooth connectivity poor underwater
The H20 Audio Sonar swim proof headphones are plenty waterproof with an IPX8 waterproof rating. You don't even have to worry about diving into the pool thanks to the ability withstanding dive depths up to 12 feet. Not only can these headphones withstand depths at the pool, but they can also last quite a while with seven hours of continuous playback before needing a recharge.
The headphones feature a built-in MP3 player with 8GB of storage, which is approximately 2,000 songs worth of storage. When you're outside the pool, you can connect to a device, like your smartphone or smartwatch, via Bluetooth. But we wouldn't recommend attempting to swim using the Bluetooth as you might experience connectivity issues. The MP3 player is a more reliable way to listen to music underwater.
The design allows these headphones to quickly clip to your goggles and relax comfortably on your temples. The controls on the outside of each headphone are big and easy to control with one hand. For the money, these are a solid choice for swimming headphones.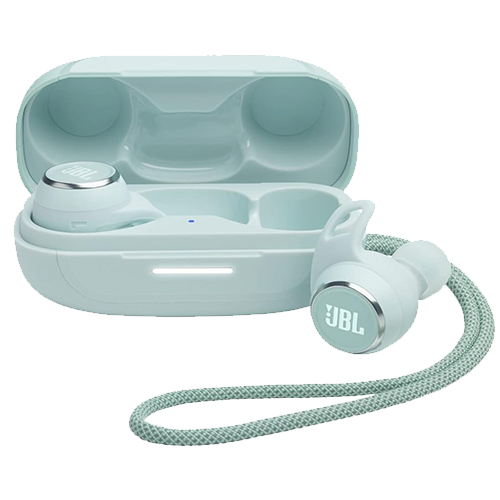 JBL Reflect Aero
Best earbuds
Earbuds that can handle getting wet
With an IP68 rating, these earbuds can be submerged under five feet of water for up to a half hour. Along with great waterproofing, you'll also enjoy ANC outside of the water and great sound quality outside of the water. Features like Ambient Aware also allow you to continue to hear your surroundings while enjoying what's playing.
Pros
Good sound quality
ANC
Ambient Aware (Transparency)
Cons
Bluetooth does not travel well in water
For those who are looking for daily driver headphones in and outside the pool, the JBL Reflect Aero are a great choice. Unlike bone-conduction waterproof headphones, that make up the majority of the swim proof headphone category, these maintain a traditional earbud-style design. That being said, if you plan on swimming wearing these headphones, be sure to wear them under a swim cap.
Speaking of swimming, with an IP68 rating JBL maintains that these can withstand depths up to five feet for up to an hour. As long as you aren't diving, you should be good. These buds also last up to eight hours on a single charge. That being said, these rely on an external audio streaming source, like your phone or smartwatch, and Bluetooth isn't reliable underwater. To combat this, you'll want to look into an extra waterproof watch, or a waterproof case for your phone to bring with you in the pool.
Outside the pool, you get to enjoy many of the features found in more traditional earbuds, such as active noise-canceling (ANC) to block out unwanted noise. There's also an Ambient Aware mode, that allows you to continue to hear your surroundings while listening to audio. This feature is great for when someone speaks directly to you, or you're running or cycling in the city and want to remain aware of your surroundings.
SHOKZ"" data-modal-id="single-image-modal" data-modal-container-id="single-image-modal-container" data-img-caption="""">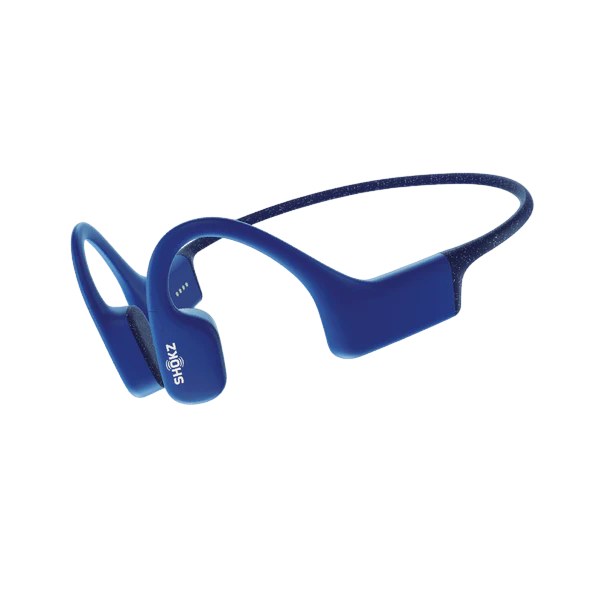 SHOKZ OpenSwim
Best bone conduction
A no-hassle, great fitting underwater headset
These bone-conduction headphones offer eight hours of battery life and an IP68 waterproof rating. That means it can withstand being under five feet of water for up to two hours. You can fit roughly 1,200 songs onboard thanks to 4GB of storage. Without any wires, these are a strong candidate for a hassle-free swim.
Pros
Great design
Great batter life
IP68 waterproof
Cons
Not as much storage as others
These bone-conduction style headphones are a great choice for swimmers. The light design doesn't have any dangling wires and securely grips to your head for solid bone conduction audio transfer. It's an all in-one device that has a built-in MP3 player for music storage. It can hold 4GB of audio, or roughly 1,200 songs. While it's great to have an all-in-one device, others provide more music storage.
The Shokz OpenSwim sports eight hours of battery life. That's plenty of battery to get through your swim routine at the gym. With the onboard music player, the earbuds also have convenient controls on the right side behind the ear notch. These controls let you conveniently skip, play and pause songs, even while you're in the water.
These headphones rely entirely on the onboard MP3 player for audio streaming. There isn't any Bluetooth connectivity available. So, you won't be able to stream music from your phone or computer, nor take phone calls by connecting to your phone. But if you're in the market for headphones for strict use in the pool, these are a solid option.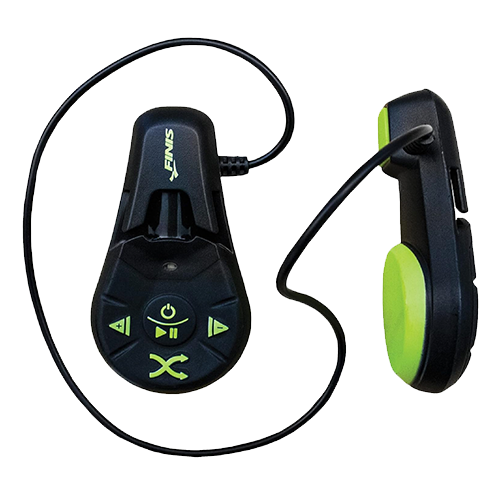 FINIS Duo
Best all-in-one
Affordable all-in-one swim tech
These swimproof headphones have 4GB of storage, which holds roughly 1,200 songs. These also sport seven hours of battery life. You'll likely prune up before your battery gives way. The large controls make it easy to navigate through your songs with little hassle.
Pros
Good battery life
All-in-one design
Affordable
These waterproof headphones sport an all-in-one design, meaning you have everything you need to listen to music while swimming. With a built-in MP3 player, you can store roughly 60 hours of music on the device. And with seven hours of battery life, you'll have plenty of both for your laps session at the pool.
A waterproof rating of IPX8 means they can handle plenty of water. The manufacturer maintains they can be submerged to three meter depths for up to 30 minutes without any issue. So you don't have to worry about diving head first into the pool while wearing the FINIS Duo. Although the design is rather bulky, the controls on the side of the earbud are easy to find and use, especially while you're swimming. This helps keep you in the flow without fiddling with your tech.
If you're uploading music to the device, you want to make sure the file format is MP3. No other file formats are supported. It's also compatible with iTunes for quick music uploading.
nSource:
Jaybird
"" data-modal-id="single-image-modal" data-modal-container-id="single-image-modal-container" data-img-caption=""Source:
Jaybird
"">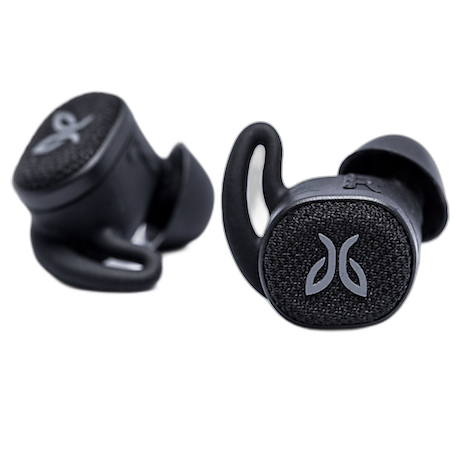 The JayBird Vista 2 earbuds are waterproof, sweatproof, and have a military-grade build, making them the right choice for the gym or track.
Source:
Jaybird
Jaybird Vista 2
Best under swim cap
Better above sea, but can still swim
$115 $150 Save $35
With a traditional earbud style waterproof headphone design, these earbuds offer great features in and out of the water. You can expect roughly eight hours of battery life and thanks to bluetooth connectivity, you can stream whatever you want from your preferred streaming platform. Outside of the water, you can also enjoy ANC and noise transparency to hear your surroundings.
Pros
ANC and transparency
Comfortable fit
Good battery life
Cons
Bluetooth not reliable beyond certain depths
Sure, these earbuds have the necessary waterproof rating to withstand some light swimming, but the full suite of capabilities offered by the Jaybird Vista 2 are enjoyed on dry land. It starts with customizable EQs to curate the sound profile that best fits your audible preferences. There's also locating technology to help you find a misplaced earbud, which can be especially helpful for those of us who forgetfully take out an earbud and forget to put it back in the case.
You can expect about eight hours of battery life. The case has wireless charging capabilities, which is convenient. As for the pool, it does have an IP68 waterproof rating, but with the wireless connectivity, we do recommend putting these under a swim cap. Also, it should be noted that Bluetooth doesn't travel well through water. Your best bet is to invest in a waterproof case for phone or smartwatch (if it's not waterproof already) and swim with that device as well. If not, no more than recreational swimming should be done with these earbuds.
The bottom line: these are great earbuds for an active person. They can be a great dry-land training companion, but pool use is more of a recreational endeavor, as these are not suited for rigorous amounts of pool time.
FINIS Amnis Stream Swim Bluetooth Headphones
Best goggle attachment
Listening and swim tracking
The FINIS Amnis Stream Swim is compatible with both Apple and Garmin watches. What's great about this is not only do you get to listen to your music while swimming, but also track your swim simultaneously. The watch comes with a set of clips that allows you to clip your watch to your Goggles along with your headphones to reduce the chance of Bluetooth disconnection.
Pros
Works with Apple and Garmin watches
IPX8
Affordable
If you're looking for a streamlined approach to listen to music and track your workouts, the FINIS Amnis Stream Swim is a smart solution. The idea is that you can take your Apple or Garmin watch, and with the included set of clips, you can attach your watch, along with the headphones to your goggles. So now you can track your workout and listen to music.
Although it connects through Bluetooth to your Apple or Garmin watch, you'll still want to download your songs from your preferred music streaming app and listen offline. You'll be able to listen and swim for up to five hours without a charge. The battery life isn't as good as others, but five hours in the pool is still plenty of time. The IPX8 waterproof rating means at minimum, it can withstand going below one meter of water for up to 30 minutes.
Overall, this is an affordable way to not only listen to music underwater, but also utilize your smart device to track your progress as well.
The Best waterproof headphones for swimming in 2023: final thoughts
Sound and water were once like oil and water – they didn't mix. Now with increased waterproof technology, you can take your music from land to the sea. The best ones for the job are the Zygo Solo. They fit comfortably, sound good, and have an additional walkie-talkie feature that allows a coach, or someone else, to communicate with you even while you're underwater.
If you find those waterproof headphones are a bit out of your price range, consider the Waterproof Delphin V1.0. They are a little cheaper, and have 8GB and 12GB storage options for anywhere between roughly 2,000 and 3,000 songs. And if those are still too hefty on the wallet, consider the H20 Audio Sonar. These headphones have on-board storage for swimming and Bluetooth connectivity for outside the pool, and they have great battery life as well.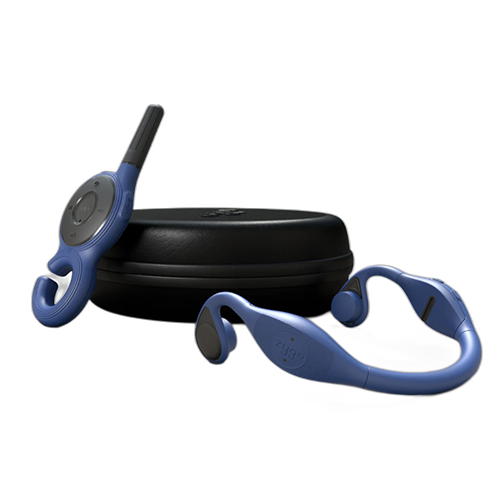 Zygo Solo
Best overall
A true underwater Bluetooth device, the transmitter helps relay Bluetooth signal to the headphones, so you can stream music without interruption. These are the only swim proof headphones with reliable Bluetooth connectivity.