When it comes to buying a gaming GPU, you probably have a lot of factors to consider — performance, VRAM, cooling, price, and looks. While there are a lot of options available from multiple brands, the number still seems lacking if we talk about white graphics cards. Whether it's due to lower demand or other logistical issues, white GPUs are comparatively harder to find.
For those of you building a new PC around an all-white theme, or simply looking to give your existing PC a makeover, I've put together the best white graphics cards you can purchase today. You might have to wait for one or two of these to come back in stock, but it's going to be worth it.
Our selection of the best white graphics cards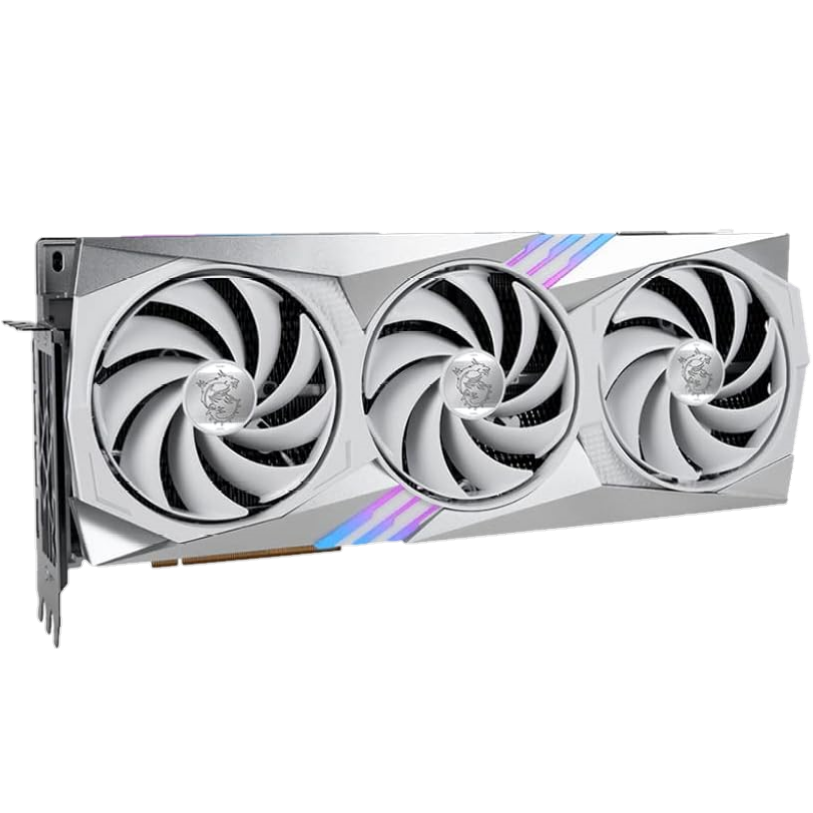 Source: Amazon
MSI Gaming X Trio White GeForce RTX 4080
Editor's pick
You don't need anything more
MSI's Gaming X Trio series is one of the best out there and their white variant for the RTX 4080 is undoubtedly one of the most stunning models you can get your hands on. Powerful enough to drive the highest framerates at both 1440p and 4K, this card will easily be the showstopper in your white gaming PC.
Pros
Stunning white design with subtle RGB
Capable of 4K high FPS gaming
Top-notch thermals and noise levels
Cons
Too expensive compared to RTX 3080
No DisplayPort 2.0
If you're building a new PC around a white aesthetic, chances are that you're willing to spend on a high-end graphics card. As things stand in 2023, Nvidia's GeForce RTX 4080 is one of the most potent options available, no matter what kind of games you're targeting. It's even my top recommendation among the only GPUs you should buy for Cyberpunk's path tracing mode. Choosing the best RTX 4080 variant, that too in white, is tough, but I can confidently crown the MSI Gaming X Trio White as the winner.
Now, this card doesn't come cheap. It's $100 more than the RTX 4080's MSRP, and besides, even $1,200 is no joke when spending on a graphics card. But, considering the remarkable performance you're getting combined with the 16GB VRAM, you're all set for top-of-the-line performance for at least two to three years to come. This Gaming X Trio model is known for its high-end construction, impressive cooling, and of course, the stunning white design peppered with RGB streaks.
Even if you don't have a 4K gaming monitor now, the RTX 4080 will easily generate triple-digit framerates when you eventually make the monitor upgrade. Thanks to Nvidia's Ada Lovelace architecture, the RTX 4080 allows both DLSS and Frame Generation to fully demonstrate their prowess in demanding titles like Cyberpunk 2077 and Alan Wake 2.
And, whether you stay with the same build for the next few years or decide to switch cases or make a platform upgrade, the MSI Gaming X Trio White RTX 4080 will not lose its sheen. Plus, it's one of the best picks for the vertically-mounted-GPU enthusiast.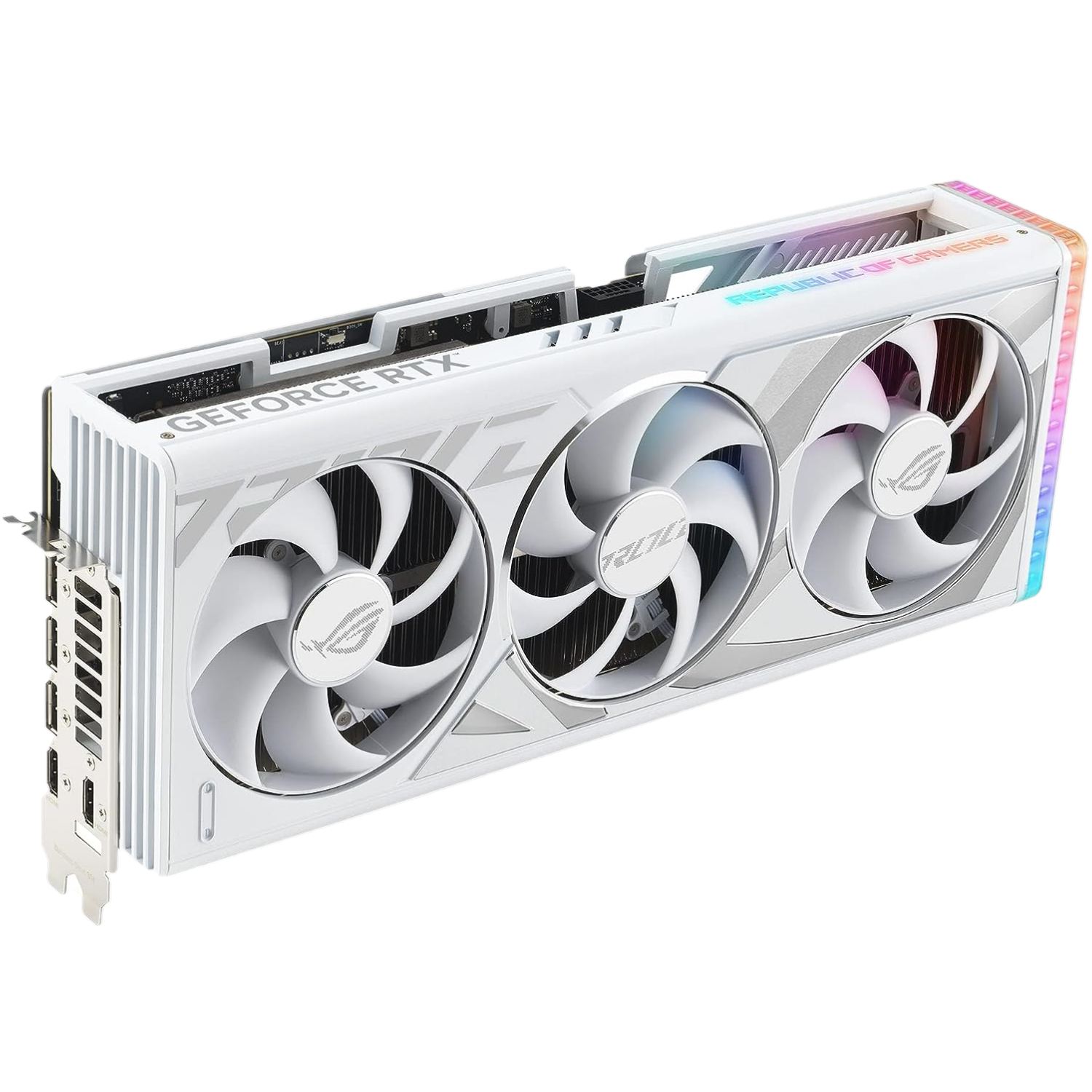 Source: Amazon
ASUS ROG Strix GeForce RTX 4090 White OC Edition
Best for 4K
The king of kings
If the absolute best performance is what you need, the ROG Strix GeForce RTX 4090 White OC Edition is the only choice. It not only smashes every other card on the market in performance but also features one of the best white design implementations as well.
Pros
Most powerful card on the market
Breathtaking white design with RGB
Phenomenal cooling solution
Cons
Overkill for most gamers
Prohibitively pricey
Availability issues
If you're not impressed with anything but the absolute best, then the GeForce RTX 4090 is currently the most powerful gaming graphics card on the market. As for the best RTX 4090, what better contender than the Asus ROG Strix RTX 4090 White OC Edition to vie for the top performer crown? The ROG Strix cards have always pushed the boundaries of both raw power and advanced cooling. It's the same story with their RTX 4090 model, which has, frankly, overkill components, and looks a class apart from any other card on the market.
Let's start with dissecting the design of this beast. The massive die-cast shroud, vented backplate, and triple fans together form the gorgeous exterior of the card. Tasteful RGB lighting is injected into the "REPUBLIC OF GAMERS" text as well as the side perimeter of the card. Beneath this eye-catching exterior, one of the biggest GPU heatsinks provides heft to the overall construction, and contributes to the class-leading boost clocks and TGP the card is known for.
Even among the other RTX 4090s out there, the Strix White OC Edition manages to stand apart, as its meticulous engineering allows the GPU to push itself to its limits. While it's boosting up, the temps as well as noise levels always stay comfortably in control, giving no indication of what's going on underneath.
This premium experience doesn't come cheap, making the card borderline unsuitable for the vast majority of gamers. You don't need an excessively powerful cooling system or such a striking design to extract the best gaming experience possible, but the Asus ROG Strix RTX 4090 White OC Edition is well worth the investment for those who can't bear to make a single compromise.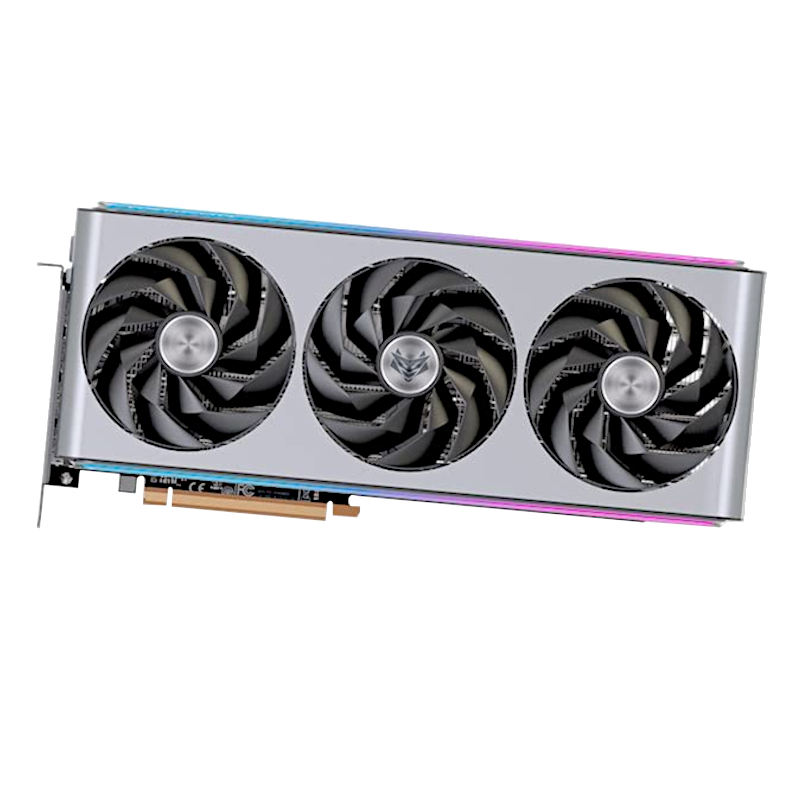 Source: Sapphire
Sapphire Nitro+ Radeon RX 7900 XTX
Best high-end
The best AMD has to offer
$1030 $1080 Save $50
The Sapphire Nitro+ Radeon RX 7900 XTX is one of the best graphics cards featuring AMD's flagship GPU. It might not technically be a white card, but its non-black, silvery finish and RGB design come awfully close, making it ideal for any white-themed build.
Pros
Incredible 4K performance
Gorgeous design with RGB
Unbelievably cool and quiet
Cons
Poor ray tracing performance
Still needs to be cheaper
AMD's efforts to make a comeback in the desktop GPU market reached a satisfying conclusion with its RDNA 3 architecture. And, the Radeon RX 7900 XTX, their most powerful graphics card ever, is truly a remarkable product, save a few caveats. With the RX 7000 series, AMD is finally competing with Nvidia at multiple price points. The Sapphire Nitro+ Radeon RX 7900 XTX offers raw performance similar to the GeForce RTX 4080 while costing significantly less.
This Sapphire Nitro+ variant is not your traditional white variant, but I still had to choose it over the other, technically white, options. This is due to its non-black, wraparound shroud which exudes a silvery luminance, and would look great in any case. Furthermore, it boasts dual RGB light bars on two of its sides, complementing its metallic shroud perfectly. The internals of the card are equally impressive — a massive heatsink carefully designed to maximize cooling. And it definitely shows. The card stays incredibly cool and silent even under heavy load.
As you'd expect, when it comes to rasterized, non-RT gaming performance, the RX 7900 XTX is neck and neck with the RTX 4080. Comparing the two cards on price, this is a massive win for the AMD card. But, in ray tracing titles, especially the most demanding ones, the RX 7900 XTX begins to lose some of its sheen. Nvidia's ray tracing capabilities are still superior, plus their new Frame Generation and DLSS tech is also better than AMD's FSR, providing solid FPS boosts without giving rise to too many visual artifacts.
If you're not overly interested in the few ray tracing–focused games, then the Sapphire Nitro+ Radeon RX 7900 XTX is an easy recommendation. Its value proposition surpasses that of anything from Nvidia, especially at the $1,000 mark and above. It does need to be a bit cheaper, still, to spur gamers to switch to the red team.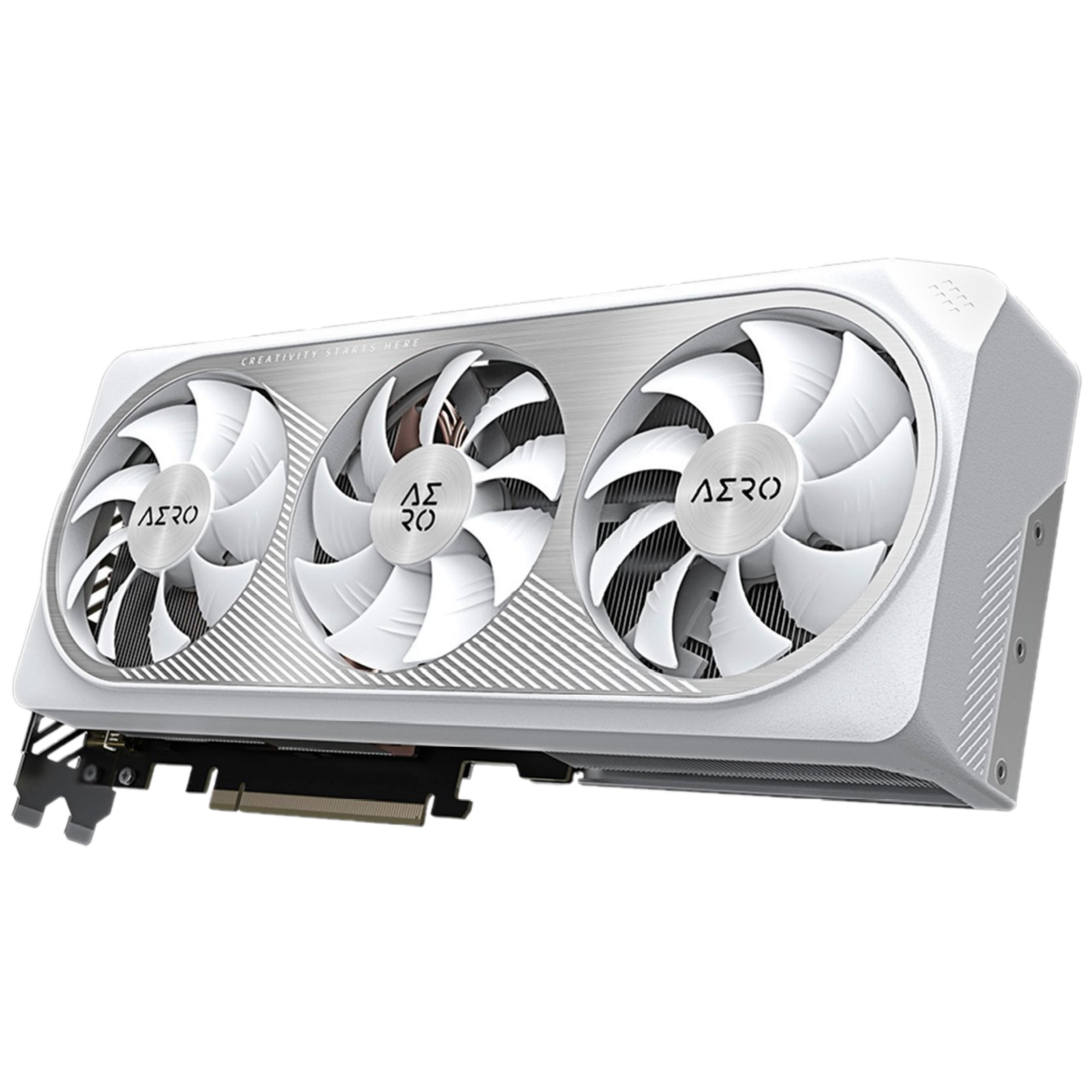 Source: Best Buy
Gigabyte GeForce RTX 4070 Ti AERO OC V2
Best for 1440p
The people pleaser
The Gigabyte GeForce RTX 4070 Ti AERO OC V2 delivers exceptional performance for the price while sporting a minimalist white design. It runs cool and silent, packs powerful 1440p performance, and looks great in both horizontal and vertical orientations.
Pros
Perfect for high-end 1440p gaming
Beautiful white design
Cool and silent
Cons
4K performance is lacking
Slightly expensive for a 4070 Ti
Nvidia's top-of-the-line RTX 4090 and RTX 4080 might be worth the investment for some, but not for everyone else. The RTX 4070 Ti, however, lies in that sweet spot of performance and price, where it doesn't hurt to put it in any upper mid-range build. The Gigabyte GeForce RTX 4070 Ti AERO OC V2 further sweetens the deal with its minimalist yet arresting white design. What's more, the bits of silver accents make it look like moonstone.
While its visual props and build quality ooze a touch of class and excellence, the performance you're getting is nothing to be scoffed at. It might not be as fast as the RTX 4080, but it can easily handle anything you throw at it, delivering 70–90 FPS on average even in Cyberpunk 2077 path tracing (supported by Frame Generation, of course). Barring such edge cases, you can expect high triple-digit FPS in the majority of the titles.
The Gigabyte AERO OC V2 model isn't lacking in cooling capabilities either. Featuring a very capable cooling setup including a vapor chamber, a beefy heatsink, and three striped fans, the card is able to stay deceptively cool and quiet under heavy loads. Besides these features, you're also getting dual BIOS (OC/Silent), a touch of RGB, and an anti-sag bracket. All combined, this makes the Gigabyte AERO variant one of the best RTX 4070 Ti cards out there, if not the cheapest.
The RTX 4070 Ti GPU isn't without its faults, considering Nvidia crippled its memory bus resulting in a sub-par memory bandwidth for an $800 GPU. This becomes an issue at 4K resolution and not so much at 1440p. Hence, if the latter is all you're concerned about, you can surely consider buying this powerful and beautiful graphics card for your next build.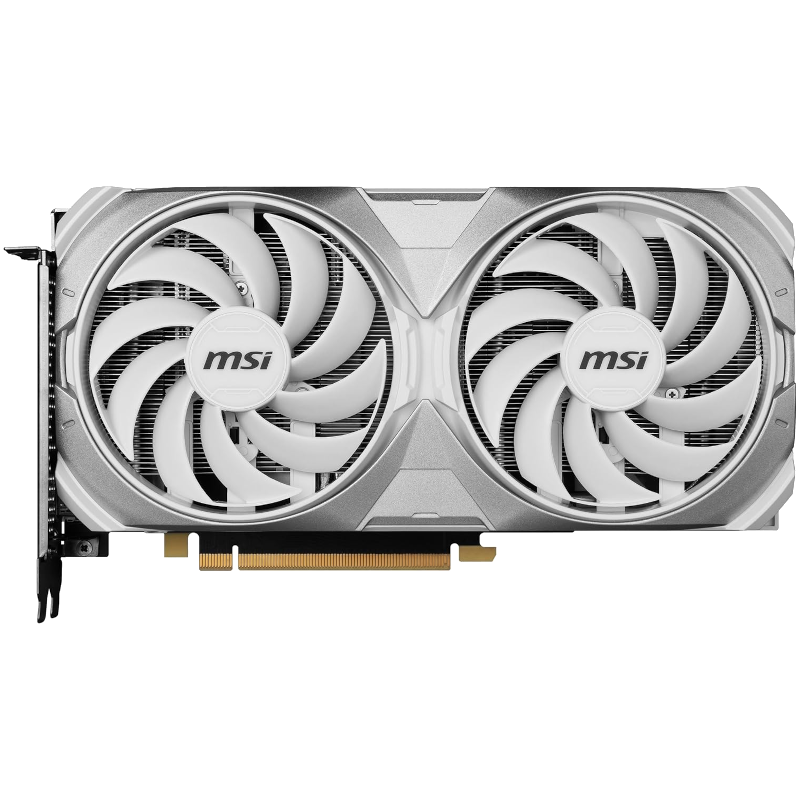 Source: MSI
MSI Gaming GeForce RTX 4070 Ventus 2X White OC
Best compact
Affordable yet powerful
$550 $620 Save $70
The MSI Gaming GeForce RTX 4070 Ventus 2X White OC provides gamers with a fantastic option to enjoy Nvidia's latest architecture. Affordable, great-looking, and providing great performance for the price, it's a solid option for any mid-range gaming PC.
Pros
Great 1440p performance
Impressive white design
Ideal for small cases
Cons
Unimpressive cooling
Not suitable for 4K
Moving further down Nvidia's product stack, we arrive at the GeForce RTX 4070, the near-$500 offering from team green that many gamers pinned their hopes on. And, for the most part, it proved itself as a dependable performer for 1440p gaming, allowing gamers one of the best price-to-performance ratios among all 40 series cards. Sure, you'll have to turn down a setting here and there to achieve consistent 60+ FPS in modern games, but you won't be disappointed by the results at all.
The MSI Ventus 2X White OC variant is a silvery-white apparition of a graphics card, featuring a sturdy shroud and a gorgeous backplate. The dual-fan design is both compact and more than capable of cooling the RTX 4070 GPU during gaming sessions. The RTX 4070 isn't a particularly power-hungry GPU but still manages to beat the last-gen RTX 3080, albeit by only a small margin. All the software wizardry of DLSS and Frame Generation are seen in action here as well, providing a significant boost to your gaming performance.
If you're targeting a $500-$600 GPU for a mid-range build in 2023, and also want an eye-catching white design while you're at it, this MSI variant perfectly fits the bill. You're getting a factory-overclocked RTX 4070 GPU, a compact yet capable cooling system, and a design that could work in both white and black-themed builds. It might not be one of the absolute best RTX 4070 graphics cards, but with its white design, it has its place on the market.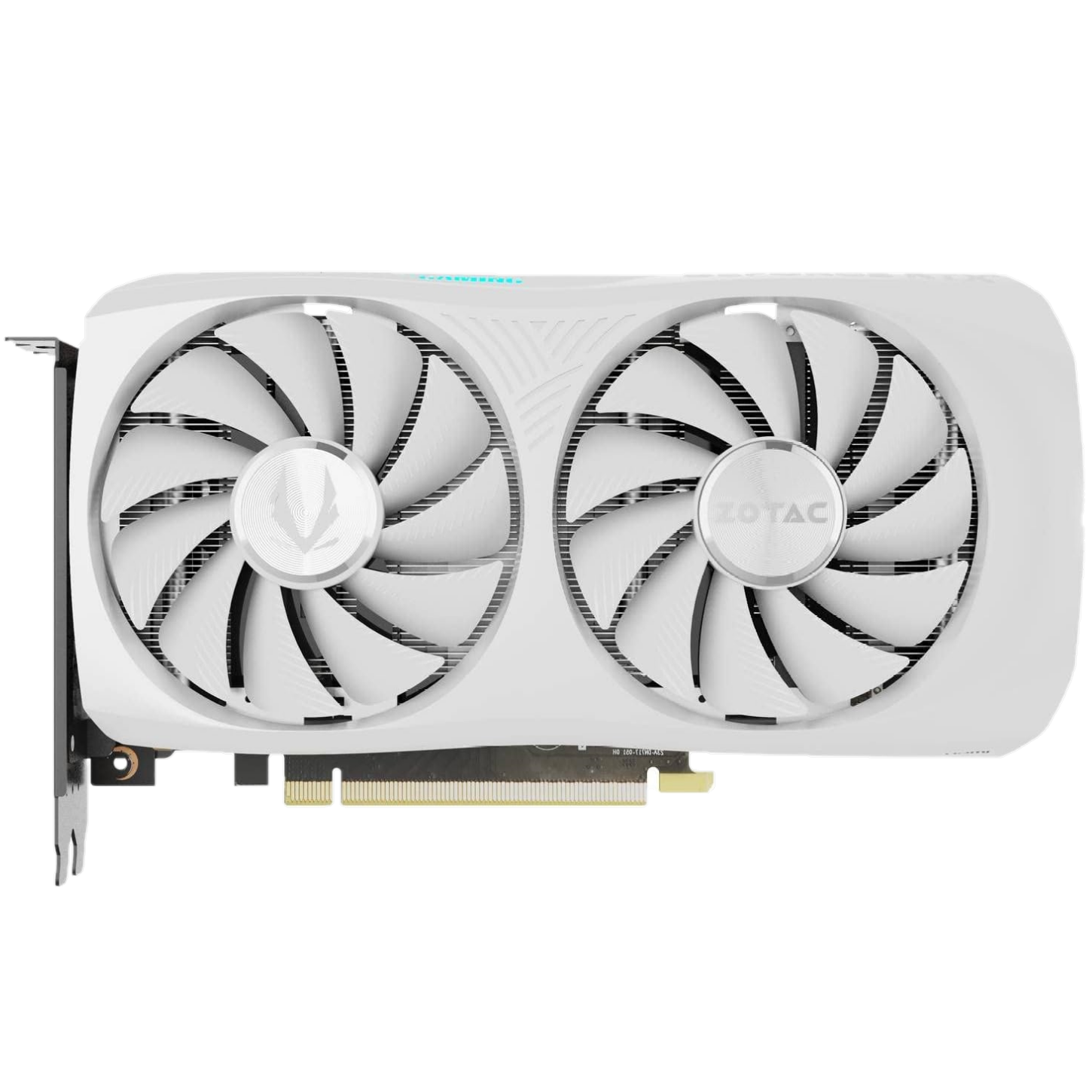 Source: Amazon
Zotac Gaming GeForce RTX 4060 Ti Twin Edge OC White Edition
Best for 1080p
Packs a punch
$420 $440 Save $20
Zotac's RTX 4060 Ti Twin Edge OC comes in a striking white design and will easily fit in any case. One of the most affordable GPUs from Nvidia's latest lineup, the RTX 4060 Ti is a capable 1080p GPU supported by Nvidia's Frame Generation and DLSS technologies.
Pros
Capable for 1080p gaming
Unique white design
DLSS 3 and Frame Generation
Cons
Barely faster than RTX 3060 Ti
Not recommended for ray tracing
8GB VRAM is limiting
1080p is still the preferred resolution for 59% of gamers, as shown by the latest Steam Hardware & Software Survey. Whether you swear by 1080p due to the superior FPS in eSports titles or your upgrade plans are still far out in the future, the RTX 4060 Ti is a great GPU to power your gaming needs. Despite a few limitations, it's still part of Nvidia's 40 series lineup, enjoying the latest DLSS and Frame Generation tech to boost FPS, even if you might not need the help at 1080p.
This particular variant, the Zotac Twin Edge OC White Edition, is easily one of the best-looking cards on the market, thanks to Zotac delivering consistently on their card designs. With a unique, curvy white design featuring subtle RGB lighting, the card belies its affordable price. The twin fan build is compact enough to easily fit inside any case, making drop-in upgrades even simpler. The cooling system here is more than sufficient to keep things cool and quiet in gaming.
It might not be the best RTX 4060 Ti GPU if you go by its boost clock, but it more than makes up for it with its looks and great performance, despite the 8GB VRAM. Zotac is known for its incredible value and best-in-class warranty, so you know you're getting a good deal. The RTX 4060 Ti might not be a huge jump over the previous-gen RTX 3060 Ti, but for a small premium, it brings the latest architectural improvements to your gaming build.
Which white graphics card should grace your gaming rig?
Amid so many impressive white design avatars, it's hard to pick one outright winner. But if you want flagship-grade performance as well as a premium design, the MSI Gaming X Trio White GeForce RTX 4080 is easy to recommend. The design language here is first-rate without being too loud, and it has the second-fastest gaming GPU in the world. Thanks to the superior 4K performance and the equally top-notch thermals and noise levels, you can forget about upgrading your graphics card for the next few years.
For the enthusiasts among you, there's really no competition when it comes to the leader of the pack. The Asus ROG Strix GeForce RTX 4090 White OC Edition is a gorgeous monster of a card featuring Nvidia's most powerful GPU to date. Whether it's unparalleled gaming experiences or professional workloads you're after, the ROG Strix White OC Edition can cut through anything while looking like a dream. It is frequently out of stock, so you might have to keep track of listings a tad bit more.
The Gigabyte GeForce RTX 4070 Ti AERO OC V2 is the one to buy if you're looking for a 1440p top performer. It's relatively more affordable, can breeze through demanding ray tracing titles, and its white theme implementation is one of the best I've ever seen.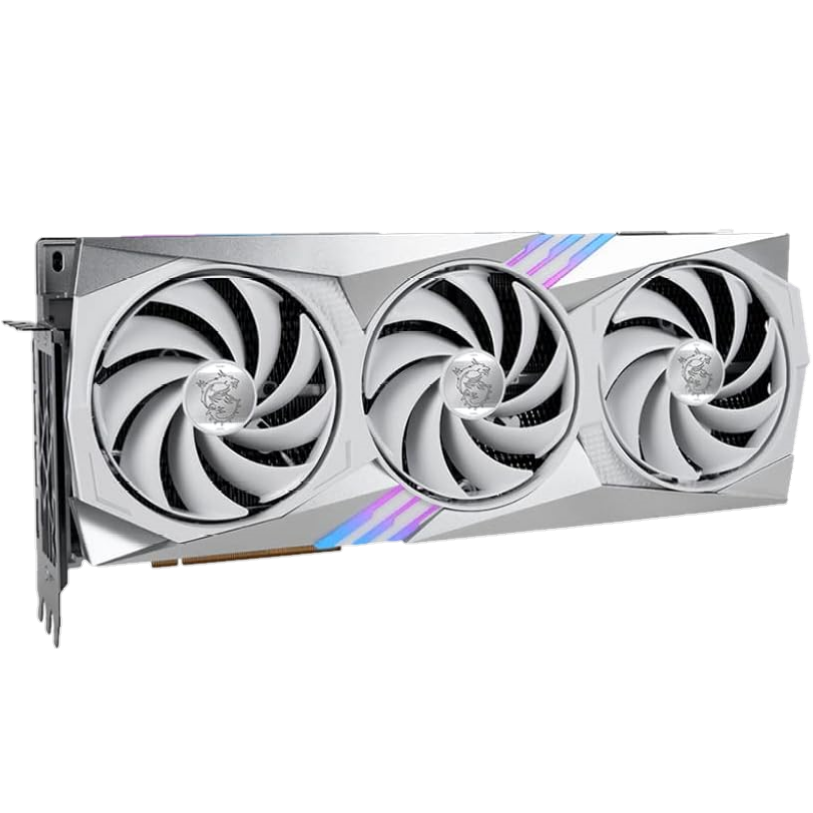 Source: Amazon
MSI Gaming X Trio White GeForce RTX 4080
Editor's pick
The MSI Gaming X Trio White OC Edition for the RTX 4080 is undoubtedly one of the most stunning models you can get your hands on. Powerful enough to drive the highest framerates at both 1440p and 4K, this card will easily be the showstopper in your white gaming PC.
** (Disclaimer: This video content is intended for educational and informational purposes only) **