Quick Links
The budget-minded ThinkPad E14 is nothing new for the ThinkPad family, and it's been a popular choice for those who need the ThinkPad's trademark durability, security, and keyboard without spending thousands. Lenovo makes plenty of high-end ThinkPads and other great laptops — like those from the X1 series — so it only makes sense that there are some quality options at the other end of the spectrum.
However, last year's E14 (Gen 4) was a bit stale with its 16:9 aspect ratio and TN display option, but most of the pain points have been remedied for this 2023 release. The ThinkPad E14 (Gen 5) is still well within the affordable range despite these improvements, but is it the perfect business laptop for you?
About this review: Lenovo provided XDA with a review unit of its ThinkPad E14 (Gen 5) for 2023. It had no input on the contents of this article.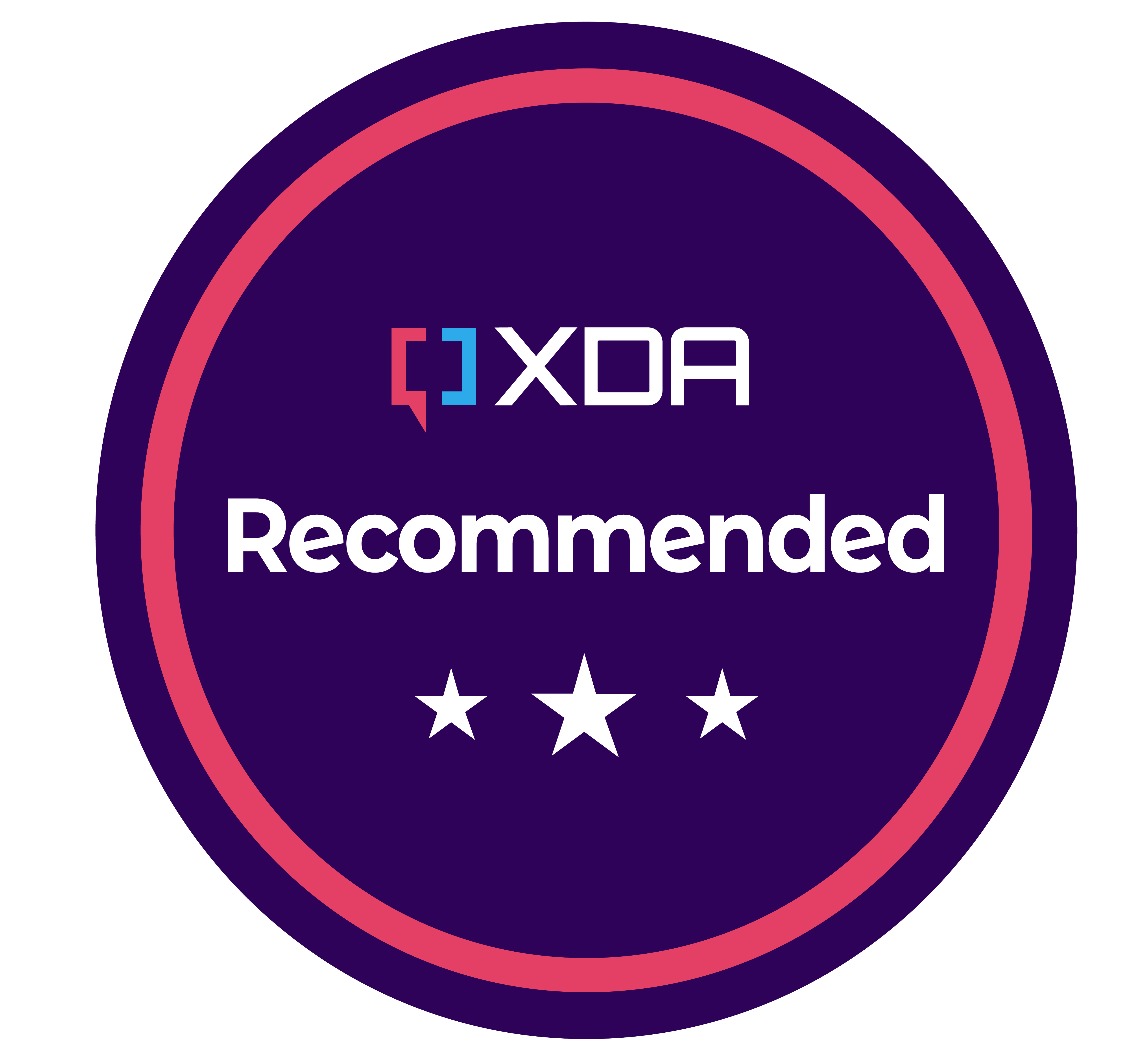 ThinkPad E14 Gen 5
A great, affordable ThinkPad
Big changes for the fifth generation
$575 $1045 Save $470
Lenovo's ThinkPad E14 (Gen 5) received a significant overhaul for this generation, making it a better value than ever. Any professionals who need a durable laptop with outstanding keyboard, lots of ports, a spacious 16:10 display, and impressive 13th Gen Intel Core performance for well less than $1,000 should give it a look.
Operating System

Windows 11 Pro

CPU

Up to Intel Core i7-13700H (6 P-core + 8 E-core)

GPU

Integrated Intel Iris Xe

RAM

Up to 48GB DDR4-3200MHz (16GB Soldered + 32GB SODIMM)

Storage

Up to two 1TB SSD (M.2 2242 PCIe Gen4 and Gen3)

Battery

3-cell 47Wh or 57Wh

Display (Size, Resolution)

14-inch WUXGA (1920×1200), IPS, anti-glare, 300 nits peak brightness, 60Hz; touchscreen optional

Camera

Up to 1080p RGB/IR hybrid with microphone

Speakers

Dual 2W, Dolby Atmos

Colors

Black

Finish

Either PC/ABS or Aluminum
Pros
Performance out of its price range
Extra USB-C 3.2 (Gen 2) port
Taller 16:10 display aspect ratio, new 2.2K option
One of the best keyboards around
Dolby Atmos and Dolby Voice now included
Cons
USB-A 2.0 is an odd choice, would rather have an SD slot
Poor display color reproduction
Battery struggles to hit eight hours
Pricing and availability
The Lenovo ThinkPad E14 (Gen 5) is available with AMD and Intel hardware, although we have the Intel CPU in our review unit. Lenovo offers an impressive amount of configuration options at its official site, with everything from performance hardware to case material to camera. My review unit has a 13th-generation Intel Core i7-1335U with vPro Essentials, Windows 11 Pro, 16GB of DDR4-3200 RAM (2x8GB), a 512GB M.2 PCIe 4.0 NVMe SSD, 14-inch 1920×1200 touch display, 1080p webcam, fingerprint reader, aluminum base, backlit keyboard, and 47Wh battery. At the time of writing, it costs about $963, discounted in the usual Lenovo fashion from the regular $1,751 price.
Even my fairly high-end ThinkPad E14 (Gen 5) review unit costs well less than $1,000.
The Intel-based ThinkPad E14 (Gen 5) starts at about $575 at Lenovo's site. These introductory models have a Core i3-1315U CPU, 8GB of RAM, 256GB M.2 PCIe 4.0 NVMe SSD, FHD+ non-touch display, 720p webcam, 47Wh battery, aluminum base, and no keyboard backlight.
You can also find this laptop at many third-party online retailers, including Amazon, Best Buy, and B&H. For example, an exact copy of my review unit is available at Amazon for about $916. That's about $50 less than at Lenovo. AMD-based ThinkPad E14 (Gen 5) models are also available, and you'll generally find that prices are lower than models with Intel CPUs.
Design and features
Lighter package, more ports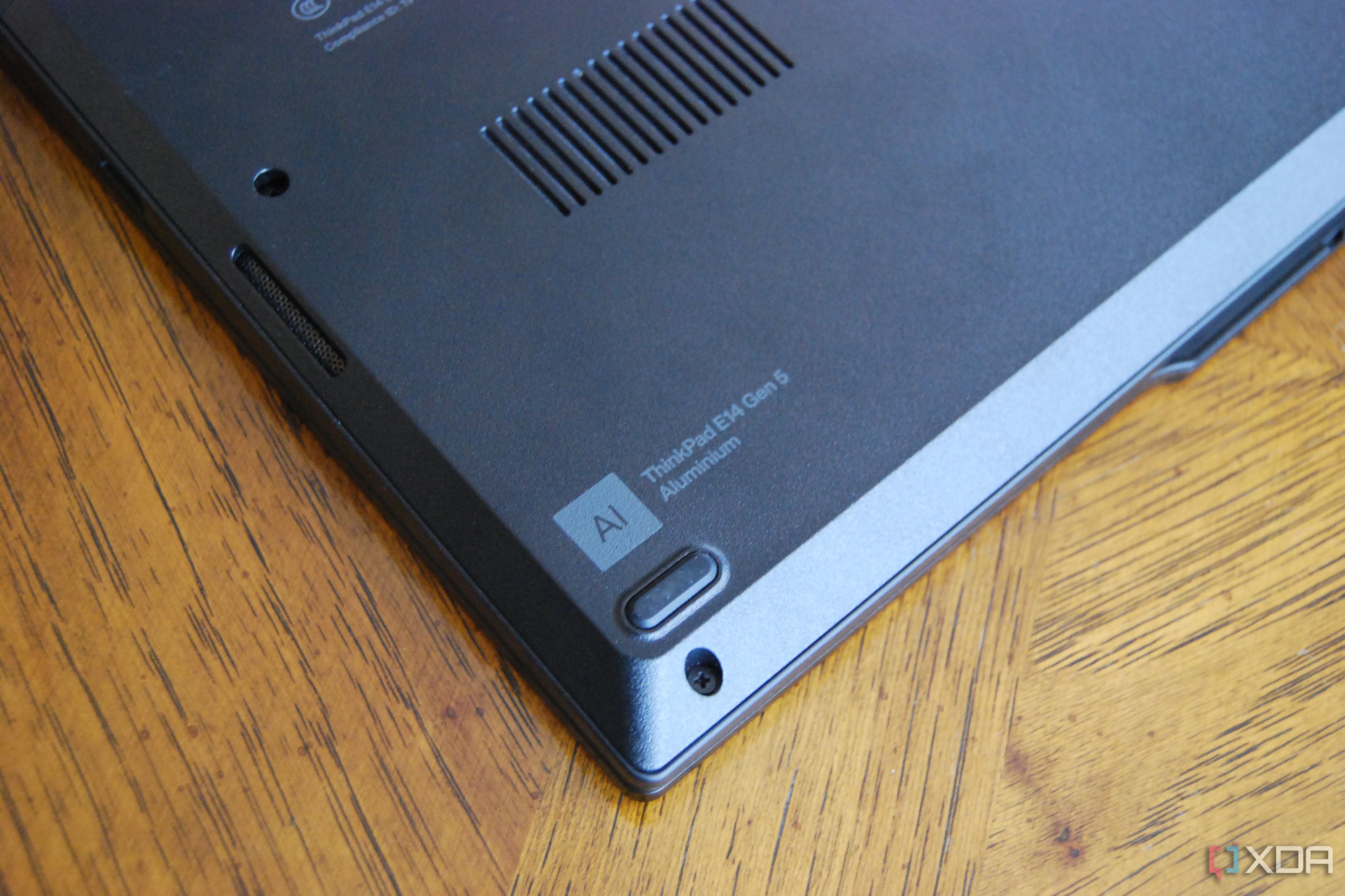 The ThinkPad E14 has now entered its fifth generation for 2023, and the new model comes with some significant upgrades compared to the previous generation. Aside from the performance hardware changes, here's a quick rundown of the design and feature changes in the E14 (Gen 5):
Dual 2W speakers now have Dolby Atmos
Dual far-field microphones now have Dolby Voice
New 16:10 aspect ratio with three new display options
The touchpad is 15mm wider and 1mm shorter
The chassis now weighs about a half-pound less
Extra USB-C 3.2 (Gen 2) port with data, power, and video capabilities now included
Kensington lock slot is now "Nano" style
The ThinkPad E14 (Gen 5) has had its width and depth shaved down just a bit, but its thickness is about the same, depending on your material choice. All models come with an aluminum lid, but you can choose between plastic and aluminum for the bottom panel (it will also change based on some other choices). Lenovo managed to cut the weight down by about a half pound, so it now weighs around 3.15 pounds, even with an all-metal configuration.
The keyboard feels more like plastic, and it flexes in my hands when pressured. It's not an alarming amount, and there's a definite stopping point. The power button is embedded in the top-right corner; my unit has the fingerprint sensor included for Windows Hello sign-ins. It's quick and gave me no issues.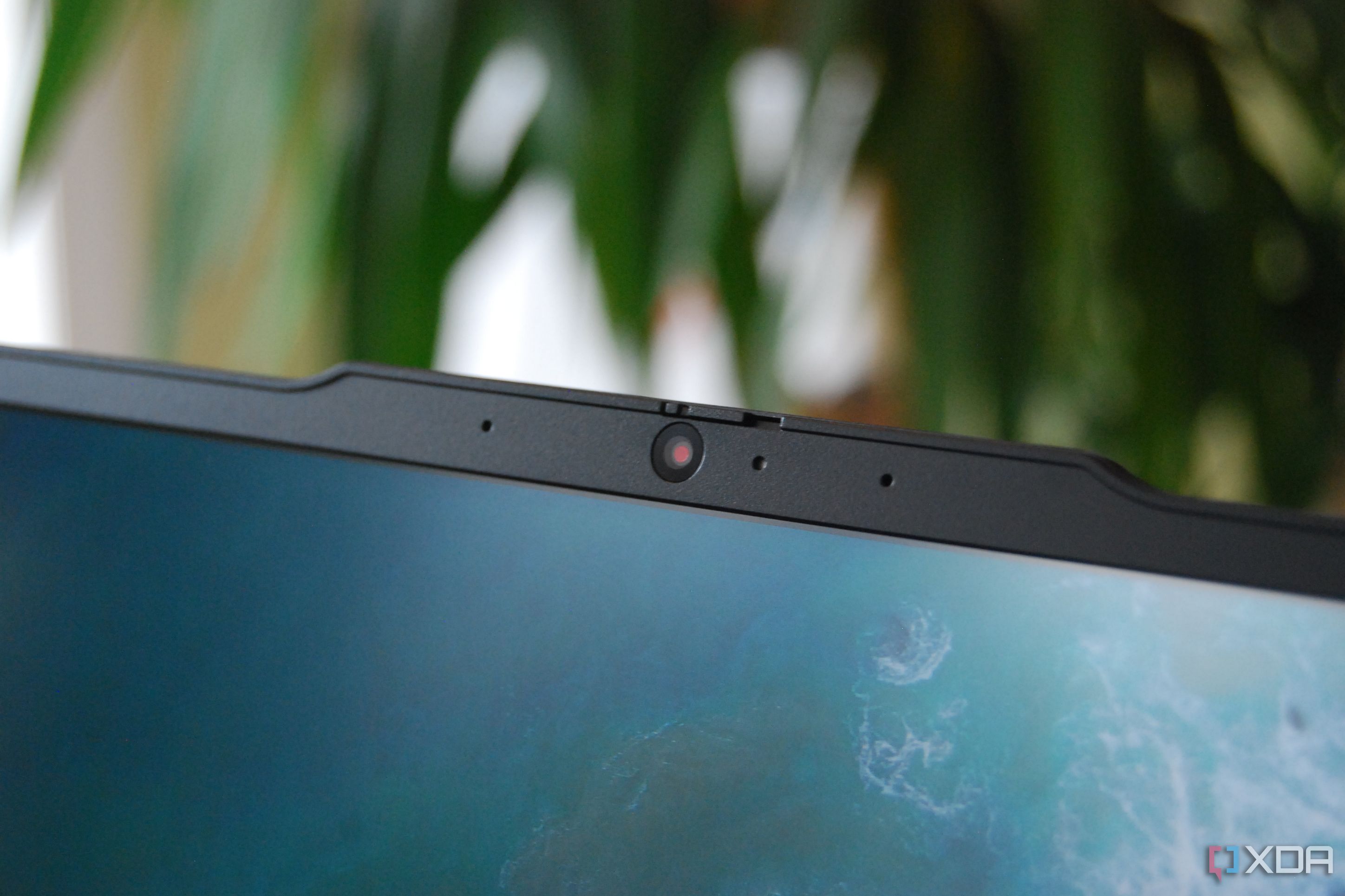 Above the display is now a reverse notch that mirrors Lenovo's Legion gaming lineup. This provides extra space for the webcam array as well as making it much easier to open the lid, and it allows the screen's bezel to otherwise remain quite thin. There's also no more thick chin below the screen, thanks to the 16:10 aspect ratio. It looks a lot more modern, and it still comes with the expected MIL-STD 810H durability certification.
My unit has the Graphite Black finish, but you can opt for a less traditional Arctic Grey if you'd like to buck the ThinkPad trend. Most ThinkPads with this finish attract smudges and fingerprints, and, unfortunately, this one is no different. If you prefer a cleaner look, I'd stick with the lighter shade.
An additional USB-C 3.2 (Gen 2) port with video, data, and charging capabilities was added to the 2023 model, but for some reason, Lenovo kept the USB-A 2.0 port on the right side. This would probably have served more people as an SD/microSD card reader, or at the very least, another more modern USB-A port to match the USB-A 3.2 (Gen 1) on the left side.
The laptop otherwise has a single Thunderbolt 4 port, drop-jaw RJ45 Ethernet port, HDMI 2.1, and a 3.5mm audio jack. Wireless connectivity is handled by Wi-Fi 6 or Wi-Fi 6E (depending on your model's performance hardware choices) and Bluetooth 5.1. Unfortunately, there is no option to add 4G LTE connectivity.
Dual 2W speakers haven't changed from the previous generation, and they're still located on the angled sides. However, the newer model now includes Dolby Atmos for dynamic spatial audio output based on the content to which you're listening. The dual far-field microphones located in the reverse camera notch have likewise received the Dolby Voice treatment for clearer calls and conferencing.
I used the ThinkPad E14 (Gen 5)'s speakers mostly for streaming music while I worked, but I also watched some sports and TV. The sound was loud enough that I could hear it clearly at all times, and there was no crackling at high volume. They're good speakers for a laptop at this price, and the same can be said about the camera. My review unit has the upgraded 1080p camera for a clearer picture, and it does a good job as long as you're working in a well-lit space. All camera options come with a privacy shutter, and you can even add an IR sensor for facial recognition through Windows Hello.
Keyboard and touchpad
Way above average for the price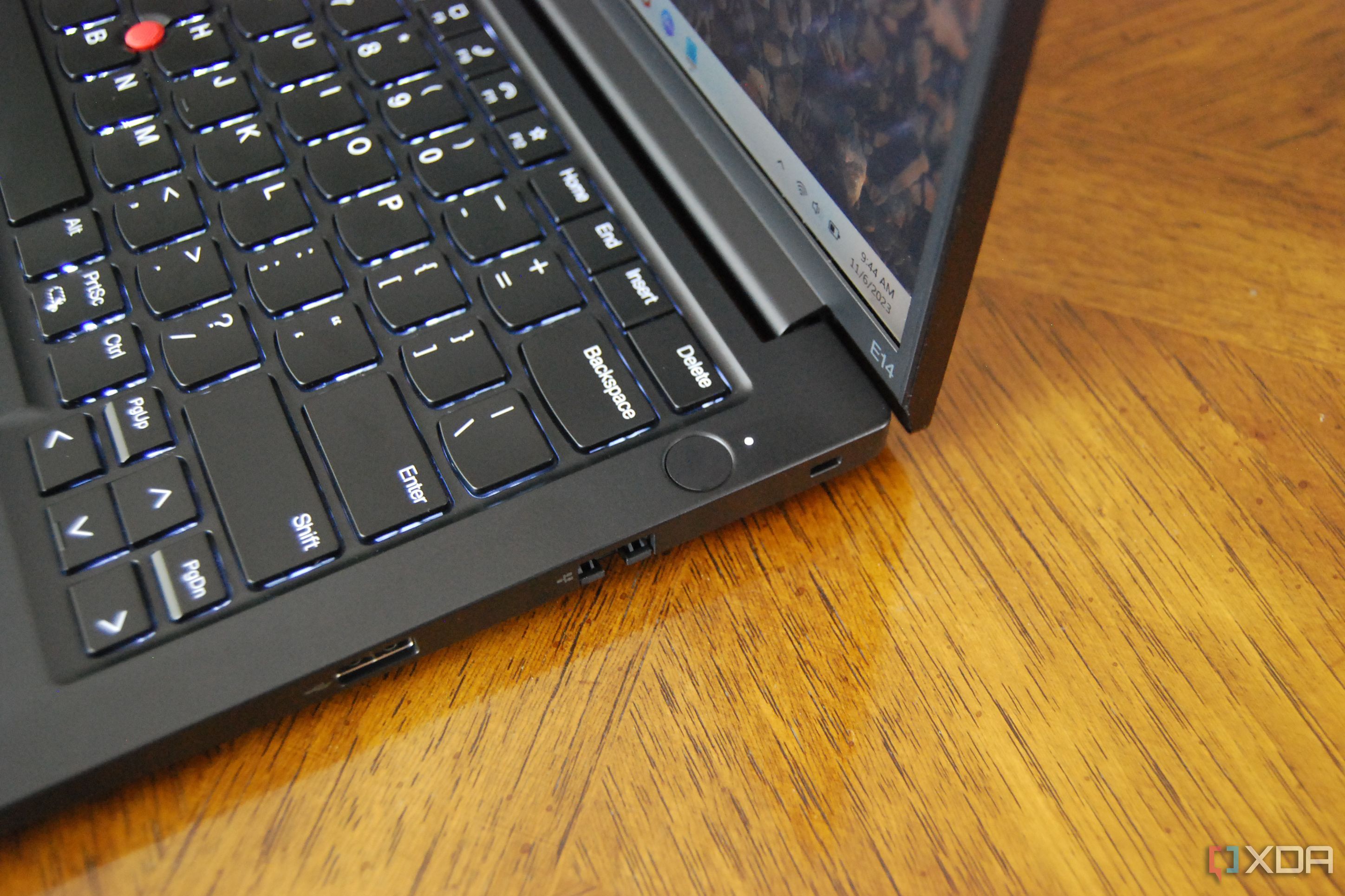 Despite the move to a taller display aspect ratio, there's not much extra depth to work with below the keyboard. However, the centered touchpad is 15mm wider, which makes quite a difference, even for general pointing. Some of the available surface area is eaten up by the TrackPoint system's physical mouse buttons. If you don't use the red pointing nub and buttons, you'll have to work around them, but that's not tough to do. The touchpad's click feels firm, and I had no problems with accuracy.
The keyboard is undoubtedly a major selling point, even lower-tier models. Key travel is deep, and key presses are pleasantly firm. The low-profile keycaps are slightly cupped, and they leave plenty of room for the backlight to escape around the edges and through the keycaps themselves.
It's tough to beat the ThinkPad E14 (Gen 5)'s keyboard at this price.
Just about everything that can be said about ThinkPad keyboards has already been said. Whether you type infrequently or every day, it is always a pleasure. Here, the nav cluster is spread between the F row and arrow keys, with dedicated inputs for Home, End, PgUp, PgDn, etc. Also included along the top row are comms controls and the usual Windows laptop shortcuts.
I recommend opting for the backlight, especially if you're purchasing the Arctic Grey color scheme. The keys are a lighter shade, and the lettering is more prone to getting lost.
Display
Basic FHD+ screens with optional 2.2K resolution upgrade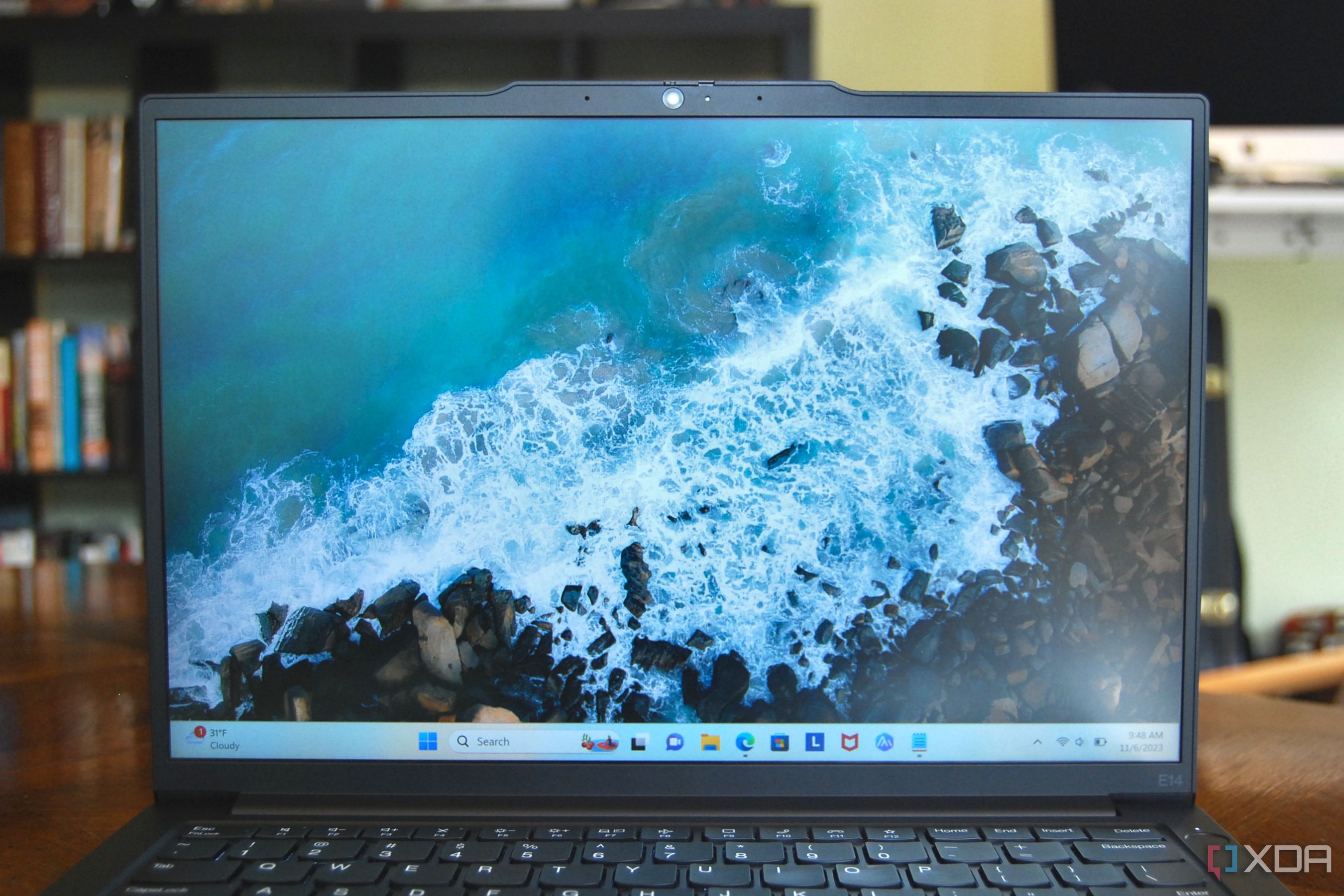 The worst that glare gets with the screen facing huge windows
The ThinkPad E14 (Gen 5) is available with three different displays — and thankfully, there's no longer a TN panel option. The two more affordable screens have a 1920×1200 (FHD+) resolution, 60Hz refresh rate, 800:1 contrast ratio, and optional touch functionality. Lenovo also lists an IPS non-touch display with boosted 2240×1400 (2.2K) resolution, 100% sRGB color, and 1500:1 contrast, but at the time of writing, it doesn't seem to be available.
Focusing on the FHD+ touch display, it looks great in everyday use despite its poor color reproduction. (I tested 69% sRGB, 51% AdobeRGB, and 51% DCI-P3 color with my SpyderX Pro colorimeter.) These are not great results, but going into the tests, I would have guessed it had much better sRGB reproduction. The screen does not look washed out in general use, though you would start to have some problems if you're getting into tasks like photo editing.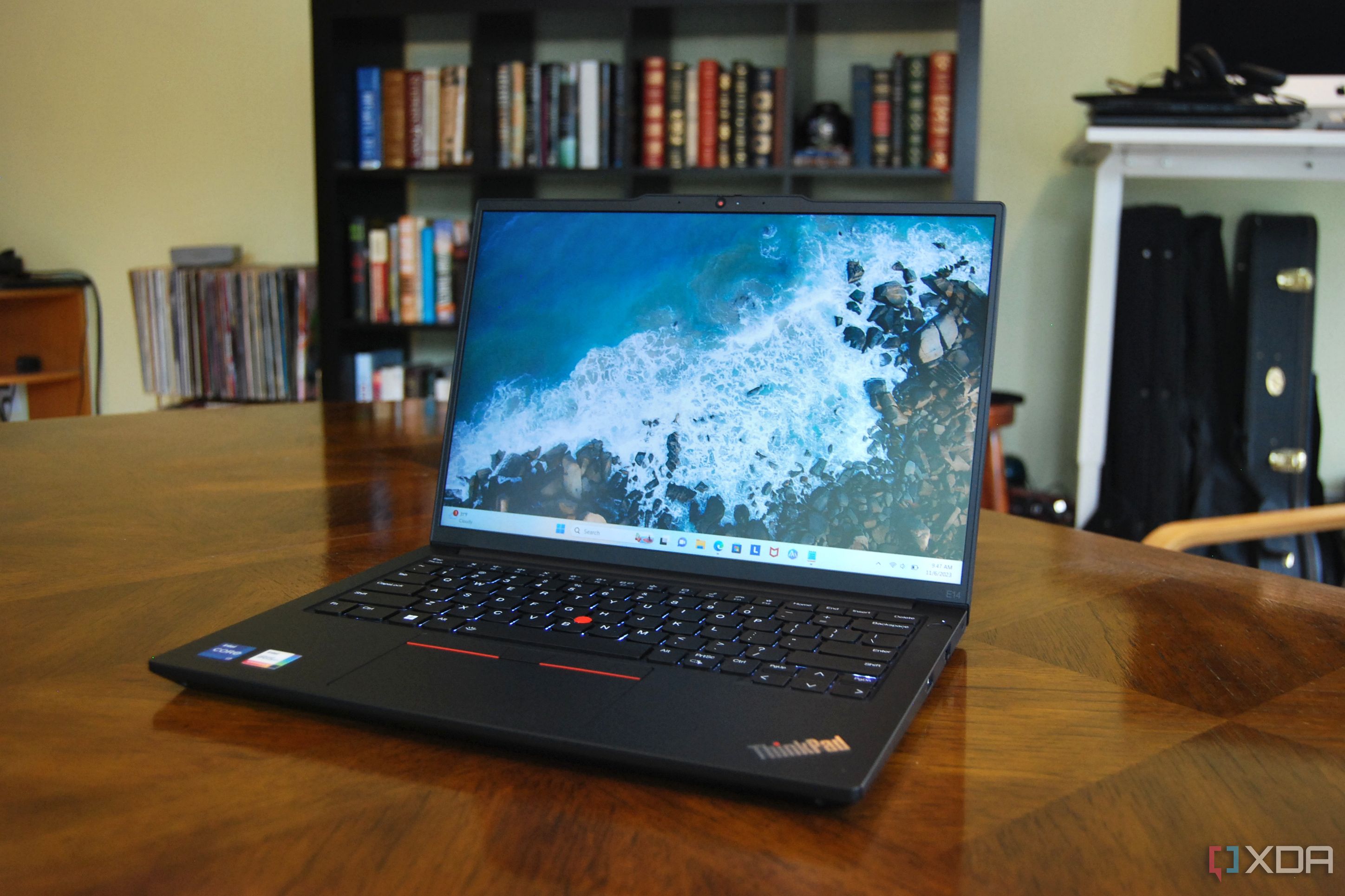 The new 16:10 aspect ratio removes most of the bottom bezel for a more modern look, but the change goes beyond cosmetic. The extra vertical screen space makes window splitting on a 14-inch display less painful. Browsing the web and watching videos is pleasant, thanks to the ample color saturation (colors still seem vibrant despite the low reproduction percentages). Viewing angles aren't particularly wide, especially if you're working with a backlight after hours. Even sitting at a 45-degree angle can make the far edge difficult to read, but it's a non-issue if you aren't sharing the screen.
Screen brightness is appropriate for working late at night or during an overnight flight. You aren't going to burn your eyes or disturb those around you with the display dimming to just 3.5 nits. On the other end, I tested 363 nits at peak brightness. With the anti-glare finish, I had no problems operating in a bright room.
I wouldn't feel the need to upgrade to the 2.2K resolution screen if I was using the ThinkPad E14 for general office work and web browsing. The FHD+ options are certainly good enough, and they help keep the price down.
Performance and battery
Far better than I was expecting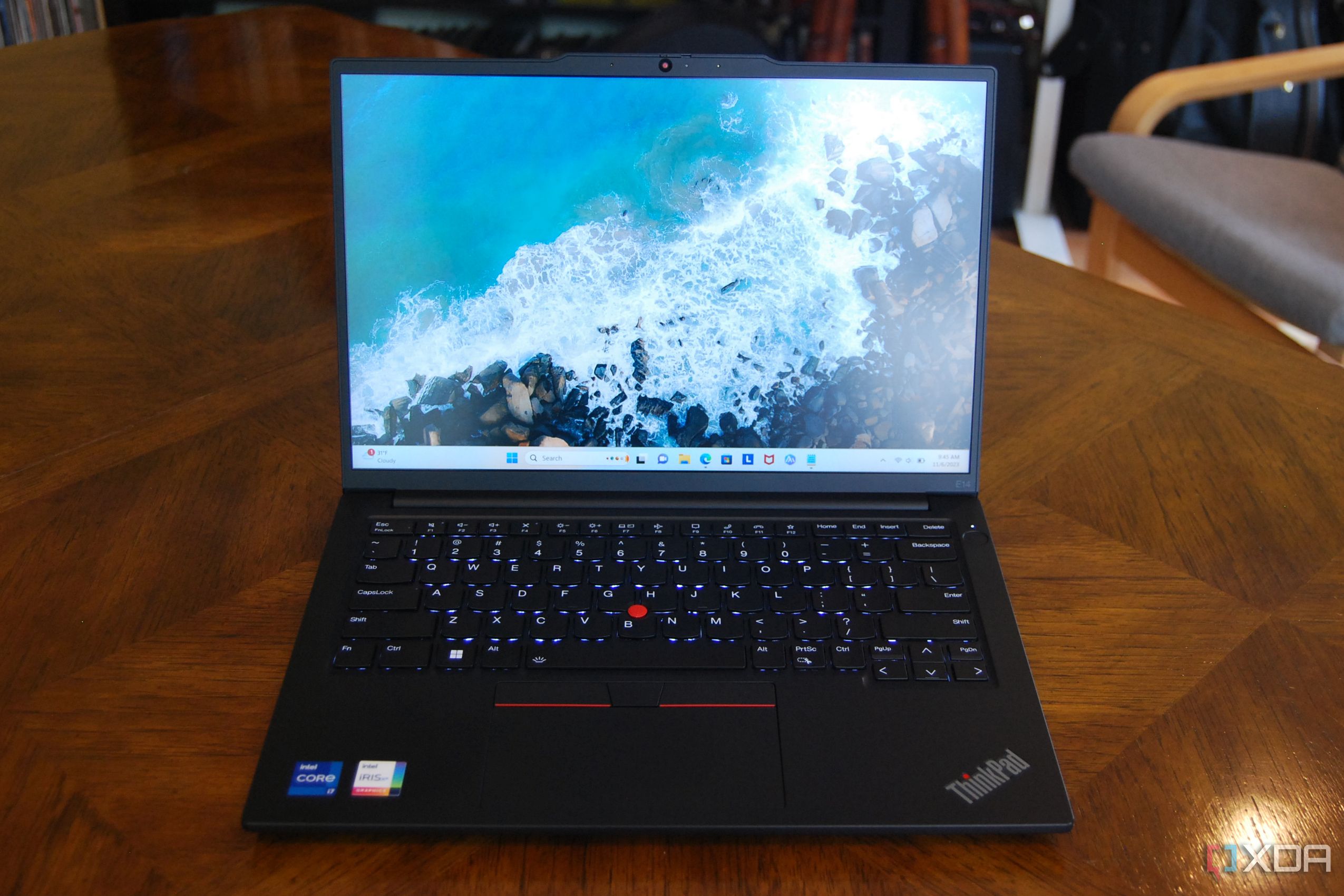 Premium laptops usually don't have many surprises when it comes to performance. You're paying a lot of money, and you can expect it to keep up with your needs. Budget laptops can be more of a mixed bag, whether for better or for worse. The ThinkPad E14 (Gen 5) is thankfully in the former camp. As you can see from the benchmark numbers below, the Core i7-1335U has plenty of juice. The system's overall performance, measured with PCMark 10, even bested the HP Dragonfly G4 we reviewed and the far pricier ThinkPad X1 Carbon (Gen 11).
The ThinkPad E14 (Gen 5) performs like a premium laptop.
The CPU alone doesn't quite match up with the Core i7 chips in these other premium laptops we tested, at least in Geekbench multi-core scores. In Cinebench, however, the numbers were much closer, with the ThinkPad E14 even coming out ahead of the Core i7-1365U in the Dragonfly G4. Bottom line? You aren't sacrificing performance by spending less on the E14.
| | ThinkPad E14 (Gen 5), Core i7-1335U | HP Dragonfly G4, Core i7-1365U | ThinkPad X1 Carbon (Gen 11), Core i7-1355U | MSI Prestige 14 Evo, Core i7-13700H |
| --- | --- | --- | --- | --- |
| PCMark 10 | 6,022 | 5,480 | 5,768 | 6,176 |
| Geekbench 5 (single / multi) | 1,751 / 7,112 | N/A | 1,796 / 8,071 | 1,857 / 12,928 |
| Geekbench 6 (single / multi) | 2,475 / 7,967 | 2,530 / 9,108 | 2,370 / 8,687 | 2,515 / 12,570 |
| Cinebench R23 (single / multi) | 1,864 / 6,568 | 1,734 / 6,477 | 1,634 / 6,779 | 1,906 / 13,093 |
| Cinebench 2024 (single/ multi) | 109 / 378 | N/A | N/A | N/A |
Raw performance is very good, but there are some caveats to the overall setup. The ThinkPad E14 (Gen 5) has 8GB or 16GB of soldered RAM in all models, which is joined by a second SODIMM slot for an upgradeable module. Lenovo doubled the total amount of soldered RAM from the factory, but you're still working with DDR4-3200 RAM and at least 8GB that can't be swapped out.
Storage is based around shorter M.2 2242 SSDs, and there are two M.2 slots available. One supports PCIe 3.0, and the other supports the faster PCIe 4.0 standard. My unit hit 5,088MB/s read and 3,987MB/s write speeds in testing, meaning you won't have to wait around on your storage.
The ThinkPad E14 (Gen 5)'s performance is far above what I was expecting from this price range.
The basic battery capacity was boosted by two watt-hours to 47Wh for this generation, and there's still a larger 57Wh battery available if you're often working away from an AC outlet. With the smaller battery in my review unit, I saw five hours and 23 minutes in PCMark 10's Office rundown with the system set to Best Performance and screen brightness at about 50%. Setting the system to a Balanced power profile boosted runtime to just shy of seven hours in the same PCMark 10 test.
Real-world battery life on the Balanced profile is closer to about six hours. Toward the end of the day, I was searching for an AC outlet, but I would categorize my use as heavy. You could probably eke out a full eight hours by disabling the display's touch functionality and lowering the screen brightness even further.
Should you buy the ThinkPad E14 (Gen 5)?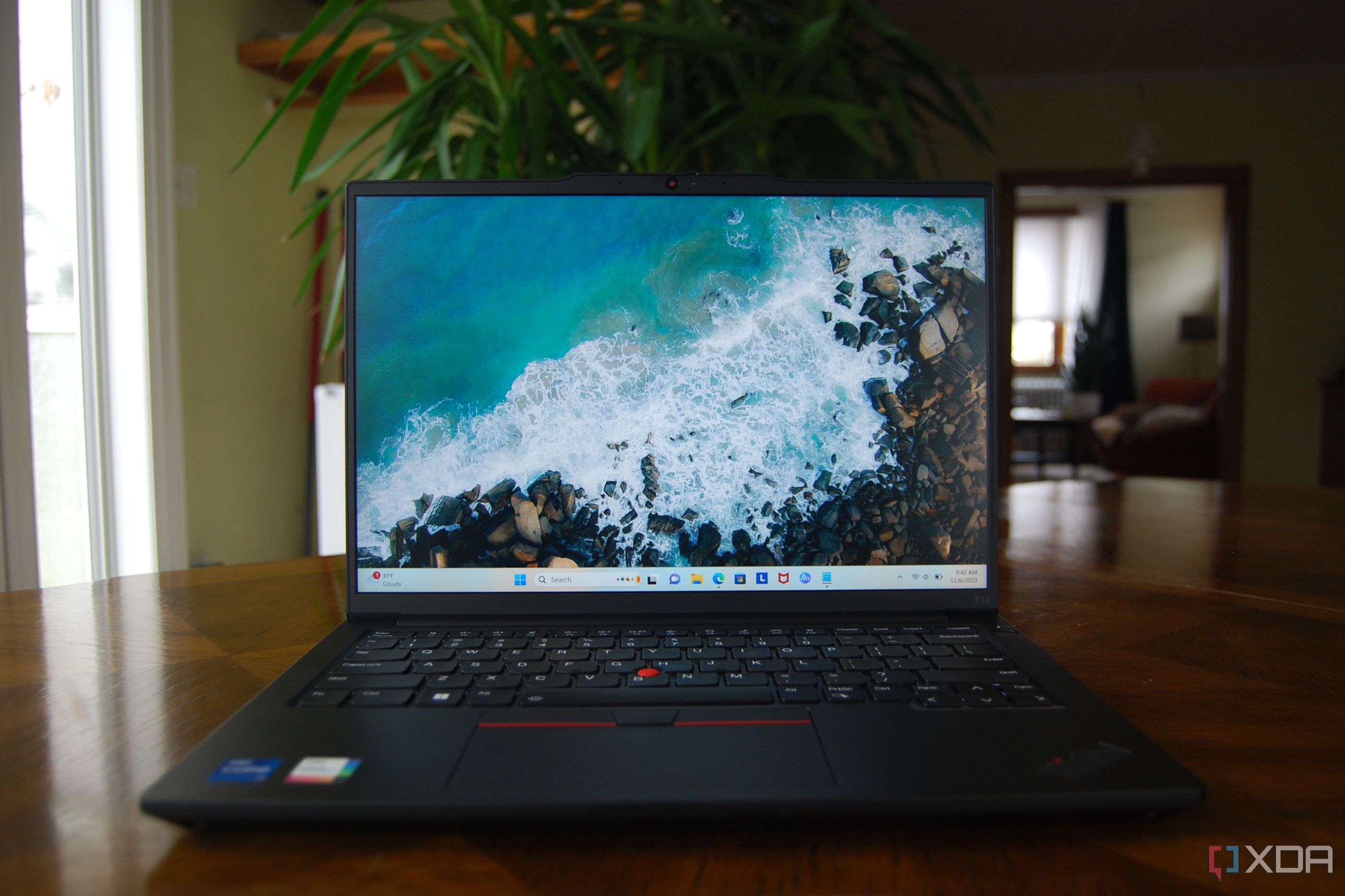 You should buy the ThinkPad E14 (Gen 5) if:
You type all day and want one of the best keyboards around
You want ThinkPad durability and warranty in a budget device
You need strong performance in a relatively compact device
You should not buy the ThinkPad E14 (Gen 5) if:
You need accurate color reproduction in an FHD display
You're big on DIY upgrades after purchase
You need a laptop with 4G LTE connectivity
ThinkPad pricing can get truly spooky when you get into the premium models, and not everyone wants to pay out for high-end laptop features they'll never use. That's where the ThinkPad E14 (Gen 5) shines. Lenovo offers a wide range of customization options to help you include your favorite features while also excluding those you don't use, and my fairly high-end review model still comes in below $1,000 at Lenovo and just $916 at Amazon at the time of writing.
The FHD+ touch display in my review unit isn't anything special, but it gets the job done and should be no problem for those who handle office work most of the day. The change to a 16:10 aspect ratio is great, helping the PC look more modern.
It does have some drawbacks. A USB-A 2.0 port in 2023 is a rare sight on a refreshed laptop, and it would serve us much better as an SD/microSD card reader. There's also the matter of the 47Wh battery not quite being able to hit a full eight hours of runtime. Despite these, the ThinkPad E14 (Gen 5) offers impressive performance, one of the best keyboards around, lots of ports (including HDMI and Ethernet), a 1080p webcam with privacy shutter and optional IR sensor, fingerprint reader, and certified durability. Professionals who want a relatively compact business partner that can handle a day's work with ease should love this laptop.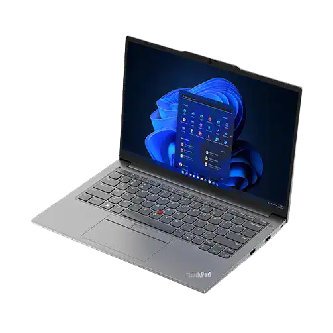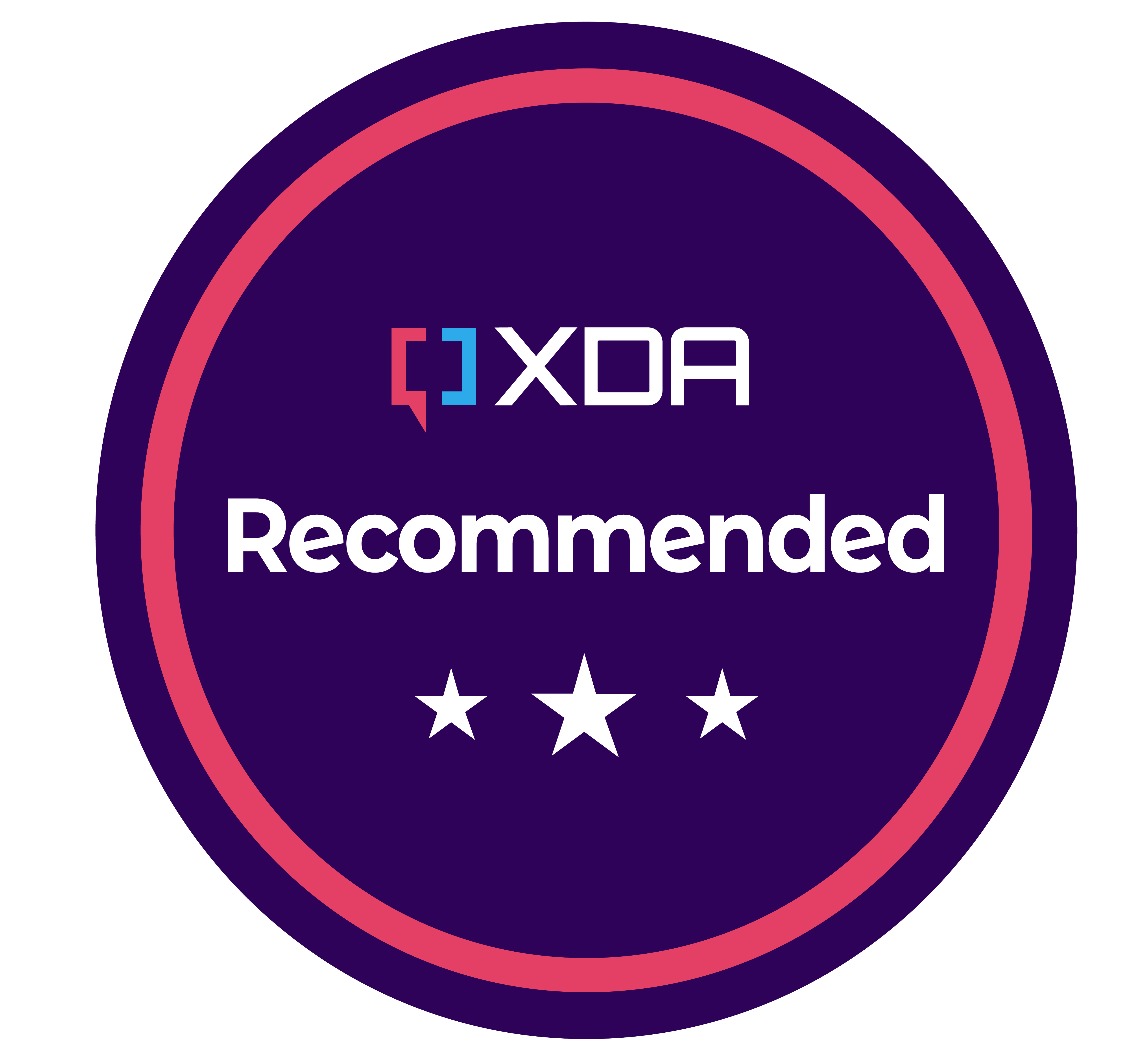 ThinkPad E14 Gen 5
Affordable ThinkPad
$575 $1045 Save $470
Lenovo's ThinkPad E14 (Gen 5) comes with some major improvements compared to the last generation, and it's now a battery value than ever. Professionals who need a sub-$1,000 productivity machine with solid performance, outstanding keyboard, and plenty of durability should take heed.
** (Disclaimer: This video content is intended for educational and informational purposes only) **