The vast majority of PC cases on the market come preassembled, ready to have your PC components installed. Cooler Master wants to change that paradigm, with the Qube 500, a compact PC case that comes flatpacked so you put it together as you assemble your build. It's an intriguing prospect, and after building in it, one that I look forward to seeing in future cases.
The Qube 500 is more spacious inside than you'd think, with the ability to use up to E-ATX-sized motherboards, the largest CPU coolers, and the highest-end graphics cards. These larger components would offer a challenge in most compact cases where space is restricted, but as you build the case around the components in this one, it's just as easy as using smaller components. The only real restriction is on radiator length, as 280mm is the maximum. With some high-end CPUs needing a 360mm AIO cooler to keep the thermals in check, this case is better served with mid-tier hardware, although you can use high-end components if you don't mind higher temperatures.
With a fun, informative building process and swappable panels for a pop of color, this is one of my favorite compact cases. It can be built in one of three orientations, or kept open for test bench use. The Macaron colorway I was sent came with three different colors to swap at my whims, but you can also get it in purely white, black, or yellow if you prefer those. The customizing doesn't stop once the build is done either, as Cooler Master has created 3D printable files to design accessories to turn the case into a pegboard.
About this review: Cooler Master shipped me a Qube 500 case for the purposes of this review and had no input into its contents.
Cooler Master"" data-modal-id="single-image-modal" data-modal-container-id="single-image-modal-container" data-img-caption="""">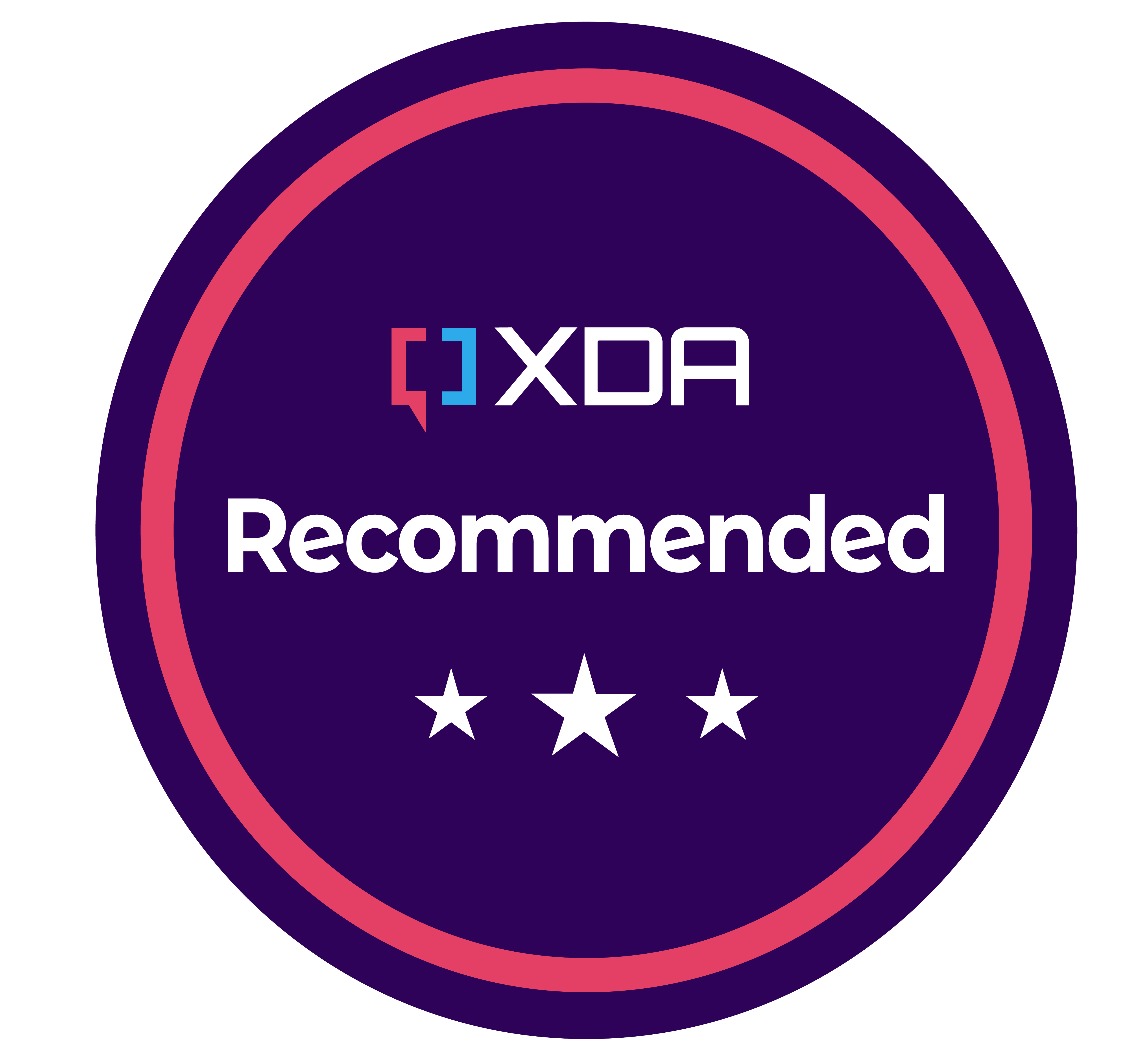 Cooler Master Qube 500
Taking DIY further
Compact case with room to breathe
The Cooler Master Qube 500 is a good case for those who want something a little bit different. Unlike most cases, this one comes flat-packed, and you build it as you put your components in. It can fit high-end components, and has enough airflow to keep them cool.
Material

Steel, plastic, tempered glass

Motherboard Size (Max.)

E-ATX

Graphics Card Size (Max.)

GPU up to 368mm

3.5″ Drive Slots

4

Viewing Window

Gray TG

2.5″ Drive Slots

3

Power Supply Size (Max.)

SFX or ATX

Exterior Dimensions

380 x 231 x 381mm

Color Options

Yellow, White, Black, Macaron (Pink, Blush, Teal)
Pros
Flat-packed to save on shipping space
Dust filters on front, top, bottom, and side panels
Sturdy when built
Rotatable motherboard tray supports multiple configurations
Cons
No 360mm radiator support
No option to get a second metal side panel instead of glass
Only one 120mm pre-installed fan
Cooler Master Qube 500: Price and availability
Affordable and space-saving
The Cooler Master Qube 500 has a MSRP of $90 for the single-color options, and $100 for the Macaron color option being reviewed, which comes with multiple pastel panel colors. The only specification change between the cases is the Macaron option comes with six panels (two of each color) for the top and front, whereas the single-color options have only two. Both Amazon and Newegg have it in stock at the time of drafting this review, so you can pick your favorite store to pick it up from. At this time, you're not able to get the color panels separately. We hope that Cooler Master will find a way to sell these and the side panel for those who want to swap colors or replace the tempered glass panel with a mesh one.
Hardware design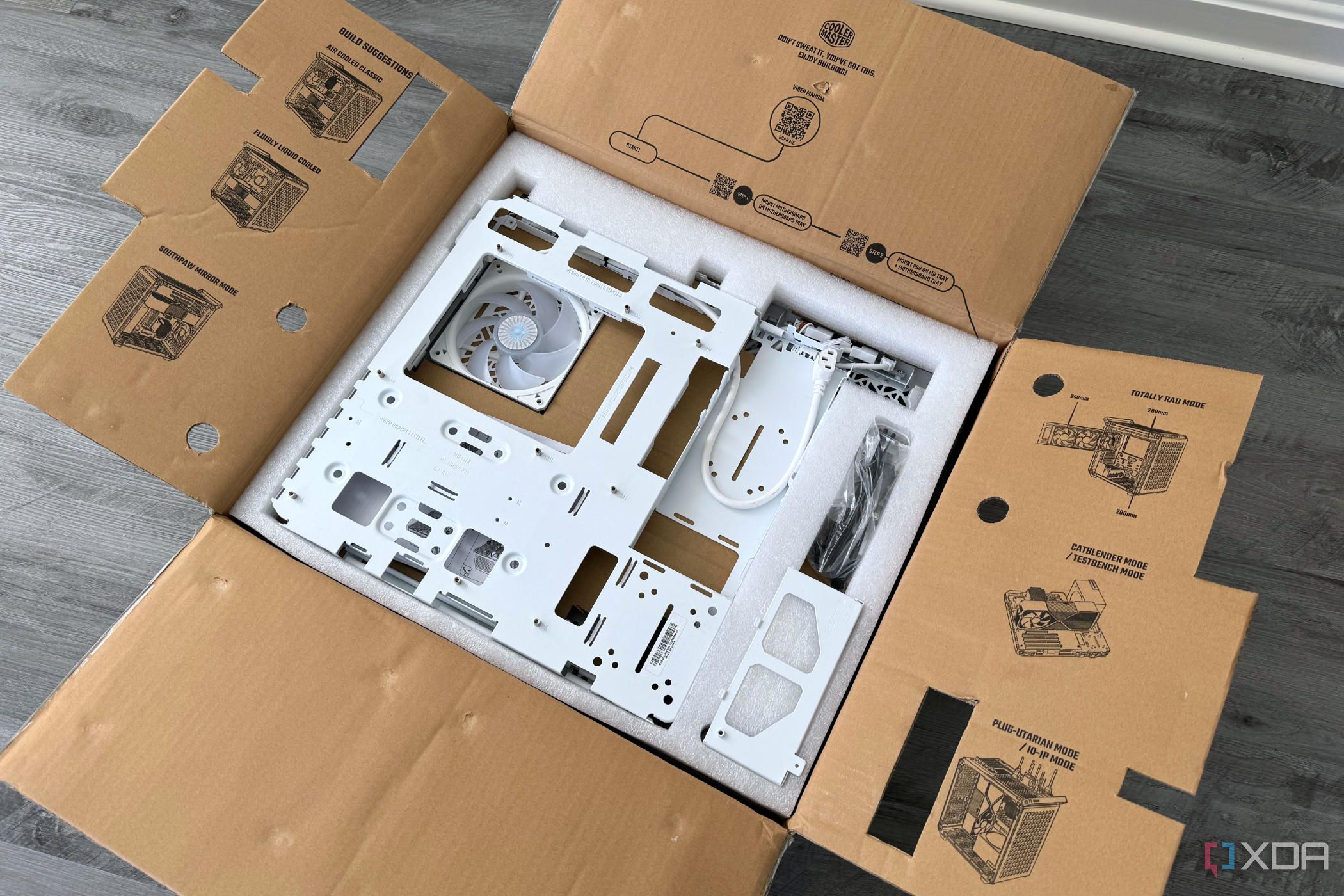 The Qube 500 is a new concept for mainstream PC cases, as it comes flatpacked in a box that's substantially smaller in volume than it would be if the case was preassembled. Every piece is securely packed with foam surrounds, and each layer of components corresponds with one step of the installation process. That latter part is important, as it means you can keep everything secure in the shipping box and take them out at the last moment. You can use up to an E-ATX motherboard in this case (if you use an SFX PSU), so you're not constrained as much as in most compact cases.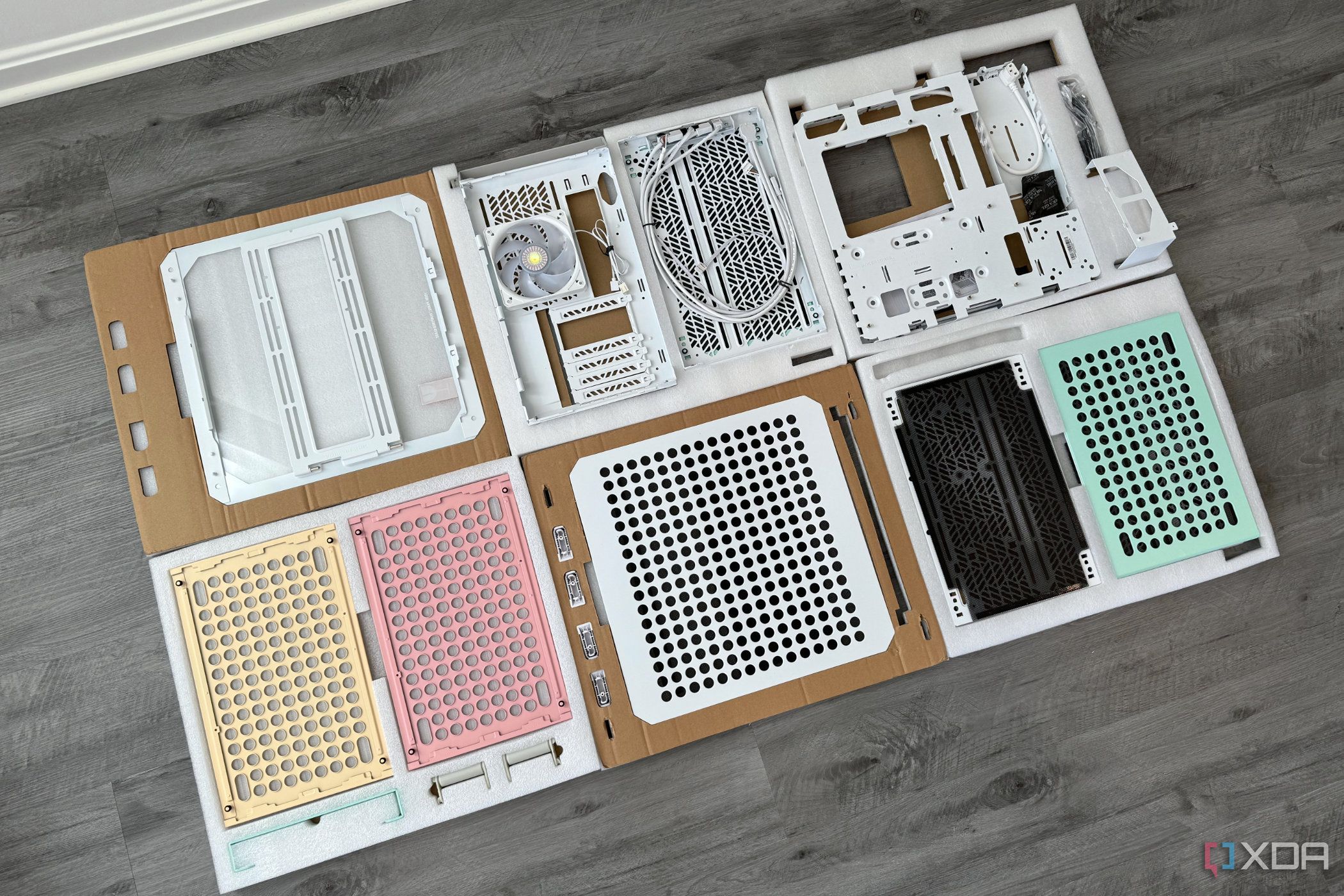 The first layer has the motherboard tray, which also serves as the backbone of the overall case. It is very sturdy even on its own, and the packaging mentions you can use it as a test bench without having to put all the panels on. This also has a power passthrough cable for the PSU, and a bracket for mounting the PSU at the front. The rear panel has cutouts for the motherboard I/O, seven PCIe slots, and space to vertically mount your GPU if you want, although you'll need to buy a PCIe extender to do so. You can use a graphics card of up to 365mm in length, which is most GPUs on the market. The front panel has I/O at the top, with a single USB-C, two USB-A, a power button and a 3.5mm audio jack, but this could be at the bottom if you decide to build the Qube 500 inverted.
You can mix and match the three pastel colors.
Then there are the top and bottom panels, a tempered glass panel for one side and a metal side panel that matches the holes on the top and front. On the version I received, you also get four more color panels, so that you can mix and match the three pastel colors. Only the top and front surfaces can use these colored panels, which just push-fit onto the chassis without tools. Inside the color panels are mesh filters, which you have to slide out and put into the other color if you decide to use those.
Then there's four push-on feet for the bottom, a bunch of 6/32 imperial screws, standoffs and drive mounting pins, enough rubber grommets for five drives, and a vertical graphics card bracket. And if you were wondering if any panels got damaged in shipping, the case was flawless. Even the tempered glass panel arrived unscathed, which isn't always the case with any PC case in shipping.
Building a PC from scratch and performance
Choose your design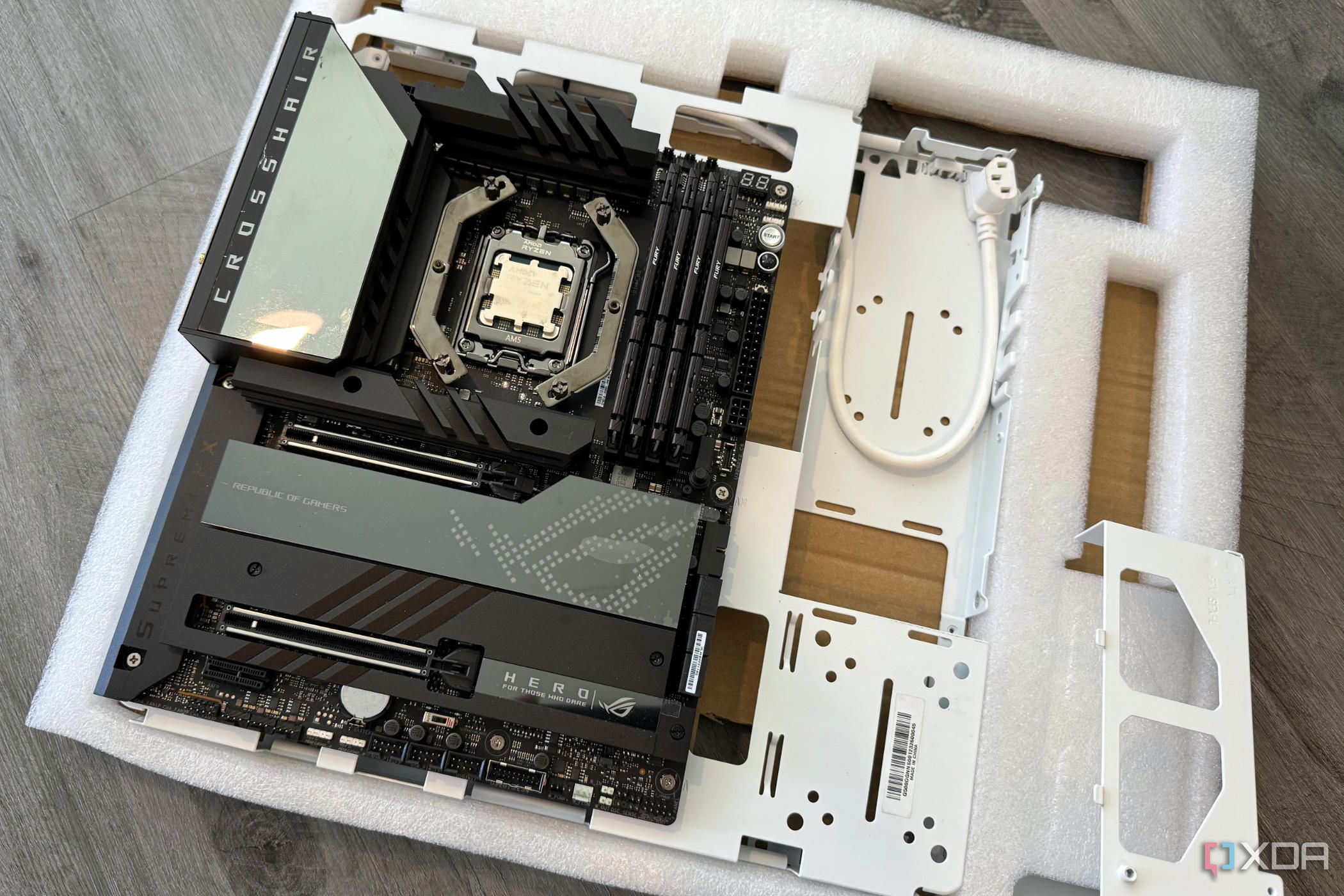 I've used dozens of PC cases and all of them have their little quirks for building inside. The Cooler Master Qube 500 made me rethink my approach, as you assemble the case as you install the hardware that makes up your PC. The only snag I hit was that the SFX power supply I'd originally planned to use didn't have long enough cables to get the CPU plugged in, so I had to change to a full-sized PSU. The case is designed to work with both, with a PSU bracket that you can move up or down to accommodate your needs.
Other than the ATX power supply, the case has a full-sized Asus ROG Crosshair X670E Hero motherboard, an AMD Ryzen 9 7900X CPU with 64GB of Kingston Beast DDR5 RAM, and an AMD Radeon RX 7900XT reference graphics card. The CPU is cooled by a Cooler Master MasterAir MA824 Stealth air cooler, but the case can also use up to 280mm AIO coolers, or up to three 280mm radiators for custom watercooling. There's plenty of space for the ATX motherboard, and as you build the case around the components, you shouldn't have issues even with the largest GPUs.
You shouldn't have issues even with the largest GPUs.
Cooler Master has designed the Qube 500 to go together with the same type of screw, which helps in assembly. That's the 6/32 screws that usually get used for attaching the motherboard, used here to put all the other panels together as well. The Qube 500 can be put together in three different orientations. One is the normal, motherboard upright, glass on the left that most PC cases use. You can flip the top and bottom panels to invert the motherboard, which also puts the glass on the right side. Or you can rotate all the panels 90 degrees so the I/O ports are all on the top panel. I opted for the normal orientation, but will probably use the inverted option when I decide what hardware is going to live in it long term.
Building was easier than most cases, as you're adding panels instead of having to remove them or work around them. The motherboard goes onto the motherboard tray, then the PSU goes into the bracket and hung on the motherboard tray. There's a passthrough cable to the back of the case so you can plug it into the wall, and plenty of space on the back of the motherboard tray for cable management. Then I added the back panel, the CPU cooler, and the GPU. If I was using an AIO cooler I'd have added that to the top panel before adding that to the case, which is an easier process than trying to thread everything into a normal case.
Working around the case, I added the front, bottom, and top panels and secured these with an additional two screws once all were in place. This is optional, but adds a reassuring level of rigidity to the build. Cable management was helped by a handy diagram in the instructions, plenty of tie-down points, and usefully situated holes where power and other cables needed to route to. The front panel cable has a single connector instead of multiple tiny ones, making connecting everything straightforward. The only cabling issue was that with the bottom panel on the case, I couldn't fit the larger USB 3.0 cable through the nearest opening. That's partly because of where Asus situated it on this motherboard, but it's worth thinking of as you screw the case together as the suggested order might not be the best for your hardware.
The airflow in this design is fairly good, with all the holes helping to bring in cool, fresh air. The only thing holding the airflow back is the PSU mounting position, which makes it so you can just squeeze a single 120mm fan on the front panel. You can technically put the PSU on the floor of the case near the PCIe slots and put two 120mm or 140mm fans on the front, but then you are blocking the GPU fans somewhat. These are all typical tradeoffs of smaller cases, and nothing to really worry about. We have a handy guide for PC airflow if you want to maximize airflow in this or any other case.
The airflow in this design is fairly good, with all the holes helping to bring in cool, fresh air.
It's worth mentioning again that I used high-end components in this build, to really stretch what the thermal performance could be. Even under sustained gaming loads, the AMD Ryzen 7900X topped out at 87 degrees Celsius, with the GPU reaching 78 degrees while playing Horizon: Zero Dawn. The PCIe 5.0 M.2 drive was at 74 degrees, which is what you'd expect to see from an extended test. These temperatures are all well within the acceptable ones for this high-end build. While I don't have a dBA meter, the fans were at a tolerable volume, pushing plenty of heated air out of the case and away from the components.
Cooler Master Qube 500: Should you buy it?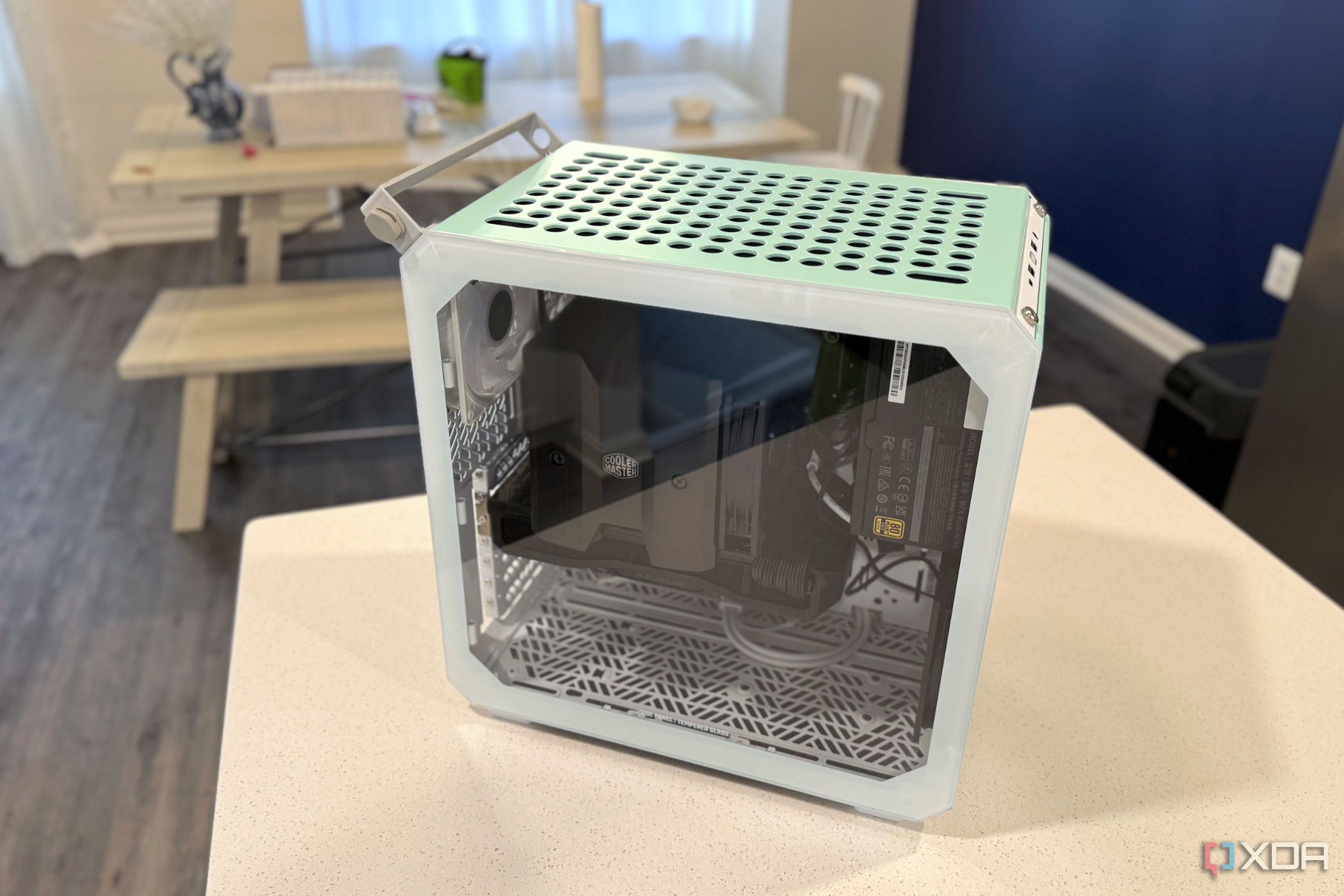 You should buy the Cooler Master Qube 500 if:
You want the experience of putting your PC case together
You like the idea of 3D printing accessories to hang on the panels
You want a quirky and affordable case
You shouldn't buy the Cooler Master Qube 500 if:
You want to use a 360mm radiator for cooling
You have trypophobia
You want to use more than three SATA SSDs
The Cooler Master Qube 500 takes a new look at what building a DIY PC entails. It's a perfect project case for introducing a younger family member to the world of PC building, as the cute design and bright colors are engaging, and the difficulty level is fairly low. It looks great when assembled, and the pegboard-like construction can have new accessories designed ready to 3D print if you have access to a 3D printer. For under $100, this is a fun case to build in and can fit almost any components you would want to use.
The Cooler Master Qube 500 takes a new look at what building a DIY PC entails.
As this is a small case, the single 120mm exhaust fan should be fine for low-end or medium-spec builds. If you're using a 280mm AIO liquid cooler on your CPU, or are fine with higher CPU temperatures, you can get away with not putting any more fans into the Qube 500. There is space for up to three 2.5-inch or a few 3.5-inch drives, but cable routing will be tricky thanks to the reduced space inside. In terms of alternatives, the only other mainstream case manufacturer making build-it-yourself cases right now is InWin. They have the ATX-compatible DUBILI, which starts from $230 and is more premium, or the $95 M-ITX POC, which is made from folded steel. And if you like this size of case but don't fancy putting it together, the $80 Cooler Master MasterBox Q500L is very similar.
Cooler Master"" data-modal-id="single-image-modal" data-modal-container-id="single-image-modal-container" data-img-caption="""">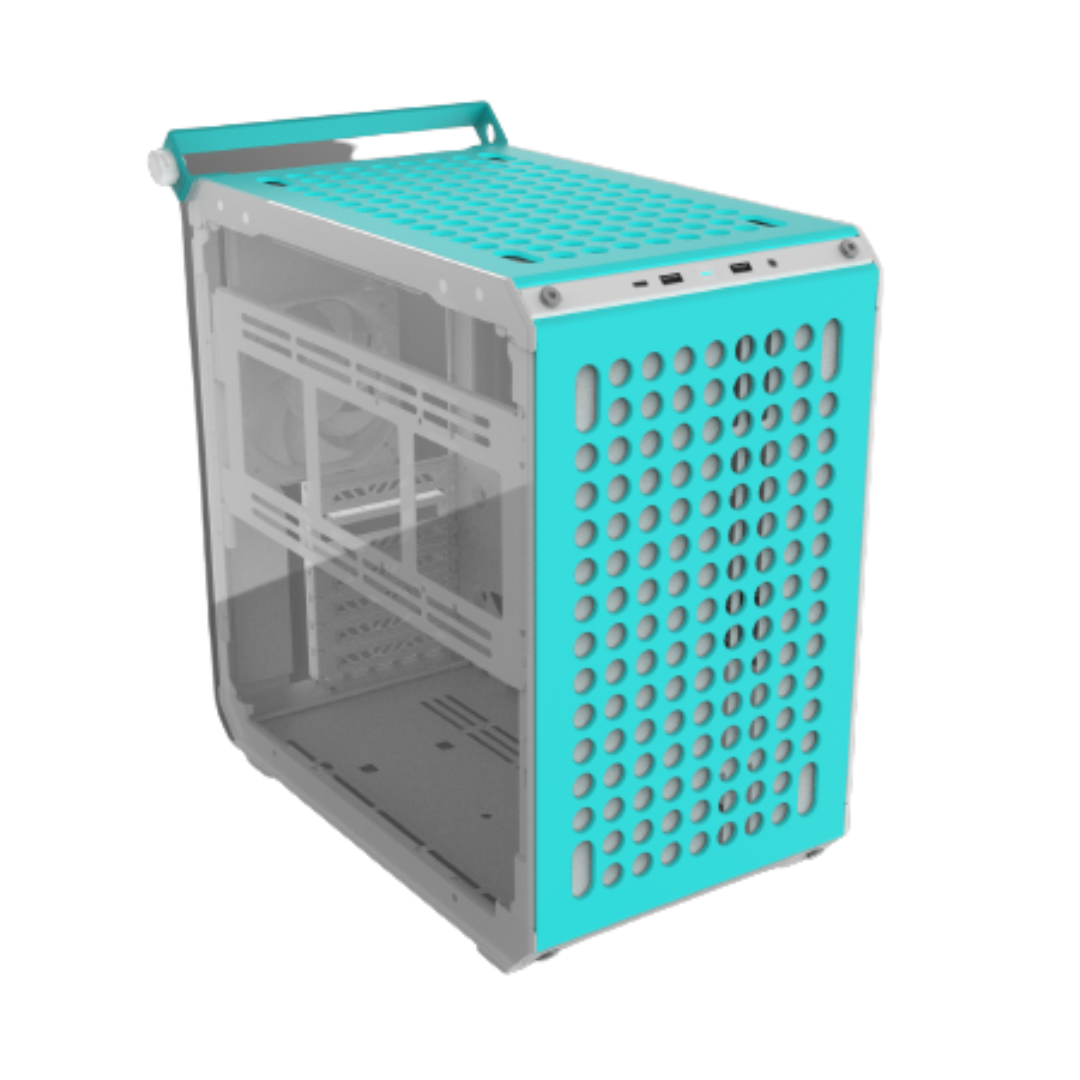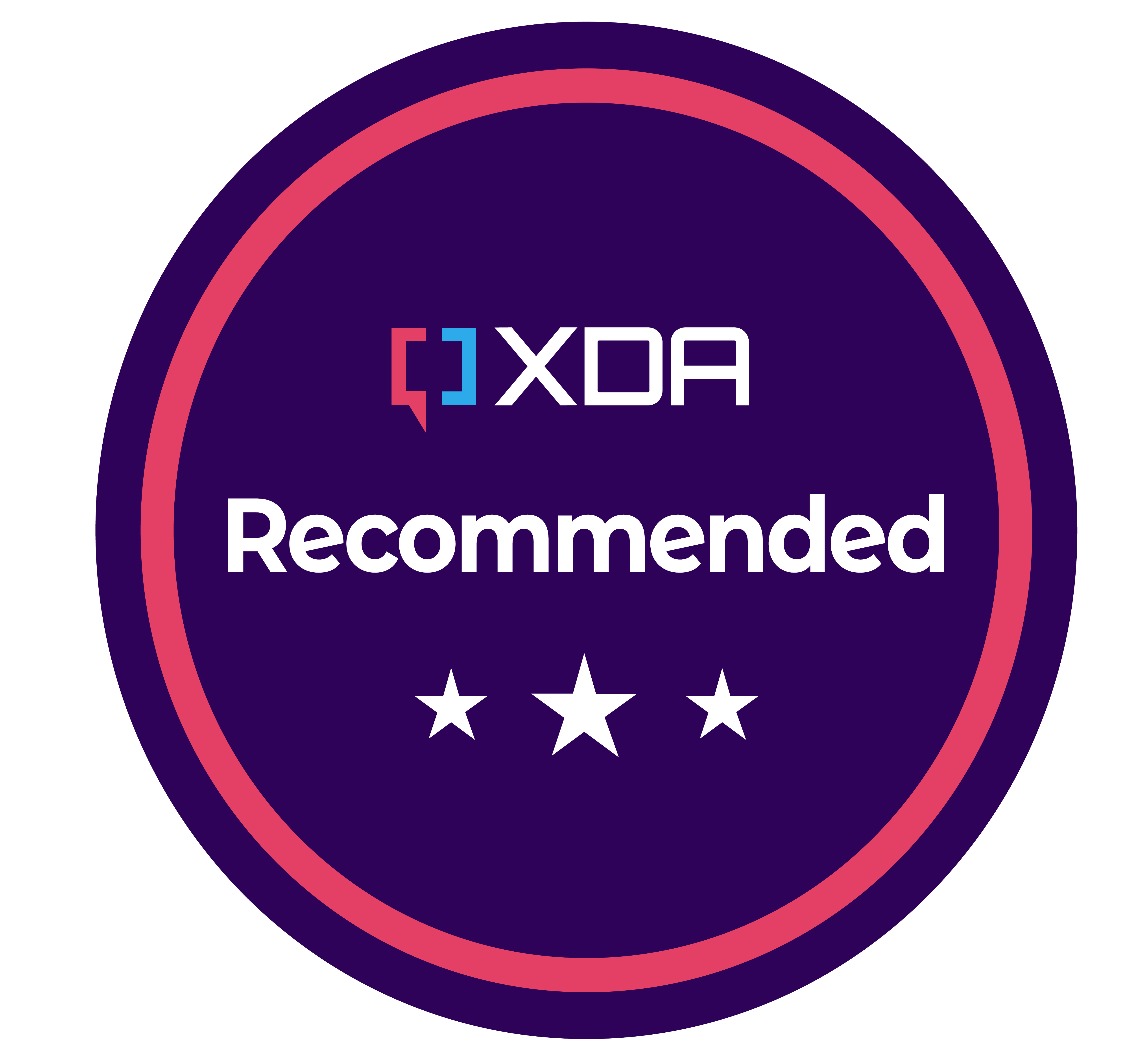 Cooler Master Qube 500
Quirky and fun
The Cooler Master Qube 500 is a good case for those who want something a little bit different. Unlike most cases, this one comes flat-packed, and you build it as you put your components in.
** (Disclaimer: This video content is intended for educational and informational purposes only) **