Apple Pencil (USB-C)

Apple's latest Apple Pencil is a USB-C version that serves as a budget option in the lineup. Surprisingly, it isn't a replacement for either the Apple Pencil (1st-gen) or Apple Pencil (2nd-gen). Since it lacks a few features compared to the premium models, it's fair to wonder whether the Logitech Crayon is actually the better buy.

Pros

Works with all USB-C iPads
Great education pricing

Cons

No pressure sensitivity
No wireless charging

Logitech Crayon

The Logitech Crayon is perhaps the best third-party stylus you can get for the iPad. It has 2mm tips, a 6.4-inch length, and is great for both professional and casual use. Like the new Apple Pencil (USB-C), it doesn't support pressure sensitivity. However, it does have tilt sensitivity. At a lower price than Apple Pencil, it might be the better pick. 

Pros

Unique flat design
Features USB-C port and power switch
Very wide compatibility with Lightning and USB-C iPads

Cons

No pressure sensitivity
No magnetic attachment
Quick Links
We expected Apple to update the Apple Pencil to USB-C at some point, but what we didn't expect is that the new Apple Pencil (USB-C) would join the other two Apple Pencils, rather than replace them. The Apple Pencil (USB-C) is now a budget option that adds USB-C but subtracts features like wireless charging and pressure sensitivity. With that in mind, it's fair to wonder whether the Logitech Crayon is a better choice for a budget stylus. The Logitech Crayon has many of the same features as the Apple Pencil (USB-C), but comes in at a lower price point, which puts the stylus up there with the best iPad accessories. To help you out, we've compared them below.
Price, specs & availability
The Apple Pencil (USB-C) was announced on Oct. 17, 2023 and is available now. The pencil retails for $79 and is available from Apple and third-party retailers. Delivery windows are far our from Amazon, but you can get it quick from Apple and Best Buy. For students and educators, the pencil will be priced at $69, meaning that these buyers can grab an Apple Pencil (USB-C) for the exact same price as the Logitech Crayon.
Speaking of the Crayon, it's available for $69 from Apple, Logitech, and other third-party retailers. This low price undercuts the Apple Pencil (USB-C) by $10 at its regular price. There is an older version of the Logitech Crayon that ships with a Lightning port, and you can still buy this model if you have a Lightning iPad. This comparison will focus on the USB-C model, but aside from the different charging port, the USB-C and Lightning versions are virtually identical in terms of feature set.
| | Apple Pencil (USB-C) | Logitech Crayon |
| --- | --- | --- |
| Brand | Apple | Logitech |
| Compatibility | All iPads with USB-C port | iPad Pro 12.9-inch (3rd-6th generations), iPad Pro 11-inch (1st-4th generations), iPad Air (4th and 5th generations), iPad (10th generation), iPad mini (6th generation) |
| Connectivity | USB-C | USB-C |
| Color | White | Silver |
Design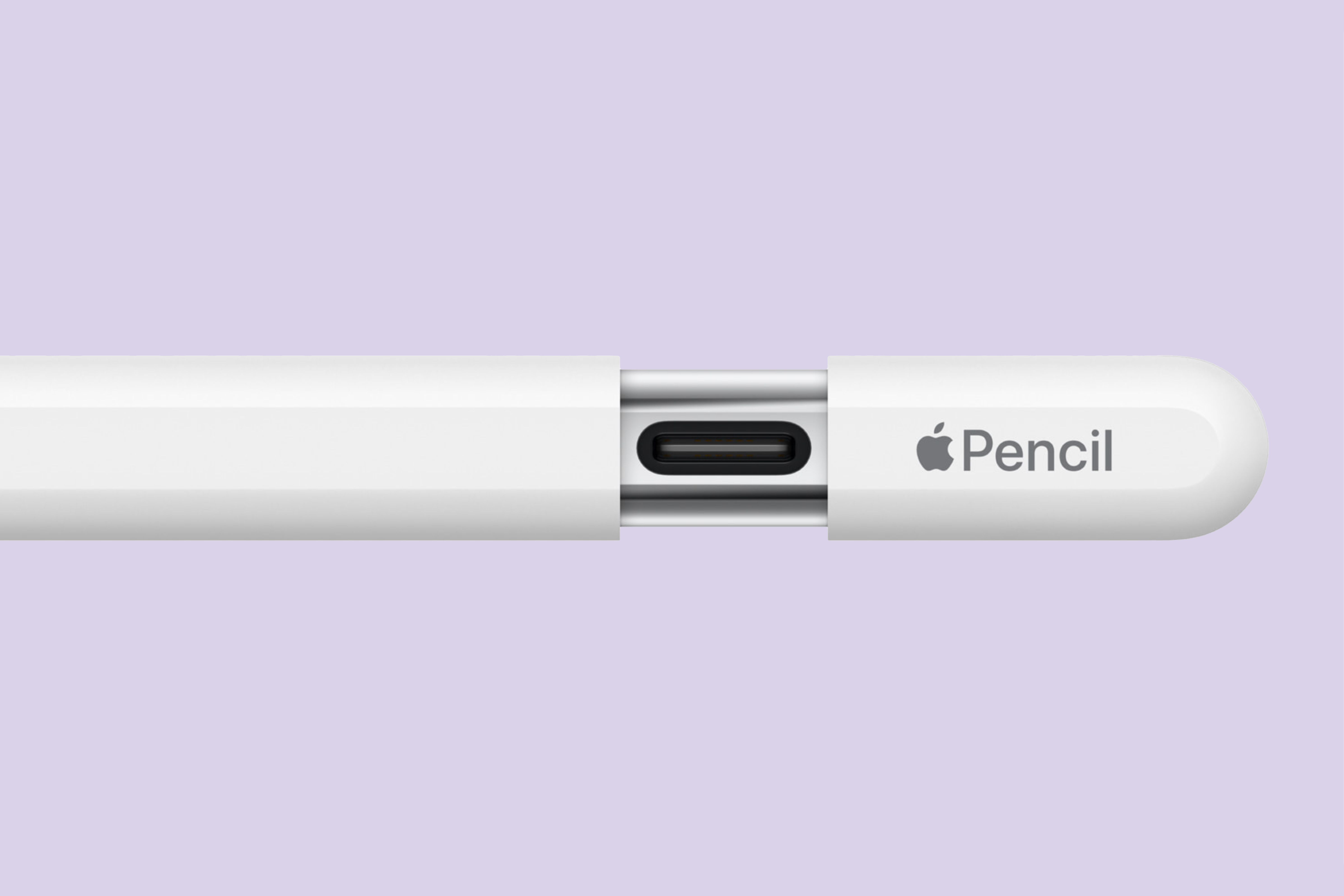 Source: Apple
Both the Logitech Crayon and the Apple Pencil (USB-C) have a matte finish that feels nice in the hand. Though we haven't specifically tried the USB-C one yet, it has a similar design and build to the second-generation Apple Pencil. Notably, the top of the Apple Pencil (USB-C) slides to reveal a USB-C connector used for charging and pairing. From what we've seen of this design so far, it looks to be really cool and convenient. Although the Apple Pencil (USB-C) does have magnets for attaching it to the side of your iPad, it won't wirelessly charge or pair.
Source: Logitech
The Logitech Crayon has a more ovular design that looks and feels like those specialized art pencils with a wide and flat build. The USB-C port is completely exposed most of the time on the Crayon, which is convenient but could expose the stylus to dust or debris, causing problems. There's a power switch too, and that's nice to see. While Apple's products without a power button (see Apple Pencil and AirPods Max) are supposed to have extremely low power draws when not in us, it's always good to have a physical switch.
The Crayon uses 2mm tips that are user-replaceable, but you don't get any extra tips in the box. Although the Apple Pencil (first-generation) included a spare tip in the box, the Apple Pencil (second-generation) did not, and it looks like USB-C version won't come with any either. However, like the Crayon, Apple Pencil (USB-C) tips will be user-replaceable and can be purchased separately. This is important, because stylus tips do wear down over time. If not replaced after wear, the tips could damage your iPad's display.
Connectivity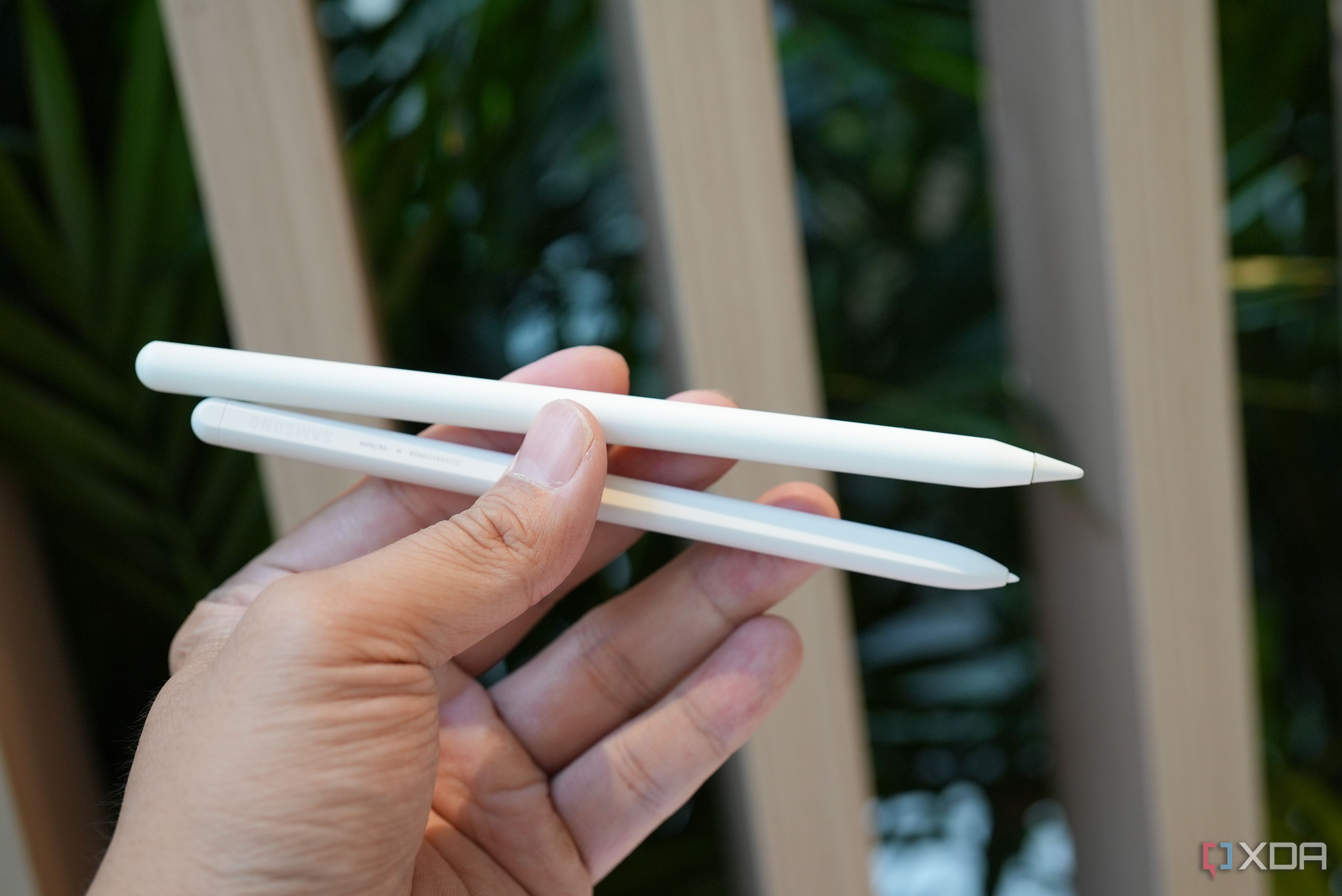 The S Pen (bottom) and the Apple Pencil (top) 
Since it designs the Apple Pencil specifically for iPads, you'd think that the pairing and connectivity battle goes to Apple. But the reality is that this aspect of the digital styluses is surprisingly similar between the Apple Pencil (USB-C) and the Logitech Crayon. As the name suggests, the Apple Pencil uses a USB-C port for charging and pairing. That means that you'll need a cable with you to charge it and to pair it, at least for the first time. The Apple Pencil (USB-C) should remember your pencil after the initial pairing, but it's not permanent. If your Apple Pencil ever gets completely drained, or if you're trying to use it between two iPads, you may need to re-pair with a USB-C cable.
By comparison, the Logitech Crayon doesn't require a USB-C cable for pairing. It does require the cable for charging, though. Interestingly, Logitech says that there isn't a complicated Bluetooth pairing process when using the Crayon. All you need to do is flip the switch on the Crayon and start using it with your iPad. However, it's worth noting that you can't have any other pencils or digital styluses paired with the iPad if you want to use the Crayon. You'll need to either forget those devices or turn off Bluetooth for the Logitech Crayon to connect. On paper, it seems that the Crayon might actually have the advantage in terms of connectivity, since it doesn't require a cable for pairing.
Writing & drawing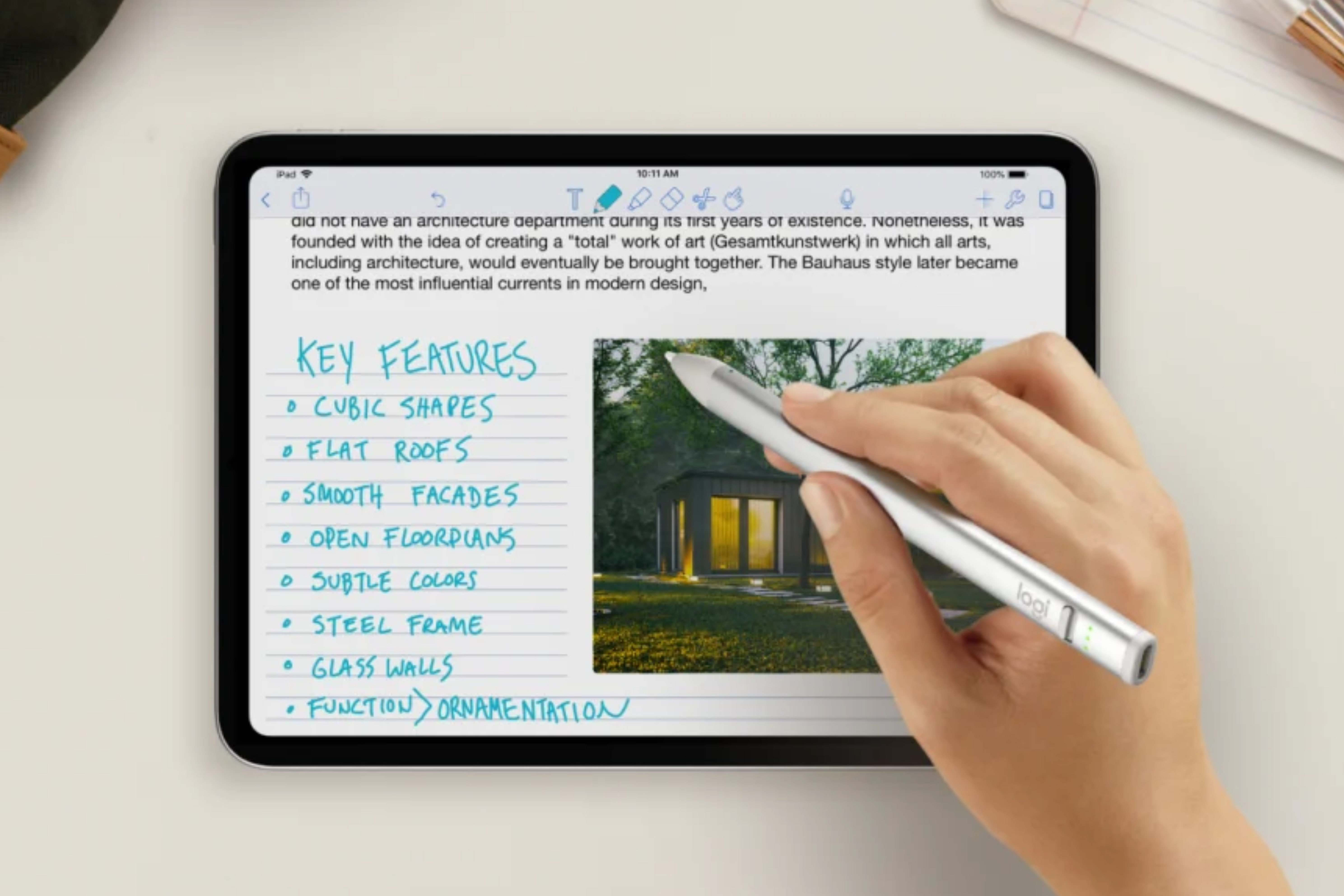 Source: Logitech
Typically, the Apple Pencil has had a leg up on other styluses thanks to the inclusion of pressure sensitivity. If you haven't used this feature before, it essentially allows you to draw or write based on pressure input, like you would if you were using paper. A harder press makes a darker mark, and so on. However, the Apple Pencil (USB-C) doesn't have pressure sensitivity support. That's why this Apple Pencil model and the Logitech Crayon are now deeply competitive.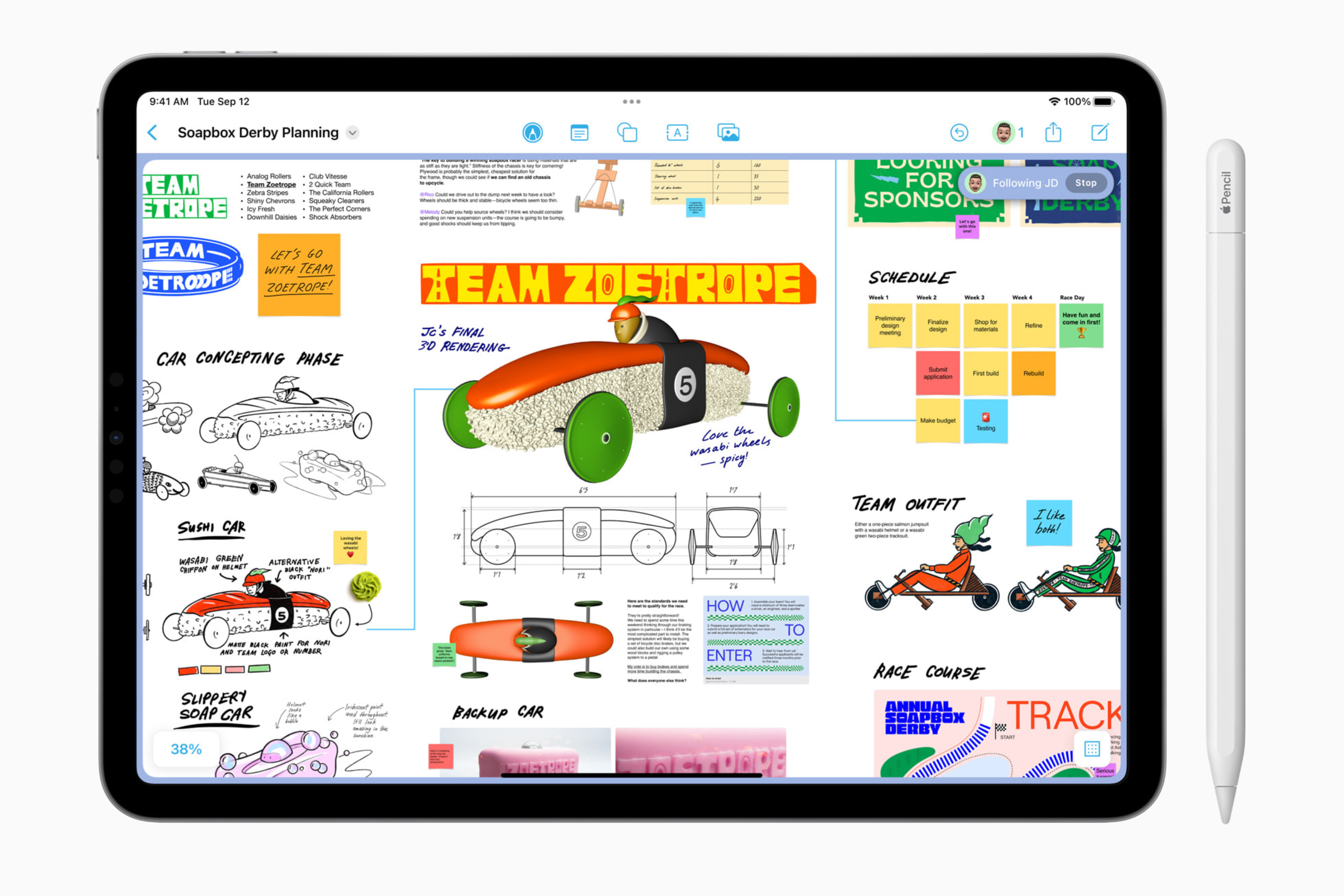 Source: Apple
The Apple Pencil (USB-C) does have tilt sensitivity, which some might say is more important than pressure sensitivity. With tilt sensitivity, you can make a stroke thinner or thicker based on the angle at which you tilt the pencil. It's useful, especially for drawing. But since the Logitech Crayon also has this feature, these two styluses are nearly identical in terms of daily use. Both offer solid connectivity, precision when drawing or writing, and have tilt sensitivity. As such, the choice between the two might come down to whether you prefer a circular or ovular feel. While the Apple Pencil will feel like an average pencil, the Logitech Crayon will feel more like an art pencil.
One other concern is that the USB-C version of the Apple Pencil does support Apple Pencil hover, which allows you to see where your pencil mark will be made before you actually make it. But this feature is only available on select iPad Pro models, and frankly, iPad Pro owners should buy the second-gen Apple Pencil for the best experience. With that in mind, the Apple Pencil (USB-C) and the Logitech Crayon have surprisingly similar feature sets, and the choice of which to buy likely comes down to preference and price.
Which one should you buy?
It's no secret that both the Apple Pencil (USB-C) and the Logitech Crayon are some of the best iPad styluses you can buy. It's natural to think that the Apple Pencil is the better buy just because Apple makes it, but I don't think that is true in this case. While the first and second-generation Apple Pencils have advantages over the Logitech Crayon, the Crayon is right up there with the Apple Pencil (USB-C). Thanks to the physical power switch and wireless pairing, the scales tip in the favor of the Logitech Crayon. But, it's definitely a close call.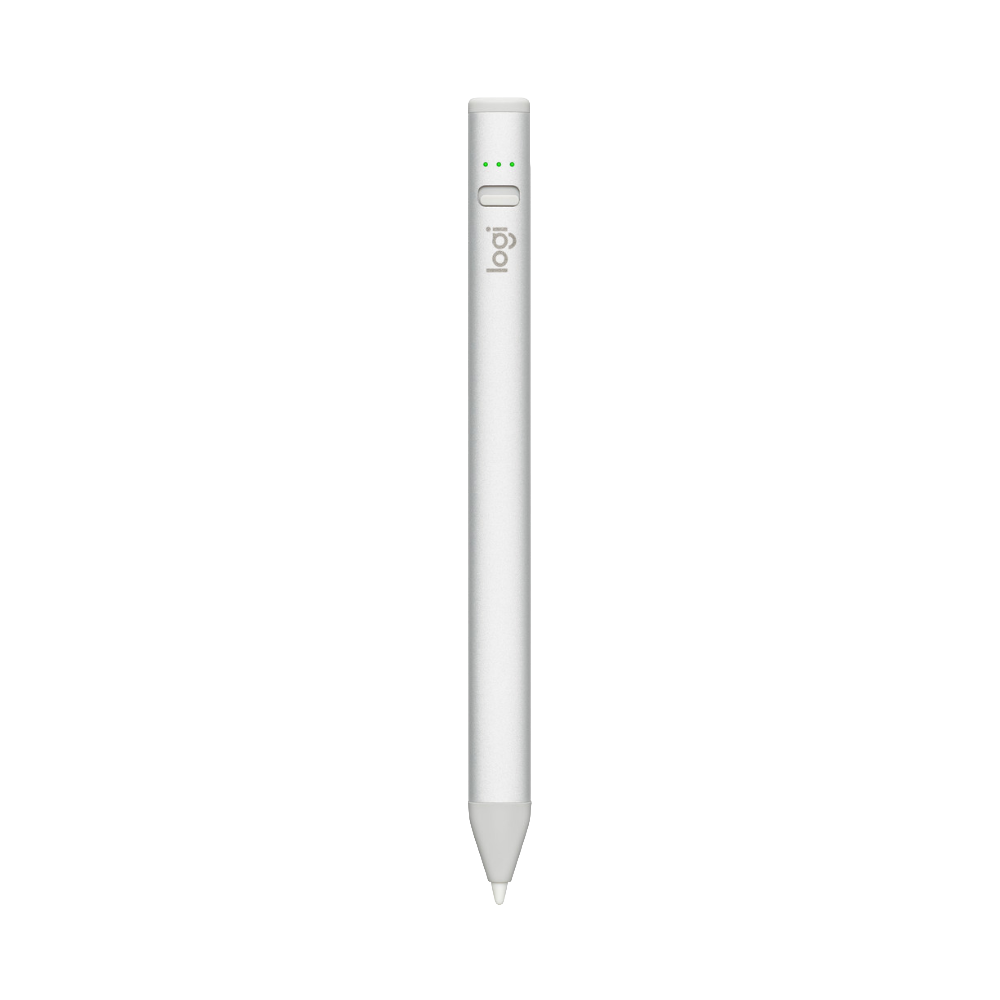 Logitech Crayon
Editor's choice
Logitech Crayon is a solid stylus to consider for your iPad. It's a sleek 6.4-inch stylus that has 2mm tips and is known to be accurate for both professional and more casual use cases. It lacks pressure sensitivity but offers dynamic line weight, meaning line thickness varies based on the angle at which it's held.
However, there are a few reasons you might want to go with the Apple Pencil instead. For one, the ability to magnetically attach your pencil to your iPad is really nice, even without wireless charging and pairing. Plus, for education buyers, the Apple Pencil (USB-C) is actually the same price as the Logitech Crayon. With price equal for those buyers, the benefits of Apple Pencil might outweigh the benefits of the Logitech Crayon.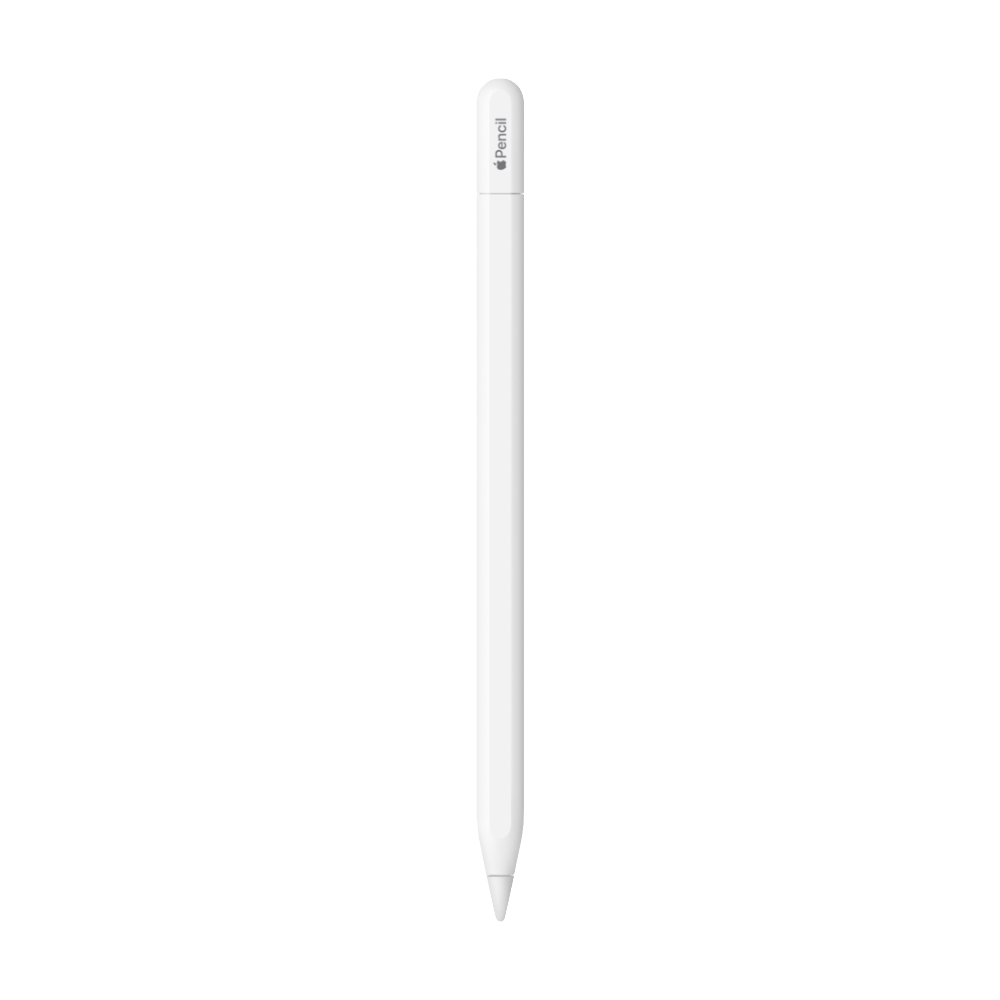 Apple Pencil (USB-C)
Good alternative
Apple's latest Apple Pencil is a USB-C version that serves as a budget option in the lineup. Surprisingly, it isn't a replacement for either the Apple Pencil (1st-gen) or Apple Pencil (2nd-gen). It lacks a few features of the premium models, but it also comes in at a lower price point.
** (Disclaimer: This video content is intended for educational and informational purposes only) **