When it comes to smart home cleaning devices, Dreame Technology has been pushing more and more awesome products. One that stood out at IFA is the DreameBot L20 Ultra, a robovac that can do it all.
Thanks to the countless improvements Dreame's team has been making on its models, the new L20 Ultra even solved one of the biggest problems robovacs have right now by extending the mop outside the body and therefore reaching even the tightest corners.
This IFA Spotlight Honoree, the DreameBot L20 Ultra is an all-in-one robot vacuum cleaner that will also mop your floors while making your life so much easier.
Three reasons to love the DreameBot L20 Ultra
Image Source: Dreame  (Client)
The DreameBot L20 Ultra is landing in shops in September, but it's never too early to get excited about having your house properly cleaned without lifting a finger. Let's dive in and discover some of the coolest features this DreameBot L20 Ultra robovac brings into our homes.
1. Extended mopping feature
Are you tired of struggling to clean those hard-to-reach edges and corners in your home with regular mops and vacuum cleaners? If so, the DreameBot L20 Ultra may be the right one for you thanks to the brand-new extended mop feature that provides a deeper, closer, and corner-to-corner cleaning experience.
The DreameBot L20 Ultra is equipped with the Mop-Extend, Dreame's technology, and industry first, which automatically and precisely identifies corners and edges in your home. This is also exactly why the Dreame L20 Ultra earns itself an IFA Spotlight Honoree accolade. This means you'll no longer need to worry about maneuvering a handheld vacuum or traditional mop around these tight spaces; the technology will take care of it for you.
But the L20 Ultra doesn't stop there. It also comes with the Duo-Scrub mopping technology with two high-speed rotary mops. These are specifically designed to tackle stubborn stains and worn-in dirt so you won't need multiple passes to get a clean floor. This means that even the toughest messes won't stand a chance against the L20 Ultra's cleaning power. Plus, with the built-in dirt detection technology, the L20 Ultra can detect whether a room needs additional cleaning and adjust its cleaning accordingly.
2. Thorough cleaning job
The mighty DreameBot L20 Ultra is designed to deliver an unparalleled cleaning performance that will leave your home looking spotless and feeling refreshed. Featuring a hefty 7,000Pa of suction power, the L20 Ultra's Vormax Suction System provides excellent vacuuming efficacy, making light work of dust, dirt, and debris on your carpets, rugs, and hard floors. With its powerful suction, this cleaning powerhouse ensures a remarkably high pick-up rate, letting you achieve a thorough clean with minimal effort.
What's more is that the L20 Ultra is also equipped with ultrasonic carpet recognition and mop-removal technology, which allows for advanced carpet and rug cleaning. When the L20 Ultra detects a carpet or rug, you'll have a choice of three cleaning options: mops removal, mops raising, or carpet avoidance, ensuring that the L20 Ultra can properly deal with a wide variety of carpet types.
If you choose mops removal, for instance, the L20 Ultra will remove the mops entirely so it doesn't get the carpets wet. This is ideal for high-pile or mid-pile carpets. If you have low-pile carpets, however, the mops raising option may be best suited because the mops are lifted up to 10.5mm. Of course, should you want to play it completely safe, you can just choose to avoid carpets altogether, so there's no risk of getting them wet. Whatever your needs, Dreame offers you a great array of choices.
Another thing we love about the DreameBot L20 Ultra is that it's perfectly suitable for pet owners. Cleaning pet hair is often a tricky feat, but with Liftable Rubber Brush technology, the L20 Ultra makes it easier than ever before. The brush is designed to detangle hair with ease, and the mop-removal technology ensures that you can achieve a powerful clean without any hassle. Operating the L20 Ultra is a breeze, thanks to its adaptable design, which allows for an ergonomic grip for effortless cleaning sessions.
3. True hands-off cleaning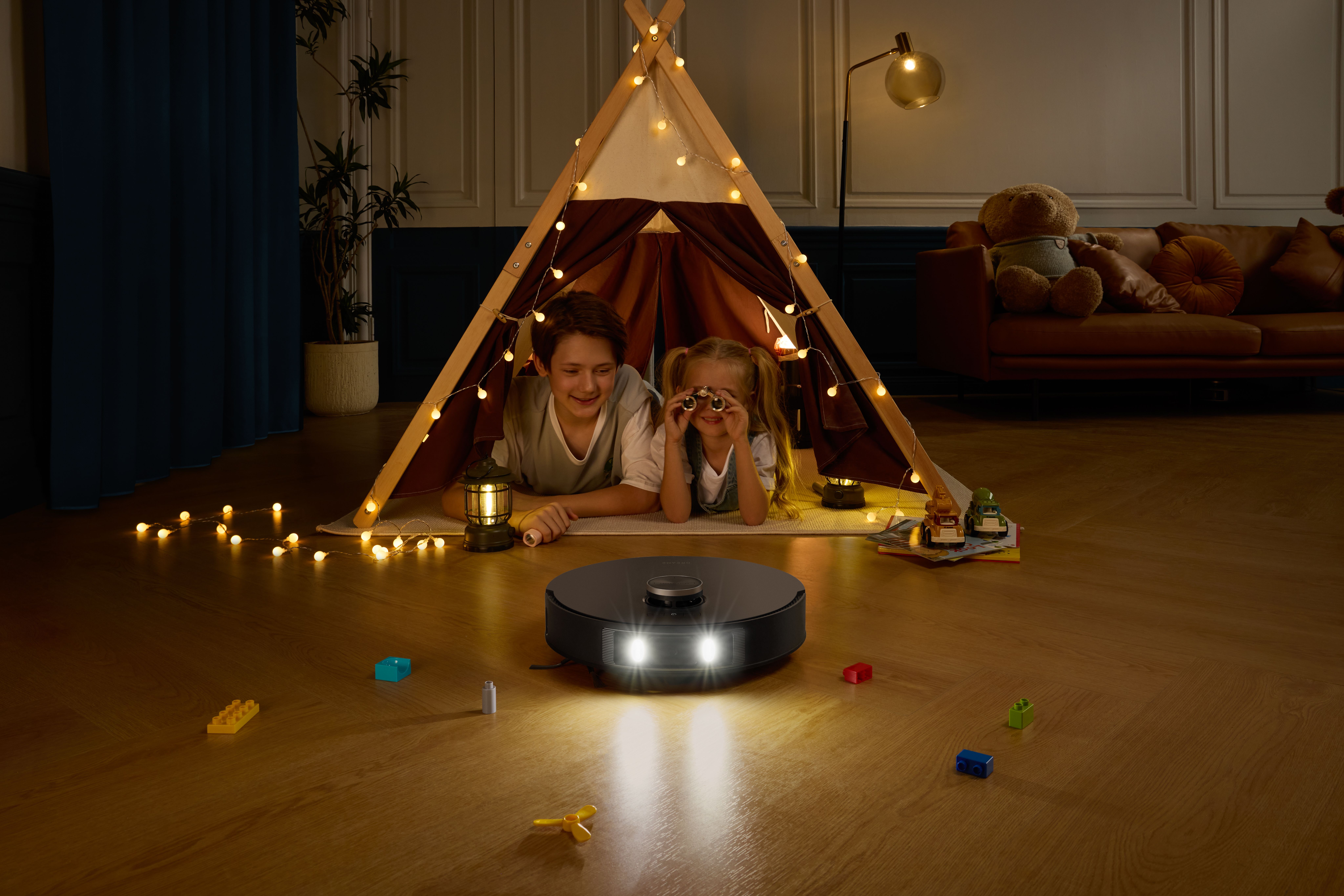 Source: Dreame
Another thing that we love about the DreameBot L20 Ultra is the fact that it self-cleans. We don't mean that it just empties the dustbin, but also cleans the mops, and more. Here are some of the main features that we love.
Auto emptying dustbin
With DualBoost 2.0 technology and a large 3.2L dust bag, the L20 Ultra can store dust for up to 75 days without needing to be emptied. This means you can enjoy an incredibly low-maintenance cleaning experience.
Auto drying of mop heads
In addition to the dustbin, the L20 Ultra can also clean and dry the mop by itself. The mops are washed within the automatic base station with a 4.5L water tank, ensuring that they are completely clean before being rapidly dried with hot air. Even better, it only takes two hours to dry the mops, which is the fastest you're going to get for this price range.
Auto water refiling
The L20 Ultra has some more tricks up its sleeve to take the hassle out of maintaining your cleaning equipment. The device automatically refills the water tank to keep the mop wet, so you never have to worry about manually refilling it.
Auto solution adding
Another thing you won't have to worry about is adding more cleaning solution. The station will automatically refill with solution to save you from the trouble of constantly having to do this yourself.
Save big with Dreame
The fantastic DreameBot L20 Ultra will be available for delivery starting on September 20th, 2023, for $1,499.99. Before then, however, starting on September 1st, the robovac can be preordered on the Dreame official website. For $19.99, you can buy a coupon code that you can later use on Amazon to get $450 off the price tag. Ultimately, you'll end up paying $1,049.99 on Dreame's official stores on Amazon.
This is a fantastic offer for a robovac that managed to steal the show at IFA, so hurry up and add one to your cart!
This is a sponsored post. The product choices and opinions expressed in this article are from the sponsor and do not reflect the editorial direction of XDA Developers or its staff.


** (Disclaimer: This video content is intended for educational and informational purposes only) **