Protecting your new Samsung Galaxy Z Fold 5 and Z Flip 5 requires more than just a run-of-the-mill case. Enter Caseborne, a reputable Texan brand renowned for its unwavering commitment to providing the ultimate in device protection.
Caseborne is back with its latest V series cases, designed specifically for the Galaxy Z Fold 5 and Z Flip 5. These cases not only offer top-tier device security but also offer some unique features that take your phone to the next level.
They also offer a unique minimalist product line made of aramid fiber, focusing on achieving the best thin and minimal design without any bulk.
Galaxy Z Fold 5 case
For your Galaxy Z Fold 5, nothing less than the best protection will suffice. Caseborne's Vanguard Series Galaxy Z Fold 5 Case offers precisely that. This case comes equipped with multi-layer 360-degree protection which will protect your device if it's accidentally dropped or falls from height.
Get Caseborne's Galaxy Z Fold 5 Case, combining style and function with an innovative semi-auto hinge protection for the Slim S-Pen. Enjoy a lifetime warranty, screen protector, and eco-friendly design crafted from recycled materials, prioritizing both device safety and environmental responsibility.
If you're ready to protect your Galaxy Z Fold 5, it's time to invest in the Vanguard Series Galaxy Z Fold 5 Case, available on Amazon for $89.98. Remember to use the 30% off coupon CBORNE30 to make your purchase even more budget-friendly.
For those averse to bulky cases, Caseborne provides a MagSafe-compatible, ultra-thin aramid fiber case, offering a nearly case-less feel. Available for $79.98 on Amazon and via the online shop for the Galaxy Fold 5 thin case.
Galaxy Z Flip 5 case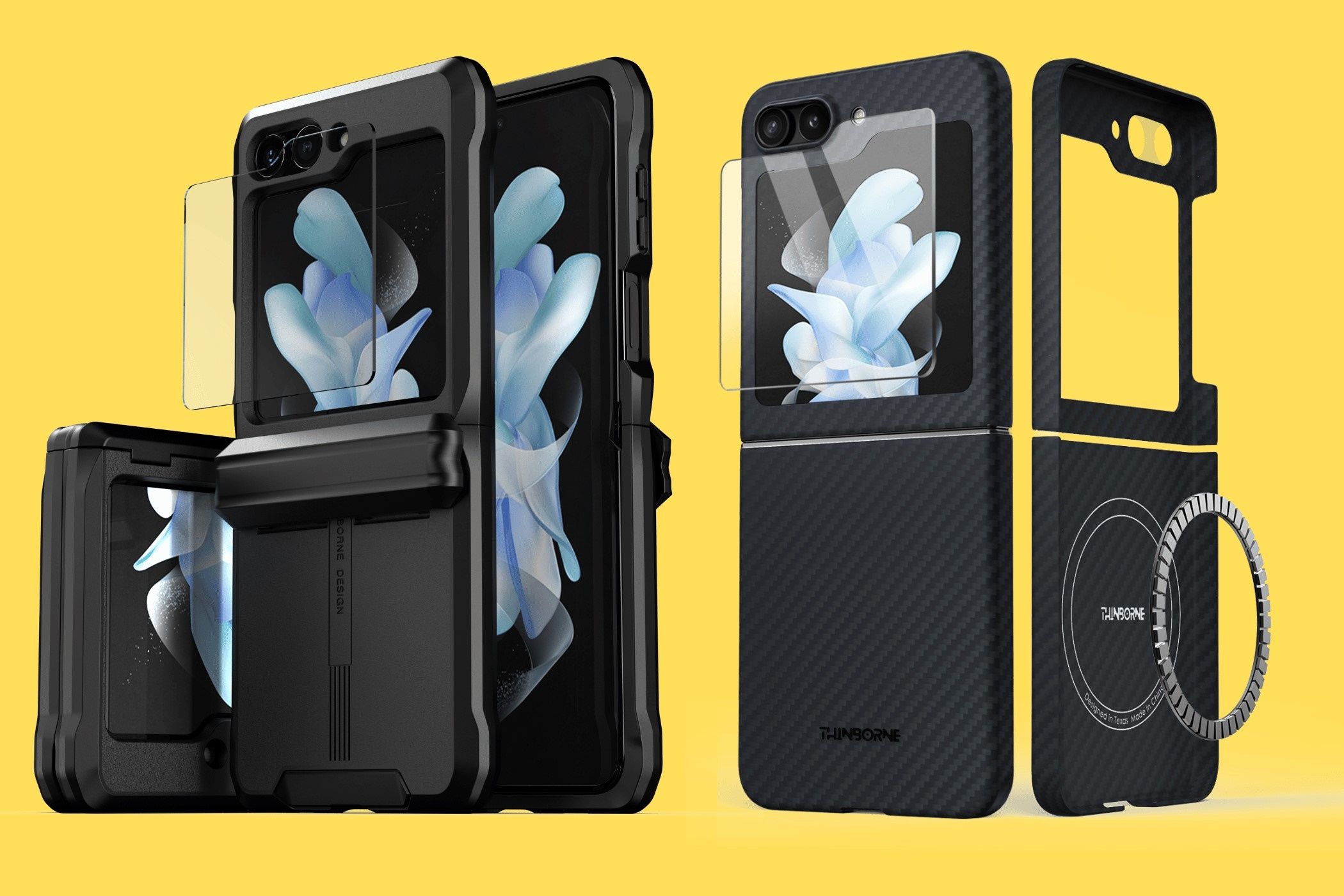 Source: Caseborne
Caseborne's Vanguard Series for the Galaxy Z Flip 5 case offers rugged protection with a soft foam layer. The semi-automatic sliding hinge cover safeguards the phone's hinge, while the case includes a tempered glass screen protector for scratch-free use without compromising touch sensitivity.
You can get your hands on the Vanguard Series Galaxy Z Flip 5 Case on Amazon for $39.98. Don't forget to apply the 30% off coupon CBORNE30 for additional savings.
As is the case with the Fold 5, you can also try Caseborne's aramid fiber Galaxy Z Flip 5 case, which is incredibly thin and minimalist and made of premium 600D aramid fiber. Get Caseborne's MagSafe Flip 5 case on Amazon for $79.98.
This is a sponsored post. The product choices and opinions expressed in this article are from the sponsor and do not reflect the editorial direction of XDA Developers or its staff.
** (Disclaimer: This video content is intended for educational and informational purposes only) **