Samsung's flagship Galaxy Tab S9 tablets are easily among the best Android tablets, with the alpha dog Tab S9 Ultra able to go toe-to-toe against even the best iPad for overall supremacy. But they're quite pricey, with the base model starting at $800 and the Ultra model reaching $1,200.
So it makes sense that not even three months after their launch, Samsung has already released "Fan Edition" version of the tablet, which is just a fancy way of saying "budget versions." The Galaxy Tab S9 FE series comes in two sizes, with the smaller one starting at $450 and the larger 12.4-inch model at $600. These prices are much more attractive to students and those on a tighter income, but just how much did Samsung had to compromise to meet this price point?
Samsung Galaxy Tab S9 FE+
Budget tablet
Mid-tier tablet for unpicky users
The Samsung Galaxy Tab S9 FE+ comes with a 90Hz 12.4-inch 2560×1600 screen and is powered by the Exynos 1380 chip. An aluminum unibody frame and relatively thin bezels complete the modern tablet look.
Storage

128GB, 256GB

CPU

Samsung Exynos 1380

Memory

8GB, 12GB

Operating System

Android 13

Battery

Li-ion 10,090mAh

Ports

USB Type-C Version 2.0, microSD (up to 1TB)

Camera (Rear, Front)

Front: 12MP UW Rear: 8MP + 8MP UW

Display type

12.4-inch WQXGA (2560×1600), LCD

Measurements

11.24 x 7.30 x 0.26 inches

Headphone jack

No

Colors

Gray, Silver, Lavender, Mint

IP rating

IP68

Weight

1.38 pounds
Pros
The S Pen stylus is included
Robust multitasking system
It's thin
Cons
Noticeable animation stutters occurs regularly
USB-C 2.0 without display output
Just 90Hz panel seems lacking in 2023
About this review: Samsung provided us with a Galaxy Tab S9 FE+ for review. It did not have input in this article.
Samsung Galaxy Tab S9 FE+: Pricing and availability
The Samsung Galaxy Tab S9 FE+ is the larger of two models announced last month. This larger model starts at a lower $600 with 8GB of RAM 128GB of storage (the smaller model starts at $450). If you need more RAM and/or storage, the 12GB/256GB version of the Tab S9 FE+ costs $700. But the tablet supports a microSD card up to 1TB if you want to add more storage yourself. The tablet is available now for purchase at retailers worldwide. In the U.S., it's available on Amazon, Best Buy, and Samsung's online store.
Hardware and design
Sleek design, large battery, below par SoC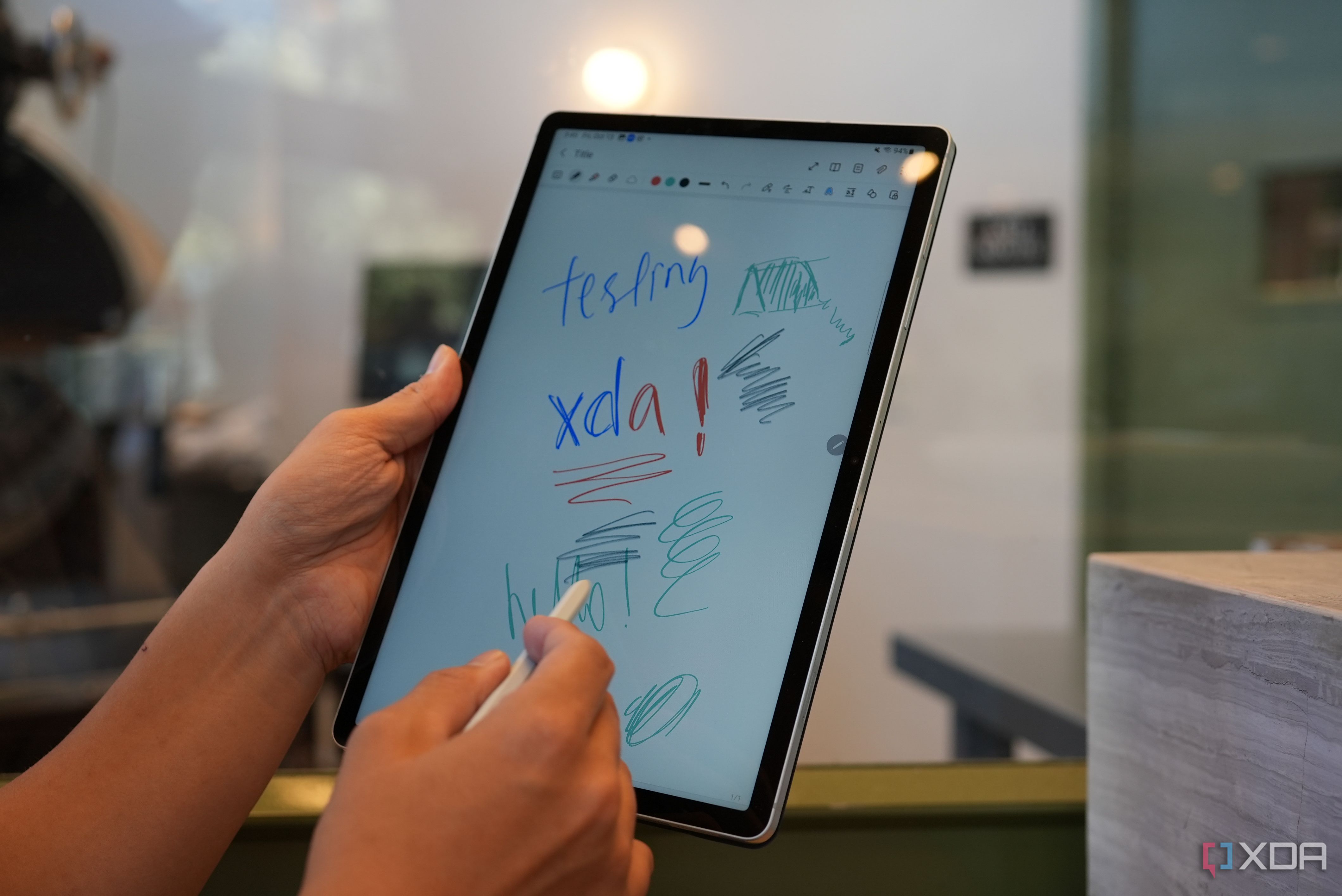 When I first took the Samsung Galaxy Tab S9+ FE out of the box, it looked very similar to the Galaxy Tab S9+, which I had used a month ago for a week. The 12.4-inch screen sizes are identical, and the aluminum unibody construction feels sturdy. Measuring 0.26-inch (6.5mm) in thickness and tipping the scales at 1.38 pounds (628g), it is every bit as sleek and lightweight as the flagship non-FE model. The edges where display meets frame feels smooth, and buttons are clicky. Just like the flagship Tab S9 series, you even get a stylus included with the package. So far so good.
But after setting up the tablet, I immediately noticed janky, stuttering animations. Anytime I swiped up for the app tray, or open an app folder, I can see slight hiccups in the animation fluidity. I initially chalked it up to the tablet being freshly setup, so perhaps it's handling a lot of background updates and optimization. But a day later, the same animation stutters were still present.
I concede I am very spoiled: I review mostly flagship products, and all my personal devices have at least a 120Hz refresh rate. So perhaps for my eyes, jumping back to the 90Hz display here was jarring. But it's not like I have no experience with mid-range devices or other 90Hz panels lately. I tested an iPhone 15 and Google Pixel 7a with 60Hz and 90Hz displays respectively, and animations there felt smoother than the Tab S9 FE+'s animations.
When I'm not looking at the animations, the screen itself looks good for an LCD panel. Colors still pop, the 1600×2560 resolution is relatively sharp, but the 600 nits of maximum brightness means the display can be hard to see outside under the sun. Still, at this price point, I'm not going to nitpick the screen brightness (but I will about stuttering animations).
The Tab S9 FE+ includes three cameras: two 8MP shooters on the back covering the wide and ultra-wide focal length, and a 12MP ultra-wide front-facing camera.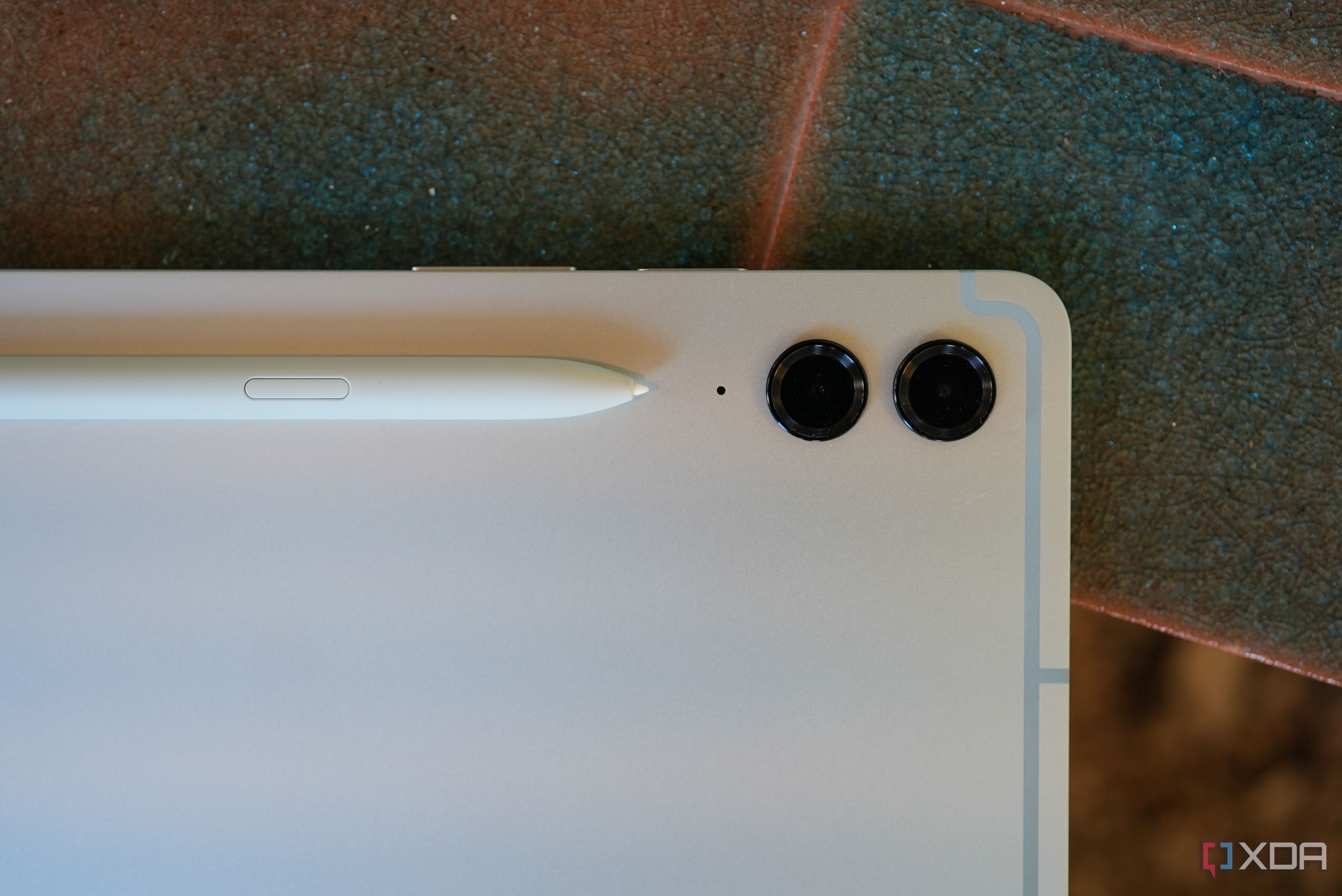 The rear cameras are decent and get the job done on a tablet, and the front-facing camera is actually good, producing detailed images with proper exposure, and ability to shoot 4K ultra-wide videos. Prioritizing the front-facing camera over the rear-facing shooter is a smart choice on a tablet.
The tablet has symmetrical speaker grills on each side, pumping out good sounding audio tuned by Harmon-Kardon. The battery size too, is good, at 10,090mAh that can be charged at 45W (no charger included however).
But the other internal components are average. The Exynos 1380 silicon paired with UFS 2.0 storage are the likely cause of the stuttering animations, and surprise, surprise, the chip runs warm too when running multiple apps or playing games. It's nothing unbearable — not as bad as the Google Tensor G2 on the Pixel Fold, but this tablet's performance is clearly not fast or snappy. And I'm not comparing it against just flagship tablets, but even the OnePlus Pad (powered by MediaTek's Dimensity 9000) feels faster and more efficient than this Exynos-powered Tab S9 FE+.
I do like the included stylus, known as the S Pen. It attaches magnetically to the back of the device near the camera module like previous Samsung tablets, and although it lacks Bluetooth connectivity and there's ever so slightly latency, I can still sketch and jot notes with it naturally. The fact it comes with the package without an extra purchase is a major bonus. There's also a limited time offer right now for North American buyers to receive the "Smart Book Cover" free with purchase too.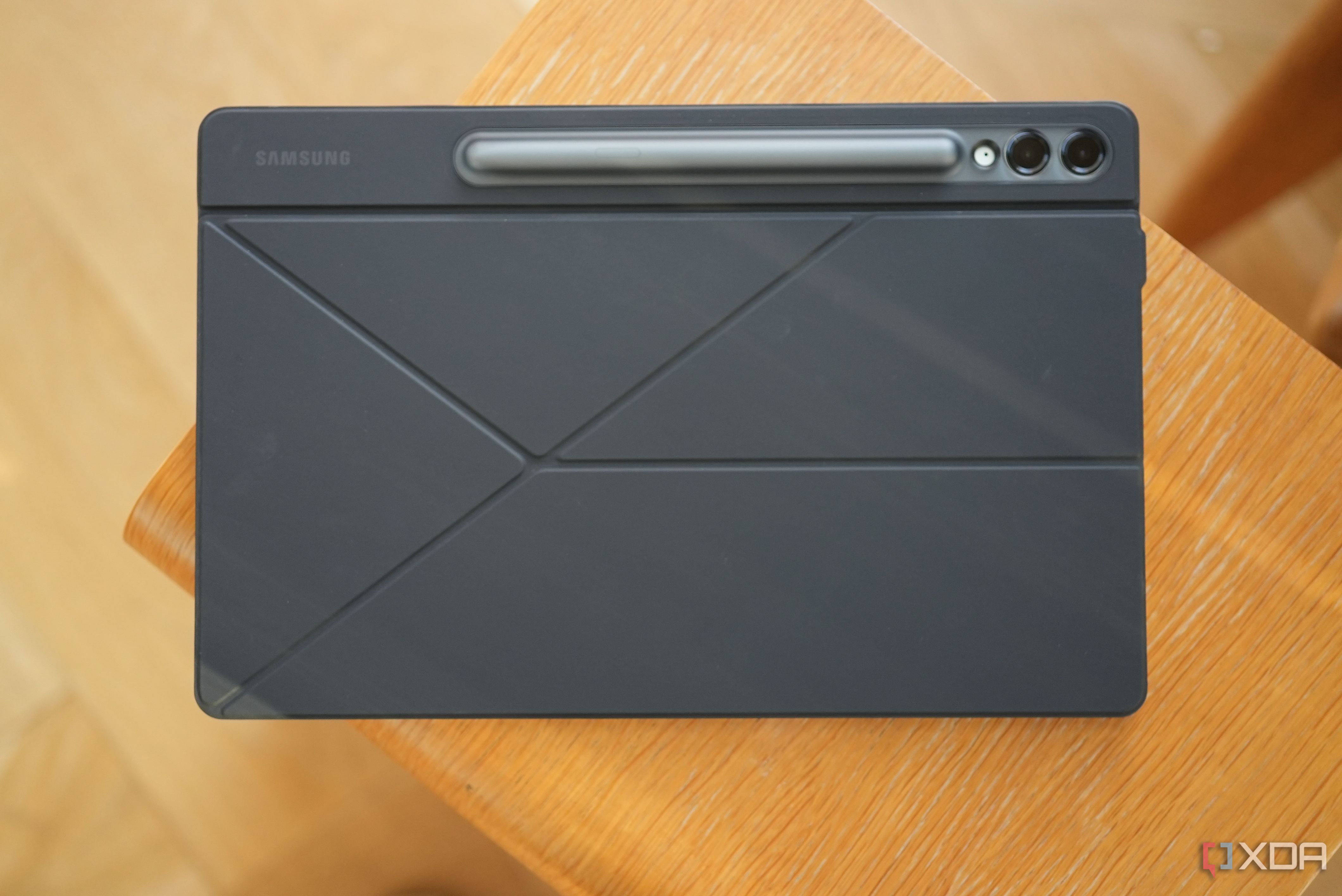 The Smart Book Cover is a two-piece folio case that covers the screen and backside of the tablet when not in use. The backside also has a clever kickstand that allows the tablet to stand upright or in landscape orientation.
It's worth mentioning that the tablet is rated IP68, meaning it can be fully submerged underwater up to 3 feet for 30 minutes. For a budget tablet, this is impressive.
Software and performance
In a word, decent
As I've already spoiled, the Exynos chip here is no world beater — and benchmark numbers reflect that — but throughout my days of testing, it still handled work tasks like sending emails, taking video calls, writing a bit of this article on a CMS in the Samsung Internet app without problems. Samsung's multi-tasking system is also quite good, with the ability to run up to three apps in a grid, or multiple apps in a floating window. However, one feature I really like from the Tab S9 Ultra — the ability to quickly resize a window by swiping inwards from the corner, is not possible here. I wonder if it's due to the limited RAM, because the software running here, OneUI 5.1.1 over Android 13, is the same.
l enjoyed using the versatile kickstand to prop up the tablet on the bed or sofa while I watch YouTube videos; the speakers get loud and full. The LCD panel means blacks aren't as deep, so content isn't as great as OLED screens, but those are just compromises Samsung chose to make.
When paired with a wireless keyboard, the Tab S9 FE+ is a good on-the-go work machine, with a large canvas and ability to run multiple apps at once. In fact, DeX Mode, which turns the Android UI into something resembling a Windows desktop, is also here, but performance here can really bog down if you have too many windows opened. In fact, I mostly stayed away from it after trying a couple times.
Battery life is acceptable, I used the tablet to watch an hour of YouTube and then another hour catching up on emails and scrolling through Instagram and TikTok, and the tablet drained 15% battery. I only tried to use this machine for writing work for about 45 minutes before the slow speeds annoyed me too much (remember, I am spoiled by using spec'ed-out, top-of-the-line machines), but the battery drain there was manageable too at about 18%. I think for students who may be using this machine in class to take notes, browse websites, and read documents, it will be able to last five to six hours.
It is possible to pair the tablet with a keyboard and write words onto Google Docs or an offline word document fine, but trying to use XDA's CMS on Samsung Internet Browser and Chrome, it was slightly laggy for me.
Should you buy the Samsung Galaxy Tab S9 FE+?
You should buy the Galaxy Tab S9 FE+ if:
You specifically want a Samsung tablet (for OneUI and DeX) at an affordable price
You specifically want an Android tablet larger than 12 inches at an affordable price
You should not buy the Galaxy Tab S9 FE+ if:
You are fine paying a couple hundred dollars more for mainline Tab S9 series
You are okay going slightly smaller on screen — the OnePlus Pad or base model iPad Air are better devices that do not cost more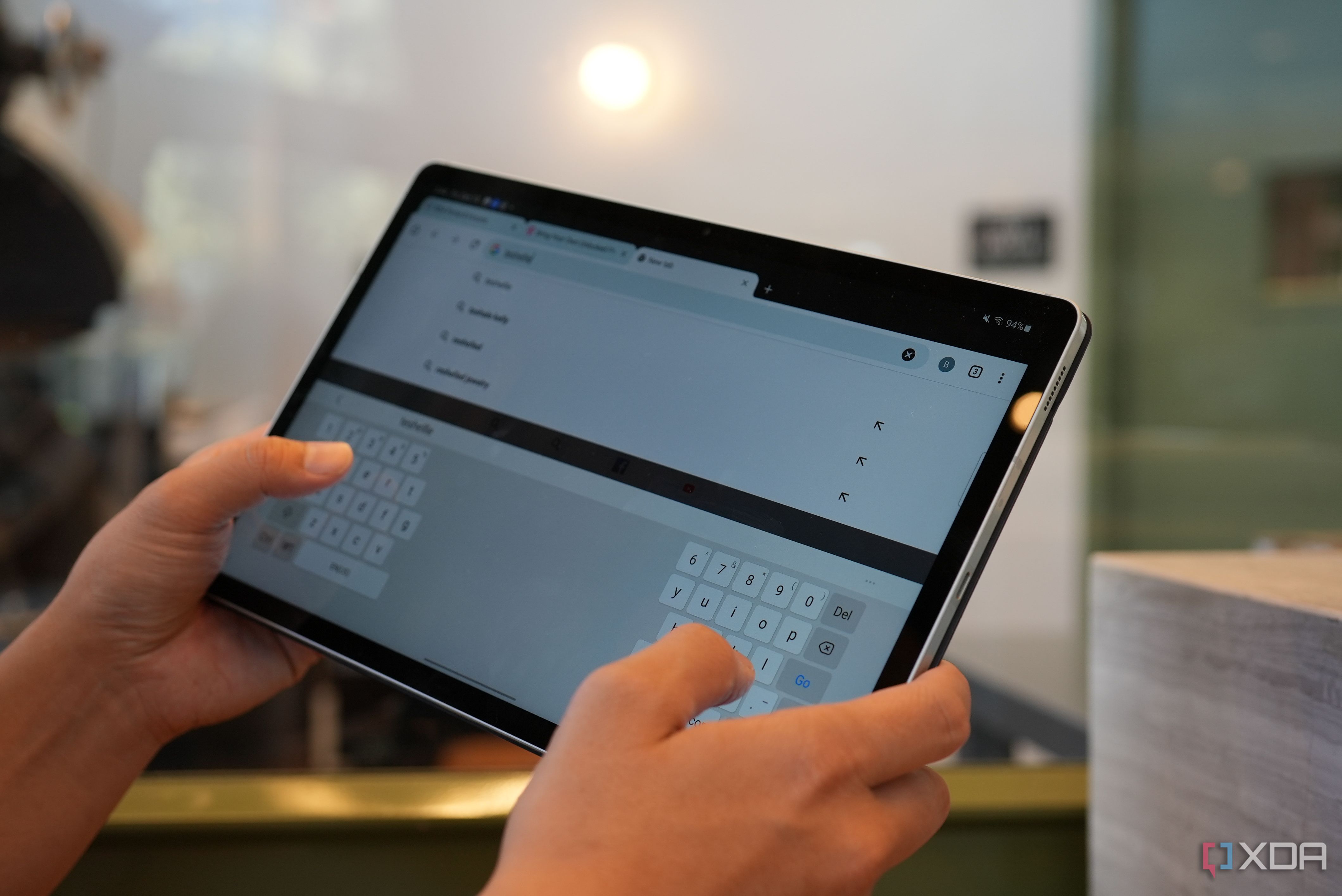 My initial conclusion of the Galaxy Tab S9 FE+ was that this tablet doesn't have much appeal, because the OnePlus Pad is much cheaper at $449 and is a better performing device with a much better screen and faster performance. Its 11.4-inch screen size is smaller, but not too much due to differing aspect ratios. The standard 11-inch iPad Air is priced the same (at least at first glance) but is far, far more powerful.
But I remember that for the average American consumer, carrier presence and brand familiarity play a big deal in appeal, and that for some consumers, a Chinese brand you have to buy direct from its website is a non-starter. So for that group, the OnePlus Pad is out. There's still the iPad Air, which appears to be the same price, but then you realize it only comes with 64GB of storage and does not include a stylus, so realistically, getting a similarly usable iPad Air will costs several hundred dollars more than the Tab S9 FE+.
So that leaves the Galaxy Tab S9 FE+. It almost wins by default. If you're on a budget and still want a large tablet that looks the part (and can sort of do the part), the Tab S9 FE+ is it.
Samsung Galaxy Tab S9 FE+
Budget tablet
The Galaxy Tab S9 FE+ is a mid-range tablet with a large screen, and solid software. The S Pen can be a useful tool and is included with the package.
** (Disclaimer: This video content is intended for educational and informational purposes only) **