If you have one of the best iPhones and it's in SOS only mode, this means there's no service or it's searching for a cellular network. There are steps you can take to try and fix this if you do have a SIM or eSIM card in the phone and it's still not connecting.
How to troubleshoot iPhone in SOS only
First, the most obvious thing to do is make sure that you are within an area that has an active cellular network and that your phone has a SIM or eSIM that is activated by a carrier with a plan. If you just bought a new phone, check out our guide on how to set up iPhone 15, which includes all the necessary steps for setting up any iPhone. If these parameters are met and the phone is still in SOS mode, there are a few things you can try.
How to turn on iPhone cellular data
Go to Settings.
Select Cellular.
Make sure Cellular Data is on. If not, turn it on. If it is already on, still toggle it off and on by tapping the slider to the left then right again so it turns green. This will reset the connection and hopefully fix the issue.
How to turn on iPhone data roaming
Another reason the phone might be in SOS mode is if you're traveling and don't have data roaming set up.
Go to Settings.
Select Cellular.
Check that under Cellular Data Options, it is set to Roaming on. If not, select and turn this on. (Note that roaming charges will apply, so check on plan options with your carrier ahead of time or call them right away to confirm).
How to update carrier settings on iPhone
There could be a carrier settings update that may be causing issues with your connection. Check to make sure this isn't the case.
Select Settings.
Select General.
Select About. If there's a necessary carrier update, an option will appear in this menu to select.
How to verify that your iPhone software is up-to-date
Another potential reason could be a software update. It's possible there could be a bug in the software preventing you from connecting.
Go to Settings.
Select General.
Select Software Update and make sure you're running the latest version of the phone's software. If not, select Update Now and run the update.
How to make sure your iPhone is not in Airplane Mode
If your iPhone is in Airplane Mode, it means all connectivity is disabled temporarily. Naturally, people use this mode while traveling by air, but also as a way to conserve battery life if necessary in a pinch. Nonetheless, it's possible you could have enabled it by accident.
Pull down from the Home Screen to open Control Center.
Check the Airplane Mode icon and confirm that it is not on. If so, tap it to turn it off.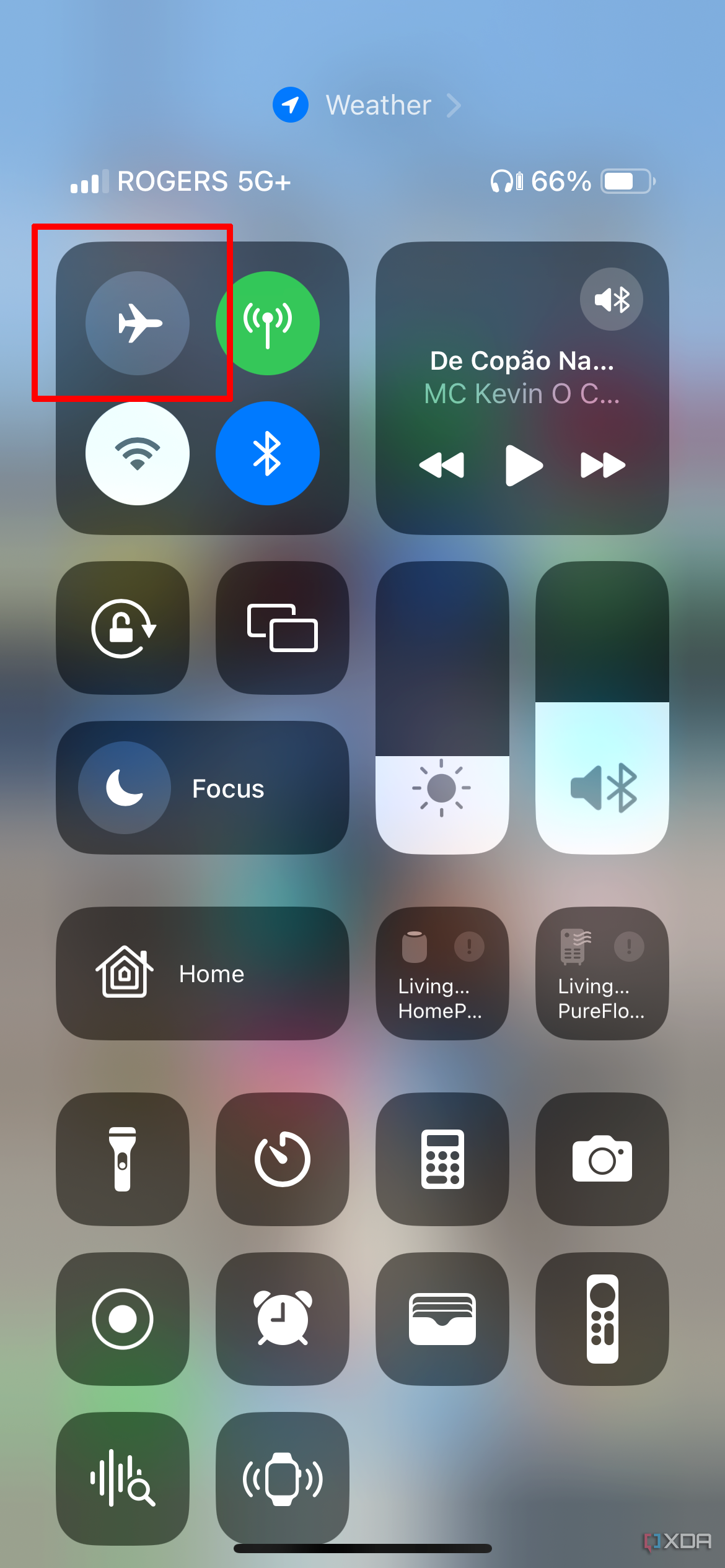 How to restart an iPhone
If these methods fail, restart your iPhone. With iPhone X, 11, 12, 13, or later, press and hold the volume up or down button and side button until the power off slider appears. Drag it, wait for the device to turn off, then press and hold the right-side button to turn the phone back on. For iPhone 6, 7, 8, or SE 2 or 3, press and hold the right-side button to get the power off slider. If you have a first-gen iPhone SE or iPhone 5 or earlier, press and hold the top button to get the power-off slider.
How to disable or enable automatic network selection
Another way that SOS could be triggered is if you have automatic network selection on, which ensures that you always connect to the proper network. But if your phone doesn't find the right one immediately, you could end up in SOS mode. It's a good idea to keep this one, but you can toggle it to reset the connection and hopefully fix a temporary connection issue.
Open Settings on your iPhone.
Select Cellular.
Select Network Selection.
Toggle Automatic on and off by tapping the slider to the right so it turns gray. Go back to the left so it turns green again.
How to reset iPhone network settings
This is only a last resort option if you find that nothing else works. Note that resetting the network settings on your iPhone won't delete your data like photos and apps, but it will erase any saved data like Bluetooth devices you have in memory for automatic connection, Wi-Fi passwords, VPN data, and more. When it comes to passwords, make sure you have them saved somewhere else or you may have to reset some. But this might rectify the issue.
Open Settings.
Select General.
Scroll all the way to the bottom of the page to Transfer or Reset iPhone and select it.
Select Reset.
Select Reset Network Settings then confirm your choice and wait for the reset to complete.
What to know about SOS or SOS only
SOS or SOS Only on any iPhone, including new models like the iPhone 15 Pro Max, and models running the latest iOS 17 and older mobile operating systems, simply means your phone isn't connected to a cellular network. The phone can still make emergency calls in this state in the U.S., Canada, and Australia. But you won't be able to do anything else. You can temporarily connect to an available Wi-Fi network if there is one, allowing you to access data like instant messaging and video chatting apps, web surfing, music and video streaming, and more. But you won't be able to make or receive phone calls over a cellular network nor receive SMS text messages.
SOS or SOS-only mode can appear if you have an older iPhone, like an iPhone 5S or 5c, and a plan that operates on the AT&T 3G network. This network is being phased out, which means you may have trouble connecting. For newer iPhones, including iPhone 6 and above, that might be on an outdated 3G network, make sure that Enable LTE is selected under Cellular Data Options. If this doesn't fix the issue, you will need to contact your carrier and discuss an adjustment to your plan or bring the phone in for them to take a look at it.
** (Disclaimer: This video content is intended for educational and informational purposes only) **