When you invest in a new Mac, you're also getting access to the exceptional set of features offered by macOS Sonoma. This includes both basic and advanced tools that cater to different users and workflows. Screen recording happens to be one of these more interesting utilities.
Recording your Mac's screen isn't a straightforward process, at least when compared to the simple approach in iOS. You have plenty of options, each tailored for specific needs and use cases. Recording a video tutorial, for example, will have a different procedure than taking a static screenshot. We'll be exploring all the options available on macOS to record your screen.
Locating the Screenshot app
Apple makes it easy enough to choose which mode to go for. They're all bundled in one location, with brief descriptions of each. To get started, your go-to app is, well, Screenshot. You should be able to find it in Launchpad, among other first-party, pre-installed apps. Alternatively, you could invoke Spotlight Search by holding the Command button, followed by hitting the Spacebar. Once Spotlight Search appears, type Screenshot, and click on the first result.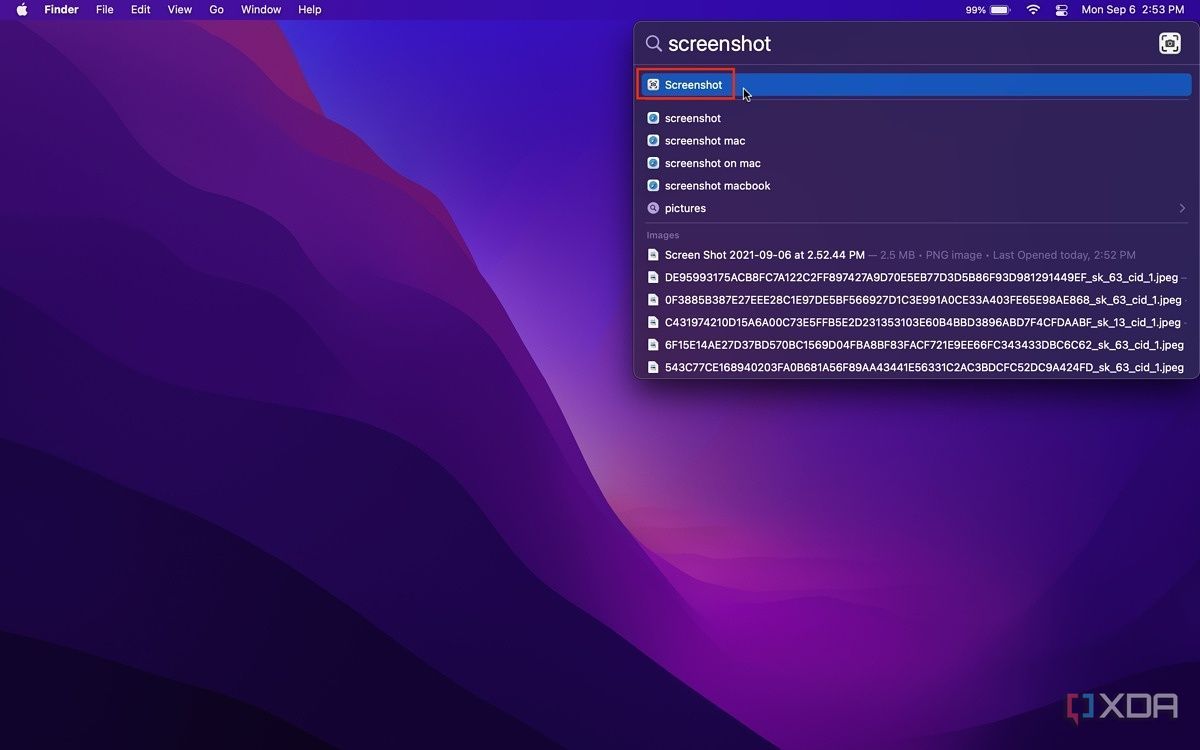 The Screenshot app has a basic user interface, with a small, translucent bar at the bottom of your screen and a few buttons representing the modes to choose from. The rest is all transparent, so you can view the contents behind the Screenshot app and decide what/where to record.
What are the Screenshot app options?
Before going through the available modes, it's a good idea to check out the options to choose what works best for you since Capture (static screenshot) and Record (video) have different ones.
When choosing a Capture mode
Save to: Allows you to choose your preferred screenshot destination, which can include desktop or document folders, copying to the clipboard, sharing it directly to another app (such as Mail or Messages), or another location of your choosing.
Timer: Allows you to set a 5 or 10-second timer before taking the screenshot.
Other options: Show floating thumbnail, Remember last selection (your preferred modes and options), and Show mouse pointer.
When choosing a Record mode
Save to: Similar to that of Capture mode, excluding the save to clipboard option.
Timer: Lets you set a 5 to 10-second timer.
Microphone: Lets you record external audio using your Mac's built-in mics or external ones.
Other options: Similar to that of Capture mode, but instead of Show Mouse pointer you get Show Mouse Clicks.
What to know about Capture modes
There are different options to choose from when capturing a screenshot.
Capture Entire Screen: This option, as its name suggests, takes a screenshot of the whole Mac screen. This includes the menu bar and dock if they're visible.

Capture Selected Window: This option takes a screenshot of an open window of your own choosing. Neither other windows nor the Menubar and dock will be visible in the final image.

Capture Selected Portion: This will bring up a resizable, dotted rectangle that you can move around the screen. This allows you to choose a specific screen portion to take a screenshot of, independent of windows.
What to know about Record modes
Record modes are almost identical to those of Capture, except that the Record Selected Window option isn't available.
Record Entire Screen: This option takes a video recording of the whole Mac screen.

Record Selected Portion: This option allows you to record a video of the contents displayed inside the dotted rectangle I've mentioned above.
Once you set the options to match your preferences, you're ready to hit Capture/Record, the very last button on the right of the Screenshot selection bar. A screenshot will instantly save to your set destination. As for a video recording, a Stop button will appear in the menu. Once you're done with recording, hit that button to get it saved.
Record and Capture mode shortcuts
Take a screenshot: Shift + Command + 3
Capture a portion of the screen: Shift + Command + 4
Capture a window or menu: Shift + Command + 4 + Spacebar
Launch the Screenshot app: Shift + Command + 5
You're all set! Now, you can record your Mac's screen, for whichever purpose, with ease and upload it on social media or into a Mac video editor. With Apple's various options and modes on macOS, there's a combination for everyone and every possible use case. So now, you no longer have to provide full-screen screenshots when the focus is on just a particular window or portion of the screen. This makes your output look tidier and more professional, and it allows you to easily get started editing photos and videos.


** (Disclaimer: This video content is intended for educational and informational purposes only) **