While Microsoft, Sony, and Nvidia all got into casual gameplay recording in 2013, AMD graphics cards were noticeably lacking in that department. While Nvidia users could use ShadowPlay to easily record games, AMD users had no such equivalent. However, AMD has since caught up with Radeon ReLive, arguably surpassing Nvidia when it comes to recording games. Here's everything there is to know about Radeon ReLive and why it's a key reason that AMD GPUs still rank among the best gaming graphics cards.
How to install Radeon ReLive
Unlike ShadowPlay, Radeon ReLive isn't something you need to install separately but instead comes with the regular drivers you get from AMD's website. Once you've installed your drivers, you just have to pull up Radeon Software (also sometimes named AMD Software) and navigate to the Record & Stream tab to access Radeon ReLive.
However, there are some hardware requirements for Radeon ReLive. First, you need a discrete GPU, as Radeon ReLive is not supported on APUs with integrated graphics. Even among discrete GPUs, some may not support ReLive; the RX 6400, for whatever reason, doesn't have ReLive support. And if you have a laptop with both discrete and integrated AMD graphics, you might need to disable the integrated graphics to get the Record & Stream tab to pop up.
How to use Radeon ReLive
Contained within the Record & Stream tab are five secondary tabs that each contain fairly important features and settings: Record, Live Stream, Scene Editor, Media, and Settings. These tabs are where you can use these applets as well as customize them to your liking.
Recording in Radeon ReLive
If you've ever used OBS before, recording and streaming in Radeon ReLive will probably be familiar. If you're new to Radeon ReLive, it's not going to be that hard to learn, either. To find the Record tab and to start recording, do the following:
Open up Radeon Software.
Click the Record & Stream tab.
Click the Record button.
Here, you can see the Record tab is divided into two parts: Controls and Preview. The Preview area just shows you what you already recorded, but the Controls options are something you'll want to use. You'll see your basic microphone and camera toggle options, microphone volume adjustment, and a toggle to show the recording time in the top right (denoted by Show Indicator).
What's interesting about ReLive is that you can very easily choose what windows or monitors to record, and you can even select a specific region of a monitor if you want. Just select Fullscreen if you want to capture the entire window or monitor or Region if you want to capture a specific part of a window or monitor. This is something you can't even do in ShadowPlay, and it puts Radeon ReLive on a level much closer to OBS, which continues to be the more robust software.
Streaming in Radeon ReLive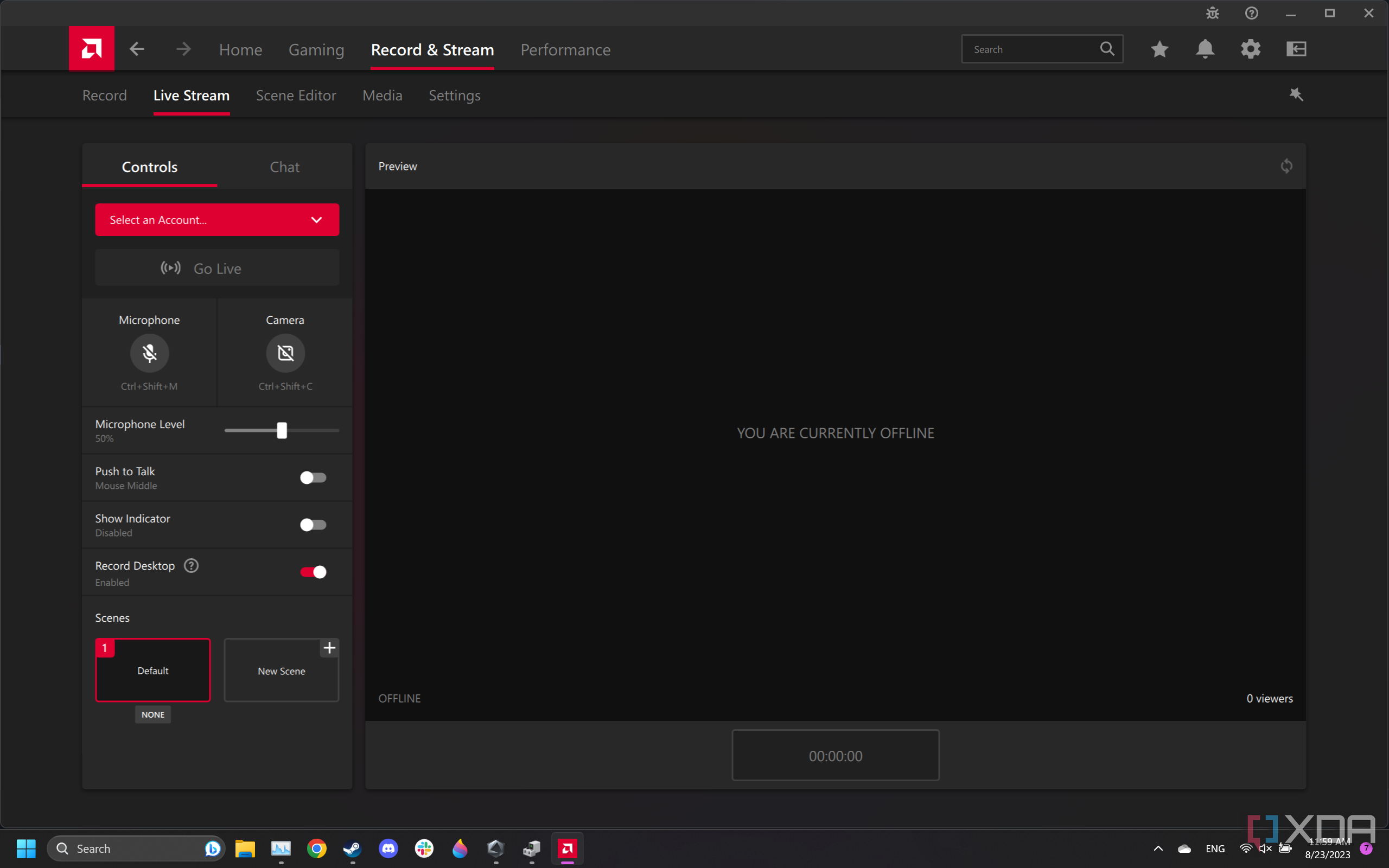 Just like with recording, it's easy to access the Live Stream tab for streaming.
Open up Radeon Software.
Click the Record & Stream tab.
Click the Live Stream tab.
Select an account to sign into.
Click the Go Live button.
The Live Stream tab is very similar to Record, but has a few extra features for live streaming. There's a dropdown menu for selecting what website you want to stream to, a chat window, and even a scene switcher using scenes you can make in Radeon ReLive itself. It also has quite a few options for platforms, including Twitch, YouTube, and Facebook, along with Weibo, Redstream, Stage Ten, and Gfycat.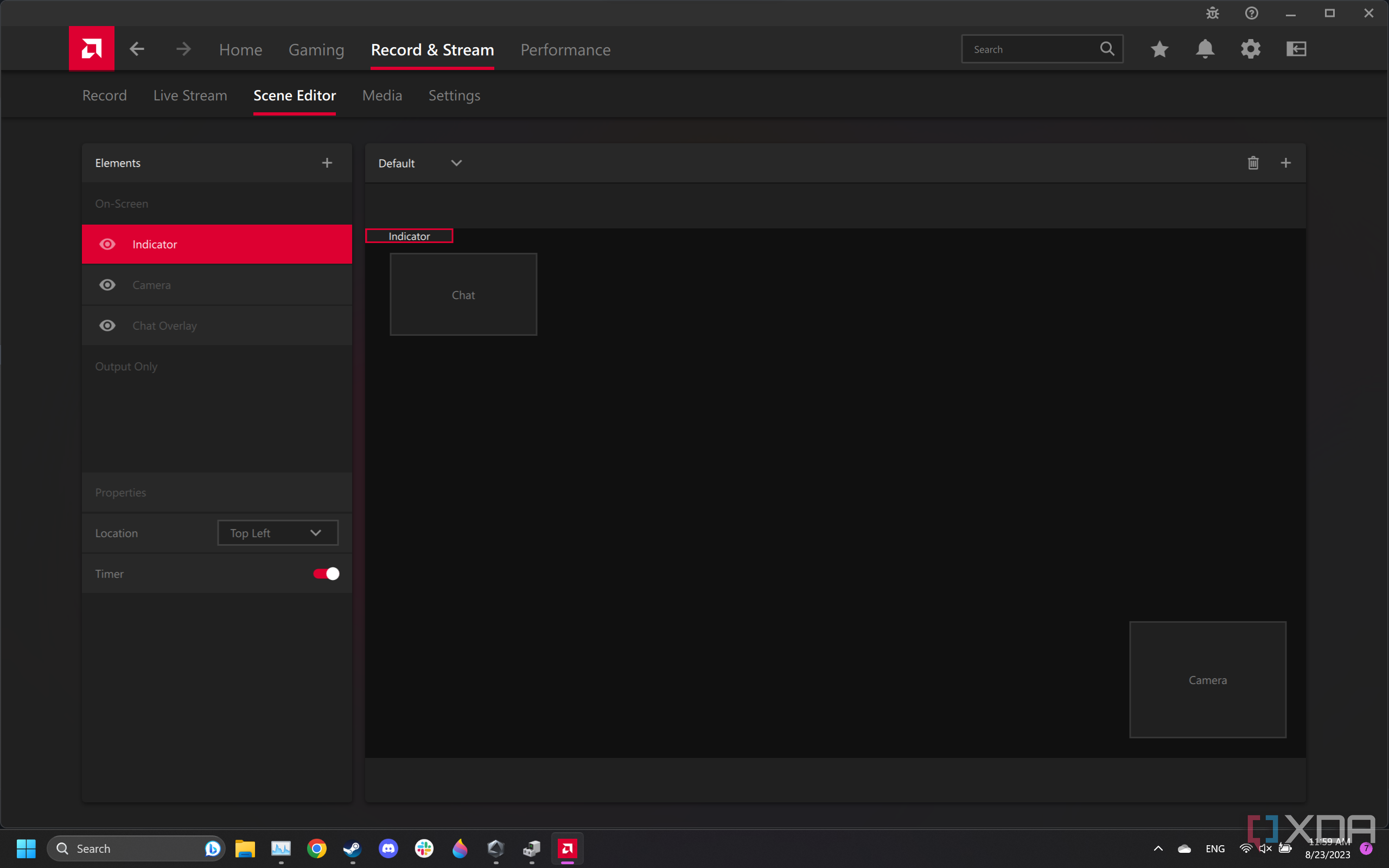 The Scene Editor in Radeon ReLive is surprisingly robust. You can make up to eight custom scenes, and you can insert tons of elements into them: a webcam, the chat window, images, gifs, videos, and, most importantly, browser sources. The latter are the primary way of creating high-quality stream scenes, and services like StreamElements should be compatible. This makes ReLive a truly viable alternative to OBS for casual streamers.
Other options and features in Radeon ReLive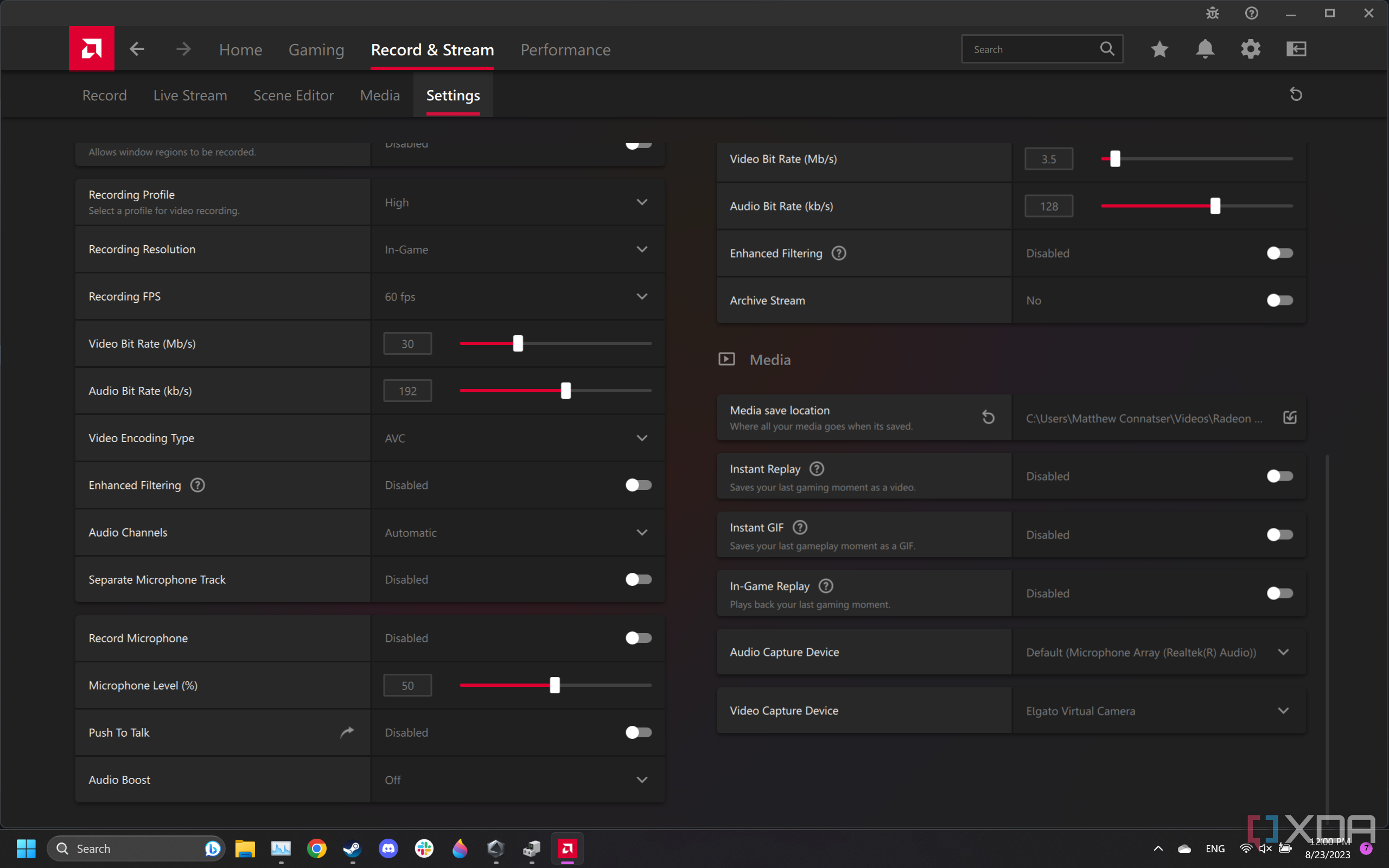 The Media and Settings tabs are pretty straightforward, with the former containing all your previous screenshots and the latter having all the settings for the Record, Live Stream, and Scene Editor tabs, though many of these settings are also in those tabs. The most important settings you'd probably want to customize are resolution, bit rate, and framerate. There's also an option to archive your streams, which means letting ReLive record your streams and store a copy on your PC.
Additionally, in the Settings tab, you can enable some other features that didn't get their own tabs: Instant Replay, Instant GIF, and In-Game Replay. These features take the last few minutes of your gameplay and allow you to save it rather than having to record an entire gaming session.
Using Radeon ReLive through the Radeon Overlay and hotkeys
Although you can just use the Radeon Software window, you can also use the Radeon Overlay to start recording, start streaming, or capture footage.
Open up the Radeon Overlay by pressing Alt + Z for the sidebar version or Alt + R for the fullscreen version.
Navigate to the Radeon ReLive section of the overlay.
You'll find four buttons: Record, Live Stream, Instant Replay, and Instant GIF.
However, you might find it more convenient to use hotkeys instead. Thankfully, finding and editing these hotkeys is easy:
Open Radeon Software.
Click on the gear icon in the top right corner.
Navigate to the Hotkeys tab.
You can use hotkeys to start recording, streaming, and saving instant replays and gifs.
Radeon ReLive is great for casual users wanting to dip their toes into higher-quality recording
At first glance, OBS can look really intimidating and dissuade newcomers from the world of recording and streaming gameplay. What Radeon ReLive essentially does is take OBS, make it more user-friendly, and cut out all the fat. While OBS is currently the best recording and streaming software for games, there's very little Radeon ReLive can't do that OBS can, at least as far as more casual users are concerned.
Compared to Nvidia ShadowPlay, ReLive is arguably better overall. You don't need to install and log into a separate app, you don't need to interact with it through an overlay, and there are far more options for recording and streaming. Sure, ReLive doesn't have Ansel, which can apply filters to recordings and screenshots, but most gamers undoubtedly don't care all that much about putting filters on games. Apart from Ansel, ShadowPlay really just looks like a more basic version of ReLive, which is great for AMD GPU owners and can definitely make up for some of the shortcomings Radeon cards have compared to their Nvidia counterparts.


** (Disclaimer: This video content is intended for educational and informational purposes only) **