HDR is a pretty important feature in media today, improving the visual experience of movies and games by offering a wider dynamic range that can preserve details in the shadows and the highlights in an image. Windows has supported HDR for a while, but more recently, Microsoft released an HDR calibration app to make it easier to get the optimal experience for your display.
If you'd like to get the most out of an HDR monitor, here's how you can use the HDR Calibration app on Windows 11.
Check if your monitor supports HDR
The Windows HDR Calibration app only works if you have an HDR display, so the first thing to do is check if your display supports HDR. To do this:
Open the Settings app (it should be in your Start menu)
Choose System in the side menu.
Click Display.
Check if the HDR option has a toggle and make sure that it's turned On.


If you have multiple displays connected, you may need to choose the right monitor in the panel at the top of the page.
If the HDR button doesn't have a toggle next to it, your monitor doesn't support HDR. The toggle may also be greyed out if HDR is being restricted while on battery power. You can click the HDR button to see more information about HDR support on your display.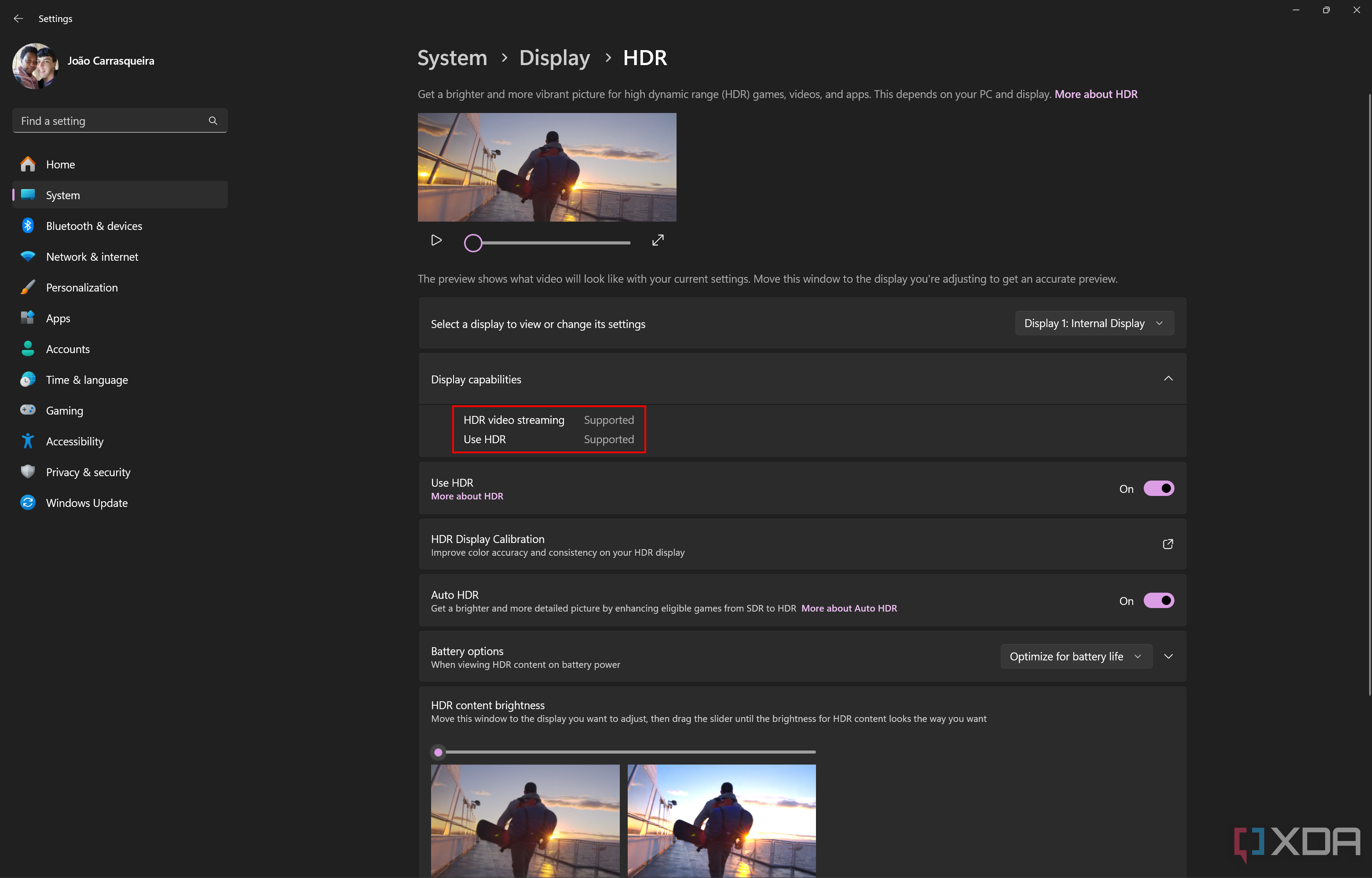 You'll need to make sure your monitor says "supported" for both HDR video streaming and Use HDR. You can also expand the Battery options section to see if HDR is disabled while on battery power.
In recent versions of Windows 11, there's an HDR Display Calibration button on this page, too, which is a link to download the Windows HDR Calibration app.
Download and use the Windows HDR Calibration app
Using the Windows HDR Calibration app on Windows 11 is relatively straightforward, and the app itself explains the process relatively well. Here's what you need to do:
Download the Windows HDR Calibration app.
Launch the app. If you have multiple monitors, drag the app window to the monitor you want to calibrate. If your monitor supports HDR, the app will look like this.

Click Get started, and the app will present you with three test patterns, one at a time. For each of them, you'll need to drag the slider at the bottom of the screen until the test pattern is no longer visible, then click Next after each test.

The first pattern tests the minimum luminance, so you'll want to drag it until the test area is solid black.
The second test is for maximum luminance, so you want to achieve solid white.
Finally, the third test is for maximum full-screen luminance, and again, you'll want to drag the slider until you have a solid white image.

After these three tests, you'll be prompted to adjust the display colors. This simply changes the saturation of the colors, and it's mostly up to your personal preference.
You'll see a final screen showing you how your display looks before and after the calibration. You can choose a name for the HDR profile you created, then click Finish to save it. If it doesn't look right, click Back to adjust the brightness for each of the test patterns again.
Once you've finished the calibration process, you're all set. If you have a multi-monitor setup and all your displays support HDR, you'll need to run the calibration process for each of them. You should then be able to make the most of your HDR games and other content. You can also enable Auto HDR in the HDR settings page we showed above, which will upgrade games to use HDR even if they weren't originally designed to support it.
If you're looking for a laptop that can support HDR, many of today's best laptops offer it as an option. Similarly, most high-end monitors also have some form of HDR support. If you're looking to learn more about other new features in Windows 11, maybe check out all the new features in Windows 11 version 23H2.


** (Disclaimer: This video content is intended for educational and informational purposes only) **