Intel's 14th Gen has recently arrived, but the CPUs have been pretty lackluster so far. Both the Core i5-14600K and the Core i7-14700K have just been refreshes in every sense of the word, and sadly, the Core i9-14900K seems to follow that trend. It's a great CPU in its own right, but if the Core i7-14700K was hard to cool and tame under stress, wait until you see how bad this Core i9 can get.
About this review: The Intel Core i9-14900K was sent to us by Intel for the purposes of this review, and it did not have any input into its contents.
Intel Core i9-14900K
The Intel Core i9-14900k is the high-end refresh of the older Raptor Lake process that intends to succeed the i9-13900k. This is just a refresh model, however, and the gains in performance aren't huge enough to warrant an upgrade.
Brand

Intel

Cores

8P / 16E

Threads

32

Architecture

Raptor Lake Refresh

Process

Intel 7

Socket

LGA 1700

Base Clock Speed

2.4GHZ / 3.2GHz

Boost Clock Speed

4.4GHz / 6.0GHz

Cache

36MB L3 + 32MB L2

RAM

DDR4-3200 / DDR5-5600

PCIe

5.0

Graphics

Intel UHD Graphics 770

TDP

253W
Pros
A lot of computational power
Cons
Uses a lot of actual power
Requires a lot of thermal mitigation
Pricing and availability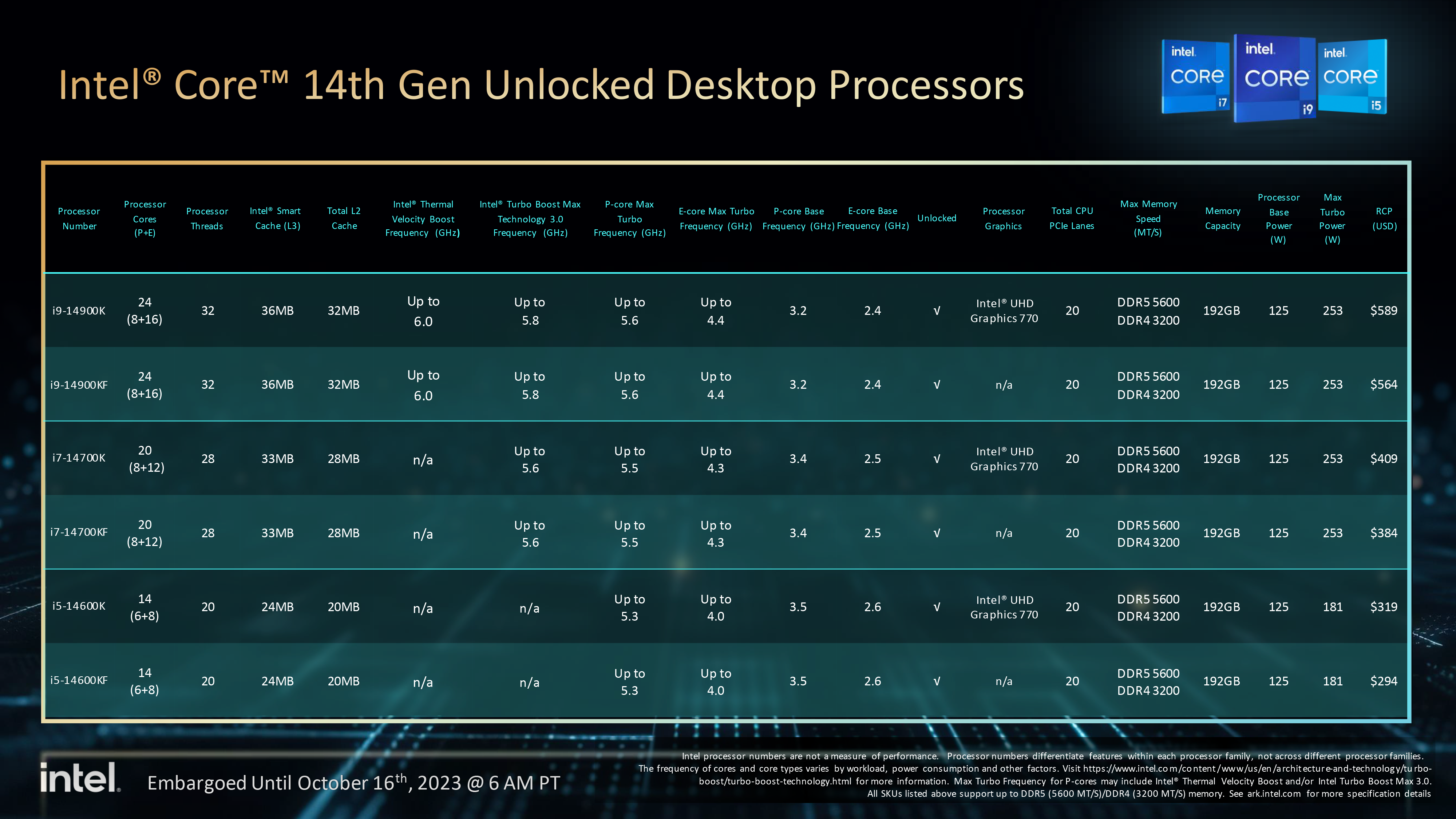 The Intel Core i9-14900K is available for purchase now. The KF version, which doesn't include integrated graphics, costs $564. With integrated graphics, it goes up to $589.
Specifications
An increase in boost frequency, and that's about it
The Intel Core i9-14900K is a refresh of last year's i9, and there's really not that much of a difference. There's a minor bump in boost frequency along with four more E-cores, which is more than can be said for the other Raptor Lake Refresh processors. The cache is the same, and the fabrication process is still Intel 7.
| | | |
| --- | --- | --- |
| | i9-13900K | i9-14900K |
| Cores | 8 Performance + 16 Efficient | 6 Performance + 16 Efficient |
| Base/Boost Freq (P-Cores) | 3GHz/5.6GHz | 3.2GHz/6GHz |
| Base/Boost Freq (E-Cores) | 2.2GHz/4.2GHz | 2.4GHz/4.3GHz |
| Cache | 36MB L3 + 32MB L2 | 36MB L3 + 32MB L2 |
| Max TDP | 253W | 253W |
Looking at the above table, there really isn't much different about the Core i9-14900K. It has the same number of P cores, E cores, and the only major difference is a slight increase in boost frequency and base frequencies.
Our testing setup
We tested the Intel Core i9-14900K on an Asus Z790 ROG Maximus Dark Hero motherboard with 32GB of DDR5 6000MHz RAM. We tested this and other processors with an NZXT Z53 Kraken 240mm AiO and a Noctua NH-D15 for cooling. All of these benchmarks were run on Windows 11 with an AMD 7900XTX installed.
All data for this review was collected by using HWInfo and processing that data. HWInfo polls sensors every two seconds by default. The fans on the NZXT Kraken Z53 were also set to 100% to combat any potential thermal limitations and to measure the raw performance of the CPU.
Power consumption and thermals
Peak performance in sustained multi-core loads
The peak measured wattage when testing the Intel Core i9-14900K was 256W, which is nearly 30W shy of the Intel Core i7-14700K. That's not because the i9 is a less power-hungry chip but rather because it hits 100 degrees Celsius so quickly that it has to tone back its own performance and wattage before it can even hit those high figures.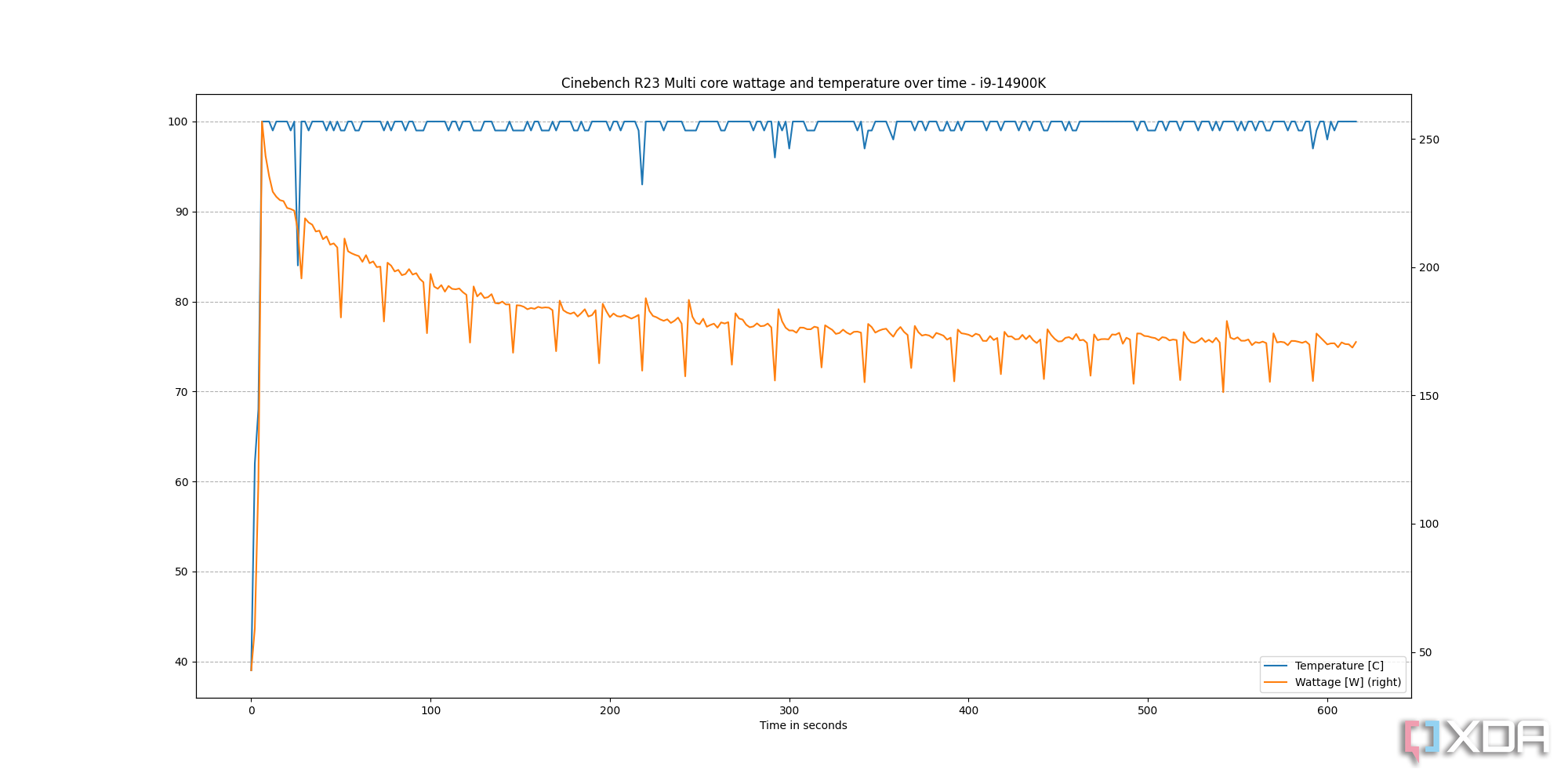 You can see in the chart above how quickly it hits that hot temperature, but it throttles its performance over time as it needs to further tame the thermal energy it creates. This is an insane amount of power, and while it scores 32,518 in Cinebench R23, it's clear that you'll need some really powerful cooling to tame this beast. Even when idling, it simply does not go below 30 degrees Celsius in our testing machine.
From our testing, these results are not completely indicative of overall performance and are lower than you would expect with better cooling. However, it seems almost impossible to actually effectively cool this chip and prevent it from throttling. As I've tested this entire lineup, it's felt more like these are overclocked Raptor Lake CPUs rather than an actual refresh lineup.
Peak performance in sustained single-core loads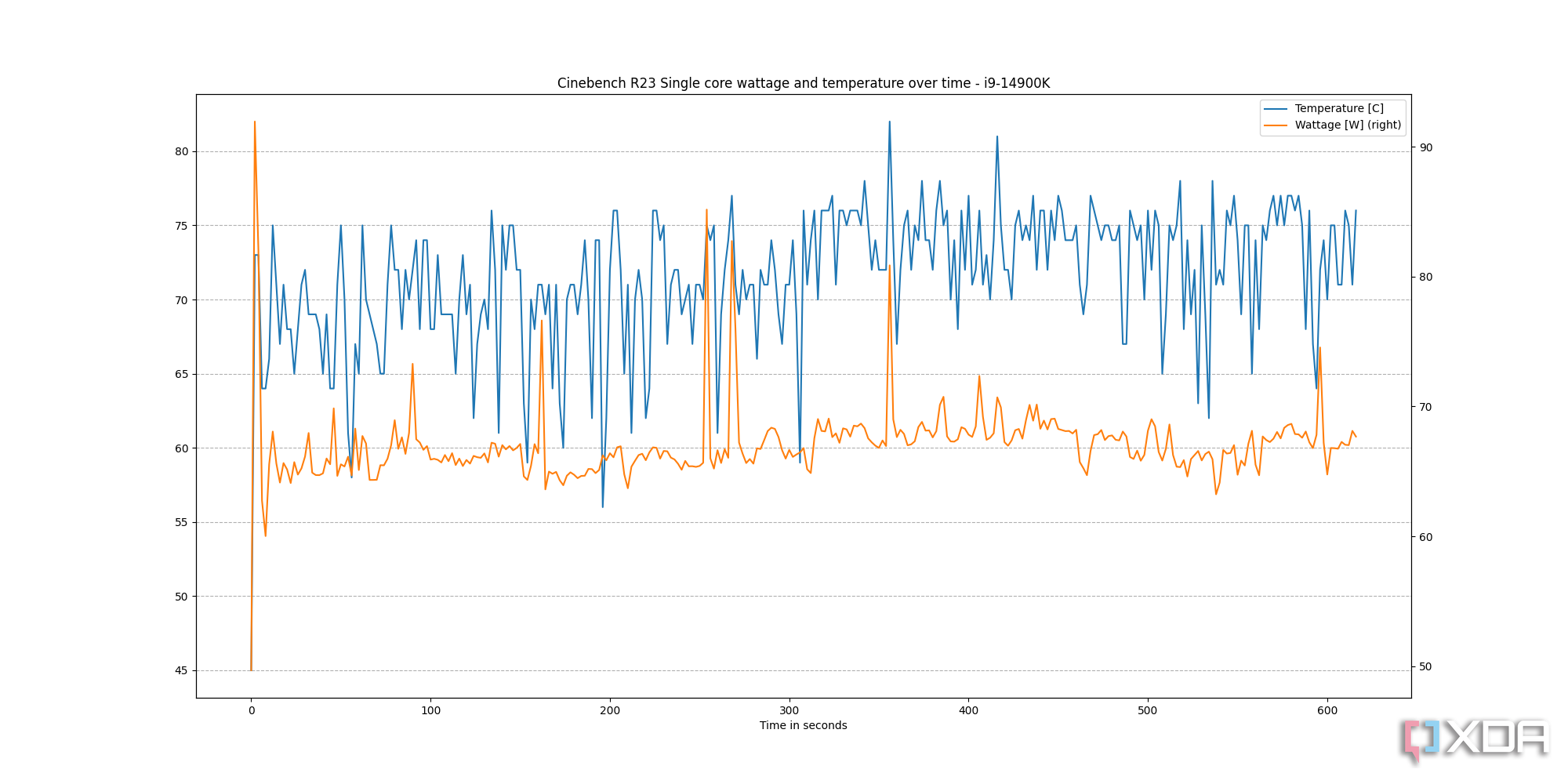 In single-core, the Intel Core i9-14900K peaks at 72 degrees Celsius with a maximum wattage of 92W. It scores 2,238 in single-core in Cinebench R23, which puts it around the typical results of the Core i9-13900K. There aren't really any other big improvements to be found here, and the results are akin to an overclocked 13th Gen i9.
CPU-Z
| | |
| --- | --- |
| Single-core | 848 |
| Multi-core | 13412 |
Interestingly, the Intel Core i9-14900K scores worse in CPU-Z than the i7-14700K did. If I were to guess, I imagine this is because of the immediate throttling that takes place under load that prevents this CPU from performing better, whereas the i7 has a little bit more thermal headroom, though admittedly not much.
Geekbench 6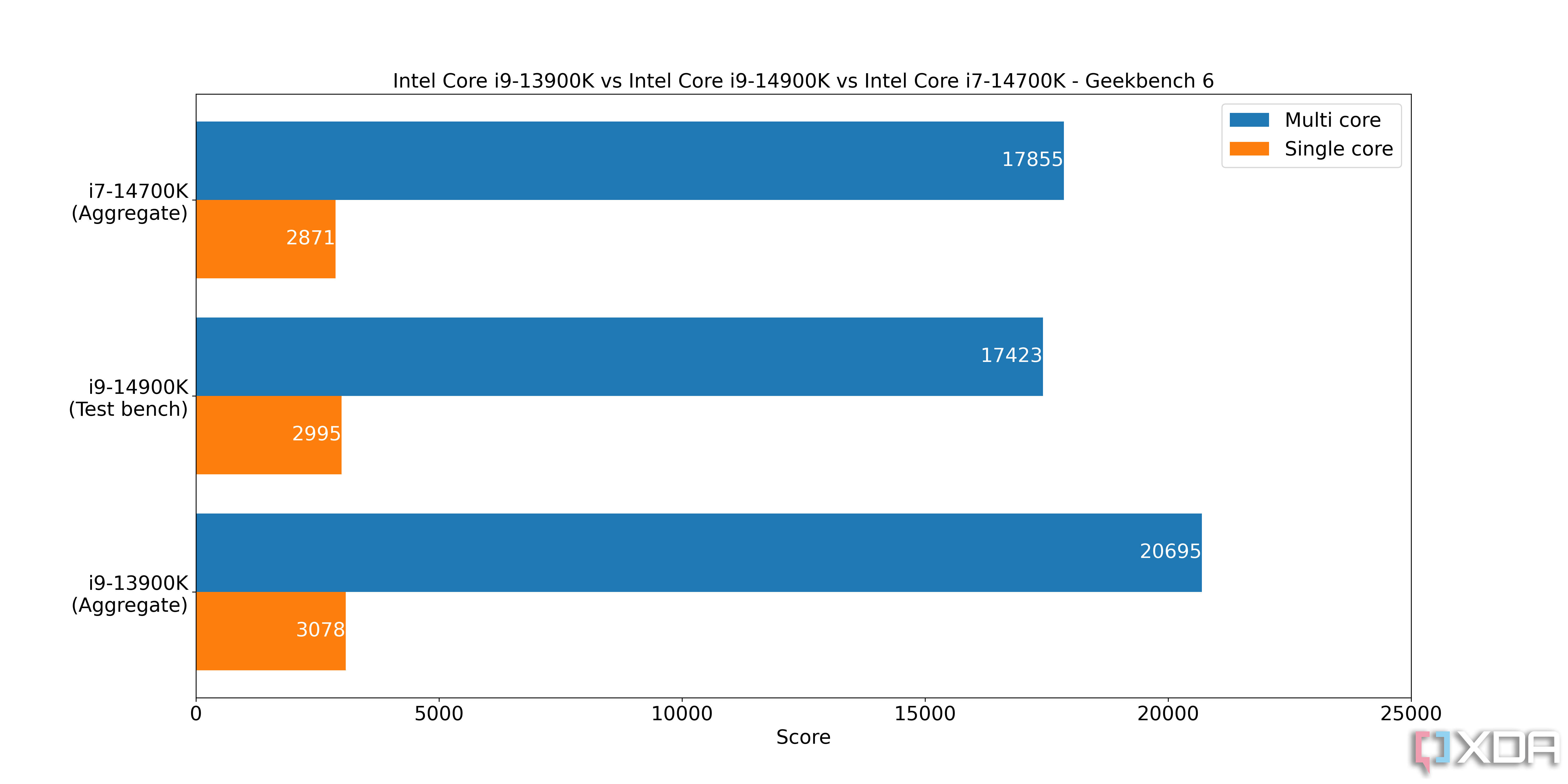 From our testing, it seems pretty clear that the Intel i9-14900K simply can't keep up its sustained performance under the thermal conditions that it's under. With both the NZXT Kraken Z53 and the Noctua NH-D15 it struggled to maintain any high level of output, and that's likely thanks to the higher core count and higher frequency boosting.
My theory is that in the case of the i7-14700K, it can maintain more consistent, higher sustained performance thanks to having fewer cores and generating less heat, but the i9 generates so much heat it has to throttle down below even the capabilities of the i7. That's not confirmed, but from the data I have collected, that seems to be what's happening.
How does the 14900K compare to some of the best of AMD?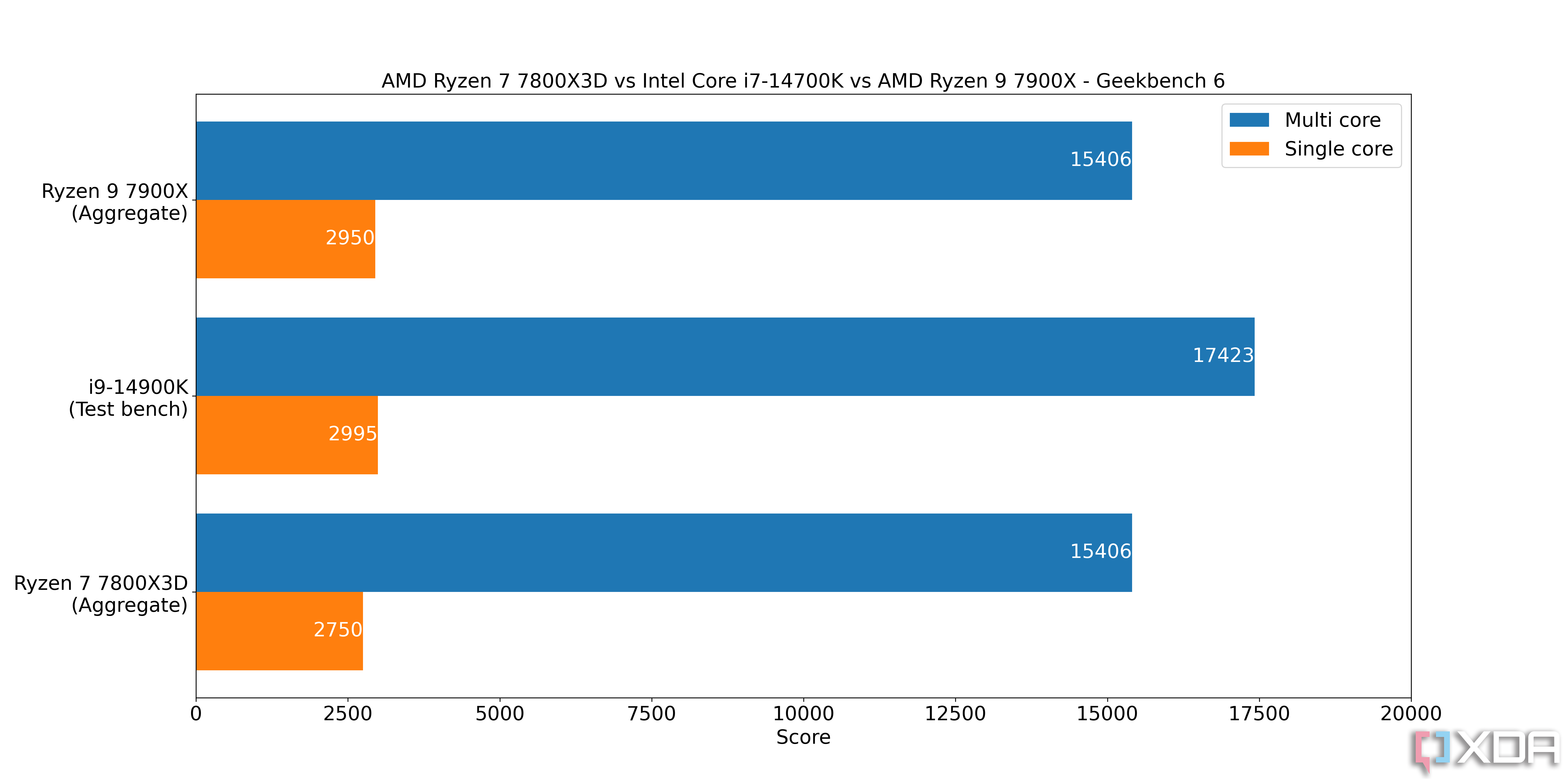 We collected data from over 1,000 benchmarks done on the AMD Ryzen 7 7800X3D and AMD Ryzen 9 7900X platforms on Geekbench to get a sense of the median performance a normal user will get with these CPUs. Our test bench, as a result, is a somewhat unrealistic standard in comparison, as anybody can perform a Geekbench test, so they're not representative of real-world peak performance.
However, since these results are taken from "normal" users, the tests are most likely indicative of the standard user and not a highly focused test bench built with the sole purpose of extracting performance out of hardware. What's interesting to note is that the i9-14900K performed worse than our i7-14700K, suggesting again that there may be thermal-related issues that hamper our results to end up being worse than an i7-14700K in sustained usage.
Should you buy the Intel Core i9-14900K?
You should buy the Intel Core i9-14900K if:
You need the best CPU no matter the cost
You have a perfect cooling system
You have the budget for a more powerful GPU to match
You shouldn't buy the Intel Core i9-14900K if:
You don't have adequate cooling or don't want to upgrade your cooling
You want a clear upgrade path in the future
You want more substantial upgrades
The Intel Core i9-14900K is undoubtedly a powerful CPU and in a vacuum one of the best CPUs on the market, but that doesn't mean it's worth buying. It runs extremely hot, uses a lot of power, and will even be aged considerably with the next generation and Tiles. If you really want to stick with the LGA 1700 socket, then this is the best CPU you can buy for it, but if you can hold of it at all, then you'd be better off waiting for the more considerable upgrades next year. You'll need some serious cooling to even run this chip at the level that it's capable of, and we suggest a 360mm AIO at least. Even then, I'd be skeptical.
Meteor Lake is several leaps ahead of Raptor Lake. It's produced on a smaller fabrication process for better power efficiency and lower thermals, uses new packaging technologies, has an AI NPU engine, and even includes smaller improvements like Wi-Fi 7. The best thing about Raptor Lake Refresh is that anyone on a 12th-generation CPU can upgrade without upgrading their board, but otherwise, Intel's Arrow Lake looks like it will be the next major leap forward on desktop. Save your money, wait for the next generation, and get a new motherboard alongside it when it comes out.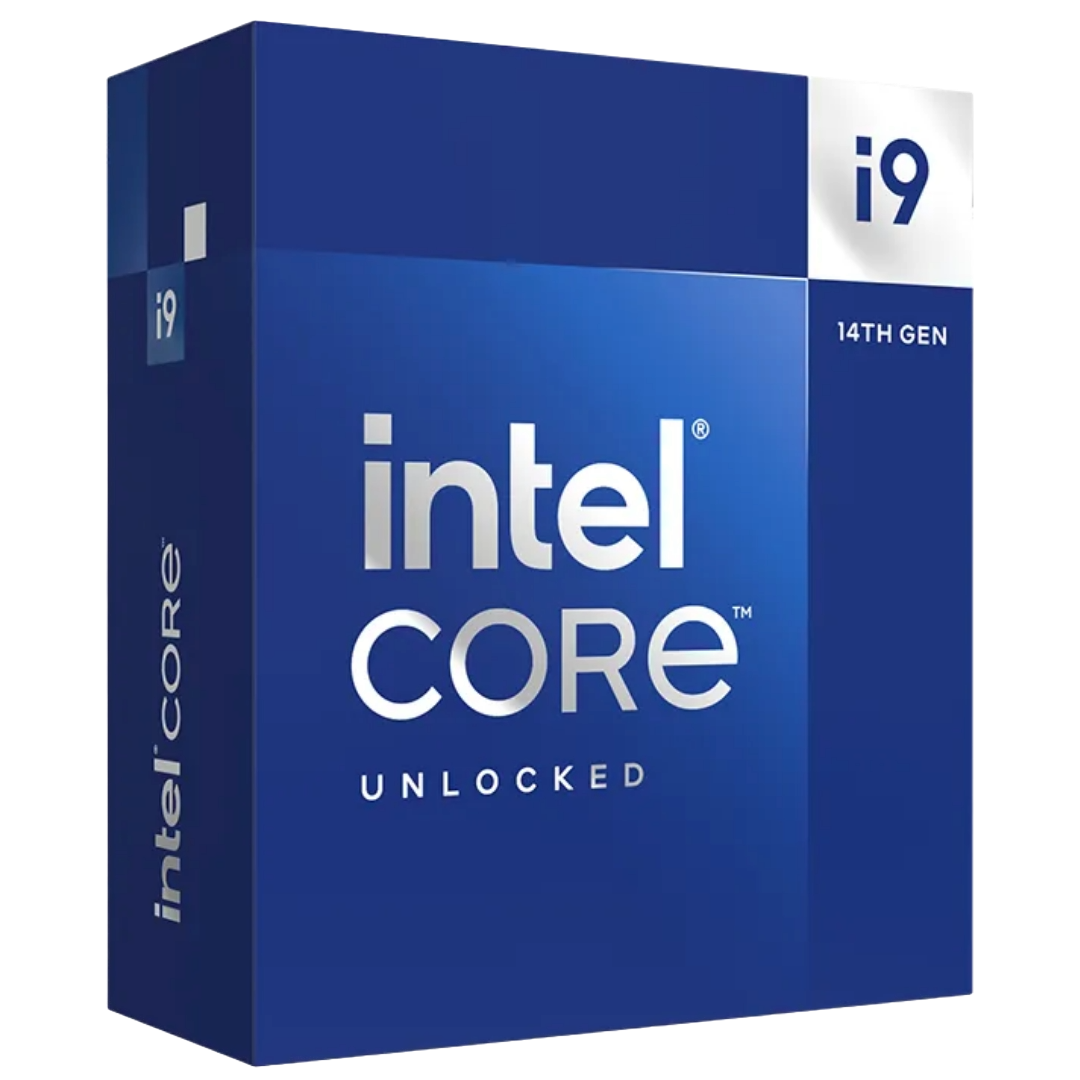 Source: Intel
Intel Core i9-14900K
The Intel Core i9-14900k is the high-end refresh of the older Raptor Lake process that intends to succeed the i9-13900k. This is just a refresh model, however, and the gains in performance aren't huge enough to warrant an upgrade.
** (Disclaimer: This video content is intended for educational and informational purposes only) **