Quick Links
While Cherry is arguably the most well-known name in mechanical keyboard switches, it often falls by the wayside compared to some of its clones. I'm personally a fan of Gateron switches, which are cheaper, quieter, and less scratchy than Cherry's, for example. However, Cherry switches are still often built into mass-market mechanical keyboards, so even if they're not your first choice when building a custom kit, they're still one of the most widespread options and set the standard for the rest of the industry.
It seems like Cherry is looking to change that with the MX2A switches, which were announced at Gamescom today as the latest in the MX line. The switches aren't the most innovative Cherry has ever introduced. However, they're way more likely to be adapted for mainstream use than some other recent products like the Cherry Viola modular switches. It's been a long since the MX1A has become standard, so it's not only nice to see that Cherry continues to iterate but also that it made a lot of the right changes. The MX2A might be enough to sway some to Cherry's side, but others won't be so easily convinced.
About this review: Cherry sent me MX2A switches for the purposes of this review and did not have any input into its contents.
Pricing and availability
The Cherry MX2A switches were announced at Gamescom 2023 and are now available for business customers only. Regular users will be able to buy them at a later date, The MX2A switches will also be available first with the Cherry XTRFY K5V2, a 65% gaming keyboard that's fully customizable and features RGB.
Right now, the new design is only available in MX Red, MX Brown, MX Black, MX Speed Silver, MX Silent Red, and their RGB variants. Cherry couldn't comment on whether it would be available for other switches in the future.
Cherry hasn't revealed pricing for consumers just yet, but the MX2A will be the "premium" Cherry switches alongside the MX1A, which are now "standard." We also expect them to be around the same price or more expensive than regular MX switches on the market these days.
Design
A smoother feel
Cherry likes to tout innovation when it comes to its announcements, and that was definitely the case here. A press release called the MX2A "by far the best MX full-size switch," with promises of smoother actuation thanks to an improved design.
They don't look any different from the outside compared to other Cherry switches, but inside, they feature small tweaks to the spring and stem. Cherry has changed the spring from a cylindrical to a barrel shape, and the stem has what the company calls a "crown of ribs." There's also lubrication on the socket dome, which, as any keyboard enthusiast knows, greatly improves the sound and makes them feel smoother to use. They'll also sound less scratchy and clicky (although Cherry has forgone the lube and new spring for Blue switches, which will certainly please fans of this controversial switch).
Otherwise, the switches are similar to what the company has produced before. Cherry also claims the same lifespan for the MX2A compared to previous lines -— around 100 million actuations — and the same overall specs, although it wouldn't provide any other information.
I wasn't able to take the switches apart to verify Cherry's claims, but as you'll see in the next section, the differences are noticeable. Sure, they're subtle (which happens most of the time with keyboard switches anyway), but they make the new switches more comfortable to use overall. They also feel more consistent, so regardless of what you think about the sound, each key will at least sound the same.
Performance
A difference you can feel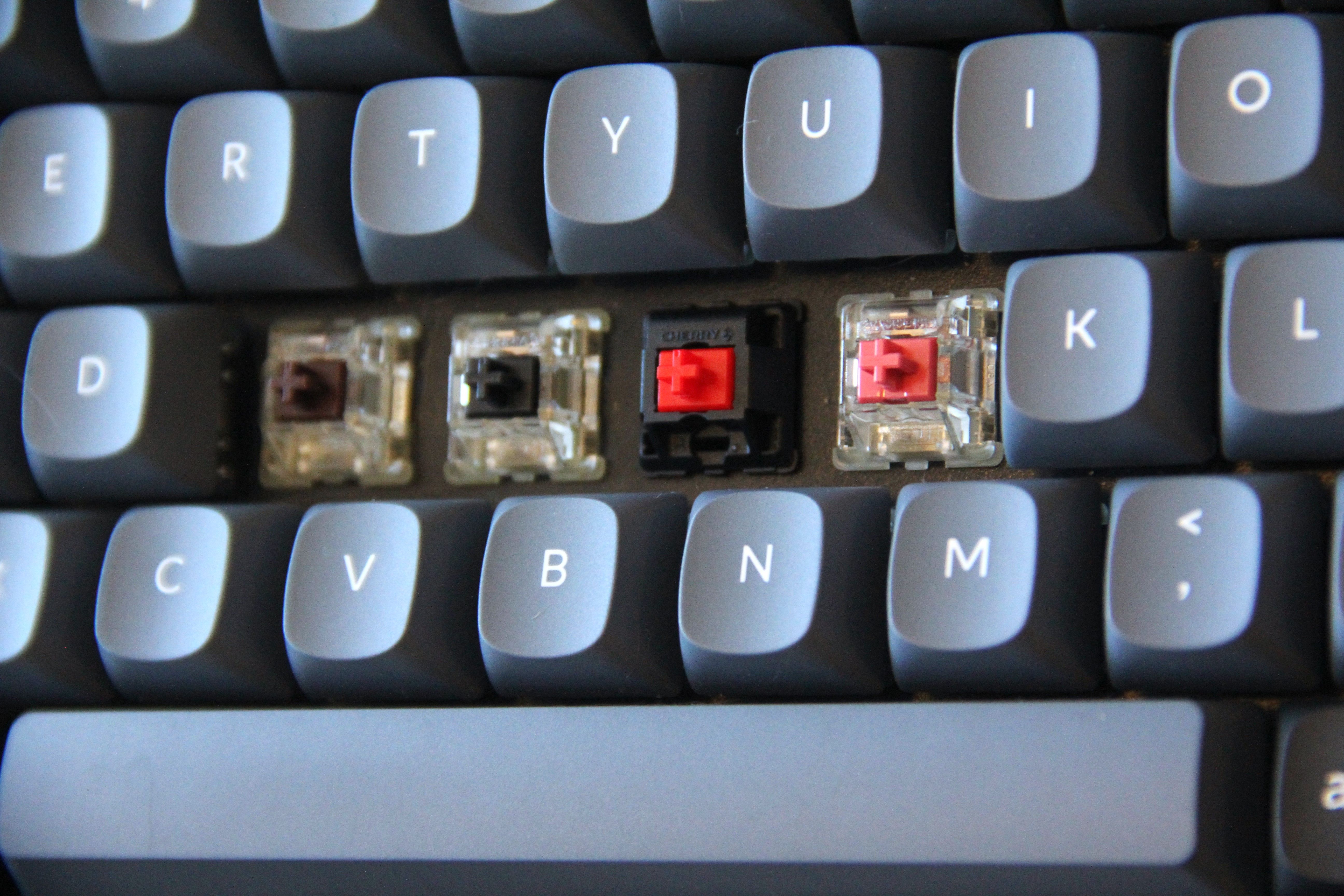 For the purposes of this test, I fitted my Keychron K2 Pro with the new Cherry MX Brown switches but also tested out singular MX Red, MX Silent Red, MX Black, and MX Speed Silver samples. I've never been the biggest Cherry fan, so I hoped that the improvements made them easier to use for longer periods of time.
I've previously used Cherry MX Red switches, and as many will tell you, they give your fingers quite a workout. They're great for gaming since they're fast, but not as much for general typing since their light weight makes mistakes more common. Browns are always a great middle-ground for people like me who do both gaming and typing work, so I requested a full set of those and compared them with my Gateron Brown switches.
The MX2A switches aren't visibly different from their siblings, but they do offer a more subdued experience, which is great for people who aren't fans of Cherry's relatively loud switches.
However, after using the MX2A Browns for an eight-hour workday, I could feel my fingers start to tense up. They have a lot of the same Cherry problems — scratchiness being the primary one. I know the sound wears off over time with use, so I can't say if this will be an endemic issue, but the first day of using them was pretty grating. They're also still quite loud, especially compared to Gateron, although they're definitely not as loud as the older MX switches.
That said, the MX2As do feature a huge improvement; all the switches I tried feel smoother. This was especially prominent with the Browns. My older Brown switches didn't have a prominent bump (as expected), but it was still noticeable. The MX2A Brown's bump has been greatly slimmed down to the point where I barely feel it in regular use. It's enough that you'll still get the same tactile feel, but it's way less annoying, especially for those who just need a little feedback while typing.
Each other switch features some sort of sound improvement. Black switch fans will appreciate the MX2A versions, which are still heavy but not overtly so; plus, they give you a much better "thock" sound. The Speed Silver also has a deeper sound. The ones with the least amount of change are the Silent Reds, but I felt more physical feedback, which should make them more satisfying to use.
Should you buy Cherry MX2A switches?
You should buy the Cherry MX2A switches if:
You like Cherry switches but wish they were quieter
You need fast switches for gaming
You're a beginner building your first keyboard
You shouldn't buy the Cherry MX2A switches if:
You like quieter switches
You're on a budget
You prefer low-profile switches
Cherry makes some of the most common keyboard switches on the market, and the MX2A line is looking to continue that trend and be the next big thing. They're not visibly different from their siblings, but they do offer a more subdued experience, which is great for people who aren't fans of Cherry's relatively loud switches. They also still offer the same solid sound and performance that Cherry is known for, and the variety is still the same as it ever was.
Unfortunately, it might not be enough for some users. They're still too loud and lightweight for my tastes. I'll probably forgo them if I'm building my own mechanical keyboard, but I wouldn't be mad if they showed up in a pre-built one down the line.


** (Disclaimer: This video content is intended for educational and informational purposes only) **