Key Takeaways
MediaTek's Dimensity 9300 packs four big Cortex-X4 cores and four Cortex A720 cores, making it a unique contender in terms of both single-core and multi-core performance.
The race to idle strategy employed by MediaTek in the Dimensity 9300 allows for faster completion of small tasks, potentially saving power and improving efficiency.
The Dimensity 9300 features the Arm Immortalis G720 GPU, which MediaTek claims is up to 46% faster than its predecessor, making it one of the top GPUs on the market. However, a U.S. launch is not expected at this time.
Just weeks after Qualcomm's Snapdragon 8 Gen 3 launch, MediaTek is here with the Dimensity 9300 with some surprising changes. Not only does it buck the trend of having three CPU clusters, it packs four big Cortex-X4 cores and four Cortex A720 cores, too. Even crazier is that MediaTek is going big on AI, promising Stable Diffusion generation of under one second and support for LLMs of up to 33 billion parameters.
For those wondering whether the Dimensity 9300 will be inefficient, MediaTek's own numbers say that it shouldn't Only one of the Cortex-X4 cores is clocked higher than 3GHz (3.25GHz, to be exact), with the other three coming in at 2.85GHz. On top of that, the four Cortex-A720 cores are all clocked at 2GHz, both of which should help stave off any major power draw.
MediaTek states that efficiency is improved by up to 33% at the same performance level as last year's Dimensity 9200, while offering a much improved 40% uplift in peak performance. What that power draw at peak performance is like is unclear, but it's possible that at peak performance this particular SoC will be power-hungry.
In computing, there is a concept known as "race to idle," where it's sometimes more efficient to operate at peak speed for a second rather than operating at a lower speed for several seconds. MediaTek is employing this strategy behind the Dimensity 9300, where small, low-intensity tasks can be completed potentially much faster than on other SoCs.
Admittedly though, that may not always work out in practice. The theory states that race to idle strategy can save power, but it may not always work out like that. Having the potential for those high-power cores to be firing on all cylinders frequently means that rogue processes could hog a lot of available processing power because it's available, and that in turn may place computing demand on the system, draining power and generating heat.
Regardless, the Dimensity 9300's strategy for its core layout is a unique one that, if it pays off, may leave Qualcomm in the dust when it comes to both single-core and multi-core performance. Given we've already been talking about the 8 Gen 3 being a potential Apple A17 Pro competitor, the Dimensity 9300 all of a sudden has become one, too.
GPU: Arm's Immortalis G720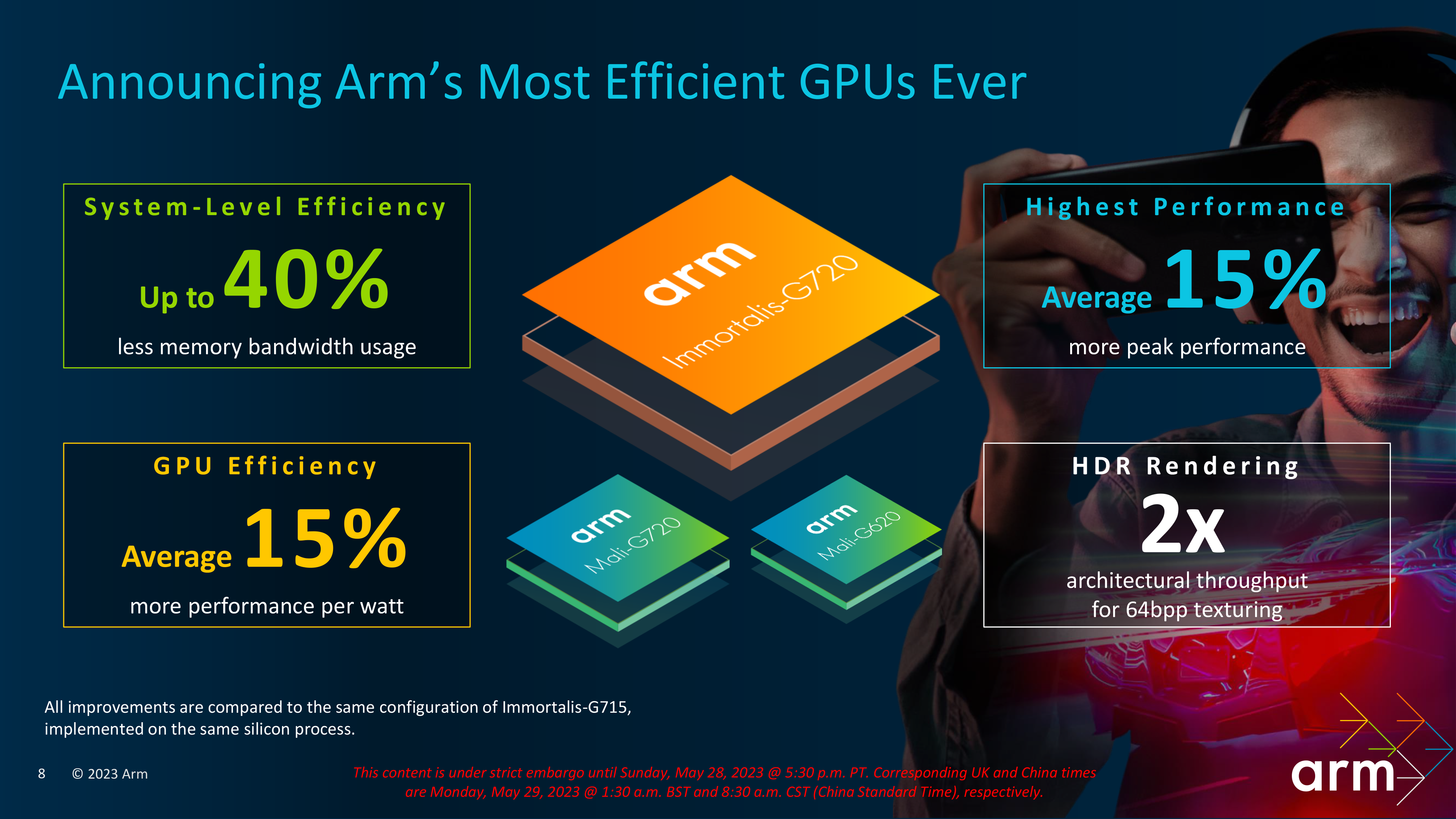 MediaTek has included the Arm Immortalis G720 GPU with MediaTek making claims of it being up to 46% faster than its predecessor. It packs hardware ray-tracing and other goodies, making it one of the best GPUs on the market. Qualcomm's Adreno GPUs are still some of the best out there, but the Immortalis G720 is one that both Arm and MediaTek are confident in.
China, Europe, but no US launch
At the moment, as exciting as this launch is, MediaTek was rather candid when asked about a launch in the U.S. Briefly, a U.S. launch is not expected at this time, but Chinese and European launches certainly are. The Dimensity 9000 and the Dimensity 9200 were rarer finds even in the European market, but if these SoCs are really starting to give Qualcomm a run for its money then it's possible that we may see them sooner rather than later.
MediaTek has said that the first devices will launch this month, so we expect to start hearing more very soon about what to expect.
** (Disclaimer: This video content is intended for educational and informational purposes only) **