The handheld gaming PC market has picked up a lot of steam (no pun intended) since Valve launched the Steam Deck in 2022 and after Asus introduced the ROG Ally. Now, Lenovo is really shaking things up with the new Legion Go.
This is easily one of the best exciting devices in this space, and we said as much in our hands-on preview. Between the huge 8.8-inch screen, detachable controllers, and more, there's a lot to make the Legion Go stand out from the pack. If you want to know everything there is to know about the Legion Go, from pricing to the release date and specs, you've come to the right place.
Pricing and availability
The Lenovo Legion Go was announced on Sept. 1 at IFA 2023, and it's set to become available to buy in October. It will start at $700, though it's not entirely clear what the base configuration will include. Presumably, it will come with a standard AMD Ryzen Z1 processor along with 16GB of RAM and 256GB of storage, based on the fact these are the lowest specs listed on Lenovo's spec sheet. However, as we saw with the Asus ROG Ally, it's possible Lenovo will actually launch a higher-end Z1 Extreme model first, and cheaper models will come later.
Specs
Lenovo Legion Go

CPU

Up to AMD Ryzen Z1 Extreme (8 cores, 16 threads, up to 5.1GHz, 16MB L3 cache)

GPU

AMD RDNA 3 Graphics (up to 12 cores)

RAM

Storage

PCIe 4.0 NVMe M.2 2242 SSD:

Battery

Main unit: 49.2Whr battery with Super Rapid Charge

65W USB Type-C power adapter

Controllers: 900mAh battery

Display

8.8-inch IPS, 16:10 aspect ratio, Quad HD+ (2560×1600), 144Hz refresh rate, 97% DCI-P3, 500 nits, touch

Controllers

Detachable left and right controllers
Inputs:

Hall effect joystick with RGB in base (Left/Right)
D-Pad (Left)
ABXY button array (Right)
Touchpad (Right)
L/R shoulder buttons
L/R shoulder triggers
View button (Left)
Menu button (Left)
Legion buttons (Left/Right)
4x assignable rear buttons (2 left/2 right)
Optical mouse sensor (Right)
Mouse wheel (Right)
Three mouse buttons (Right, includes one rear button)

Audio

2x 2W speakers
Dual-array microphone

Ports

2x USB4 (one on top, one at the bottom)
3.5mm headphone jack
microSD card reader

Connectivity

Wi-Fi 6E 2×2
Bluetooth 5.2

Dimensions

Base module:

8.27 x 5.15 x 0.79 inches (210 x 131 x 20mm)

Base module with controllers attached:

11.8 x 5.15x 1.61 inches (299 x 131 x 41mm)

Weight

Base module:

Base module with controllers attached:

Operating system

Windows 11 Home

Color

Shadow Black

Price

Starting at $700
What you need to know about the Lenovo Legion Go
If you're well-versed in the tech world, you can probably glean some of what makes the Lenovo Legion Go special from the specs table above. Regardless, let's take a closer look at why this could be one of the very best Steam Deck alternatives.
A huge, vibrant display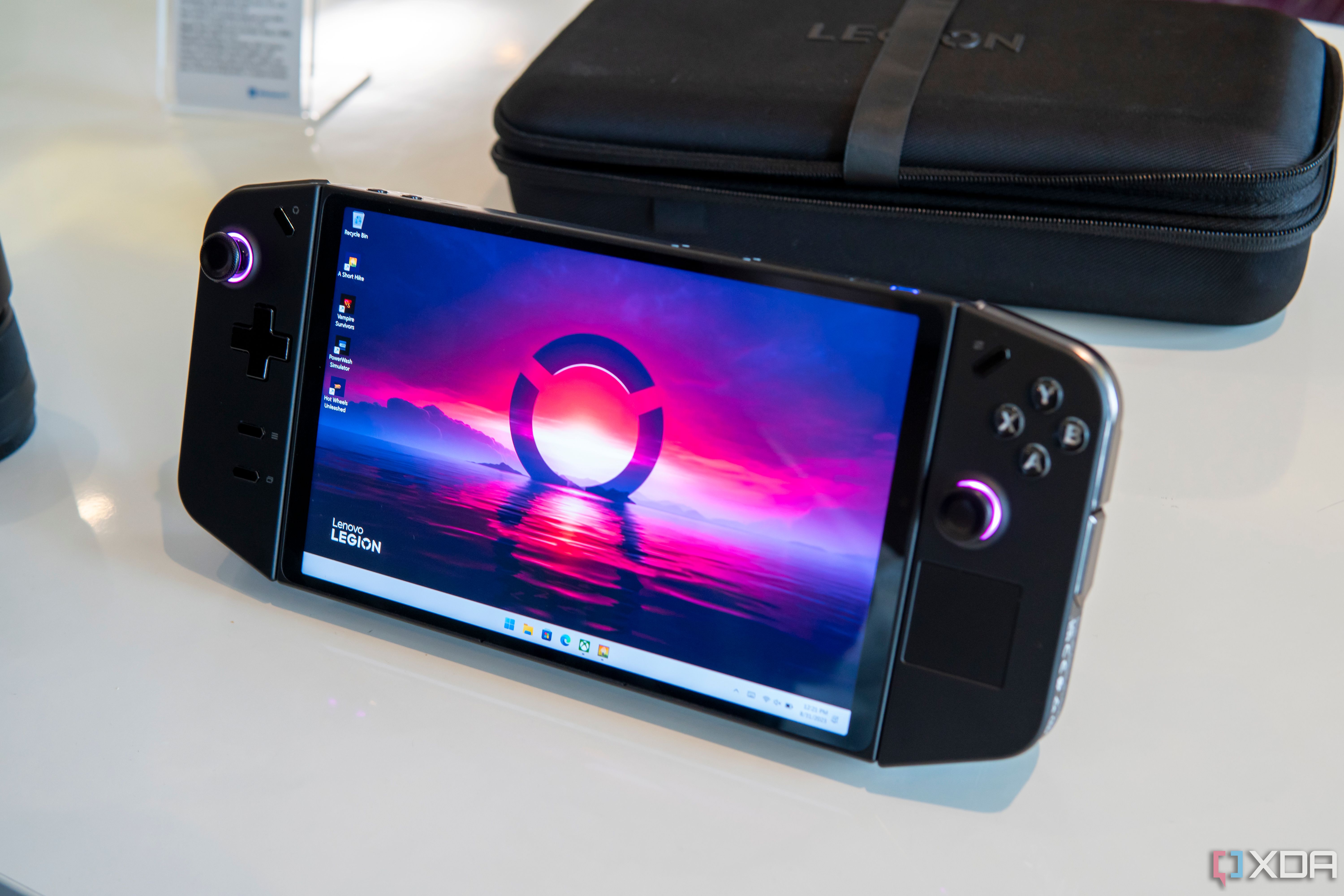 The first highlight we want to mention is the display, which is outdoing pretty much every competitor in this space right now. For starters, it's a massive 8.8-inch panel compared to the 7-inch screens on both the Steam Deck and Asus ROG Ally. This does make the device bigger and heavier, but the viewing experience is much more immersive this way, and it also helps if you want to play with the controllers detached and the screen sitting further away from you.
That's not all, though. This is also a very sharp and vibrant display, with a Quad HD+ resolution (2560×1600) that makes it even sharper than the Asus ROG Ally, which already boasts a higher resolution than the Steam Deck. It has a smoother 144Hz refresh rate, too, and it purports to cover 97% of the DCI-P3 color gamut, the best color coverage we've seen in one of these devices. The Asus ROG Ally only touts 100% of sRGB, which often equates to around 80% of DCI-P3.
All in all, the viewing experience here should be well ahead of all the major competitors, though that does mean you'll be pushing the CPU and GPU that much harder if you want to make full use of it.
Detachable controllers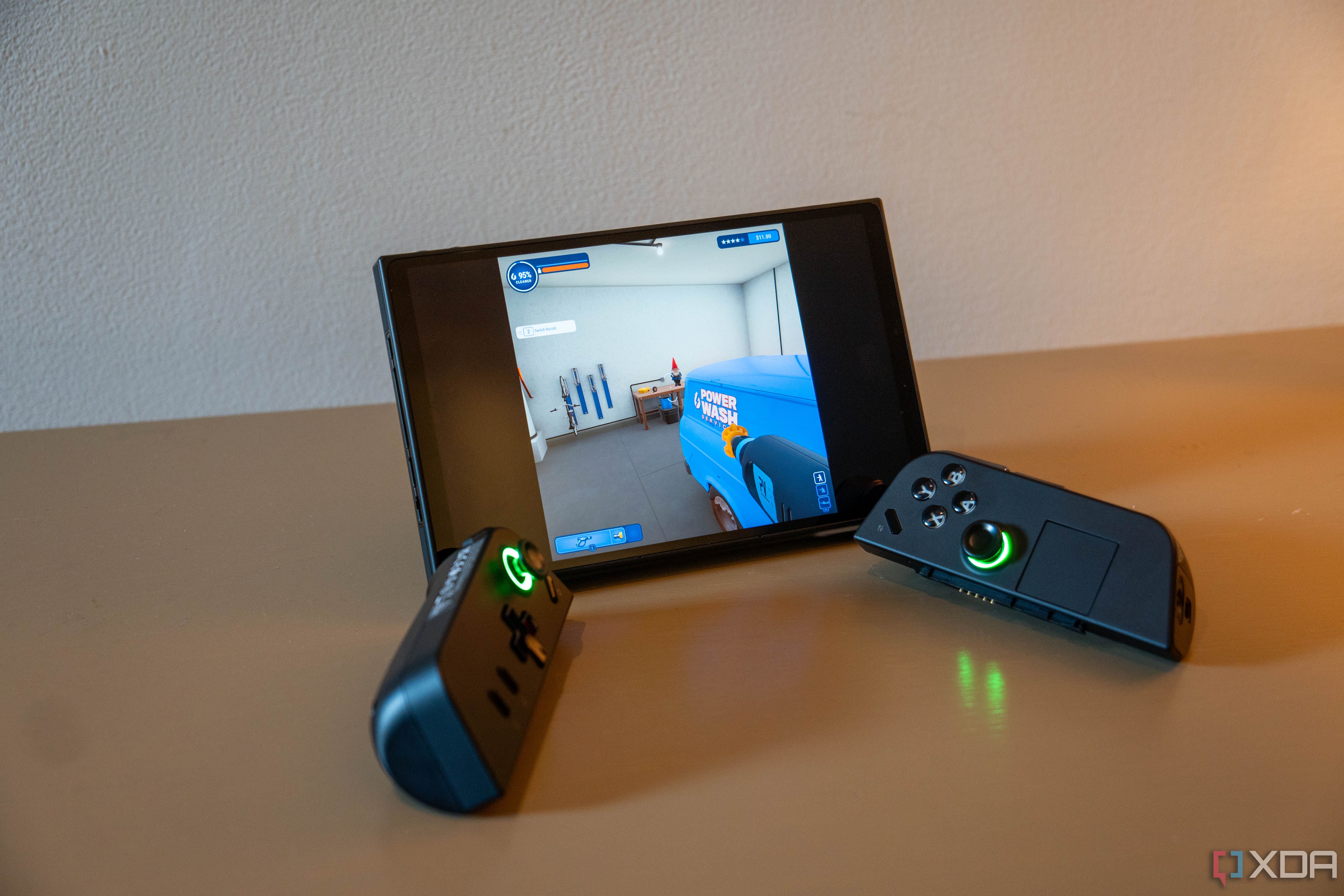 While devices like the Steam Deck and Asus ROG Ally were definitely inspired by the Nintendo Switch, neither gives you the option to detach the controllers from the console like Nintendo does. That changes with the Legion Go. Push a button on the back of the controller and slide the controller down slightly to separate it from the main body.
This lets you choose how you want to play your games. Since the main module has a kickstand, you can remove the controllers and play on the device's screen directly, which is great if you want to play on an airplane, for example. The controllers have rechargeable batteries that power up when the controllers are attached to the console, so you shouldn't have to worry about charging, either.
FPS mode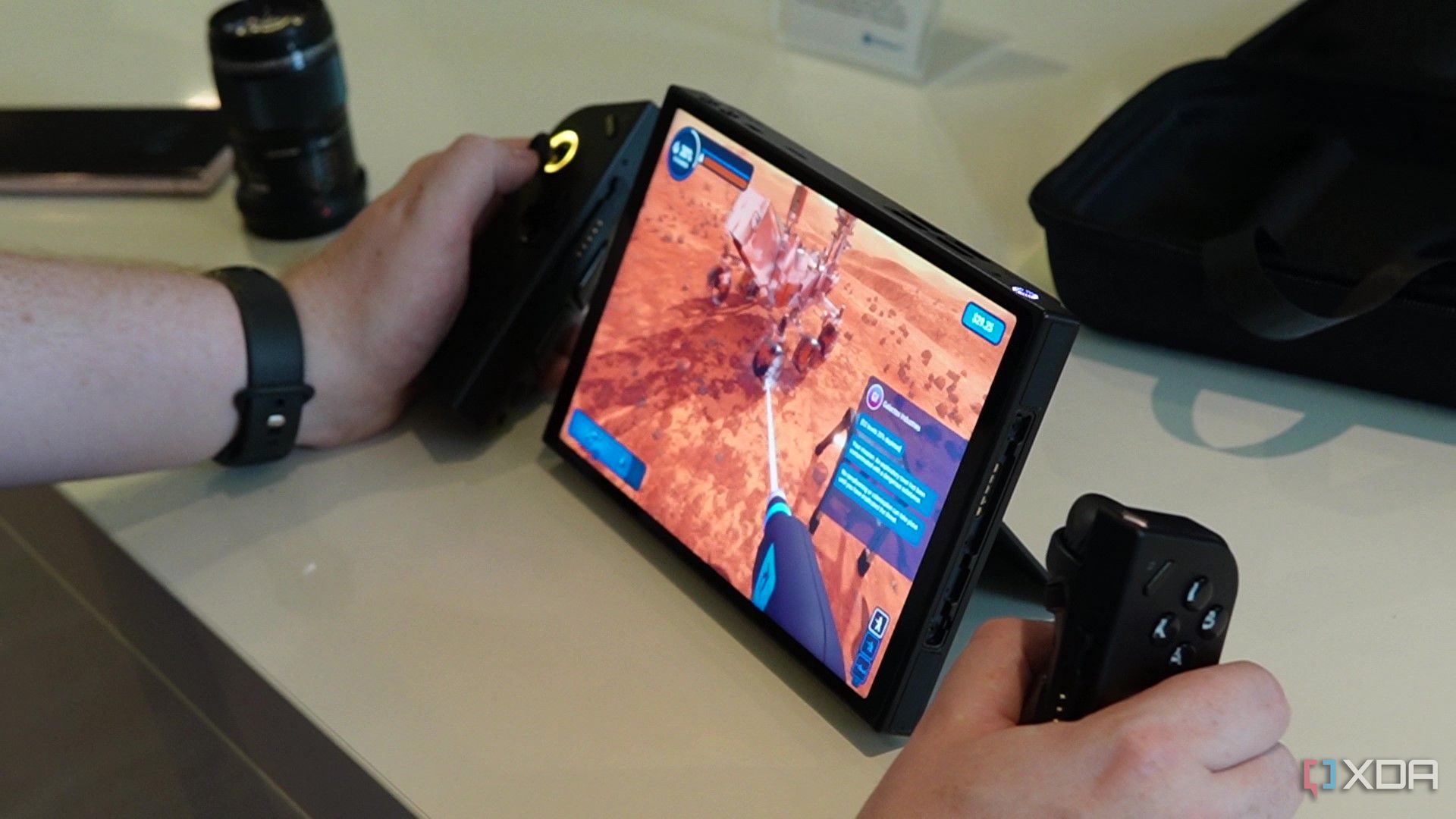 Detachable controllers are already a big deal, but the Legion Go has another major trick up its sleeve: FPS mode. The right controller actually hides a few secrets, most notably an optical mouse sensor on its underside that's somewhat akin to the IR camera on the Nintendo Switch's right Joy-Con. This sensor is pretty much exactly like what you'd find in a mouse, which allows you to use it like one for playing first-person games more competitively than on the Steam Deck or ROG Ally.
When you enable mouse mode and put the controller on the included stand, you can use it like a mouse, with dedicated mouse buttons on the side of the controller for shooting and other actions. The Steam Deck did something similar with its touchpads, but this is like using a proper mouse, which is definitely better for most people. Of course, you do need a desk for this to be viable.
A touchpad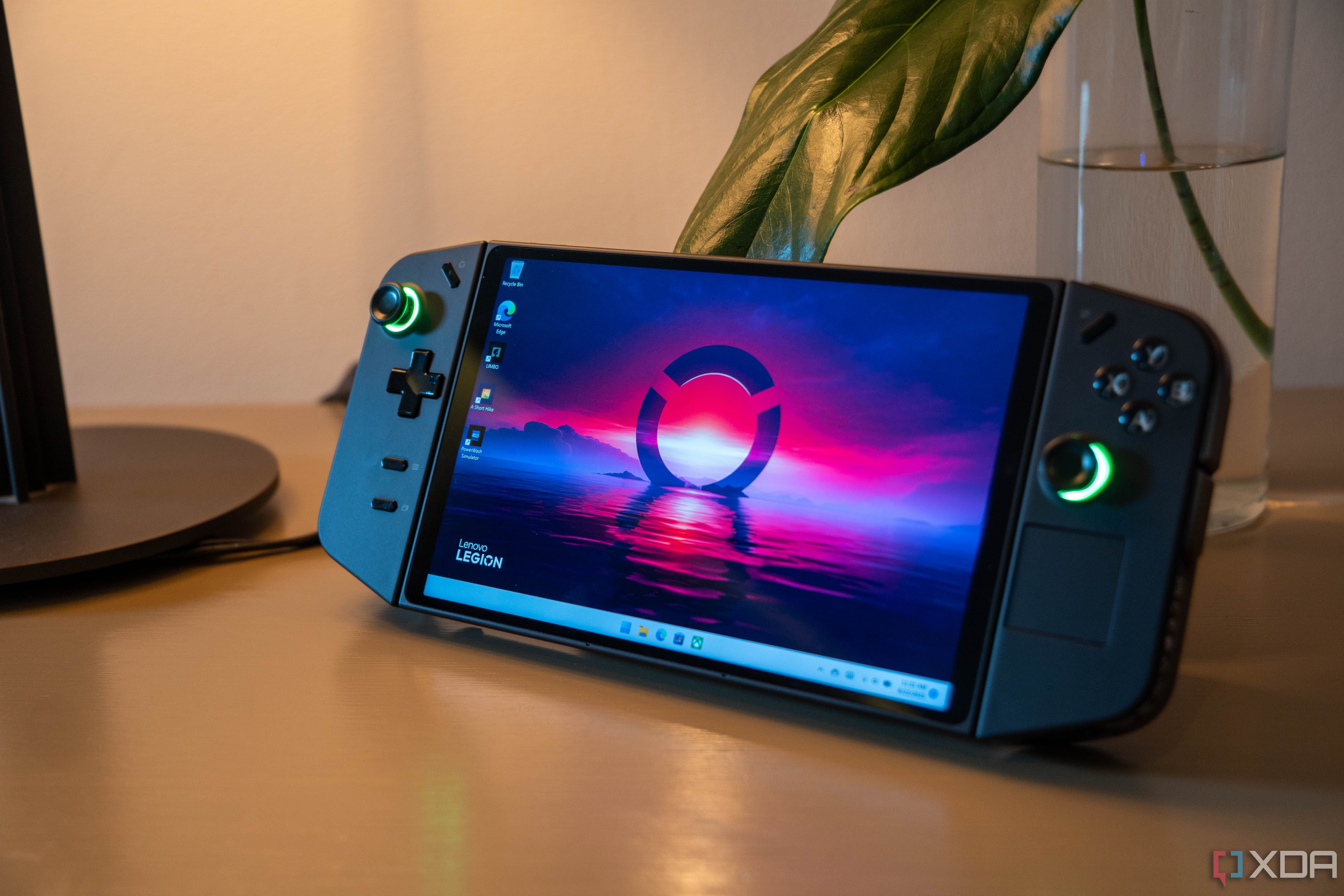 On that note, the right controller does have a touchpad as well, which you can use for navigating Windows 11 more smoothly. There's even a mouse wheel on the back of the controller for scrolling pages and lists, making the experience far more intuitive than just using console-style controllers.
Unlike the Steam Deck, there's only one touchpad here, and it's pushed further down to avoid making the device wider. You should only be using it for navigating Windows 11, not so much for gaming.
AMD Ryzen Z1 processors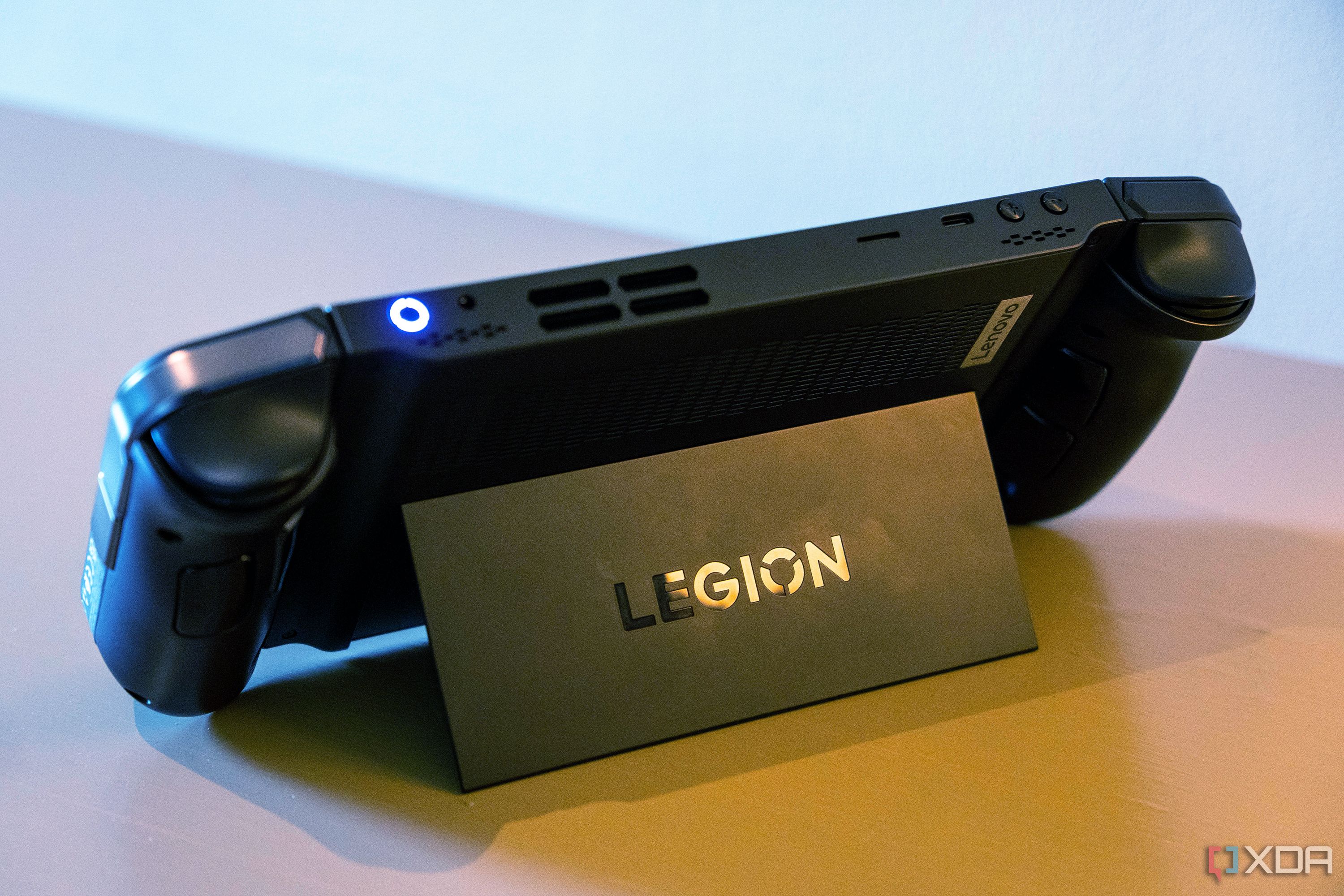 The Lenovo Legion Go is only the second device announced to feature the AMD Ryzen Z1 series processors, which made their debut with the Asus ROG Ally. With up to an AMD Ryzen Z1 Extreme, you should expect generally great performance for gaming, as long as you're reasonable. This won't rival a full gaming laptop, but it should be able to run almost all modern games with some graphics tweaks.
It uses M.2 2242 SSDs
One big potential downside with the Lenovo Legion Go is that, while the Steam Deck and Asus ROG Ally seemed to create a standard around M.2 2230 SSDs, which have become more popular as a result, the Lenovo Legion Go is using the more unconventional M.2 2242 size. This means it might be harder to find SSD upgrades later on if you want to upgrade the storage since the best SSDs for the Steam Deck won't work here.
Final thoughts
Getting all of this for the same starting price as the Asus ROG Ally makes this an extremely compelling device if you're into handheld gaming. We'll be sure to review the Lenovo Legion Go as soon as possible when it launches later this year. If you're already sold, however, you can sign up to be notified below.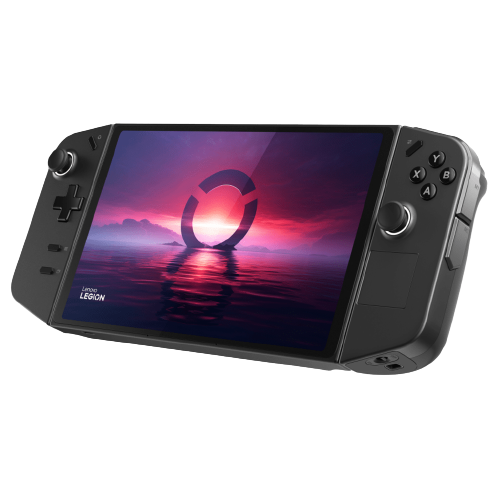 Lenovo Legion Go
The Lenovo Legion Go might be one of the most interesting gaming handhelds yet, with a giant 8.8-inch display with a 16:10 aspect ratio. It also has detachable controllers, including one that has a trackpad that lets you use it as a mouse.


** (Disclaimer: This video content is intended for educational and informational purposes only) **