Gaming handhelds are all the rage these days, with devices like the Steam Deck challenged by the Asus ROG Ally and the Ayaneo 2S coming out of seemingly nowhere to become one of the best. Ayaneo has been making waves since, and the company has now gone all-out on making an ultimate gaming handheld: the Ayaneo Kun. Packing up to 4TB of storage, up to 64GB of RAM, a massive 8.4-inch 1440p display, and an AMD Ryzen 7840U, it's the company's best yet.
If you're looking at picking up a new gaming handheld, the Ayaneo Kun's price is not for the faint of heart. While it packs everything you could ever want into a singular gaming form factor, the cost of it makes it a tough pill to swallow for all but the most hardcore enthusiast. It's a fantastic, amazing, ridiculous handheld, but that's what makes it so alluring.
If you want the best of the best, then the Ayaneo Kun is definitely up there. Counterpoint, though: Nobody needs the best of the best, and that includes the Ayaneo Kun.
About this review: We received the Ayaneo Kun for review from Ayaneo. The company did not have any input into the contents of this review.
Ayaneo KUN
Premium pick
$999 $1209 Save $210
The Ayaneo Kun is a high-end premium gaming handheld that packs a lot of punch with a large display, big battery, and an AMD Ryzen 7840U processor. It's pretty costly but one of the best gaming handhelds out there today.
Brand

Ayaneo

Weight

900g

Chipset

Ryzen 7840U

RAM

Up to 64GB

Storage

Up to 4TB

Display

8.4 inches 1600p

Graphics

Radeon 780M

Ports

2x USB-C, 1x USB-A, 1x 3.5mm, 1x microSD

Battery

75WHr
Pros
Amazingly powerful
Great build quality
Attention to detail
Cons
Pricey
Potential aftersales issues
Ayaneo Kun: Price, specs, and availability
The Ayaneo Kun is available globally through the company's IndieGoGo campaign, with multiple storage options and variants available. It starts at $999 early-bird pricing with 16GB of RAM and 512GB of storage and goes all the way up to $1,699 early-bird pricing in a unit with 64GB of RAM and 4TB of storage.
Design and build quality
One of the best gaming handhelds yet
The Ayaneo Kun's build quality feels sturdy and comfortable, and despite the size, is one of the best that I've held. It's covered in soft-touch plastic and incredibly ergonomic, with a well-balanced weight distribution throughout, but also clearly takes inspiration from the Steam Deck. Despite the size and the weight, it's playable while being held up, and it has a built-in kickstand too if you'd like to put it down. It still gets tiring after a while of holding it up, but I've found that with the Steam Deck, too.
I'm really impressed by the Ayaneo Kun.
Also inspired by the Steam Deck are the addition of four buttons on the back of the Ayaneo. I never liked those buttons on the Steam Deck either and I don't use them here, but they're there for people who do like them.
The Ayaneo Kun has a lot of great ports though, and I'm really impressed. It has two USB-C USB 4 ports and a single USB-A 3.2 port on the top for full devices like flash drives, USB hubs, and more. The USB-C ports are split between one on the top and one on the bottom, and both can be used for charging and data transfer. It allows for charging versatility while supporting additional USB devices, too.
There's a fingerprint sensor on the top left inside the power button, a front-facing camera for Windows Hello sign-in, a microSD card slot behind the kickstand, and a headphone jack on the bottom, too. The joysticks on either side are hall effect joysticks (meaning they make use of magnets and won't succumb to drift) that don't have any dead zone issues, and the buttons all have a nice, plastic membrane underneath that feels very similar to the Steam Deck. Finally, there's a pair of bottom-firing speakers on the far left and the far right of the device. Both the speakers and the haptics are improved over the Ayaneo 2S, which I'm happy for given the cost of this handheld.
When it comes to the kickstand, I really only have one criticism, and that is that it doesn't really go far back enough. It sits nicely so that you can use it on a slightly lowered table, but if you're looking down at it at all, then it's just annoying to use.
As for the buttons, I have two sets of criticism. The top-left and top-right buttons on the front look like they should be start and select, but they're not. The top left is the Xbox Game Bar button and the top right is another button to access AYA Space … despite there being one on the bottom right already. As well, the touchpads (particularly on the right-hand side) are way too easy to trigger. You can disable them (which I have) but if you don't, you'll frequently start having mouse inputs in your games that may switch the game out of controller mode.
Software
As always, Windows 11 is bad, but AYA Space is good (and improved)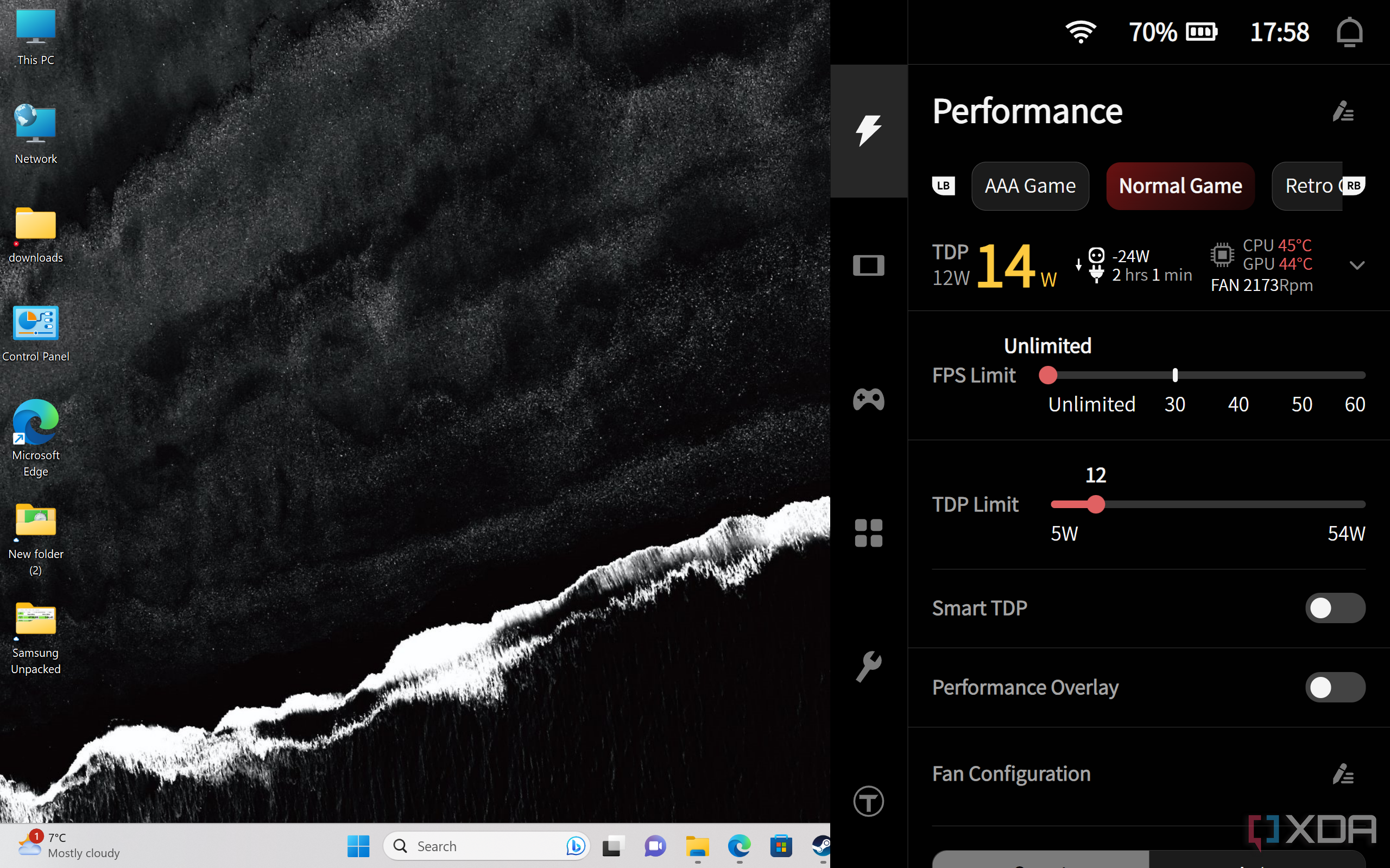 What the Steam Deck has over all of these gaming handhelds is an operating system made for gamers. Windows 11 is not that, and on gaming handhelds like these it's clunky, it's frustrating, and it's difficult to navigate. Once you have games up and running, it's all good, but everything outside of games is a mess. That's also not an Ayaneo problem, and I had the exact same complaint when I tested the Asus ROG Ally.
Ayaneo attempts to get around this with two things: touchpads and software. The touchpads are a bit finicky to use and, somewhat ironically, the larger display means that I actually don't even need touchpads as much anymore. However, the company has also updated its AYA Space software to be better than ever, and it admittedly works really well.
The Aya Space overlay has been expanded to have more options easily accessible and make a lot more sense. You can toggle features like Bluetooth and Wi-Fi and also interact with brightness and volume too. In games it's easily accessible and works well, though I have noticed it crashing a few times in my testing. To fix that I've just relaunched the Aya Space application and it fixes it, but it's something to keep in mind.
One other thing as well is that out of the box, I had to install drivers manually from AMD to play more modern titles. Aya Space did not handle this update for me, and there were also a lot of Windows Updates that I had to install right away. That's also not Ayaneo's fault, but it is again another problem that gamers will face on a handheld using Windows. It's easy to rectify and just requires an hour or two of set up to get running, then after that you'll just need to occasionally do updates.
Performance
Power modes
The Ayaneo Kun is meant to be the premier mobile gaming experience, and it certainly delivers. Unlike the Ayaneo 2S, you can set whatever TDP you want from AYA Space, and it goes all the way up to a ridiculously high 54W. It goes without saying that playing at 54W will drain your battery the fastest and generate a lot of heat, but the weirdest thing is that as you'll see, there are definitely diminishing returns as you go higher in TDP. We tested games at different TDP levels to give you an idea of what to expect, and what games are playable.
Unlike the Ayaneo 2S though, thermals are handled a lot better on the Kun, and it does not get uncomfortably hot in any particular area of the display or touchable surfaces.
In 3DMark's Time Spy, we ran tests in different TDP measurements of 5W, 20W, 35W, and 54W.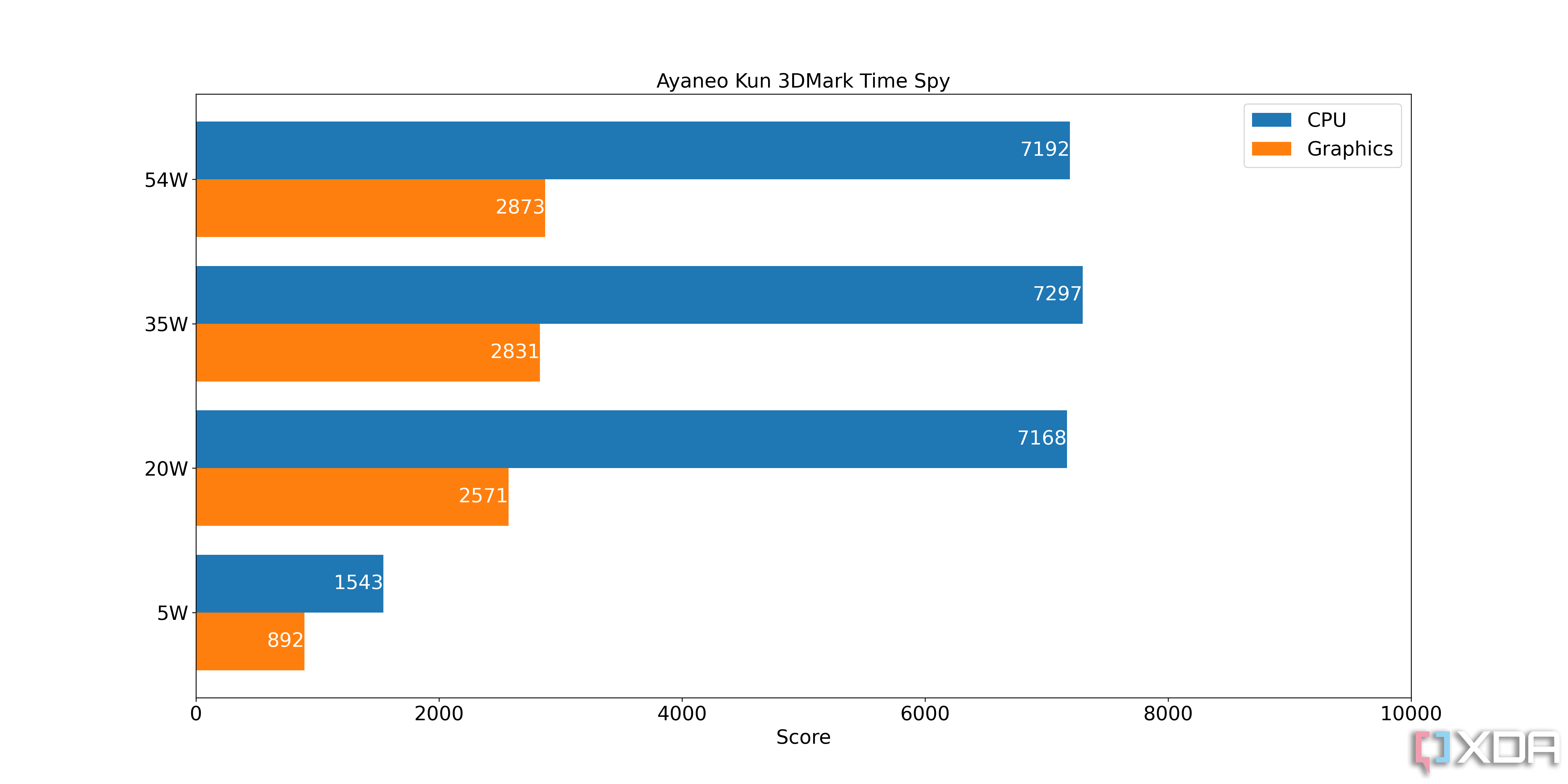 Weirdly enough, from 20W onwards, there are massively diminishing returns. I suspect that this is as a result of throttling when it gets to 54W, as graphics capabilities still do increase slightly. It definitely does seem though that the best performance per watt will be found somewhere around the 20W TDP limitation.
It's been a fantastic experience capable of rivaling some of the best gaming laptops.
At lower TDPs, this is also a great handheld for emulation, but we tested some bigger titles on Steam to put it through its paces. I've been playing Nintendo Switch games, PlayStation 2 games, and more on this though, and it's been a fantastic experience capable of rivaling some of the best gaming laptops.
Ratchet and Clank: Rift Apart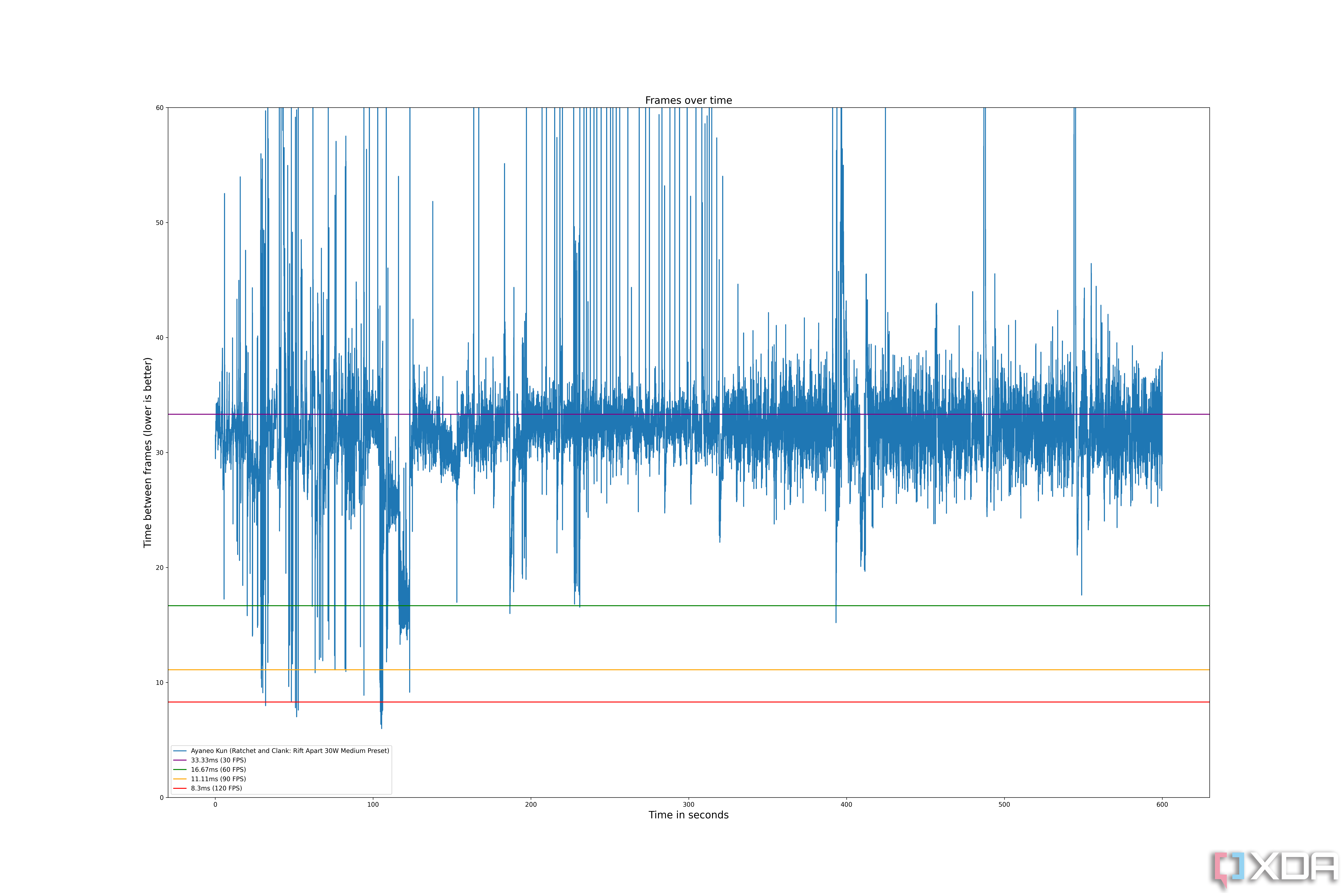 Ratchet and Clank: Rift Apart is a pretty popular game that recently enough launched on PC. It's a PlayStation port that has some pretty decent hardware requirements. We played it at 30W in 1200p and found that it runs pretty well, especially given that this was at a medium preset. You could decrease the resolution, decrease the graphics fidelity, or increase the wattage and get much better performance than this.
Having said that, 99% of frames are at 23 FPS here, so it won't take much to make this a completely playable game. I also found that multiple transitionary scenes dropped the FPS, as in most combat and in-game scenes, the FPS seemed to stick around the higher 20s and even low 30s. I'd happily play it with these settings for extended sessions, and I'd even consider dropping the graphics and the TDP a small bit to extend that play time.
Marvel's Spider-Man: Miles Morales
I've been playing Spider-Man: Miles Morales on the Ayaneo Kun. The above was taken when playing at 30W, 2560×1600 resolution at medium graphics settings, and the Kun says that it will last about two hours of battery life. To be clear, I am intentionally pushing it by playing at native resolution, and you could decrease the resolution or graphics fidelity for an excellent experience. At 30W there's room to increase the performance and at native resolution, you can do a lot too, so this is an excellent result to have.
The above graph shows the game running at around 30 FPS, but that's completely playable and with a lot of room to improve the performance. I was really impressed with the above, and it shows just how playable AAA titles like these are on a handheld. From our testing, 99% of frames were rendered in 48ms or faster, meaning that at minimum under these conditions you'll play at 21FPS. That's really good for a handheld with so much wiggle room to increase performance further.
Cyberpunk: 2077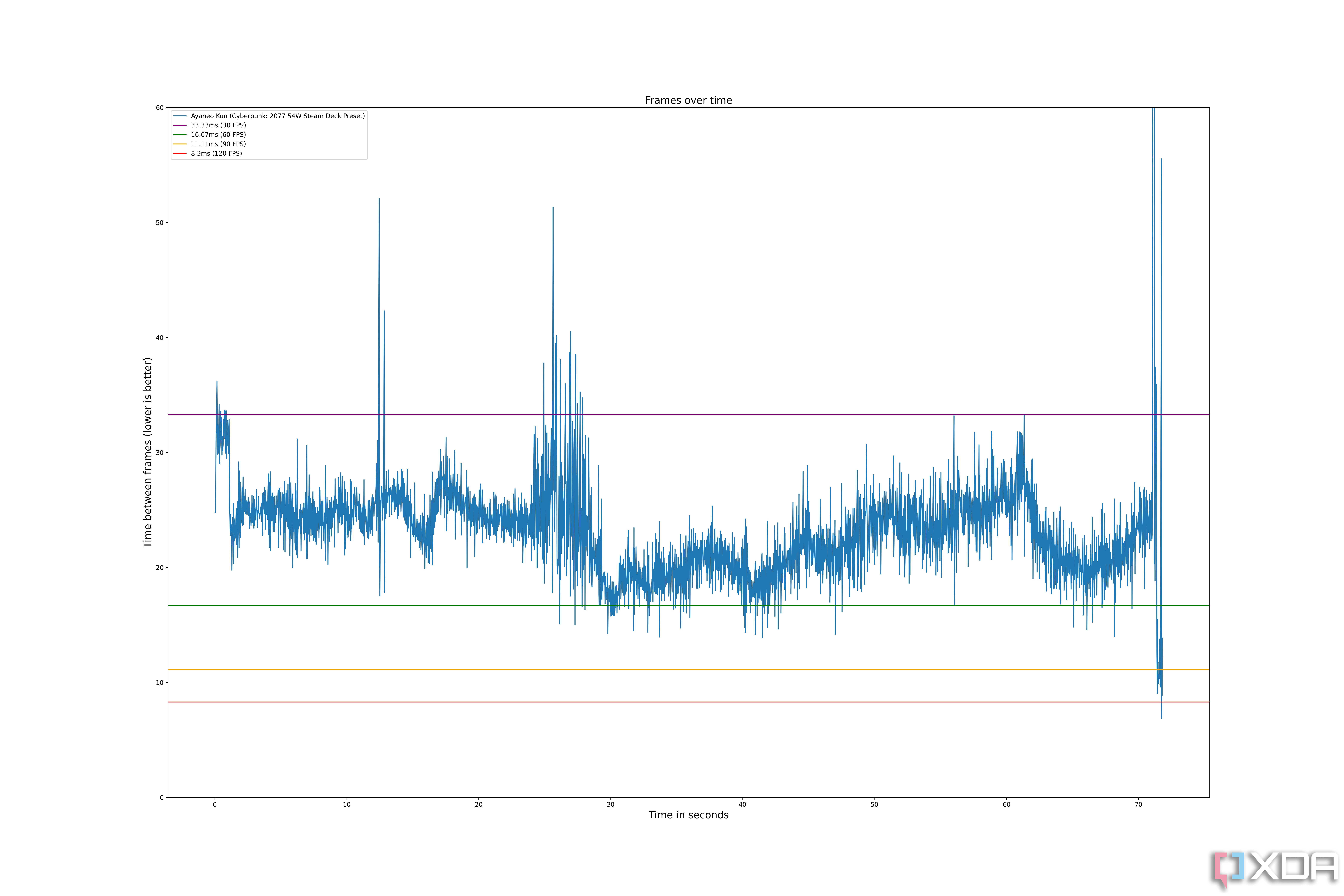 With Cyberpunk: 2077 being one of the most popular AAA games that people may look to play on a handheld, we tested the game in its built-in FPS benchmark on numerous presets. The above is the best-case scenario running the game at 1200p with the Steam Deck preset and the TDP increased to its maximum of 54W. You could decrease the resolution and decrease the TDP for a similar result, but we wanted to see just how far we could push the Ayaneo Kun. With this, 99% of frames were above 30 FPS.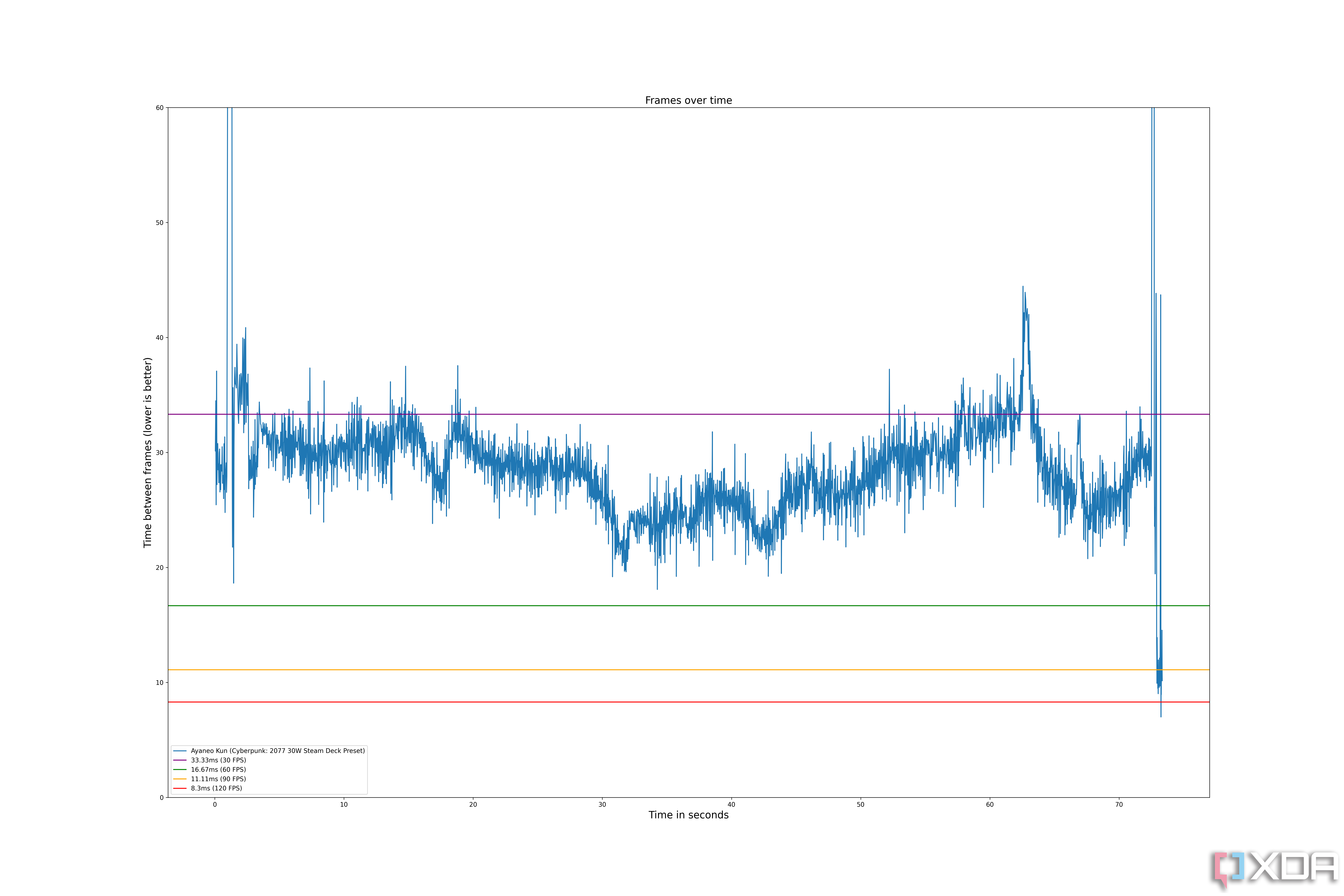 Looking to increase playtime somewhat, I also tested at 30W with the Steam Deck preset at 1200p. Those results, while still decent, point to requiring the game to run at a lower resolution if you want it to be truly playable for longer periods of time. 99% of frames were above 27 FPS here which is still pretty good, but means that there are some (admittedly infrequent) frame drops that you may suffer while playing.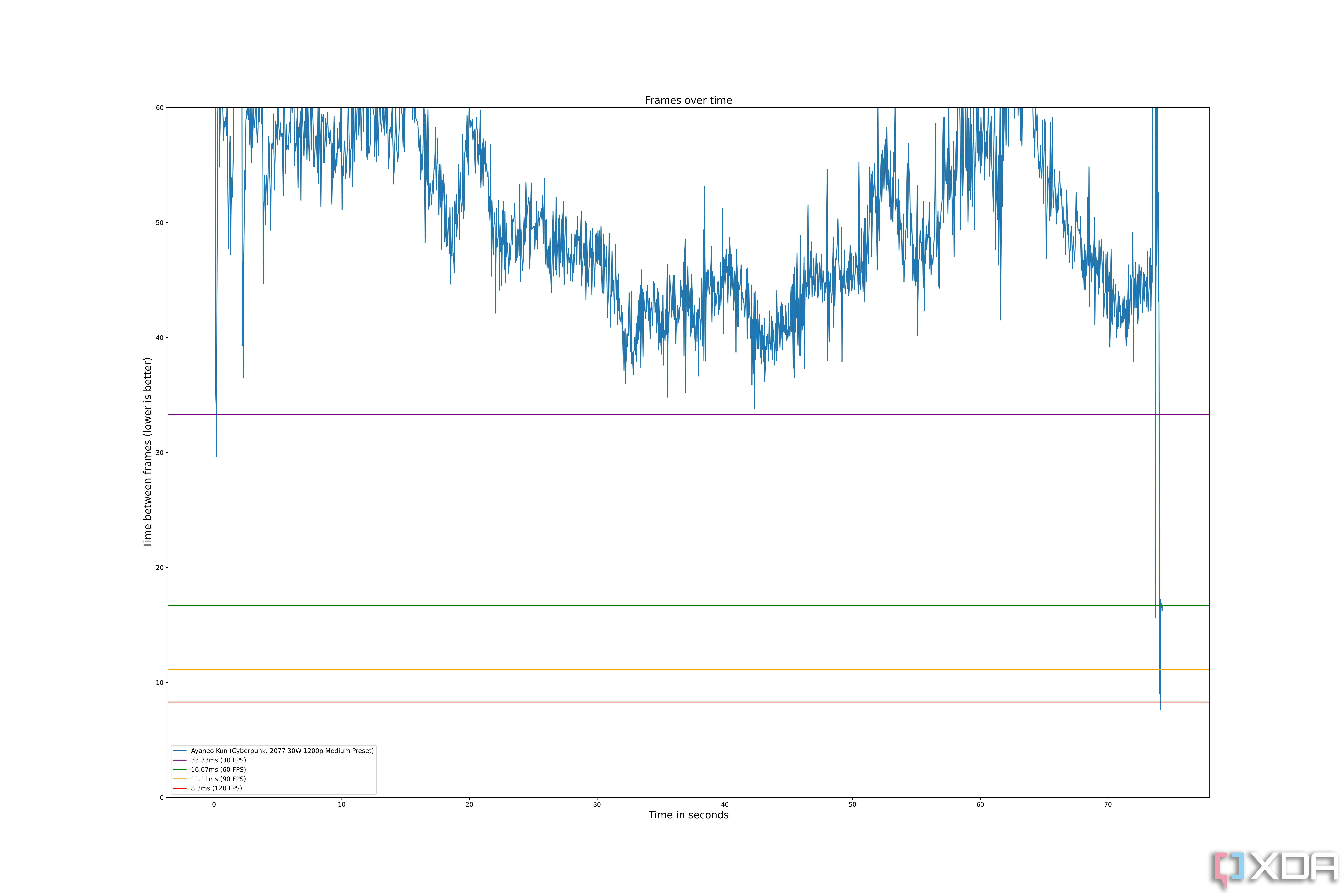 Finally, we also tested with the medium preset and found that the game was borderline unplayable at 1200p. Cyberpunk: 2077 is an intensive game so this isn't surprising, but you'll need to leverage the Steam Deck preset and potentially even a lower resolution if you want to play titles like these on the go. 99% of frames were drawn in 65.83ms, meaning that you'll get, at minimum 15 FPS in these conditions.
Should you buy the Ayaneo Kun?
You should buy the Ayaneo Kun if:
You want one of the best PC gaming handhelds out there
You value good build quality and a good design
You need extra USB-C ports
You shouldn't buy the Ayaneo Kun if:
You worry about aftersales support
You don't like Windows
You're on a budget
The Ayaneo Kun is an exceptional gaming handheld that is clearly made by people who understand gamers. The software is improved, the performance is excellent, and the build quality is exceptional. It really feels like Ayaneo is taking on the criticisms that have been leveraged against it, and I would go so far as to say that this is an entirely new class of gaming handheld. Ayaneo has been (rightly) criticized for releasing a lot of devices in a short period of time, but I think that the Kun is a demonstration of what the company is capable of, not just yet another product being shoved out the door.
The Ayaneo Kun is probably the closest to perfection that's available right now.
Even in the box, there's an immense attention to detail that you simply don't get in other products like this so far. Not only do you get a 100W GaN charger with two USB-C charging ports and two USB-A charging ports, you get international adapters in the box that clip onto the charging brick, so you can use it anywhere. It's not a perfect gaming handheld by any means, but it's probably the closest to perfection that's available right now.
It's not all sunshine and roses though, and there are some concerns people have when it comes to aftersales support. This is a lot of money to spend on a gaming handheld, and if you want to make sure you're spending your money right on one of these, then be aware that some users have reported difficulties when they have problems with their units. The Ayaneo 2S we reviewed had problems initially before we had it replaced, but we have a direct line of contact with the company.
For example, there are stories on Reddit of people saying that they had trouble swapping out units when they had problems, and they may not fill you with confidence. We've seen companies stir up social media to attack competitors on platforms like these all the time, so it's not a guarantee that you won't get the appropriate help that you need, but it's something to consider as even shipping it all the way back to China could prove difficult for some people if you run into problems.
If you want a gaming handheld that should last you a long time, then I'd honestly say this is it. It's a fantastic experience and my go-to currently thanks to its ergonomics, great speakers, and great performance. The Ryzen 7840U in handhelds is getting pretty tired at this point, but with Zen 5 CPUs coming next year, I'm excited to see what kind of performance we can get out of the next generation.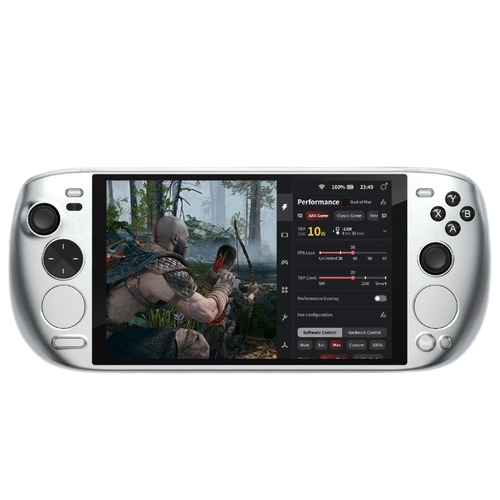 Source: Ayaneo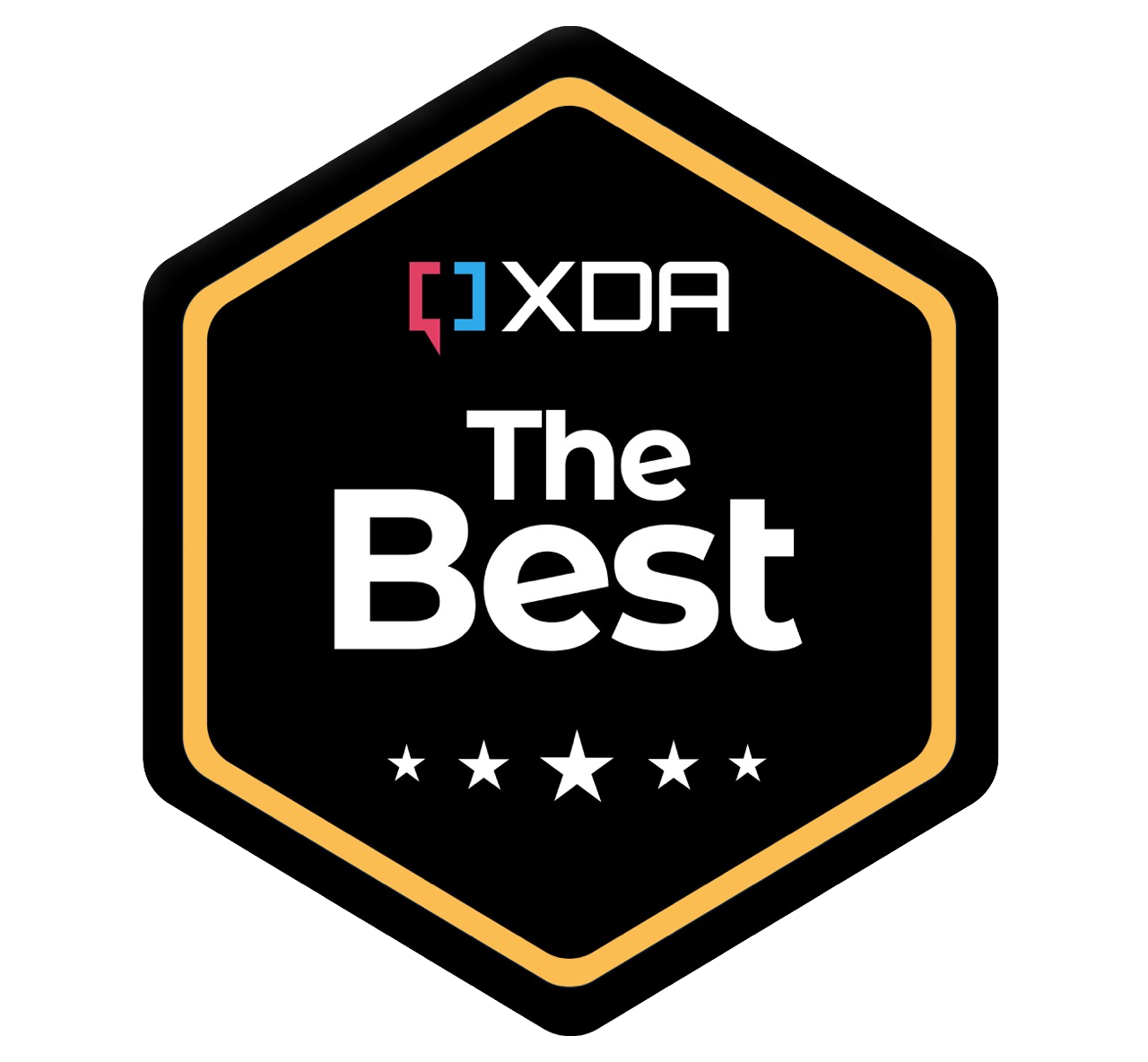 Ayaneo KUN
Premium pick
$999 $1209 Save $210
The Ayaneo Kun is a high-end premium gaming handheld that packs a lot of punch with a large display, big battery, and an AMD Ryzen 7840U processor. It's pretty costly but one of the best gaming handhelds out there today.
** (Disclaimer: This video content is intended for educational and informational purposes only) **