Key Takeaways
Lenovo is introducing the Legion Go, a premium handheld gaming PC with high-performance specs and detachable controllers for an immersive gaming experience on the go.
The Legion 9i is Lenovo's new flagship gaming laptop, featuring a self-contained watercooling system, powerful specs, a high-resolution display, and RGB lighting for a unique and standout design.
Lenovo is also releasing the ThinkVision 27 3D Monitor, which offers a glasses-free 3D experience and eye-tracking technology for consistent viewing, along with great color reproduction and built-in speakers.
Ahead of this year's IFA, taking place starting this weekend from September 1st through the 5th, Lenovo is announcing a handful of new products focused on gamers and creators. Among them is the previously-rumored Legion Go handheld gaming PC, but there's also the first water-cooled 16-inch laptop in the world, the Lenovo Legion 9i.
The Lenovo Legion Go takes handheld gaming to the next level
With multiple companies now joining the Windows gaming handheld space, Lenovo has decided to take things to the next level with the Legion Go. This is easily the most premium device in this category, to the point where you might argue it's overkill. Performance-wise, the Lenovo Legion Go comes with up to an AMD Ryzen Z1 Extreme processor, tailor-made for this kind of device, and that's paired with 16GB of LPDDR5x RAM running at a whopping 7500MHz. It also includes up to a 1TB SSD and supports microSD expansion. It also comes with Lenovo's Coldfront cooling system to keep things running cool, and it includes a power bypass mode to prevent wearing down the battery when you're gaming while plugged in.
Things start to get a bit crazier when you look at the display. This is a massive 8.8-inch touch panel with a 16:10 aspect ratio and it features Quad HD+ (2560×1600) resolution and a 144Hz refresh rate, plus 500 nits of brightness. You can change between different modes, like 800p resolution (similar to the Steam Deck) and 60Hz, so you can save power or get more stable performance out of demanding titles. The screen even covers 97% of DCI-P3, so colors should look great here.
For controls, the Lenovo Legion Go goes a step further than competing handhelds by offering detachable controllers, meaning you can play without holding the PC in your hands. On top of that, the right controller comes with a controller base that's made for first-person shooters. You can detach the controller from the console and attach it to the base, and it uses an optical sensor at the bottom to offer precise aiming controls in shooting games. The right controller also includes many buttons all around to enable gameplay in this mode, making it that much more convenient.
If all of that isn't enough, the Legion Go is also one of the few gaming handhelds to use hall effect sensor joysticks, rather than typical potentiometer-based ones. Hall effect joysticks don't require components to make contact, meaning they don't wear out and should last far longer without the much-dreaded stick drift. They also allow you to configure joysticks with nearly no deadzone, because they're far more precise and less prone to misreadings. To go along with the Legion Go, Lenovo also announced the Legion Glasses, a pair of glasses with micro-OLED displays that deliver Full HD visuals at 60Hz, simulating a large screen experience anywhere. They connect via USB-C to any compatible device, with support for Windows, macOS, and Android. The glasses also include built-in speakers for an immersive audio experience.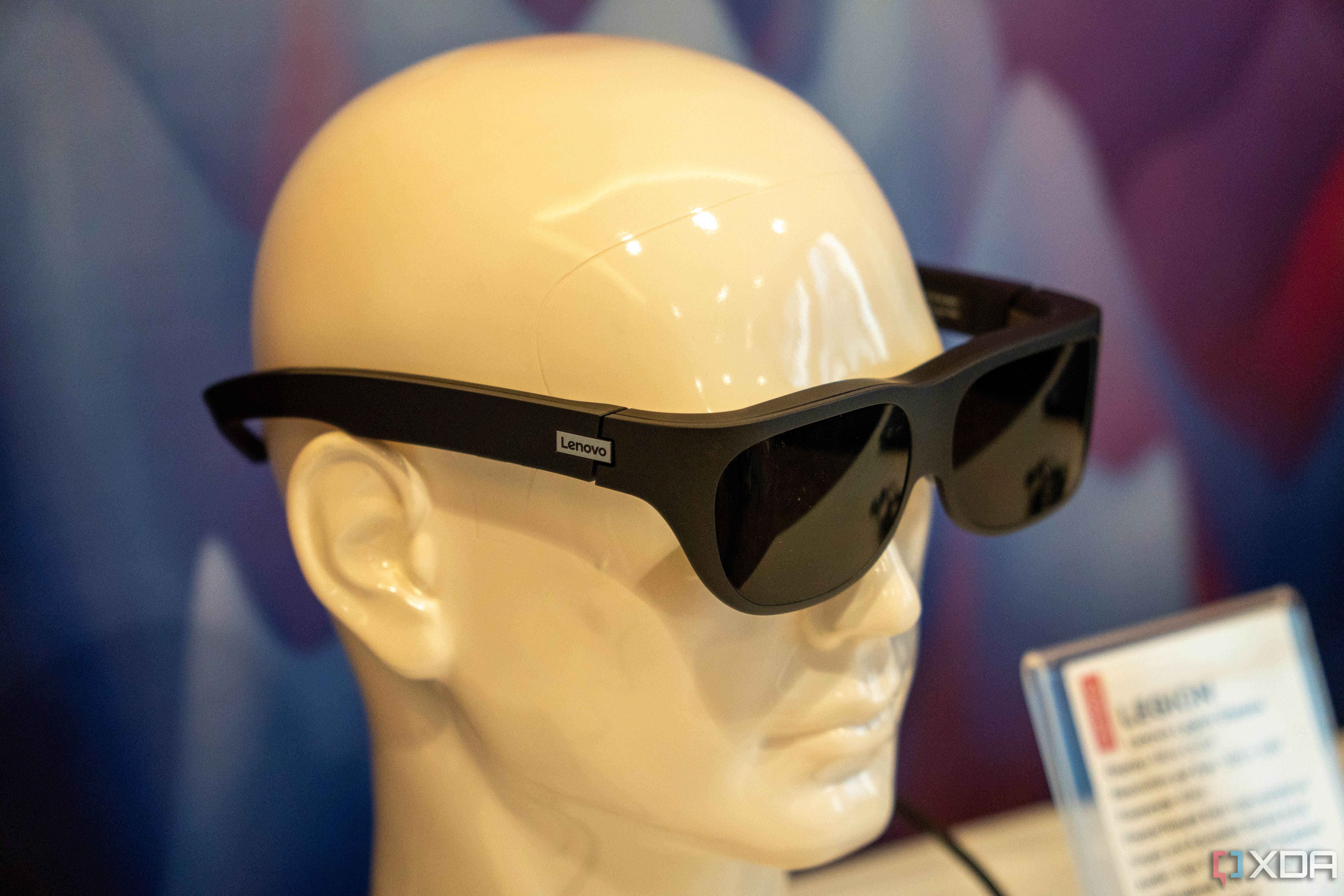 Finally, there's the Lenovo Legion E510 7.1 RGB Gaming earbuds. These USB-C wired earbuds use 10mm armature drivers and feature a hint of RGB lighting on the volume controller in the wire.
The Lenovo Legion Go will debut in October and start at $699, while the Legion Glasses will set you back an additional $329. The earbuds will cost $49.99.
The Lenovo Legion 9i has water cooling and Mini LED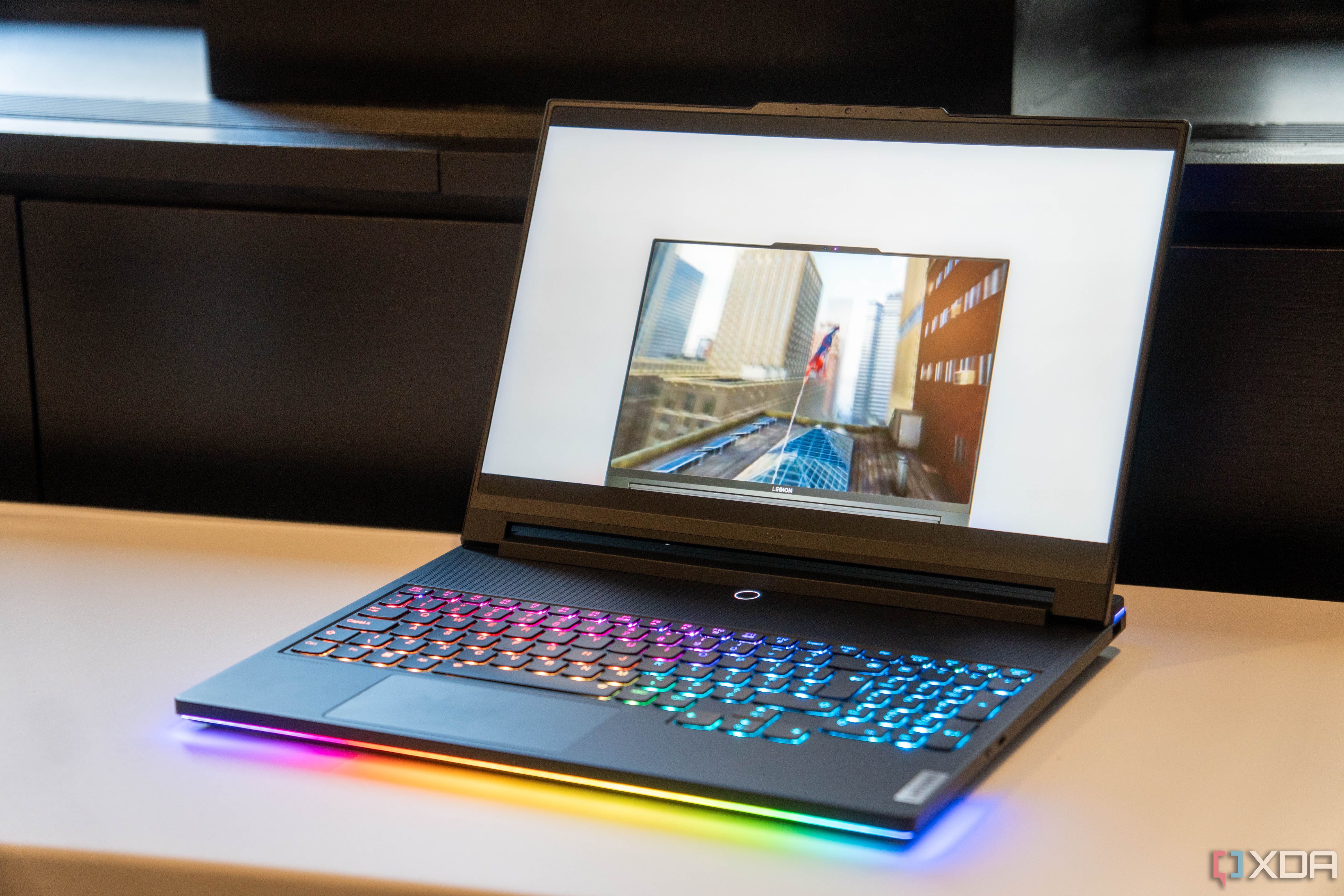 Lenovo is also bringing back the Legion 9i as its premiere gaming laptop, supplanting the Legion Pro 7i we reviewed earlier this year. The Legion 9i takes things even further by packing in a self-contained watercooling system inside the chassis, This cooling system is designed in partnership with Cooler Master, and it allows the laptop to output 230W of power while weighing just 5.64 pounds, making this one of the lightest 16-inch gaming laptops around. For comparison, the Legion Pro 7i weighs 6.17 pounds, and even a slim laptop like the Alienware x16 can go up to 6 pounds.
That's especially impressive considering the specs, which include up to an Intel Core i9-13980HX processor and an Nvidia GeForce RTX 4090 Laptop GPU. It can also be configured with up to 64GB of RAM. It also comes with Lenovo's LA-2 AI chip to help optimize performance over time.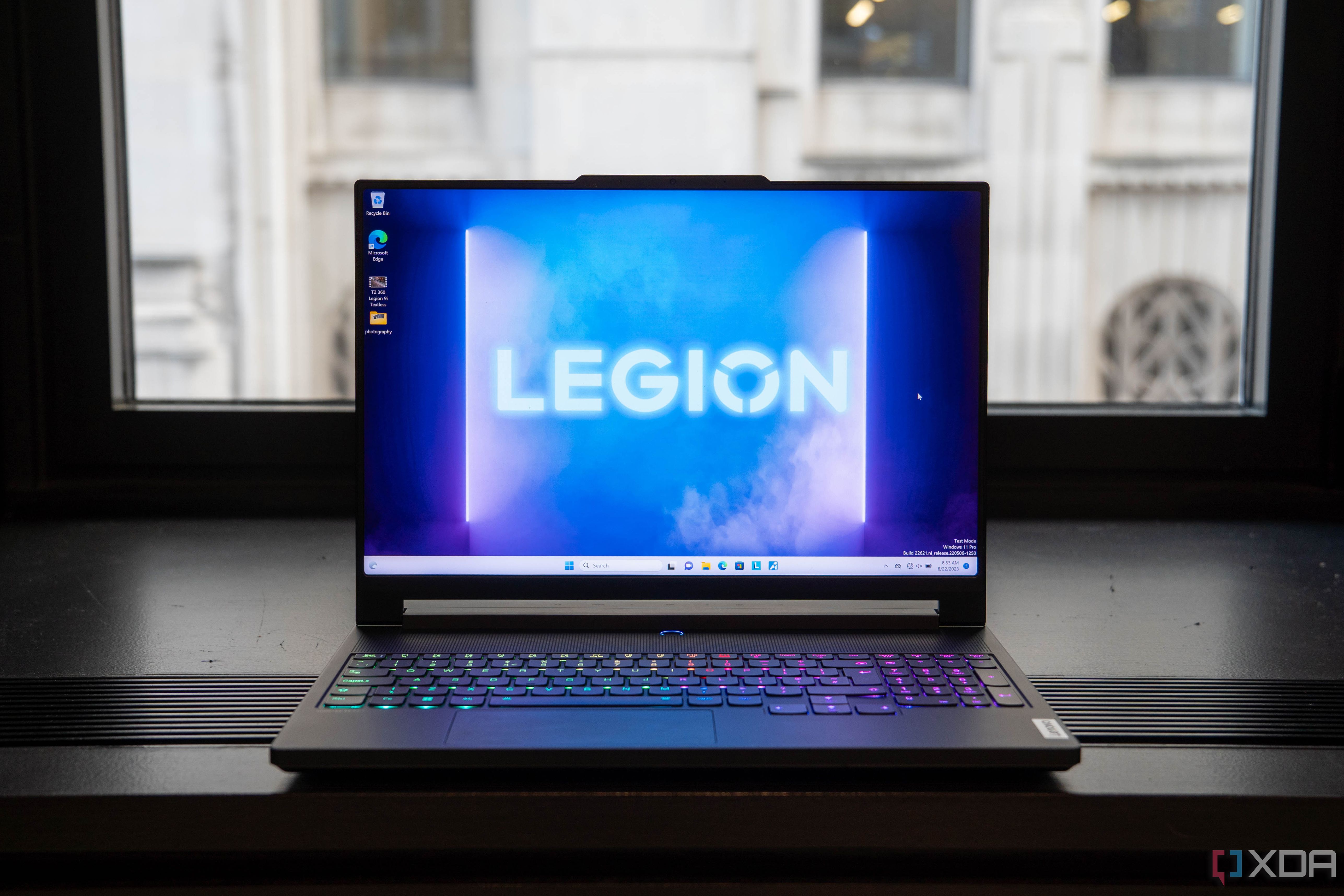 It's not just about power, though. The Lenovo Legion 9i also comes with a 3.2K PureSight Mini-LED display, similar to the 16-inch Slim Pro 9i. That means it has 3200×2000 resolution and you can cont on some of the best HDR experiences you can get on a laptop, too. The display also has a 165Hz refresh rate, so it should keep fast-paced gamers happy. It's also a great display for creators, though, and it comes with preinstalled X-Rite software to switch between DCI-P3 and sRGB color profiles depending on the user's needs.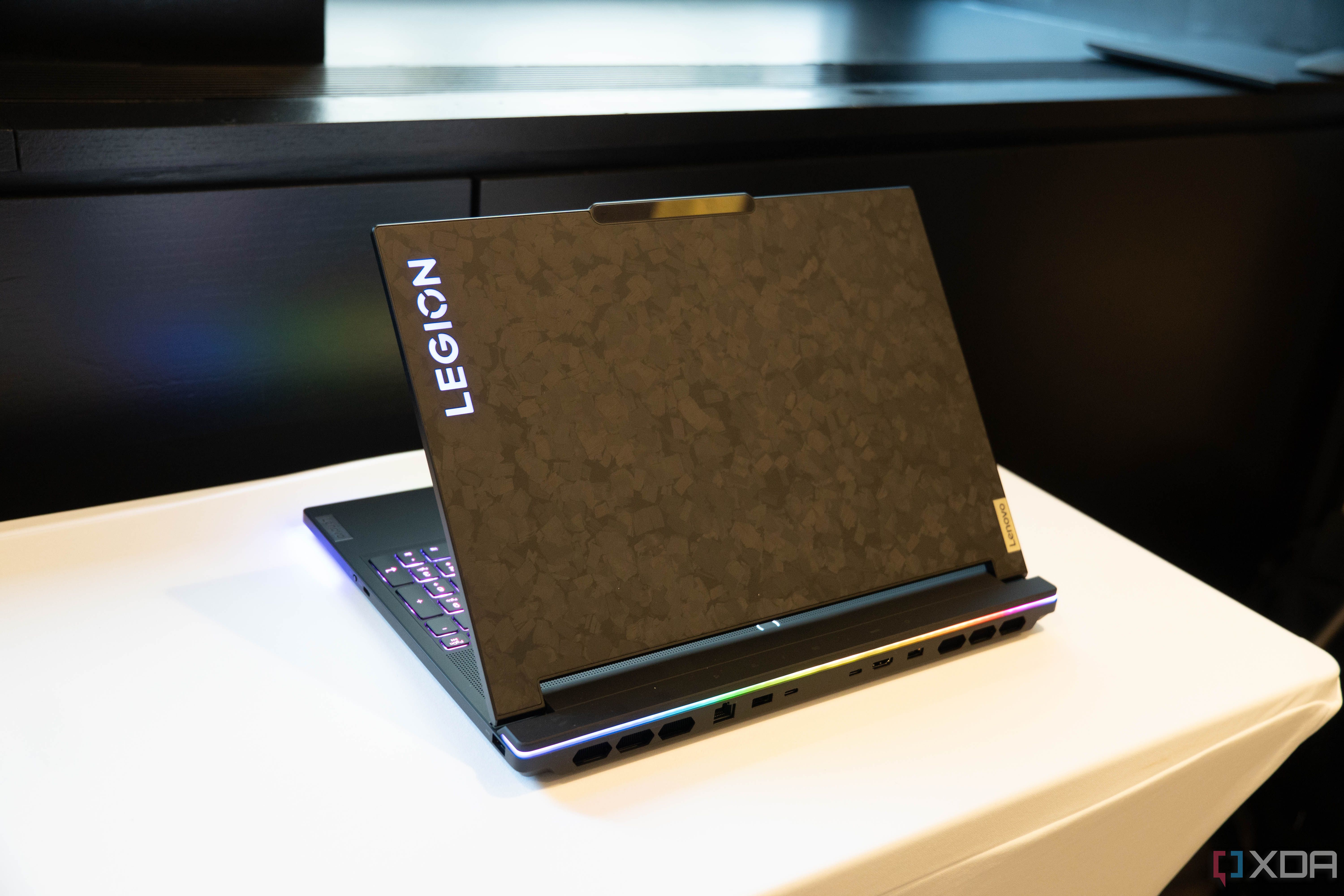 The Lenovo Legion 9i looks fairly unique, too, with plenty of RGB lighting all around and a unique "forged carbon chip pattern" on the lid, so you're bound to stand out with this one. It also comes with a 99.99Whr battery, the biggest you'll find on any laptop.
The Lenovo Legion 9i is slated to launch in October starting at $4,399.
There's a 3D monitor, too
Shifting the focus to creators, Lenovo also announced the new ThinkVision 27 3D monitor. Like other 3D products we've seen recently, the ThinkVision 27 3D Monitor doesn't require glasses to use 3D, and it uses an eye-tracking camera to direct the stereoscopic images into your eyes and measure you get a consistent 3D experience even if you move around slightly. Lenovo is also making a wider push for 3D content with the 3D Explorer software, making it easier to find apps and content that leverage these 3D capabilities.
Of course, the monitor can also be used in 2D mode, and color reproduction should be great with 99% coverage of both DCI-P3 and Adobe RGB. The monitor also has built-in speakers.
The Lenovo ThinkVision 27 3D Monitor is expected to launch in January 2024 for around $2,999.


** (Disclaimer: This video content is intended for educational and informational purposes only) **