A lot of smartphone users don't typically give much thought to the many software releases rolled out to their devices. Some prefer to set their iPhones to automatically update, so they don't have to worry about doing it manually, while others prefer to just keep the same software version their device shipped with. A select few pick and choose when to update. Regardless of how you prefer to update your device, you may have noticed a new type of software release called a Rapid Security Response. But what does this really mean, and how does it compare to the other types of software releases seeded out to great iPhones?
The three types of software releases from Apple
All the various software releases from Apple can be broken down into three distinct categories: updates, upgrades, and Rapid Security Responses. Apple considers an update to be a minor change to a software release, while upgrades are major changes to an operating system. Upgrades are reflected by a numerical increase in the operating system name, like iOS 17 or iPadOS 17. Updates are small tweaks released more frequently and are represented by a numerical increase in the version number that follows the operating system name. For example, the first update released after iOS 17 debuts will be numbered iOS 17.1. Even smaller updates might appear as a third number in the software version identifier, such as iOS 16.5.1.
Apple began more clearly distinguishing upgrades and updates following a class-action lawsuit that alleged the company was slowing down older devices with updates. Now, upgrades appear as a separate banner at the bottom of the software update tab in the Settings app. This contrasts with updates, which appear at the top of the software update tab.
What are Rapid Security Responses?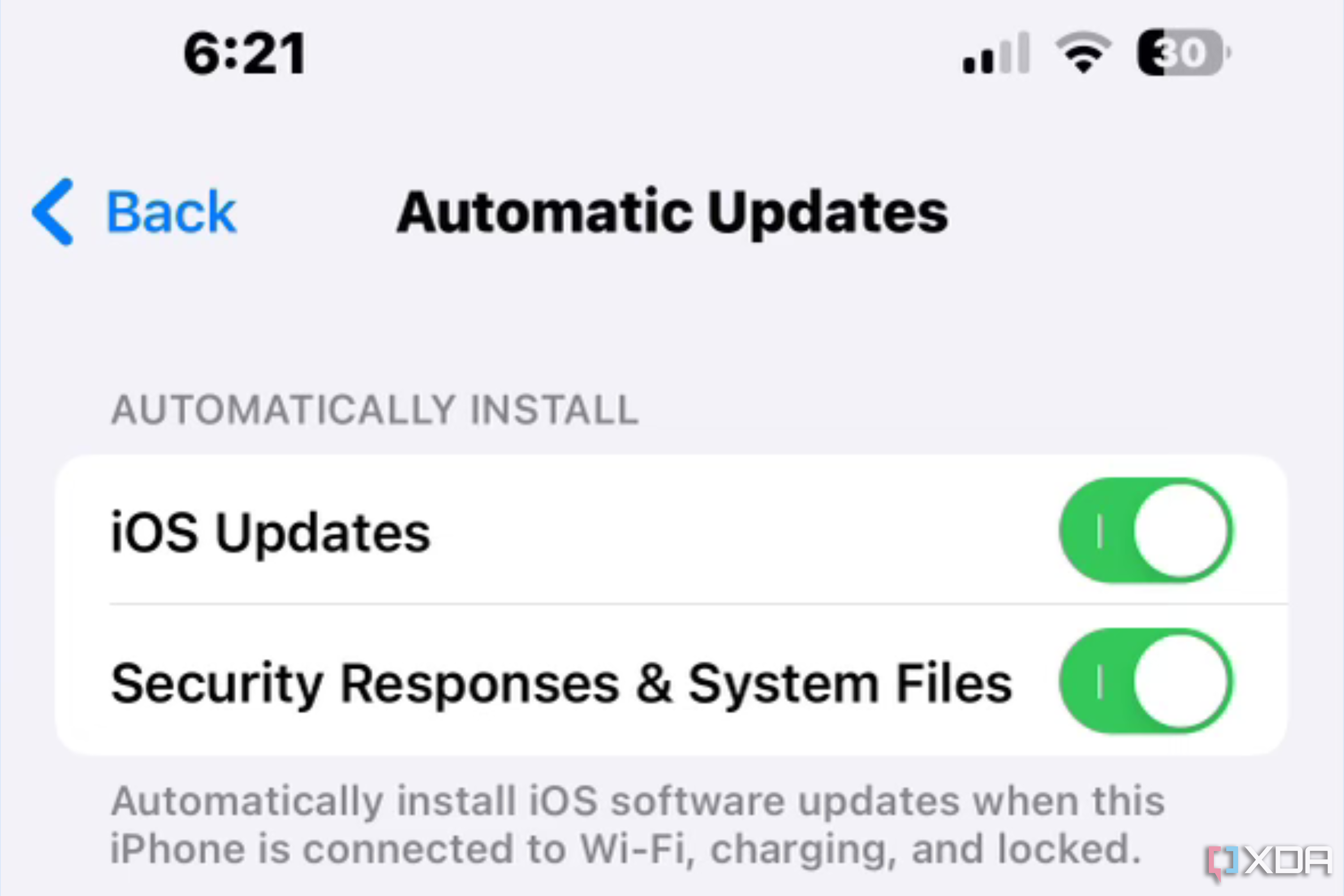 Rapid Security Responses are the new third type of update. They're designed to allow Apple to address critical security vulnerabilities as quickly as possible. Apple says that this could include security vulnerabilities that the company believes are currently being exploited in the wild. Previously, a security fix would need to be bundled with a full software update to roll out to affected devices. But now, Apple can now apply a security patch to a device without any direct action needed from users. In fact, Rapid Security Responses can be installed automatically without a restart if it doesn't affect the main operating system. For example, if there is a WebKit issue that only affects Safari, a Rapid Security Response can be installed simply by forcing Safari to restart instead of rebooting the whole device.
Rapid Security Responses are identified by a letter that appears following the software version number, like iOS 16.5.1 (a). If multiple Rapid Security Responses are needed for the same software version, the subsequent letters will ascend alphabetically. Though most of these updates will install automatically, you can manually install a Rapid Security Response like any other update in the Settings app. Since Rapid Security Responses are set to automatically install by default on devices running iOS 16.4.1, iPadOS 16.4.1, and macOS 13.3.1 or later, there's no user input required to protect your device.
However, they're also considered to be temporary fixes so that Apple can issue a full software update afterward to permanently solve the issue. Additionally, users can remove a Rapid Security Response if any unintentional bugs come along with it. When a Rapid Security Response is removed, it's essentially uninstalled, and the operating system is reverted to the preceding version.
When does Apple release Rapid Security Responses?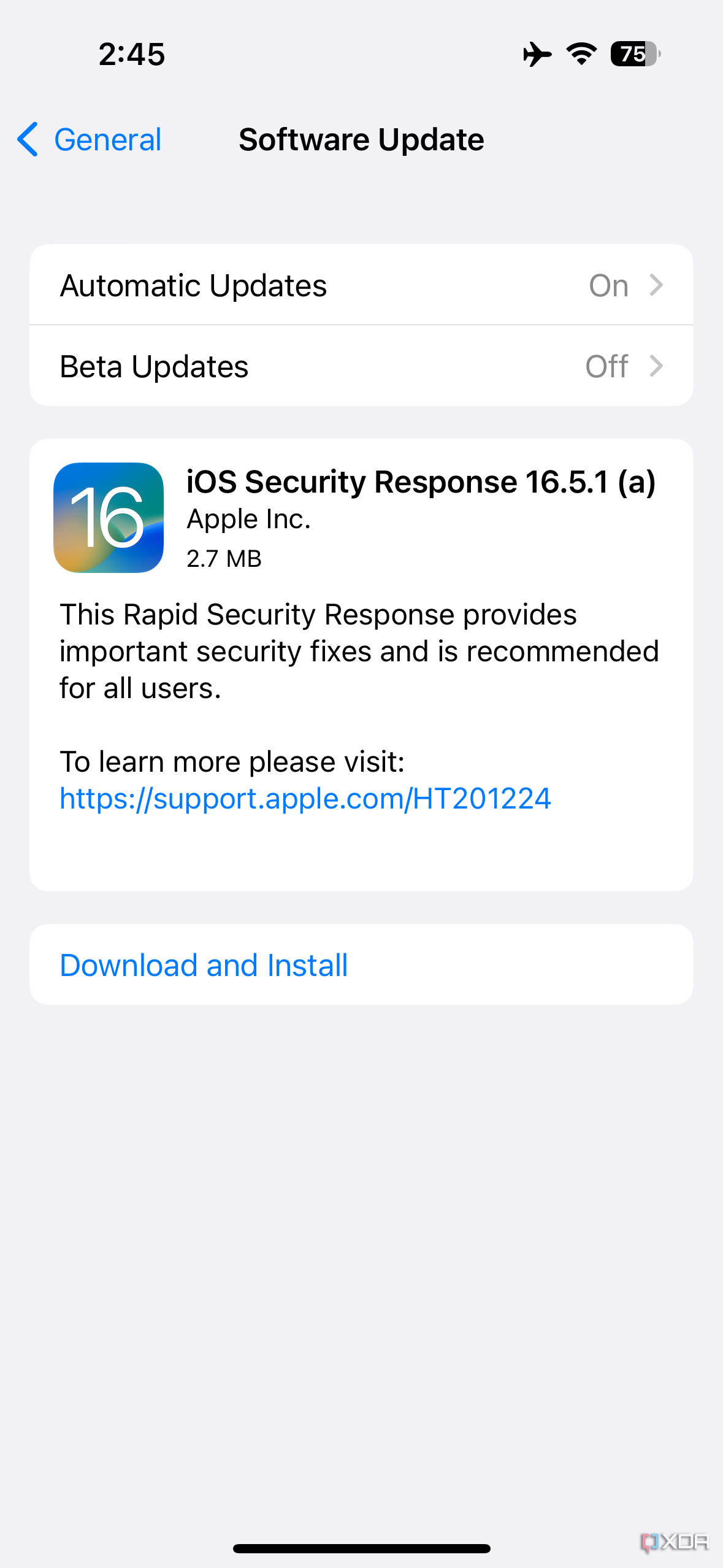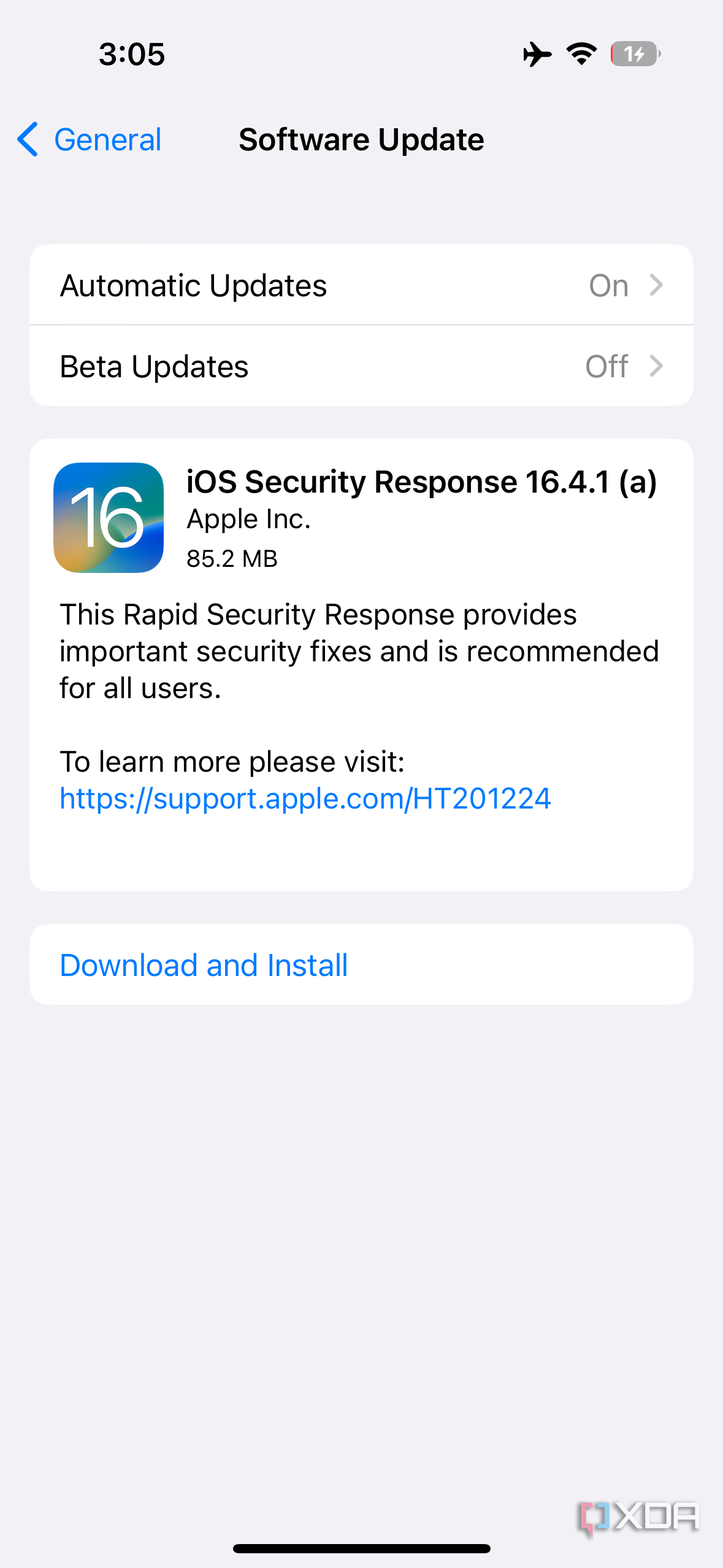 Apple sends out Rapid Security Responses whenever it deems a security vulnerability to require urgent action. The company doesn't typically reveal information about the security vulnerability directly when a Rapid Security Response is seeded, but it does provide explanations after the vulnerability has been patched. For example, iOS 16.5.1 (a) and iPadOS 16.5.1 (a) were sent out to fix reports that "processing web content may lead to arbitrary code execution," according to Apple. Following that update, iOS 16.5.1 (c) and iPadOS 16.5.1 (c) rolled out to fix some websites not appearing properly. These are just some examples of when and why Apple has released Rapid Security Responses in the past, but circumstances can vary with each release.
Why do Rapid Security Responses matter?
Rapid Security Responses are only used when there is a serious security matter that needs to be fixed immediately. As such, it's a very important tool that can protect your data and your device from bad actors. Since Rapid Security Responses are usually released when Apple believes a security vulnerability may have been exploited, every second counts when applying a patch. Luckily, since the feature is enabled by default, you can ensure your device is automatically protected with the latest security updates.


** (Disclaimer: This video content is intended for educational and informational purposes only) **