Apple AirPods 3

Mainstream Apple earbuds

$160 $170 Save $10

The AirPods 3 aren't the highest-end earbuds in Apple's catalog, but they're excellent for most users. They don't have some features, like active noise cancelation, but they still support spatial audio and excellent battery life.

Pros

H1 headphone chip brings Apple-exclusive features
Multiple sensors and accelerometers
Six hours listening time on a single charge (30 hours with case)

Cons

Limited feature set with non-Apple devices
No active noise cancelation

Beats Studio Buds +

For Android users too

The Beats Studio Buds+ take the best features of AirPods Pro and put them in a neat and colorful form factor. At around the same price as AirPods 3, it might be worth giving Beats a look to get features like ANC and transparency mode. 

Pros

Up to nine hours of listening on a single charge (36 with case)
Fast Pair on iOS and Android
USB-C port for charging

Cons

Weaker active noise cancelation than the competition
No wireless charging
Spatial audio is always on when using Apple Music
Apple has made a slew of great true wireless earbuds with its AirPods lineup, and they're some of the most popular headphones in the world. But the third-generation AirPods might not be the best earbuds you can buy under $200. The Beats Studio Buds+, which retail for the same $170 price as the AirPods 3, could actually be a better solution for some people because the AirPods 3 don't have in-ear tips or active noise cancelation (ANC), which might make them feel half-baked in 2023. By comparison, the Beats Studio Buds+ offer in-ear tips, ANC and transparency modes, and complete feature parity on iOS and Android. To help you figure out which one is right for you, we've put the two Apple earbuds up against each other in this comparison.
Price, specs, and availability
AirPods 3 were released in late 2021, and although they are still the newest base-model AirPods you can buy, they're getting quite old in terms of tech. They aren't the cheapest pair of AirPods you can buy, but they might as well be. The AirPods 2 are still for sale at $99, but they're nearly four years old and are almost identical to the first-generation AirPods. That means at $170, AirPods 3 are a realistic entry into the AirPods lineup, but you can find them on sale often. AirPods 3 are only available in white, but you can configure them with a Lightning charging case or a Lightning charging case with MagSafe. The latter enables you to charge your AirPods with a wireless charger.
Apple refreshed the original Beats Studio Buds with the Beats Studio Buds+ in May 2023 with a few key upgrades. So the newer earbuds retail for $170 and slot in above the Beats Studio Buds at $150. You can get them from Apple directly or from third-party retailers like Best Buy and Amazon. There are three colors for the Beats Studio Buds+: black, ivory, and transparent.
| | Apple AirPods 3 | Beats Studio Buds+ |
| --- | --- | --- |
| Noise Cancellation | No | Yes |
| IP rating | IPX4 | IPX4 |
| Chip | Apple H1 | Custom Beats chip |
| Spatial Audio | Yes | Only on Apple Music |
| Earbuds battery life | Up to 6 hours | Up to 9 hours |
| Charging case battery life | Up to 30 hours | Up to 27 hours |
| Weight (earbuds) | 0.15 ounces (4.28g) | 0.18 ounces (5g) |
| Dimensions (earbuds) | 1.21 x 0.72 x 0.76 inches | 0.81 x 0.73 x 0.59 inches |
| Charging | Lightning or Lightning & MagSafe | USB-C |
| Color | White | Ivory, Black, and Transparent |
| Dimensions (charging case) | 1.83 x 2.14 x 0.84 inches | 2.83 x 2 x 1 inches |
Design and fit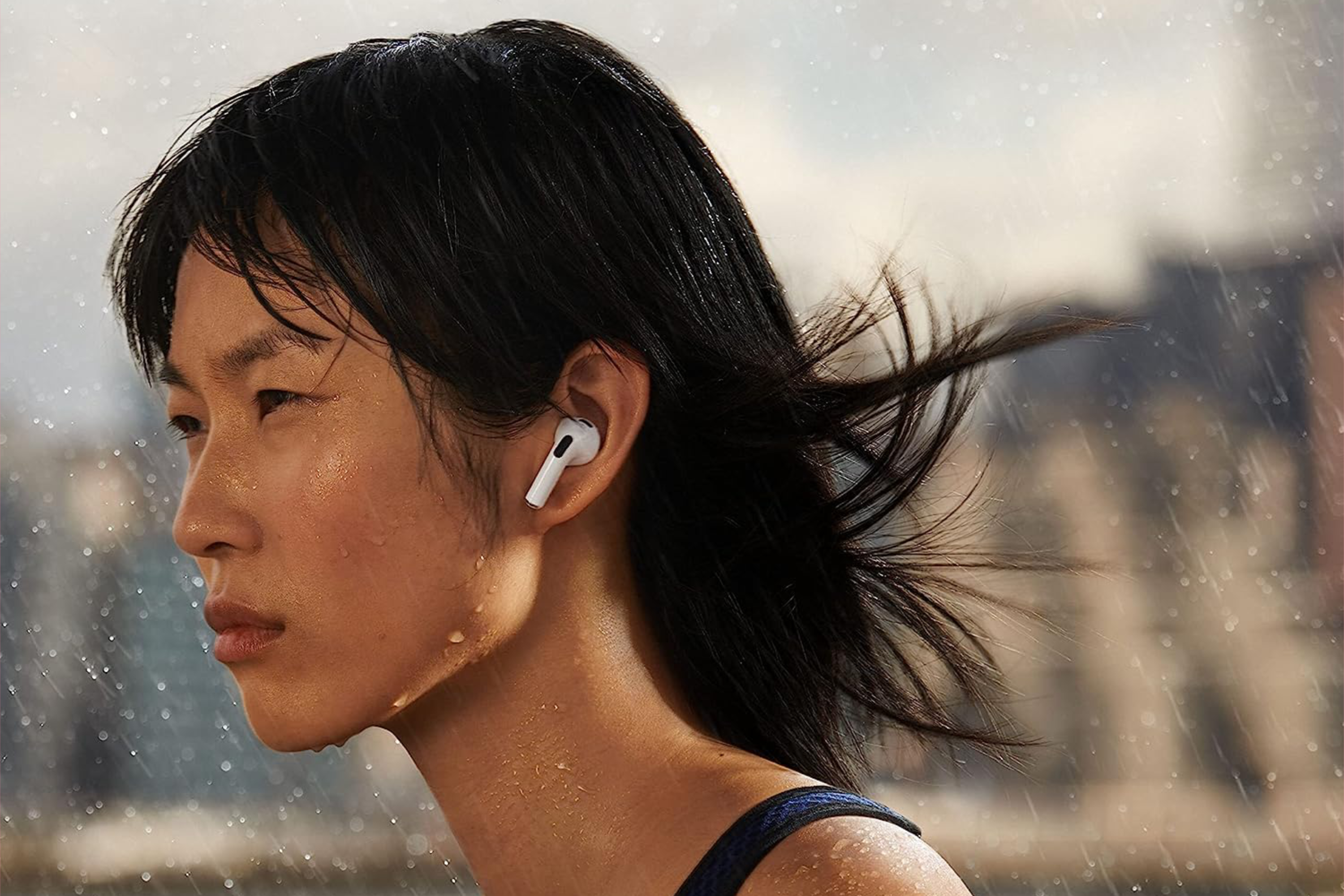 Source: Apple
The first thing you'll notice with the AirPods 3 and the Beats Studio Buds+ are the design differences. The AirPods 3 feature the same design as all Apple earbuds, dating back to the wired ones of old, with a glossy white stem. This isn't all about design, though, since the stem is capacitive and can be used for playback control and voice assistance with Siri. However, it's still a unique, iconic look, and the AirPods 3 will definitely be easier to spot in your ears than the Beats Studio Buds+ because the latter have no stem at all, which means they will sit nearly flush in your ear. There is some room to make a statement with the Beats earbuds with the transparent colorway, though, if you're interested in that kind of design.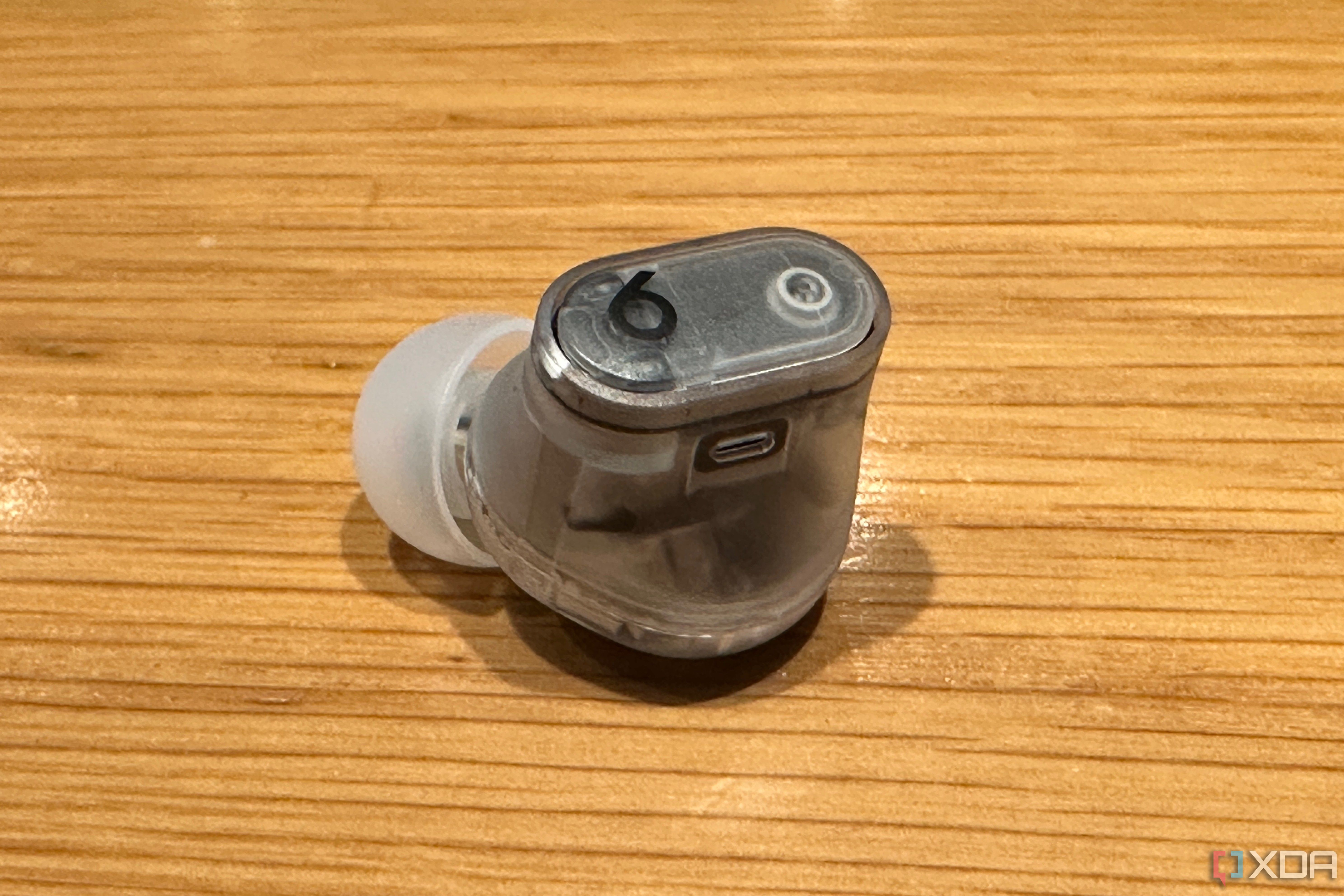 However, the bigger difference is how these two earbuds fit and feel in your ear. The Beats Studio Buds+ feature silicone ear tips and a plastic stem that places the earbuds' driver right inside your ear canal. On the other hand, the AirPods 3's driver sits outside your ear canal and they don't have traditional ear tips. This is preferred for people who find traditional earbuds uncomfortable, but it also means there's not much room for customization in terms of fit. If AirPods 3 don't fit well in your ears, you will need to find a different pair of earbuds, like the Beats Studio Buds+.
The similarities show, though, when you get to the charging cases, which are both of a similar size and weight and made of plastic. The AirPods 3 charge via a Lightning cable or MagSafe (if you pay an extra $10), which will likely be fine for people entrenched in the Apple ecosystem. For Android users, or people who just prefer versatility, you'll be happy to learn that the Beats Studio Buds+ charge via USB-C.
Processor and connectivity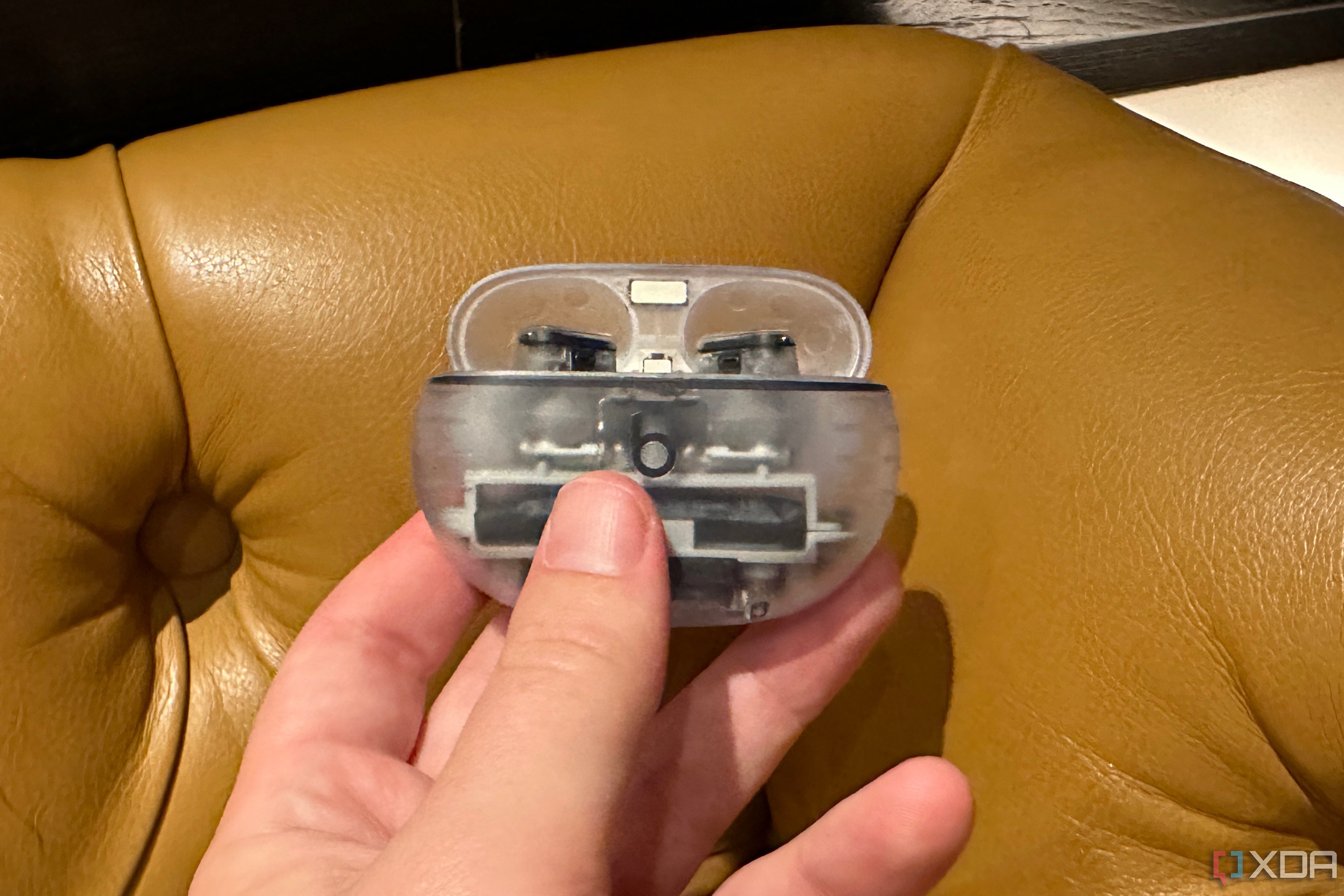 Just about every piece of tech these days features some type of silicon, and that's true for both the Beats Studio Buds+ and AirPods 3. We don't know much about the chip inside the Beats Studio Buds+ other than that it's a custom processor for Beats headphones. However, we do know that it's made by Apple and offers similar features to Apple audio chips, like the Apple H1 processor found in AirPods 3. While the inclusion of the H1 chip in the AirPods 3 offers exclusive features like head-tracked Personalized Spatial Audio, this processor is limited by the other hardware found in these earbuds. There isn't any ANC or a transparency mode due to the lack of ear tips for passive sound isolation. By comparison, the Beats chip in the Studio Buds+ offer both of those features.
The Beats Studio Buds+ are newer, and this shows in its connectivity options. The AirPods 3 are limited to Bluetooth 5.0, while the Studio Buds+ offer a Bluetooth 5.2 connection. Both are underwhelming when compared to the Bluetooth 5.3 BLE support found on AirPods Pro 2, but any Bluetooth 5.0 spec should be more than capable for daily use. As far as audio codecs are concerned, both earbuds support AAC and SBC, but you'll primarily be using AAC with Apple products.
Battery life and charging
Battery life tends to vary on earbuds with advanced features because certain options are more power-hungry than others. You get up to six hours of listening on the AirPods 3 with a single charge but enabling spatial audio will cut that down to five hours. Battery life is a lot better on the Studio Buds+, which net you nine hours on a single charge without ANC features enabled. When ANC features are in use, that figure drops to the same six-hour number you'll find on AirPods 3. So, if long-lasting battery life is your main objective, the Beats Studio Buds+ are the way to go.
You'll get the same story with the charging cases, where the Beats Studio Buds+ outperform the AirPods 3 in total battery life. The former gives you up to 36 hours of total battery life, while the latter gives you up to 30 hours. Both units have a fast charging feature that adds an extra hour of listening time with a five-minute quick charge, which can be useful in a pinch. As previously mentioned, if wireless charging is a must, you'll need to spring for the AirPods 3.
Sound quality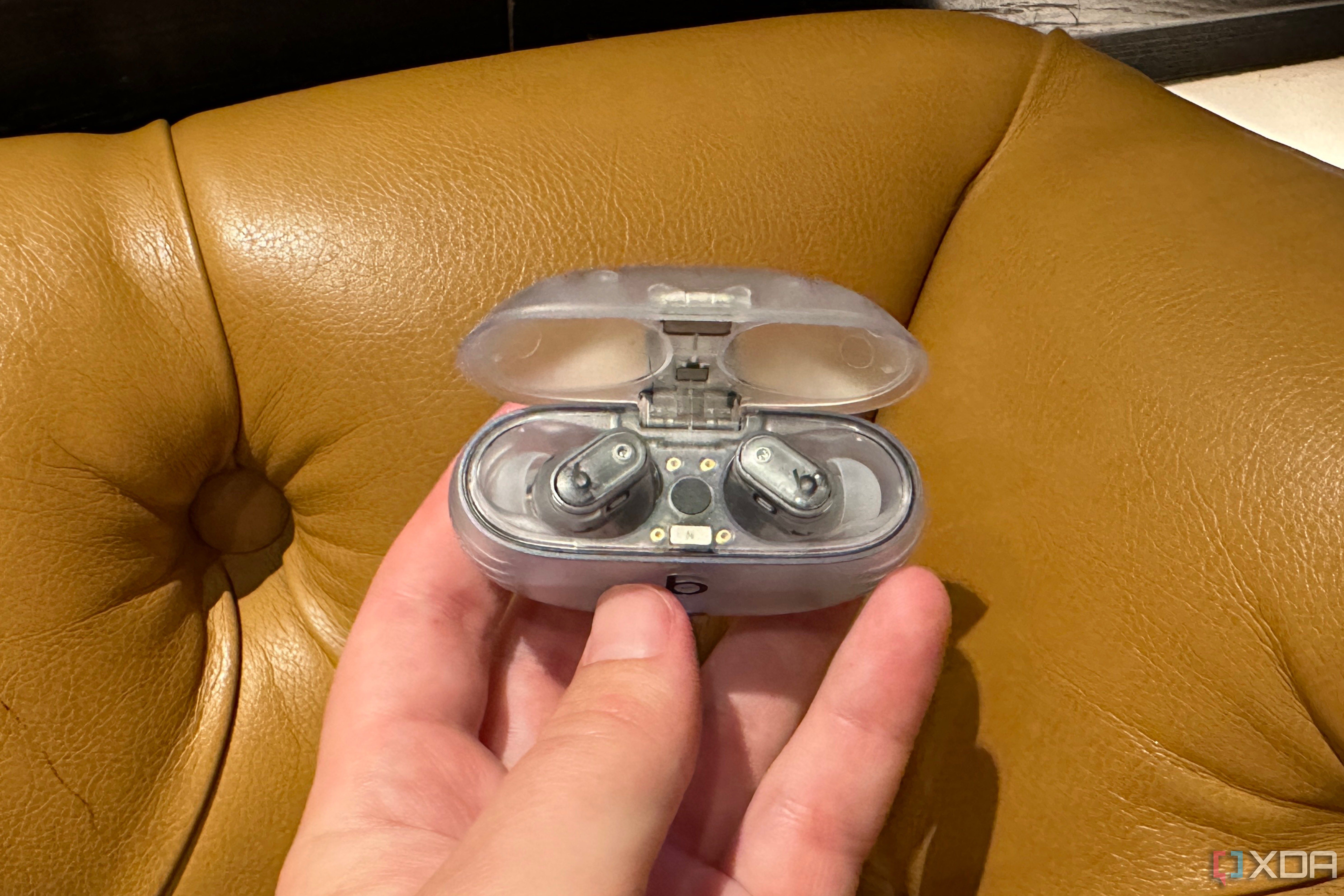 AirPods 3 produce a surprising amount of bass, considering they don't create a seal in your ear, but you'll definitely get better sound isolation on the Studio Buds+. The AirPods 3 perform great near the middle of the soundstage, but there's a big drop-off near the extreme highs and lows of the spectrum. But they're still a solid pair of headphones for everyday listening. The Beats Studio Buds+ perform similarly, but the inclusion of silicone ear tips makes the bass sound fuller. It isn't overpowering, though, like Beats headphones and earbuds of old.
Since AirPods 3 don't offer any kind of ANC, that crown goes to the Studio Buds+ by default. But the earbuds are far from perfect in that category. The ANC is just OK, and the transparency mode is unusable. Too much ambient noise gets through while in transparency mode, and the ANC mode isn't strong enough to block out loud ambient noise. If you're looking for great ANC headphones specifically, I wouldn't recommend either of these earbuds. However, it's nice that the Studio Buds+ do have that functionality in case you need it every once in a while.
Spatial audio is where things get tricky. The Beats Studio Buds+ do offer it, but only on Apple Music, and it's always on by default. You can't turn it off, so you'll be listening with spatial audio any time you use Apple Music to stream music. The AirPods 3 offer Personalized Spatial Audio with head tracking, and this is available system-wide. Plus, you can turn it on and off whenever you want, which is great for people who don't like how it alters music.
iOS and Android compatibility
A decisive part of choosing between the Beats Studio Buds+ and AirPods 3 is whether you need to use them with non-Apple devices. When you use AirPods with an Android phone or Windows computer, the experience won't be nearly as good as within the Apple ecosystem. Doing things as simple as checking the battery life requires a third-party app on Android, for example. If you need a pair of earbuds that work great with just about any Bluetooth device, you should go with the Beats Studio Buds+. They have full feature parity between iOS and Android, although you do need to download the Beats app to access some settings.
Which is right for you?
Considering the limitations of AirPods 3, the Beats Studio Buds+ are our top pick for most people. They are a versatile pair of headphones with features like ANC, transparency mode, and spatial audio on Apple Music. Best of all, their compatibility with iOS and Android means that you can use them with whatever products you own without issue. Although the Beats Studio Buds+ aren't the best in their category, they are the best pair of Apple headphones you can get for under $200 right now.
Beats Studio Buds +
Editor's choice
The Beats Studio Buds+ are a great pair of Apple headphones in a compact, well-designed form factor. You'll also get features like ANC and transparency mode, which you won't get with the AirPods 3.
If you're solely an Apple user who prefers the look and feel of AirPods, you won't be disappointed by the third-generation AirPods. However, be aware that key features like ANC and transparency mode aren't available on this model. These earbuds do offer other exclusive features though, like Personalized Spatial Audio with head tracking. If you need wireless charging, you can also add that functionality for just $10 extra with the MagSafe charging case.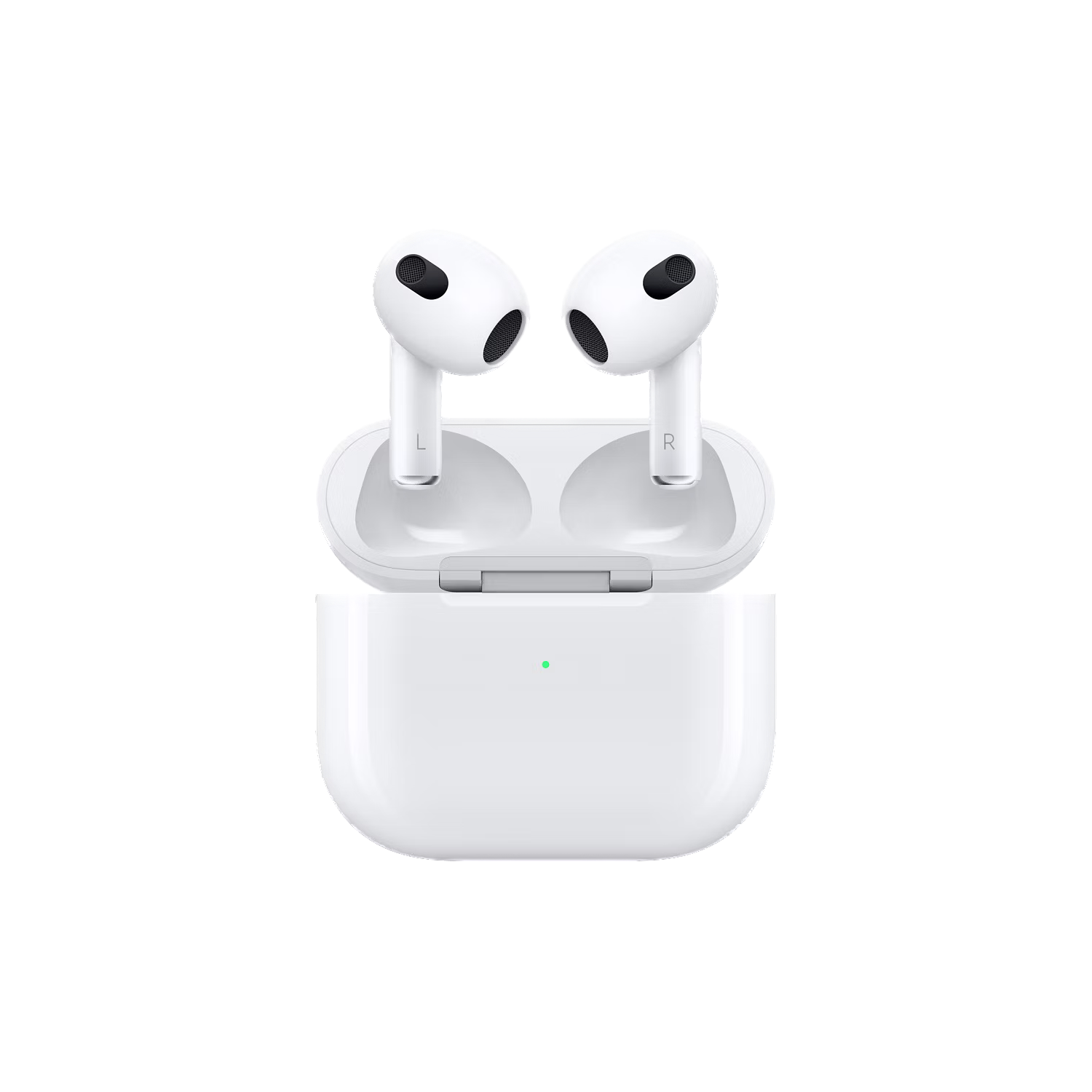 Apple AirPods 3
Best for Apple users
$160 $170 Save $10
The AirPods 3 are missing a lot of key, higher-end features like ANC, but they're a solid pair of earbuds for Apple users, especially if you don't like the in-ear design of the AirPods Pro.


** (Disclaimer: This video content is intended for educational and informational purposes only) **