Beats Fit Pro

Great overall earbuds

$160 $200 Save $40

Beats Fit Pro are smaller workout earbuds that use a wingtip to stay secure in your ears. They also offer spatial audio, ANC, and transparency mode. As such, you can use the Beats Fit Pro as your primary earbuds with ease. However, they have shorter battery life than the Powerbeats Pro. 

Pros

Compact form factor
Compatibility with iOS and Android
ANC and transparency mode support

Cons

Less battery life than Powerbeats Pro
Wingtips may be uncomfortable for some

Beats Powerbeats Pro

Better for workouts

$160 $250 Save $90

Powerbeats Pro are large earbuds that are designed to power your workouts for hours. They offer nine hours of battery on each earbud and 24 hours of additional battery in the case. Plus, an external earhook ensures the earbuds won't go anywhere while you're working out. However, you won't find ANC or transparency mode here. 

Pros

Large earhooks help Powerbeats Pro fit well
Fantastic battery life
Compatibility with iOS and Android

Cons

No ANC or transparency mode
Case and earbuds are bulky
Lightning connector used for charging
Though many of the best earbuds are versatile options for daily use, these options aren't always the best choice for fitness and workouts. Some earbuds aren't sweat or water-resistant, which could pose a problem during intense workouts. But more importantly, you'll want a pair of the best fitness earbuds to stay secure in your ear while you're moving around.
For years, Beats has consistently made workout headphones that have been worn by athletes from Olympians to NFL players, and two of the company's options are the Beats Fit Pro and the Powerbeats Pro. They both have different sizes, unique ear hooks, and internal components, so it might be hard to choose between them. To help you out, we've compared these two earbuds to find out which one you should buy.
Price, availability, and specs
Both the Beats Fit Pro and the Powerbeats Pro have been available for a while, but the former is the newer pair. The Beats Fit Pro were released in 2021, featuring an all-new design made for flexibility and durability. They don't have a stem, either; they're similar to the Beats Studio Buds+ but with an additional wingtip that ensures the earbuds won't go anywhere. Originally, the Beats Fit Pro came in four colors, but there are now more versions available thanks to collaborations with the likes of Kim Kardashian. They retail for $200, although you can occasionally find them on sale from third-party retailers like Best Buy and Amazon.
The Powerbeats Pro released in 2019 and were one of the first headphones to feature an Apple chip for easy pairing. They carry a larger footprint overall than the Fit Pro, but thanks to those ear hooks, they're more secure. Though they retailed for $250 when they first debuted, the earbuds are now available for $200 from most retailers, including Best Buy, Amazon, Walmart, and Target. However, if you want to get them directly from Apple, you'll need to pay the full $250. You can get Powerbeats Pro in black, navy, and ivory colorways.
| | Beats Fit Pro | Beats Powerbeats Pro |
| --- | --- | --- |
| Noise Cancellation | ANC and Transparency Mode | None |
| Microphones | Microphone with wind reduction | One in each earbud |
| Connectivity | Supports iOS and Android | Supports iOS and Android |
| IP rating | IPX4 | IPX4 |
| Chip | Apple H1 | Apple H1 |
| Spatial Audio | Yes, with head tracking | Yes |
| Port | USB-C | Lightning |
| Earbuds battery life | Up to 6 hours | Up to 9 hours |
| Charging case battery life | Up to 18 hours | Over 24 hours |
Design and fit
Since both the Beats Fit Pro and Powerbeats Pro are made by the same company, a lot of the internal specs and features will be similar. However, what's different are their form factors, and this might be the biggest part of your purchasing decision. Although they're both workout headphones that have hooks to stay secure, they go about that in different ways.
The Powerbeats Pro have an ear hook that protrudes from the top of the earbud and is designed to wrap around your outer ear. This means that the earbuds really won't go anywhere; even if the ear tips pop out of your ear canal, the hook will be there as a failsafe. As a consequence of this design, the actual earbuds are large. This could cause some fatigue during longer listening sessions, but you probably won't notice any discomfort while working out. Plus, there are multiple ear tip sizes included to help you get the perfect fit.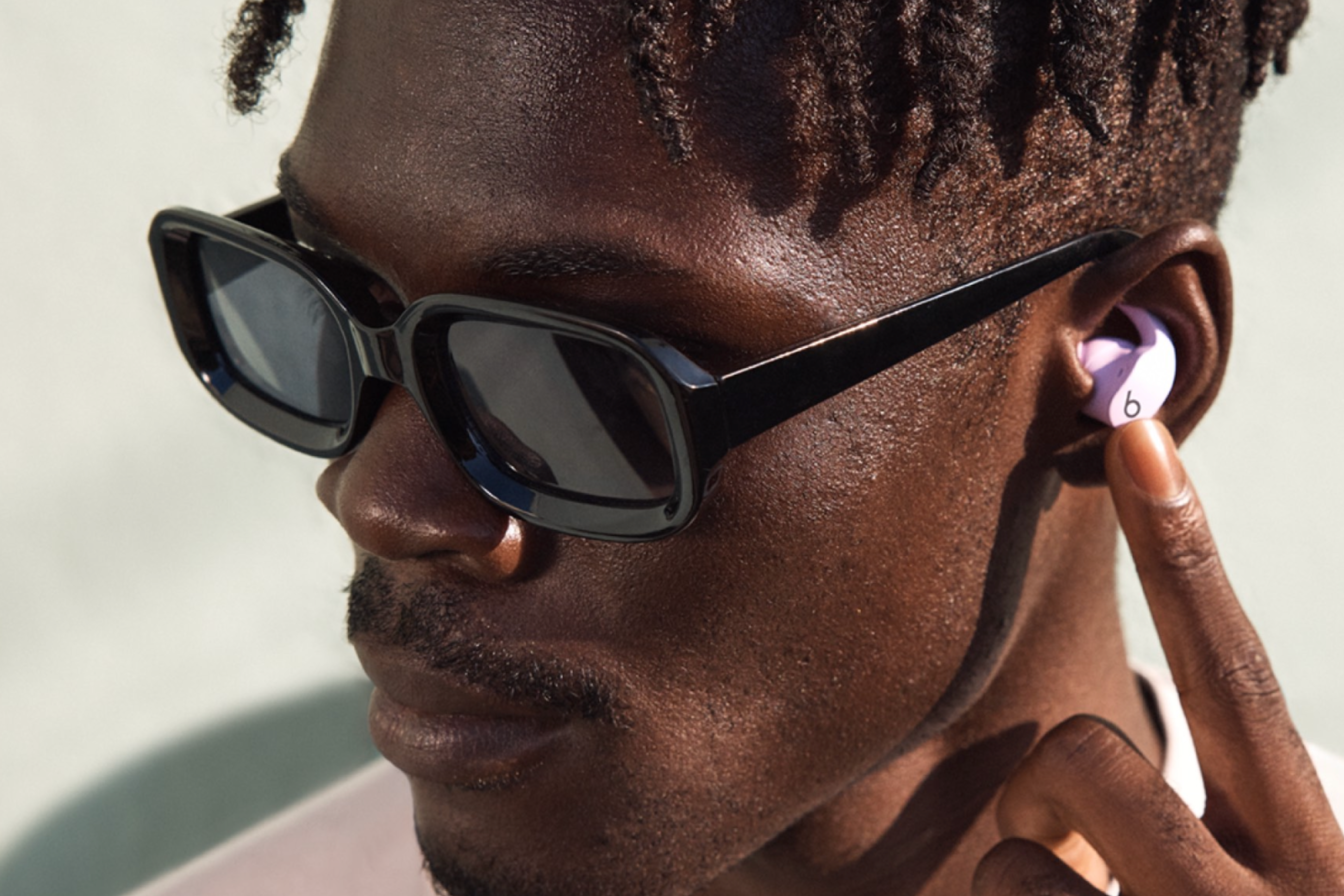 Source: Beats
On the other hand, the Beats Fit Pro have a wingtip on each ear — a small piece of silicone that helps the earbuds stay secure. When the earbuds go into your inner ear canal, the wingtip rests on the part of your ear called the triangular fossa. It's on the inside of your outer ear, so this is a solution for people who don't want the bulk of an external ear hook. However, since ears come in all different shapes and sizes, the Fit Pro will likely fit on some ears better than others. As far as size goes, the Beats Fit Pro are tiny, so you're more likely to forget you're wearing them during a workout than you are the Powerbeats Pro.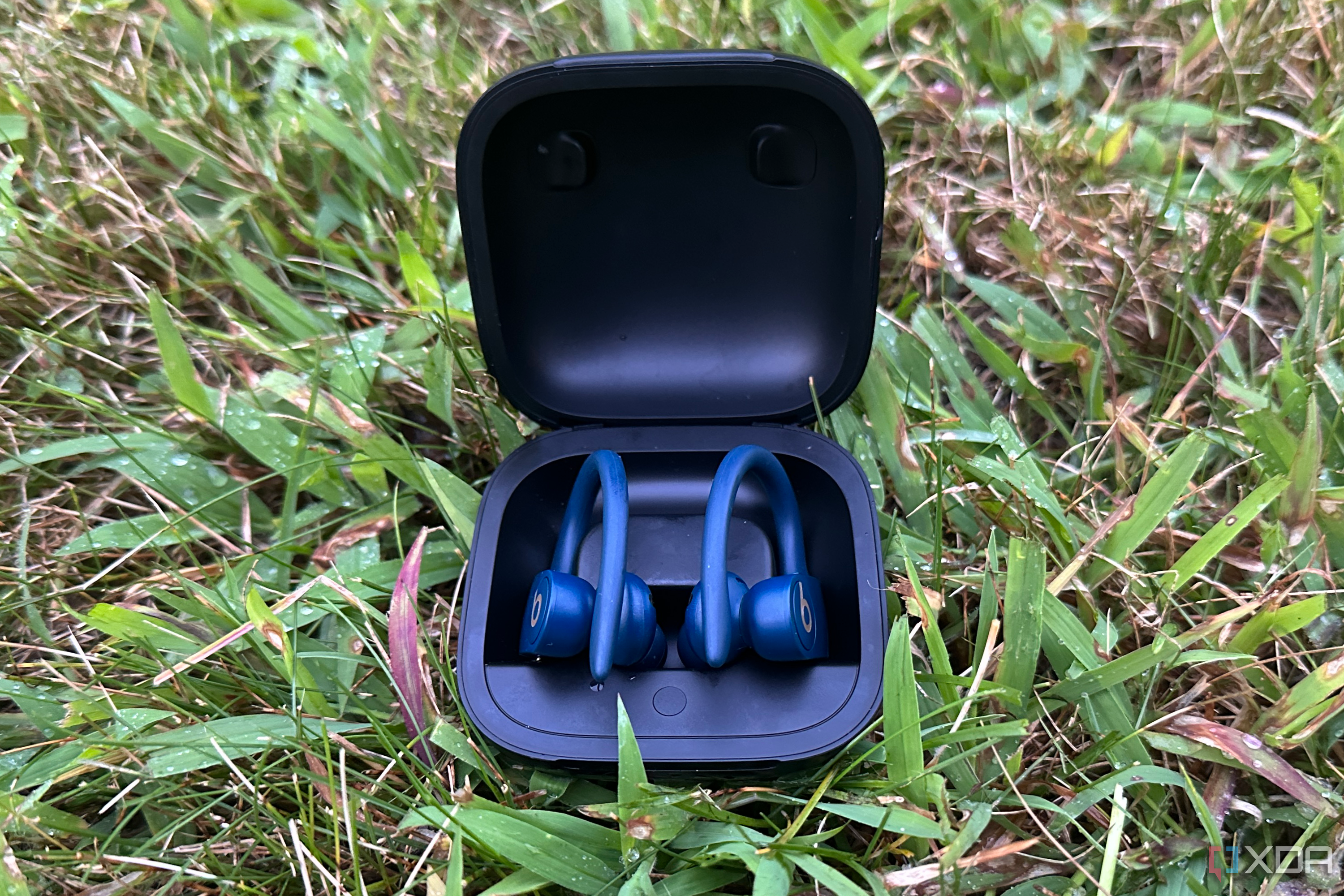 Since you're probably going to be using the Powerbeats Pro and the Beats Fit Pro while working out, you'll want to make sure the earbuds are durable. Both models are IPX4 water-resistant, which means that they can withstand sweat and light rain. However, they're far from waterproof, so you shouldn't be using either while swimming or playing other water sports. But thanks to the IP rating, you won't have to worry about breaking your earbuds if it starts to rain or if you start to sweat. Plus, both models are made out of hard plastic casing in a matte finish, so they won't scratch as easily as glossy earbuds.
As far as durability goes, I've run over a thousand miles with the Powerbeats Pro, and they're still working great. The external ear hook gives me peace of mind that an earbud won't fall out and tumble into a storm drain while I'm running, which is nice to know. While I haven't personally tried the Beats Fit Pro, the wingtip should be just as secure. However, if you're just as fearful of losing an earbud as I am, you might appreciate the external ear hook on the Powerbeats Pro. For a slimmer and lighter fit, the Beats Fit Pro are definitely the right choice.
Sound quality and active noise cancelation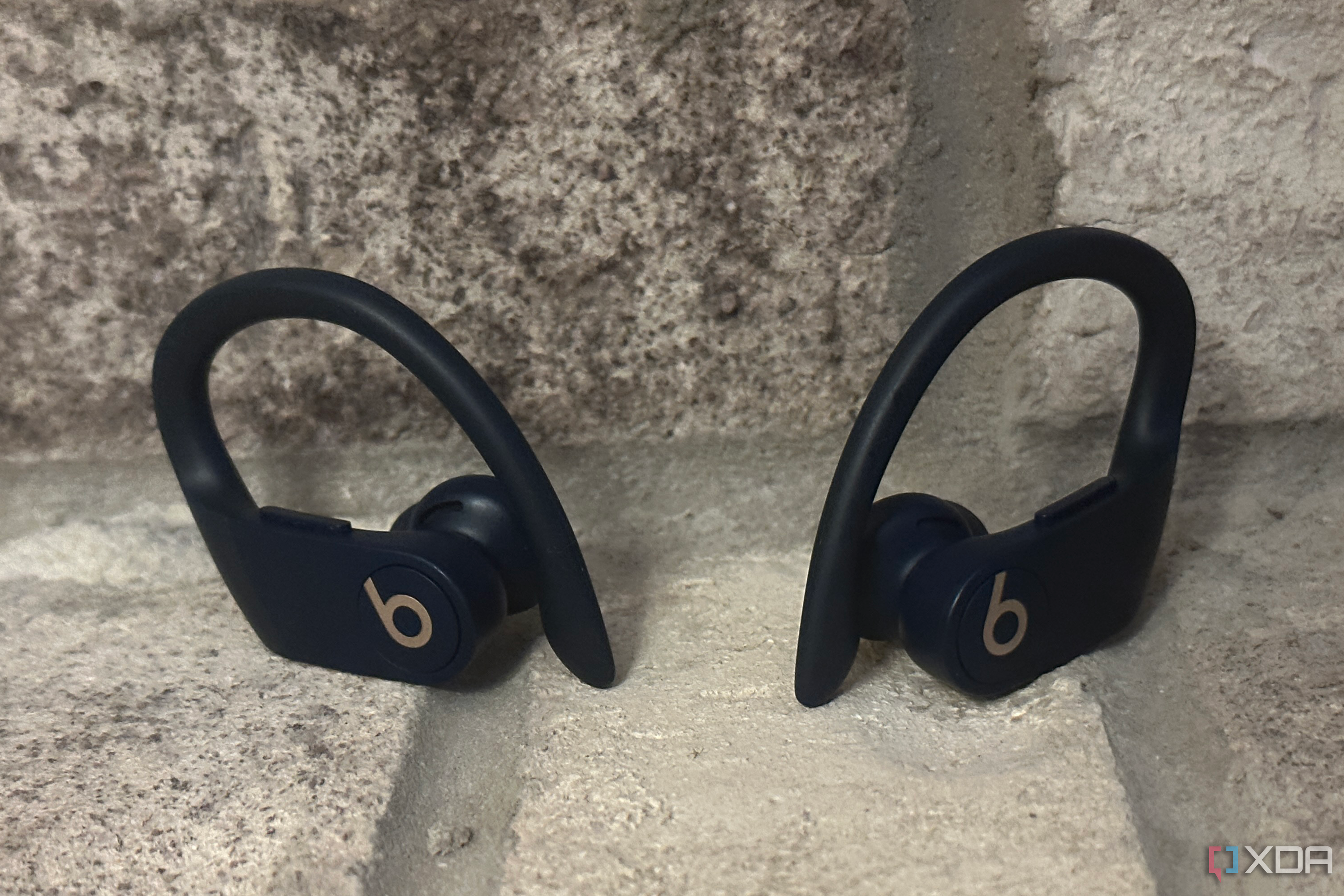 The Powerbeats Pro are starting to show their age when sound options are considered, especially compared to Beats Fit Pro. Released in 2021, the Beats Fit Pro can be compared to the first-generation AirPods Pro in terms of feature set. That's high praise because that means the Fit Pro offers great features like active noise cancelation (ANC) and transparency mode. Unfortunately, there are no ANC options available on the Powerbeats Pro. For most people, this will relegate the Powerbeats Pro as a dedicated pair of earbuds for working out. If you're looking for a pair of workout earbuds that can also serve as your daily driver, Beats Fit Pro are definitely the more versatile option.
The Powerbeats Pro do sound good, albeit without some of the more modern features. For example, although the Powerbeats Pro support spatial audio, they don't support dynamic head tracking. However, if you're just looking for a pair of workout earbuds, that might not matter to you.
What will matter are the physical controls, which is an area where the Powerbeats Pro excel. There's a play-pause button as well as a volume rocker right on each earbud, so you can control your music during a workout without picking up your phone or using a smartwatch. The Beats Fit Pro have controls built into the logo on the side of the buds, which you can use to play, pause, or skip between audio tracks. Unfortunately, you need to use Siri to adjust the audio, which is a bizarre choice.
Battery life and charging
The Powerbeats Pro impress in terms of battery life, but that's partly because they don't offer any of the advanced features mentioned above. That said, the earbuds have some of the best battery life of any true wireless earbuds on the market today. You get nine hours of battery life with each earbud, with more than 24 hours of additional charge available in the included charging case. The case is bulky, and I wouldn't call it pocketable. However, when thrown in a gym bag or backpack, the Powerbeats Pro and their case can give you a week of hours-long workouts with ease. When you need an extra charge in a pinch, a five-minute fast fuel gives you an hour of battery life.
That's not to say the Beats Fit Pro don't have great battery life as well. These earbuds offer six hours of listening time with ANC features enabled. With these features off, the Fit Pro could rival the Powerbeats Pro battery life, but your mileage may vary. With the charging case, you'll get an additional 18 hours of charge, according to Beats. Though the charging case for the Beats Fit Pro is a bit smaller than the Powerbeats Pro charging case, it still isn't really pocketable. You get the same five-minute fast fuel on the Beats Fit Pro, though, which is nice to have.
There are a few caveats to consider with charging, though. The Powerbeats Pro charge via a Lightning connector, which isn't great news for Android users who probably won't use that connector for anything else. On the other hand, the Beats Fit Pro use a USB-C port, which should be more compatible with other devices in your ecosystem. Most importantly, the earbuds themselves charge through metal pins within the charging case. But in daily use, the earbuds don't always make solid connections with these metal contacts, and you might find times when your earbuds don't charge. It's frustrating, and it's a design flaw that affects both the Powerbeats Pro and the Beats Fit Pro.
Processor and connectivity
There are plenty of similarities between the Fit Pro and the Powerbeats Pro in terms of processor and connectivity, so we won't spend much time here. Both pairs of earbuds feature an Apple H1 chip, which makes features like quick pairing and Spatial Audio possible. The chip's inclusion also means that both earbuds offer Bluetooth 5.0. For iOS users, you can also take advantage of Find My compatibility to help you locate your lost items.
One key difference between the Powerbeats Pro and the Beats Fit Pro is that although both are Android compatible, only the latter has nice-to-have features like quick pairing and automatic switching on that platform. This is a trend seen throughout this comparison; since the Powerbeats Pro are four years old now, they don't have the quality-of-life features we expect from modern earbuds.
Which is right for you?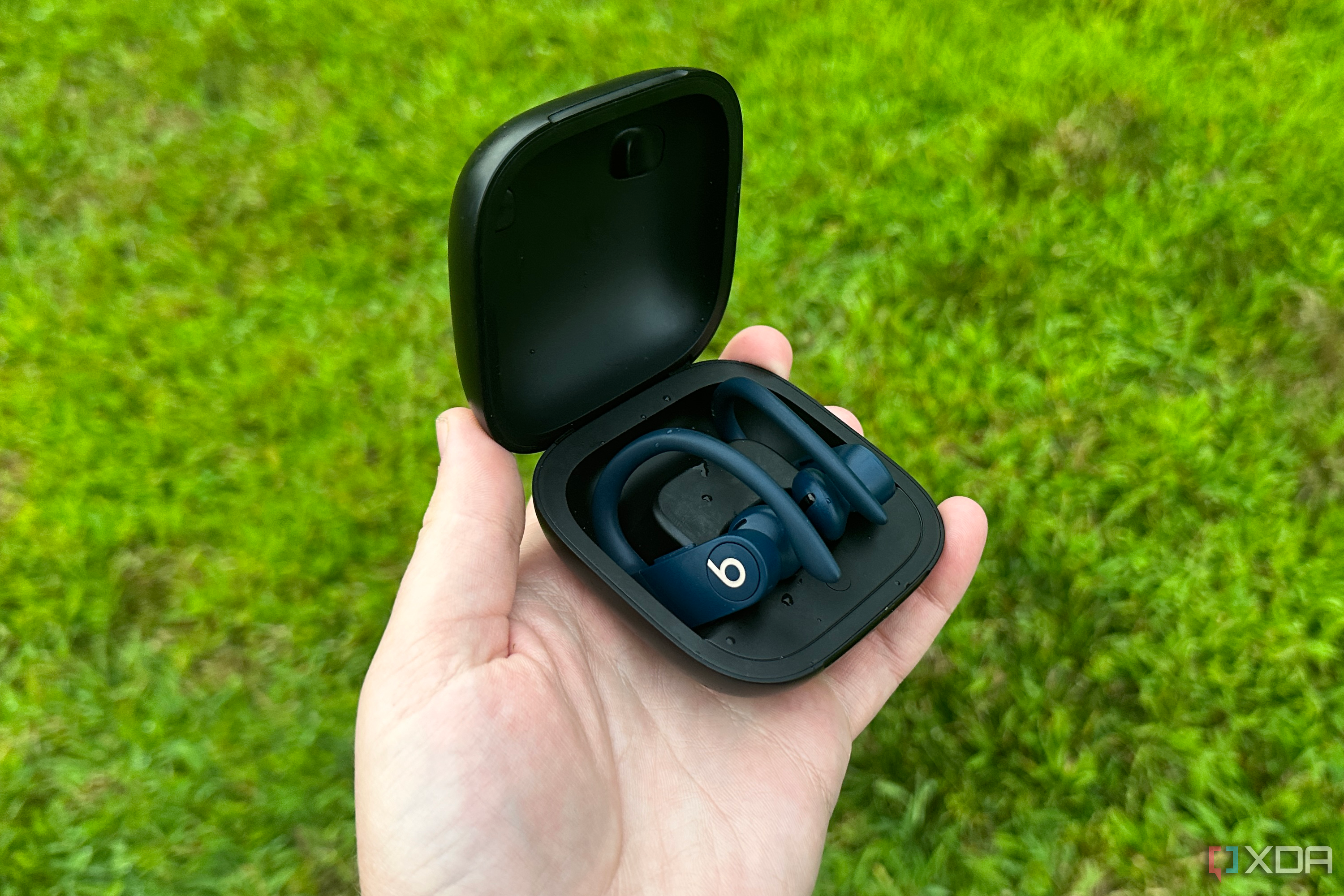 For people looking for dedicated workout earbuds, it's hard to top the Powerbeats Pro. The external ear hook makes it nearly impossible for the earbuds to fall off while you're wearing them. Plus, an impressive nine-hour battery life means that you can wear these during day-long workouts without skipping a beat. And although the Powerbeats Pro might not have quality-of-life features like ANC or head-tracked spatial audio, that won't really matter during workouts. Sound and fit matter more, and the Powerbeats Pro get these areas right.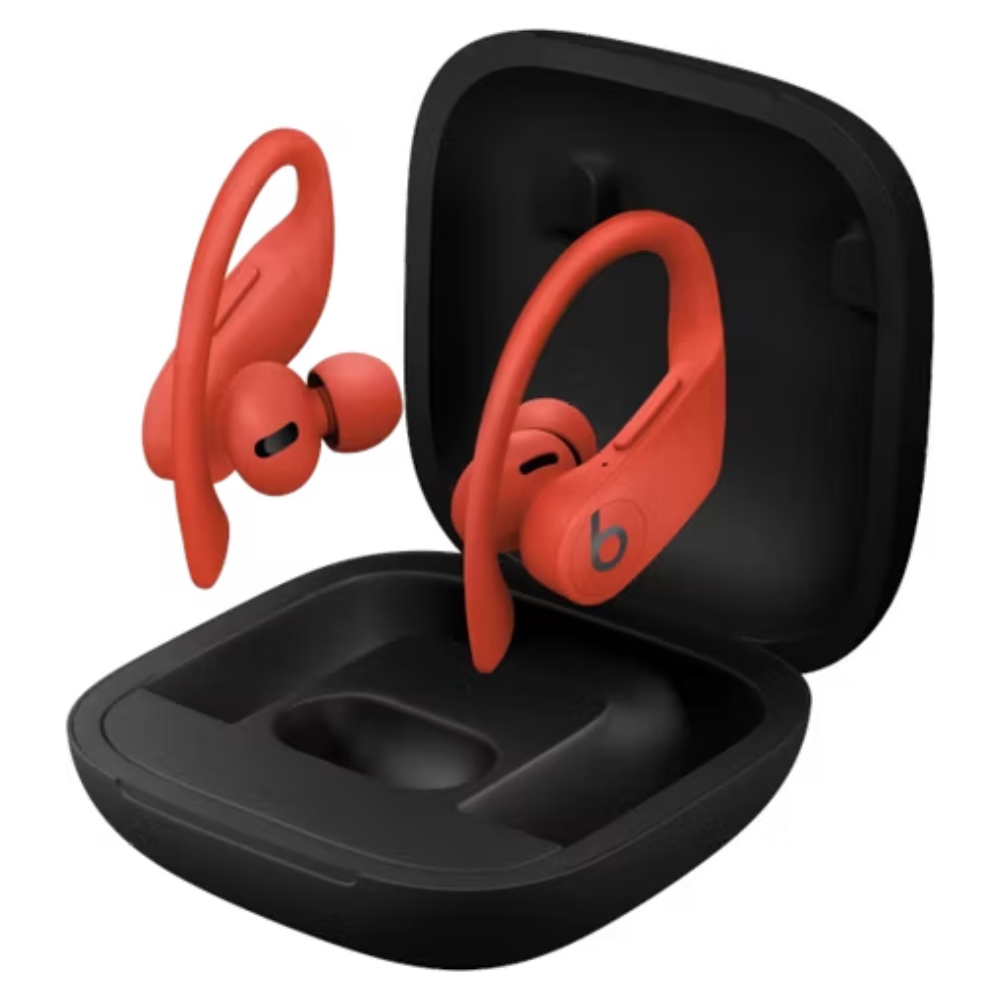 Beats Powerbeats Pro
Editor's choice
Best dedicated workout earbuds
$160 $250 Save $90
The Powerbeats Pro are a solid AirPods alternative. They pair instantly to your Apple devices, support Spatial Audio content, and offer up to 9 hours of playback on a single charge. Thanks to their sweat and water resistance, you can safely wear them while jogging or working out at the gym. You also get to take advantage of smart features like Hey Siri and audio playback control.
For people who are looking for a daily driver that can double as a pair of workout headphones, the Beats Fit Pro are definitely the way to go. Put simply, the Beats Fit Pro are the fitness version of the first-generation AirPods Pro. That bodes well for people who want to wear their headphones on the subway and in the gym. With great ANC and spatial audio features, as well as full feature parity with iOS and Android, it's hard not to like the Beats Fit Pro.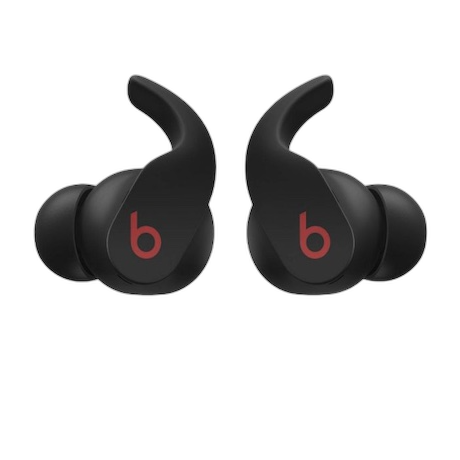 Beats Fit Pro
Good alternative
A versatile pair of TWS earbuds
$160 $200 Save $40
The Beats Fit Pro pair effortlessly with the iPhone, offer excellent ANC, and have long-lasting battery life. With a stem-free design and added wingtips, the Fit Pros stay in place and never get in the way.


** (Disclaimer: This video content is intended for educational and informational purposes only) **