No setup is complete without a good quality microphone that can deliver crisp and high-quality audio, be it for your Zoom meetings or for simply chatting with your peers in Discord. But even the best microphones on the market aren't enough sometimes to make you sound good through all the background, which is why I always rely on Nvidia's Broadcast tool to ensure my audio sound crisp and clear with no background noise cluttering the audio.
Nvidia Broadcast is, in fact, one of my favorite tools that I use every day, and I would happily recommend an Nvidia GPU over an AMD one just for it. But AMD also has its own tool to that takes advantage of its hardware to remove background noise and unwanted sounds to clear the audio from your microphone. I decided to take it for spin this week to see if it's any good and whether I could rely on and recommend to others. Here's how it went.
Requirements
Before we get to the finer details and explore what each of these tools can achieve for you, it's worth glancing at the requirements that you need. In addition to GeForce RTX graphics cards, Nvidia asks you to use its Broadcast software on PCs using an Intel Core i5-8600 or newer, or AMD Ryzen R5 2600 or newer CPUs, with at least 8GB of RAM. You'll also need the latest Studio or Game Ready drivers for it to work. AMD's Noise Suppression feature, on the other hand, will only work on machines with AMD Ryzen 6000 Series processors with integrated graphics and newer, or AMD Radeon RX 6000 Series desktop graphics and newer.
It is safe to say that both tools are somewhat restricted when it comes to supported hardware, but it's a reasonable ask, and older-generation hardware will definitely struggle with performance issues.
Usability
Using Nvidia Broadcast and AMD Noise Suppression technology is fairly simple, and they're both just a toggle away once you launch their respective apps. AMD's Noise Suppression is buried in Adrenalin software's settings menu, while Nvidia's Broadcast application presents it as the first option under the Microphone section. But the fact that AMD's Noise Suppression feature is integrated directly into the Adrenalin interface is neat, as it eliminates the need to download and install a separate program.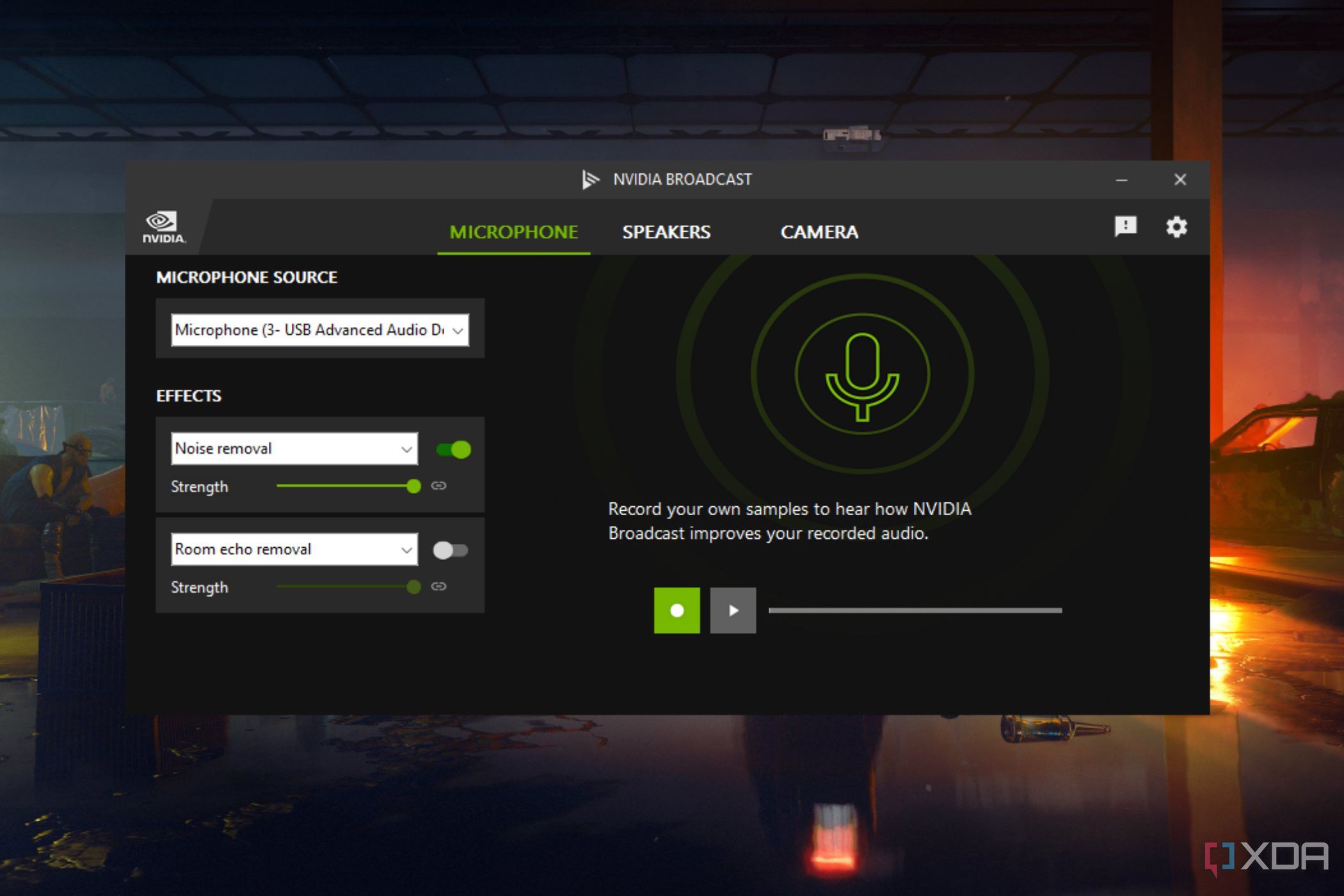 Having to download a dedicate program isn't necessarily a deal-breaker, but I am not a huge fan of how Nvidia makes you download a separate program for everything instead integrating everything into a single package. Between the Nvidia Broadcast, FrameView, GeForce Experience, and more, I am looking at a half a dozen Nvidia programs, and it's getting very difficult to keep a track of them all. The good thing about both Nvidia Broadcast and AMD Suppression tool is that they both remember your settings, meaning you only have to set up your microphone source once and let it automatically launch every time you boot your PC.
Once enabled, you can select Nvidia Broadcast or AMD Streaming Audio as the microphone source within programs like Discord to relay the audio that's being routed through the noise removal tool of your choice. I used them both to primarily chat with my friends on Discord while gaming, but they both worked perfectly fine with other applications too. I'd say both tools are on par when it comes to the overall usability, but AMD makes things easier for you by adding the Noise Suppression tool to its Adrenalin interface instead of making you download another program.
Testing noise removal
Both Nvidia Broadcast and AMD Noise Suppression tools are also on par with each when it comes to noise removal. They both did a great job of cutting out all the unwanted audio from my recording to retain nothing but my voice. I'll let you hear the recordings to get a better understanding of how both tools performed, starting with the one captured using Nvidia Broadcast:
Next up, we have a voice recording that was captured using the audio that was routed through AMD's Noise Suppression tool:
Both tools did an excellent job of removing the background noise from the audio clip to make my voice shine through. And they both did that while retaining as much clarity as possible in my voice. I found the audio coming out AMD's Noise Suppression tool to be a bit more clear compared to the one with Nvidia's Broadcast, which adds a slight echo to my voice. The Broadcast tool tends to do that sometimes, especially when there's a lot of noise from the background, but it's not a night-and-day difference. It's also not a major issue as most people won't even hear the slight echo while they hear your voice over Discord while playing a game, or even when they're in a meeting with you.
Another feature that I'd like to highlight here is that these tools can also remove background noise from the incoming audio. That's right, you can use both Nvidia Broadcast or AMD Noise Suppression to clear noise from the audio coming out of your output device as well. This may not sound that useful at first, but you'll quickly realize how good it is when, say, you've joined a meeting with participants that have a lot going on in the background. I don't recommend keeping this feature enabled at all times, but it's a nice tool to have when you are in a pinch.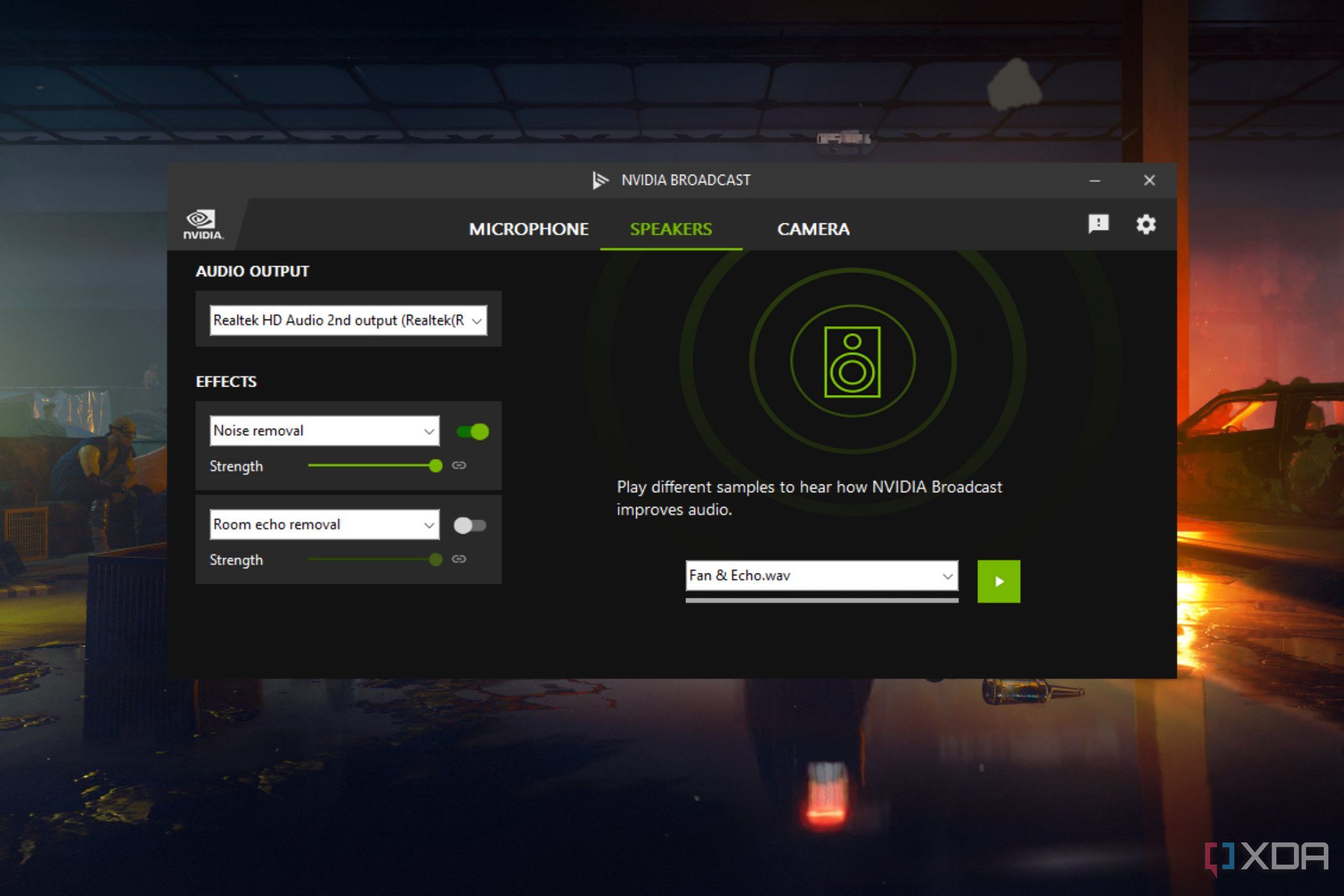 Nvidia Broadcast has a slight advantage over the AMD Noise Suppression because it also allows you to remove echo from both your recordings and the incoming audio through your output device. It works well for the most part, but keep in mind that it's not enabled by default, and you'll have to add it as an additional effect.
Additional features
And while we're discussing additional features, it's worth highlighting that Nvidia Broadcast also lets you play around with your webcam footage via the same program. I highlighted some of my favorite effects in a separate post, but the one that I use the most often is Auto Frame. It's a great feature that I use very frequently on my PC while taking video calls and attending work meetings, and it's a bummer to see no such implementation from AMD.
Sure, you can use the Scene Editor feature to pull the feed from your webcam and create a streaming layout with frames, and other elements, but it doesn't fetch you the smart webcam tools offered by Broadcast. Setting up a scene with AMD's Scene Editor can also be challenging and time-consuming, whereas the webcam tools in Broadcast are just as easy to reach as the noise removal options. Let's hope AMD brings fun webcam tools like the ones offered as a part of Nvidia Broadcast, and adds them to the Adrenalin software.
Closing thoughts
AMD has improved a lot of products and services over the last few years to catch up with its competition, and I am glad its Adrenalin software has also come a long way. AMD's Noise Suppression tool also worked surprisingly well, and I have absolutely no qualms recommending it. And the best thing about it is that it even works with AMD Ryzen 6000 APUs, meaning you don't necessarily need a discrete GPU to take advantage of it. That being said, I am going to stick with Nvidia Broadcast for now, as it works well and offers additional effects and tools to tweak my webcam footage too.
** (Disclaimer: This video content is intended for educational and informational purposes only) **